"Don't eat… You'll ruin your money; it tastes bad…! Just try it, I bet you're going to love it…!"
After hearing so many contradictory opinions about anchovy pizza, you might wonder why restaurants even bother selling it.
My friend, anchovy pizza is one of the most polarizing dishes under the sun. You have no choice but to either hate it or fall head over heels in love with it. But before you make up your mind, you must try it—either by adding anchovies to your homemade pizza or ordering an anchovy pizza from a reputable pizzeria.
In this blog post, we'll guide you on how to fall in love with anchovies on pizza, get yourself an anchovy pizza, or make it yourself (we'll share a recipe as well). So, keep reading, hoping to discover the charm of this unconventional topping.
What are Anchovies, and How are They Used on Pizza?
Anchovies are tiny, oily fish often served as a nostalgic, inexpensive topping on pizza. These little fish pack a punch of salty and umami flavor, pairing well with ingredients like olives, capers, and tomatoes. Because of their shorter shelf life, they're cured in salt and then packed in oil, which explains their intense saltiness. When placed on pizza, they're scattered sparingly, as their powerful taste can easily overpower other ingredients.
Most pizzas serve as a cheesy canvas for various toppings. Yet, anchovy pizza flips the script—anchovies become the canvas, enhancing the pizza crust, cheese, and other ingredients. Though not everyone's cup of tea, anchovies are a classic choice for those seeking a bold and savory twist to their pizza.
Who Added Anchovies to Pizza?
The history of anchovies on pizza dates back to ancient times when Italians, still the largest consumers of anchovies, started making pizza. People living near the Mediterranean had easy access to these small, flavorful, preserved fish, and they were already adored. So, Italians added their favorite culinary ingredient to their simple flatbreads, infusing them with a burst of salty taste.
As pizza spread worldwide, the tradition of putting anchovies on top continued. Resultantly, anchovies, as traditional Italian pizza toppings, also gained popularity in the United States in the mid-20th century with the rise of pizzerias. Despite their distinctive, briny flavor, they haven't achieved popularity comparable to olives, mushrooms, pepperoni, or prosciutto. Hence, seeking a second opinion is natural before diving into anchovy-topped pizzas.
What Do Anchovies on Pizza Taste Like?
Imagine a pizza that's already salty because of the cheese and sauce, but then add a significant extra kick of saltiness and intense umami flavor from the anchovies.
There's also a hint of a seafood flavor, like a subtle taste of fish. It's not overpowering, but you can definitely notice it. Some might describe it as a "fishy" taste, but it's not too dominating.
To balance out this strong flavor, some pizzas with anchovies might have basil or other toppings to help neutralize the fishiness.
In short, anchovies on pizza stand out as a distinct flavor, and whether you like them or not depends on your personal taste preferences.
What Texture Do Anchovies Offer When Cooked on Pizza?
The texture of anchovies on pizza varies depending on how they're prepared. Fresh, thinly sliced anchovies offer a slightly chewy and meaty texture. However, canned anchovies are softer and more delicate. The unique texture of anchovies adds depth and complexity to each bite of pizza, often compared to the texture of capers or olives when used as pizza toppings.
Why Do Some People Not Like Anchovy Pizza?
The taste…!
The primary reason why some people don't enjoy anchovies is their stronger, salty, and somewhat fishy taste, which can be overpowering for their taste buds. This intensity might not be appealing, especially for those who prefer milder or more familiar pizza toppings like pepperoni or mushrooms. Anchovies' unique and intense flavor can be too different for some individuals, leading to a dislike of this unconventional topping.
Why Do Some Anchovy Pizzas Really Taste Bad, While Others Don't?
Negative experiences with anchovy pizza often stem from mishandling the anchovies rather than blaming the anchovies themselves. Several factors contribute to some anchovy pizzas tasting unpleasant while others taste delightful. Here are a few considerations:
Quality of Anchovies
The quality of anchovies matters a lot. Cheap or poorly stored anchovies can taste overly fishy and salty, making the pizza unpleasant. In contrast, high-quality anchovies are milder and less overpowering.
Quantity Matters
Using anchovies in moderation is crucial. Piling too many anchovies on pizza can overwhelm your taste buds, making the pizza unappetizing.
Freshness
Freshness is key for all pizza ingredients, including anchovies. Old or spoiled anchovies can ruin the pizza's taste.
Toppings
The choice of other toppings matters. Incompatible toppings or too many competing flavors can clash with the anchovies.
Sauce and Cheese
The type and quality of pizza sauce and cheese can affect the taste. A well-balanced sauce and the right cheese can complement the anchovies.
Cooking Temperature and Time
Cooking the pizza at the right temperature for the right duration ensures that all the flavors meld properly. Overcooking or undercooking can affect the taste.
Personal Preferences
Lastly, individual taste varies. Some people simply don't like the taste of anchovies, while others love them.
In short, choosing excellent quality anchovies and finding the right balance of taste can make your anchovy pizza taste delicious!
Will You Like Anchovies on Your Pizza?
A recent poll by Slice reveals that 6 people out of 10 like anchovies on their pizza, which means 60% chances are you'll like them, while 40% chances are that you might not order an anchovy pizza again. Especially if you appreciate strong umami flavors like ham, salami, prosciutto, chorizo, jerky, and shellfish, anchovy pizza could be a delightful addition to your culinary repertoire.
Still undecided?
Consider this: what if skipping anchovies on pizza means missing out on the best-tasting thing on the planet, something you might love to savor repeatedly? Give it a try, with good quality anchovies, the right pairings, and an open mind.
What are Different Types of Anchovies Used on Pizza?
Two main types of anchovies commonly used on pizza are canned and fresh.
Canned Anchovies
These are the tiny, salted fish you often find in small tins at the grocery store. They have a strong, salty, and savory flavor that can add a burst of umami to your pizza. To use them, you usually rinse the excess salt and then scatter the filets or pieces over your pizza before baking. Canned anchovies are convenient and have a long shelf life.
Fresh Anchovies
Fresh anchovies are less common on pizza but can be a delightful treat if you can find them. They have a milder, less intense flavor compared to canned anchovies. Fresh anchovies are typically fileted; you can place them on your pizza before baking. They offer a delicate, fishy taste that's less salty and more nuanced than their canned counterparts.
In summary, canned anchovies are the go-to choice for most pizza makers because of their convenience and intense flavor. However, if you want a milder, fresher taste, you can opt for fresh anchovies if they're available in your area.
What are a Few Qualities of Best Anchovies to Use on Pizza?
Proper Fileting
Good anchovies should be fileted appropriately, with as few tiny bones as possible. Bones can detract from the eating experience.
Clean Brininess
They should have a clean, briny flavor that leans into a mild fishiness without becoming overly fishy or unpleasant.
Saltiness
Anchovies will naturally be salty, but excessive curing can lead to an overly salty taste that may not be enjoyable.
Packaging
The storage vessel, whether jar or can, doesn't necessarily indicate quality. Some brands offer excellent anchovies in both packaging types.
Brand Variability
Different brands may cater to varying preferences. Some may offer firmer anchovies, while others focus on a more pronounced fishiness.
Cost
While high-quality anchovies like Ortiz may come at a premium price, solid options are still available at more budget-friendly prices.
In summary, good anchovies for pizza should strike a balance between saltiness, fishiness, and meatiness while being properly fileted. The packaging type can vary by brand, and personal preferences regarding texture and flavor may differ. So, it's worth exploring different options to find the anchovies that best suit your taste.
What Are Some Best Anchovy Pizza Combinations?
Anchovy pizza can be a bold choice, and the key to making it delicious lies in balancing the strong, salty flavor of anchovies with complementary ingredients. Some of these combinations are listed below.
Margherita Pizza with Anchovies
One popular combination is the classic Margherita pizza with anchovies. The simplicity of tomato sauce, fresh mozzarella cheese, basil, and anchovies creates a harmonious blend of flavors.
Anchovy Pizza with Caramelized Onions and Black Olives
For a more adventurous option, you can try an anchovy pizza with caramelized onions and black olives. The sweetness of caramelized onions balances the saltiness of anchovies, while black olives add a briny touch, enhancing the overall taste.
Anchovy Pizza with Capers and Roasted Garlic
Another fantastic combination is the addition of capers and roasted garlic. Capers have a tangy flavor that pairs well with anchovies, and roasted garlic adds a mellow, slightly sweet taste, creating a well-rounded profile.
Anchovies and Jalapeños
If you enjoy a bit of heat, consider adding sliced jalapeños or banana peppers. The spiciness of the peppers contrasts with the saltiness of anchovies, offering a delightful kick to your taste buds.
Remember, a good quality tomato sauce and cheese form the base of any great pizza. Experimenting with these ingredients allows you to create a unique anchovy pizza tailored to your taste preferences–the key is to balance the flavors for a truly enjoyable culinary experience!
Tips for Using Anchovies on Your Pizza
Using anchovies on pizza can add a unique and savory flavor to your pie, but they are quite strong, so it's essential to use them wisely. Here are some tips for using anchovies on pizza:
Balance the Flavors
Anchovies have a strong, salty, and umami-rich taste. To balance their intensity, pair them with other ingredients that can mellow their flavor, such as cheese, olives, or tomatoes.
Use Sparingly
A little goes a long way with anchovies. You rarely need many to infuse your pizza with their flavor. A few anchovy filets or slices spread evenly can be enough.
Prepare Anchovies
If you're using whole anchovies packed in oil, rinse them under cold water to remove excess salt and oil. You can also soak them in milk for a while to reduce their saltiness.
Spread Them Out
Consider mashing or chopping them finely instead of placing whole anchovy filets on your pizza. This way, their flavor disperses more evenly.
Combine with Other Ingredients
Anchovies work well with ingredients like capers, black olives, garlic, and onions. These toppings can complement the anchovy flavor and create a more complex taste profile.
Mix with Cheese
Anchovies pair nicely with mozzarella, ricotta, or goat cheese. The creaminess of these cheeses can balance the saltiness of the anchovies.
Add Last
Place anchovies on top of your pizza as a final layer of toppings. This prevents them from overcooking and becoming too intense in flavor.
Roasting or Sauteing
If you want to mellow the anchovy flavor even further, consider roasting or sautéing them briefly in a pan with a bit of olive oil before adding them to your pizza.
Pair with Fresh Herbs
Fresh herbs like basil, parsley, or oregano can add a refreshing contrast to the rich, salty taste of anchovies.
Customize for Your Taste
Adjust the quantity of anchovies based on your personal preference. Start with a small amount and add more if you want a stronger flavor.
Try Different Varieties
Various types of anchovies are available, including salt-cured, oil-packed, or marinated. Experiment with different types to find your favorite.
Consider a White Pizza
Anchovies can work wonderfully on a white pizza, shining alongside ingredients like garlic, olive oil, and ricotta cheese without the distraction of tomato sauce.
Remember that anchovies have a distinct and acquired taste, so not everyone may enjoy them. But for those who do, they can be a delightful addition to a pizza that's packed with flavor.
Most Tasty Home-Made Anchovy Pizza Recipe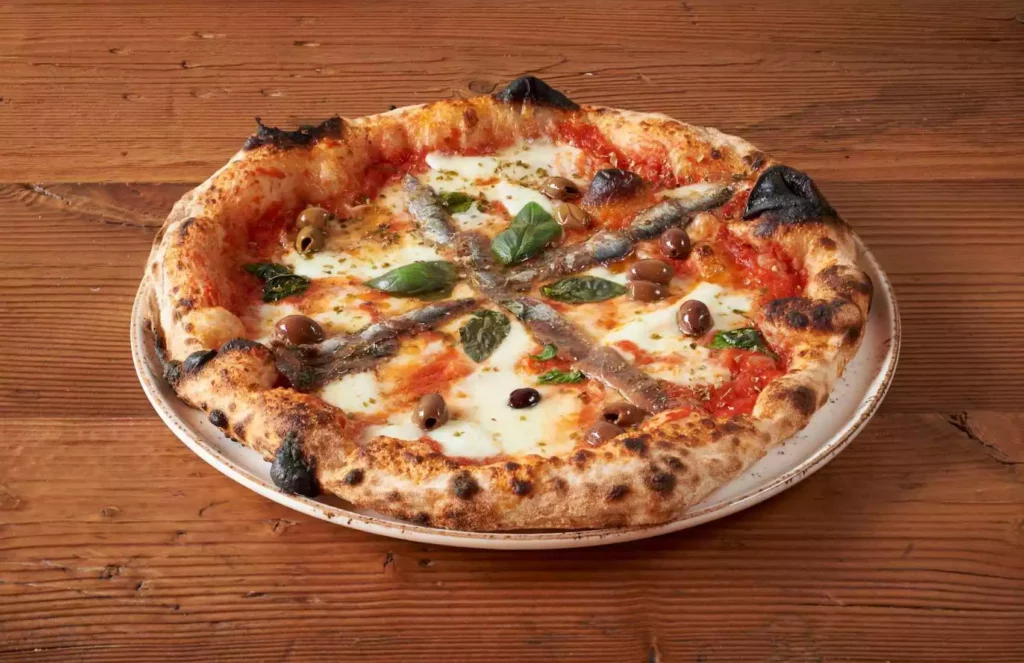 Ingredients
For the Dough
1 packet (2 1/4 teaspoons) dry active yeast
1 cup warm water
1 teaspoon honey
2 tablespoons olive oil
2 1/2 cups all-purpose flour (plus extra for dusting)
For the Tomato Sauce
2 cloves garlic, minced
2 tablespoons olive oil
1/4 cup tomato paste
1/2 cup water
1 teaspoon dried oregano
2 tablespoons fresh basil, chopped
For the Toppings
Kalamata olives, pitted and sliced
Fresh parsley, chopped
1/2 tsp lemon zest (macerated with a pinch of salt and sugar)
1 cup of feta cheese, crumbled
Canned anchovies in oil
Instructions
1. Prepare the Dough (at least 24 hours in advance)
Combine the dry active yeast, warm water, honey, and olive oil in a mixing bowl. Mix well.
Gradually add the all-purpose flour while mixing until the dough comes together.
Knead the dough with a dough hook attachment for 5-7 minutes or until it becomes smooth, elastic, and slightly sticky.
If the dough is too sticky, add a bit more all-purpose flour until it's manageable.
Cover the dough in a well-oiled bowl and refrigerate for at least 24 hours.
2. Prepare the Tomato Sauce
In a pan, sauté the minced garlic in olive oil over low to medium heat for about 30 seconds.
Add the tomato paste, water, dried oregano, and fresh basil.
Cook the sauce for about 20 minutes to develop the flavors.
Let it cool before using.
3. Assemble and Cook the Pizza
Preheat your wood-fired oven to 700-800°F (if using). If you're using a home oven, preheat it as high as it can go.
Roll out a portion of the dough (about 12 ounces) on a floured surface to your desired pizza size.
Transfer the dough to a pizza peel dusted with cornmeal or semolina.
Spread a thin layer of tomato sauce on the dough.
Add Kalamata olives, lemon zest, anchovies, and crumbled feta cheese as desired.
Slide the pizza onto the hot pizza stone in the oven.
Cook for 90 seconds to 2 minutes, turning every 10-20 seconds for even cooking. Yet, in the case of an electric oven, cook pizza for 10-15 minutes until the crust is fully cooked.
When the crust is crispy and bubbly, remove the pizza from the oven.
Top with fresh parsley, a squeeze of lemon juice, and a drizzle of olive oil.
Slice and enjoy your delicious Anchovy Pizza!
mama-cucina.com is a participant in the Amazon Associate program and will earn from qualifying purchases.