Do you want a perfect outdoor pizza oven table to mount your portable pizza oven? This guide will get you covered. 
I've reviewed some best tables for helping you use pizza ovens outdoors. To help you select the right one, I have also listed a few factors you should consider in the buying guide section.
Let's get into the reviews.
Top 7 Best Pizza Oven Tables Reviews 
Below are detailed reviews of a few best tables for pizza ovens. You can find the most durable, portable, and foldable options. Let's see which one meets your expectations.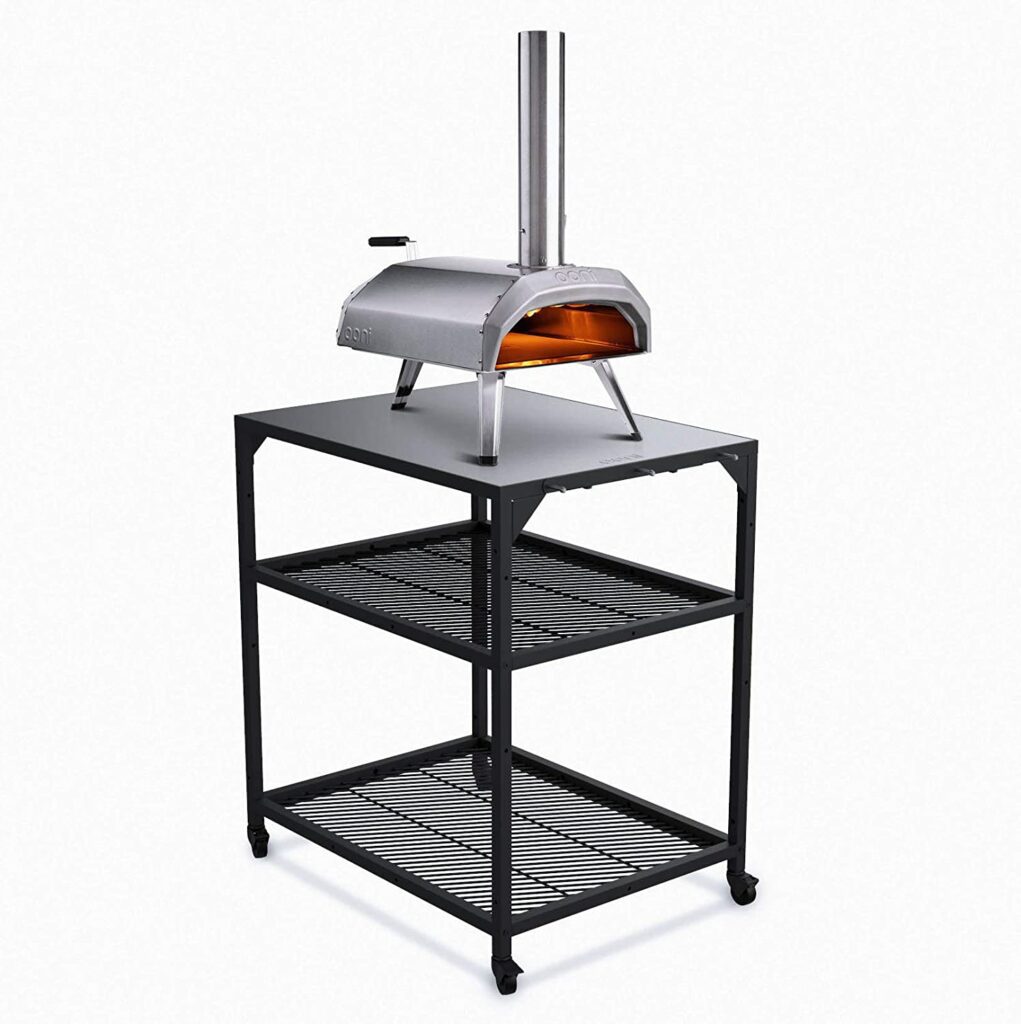 First on our list of the best pizza oven tables is the Oon pizza oven table. It's available in two sizes, 23.62D x 31.5W x 35.43H inches and 31 x 31 x 35″ with height-adjustable shelves. 
You can pick any size according to your pizza oven size–getting a large table is better.
Other than the horizontal space of the table, I'll especially appreciate the table height, which compliments the oven positioning and ergonomic experience. It's not so low that you must bend while cooking pizza in the oven.
The table's frame is made of powder-coated carbon steel, and the tabletop is of stainless steel. It's rust-resistant, yet, not as rust-resistant as stainless steel is. So, please don't leave it outside overnight.
I like the stainless steel top, which is easy to clean–a single wipe will be enough.
The mid-shelf of the table is adjustable–you can lower or raise it to place your propane tank or other essentials.
For further help, Ooni has also integrated hooks. You can hang your pans and other pizza-making essentials there. 
When you cook outdoors, portability and mobility can be your primary concern. This pizza oven table also has small wheels with brakes for easy mobility and stability. Yet, small wheels are problematic when moving the table on a grassy surface. 
The pizza oven table is what a good quality outdoor table is supposed to be. To your annoyance, it's highly overpriced because it bears the tag "Ooni" with the name. 
I don't think you should pay over $300-400 for a carbon steel table. It's better to look for a durable material under the same budget or some similar option below this price range.
Pros
Ergonomic design
Robust table to mount pizza ovens and heavy cookware.
Moveable
Easy to clean
It can store your accessories, pans, and pots.
Cons
Extremely overpriced
The frame can catch rust.
The assembly is challenging if you're not an "assembly" guy.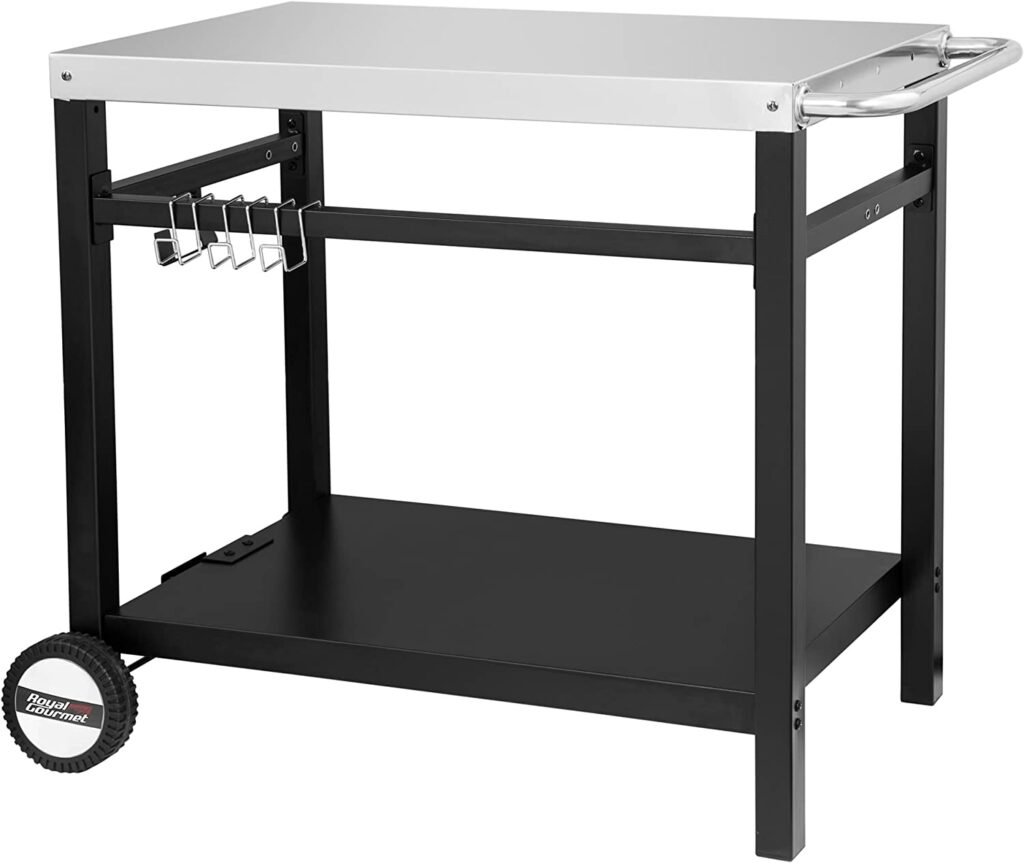 Do you need equal utility and value for half the price of an Ooni pizza oven table? The movable cart table by Royal Gourmet can be an excellent choice. 
With a powder-coated steel frame and stainless steel top of 19.6 X 33.46, this table can bear a weight of up to 100 lbs. I don't think any home pizza oven can be that heavy.
A table must be about 30-36 inches high to use your pizza oven on a table without bending a lot, right? It is so!
For stability and mobility, this Royal Gourmet table has 2 wheels. At this point, I would instead call it movable, not very portable, even though it weighs only 27.1 pounds. Still, you can take it to your picnic destination if your vehicle space allows you.
Next comes the accessibility, and here the Royal gourmet table wins again. It has 3 hooks to let you arrange your utensils and pizza-making tools like a pizza peel. Besides this, a dedicated tank mounts up further and allows you to hook your fuel tank to about 20 pounds.
This bestseller table for pizza oven is undoubtedly a best seller, undoubtedly. 
Yet, be realistic! 
A few things could be improved; they're not deal breakers.
First, the assembly takes time–not the design flaw but vague instructions from the manufacturers. The only way to get out of this trouble is not to tighten the screws fully until you've somehow assembled them (not fully).
Second, keep the material in mind–the steel will surely catch rust. You can delay it by taking care of your cart. Besides this, for frequent camping, it might not assist you a lot–its thin material will mind excessive transportation.
Pros 
Cost-effective
Easy to clean
Portable
Cons
It can catch rust but slowly.
Only suitable for occasional portability
Thin material
Assembly is not easy.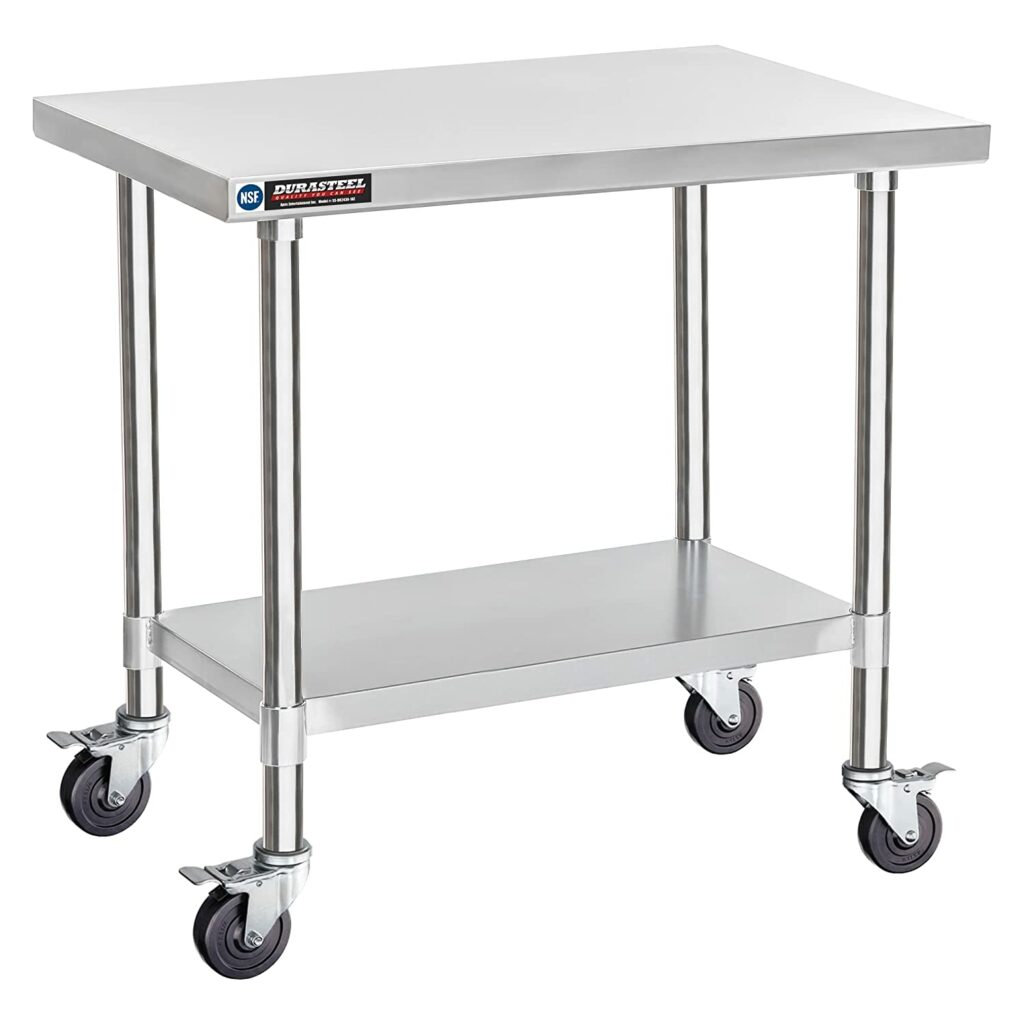 When you need a table that could last decades, put your hands on the Food Prep Stainless Steel outdoor prep table, this table is made of high-quality 16 gauge, grade 430 stainless steel–you get an exact value for your money.
Likewise, the tabletop is also durable, made of stainless steel with a brushed steel finish. It's also easy to clean. 
This table is available in various sizes and is easy to choose according to your pizza oven size. When selecting any pizza oven table, one important factor is table height, which should be about 36 inches for an ergonomic experience without bending your back or raising your head. 
Here, this table fully complies with your need to launch or rotate your pizza–it's about 34 inches high, no matter what size you choose.
Another thing that this table lacks is the hooks, the mid-shelf. You don't need that if you aren't equipped with many pots and pans. Yet, you can integrate any additional few bucks hooks with your table.
Other than that, you can also add as many mid-shelves to the table as you need. However, you might not need these shelves if you're going to place the propane fuel tank underneath.
Unlike Ooni's pizza oven table, this table has large lockable caster wheels of 4-inch diameter. So, you can move this table on any surface, like grass or a concrete patio.
Overall, the table is an excellent outdoor table for your pizza oven.
HOWEVER,
Some compromise might await you.
What are those?
Although the 430 stainless steel is more corrosion-resistant than iron steel, it's not as rustproof as grade 304 stainless steel is.
It's also weighty, so taking it at your camping sites can be challenging.
Pros
Heavy duty durable table of 16 gauge 430 stainless steel made to last for 5 decades
Versatile and easy to assemble
Easy to clean
4 big caster wheels for effortless mobility
Cheaper than costly 'specialized" kitchen tables
Cons
Not fully rust-proof
Not as portable for camping sites
The surface can catch marks, though not rust.
Uncareful shipment can cause dents.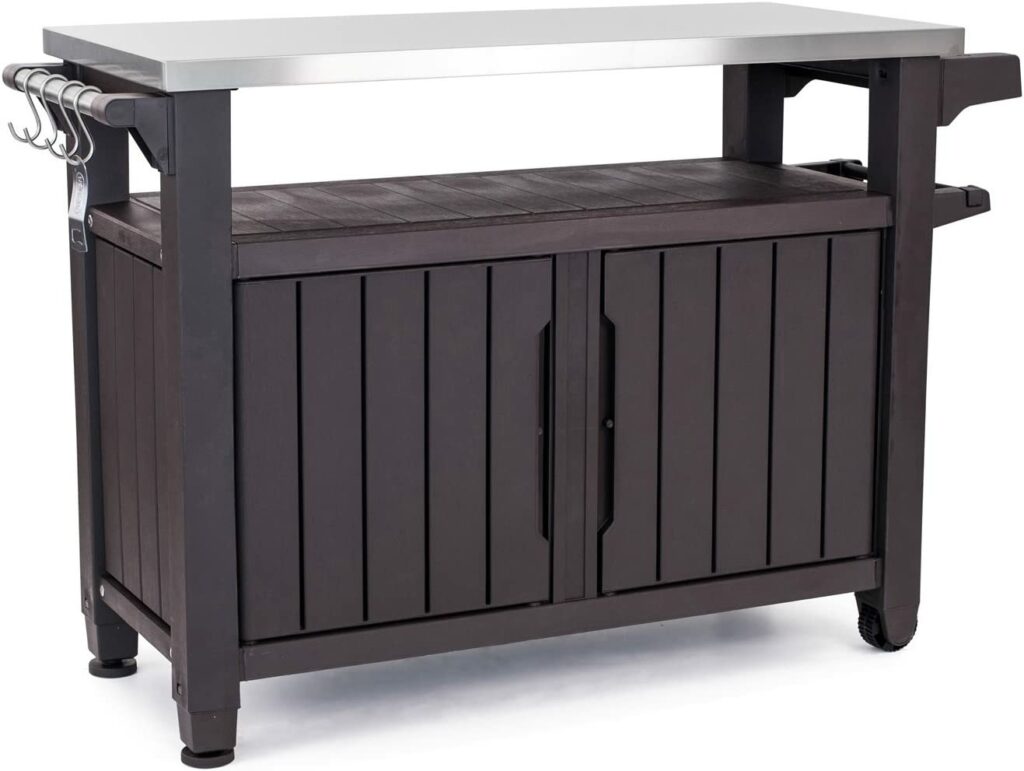 If you like a cart-style cabinet for your pizza oven but don't want to have a small cart, Keter Unity has got you the solution. Just like their previous cart, it's a great, wear and weather-resistant table for your pizza oven.
Made of resin material (not plastic) and a stainless steel tabletop, the outdoor pizza oven cart is versatile. You can mount a cooking unit like a griddle, grill, stove, toaster oven, or pizza maker.
A perfect cart must have perfect storage, will you agree with me? 
This cart by Keter Unity has hooks, a towel holder, and a spice rack. Underneath is the cabinet to let you keep your fuel tank or utensils. The self under the tabletop is also extremely helpful for keeping your bowl and pans.
This XL Keter Unity table has the same longevity as the smaller version (I'll review that next)–it'll last over several years.
Yeah, user manual assembly instructions could be more clear and more elaborated.
To get work done by the cabinet doors, you must place them without using inserts and get to know how they'll open and close.
Undoubtedly to use it as a pizza oven cart, you must beware of the space width, which is a bit limited. So, angle your pizza oven slightly to prevent it from falling.
The only downside is that it's not for camping sites, especially if you're wondering about portability. Weight is one issue–it's 50 lbs. Additionally, there is no way to unfold it for portability–neither can you disassemble it.
Besides this, it can seem overpriced if you consider the material only. Please remember that it'll last as long as your stainless steel table, and it'll be matchless for the weather or water resistance.
Pros
201-grade stainless steel tabletop material is rust-resistant. 
Excellent table for gas-fired pizza ovens
You can leave the lockable cart outdoors.
Perfect for using/leaving outdoors
Easy to assemble and clean
Cons
Expensive 
Not portable, but movable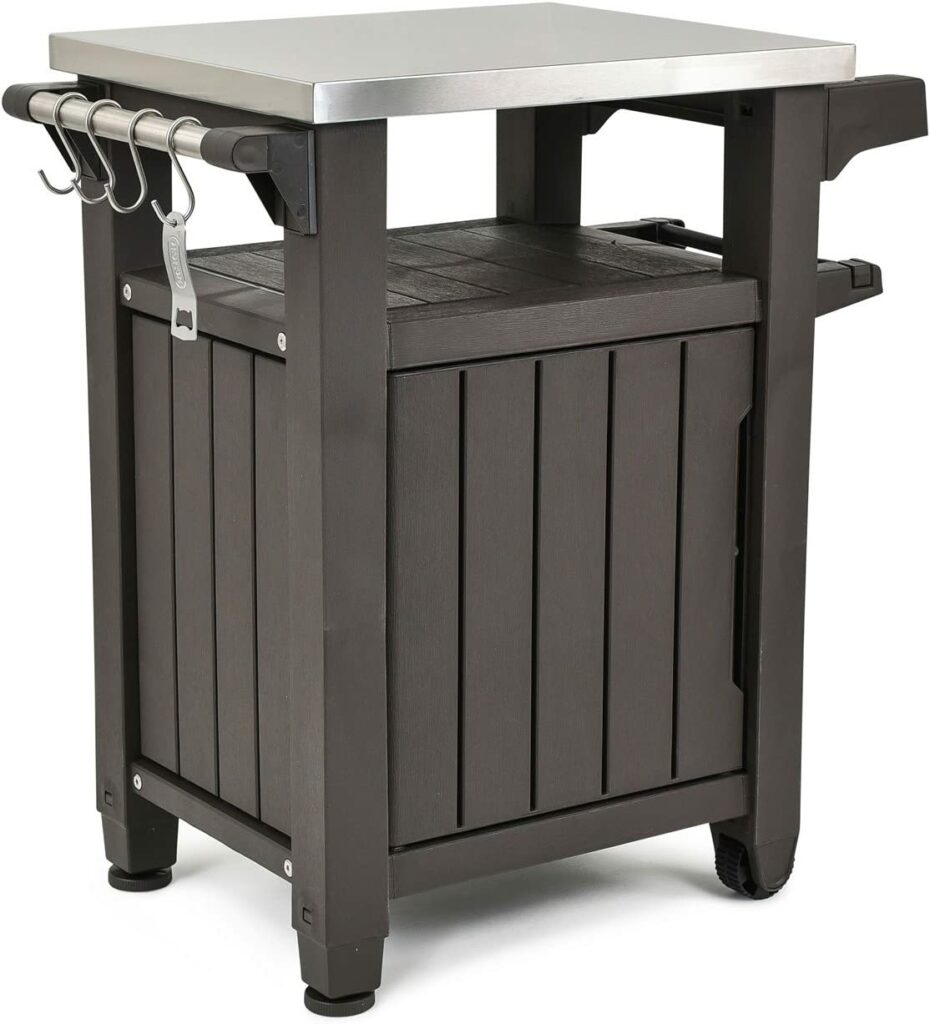 Did you like the Keter Unity cart but would like it more if it were in a smaller size?
Here it is.
The cart's dimensions are 35.4 x 29.6 x 22.7 inches. This space is ample for any portable pizza oven.
With a medium size 201 stainless steel countertop, it has hooks, a spice rack bottle opener, a towel holder, and a shelf for excellent storage. 
When it's about material and longevity, it's unmatched because they have made it a marine grade.
The resin material is better than stainless steel in terms of rust and weather resistance–it'll not rust, peel or fade (you're also allowed to forget it outdoors).
Since it's versatile, you can use it to place your grill or stove; or simply use it as a prep table.
Are you worrying about the heat resistance of this cart? 
Don't worry; the stainless steel top has been mounted on it. So, the space between the mid-shelf and tabletop works as an insulator. 
Besides this, the resin material can also tolerate the temperature range of 150° F to 300° F. I don't think your pizza oven will heat the surface underneath to that extent.
Is it portable?
Yes, this cart barely weighs about 15 kg. So, with little effort, you can take it anywhere or move it with the help of its 2 wheels.
A few cons are inevitable as it is an outdoor table of resin. 
The cabinet door might not attach properly if you don't mock how they hinge. So, before attaching them with the door inserts, try them–you won't be disappointed.
Pros
The customer service is responsive and helpful
Excellent table for Ooni gas ovens
Incredible weather and water resistance
Easy to assemble and transport
This lockable cabinet can be left outdoors unattended
Cons
The tabletop stainless steel material is a bit thin.
Not purely portable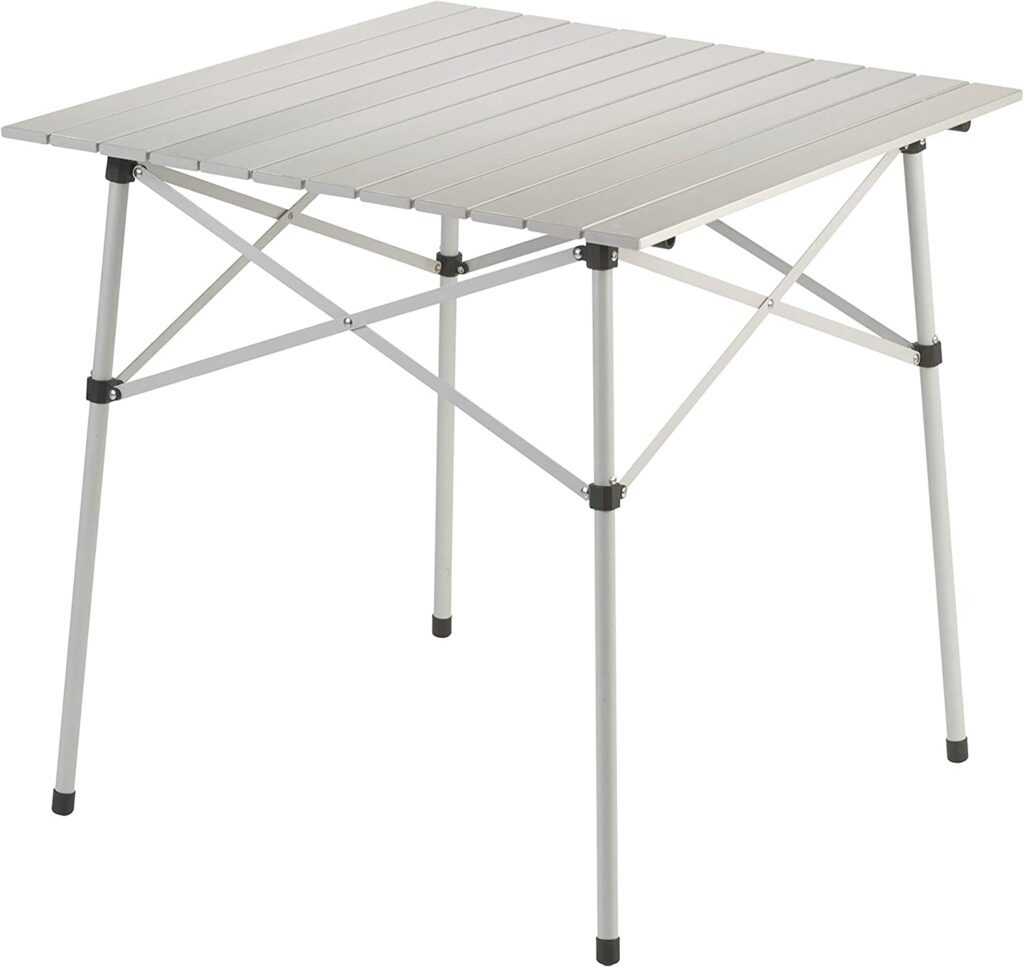 Sometimes, you do need complications, but the simplicity, agreeing?
If yes, the simplistic pizza oven table is for. From assembly to portability, everything is breezy.
I'm talking about Coleman's folding table outdoors.
No drama, a simple tabletop/platform is adequate to let you mount your portable pizza oven that doesn't use a fuel tank–it doesn't support a fuel/propane tank.
But you'll miss the fuel tank holder. So, I'll advise you of this table for a pizza oven that either uses a propane bottle(you can mount that in the middle) or runs on wood pellets.
Durability?
The frame is made of steel, and the tabletop is made of aluminum. So, you can expect that it can last over a few years. 
If you're thinking about cleaning, that's obviously easy.
The tabletop is made of aluminum; hence is effortless to clean. 
There is no need to discuss portability, this lightweight being of aluminum and steel. In addition, the vinyl plastic joints ensure weather and water resistance.
How can we forget about the price? It's under $50. 
What a budget-friendly minimalistic pizza oven stand it is!
Any drawbacks? 
Yes, only 1 or 2 are nothing compared to the price.
Pros
Highly suitable for small pizza ovens like Rocbox or Ooni
Inexpensive
Extremely durable
Easy to assemble, use, and clean
Portable
Awesome weight capacity of up to 100 lbs
Cons
Flooding and unfolding the table will require some effort after a few years of usage.
Less stable on sloppy or uneven surfaces
It's wobbly.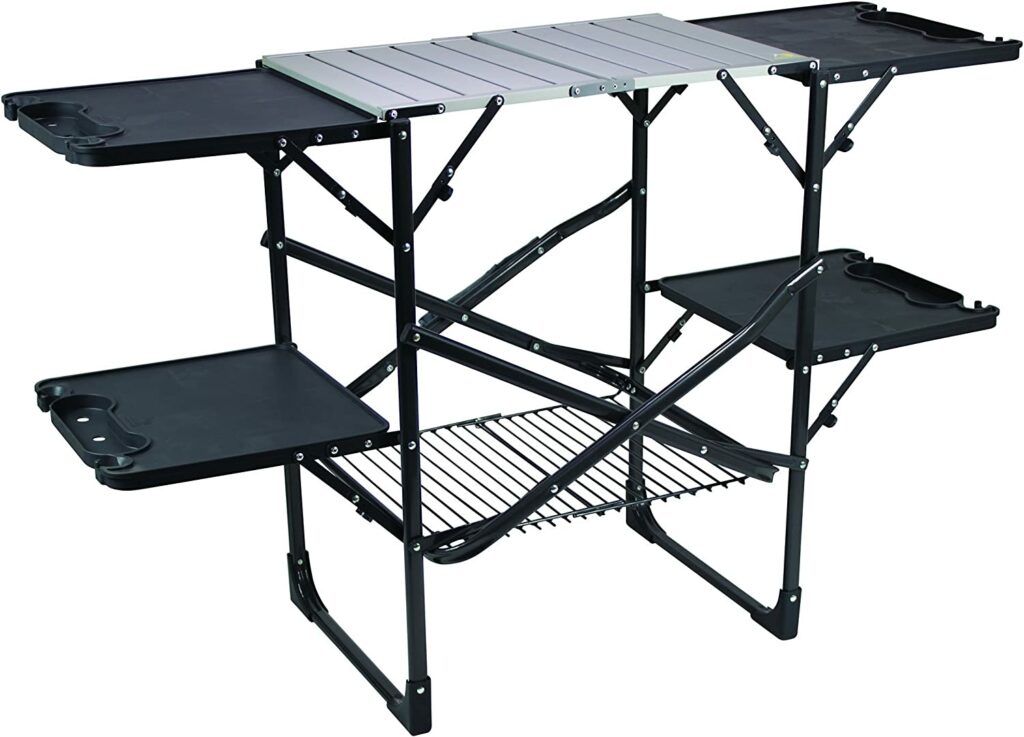 What if you need a portable, spacious, multipurpose table for your pizza oven? Nothing can beat a perfect outdoor table 15026 GCI outdoor Slim table. Though not purely a pizza oven, grill, or stove top table but a great food prep station, this cheap foldable table can serve the purpose.
You'll fall in love with the design of this table. It can hold anything on it, from pans to sauce bottles.
It's lightweight and pretty durable. 
How? 
3 lightweight materials: powder-coated steel for the frame aluminum for the tabletop, and plastic side shelves do the job.
It might look large and complicated, yet the assembly is straightforward. It won't take more than 1 minute to see it ready to use.
You might doubt the capacity. The good news is that it can withstand demanding usage outdoors, as the tabletop weight-bearing capacity is 48 lbs. In the same way, the side shelves can allow you to put up to 30 lbs, while the mesh arches can hold over 35 lbs. So, you can place a pizza oven and accessories on it–or even the entire camping site.
I love this table being portable. Undoubtedly, it has no wheels (those could be really unnecessary). Instead, you can fold it and take it wherever you want– it weighs only 8.5 kg/18.9 lbs. 
Cleaning the table top is also a relatively easy nut to crack. The aluminum surface has been as sleek as that of stainless steel. Cook your pizzas and then wipe the table with a damp cloth, and it's done.
Such goodness this table gets you, is there anything to worry about?
Yes!
It can rock on uneven surfaces. So, only have it if you'll be using it on an even surface.
Pros
Heat resistant countertop
Perfectly portable to campsites
Durable
Easy to assemble and clean
Highly budget friendly
Cons
It comes with no packing bag.
Unstable on uneven surfaces
It needs an even weight distribution to stay stable.
How Should You Choose the Best Pizza Oven Table–Buying Guide
Several types of grill or stove mounting tables are available in the market. Yet, when it comes to buying a pizza oven, you only get a few options, and Ooni's pizza oven table is also among them. 
These one or two options set a standard for what a pizza oven table should be like. Sadly, despite an excellent design, the tables are overpriced for such material.
But, the good news is that you can choose a better table with a more utilizable design and durable material for the same or even a low price if you keep a few points in view. 
So, put aside the Ooni's pizza oven table as an ideal and read these few factors that can help you choose an alternative table or cart for your portable pizza ovens. Here are these.
Material
The material for an outdoor pizza oven table is a primary and foremost factor to consider. It must be water and weather-resistant. 
Not all materials can fight weather outdoors, e.g., on camping sites, hills, or beaches. And, if you're living in a cold area, you'll need some table with incredible weather resistance–the design will come second.
Among the materials suitable for outdoor pizza oven tables, a few are discussed below:
Stainless steel 
Stainless steel is the most popular choice as an outdoor cooking/baking table material because it's durable, easy to clean, and resistant to rust and heat. 
But, before breaking the bank, you should also consider the stainless steel grades. 
The grades vary from 430, 301, and 304. The 304 stainless steel is marine quality and extremely rust or scratch-resistant, and the 301 and 430 grades lack such formability, respectively.
Aluminum
Aluminum proves an excellent material for outdoor pizza oven tables because it's lightweight, making it easy to move and handle, especially compared to heavier materials like wood or iron. Despite being lightweight, it's durable to withstand wear and tear, making it a good choice for outdoor and commercial applications. In the same way, it's resistant to corrosion.
However, It's soft and prone to scratching, which can be a disadvantage under heavy usage. Overall, aluminum can be a good material for outdoor pizza oven counters.
Steel
Steel can be a good material for outdoor tables, but it also has its own pros and cons.
For example, steel is known for its strength, durability, and weather resistance, yet it can rust and corrode over time, especially in humid and corrosive environments. 
Resin 
Resin is a popular material for outdoor kitchen tables due to its durability and resistance to weather, moisture, and UV rays. It can be molded into various shapes and forms, is portable, and is easy to clean. 
The only drawback is that resin can generally withstand heat to some degree–120-150°F without becoming deformed or degraded. However, prolonged exposure to high heat may cause the resin to deteriorate and lose its strength and durability.
If your pizza oven cart has been designed so that the resin material has less exposure to heat, it can be unmatched in terms of weather and moisture resistance.
Portability
Besides the table material, you can also look for a few more features in your outdoor pizza oven table, like portability. It's because making pizza outdoors often involves transportation, so a portable pizza oven table is convenient. When you need a portable pizza oven table, you can find two options:
Folding tables
Folding tables are versatile, easy to set up and pack up, and easy to transport, making them an excellent option for making pizza during camping. They can be of different materials, such as aluminum and stainless steel.
Roll-up tables
Roll-up tables are lightweight, easy to transport and set up, and made of durable materials such as aluminum and polyester fabric, making them an excellent option for camping.
Cart-style movable outdoor tables
Outdoor cart-style tables feature wheels or casters and can be easily moved around. They're designed to be used outdoors, usually in patio or deck areas, and can come in various shapes, sizes, and materials such as metal, wood, or wicker. 
These tables offer versatility and convenience, as they can be easily rearranged or moved to different locations.
Design and additional features
Other than strength and portability, design or other features ensure optimum user experience. Below I've discussed a few features that can provide maximum utility.
Adjustable shelves 
Pizza oven tables have adjustable shelves, which can be moved up or down to accommodate different-sized items.
Drawers or storage compartments
Oven tables have built-in drawers or storage compartments, which allow you to store utensils, cutting boards, or other kitchen tools.
Casters or wheels
Caster wheels are a common feature on food carts for several reasons:
Mobility: Caster wheels allow a food cart to be easily moved from one location to another, making it ideal for outdoor events, festivals, or food trucks. They also make it easier to maneuver the cart in tight spaces or around obstacles.
Stability: Good caster wheels with locks help keep the cart stable while in use, reducing the risk of tipping over or movement while food is prepared or served.
Hooks, holders, and under-shelf storage
Under-shelf storage is an essential part of premium carts. It provides additional storage space for supplies and equipment, allowing the cart to maximize its use of space. 
Likewise, under-shelf storage allows easy access to supplies and equipment without moving items around on the working surface, improving efficiency and reducing the risk of clutter. 
Height
The table height for a pizza oven can vary based on the user's height and the oven size. However, it's recommended to have a table around counter height, usually about 32-36 inches, to allow for comfortable use of the pizza oven.
Dimensions
The dimensions of a pizza oven table will depend on the size of the pizza oven itself. A standard pizza oven table must be around 30 inches wide, 25 inches deep, and over 20 inches long. So a table that is slightly larger than these dimensions would be suitable. 
Propane tank mounting storage
A pizza oven table with a propane tank mounting can provide a secure and convenient location to store the propane tank while grilling. The mounting helps to keep the propane tank upright and stable, reducing the risk of it tipping over or becoming dislodged during use. Additionally, having the propane tank easily accessible on the table can make it simpler and more efficient to switch out an empty tank for a full one without moving the grill or searching for the tank elsewhere.
FAQs
Can I use my camping table for a pizza oven?
Yes, you can use a camping table to mount a pizza oven, but it depends on the table's material, size, and stability. If the table is large enough to accommodate the pizza oven and provides a stable and level surface, it can work as a makeshift mounting surface. However, it's crucial to ensure that the table can support the weight of the oven and any food items placed on it and that it does not wobble or tip over when used. 
Camping tables are often designed for portability and may not have a rigid construction suitable for extended use with a pizza oven. A more permanent and sturdy table designed for this purpose is recommended for long-term use.
Final Thoughts
You don't need to spend your hard-earned money on an expensive pizza oven table. Instead, you can pick some more durable option among other food prep tables, carts or even camping tables. Some will be as cheap as under $50.
So, just take the material and table size into account, primarily, and consider additional storage and portability features as second; you'll be proud of your selection soon.
mama-cucina.com is a participant in the Amazon Associate program and will earn from qualifying purchases.