We all agree that hand blenders are great. Especially when you need to make a quick puree or some fresh homemade mayonnaise, at the same time, you might also need a budget choice.
That's where Costco's best hand blender comes in!
It's Braun's Multiquick 7 Immersion Hand Blender.
Also known as an immersion blender or a stick blender, the Braun Hand Blender is convenient and efficient. You can use it to puree soup right in the pot.
When you're done, you can throw it in the drawer. Not only will it save you time, but also space!
Keep reading to know more about this amazing Costco product!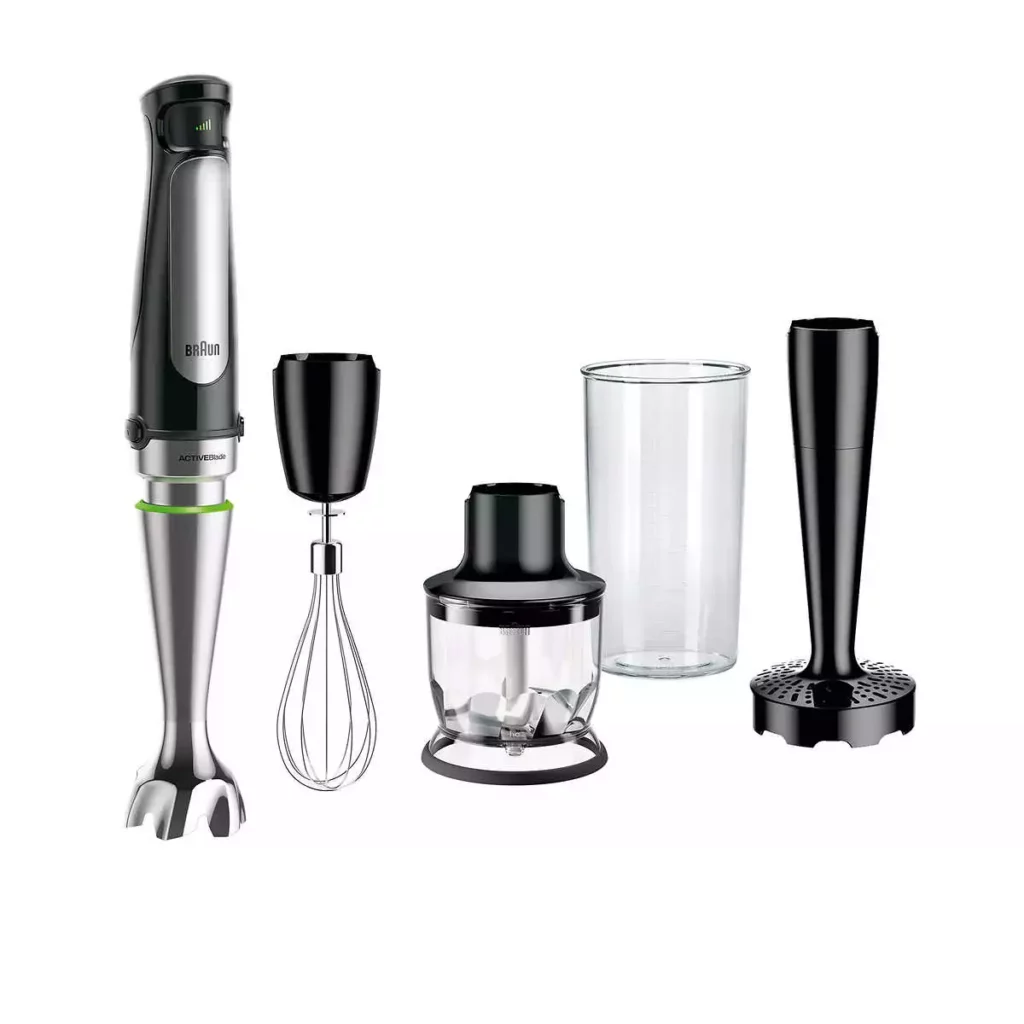 Finding a good quality hand-held blender is difficult. But don't worry! Costco has introduced you to Braun Hand Blender. It's an excellent product.
It comes with 500 watts of power and ground-breaking smart-speed technology that allows you to blend whatever you want easily.
With this product, you're opened to a whole new world of culinary possibilities! It offers quick and easy blending. Its well-thought design minimizes suction and splashing–thanks to the first ACTIVEBlade technology in the world and its proprietary PowerBell Plus system.
You can switch between the included blending wand, masher, whisk, and 1.5-cup chopper using the supplied blending beaker and the EasyClick Plus Accessory System.
Want to be more satisfied with this blender?
Let's look at its features.
Hands-On Operation
Costco's Braun Hand Blender comes with smart-speed technology. This means that it uses rather than fixed speed settings to get the desired outcomes.
But how?
Well, it's easy!
Simply push the button, and the applied force will determine the final result.
If you want roughly chopped ingredients, use less force to push the button. For more finely chopped ingredients or blended ingredients, use greater force. Sounds exciting, right?
Better and Quicker Results
The Braun Hand Blender uses a flexible shaft to work the blade. It creates an extremely active cutting area. The result is smooth blending within seconds!
No more worrying about chunky bits in your soup. With this amazing blender, the possibilities are endless!
Moreover, it can crush tough foods. Its 500-watt motor can handle any food you want to blend. Who needs a countertop blender when you have such an effective product?
No Splashing
With hand-held blenders, there's always a fear of splashing. But not with this Costco product!
It comes with Advanced SPLASH control technology–you can achieve the best outcomes with ZERO splashing!
Okay, so Braun's got this wicked feature called Advanced SPLASHcontrol technology. No more mess when you're blending because this invention keeps everything in check. It's all down to this special blending shaft and cup design.
The shaft has a cool spiral going on, creating this tornado-like action that pulls everything down into the cup. No splashes, no mess. Plus, the cup's tapered shape means everything stays inside.
But it's not just about keeping your kitchen clean. This Advanced SPLASH Control technology also makes the blender work better. The spiral design on the shaft boosts the blender's power, smashing up ingredients faster and more evenly. The shape of the cup makes a tight seal, stopping air from messing up your blend.
Long story short, Advanced SPLASH Control Technology makes blending a breeze – quicker, neater, and just plain better. If you're tired of cleaning up after blending, you'll love a Braun blender with this tech.
Here's the amazing stuff you get with it:
Clean Kitchen: Thanks to the Advanced SPLASH Control, you won't have to clean up splashes from blending.
Speedy Blends: The spiral shaft design means blending stuff super fast and even.
Awesome Results: The cup's shape gives you an air-tight seal, so nothing interrupts the blending, and you get smooth results.
More Blade, More Power
Another remarkable feature of Costco's Bruan hand blender is the addition of an extra milling blade. It gives the blender extra power. With this feature, you can easily blend large bits and tough ingredients. An extra blade means more slices per rotation.
Single-Hand Experience
Hey, so the Braun MultiQuick 7-Hand Blender is just super convenient. You only need one hand to work this baby because it's designed so well, fitting right into your palm. The buttons are right on top, so you can easily switch speeds or power.
And guess what? The Braun MultiQuick 7 Blender's got a bunch of cool add-ons that snap on and off with just a one-handed maneuver. So, if you're in the mood to blend soup, puree veggies, or whisk some eggs, it's as easy as switching attachments.
All in all, if you're in the market for a blender that's not just powerful and multi-tasking, but also simple to use, the Braun MultiQuick 7 Hand Blender could be your best bet.
3 Year Warranty
To top it all off, the Braun Hand Blender comes with a 3-year warranty. That's right! With such a commitment, you can feel assured that it cares about its customers. So, are you satisfied?
Price
The cost for a Braun MultiQuick hand blender at Costco is $99.99. It's an affordable option for a high-quality immersion blender. It's great value for money. This makes it such a hit among Costco customers. It's unlike any hand blender on the market. And with such an eye-grabbing price, it's a steal!
Try it out and see it for yourself!
Pros
If you're still considering your options, let us help you. We've curated a list of pros for you. Let's look at them.
Braun Hand Blender has the ability to intuitively control the speed.
No lumps or small bits
It can blend fibrous ingredients.
The Braun Blender can chop/blend big batches of food.
It can blend tough ingredients.
It's easy to clean.
Cons
With pros, there come cons. Let's find out some disadvantages of the Costco Braun Hand Blender.
The chopper cup is small.
It's not a great chopper.
It cannot crush ice.
Holding the speed trigger for a long time is tiresome.
It's very loud.
FAQs
How should you choose a hand blender?
Here's the lowdown on picking a handheld blender:
Power: Check out the wattage. More watts = more power = it can blend tougher stuff.
Speed Settings: Make sure it has various speed options. This lets you control how well you blend things up.
Attachments: Some blenders come with bonus bits like a whisk or chopper. You can do a lot with these, like whipping up soups, pureeing veggies, and whisking eggs.
Comfort: You gotta be comfortable using it. Look for one with a nice handle and easy-to-reach buttons.
Price: Handheld blenders can go from $20 to $200. The cost depends on all the above plus the build quality.
Things you'd want in a blender:
Mighty motor: You need a strong motor to blend tough stuff like ice and frozen fruit.
Speed variety: The more speed settings, the better control over your blend.
User-friendly: The blender with well-placed controls should be comfortable and easy to use.
Multipurpose attachments: Different attachments let you do various tasks like blending soups, pureeing veggies, and whisking eggs.
Sturdy build: A well-made blender will last you ages.
And the stuff to steer clear of:
Weak motor: Weak motors can't handle tough ingredients.
Fixed speeds: Blending different things at different consistencies is a pain without variable speed settings.
Hard to handle: If the blender's tough to hold or use, you're not gonna have a good time.
Limited add-ons: Not having enough attachments restricts what you can do with your blender.
Poor build: A blender that's not well-made won't last.
Once you've considered these things, you're ready to start blender shopping! Plenty of options exist, so you should find something that suits you and your wallet.
Can I put the Braun Hand Blender in the dishwasher?
Yes, you can. This way, you don't have to spend much effort cleaning it by hand. However, not all the blender parts are dishwasher-safe. The parts you should never put in the dishwasher include the motor, the cord, the masher gearbox, and the whisk to prevent any damage to the machine and maintain its optimal functioning.
Final Thoughts
We hope this article has cleared all your doubts about Costco's Braun Hand Blender. Now, it's time to give it a shot. Buy it online or visit your nearest Costco store now for self-use or give it to a loved one.
So get your hands on this epic hand blender. It's sure to satisfy all your hand blender needs! With amazing features, this hand blender is a kitchen necessity.
Are you ready to make delicious smoothies and mouth-watering soups? Let's get blending!
mama-cucina.com is a participant in the Amazon Associate program and will earn from qualifying purchases.