Indulging in a hearty slice of deep-dish pizza is like taking a bite out of tradition and flavor all at once. Whether you're a fan of the thick layers of cheese in Chicago style, the crispy edges of Detroit style, or the savory goodness of Sicilian style, one thing is certain: the right pan can make all the difference.
In this article, we're helping you find the perfect match for your pizza cravings. From achieving that signature crust to ensuring the cheese melts just right, we've rounded up the 5 best deep dish pans that will turn your kitchen into a pizzeria. 
Get ready to discover the tools that'll have you baking up Chicago, Detroit, and Sicilian-style pizzas that are as authentic as they are delicious.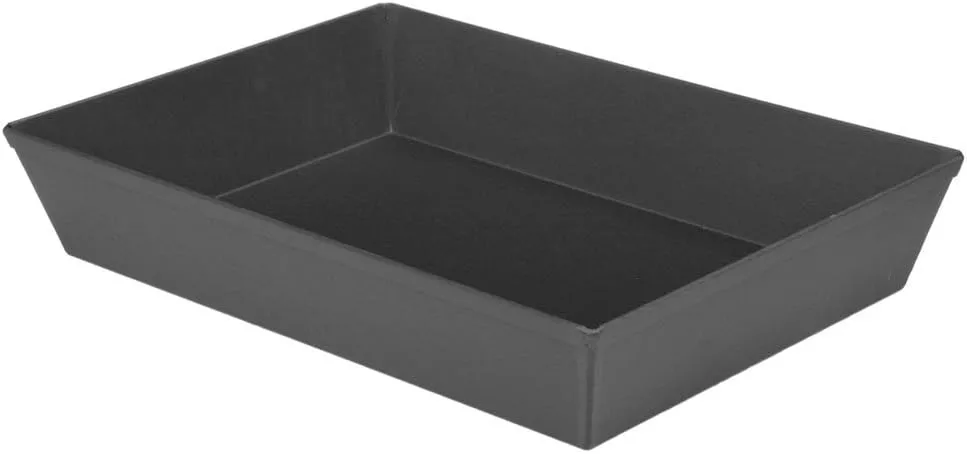 The LloydPans Kitchenware 10 X 14 Inch Detroit Style Pizza Pan is the best deep pan for making Detroit or focaccia pizza. Why?
The generous size is spot-on for making hearty pizzas for a small crowd. The dimensions give you that classic rectangular shape, ensuring your crust is crispy, and pizza is loaded with as many toppings as you love!
The pan's solid construction guarantees even heat distribution. So, you won't end up with burnt spots or undercooked dough.
Matchlessly, the pan has nontoxic, Pre-Seasoned Tuff-Kote (PSTK) coating, a proprietary finish developed by LloydPans. It's a water-based release coating applied on pans and baked in an industrial oven, which helps to absorb it into the pores of the anodized finish.
This PSTK coating gives your deep dish pizza pan a permanent, stick-resistant, metal utensils-safe, easy-to-maintain coating. Additionally, its pre-seasoned, anodized surface prevents sticking and imparts a delightful crunchiness to the crust.
No need to worry about cheese or toppings sticking to the pan…you can dive right into pizza-making without any pre-seasoning fuss and then clean the pizza pan by handwashing!
It doesn't end here…The pan can withstand up to 700 degrees Farenheit. So, whether you're aiming for a gooey cheese pull or a perfectly crisp crust, this pan has your back.
Oh, and don't forget the optional lid (sold separately). The lid can help you trap heat and allow your cheese to bubble and brown just right.
In short, with the LloydPans Kitchenware 10 by 14 Inch Detroit Style Pizza Pan, you can say hello to easy baking, cleaning, and taste bud-tantalizing results.
Pros
Made of heavy-gauge aluminum for durability and even heat distribution
Pre-seasoned and with PSTK coating for easy release of pizza
It can be used in the oven, on the stovetop, or under the broiler
Deeper walls accommodate generous toppings without overflow.
Suitable for both experienced bakers and beginners
90 days warranty for defects
Cons
Pricey
Not dishwasher safe
The Chicago Metallic Deep Dish Pizza Pan, boasting a spacious 14-inch diameter, is the best round-shaped deep dish pizza pan. Its user-friendly design and features make it a go-to option for creating mouthwatering, Chicago-style pies, St. Louis, and stuffed pizzas right in the comfort of your own home.
The pizza pan features a generous size of 14 inches. So, it's perfect for making larger pizzas that can satisfy the appetites of a hungry gathering.
Using the Chicago Metallic Deep Dish Pizza Pan is a breeze, even if you're not a seasoned chef. The pan's deep sides allow you to pile on your favorite toppings without fearing overflow, resulting in a loaded and satisfying pizza experience. Additionally, the silicone non-stick coating further adds to the pan's appeal. This nontoxic coating prevents your pizza from sticking and aids in a hassle-free cleanup process–dishwasher-safe.
The pan's construction is noteworthy, too. Crafted with high-quality carbon steel materials, it ensures even heat distribution. So, you won't have to worry about unevenly cooked slices—it'll bake every corner of your pizza to perfection.
Durability is the name of the game with this pan. The heavy-duty carbon steel it's built to last, ready to handle all your pizza-making adventures without bending or warping. This is why the company has been fearless in announcing a lifetime warranty for these pans.
And here's the kicker—it's not just an oven warrior but also a dishwasher-friendly companion. After all, creating culinary masterpieces should be fun from start to finish.
In short, with Chicago Metallic's Deep Dish Pizza Pan, you can elevate your pizza-making game confidently.
Pros
Generous Size is perfect for creating large deep-dish pizzas to feed a crowd.
Even Heat Distribution
Easy to clean and use because of non-stick coating
Durable build with quality carbon materials
Lifetime warranty
Not overpriced
Cons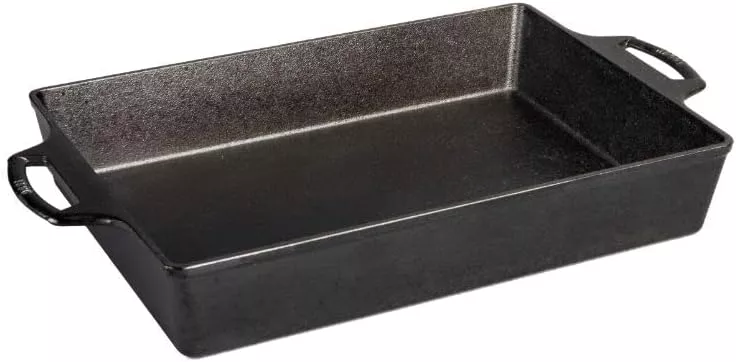 If you need a heavy-duty, versatile pan that could face the high heat of wood-fired ovens, Lodge Cast Iron Pan for Deep Dish Pizza is for you. Its heirloom quality helps it withstand the temperature and time test–it won't dent, bend, or warp. Thus, your cooking adventures become part of your family's legacy for generations to come.
Crafted with passion and expertise, this cast iron pan boasts dimensions of 9 X 13 X 2.25 inches. The dimensions are ideal for arranging thick pizzas like Detroit style, Sicilian style pizzas, and Focaccia bread.
Weighing in at 7.25 pounds, it's the heavyweight champion of your kitchen. Its thicker material holds heat and distributes it well for consistent baking and perfect browning. However, this weight, is indeed a downside.
The exceptional feature of this cast iron gem is its high sidewalls that work like magic to keep your pizzas toppings contained as you cook up a storm for your loved ones. Say goodbye to messes and hello to stress-free cooking!
No need to worry about tedious seasoning rituals—every piece of this bakeware comes pre-seasoned with 100% vegetable oil. Therefore, it's ready for action straight out of the box. It's a seamless journey from unboxing to indulging in your flavorful masterpieces.
Lodge has been creating cast iron cookware since 1896 in the USA. So, you're not just investing in a piece of cookware—you're embracing a legacy of excellence that's been cherished for over a century.
In conclusion, the Lodge Cast Iron Pan in the 9×13-inch size is a heavyweight champion in the realm of deep-dish pizza making. It has the ability to cook your pizza crust evenly. Coupled with its versatility, it makes a valuable addition to any kitchen.
Pros
Excellent heat retention for even heat distribution
Besides pizza making, it can be used for various cooking tasks
Natural nonstick coating is non-toxic.
Built to last for decades.
The rustic look of cast iron adds a timeless charm to your kitchen.
Affordable than LloydPans' pizza pan
Cons
The heaviest pan
It needs proper seasoning to maintain the non-stick surface.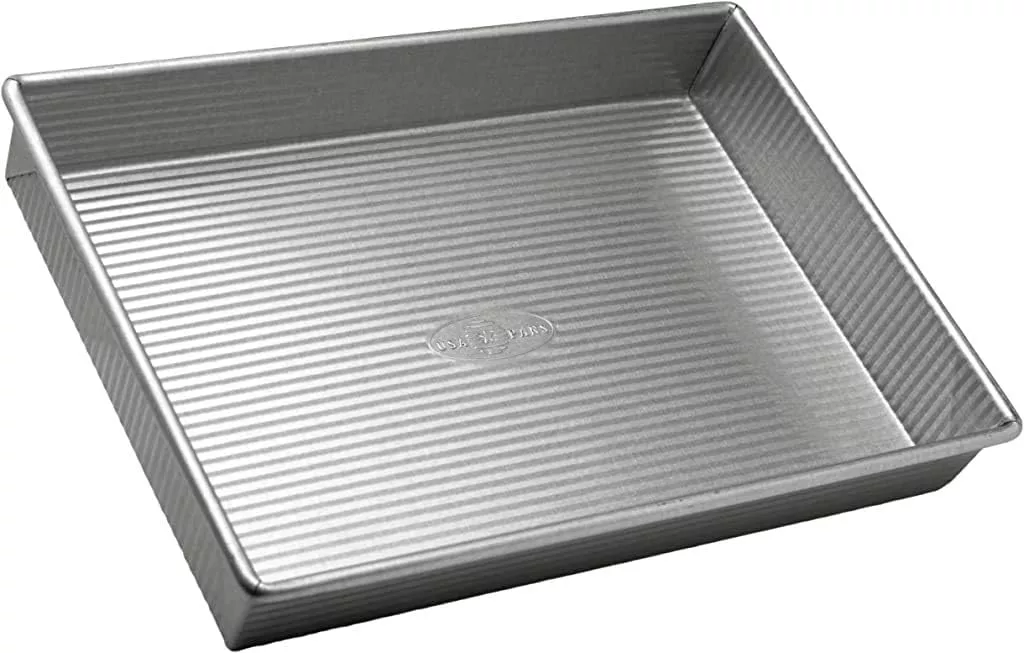 If you need a lightweight, versatile pan for creating deep-dish pizzas and baking several other recipes—the USA Pan Bakeware Rectangular Baking Pan is for you! It's a high-quality, non-stick pan that makes deep-dish pizza.
Made with precision, this baking pan boasts 9 X 13 X 2.25 inches dimensions. With a weight of just 1.94 pounds, it's your lightweight companion in the kitchen. Using this pan is as easy as pie (or cake, in this case). Its rolled edges prevent warping, making it sturdy and reliable for countless baking endeavors. Besides this, the raised edges allow you to top your pizza with all cheesy richness in large quantities.
When it comes to serving pizza out of this pan, it's hassle-free–you can release your thick-crust pizzas in a blink of an eye. This matchless sleekness of this pan results from its ingenious fluted design and the patented nonstick Americoat coating.
When you've happily enjoyed your pie, the hour of cleaning comes.
Don't worry; it's also painless.
You can leave this pan in the first rack of your dishwasher; it'll come out shining like new.
Evenly-spaced indentations on the bottom of the pan combine with patented non-stick coating for better food release and easier cleanup.
And, the ultimate peace of mind is here…this baking pan by USA Pan Bakeware is backed by a lifetime warranty.
What does it mean? 
This pan doesn't wrap at all at a high temperature of 500 degrees Fahrenheit. Hence, you get value from every penny you spend.
Can you guess what it means? This pan doesn't wrap at all at a high temperature of 500 degrees Fahrenheit. Hence, you get value from every penny you spend.
Up-level your baking game with the USA Pan Bakeware Rectangular Baking Pan—where dimensions, material, and design redefine the art of deep-dish pizza crafting. Get ready to savor every slice with a touch of culinary mastery.
Pros
The nonstick coating prevents food from sticking.
An even cooking–thanks to heavy-gauge material
Made of durable and warp-resistant aluminized steel
Oven-safe up to 500 degrees Fahrenheit
Dishwasher-safe
Lifetime warranty
Fairly priced
Cons
The nonstick coating can wear off over time
The pan can be warped in a wood-fired oven's higher temperatures.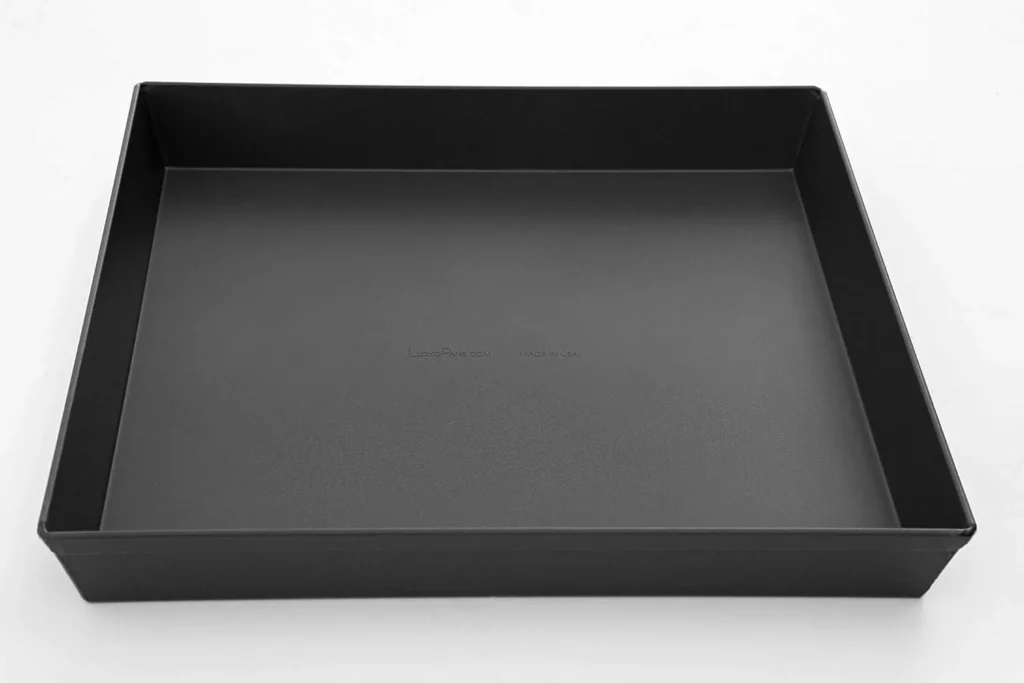 If you need a deep dish pizza pan for baking flawless Sicilian pizzas or other deep dish pizzas, LLloydPans 12x12x1.5 inch Sicilian Style Pizza Pan can be the best pick. It can be your gateway to homemade pizza perfection.
This piece of kitchen innovation has a feather-lightweight of just 1.3 pounds, to be your go-to tool for crafting Sicilian-style pizza wonders.
With this pan, your pizza making is effortless—no more tedious seasoning rituals. The reason is this pizza pan is not just ready to roll but pre-seasoned.
What's the secret?
The answer is the anodized aluminum that brings unbeatable heat distribution to the table. So, get ready for pizza that's evenly cooked and oh-so-satisfying.
For further ease, the magic of stick resistance is here to transform your pizza-making skills. You can effortlessly slide your pizza masterpiece onto your plate, leaving nothing behind but pure satisfaction.
And guess what?
This pan is utensil-safe, giving you the freedom to explore and create without worrying about scratches or damage.
The pizza pan is totally fantastic, but not perfect. What? Yes, it has a few flaws too. First, it's not dishwasher safe, though sleek enough to be cleaned with a hand wash only. Second, the piece is a bit overpriced. In contrast, for half the money, you can get some most durable pans like Lodge Cast Iron or, previously discussed, USA Pan Bakeware's pans with a lifetime warranty.
If you care more about pizza shape, go for it…it won't disappoint you. Yet, you only need to take care of it!
Pros
It's durable because of heavy-gauge aluminum construction.
An even heat distribution for getting you excellent pizzas
Ease of use, pizza release, and cleaning 
Magnificent size and dimensions for Sicilian pizzas
Lightweight–conversely, this weight might disappoint you for the price.
Cons
Not dishwasher safe
It's not really non stick: coating can wear off if not cared
Overpriced
Not ideal for higher temperatures of over 500 degrees Fahrenheit
Final Thoughts on Which is the Best Deep Dish Pizza Pan?
In the quest for the best deep-dish pizza pan, it all boils down to what suits your pizza-making style. If you're aiming for that classic Detroit-style crust, the LloydPans Kitchenware pan with its specialized design might be your winner.
But if versatility and decades-lasting durability is your top preference, the Lodge Cast Iron Pan can handle both deep-dish pizzas and more. And for a spacious option that brings Chicago-style magic, the Chicago Metallic Pan delivers.
Remember, it's about personal preference—crispy crust, gooey cheese, and endless toppings. So pick the pan that fits your cravings and let your homemade pizza journey begin!
How Should You Choose the Best Deep Dish Pizza Pans?
Are you a pizza lover with a soft spot for those gooey, cheesy, and saucy deep-dish delights? If so, you're in for a treat! Finding the right deep-dish pizza pan can make a difference in your pizza-making adventures. In this buying guide, I've discussed a few factors that contribute to a pizza pan's overall quality. By considering these factors, you can choose the best deep-dish pizza pan for you.
Material Matters
When it comes to deep dish pizza pans, the material they're made of can affect your cooking experience and the final result greatly. Here are some common options:
Cast Iron
Cast iron pans are known for their exceptional heat retention and even cooking. They create a crispy crust and are perfect for achieving that classic deep-dish pizza texture. However, they can be heavy and require proper maintenance to prevent rust.
Aluminum
Aluminum pans heat up quickly and distribute heat evenly, resulting in a well-cooked crust. They are lighter than cast iron and are often more affordable. Look for pans with non-stick coatings to prevent your pizza from sticking.
Steel
Steel pans also heat up rapidly and provide an evenly browned crust. They're lightweight and durable, making them a good alternative to cast iron. Some steel pans come pre-seasoned, which helps improve their non-stick properties over time.
Size and Depth
Deep-dish pizzas come in various sizes and depths, and so do the pans. Consider how big you want your pizzas to be and how thick you like your crust. Deeper pans allow for more toppings and a thicker layer of gooey cheese, while shallower pans result in a more balanced ratio of crust to toppings.
Non-Stick Magic
Nobody wants their delicious creation to stick to the pan! Look for deep-dish pizza pans with effective non-stick coatings. These coatings not only prevent sticking but also make cleaning up a breeze. Remember that even the best non-stick surfaces can wear off over time, so treat your pan with care.
Shape Up: Round or Square?
Deep dish pizzas traditionally come in a round shape, but square pans are also popular for creating a unique twist. Round pans offer a classic look and are easy to find. On the other hand, square pans can accommodate more servings and are great for those who like a generous amount of crust.
Heat Conduction
A pan's ability to conduct heat evenly can determine how well your pizza cooks. Pans with multiple layers or a combination of materials can enhance heat distribution. This helps prevent hot spots and ensures your pizza bakes consistently from edge to center.
Handles and Grip
Don't overlook the practicality of handles! Some deep-dish pizza pans come with handles that make it easy to take your creation in and out of the oven. Ensure the handles are sturdy and heat-resistant, so you can comfortably handle your hot and delicious masterpiece.
Durability and Maintenance
Investing in a high-quality deep-dish pizza pan can save you money in the long run. Consider pans that are built to last and are resistant to warping, scratching, and rusting. Additionally, check the manufacturer's recommendations for cleaning and maintenance to ensure your pan stays in tip-top shape.
Budget-Friendly Options
You don't have to break the bank to get a good deep-dish pizza pan. There are options available at various price points that offer decent performance. Remember that a slightly higher upfront cost for a quality pan can pay off with better cooking results and longevity.
Your Personal Style
At the end of the day, the best deep dish pizza pan for you depends on your personal preferences and cooking style. Think about the type of deep-dish pizza you enjoy, how often you plan to use the pan, and your comfort level with different materials and features.
In conclusion, finding the perfect deep dish pizza pan involves considering factors like material, size, non-stick properties, shape, heat distribution, handles, durability, and budget. By keeping these points in mind, you'll be well-equipped to choose a pan that brings your deep-dish pizza dreams to life. Happy baking and indulging in your homemade cheesy masterpieces!
mama-cucina.com is a participant in the Amazon Associate program and will earn from qualifying purchases.