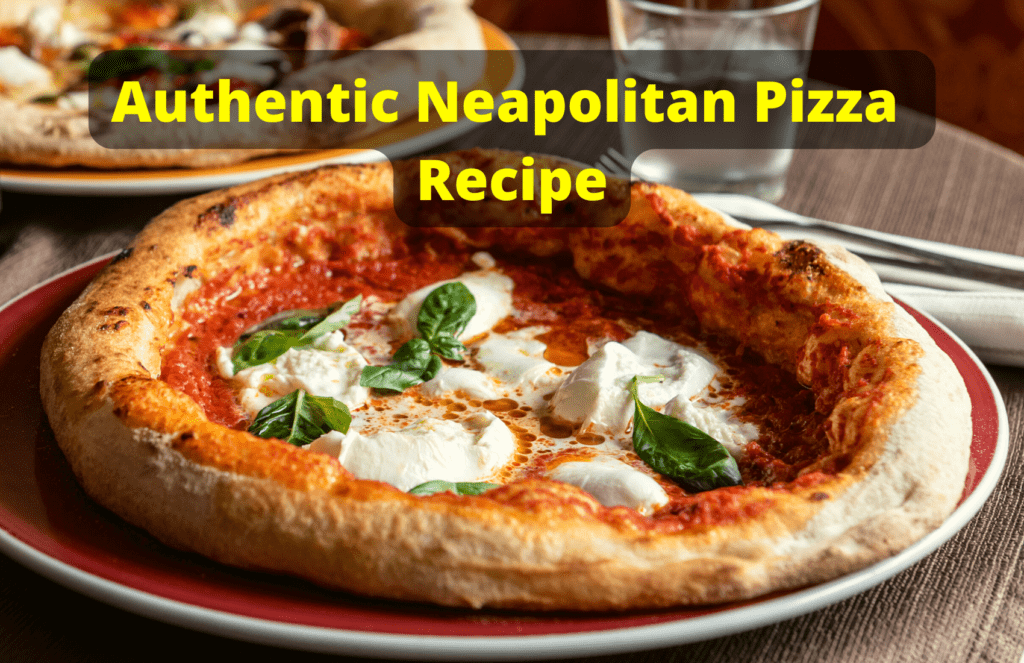 Do you want to cook authentic Neapolitan pizza? We bet you must have a chance to enjoy this pizza. It might be the best thing that has ever happened to your culinary delights.
You'll affirm that it's super delicious food bursting with flavors of cheese and San Marzano tomato sauce over super delicious crust.The good news is, you can replicate the original Italian pizza in your home kitchen.
It's not a recipe of pizza made in Naples Italy only that we'll be sharing with you; it's a complete guide to help you cook true Neapolitan pizza without missing a single shot. So, only spare 10 minutes and become a Neapolitan pizza master.
What Makes Authentic Neapolitan Pizza – Know the Standards
Making pizza and making an Authentic Neapolitan pizza are two different things. You can't simply follow any recipe. Your recipe must result in a pizza that is:
Super puffy
Soft inside
Crispy outside
Chewy
No excessive toppings except San Marzano tomato sauce, cheese, and basil leaves
That's it!
It sounds simple, yet achieving the pizza dough is the only thing that turns the table and demands a guaranteed way.
Here it is!
Step-by-Step Authentic Neapolitan Pizza Recipe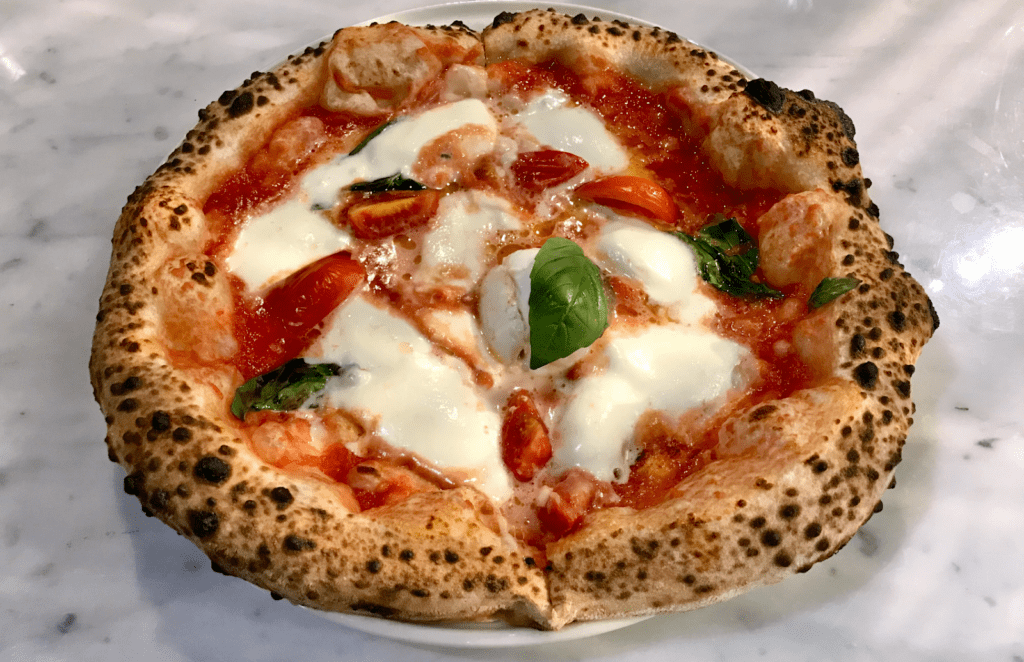 Unlike other foods out there, every ingredient for Pizza must receive love to develop into the best dish. Each step is crucial, and it comes together to create a piece of art!
Step-1 Make Poolish for the Pizza Dough
The Neapolitan pizza dough decides the results of your pizza. To make Neapolitan pizza dough, you need to follow the ratio of the ingredients, no matter how many pizzas you want to make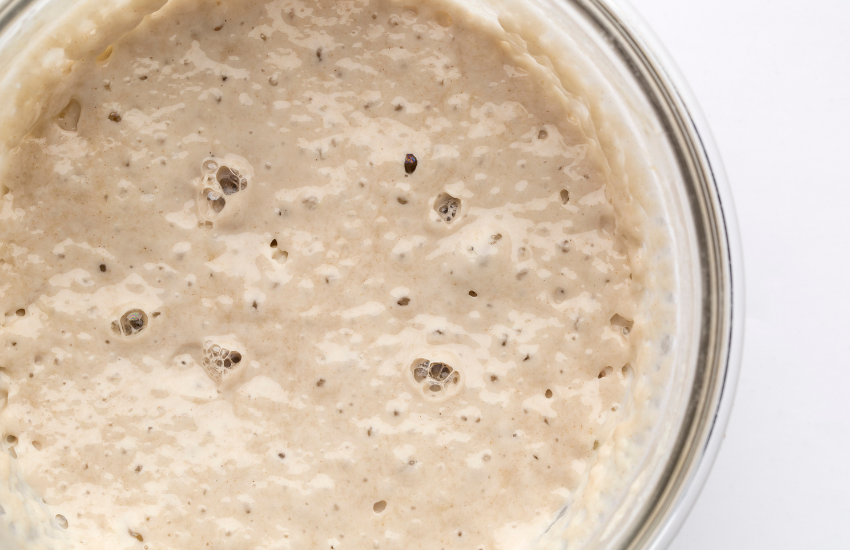 Poolish plays a vital role in achieving an ideal light, crispy but soft puffy pizza crust.
You will need the following ingredients to prepare Polish. Prepare your pizza dough 2 days ahead when you start making the pizza dough.
Ingredients
| | | | | |
| --- | --- | --- | --- | --- |
| 00 Flour | Water (cold but not freezing) | Honey (Natural Sugar) | Yeast Fresh | Active Dry Yeast (if not using Fresh Yeast) |
| 100% | 100% | 2% | 2% | 1.8% |
| 300 g | 300 ml | 6 g | 6 g | 5 g |
Follow the steps listed below to make poolish:
Take a large bowl with a lid.
Add yeast and honey into the water and mix them well. And let it rest for 5 minutes.
Now add the 300 grams of pizza flour and mix until it's smooth.
Cover the bowl and let it rest at room temperature for 1 hour.
After 1 hour, transfer it to the refrigerator and let it slowly ferment for 16-20 hours.
When you start to make pizza dough the next day, the poolish will be ready. You can use it directly from the fridge to make the dough.
Step-2 Make Authentic Neapolitan Pizza Dough (The Most Critical Part)
You need to get the rest of the dough ingredients and make the dough.
Ingredients
| | | | |
| --- | --- | --- | --- |
| Flour | Water (cold but not freezing) | Sea Salt | Olive oil |
| 700 g | 400 ml | 25g | 10 g |
Process
Take a big wooden bowl and start mixing poolish, 400 ml of water, and sea salt and mix them well until the mixture is even.
Add the 700 g of 00 flour and mix well.
Transfer the dough to the counter using a metal spatula and knead it for 15 minutes using pushing movements of hands. Do the job quickly so that the dough doesn't stick to your hands.
When the dough takes shape, add the olive oil and keep rolling it. This dough will have 70% hydration.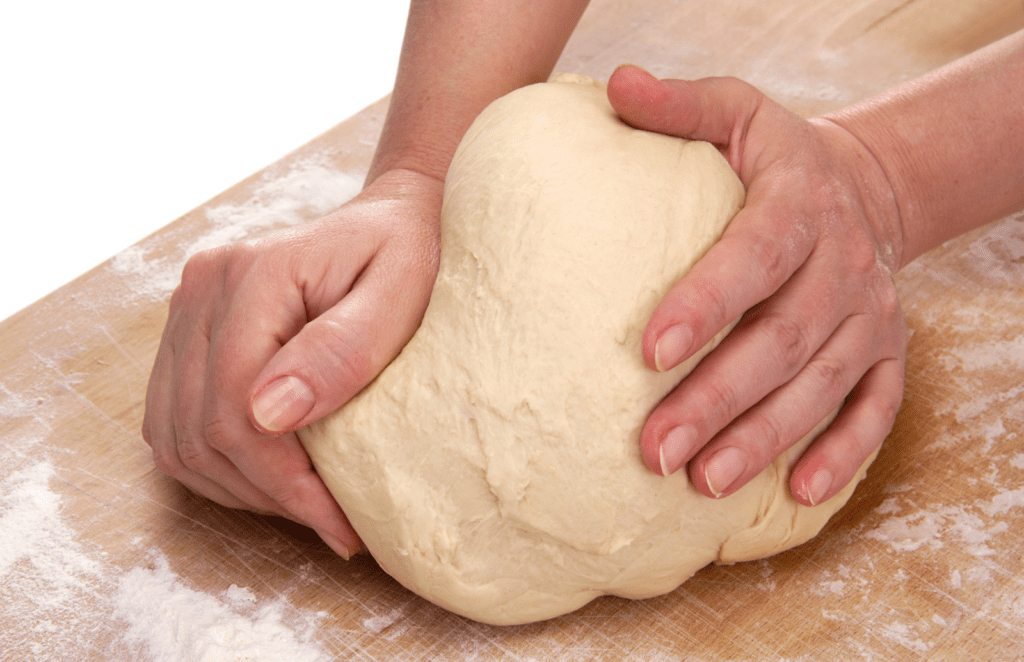 Make the dough ball, place it on your counter, and cover it with a bowl upside down for 15-20 minutes. This resting period is essential to let the gluten develop.
Spread the olive oil on your hands and pat it on the dough ball. Now, recreate the ball by manipulating the dough sides under the ball. The slides will go underneath to pull the dough from the center upward. Soon, it will seem like a smooth ball with no air trapped inside.
Spread some olive oil in the bowl, put the dough ball, and close the lid. Shift the dough to the fridge and let it be there for 16-24 hours. It's what we call DOUBLE FERMENTATION to get the perfect dough.
After 16-24 hours, transfer the pizza dough to the counter and wait for 20 minutes to reach it at room temperature. And make dough balls.
Sprinkle some flour in the container and place the dough balls into it. And close the box.
Leave the balls at room temperature for 1-2 hours.
The dough is ready to make pizzas.
Step-3 Prepare Neapolitan Pizza Sauce and Toppings
While your dough balls are resting, you can make the pizza sauce. If you only aim at authentic Neapolitan style pizza, it must be super simple. Here is the process.
Ingredients
San Marzano Tomatoes – 300g tin.
5 grams of Salt
About 250g of fresh mozzarella balls.
30g of Parmesan.
Olive oil.
A handful of fresh basil leaves
Make the Neapolitan pizza sauce.
Let's talk about tomatoes, as they are the main ingredient in the sauce. You can either use high-quality tinned tomatoes or fresh tomatoes. Yet, to have traditional Neapolitan pizza, get San Marzano tomatoes. They can be a bit expensive but less acidic and sweeter.
Take tomatoes and blend them into a smooth paste. Or open the cane and blend the tomatoes. Add the seasoning and give one more pulse.
Note: You can also smash canned tomatoes by hand; it'll get you pizza sauce with tomato chunks.
Shape the pizza dough.
Some tips to note before moving on to the final step in making the best authentic Neapolitan Pizza are that always make one Pizza at a time, don't try to rush, and trust the process. Speed is also key to shaping the dough because it may stick if you leave it on a surface.
Now take your dough ball and sprinkle flour on it so that it doesn't stick to any surface. Shape it slowly, lay it on a surface, and use your hands from the bottom up to give it a circular shape. Then comes the slapping stage. Slap the dough and spread it up.
Step-4 Stretch, the Pizza Dough, Add Toppings, and Bake it!
Now the assembling starts.
Stretch the dough
Some tips to remember when shaping the dough are that when you stretch it out, use the ends, and don't touch the middle of the dough. Focus on the outside of the dough, as the inner part will stretch out later.
Make sure that while you're spreading it out, you aren't touching the rim of the dough. It'll become the crust of your dough.
Also, spread the pizza sauce making an even, thin layer so that you can see the surface of the dough through it.
Then, sprinkle a little flour onto the peel, slide the pizza onto it, and then shove it into the oven!
Follow the perfect baking temperature and preheating.
The best temperature at which this Neapolitan Pizza bakes is 626 Fahrenheit. You'll need to preheat the oven to this temperature. This temperature can be hard to achieve in an electric oven.
Yet, here is a trick. Use a pizza stone.
You need to heat the pizza stone in your oven at maximum temperature for about one hour as it needs to be very hot for the pizza to cook perfectly.
Now we'll come back to Pizza.
Shift your pizza to the pizza peel and trader it on the pizza stone.
Bake it for 5 minutes. Not loading your pizza with heavy cheese toppings will cause the crust to attain the required puffiness besides making it crispy.
Shift it counter and spread julienne sliced cheese and basil leaves. Keep in mind that you need to cut thick pieces of mozzarella as they'll melt slowly. Thin slices might get burnt. Also, spread oil on the rim to get a golden-brown color on your pizza. Take the Pizza and put it on the pizza stone.
In a little while, you need to turn the Pizza and let it sit like that, and finally, you'll get the most delicious pizza you've ever had.
For a wood-fired pizza oven, you need to cook your Pizza for about 3-4 minutes and turn it every 20-30 seconds. If you have a regular domestic oven, you need to cook it for around 6-8 minutes, turning the Pizza every two to three minutes. As a rule of thumb, your pizza will be ready when you see melted cheese bubbling and pizza crust turning golden brown.
Serve it!
Remove the pizza from the oven with the help of peel, so you don't burn yourself, and blade it on a plate. Grate some parmesan cheese, sprinkle it on top of the pizza, and sprinkle some basil. Then you can pour some olive oil and black pepper according to taste.
Your perfect Neapolitan pizza Let it cool and serve!
Key Points to Remember
Use flour with more gluten, like 00 flour.
Don't use warm water.
70% water ratio is ideal for the perfect Neapolitan pizza crust.
If you knead dough in a stand mixer, you don't need to knead it at the counter.
Pre-bake the pizza crust before adding cheese.
Proof the poolish for 1 hour at room temperature and 16-20 hours in the refrigerator.
Proof the pizza dough for 16-24 hours in the refrigerator only.
FAQs
What type of oven is best for baking Neapolitan pizza?
The traditional Neapolitan Pizza bakes in a wood firedl oven. It takes time to cook but gives the best flavor. In a charcoal oven, we use charcoal, which is readily available on the market.
Every fuel has a different temperature at which it bakes. They explicitly use steel ovens for home-based baking. We usually use gasoline or gas as our burning fuel. The temperature for these ovens is based on the item we are baking.
How can you achieve perfect baking?
Let's give you some tips to help you achieve the perfect baking for your authentic Neapolitan Pizza. And you should always preheat the oven to the required temperature. If you have a wood fired oven, then use dry wood.
If you're cooking inside a charcoal oven, always use charcoal of a small size. You can even add soil-based layers to the roof of your oven so that it can get that nice earthy flavor. If aking pizza in an electric oven, use the pizza stone.
How can I know that I perfectly stretched the crust?
When stretching the dough, make sure that it's equally everywhere and there isn't too much flour. Then, after you stretch it out, make sure that you shake off all the excess flour.
How can I stretch a pizza dough as a beginner?
It's pretty easy to stretch out the dough. The first step is to take the properly proved dough and then flour it up a bit, so it doesn't stick. Then you need to spread it around. Then, remove excess flour from it, and you're ready!
Can I customize my seasoning for authentic Neapolitan pizza?
It's best to go with the original recipe Italians don't use chili flakes. Yet, you can add salt, extra virgin olive oil, and basil according to taste. OR it'll be better to eat your pizza dipped in chili sauce if you want some hotness.
Why is my pizza crust so burnt underneath?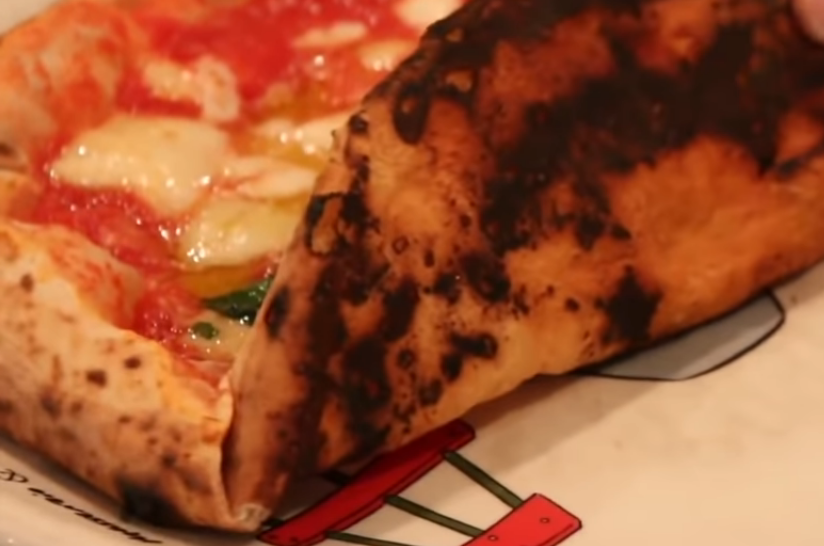 If you sprinkle too much flour or semolina while stretching the dough, the excessive flour will stick to the crust so hard that you can hardly get rid of it. And, it will only make the pizza crust burn. So, if you fear the dough is sticky. Don't worry. By trying once or twice, you can learn to stretch the dough.
What are the essential pizza tools I should have for making Neapolitan pizza?
A few essential tools when making Neapolitan pizza are:
A pizza peel will help you shift your pizza in the oven successfully and manipulate the pizza for even cooking.
A pizza stone is mandatory when you bake pizza in an electric oven. The reason is that no electric ovens reach the required temperature of above 600 degrees.
At this point, the pizza stone helps you the most. The preheating period helps the stone absorb most of the heat and transfer it to your pizza to help it achieve the desired doneness.
A metal spatula is a must-have to pick the dough ball from the box, without ruining it.
A wooden bowl is required to balance the dough moisture.
A baking scale is a must have when you want to bake perfect pizza. The reason is, adding ingredients in the right and precise proportion is crucial, which might not be possible if you measure the ingredients using spoons and cups.
How can I know that my Neapolitan pizza is fully baked?
One of the tell-tale signs that your pizza is fully baked is that the sauce and cheese will be bubbling and boiling after some time. Meanwhile, the pizza crust will turn golden brown.
How long will my pizza take to bake in an electric oven?
It will take 10-12 minutes, including pre-baking of pizza crust.
Why should I pre-bake the pizza crust before adding cheese?
You should always pre-bake the pizza crust with tomato sauce spread on it before adding the cheese. Too much topping will prevent your pizza crust from popping. Thus, it'll not be puffy.
Why is my Neapolitan pizza too flat?
If your Neopolitan pizza crust is way too flat, you can take advice from the previous question and pre-bake it until the crust gets nice and puffy. When you add too many toppings to your pizza, the crust can't grow.
Why is your pizza soggy?
Few mistakes can make your pizza soggy. These are listed below:
No pre-baking can prevent your pizza from releasing excessive moisture.
Too thick pizza sauce will add moisture to your pizza, which can't evaporate too soon. As a result, your pizza can become soggy.
Cheese contains moisture. This moisture makes the pizza moist, especially when you like cheesy pizza. So, cut cheese into small cubes; strain the cheese moisture by leaving it in the refrigerator with a strainer for an hour. OR wrap the sliced cheese in a kitchen towel and leave for half an hour.
Why is my pizza crust so hard?
Baking pizza crust at low temperature, uneven crust thickness, and prolonged baking cause the issue. It usually happens when you have topped your pizza too heavily and want to cook them. Thus, the waiting period affects the pizza crust's crispiness and softness.
Can I store leftover pizza dough?
Yes, you can freeze the leftover pizza dough and use it whenever you want.
Should I use warm water to make pizza dough?
Using warm or hot water for making pizza dough is a big NO! It affects the fermentation and makes dough acidic and over-proofed.
How can I know that my poolish is ready for making dough?
Take a spoon of yeast and drop it into the cup of water. The poolish is ready to use if the mixture floats in the water.
How should I knead Neapolitan pizza dough in the dough kneading machine?
To knead pizza dough in a stand mixer, you need to follow the sequence. First, add the liquid ingredients, add flour little by little, and add salt.
Mix it for 10 minutes at speed number 1 to maintain the gluten in your pizza dough. Speed up the machine and let it mix. When the dough forms a ball, add extra virgin olive oil and let it knead for 1 more minute. Then transfer the dough for resting and fermenting following the method mentioned above.
What should be the pizza dough temperature while kneading?
The pizza dough temperature needs to be 75 degrees Fahrenheit. You can use an infrared thermometer for this purpose.
Why should I cover my pizza dough?
Leaving the pizza dough without covering can make your pizza dough ball dry at the top. If it happens accidentally, dip the kitchen towel in water, squeeze it a little and cover the dough. Soon, the dough ball will absorb the moisture, and dryness will be gone.
What is ideal hydration or pizza dough?
Usually, the Neapolitan style pizza is made using 60%, 70%, or 80% water compared to flour quantity. The water ratio decides the softness and crispiness of your pizza crust simultaneously. If the pizza is too soft, it might pop out amazingly but might not be crispy. Likewise, in the case of 60% water, the pizza will be crispy but not much soft.
80% hydration gives an extra puff to your pizza. Yet, for the beginners, the 80% hydration can be hard to handle as it can be a bit runny. So, go for 70% which is relatively controllable and the result will be a bubbly crust, with proportioned softness,of course.
Why is it necessary to leave pizza dough at room temperature before transferring it to the refrigerator?
The yeast activity begins at the right temperature (room temperature). When you shift your dough in the refrigerator without leaving it at room temperature, your pizza dough will be left underproof. Consequently, the pizza would be doughy, not fluffy and crispy.
HAPPY EATING Authentic Neapolitan Pizza!
How did your pizza come out? Let us know in the comment section. You can also drop your queries; our pizza experts will try to help you ASAP…!
mama-cucina.com is a participant in the Amazon Associate program and will earn from qualifying purchases.