Are you wondering how to unlock the full burst of flavors trapped within your favorite citrus fruits, and what could be the best citrus press to help you there?
Get ready to meet your new kitchen companions. I've reviewed nifty tools that promise to squeeze out every drop of tantalizing juice.
From old-school reamers to cutting-edge presses, which ones truly pack the tangiest punch?
Join me on a journey to discover the 3 bestest citrus presses and reamers for this year. Let's find out how these gadgets can turn your fruits into a symphony of taste!
Detailed Review of 3 Best Citrus Presses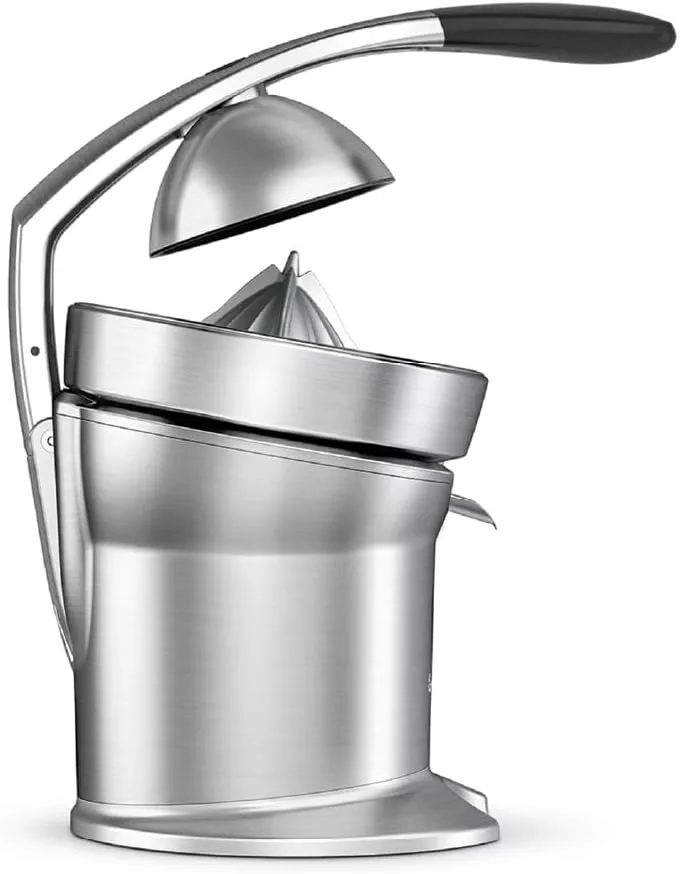 The first and bestest citrus press is Breville Citrus Press Pro Electric Juicer. It does the same function of exerting pressure on citrus for 100% juicing as a manual juicer but at a much higher speed.
Design, Functionality, and Performance
It's a 10.3 "D x 14" W x 7.6 "H juicer with 5 kg weight features as stainless steel heavy built with a sleek design. The Acid Resistant DieCast Cone and durable die-cast brushed stainless steel body beat the corrosive power of citric acid.
The heart of this juicer is the ingenious Quadra-Fin Juicing Cone. Its unique finned design ensures that you extract the last drop of juice from all sizes of citrus fruits, from large blood oranges to lime. So, in terms of performance, the juicer gives you 100% value for money.
Safety Features
Safety is paramount, and the Brevilles Juicer's Dual Switch Safety feature prevents the cone from spinning unless the arm is and required pressure is placed on the top of the cone. This feature helps prevent injuries if the juicer is not used properly.
Likewise, the triple-hinged arm ensures consistent pressure throughout the process. And the safety switch prevents spinning until the arm is lowered and sufficient pressure is applied—keeping your fingers safe.
Cleaning
Cleaning up is a breeze. First, you can continue individual juicing rounds in the morning and clean it in the end. Just detach the fruit cone and juice collector and give them a nice rinse, then as the cone is dishwasher safe.
Does it mean it's not dishwasher safe?
No…!
The removable Fruit Dome and dishwasher-safe components like the juicing cone, juice collector, juice filter, and fruit dome mean less cleaning and more time savoring your delicious creations.
Warranty
And let's not forget about the warranty—this juicer comes with a 1-Year Limited Product Warranty, ensuring your peace of mind.
Few Drawbacks
Breville Citrus Juicer is indeed one of the best citrus juicers, yet some manageable downsides are obvious.
First, although the entire machine has premium built, yet the juice collector is thinly made, and its rims are sharp. Second, the hinged arm doesn't stay in a lock position for easy storage. Third, the screw of the handle loses grip over time and eventually stops helping.
Last, the dome is held by a plastic gasket around a rubber knob. Though meant to fit tightly, it often cannot secure the dome when raised, leading to frequent falls. To fix this, a minor adjustment can be made by pushing the plastic outward. This successfully stops the dome from coming loose, ending the problem.
Pros
Easy to use and clean with dishwasher-safe die-cast stainless steel juicing cone
Extracts juice from all citrus fruits efficiently
Versatile for accommodating citrus of small and large sizes
It comes with two stainless steel filters for variable pulp control
Drip-stopping spout prevents messes
1-year extended warranty
Cons
Can be expensive
The fruit dome can be flimsy and start sticking over time–though tightening the screw works.
The juicer collector is made of thin material.
Customer support is less helpful.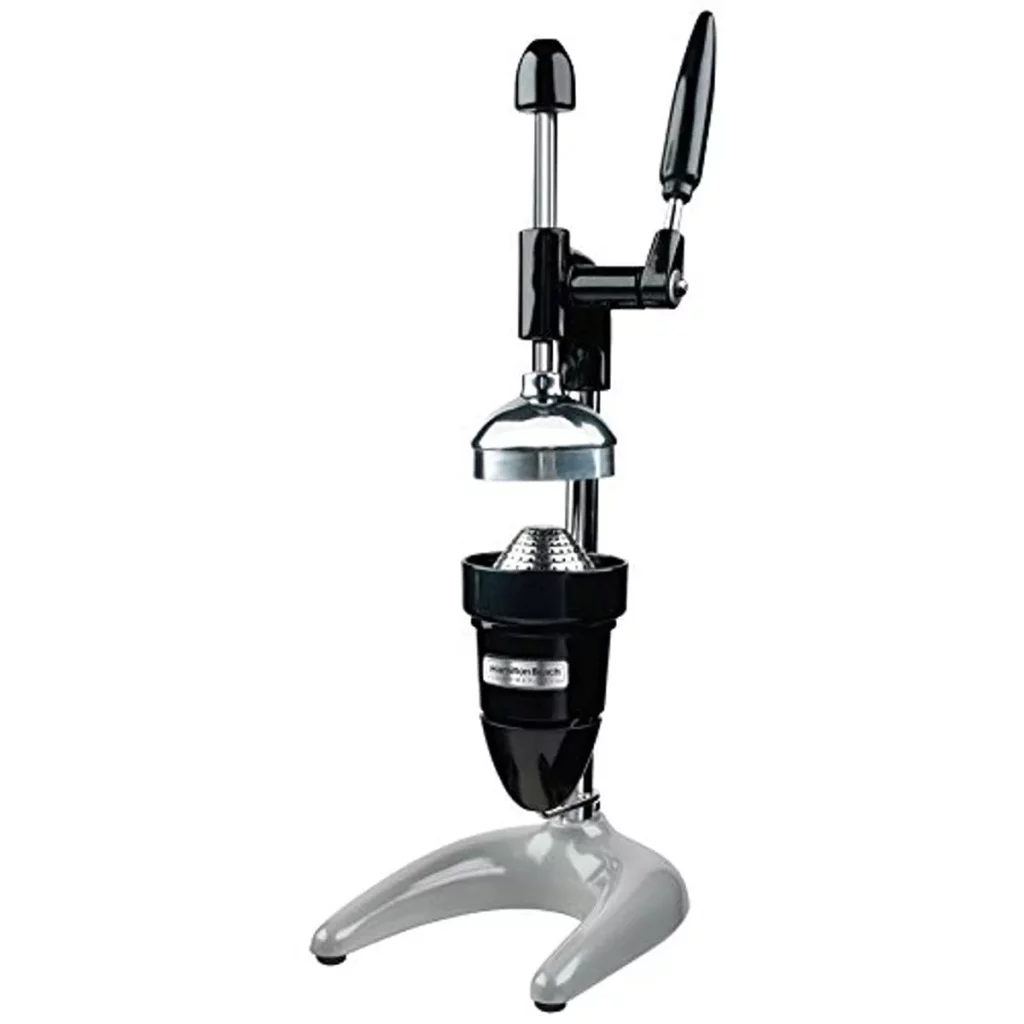 The Hamilton Beach 932 Commercial Citrus Juicer has won me with its simplicity and efficiency. If you're a fan of freshly squeezed juices without fuss, this juicer is a game-changer.
Design, Functionality, and Performance
First off, Hamilton Beach 932 Citrus Press' sturdy build and straightforward design make it a reliable addition to any big kitchen. The lever arm and sturdy base give you a sense of control and stability, even during the juicing process.
Using the juicer is a breeze. Cut your citrus fruit in half, place it on the reamer cone, and pull down the lever. The heavy-duty construction and leverage system means you don't have to exert much effort—the juicer does the hard work for you. I love that it's a manual juicer, so no fear of the machine's overheating haunts you.
The juicer has a 5.5-inch cup to house 8-10 oz of juice. So, you can extract 1 glass of orange in one go.
One standout feature is its versatility. It works like a charm with a variety of citrus fruits, from small limes to large grapefruits. And let's not forget the adjustable reamer—it lets you control the pulp level, catering to your personal taste preferences.
The juicer's finish is tough and can handle acidic juices without getting damaged. This makes the juicer last longer.
Safety Features
The Hamilton Beach Manual Citrus Press is loaded with several safety features.
It has non-slip feet. So your juicer won't slide around on your kitchen counter.
When using such a beast, juicer's handle can cause some accidental damage to your hands. Yet, this juicer's handle works smoothly because of a special design. You don't have to push too hard, which means your fingers are safe from getting caught.
Similarly, the manual juicer's handles are notorious for getting stuck. Yet, if it happens, you can easily release it with a special button. This prevents any accidents if you can't remove the handle by hand.
Cleaning
Cleaning up is surprisingly hassle-free. The metal components are removable and easy to wash. Plus, it's built to handle commercial use, so you can trust its durability in a home setting. However, since the machine is big, a thorough cleaning will require some time.
Few Drawbacks?
Indeed, the Hamilton Beach Manual Juicer has been in the market for about a century, yet such a bragging of 2000 lbs pressure to extract juice is exaggerated. Likewise, the machine has been advertised for commercial purposes. However, it doesn't prove so–it's good for home but not a commercial one. At this point, the primary problem can be the stuck handle and flaking off the finish.
Last, the head can become shaky owing to the fasting screw's head deformation. It might annoy you. However, the head won't come out.
In short, the Hamilton Beach 932 Commercial Citrus Juicer reminds us that simplicity can often be the key to perfection. Suppose you're seeking a reliable, durable, and easy-to-use juicer that stands the test of time. In that case, this one is definitely worth considering.
Pros
Durable and well-made from high-quality chrome and porcelain
Easy to use and clean
Efficiently extracts juice from citrus fruits
It can be used for a variety of citrus fruits
Affordable big manual juicer
1-year parts and labor warranty
Cons
Being manual, it's slow.
The head can lose stability over time.
Not truly a commercial juicer.
It can be a bit messy if not used properly.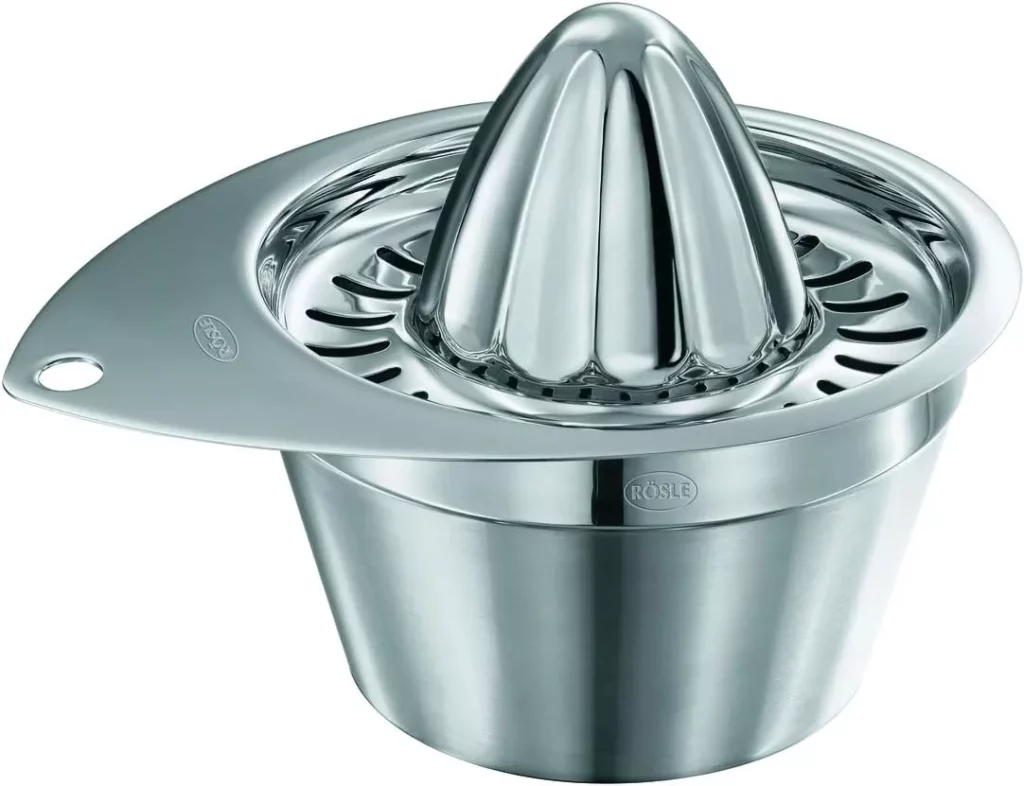 The Rösle Stainless Steel Manual Citrus Reamer and Juicer has impressed thousand of users, including me, with its simplicity and effectiveness. This tool is an incredible, fuss-free way to enjoy fresh citrus juices at home.
Design, Functionality, and Performance.
First, the stainless steel construction is not only durable but also sleek and stylish. It feels solid in your hand, giving you confidence that it's built to last. The design is uncomplicated—a comfortable handle and a pointed reamer head.
Using the reamer is the simplest. Cut your citrus fruit in half, place it over a container or glass, and press the reamer into the fruit. The sharp edges of the reamer efficiently extract the juice with little effort. What surprised me was how well it extracts the juice.
One of the standout features is its versatility. It's designed to work for both small and large fruits: limes, lemons, and oranges. This versatility means you don't need multiple tools cluttering your kitchen—this one does it all.
Safety Features
For safety, while using this Rösle Stainless Steel Manual Citrus, the juicer has a sharp reamer cone that can easily pierce citrus fruits. It is important to be careful when using the reamer cone to avoid getting your fingers cut. Likewise, the juicer has a removable strainer that helps to catch the pulp and seeds. This prevents the pulp and seeds from getting into your juice, which could be a choking hazard.
Cleaning
Cleanup is a breeze with the Rösle Citrus Reamer. Since it's made of stainless steel, a quick rinse under the faucet or a toss into the dishwasher does the trick.
Downsides
One thing to note is that this is a manual tool, so you'll need to put in a bit of elbow grease. However, I found the process to be strangely satisfying—a bit of manual effort for a glass of fresh, wholesome juice.
In short, for any occasional juice enthusiast or a daily citrus lover, the Rösle Manual Citrus Juicer is a must-have. It's efficient and durable, and makes juicing a hassle-free task.
Pros
Sleek design and durable construction
Easy to use and clean
Excellent juice extraction
Versatile
Affordable
Cons
Not great for extracting juice in large quantities.
What is a Citrus Press, and How is it Different from a Citrus Juicer?
A citrus press and a citrus juicer are kitchen tools used for extracting juice from citrus fruits like oranges, lemons, and limes. They work in slightly different ways.
A citrus press is like a hand-operated clamp. You place a halved citrus fruit (cut side down) on the press; then you squeeze the handles together. The press exerts pressure on the fruit, causing it to release its juice which flows out through small holes while keeping the pulp and seeds inside the press.
On the other hand, a citrus juicer is often electric and has a spinning reamer (a ridged cone). You cut the citrus fruit in half and press it against the reamer while it spins. The spinning motion helps extract the juice, and it filters out the seeds and larger pulp pieces, allowing the juice to flow.
So, in simpler terms, a citrus press uses squeezing power, while a citrus juicer relies on spinning to get the juice out of citrus fruits. Both tools make it easier to enjoy fresh citrus juice without the fuss of dealing with seeds and pulp.
How Should You Choose Your Best Citrus Press?
If you're a fan of fresh citrus juice, a citrus press can be a handy tool to have in your kitchen. But with so many options out there, how do you choose the right one?
Don't worry; this easy guide will help you.
Types of Citrus Press
There are two main types of citrus presses: manual and electric. Manual presses are operated by hand, while electric ones do the squeezing. Manual presses are simple and don't require power, but electric ones can save you some muscle power.
Size and Capacity
Consider how much juice you typically need. If you're juicing a lot at once, go for a larger press with a higher capacity. Smaller presses are great for occasional use or limited kitchen space.
Material
Citrus presses are usually made from metal or plastic. Metal presses tend to be more durable and can withstand heavy use. Plastic presses are lighter but might not last as long. Choose one that fits your usage frequency and preferences.
Ease of Use
Look for a press with comfortable handles and a easy-grip design. You don't want your hands getting tired while juicing. Also, ensure the press has a stable base to prevent wobbling.
Cleaning and Maintenance
Nobody wants a kitchen tool that's a pain to clean. Opt for a citrus press with dishwasher-safe removable parts. This will save you time and effort after you've enjoyed your freshly squeezed juice.
Pulp Control
Some citrus presses allow you to adjust the amount of pulp that goes into your juice. If you prefer smoother juice, look for a press with this feature.
Price Range
Citrus presses come in a variety of price ranges. Set a budget that works for you and explore options within that range. Remember that a higher price might indicate better durability and additional features.
Warranty and Customer Support
Check if the citrus press comes with a warranty along with excellent customer support. This can provide you with peace of mind in case the press malfunctions or breaks shortly after purchase.
Brand Reputation
Well-known and reputable brands often offer better quality products and reliable customer service. While lesser-known brands might offer lower prices, they might not guarantee the same level of quality.
Choosing a citrus press doesn't have to be complicated. By taking these factors into account, you'll be well on your way to finding the perfect citrus press to enjoy fresh and delicious citrus juices whenever you want.
mama-cucina.com is a participant in the Amazon Associate program and will earn from qualifying purchases.