Are you looking for the best oven pans? Indeed, oven pans are the must-haves when you love to do a lot of baking, roasting, toasting, and air frying in your ovens. However, with the wide selection of oven pans in the market, how can you tell which are the best ones for your kitchen?
It'll need a lot of research. Who will do it?
Don't worry! 
We'll help you.
Our team has selected the top 10 best baking pans by evaluating the performance of these pans by keeping hundreds of real-time users' feedback. to help you get the perfect bake every time. Besides this, our buying guide can help you make a well-informed decision.
You've got to do only to give this article a mindful read. 
Here we come!
Best Baking Pans- Quick Summary
Oven pans don't always come alone. You can either get them as a single baking pan, a small set of 3-5 prices, or in a complete set of bakeware along with cookie pans, cake pans, loaf pans, baking trays, deep dishes, etc. 
In this article, we've divided our best oven pans' reviews into 3 main sections: a single pan, a small set of 2-3, and a large set of 6-10 baking wares of different materials. 
Below are some best picks for a quick overview that'll save you time and help you jump to the right section. 
Best Oven Pan – Single (also available in 2-3 pans set)
Best Set of 2-3 Baking Pans
Best Set of 4-10 Oven Pans
Best Baking Oven Pans Reviews – Single Pans 
Here we've collected and reviewed the best 10 life-changing oven pans. Let's see which oven pan proves best and why.
YOU CAN STOP SCROLLING THROUGH THIS ARTICLE because you can get several options: single pan, cake pan (round or square), and baking sheet. Just check the options for the first 3 pans' reviews, and you can make your collection of premium quality pans.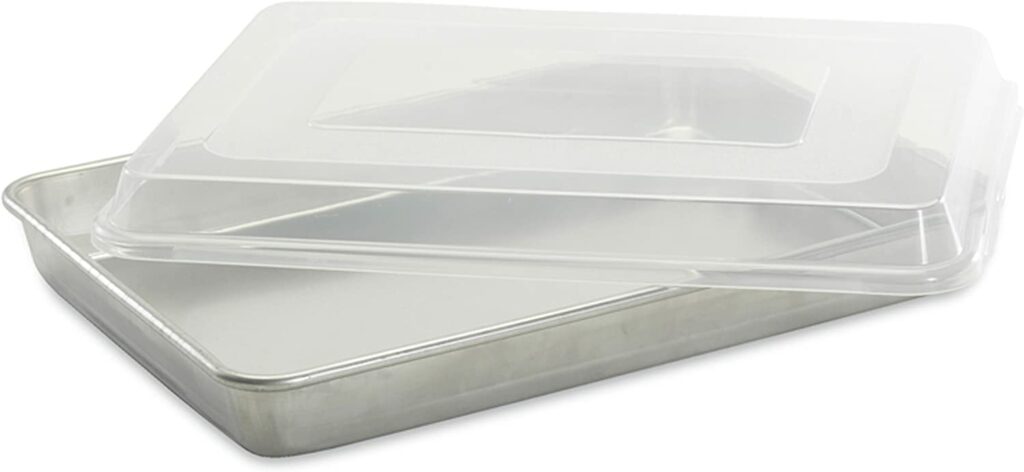 Nordic Ware's pure brushed aluminum baking half sheet never fails to make evenly baked items. This robust pan can effortlessly cook suppers, roast chicken, and bake cookies. 
Its classic bakeware comes with rolled rims; there's nothing lavish or fancy. They're lightweight, affordable, and an incredible heat conductor. 
This pan comes with 17.9×12.9×1 inches exterior and 17.1×12.1×1 inches interior dimensions. It weighs 1.65 pounds and has a flat surface. 
The pan doesn't rust and comes with lifetime durability. Its smooth edges make the baking sheets stack well for pain-free storage. 
Moreover, its supported embodied steel rims add extra strength to prevent warping. However, some users have complained about warping over 400 degrees. 
Nordic Ware pan sheets evenly conduct heat but not as fast. Besides, you'll need to place the parchment paper or grease the surface as it's not nonstick. 
On the downside, this pan isn't easy to clean. The reason is that Nordic Ware doesn't suggest placing the pan in the dishwasher. Likewise, the heat and detergent cleanser can oxidize the aluminum. 
What are the pros?
The heat conduction is incredible.
Stackable and durable 
Budget-friendly and worth every penny 
It has a lid to protect whatever is inside.
What are the cons?
The embossed brand logo makes the cleanup difficult.
It scratches easily.
Being off aluminum not good for acidic foods
Pricey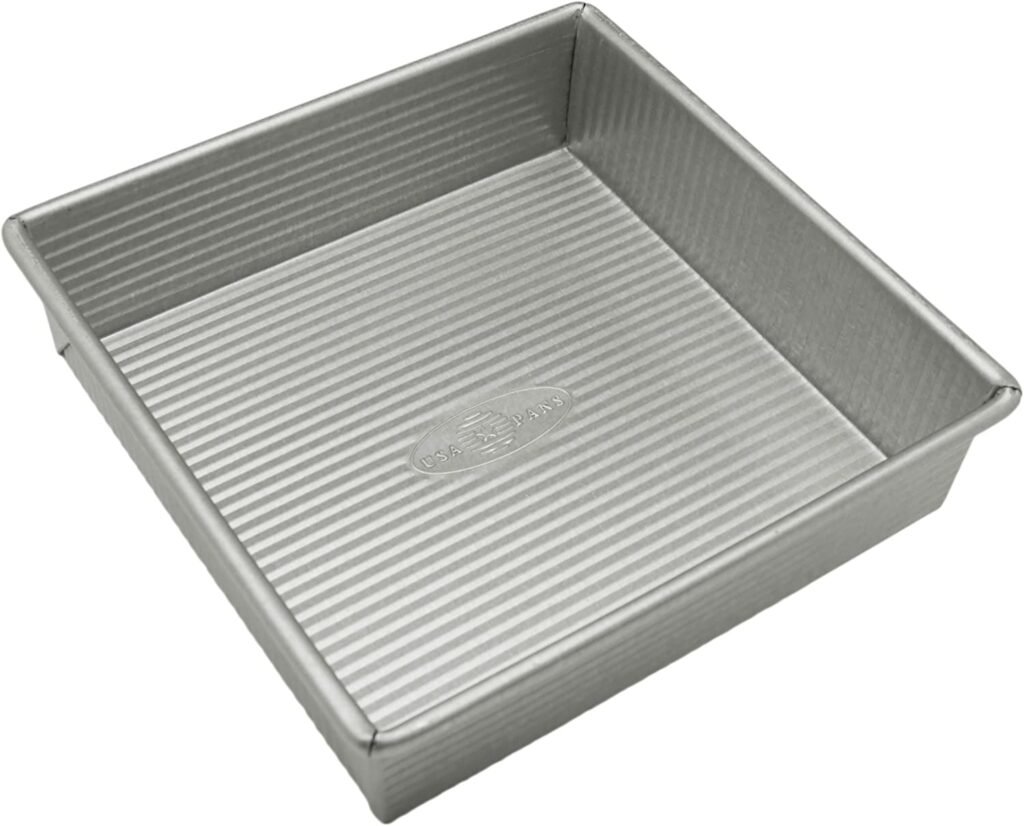 Whether you're a new baker or a blossoming professional, the USA square cake baking pan will become your favorite. The aluminized steel grayish finish cake pan has a non-stick Americoat coating. Its coating is PTFE, PFOA, and BPA-free. 
The pan has simply matchless because of its heat distribution, sturdiness, and ease of use. In terms of size, this pan has 8 x 8h x 2.25 inches dimensions and weighs 1.34 pounds.
This heavy gauge material has made baking more accessible and manageable. It's designed to distribute heat evenly and quickly to prevent burnt edges. Its fluted surface ensures better air circulation, increases the pan's strength, and resists warping. 
 In terms of cleaning, the non-stick feature, though, makes cleanup truly effortless and quick. Yet, it can be challenging to remove food from the folded edges.
In a nutshell, having this cake pan/bakeware set is a good investment. 
What are the pros?
It bakes perfectly.
Stiff construction lets no warping or bending occurs.
Durable and stackable
Easy to use
BPA-free nonstick coating
What are the cons?
Bad folded and rolled design makes cleaning hard.
Not dishwasher safe.
The folded edges may trap water which causes rusting.
The coating may flack off.

Lodge Cast Iron Pan is a well-known brand product with excellent user feedback. It has got you a solid roasting oven pan–making itself suitable for all your baking or roasting needs. 
Its convenience, performance, and functionality are unbeatable. You can choose unlimited options among the Lodge Cast iron pans, though we're now leading you to a single baking pan.
This Lodge Cast Iron Pan 13 x 9-inch pan with a 15.5 x 10.5 inches pre-seasoned pan is a single solution if you don't bake acidic recipes often but need the sturdiest and best cooking pan for your ovens. And it's ideally suited to cooking flavorful dishes that can go right on the dinner table even in the pan. 
The sturdiness allows you to use it for fast, simple cooking at the highest temperatures. It's why the pan is ideal for cooking pizzas in any oven (electric, gas, or wood-fired). You can use it safely on the stovetop.
Sadly, cast iron cookware, despite having unbeatable durability and performance, lacks ease of cleaning. The reason is they need much care. 
Cooking acidic food and leaving food in the pan for longer can damage the seasoning. So, you must not only clean them using some non-chemical alternative like cleaning with salt, etc. but also reason them before storing them.
The same goes for these cast iron pans. Treat them with care, and they will last for several decades.
What are the pros?
Excellent heat distribution for recipes
Most solid pans that don't warp
Nontoxic
It can be used as a serving dish for non-acidic recipes.
It's safe to use on the stovetop.
What are the cons?
Hefty price tag
Needs proper seasoning after every use.
Best Oven Pans – Set of 2-3 Oven Pans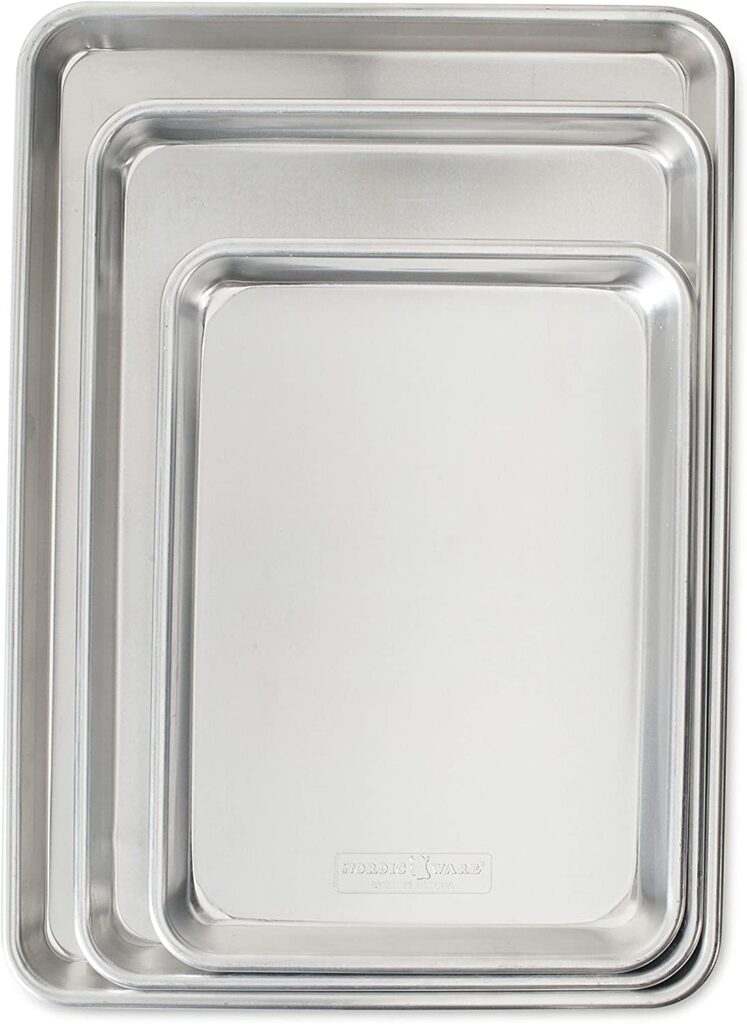 Whether baking a cluster of cookies or preparing a sheet pan supper, baking sheets are a device each home cook uses consistently. Here's a highly rated Nordic Ware 3 Piece Baker's Delight Set for you. 
The set will enhance the adaptability to make delightful sheet pan suppers for weeknight feasts. It has earned the highest user satisfaction for versatility, heat distribution, sturdiness, durability, and adaptability.
These sheet pans are made from top-notch aluminum composite with galvanized steel edges, which oppose rusting or warping. Their high edges give you more profundity for baking items like frittatas and sheet cakes. They also control sliding and sloshing around when moving to or from the oven. 
Since the surface is smooth, the pans won't scratch and will warm equally to ensure even brownness of food. These baking sheets are little more than an inch deep, making it easy for you to bake juicy or thick items. Remember to use parchment paper or silicon sheets for effortless removal and cleaning. 
The sheets are not dishwasher safe as the company suggests handwash only. Simply soak the sheets in plain hot water for 20-30 minutes and rinse with a non-scratching scrubber. 
What are the pros?
Sturdy metal that won't warp
Well-made and affordable
Rust or scratch-free
It is rated high by America's Test Kitchen (ATK).
What are the cons?
Embossed logo on pans stuck burned-on food.
Not dishwasher safe
You can't bake acidic food items with them.
The lid doesn't fit tightly.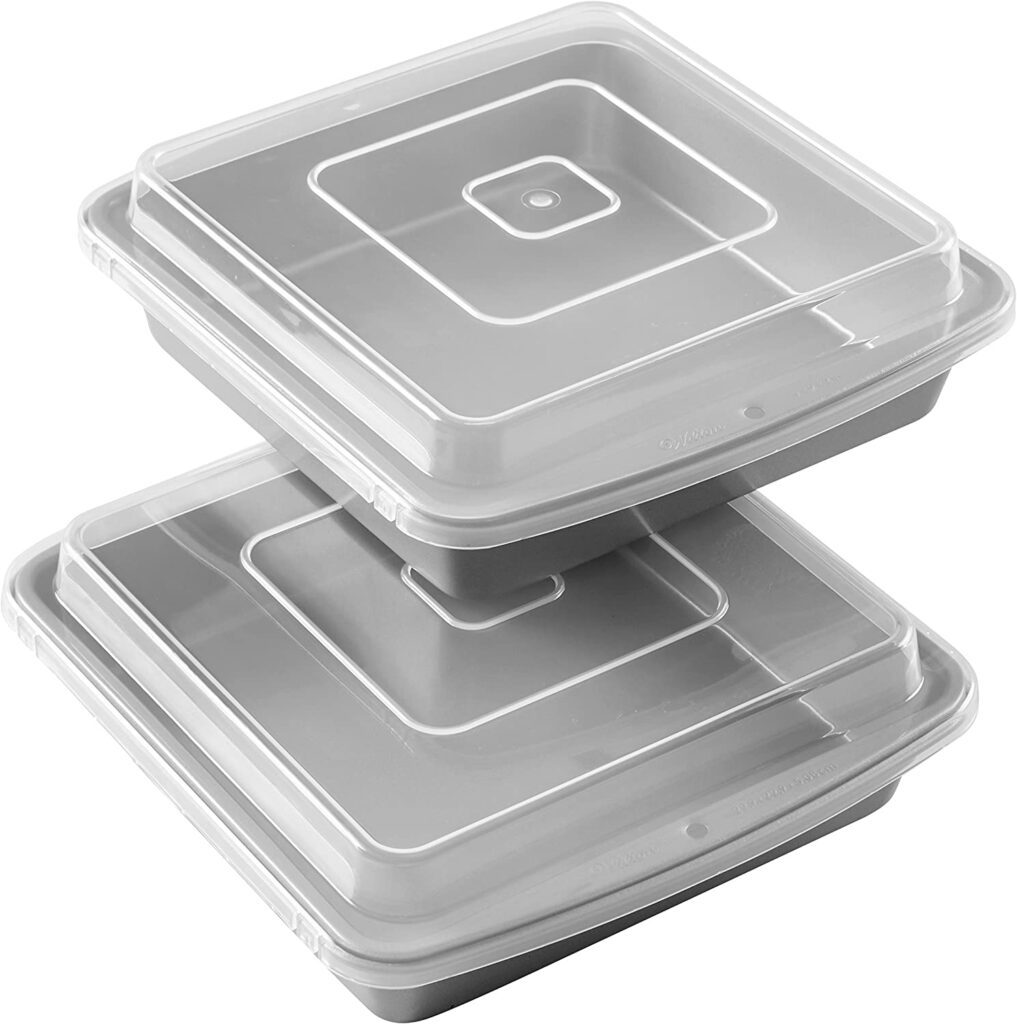 Say goodbye to cracked tops and over-cooked edges of your cake–you don't have to settle for anything less than perfection. Here we have a Wilton Recipe 2-Piece Bakeware Set for you to bake stunning cakes, brownies, and more with no room for error. 
The oven pan set has earned fantastic fame. This set is made of heavy-duty material with a non-stick coating that you expect from a good-quality cake pan.
The pan set includes 2 baking pans with a clear locking lid having 9 x 2 x 9 inches dimensions and 3 pounds weight. You can also get other options like a baking pan and cake pan; baking pan and muffin pan; baking pan and baking sheets set. 
The pans are deep enough to let you bake a good-sized cake. So, the tops won't smash the frosting and lock perfectly onto the handles.
These pans also have a heated core that disperses the heat. The non-stick surface helps you quickly release the baked item once it's baked and slightly cooled. It doesn't give odors. 
The set is easy to use and has a convenient lip to move when it's piping hot. Each pan is sturdy, well-made, and stacks nicely for transport. It's dishwasher safe; however, hand washing is better to prevent rusting.
What are the pros?
Sturdy lids fit nicely and avoid fuss.
High quality that won't warp or scratch easily
Dishwasher safe
Inexpensive
What are the cons?
It can rust easily, being of assorted material.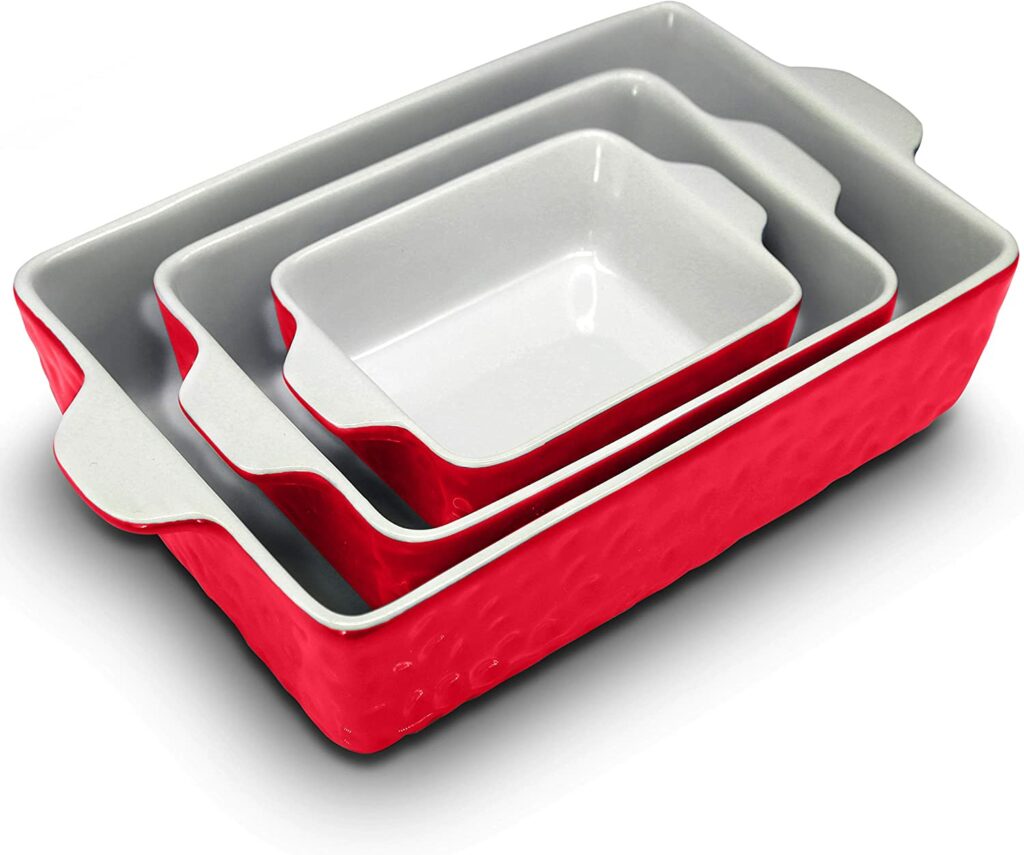 Here we have another masterpiece from NutriChef. This convenient bakeware set is a perfect baking tool that can make your baking process more entertaining when you add a baking finish to your recipe, like pasta. 
This beautiful set is made of high gauge ceramic material and comes in various colors (Aqua, grey, red, royal blue, and yellow). It features a unique wavy pattern design and exquisite non-slip double ear handles. The bakeware kit includes one large, medium, and small ceramic baking pan to satisfy your baking needs.
Each pan features a health-safe PTFE/PFOA/PFOS-free 0.6 mm non-stick ceramic coating. The healthy non-stick surface interlocks to ensure that even the stickiest recipes slide off the pan easily without greasing the surface. 
This bakeware set will evenly bake all your favorite cakes, brownies, cookies, and desserts without disappointing you. It's heat safe and can withstand temperatures up to 446°F. 
The bakeware set is versatile, sturdy, and durable for years. The bakeware doesn't emit a lousy odor even when at high temperatures. Moreover, it's oven and refrigerator safe, but don't use it on the stovetop or under direct heat. 
Cleaning the set is hassle-free as it's dishwasher-safe. To keep your bakeware looking better for longer, allow them to cool before cleaning.
What are the pros?
Easy to use, stack, and clean.
It comes in aesthetic colors.
Thick, sturdy, and durable.
The surface is health-safe and rust-free.
It doesn't emit a foul smell.
What are the cons?
Measurement includes handles 
Expensive 
Pans can crack at high temperatures.
No lids are available.
Best Oven Pans – Set of 4-10 Oven Pans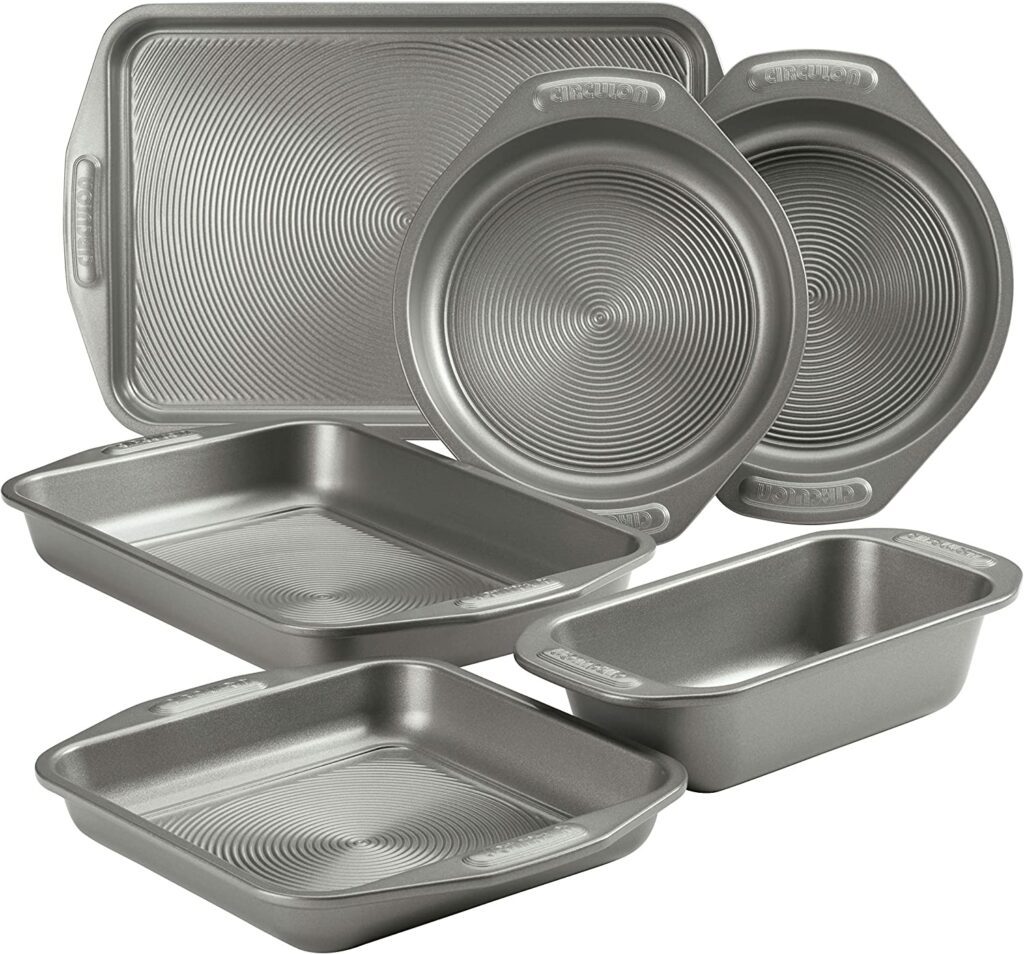 Transform your kitchen into a high-proficiency baking center with the Circulon Nonstick Bakeware 4 or 9 pieces Set. This reasonable nonstick bakeware set has got excellent user satisfaction. 
The set incorporates a round pizza pan, roasting tray, oven tray, and rack that you can use for cooling or roasting. This heavy-duty set is carbon steel and has wide-rolled rims for confident handling. The thick metal will undoubtedly ensure even temperature distribution for even baking. 
The exceptional PFOA-free nonstick interior combines raised circles making it easy to grab the baked items. You don't even have to grease or use cooking spray. The pans are perfect for baking or roasting savory snacks quickly and efficiently as they can withstand 450°F, warping, and bending.
The set gets perfect scores when discussing the ease of use, performance, easy storage, and versatility. It's dishwasher safe. Yet, hand wash is suggested to prevent rust.
What are the pros?
PFOA-free magical non-stick quality
Extra wide handles to avoid sudden burn
Easy to use and clean
Sturdy material that won't warp with a lifetime warranty
The cooling rack is a bonus.
What are the cons?
Not dishwasher safe
It can rust and scratch easily.
The coating is not durable.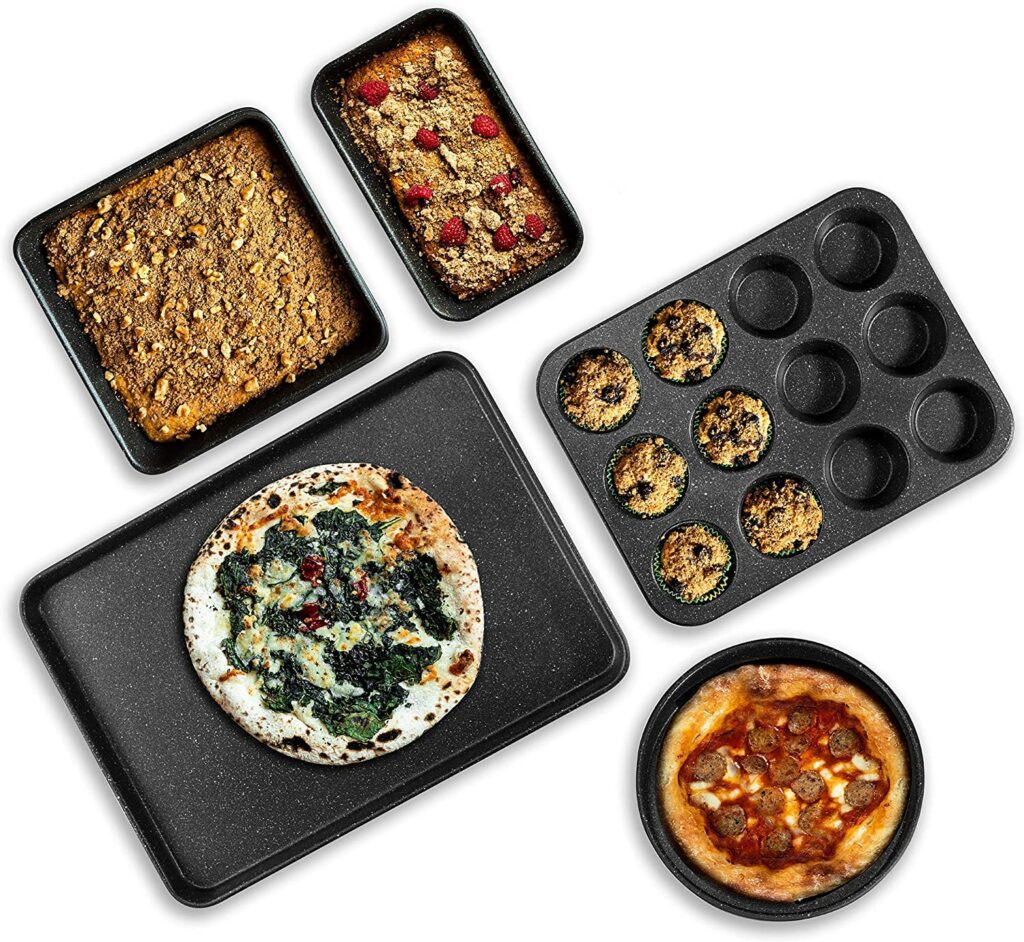 Here's our pick from "Granite stone"; the brand promises to liberate you from 'your sticky pan nightmare. So if you're on a limited budget and want to construct your kitchen assortment from scratch, Granite Stone Pro 5 Piece Bakeware Set is a good option. 
Thanks to the outer granite non-stick coating on the high-grade pressed aluminum base having rolled edges. This coating is reinforced with diamond-like particles and prevents heat warping or aging. Furthermore, it helps your food to move and lift from the pan in no time.
The set includes a cookie sheet, a muffin pan, a loaf pan, a round pan, and an XL rectangular tray with ultra-durable scratch-proof interiors. This pan set is ideal for gourmet family meals. Granite stone professes to be "designed to endure anything." 
This cookware set with a 0.8MM thick gauge is perfect for use with metal utensils. Because of its 3x protection layers, it's oven safe for temperatures up to 550°F. Overall cooking performance is excellent as it evenly conducts heat and is used for various cooking strategies. 
The Granite stone pan set is stackable for storing or traveling. Additionally, it's easy to clean and dishwasher safe. Simply wipe it down or put it in the dishwasher, and you're all done. 
What are the pros?
Value for money, nonstick, and dishwasher safe 
It cooks fast and can withstand temperatures up to 550°F.
Ultra-durable with a lifetime warranty 
100% PFOA-free surface that never releases toxic fumes
Affordable
What are the cons?
It releases a terrible smell when at high temperatures.
Aluminum doesn't store heat well.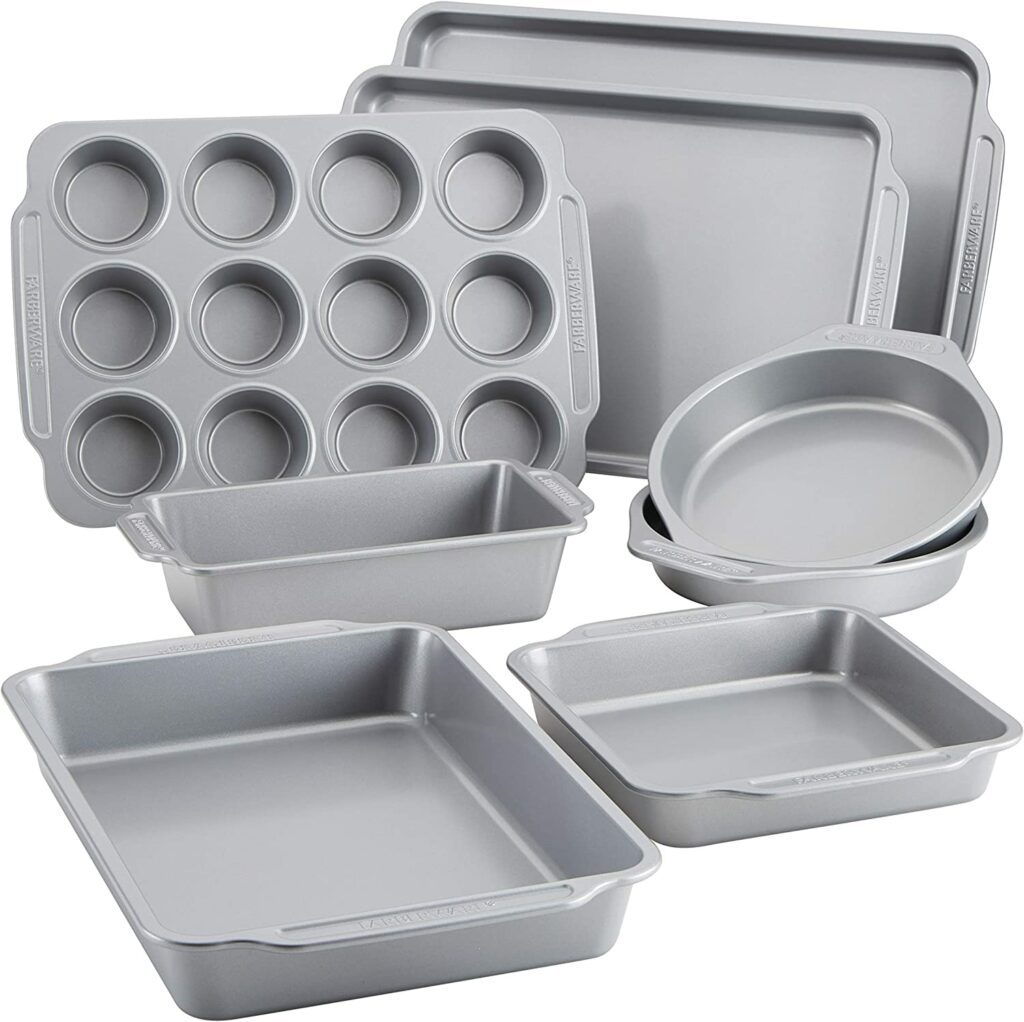 Farberware has given its users over 100 years of dependability, worth, and execution to the ages of home cooks. Here is our pick of Farberware Nonstick Steel Bakeware Set from this brand. This set with solid-gauge steel construction has won hundred of bakers' trust.
This set includes an array of essential oven pans for cakes, cookies, muffins, cupcakes, and meatloaf–also, a handy chrome-plated cooling rack completes the set. Each piece is incredibly lightweight and stackable; you can put them together and still carry them effortlessly. 
The pans heat evenly and are absolutely non-stick and scrap-free, so you don't need to use oil spray or parchment paper. Furthermore, the convenient cooling rack lets you comfortably cool down your freshly baked treats.
The bakeware set can withstand high temperatures and is oven-safe up to 450°F. The pans feature rolled edges to resist warping. However, this bakeware can warp even when following temperature guidelines. 
The cookware set offers quick, easy, and mess-free clean-up. According to the company, only the cooling rack is dishwasher safe, so don't do the same with other pans, as they'll get rusty. It's much better to wash them by hand. 
What are the pros?
The whole set is reasonably priced. 
Bakes evenly
Nice finish
Standard-sized pans
The set includes a cooling mesh.
What are the cons?
It stains and rusts easily.
Warps and bends are common.
Cheap and flimsy 
Not dishwasher safe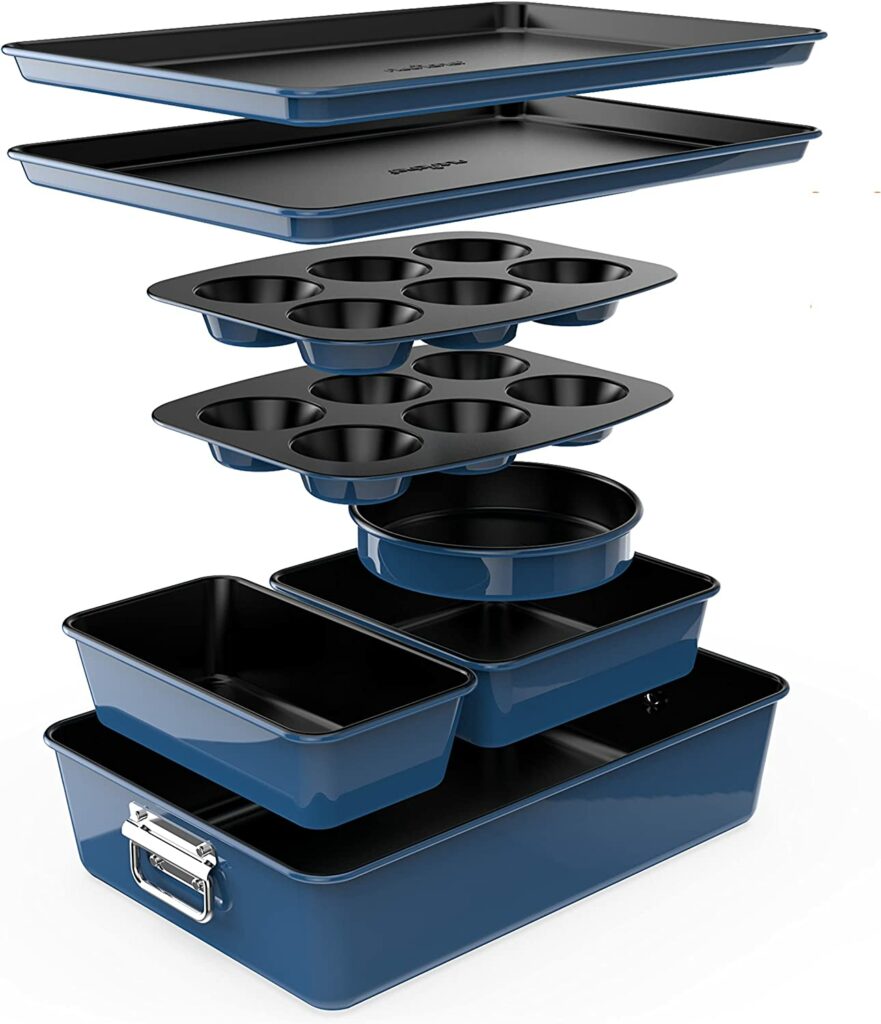 Reclaim your cupboard space with our great pick from NutriChef. The bakeware set contains 8 pieces of various sizes that are stackable enough to bake or roast without wasting valuable cupboard space. 
Thanks to its stackable feature, each set piece has been precisely designed to nest inside the biggest pan. When you're done, the large oven tray becomes the lid creating a compact package.
The set includes 2 sheet pans, a 2–6 cups muffin pan, a round cake pan, a loaf pan, a square cake pan, and a deep baking pan. These multiple sizes and shapes are perfect for baking or roasting various dishes. 
Its material is BPA-free carbon steel metal–shielded with a smooth non-stick coating. Thanks to its durable nonstick coating, the bakeware is effortless to use and doesn't emit a weird smell. The set is heat-resistant and oven-safe up to 450˚F. 
The bakeware set is ideal for kitchen ovens, countertop convection, and toaster ovens. Yet, the company doesn't recommend microwaves and any appliances that use fire. Moreover, cleaning is easier with this set as all trays can be placed into the dishwasher.
What are the pros?
Good quality, well-designed
Stackable, compact, reusable, and versatile 
The sturdy material resists bending or warping 
The surface is health-safe and stain-proof.
Easy to use and dishwasher safe 
What are the cons?
Can catch rust
Not safe to use in microwaves 
How Should You Choose the Best Oven Pans?
You can find too many options available for oven pans–knowing which kind of oven pan will work best for you and which one you should invest in. Considering the requirements, here are some main factors you need to be focused on.
Let's discuss this further.
Material and Durability
The oven pans' material is an essential concern. You'll find a wide range of materials in the market–aluminum, silicon, cast-coated iron, ceramic, tri-ply, 5-ply, glass, and copper. 
You can get confused about which material is the best for oven pans. As a rule of thumb, the material that is sturdy, easy to clean, non-reactive, and a good heat conductor is the best.  
The oven pans come in a wide variety of materials. The most common materials are metal, glass, silicone, and ceramic. 
Metal Oven Pans  
Metal oven pans are the most common type of oven pans. They're usually constructed from aluminum, stainless steel, or steel coated with aluminum. 
Stainless steel pans
Stainless steel pans are great among metal pans. They're sturdy and fast to distribute heat. Similarly, they're also safe for all food types being non-reactive. However, these pans are not non-stick. So, you need to use parchment paper or grease to prevent sticking.
Aluminum pans
Aluminum is a light and durable material, making it an excellent choice for oven pans. At the same time, it's easy to clean too. 
However, there are some disadvantages to using aluminum oven pans as well. These pans often have a thinner metal that can dent or bend. Plus, aluminum is a reactive metal that can react negatively with acidic foods. In short, you can see the aluminum pans:
Scratching
Catching water stains
Bearing residual stains
Tri-ply oven pans
Tri-ply oven pans are the best choice for non-reactive, durable, easy-to-clean, and heat-safe oven pans. They're often known as 3-ply or tri-ply and comprise three separate metal layers. 
Their exterior layer is stainless steel with an aluminum core layer. The third layer is anodized aluminum, an oxidized protective coating that helps heat retention and durability.
Cast iron pans
Cast iron pans are the king of all types of bake or cookware. These traditional pans need an introduction when you want robustness, heat evenness, and safety. The only shortcoming is that these pans demand extra care — you must season them after every use. Likewise, using non-chemical cleaning methods add more life to their pre-seasoned surface.
Glass oven pans
Glass isn't a good conductor of heat. Well, glass oven pans are an excellent choice for baking desserts or other dishes that require longer baking times. They cook your food slowly but evenly. 
They're highly durable. Also, they don't warp at high temperatures. Glass oven pans help observe the recipe while cooking and are easy to clean.
On the downside, glass oven pans sometimes can't withstand sudden temperature changes and explode.
Silicone oven pans
Silicone oven pans are great for baking desserts or baked goods that require lower baking times since they're thinner and more flexible than other materials. They're also non-reactive and used for savory or sweet dishes. 
Silicon oven pans are nonstick. This won't just ensure that the ingredients don't stick but also make it a lot simpler to clean. Another plus is they're incredibly inexpensive. 
Ceramic oven pans
Ceramic oven pans are perfect for baking delicate desserts or baked goods, such as custards or crème brûlée. they're great for baking because they keep heat sufficiently and reduce the risk of burning foods.
Ceramic material is durable and doesn't release toxic chemicals when exposed to high flame or heat. So, this nonstick material is recommended for safe cooking.
Versatility and Stackability
The best oven pans are perfect for baking and cooking in the oven or stovetop, versatile for years to use, lightweight to carry, stackable to arrange, and sturdy to hold the bulkiest meals.
These pans are made from lightweight materials that are compact and stackable when placed in the oven. There are different shapes of oven pans to meet the baking or cooking requirements. 
An oven pan is a large, deep pan designed for baking and roasting large foods. A loaf pan is an essential rectangular-shaped pan designed for baking loaves of bread. It's also great for baking muffins and quick bread. 
When talking about versatility, rectangular oven pans are versatile and flexible compared to round ones. The rectangular shape is better because it gives more cooking area and is better for making sheet cakes or bars.
Also, size matters for the sake of versatility. An oven pan's standard and perfect size is 9×13 inches, around three quarts.
Utility
Oven pans are used for various purposes. If you're baking in large quantities, using an oven pan is a great way to save time and energy in the kitchen. Oven pans are also affordable and easy to clean. It means you can stock your kitchen with a variety of oven pans and use them for a variety of different baking tasks. 
Ease of Cleaning and Usage
Some oven pans are easier to clean than others, so you should consider how easy the pan is to clean. Some pans, like glass oven pans, can be washed in the dishwasher. 
While others are used with parchment paper, which will require more frequent washing. Contrarily, some metal oven pans are not dishwasher safe despite being renowned for their heat conductivity. For instance, cast iron or non-anodized aluminum pans are not dishwasher safe.
If a baking pan earns a perfect score in cooking performance and is easy to use, it would be a great addition to any kitchen. Likewise, consider the pan with handles that make the use more straightforward and more comfortable.
Price
Oven pans are one of the most budget-friendly types of bakeware, making it easy to purchase various oven pans for your kitchen. Most of the bakeware in the market is available from a $10 pan to a $250 oven pan. 
Home pastry bakers would rather not complain about the most costly and status-minded bakeware available. Yet, many bakers (new to baking) also need incredible quality that will last long years in an affordable range.
Picking the one that is sturdy, durable, and will satisfy your budget and needs is essential.
If the budget is your concern, pick stainless steel bakeware.
Baking Pan Vs. Baking Dish Vs. Baking Sheet, What's the Difference?
These baking accessories have several differences that make them unique bakeware. Their shapes, functionality, and also materials are different. The pan must be suitable for the dish, so it's good to have different pans instead of buying the same pan with more than one. 
Baking Pan
A baking pan alludes to bakeware made of metal, frequently aluminum. Aluminum is one of the most incredible metal choices for directing heat intensity, so the dish gets hot rapidly.
The baking pan is also pronounced as the oven pan. It's usually designed for baking cakes, muffins, cookies, and other treats in the oven. You can also use it in making savory dishes—roasting meat or veggies. 
Basically, it can endure higher temperatures and is perfect for recipes when you actually want a touch of caramelizing. It has various shapes and designs, including square, rectangular, round, and heart-shaped pans. 
Avoid using dishes that incorporate acidic natural products or vegetables that can negatively react with metal.
Line the baking pan with a reusable silicone sheet (considering acidity while settling your choice). 
Baking Dish
A baking dish is also said to be a casserole dish. It's ideally designed for preparing casseroles and other dishes on the stovetop or in the oven.
A baking dish mostly comes in rectangular, square, and oval shapes. The material is usually glass, stoneware, and porcelain, and the design is broad and shallow, like a large soufflé dish. It takes a significant period to warm up. Yet, when hot, a baking dish will circulate heat more equitably.
Ensure not to place the cold baking dish in the oven when hot.
Baking Sheet
A baking sheet is a flat metal pan designed for baking desserts, cookies, pastries, and other baked goods in the oven or broiler. Plus, you can use a baking sheet to roast or toast the items that don't contain too much liquid, e.g., nuts, garlic bread, pumpkin seeds, and vegetables.
A baking sheet and baking pan could sound something similar. You can also use them reciprocally in the kitchen because of their adaptability and versatility. 
A baking sheet has a variety of designs, including rectangular, square, and half-sheet pans. You can use a baking sheet in the oven, but place it in the lowest rack position. Adding a wire rack with it can increase the airflow. So you can easily roast the chicken or sear the steaks.
FAQs
What is the difference between a deep and shallow oven pan?
The difference is clear shallow oven pans have a flat bottom. They're only 1-2 inches deep. You can also call them baking trays. 
In contrast, deep oven pans/roasting pans have a 'stepped bottom' as their bottom has small steps. They're twice as deep as the shallow oven pan.
Why do oven pans bend when in the oven?
The stainless steel oven pans are made of sheet steel or various layers of metals. All Cookwares tend to twist and warp–when metal is put in a hot oven and warmed–it expands. 
Some other reasons also occur, like the material quality, thinner construction, and cookware size. Heat-tolerant materials like aluminum or ceramic bend less when used for baking.
Are disposable aluminum oven pans reusable in the oven?
Yes, aluminum baking pans are made of aluminum metal (although thin metal). Disposable aluminum oven pans can be safe to reuse as frequently as you're ready to clean them after use and keep their shape.
The only problem with these reusable pans is that they're less sturdy and can bend after repetitive usage to cause food to spill in the oven.
Do you need to grease silicone oven pans? 
Silicone is a definitive nonstick material and doesn't need extra flouring or greasing. Non-stick bakeware has a covering applied to the outer layer of the metal to prevent the sticking of baked items. 
It functions admirably, so you don't need to grease silicone oven pans. Instead of greasing the pan, you can line it with parchment paper.
What should you do if the non-stick coating is chipping or peeling off?
If the non-stick coating of your bakeware is noticeably chipping or peeling off, there's a risk that the covering could drop the flaked particles into your food. In such a case, replace the oven pan when the coating is damaged. 
Why do the glass pans explode?
It sometimes happens when you hear an unexpected bang coming from the oven. Yes, some bakers experience terrifying glass exploding when baking. 
This shattering occurs when the pan is exposed to a sudden temperature change. If the glass pan is damaged or not made of good quality, it can't withstand high temperatures, causing it to explode.
Another reason is if you didn't add sufficient water or oil to the dish. Thus, the meat might turn out to be excessively dry and expand, pushing the walls of the pan and making it explode.
How long do oven pans usually last? 
Oven pans are durable cookware that usually stays 3-5 years. It likewise relies heavily on how you use and deal with them.
Do you put silicone oven pans directly on the oven rack?
Of course, you can place the silicon oven pans on the oven rack directly, as they're made to deal with almost every temperature range.
Final Thoughts
For creating delicious recipes in your ovens, having the best oven pans is a must. Buying the correct one may transform your baking game. We've provided the best and top-class options for oven pans. 
We hope you'll find the best fit for your needs by following the recommendations provided here. 
So choose your baking pan wisely, and it'll become one of your most reliable and long-lasting kitchen tools. Hopefully, this article will serve as a decent starting point. Good luck with your new purchase!
mama-cucina.com is a participant in the Amazon Associate program and will earn from qualifying purchases.