Do you love baking healthy bread at home, and it's why you want to know the best ovens for bread baking?
Apparently, you can bake bread in an oven with up to 450 degrees Fahrenheit range, as most recipes advise. But there's more to the story. Actually, a reliable bread-baking convection oven needs to be:
Highly accurate in temperature
Designed to deliver even heat to the loaf
Offer adequate capacity to place 1-3 loaf pans.
So, finding them is a bit challenging.
Please don't worry, or I've done this for you. In this article, I've picked the most suitable ovens for baking bread loaves after hours of research. I've evaluated them for their bread-baking ability keeping the above-mentioned factors in view.
So, stay with me to get closer to your ideal oven that can consistently bake any bread for you. Please keep reading!
Best Countertop Ovens for Baking Bread
Here are the top 5 best countertop ovens for baking bread.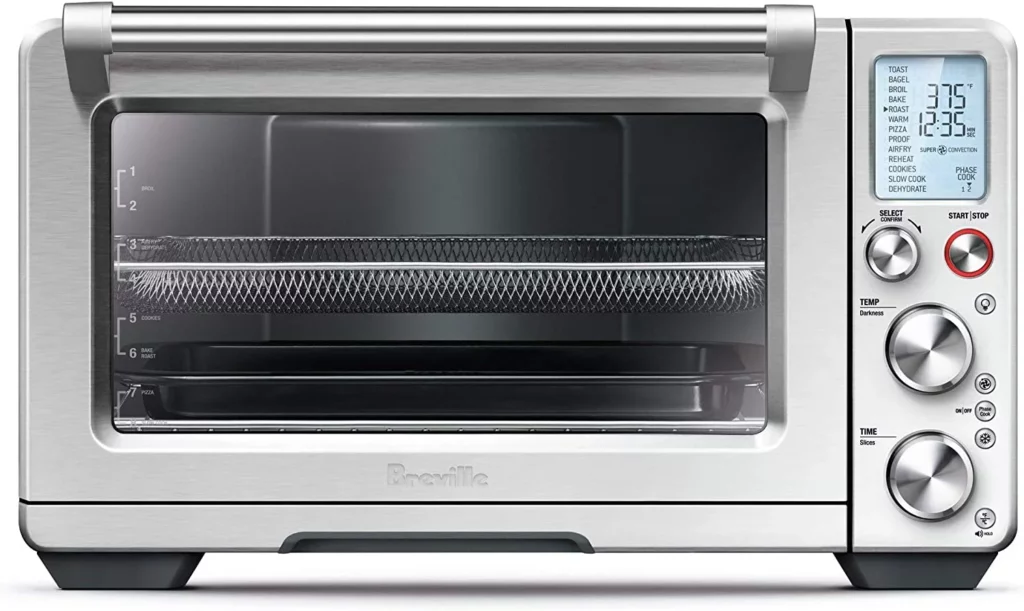 When it comes to high-end countertop ovens, the Breville shines among them. The same goes for baking bread job–no matter what bread recipe you follow, Breville Smart Oven Air Fryer Pro, BOV900BSS is at your back.
As a self-proclaimed bread lover, I can confidently say that this oven takes bread baking to a whole new level.
But how does it justify the job of bread making?
It's a huge package of spatial capacity, accuracy, and an even heat output. The 80-480 °F temperature range is just a blast! This is the reason that you can bake artisan bread in it!
The Breville Smart Oven Air Fryer Pro gives you complete control over the bread-baking process. You can adjust the temperature, and time, besides using a "bake" preset.
The oven's Element IQ System advanced technology and convection heating ensure that your bread bakes evenly from top to bottom.
Breville's Element IQ technology uses a combination of quartz elements and smart algorithms to control the heat output. Additionally, unlike many ovens, the 2-speed convection fan allows you to control the heat circulation. Thus, your bread doesn't come out dry, which could be true with the air fryer oven when using regular convection. So, no more worries about undercooked bread or burnt spots; every loaf comes out beautifully golden and perfectly baked.
Capacity? Come on… that's enough to let you place 2 standard loaf pans or a 5 Qt Dutch oven for sourdough. What does that mean? You can make bread for your medium to large family in one go.
Baking bread often results in messy ovens, but not with this appliance. The Breville Smart Oven Air Fryer Pro's interior has been designed for easy cleaning. Plus, the accessories are dishwasher safe.
Simply put, the Breville Smart Oven Air Fryer Pro, BOV900BSS, is the true bread maker. It's why this oven is at the top of our list for bread-making ovens.
Pros
Most accurate temperature and even heat distribution for baking bread
Large capacity to hold 2 bread pans of standard size
The versatility of 13 cooking functions gets you the best value for money
Robust and sleek design to add a premium feel to your kitchen
Easy to clean–thanks to dishwasher-safe accessories
The oven exterior doesn't get too hot.
It comes with 2 years limited warranty.
Cons
Costly
It requires some effort to learn the control system.
Can't fit on small kitchen counters
The oven exterior gets hot.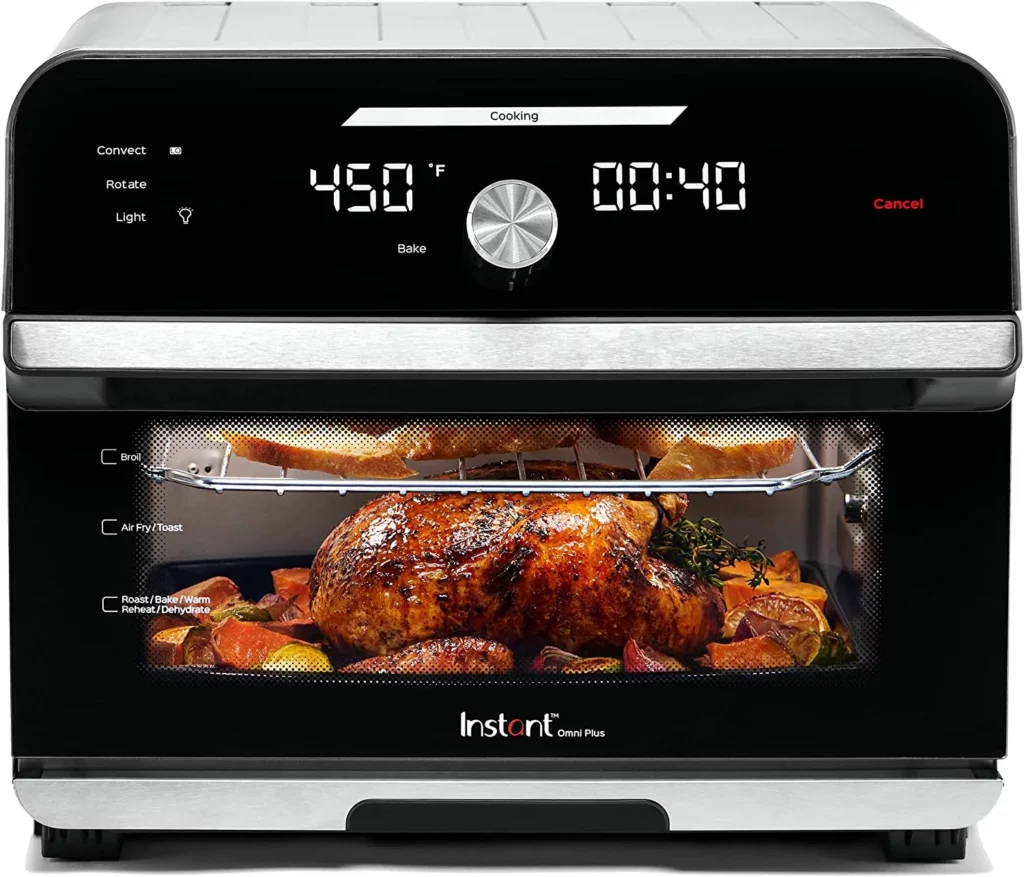 The second best oven for making bread is the Instant Omni Plus 19 QT/18L Air Fryer Toaster Oven Combo. Trust me, this kitchen gem will bless you with frequent bread-making.
This air fryer toaster oven combo is a true multitasker. With its 19 QT/18L capacity, you can bake 1 pound bread loaf and air fry, roast, broil, and more.
Achieving perfect temperature and heat circulation is crucial for successful bread baking. And the Instant Omni Plus delivers just that.
Its precise temperature control, besides the desired temperature range of 170 to 450 °F, ensures ideal bread-making baking. Besides this, the even heat distribution through a convection fan guarantees consistent browning and a beautifully risen loaf.
Break-making requires enough capacity, right?
The Instant Omni Plus is a compact oven. Yet, baking bread offers a generous capacity to accommodate a standard loaf pan.
And, when it's about operating the oven, the Instant Omni Plus is a breeze, even for beginners. Its super quick control panel with clear icons and an easy-to-read display ensures hassle-free baking. So, you can effortlessly adjust the temperature, time, and cooking settings to suit your bread baking needs.
Do you hate spending hours cleaning up after baking? The Instant Omni Plus understands that!
Its non-stick interior and removable crumb tray make cleaning a breeze. Just wipe away any spills or crumbs, and you're good to go.
In short, the Instant Omni Plus 19 QT/18L Air Fryer Toaster Oven Combo is truly a bread baker. So, prepare to rise to the occasion and unleash your baking skills!
Pros
Good capacity for holding 1 standard loaf pan and 12 inches of pizza
Convection cooking, along with a higher temperature range
Easy-to-use controls
Interior light for more control over the food cooking process
Dishwasher safe parts
Auto Shut off prevents the unit from overheating, besides saving energy.
1-year warranty
Cons
Expensive
It can be noisy when in use.
Not as versatile as a full-sized oven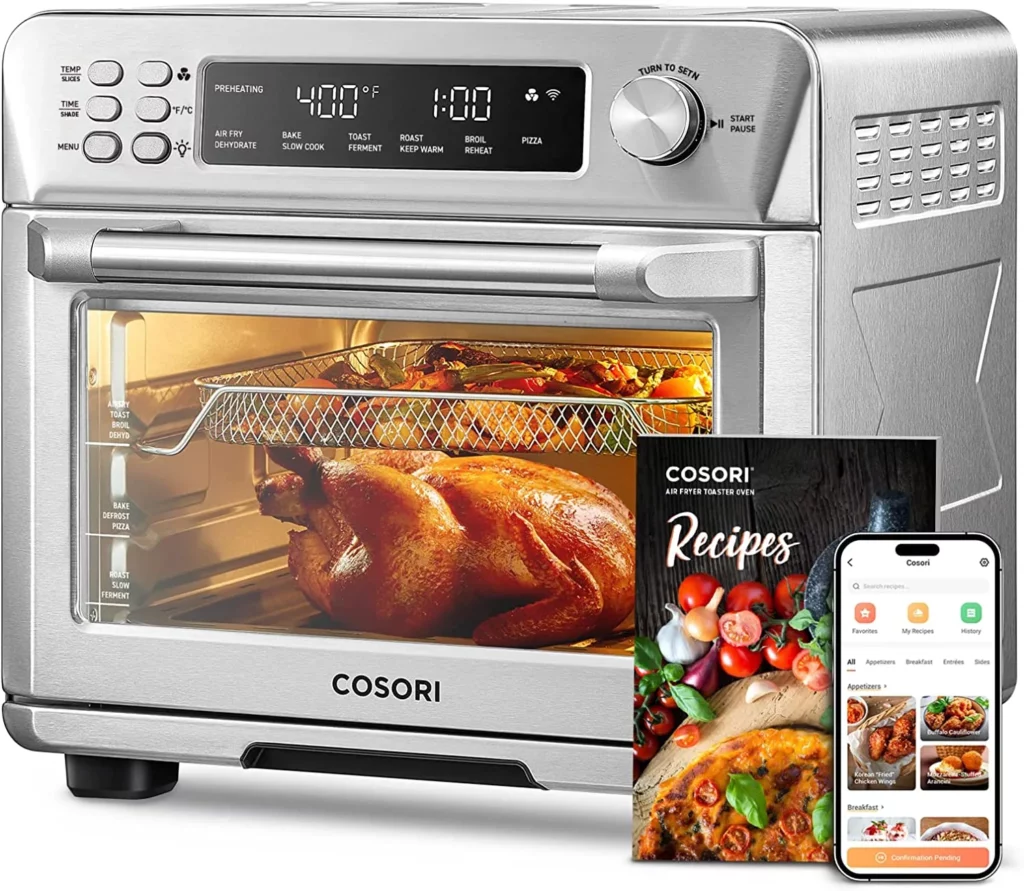 COSORI Air Fryer Toaster Oven Combo is one of the most reliable ovens for bread baking. An App controlled oven is all you need when you want smart control over your bread baking and other cooking tasks staying away from the oven.
Why?
Its capacity, temperature accuracy, and even heating through convection create a perfect environment to let your bread loaves rise and cook to perfection.
The COSORI Air Fryer Smart Toaster Oven Combo offers a versatile baking experience with 12 cooking functions. First, it has a higher temperature range of up to 450 degrees Fahrenheit. Second, the oven's convection technology circulates the heat to ensure even heat distribution, guaranteeing perfectly baked loaves every time.
When choosing an oven that can bread, you need a roomy appliance to accommodate loaf pans. The Cosori Oven, with 12.8 x 13.4 x 8.9 inches interior dimensions, has a cavity of 22 liters. So, despite its compact size, the COSORI Air Fryer Toaster Oven Combo can hold different sizes of loaf pans or allow you to bake directly on the oven rack.
Besides baking bread, it also features a fermentation function to proof your loaves at a consistent temperature.
Cleaning up after baking is never fun, but the COSORI oven makes it easier. The non-stick interior and removable crumb tray simplify the cleaning process after baking bread.
Pros
Excellent heat distribution besides optimum temperature range
Accurate temperature
Large capacity of 24 liters/26 qt
Convection setting for an even cooking
Interior light to monitor food progress
Easy to use and clean–thanks to the underneath crumb tray
Affordable
It comes with 1 year basic and 2-year extendable warranty.
Cons
The smart control system can be challenging to learn for a non-tech savvy
The crumb tray can be difficult to clean.
You can't bake over 2 loaves of pans, for it'll affect the heat circulation.
The oven and its door glass get hot.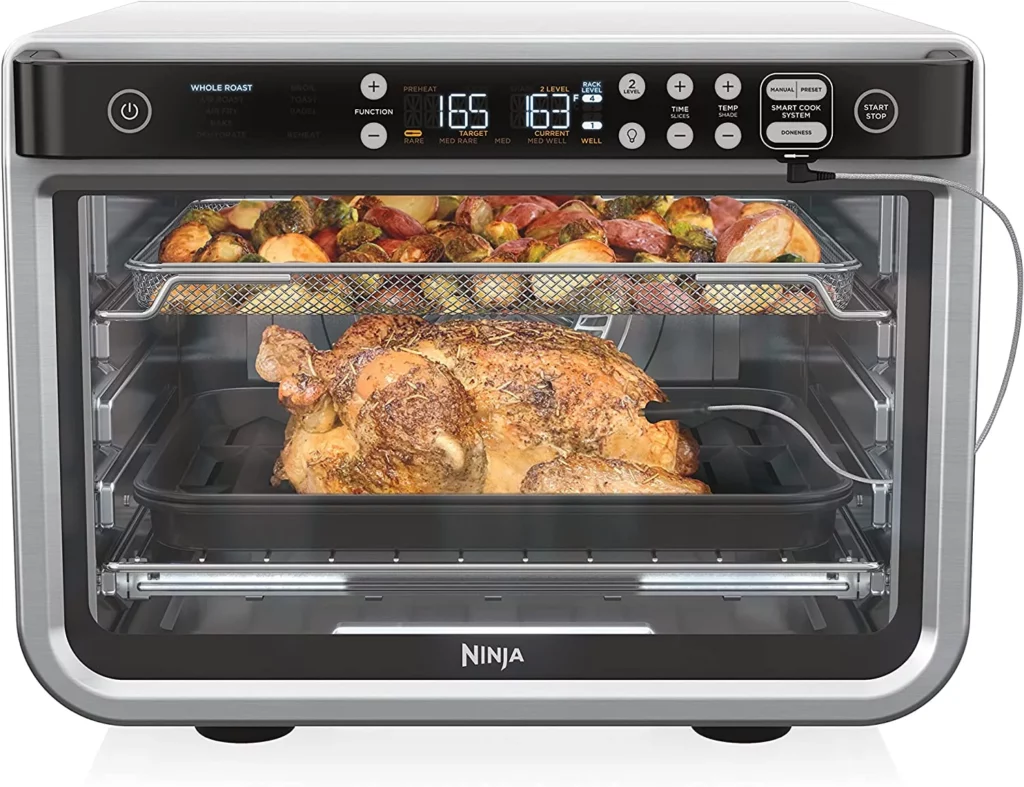 Next on our list of the best bread ovens is Ninja DT251 Foodi 10-in-1 Smart XL Air Fry Oven. This kitchen gadget can take your baking adventures to new heights. And when it comes to baking bread, the Ninja DT251 performs impressively.
This air fry oven is a multitasking marvel to become an everyday staple in your kitchen. It combines 10 different functions, including baking, that can be customized with a temperature range of 450 F and a time of 4 hours. So, with such temperature control, you can bake any bread.
"It's small; will a loaf pan fit into it;" do you wonder? Please stop worrying.
You can put 1 loaf pan of 9-inch by 5-inch or even larger directly on the oven rack.
The higher temperature range of up to 450 degrees Fahrenheit lets you bake several bread types, including pumpkin bread, evenly from top to bottom. Besides this, the precision-controlled heating elements and a powerful fan deliver consistent heat circulation, which results in perfectly baked soft and fluffy bread with a golden crust.
Do you fear running short of time? The only 90-second preheating function saves you a lot. Just wait 1 ½ minutes and throw bread to cook in it!
Operating this oven is a breeze, even for those who are not tech-savvy. The easy-to-navigate digital controls allow you to set the temperature, time, and cooking functions easily. Hence, the result is a seamless experience.
You'll also love the oven for the fact that it has an automatic interior light. This light allows you to check the bread and other foods. For this reason, you can trust the Ninja Foodi XL Oven to cook your loaves without burning them.
Is it easy to clean?
YES!
The Ninja DT251 has a non-stick interior and removable crumb tray, making cleaning up a breeze. Just wipe away any spills or crumbs, and you're done! YET, cleaning trays are difficult because they're not dishwasher safe.
So, with Ninja Foodi XL Oven, you can enjoy freshly baked loaves daily.
Pros
Large capacity to hold 2 loaf pans
Higher temperature range of 180-450 F along with even heat distribution
Easy-to-use control panel
The interior light lets you monitor the cooking progress
Smart Thermometer
Cons
The oven exterior gets hot.
Not suitable for small kitchen counters
The convection fan is noisy.
Not an affordable choice
Ninja Foodi warranty is less helpful.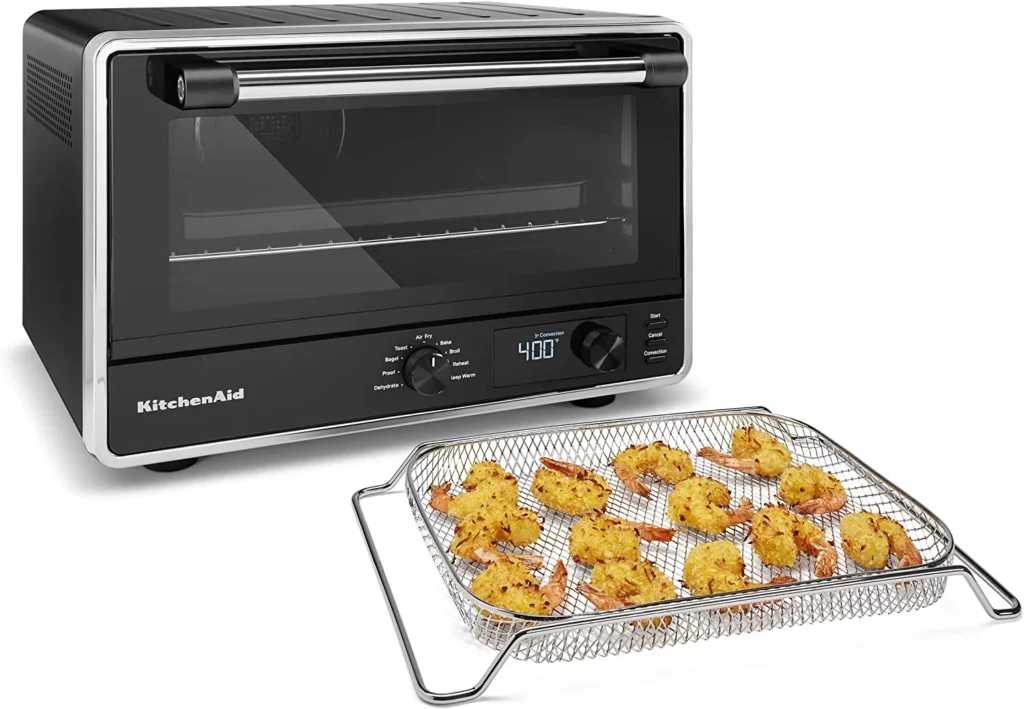 Do you need an easy-to-use oven for bread baking? Let me tell you about the KitchenAid KCO211BM Digital Countertop Toaster Oven!
It can completely revolutionize your cooking experience.
First things first, let's talk about the versatile cooking options of this oven. This toaster oven is not just for toasting bread.
Oh no, it can do so much more! With its manual controls and 9 preset cooking functions, I can bake, broil, and even roast with precision. This oven can handle everything from crispy chicken wings to perfectly baked loaves. It's like having a mini oven right on my countertop!
One of the best things about the KitchenAid KCO211BM is its ability to deliver consistent and even cooking results. The oven's convection feature ensures that heat circulates evenly, resulting in perfectly cooked loaves of bread every time.
Gone are the days when you had to wait for my big oven to preheat. This toaster oven heats up quickly and reaches the desired temperature quickly. It's a real time-saver, especially when you're in a rush or want to make a quick meal. Plus, its compact size means it takes up minimal counter space, making it perfect for small kitchens.
Capacity?
Please don't undermine this 15 lbs lightweight and compact oven! It can let you bake 2 loaves of bread in standard pans simultaneously.
When it's about using this oven, it's a breeze. If you're not the most tech-savvy person, the digital controls on this toaster oven are incredibly user-friendly.
The clear display and intuitive buttons make setting the time, temperature, and cooking functions a breeze. It's as simple as selecting what you want and pressing start. No complicated manuals or guesswork involved!
Cleaning up after cooking can be a real chore, but not with this toaster oven! The interior is non-stick, making it a breeze to wipe clean. Plus, the crumb tray catches any drips or spills, so you don't have to worry about a messy oven. It's hassle-free maintenance at its finest.
In short, the KitchenAid KCO211BM Digital Countertop Toaster Oven is a versatile, timesaving, easy-to-use bread maker oven.
Pros
Its higher temperature range and dual convection work amazingly for baking bread.
Compact and lightweight
Dishwasher-safe accessories make cleaning easy
Easy-to-use oven with manual control knobs
Cons
The oven exterior gets scorching hot.
Noisy oven
No interior light
How Should You Choose a Countertop Oven for Baking Bread?
When you've embarked on a bread-baking adventure and are in the market for a countertop oven. With so many options out there, how do you choose the perfect one for your bread-baking needs? Fear not, my fellow bread enthusiasts! Here are some tips to help you find the ideal countertop oven for baking bread like a pro.
Temperature Range
For baking bread in a countertop convection oven, the sweet spot for temperature usually ranges from 375°F (190°C) to 425°F (218°C). This range gives you the best of both worlds—a nicely browned crust and a properly cooked interior.
But, remember that the exact temperature can vary depending on the recipe and what you're aiming for. Some recipes might suggest a lower temperature and longer baking time, while others might need a higher temperature for a shorter bake. In general, your oven must have a top range of 450 degrees at least. And, if you succeed in getting an oven even with a higher temperature range of up to 480 degrees, as the Breville oven discussed in this article. Such an oven will allow you to cook more challenging recipes.
Consider Size and Capacity
Foremost, think about how much bread you plan to bake and the available space in your kitchen. Countertop ovens come in various sizes, so choose one that fits your needs. If you're a small household, a compact oven with a smaller capacity may suffice. However, if you love baking for large gatherings or want to experiment with different loaf sizes, opt for a more spacious oven.
Look for Even Heat Distribution
Baking bread requires consistent and even heat distribution to ensure your loaves bake to perfection. Look for a countertop oven with advanced heating technology or convection capabilities. These features help circulate hot air throughout the oven, resulting in evenly baked loaves with a beautiful golden crust.
Temperature Control and Accuracy
Precise temperature control is crucial for successful bread baking. Seek an oven with accurate temperature settings that allow you to fine-tune the heat according to your recipes. Look for ovens with digital controls and clear displays for easy temperature adjustments.
Multiple Cooking Functions
While your primary goal is baking bread, why limit yourself to just that? Consider a countertop oven that offers multiple cooking functions. This way, you can explore various recipes and techniques beyond bread baking. Look for options like toasting, air frying, broiling, and dehydrating. It's like having a mini kitchen at your fingertips!
Ease of Use and Cleaning
Baking bread should be a joyous experience, not a hassle. Choose an oven with user-friendly controls and an intuitive interface. Look for features like pre-programmed settings for different bread types or customizable options for your preferred baking preferences.
Additionally, consider ovens with easy-to-clean interiors, removable crumb trays, and non-stick surfaces. This way, you can spend more time savoring your freshly baked bread and less time scrubbing the oven.
Budget-Friendly Options
Finally, let's talk about the budget. Countertop ovens come in a wide price range, so set a budget that works for you. While high-end models offer advanced features, there are also budget-friendly options that can deliver excellent results.
Evaluate your needs and prioritize the features that matter most to you. Remember, a great countertop oven doesn't have to break the bank.
Now that you're armed with these tips, it's time to hit the stores (or browse online) and find your perfect bread-baking companion.
FAQs
Why are good convection ovens for baking expensive?
The ovens that can bake large batches like bread and cakes are pretty sweet because they use a convection fan to circulate hot air. That means your cookies, cakes, and bread get cooked evenly and come out all crispy and delicious.
But why the high price tag? Well, there are a few reasons for that:
Convection ovens are equipped with some fancy-schmancy technology. They have built-in fans, multiple heating elements, and precise temperature controls. All these features help maintain a consistent temperature and airflow, resulting in perfectly baked goodies. But all that advanced tech doesn't come cheap!
High-quality convection ovens are built to withstand high temperatures and provide excellent insulation. They're made with top-notch materials that ensure durability and efficiency. So yeah, good construction adds up to the cost.
The brand name game is also there. Let's be real; sometimes, you're paying for the brand. Certain manufacturers have established themselves as the crème de la crème in the baking world. So, they charge a premium for their reputation. It's like buying those fancy sneakers with a famous logo—you're paying for the name recognition!
Some convection ovens come loaded with extra bells and whistles. Think touchscreen controls, programmable settings, specialized modes for different baking tasks, and even built-in meat thermometers. These added features increase the oven's convenience and versatility but also bump up the price.
So, when you're eyeing those expensive convection ovens, remember that you're paying for the advanced technology, quality construction, brand recognition, and those cool extra features. But they're worth having and hard to compete with cheap ovens.
Why do countertop ovens' exteriors get so hot?
Countertop ovens get all hot and bothered on the outside because the heat from inside likes to party and transfer to the surface. Those shiny stainless steel or aluminum materials they're made of are like heat conductors on steroids. Since countertop ovens are small and cute, they don't have as much insulation as their big oven siblings, so the heat escapes more easily. The ventilation systems in these ovens also blow hot air out, adding to the exterior sizzle. Manufacturers try to make the outside safe to touch but don't forget to play it safe and handle that hot stuff carefully to dodge any burns.
Conclusion
Throughout this article, you've explored some of the best ovens specifically for bread baking. And keeping the standards for the ideal bread-baing countertop oven in view, the Breville Smart Oven Fryer Pro is the best. It features an extremely higher temperature range of 480 degrees Franehiet with 100% accuracy and required capacity. YET, if it seems expensive to you (which it is), you can choose any oven from the ovens we've discussed in detail.
I wish you to bake the most beautiful, healthiest, and most delicious loaves!
mama-cucina.com is a participant in the Amazon Associate program and will earn from qualifying purchases.