Do you want to know what can be the best pizza combinations? It's the weekend, and you're craving a big pizza; you want to try making a pizza. 
We'll look over how exactly you can satisfy your pizza cravings by choosing the right pizza topping combinations, whether at home or at the local pizza joint. So kick back, buckle up and hold on as we take you on this wild pizza-filled ride.
By going through this article, you'll master the art of pizza making, moving from the step of pizza crust to the next step of creating fantastic topping combinations that never fail. Whether it's brunch, or dinner with family, by loading your pizzas with these toppings, you'll surely rock the floor. Here we come.
25 Best Pizza Topping Combinations List
Here we list the best pizza combinations.
All-vegetarian pizza toppings
Here are a few vegetarian options to get your mouth watering and appetite rolling!
1- Spinach, broccoli, brussels sprouts, tomato, mushroom, garlic, and zucchini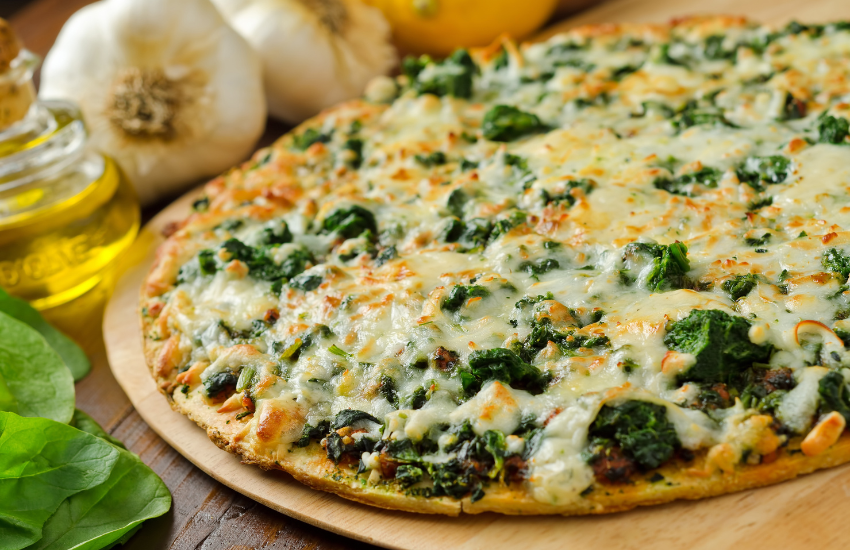 This combination of pizza toppings is perfect for veggie lovers and vegetarians. Or maybe you're just craving pizza but want to meet your daily vegetable needs. The zucchini, spinach, Brussels sprouts, and broccoli offer a nice crunch when you eat your pizza.
The tomato and mushroom are juicy and make your pizza moist. Besides, roasted broccoli is the best way to enjoy that veggie for kids! 
If you think Brussel sprouts on a pizza is an abomination, especially on pizza! It's okay. I thought that too, but give it a try! You'll be delighted by the result; tell the pizzeria to mince it up beforehand. 
The garlic at the end will spice up your pizza, so it's not bland.
2- Mediterranean Goodness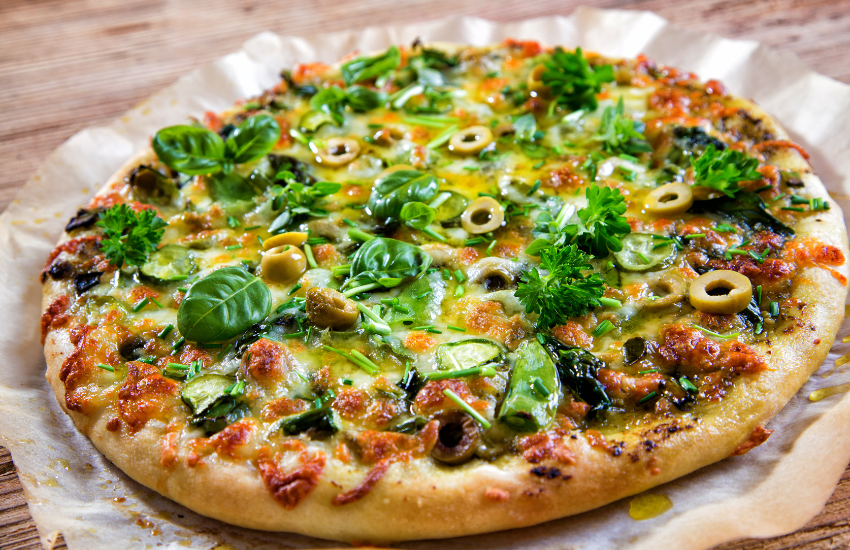 Once you start going vegetarian, it's hard going back, and this pizza is an example of such a dish. Take sun-dried tomatoes (for the tanginess), olives, mozzarella, and goat cheese for this flavor-filled combination. 
It's nothing like you've ever tasted; you'll taste each ingredient separately. This pizza is perfectly fulfilling and healthy simultaneously with the light, crispy and creamy texture; it's fantastic.
3- Here comes the summer… on a pizza!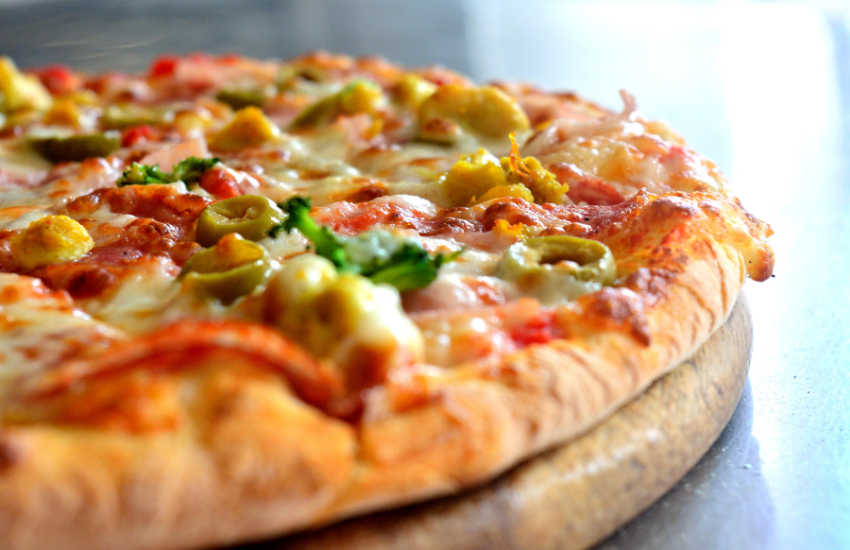 Not to sound overly dramatic, but this combination is so rich with a beautiful array of fresh ingredients that you can pleasure your mouth with that you'll go crazy for it with the first bite!
Tomatoes, zucchini, sweet corn kernels, oregano, and fontina cheese make it a delicious summertime delight. It's not too heavy and leaves you feeling light, unlike the pizzas that come loaded with meat and make you feel heavy. You'll feel re-energized.  
4- Pepperoni? Is it vegetarian?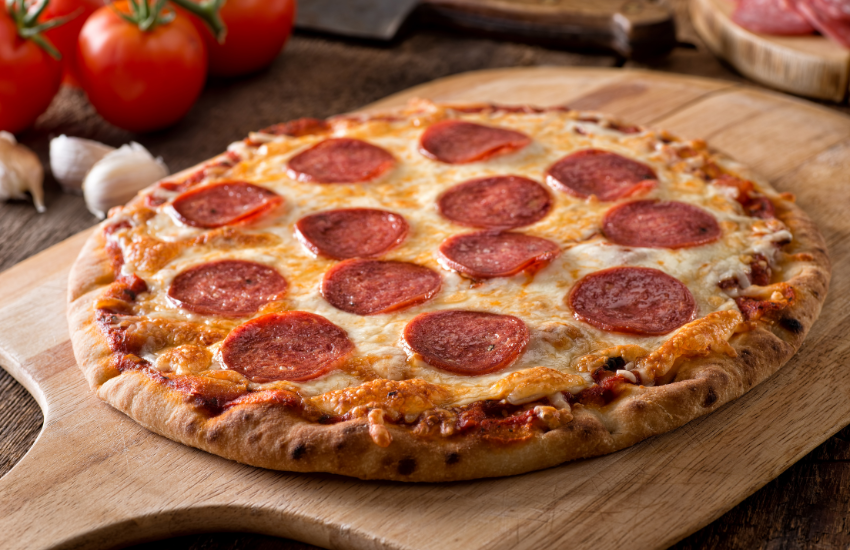 Yes, you heard that right! With advancements in the food industry, vegetarian-based sausages are a thing now! That's why it's one of the most popular dishes among vegetarians. All you need is some veggie sausage, artichokes, and pesto sauce.
You can use different types of pesto, from kale to mustard greens. Vegetarian sausages also come in different kinds, and you can choose which type of plant-based one to go for.
5- Zucchini Carnival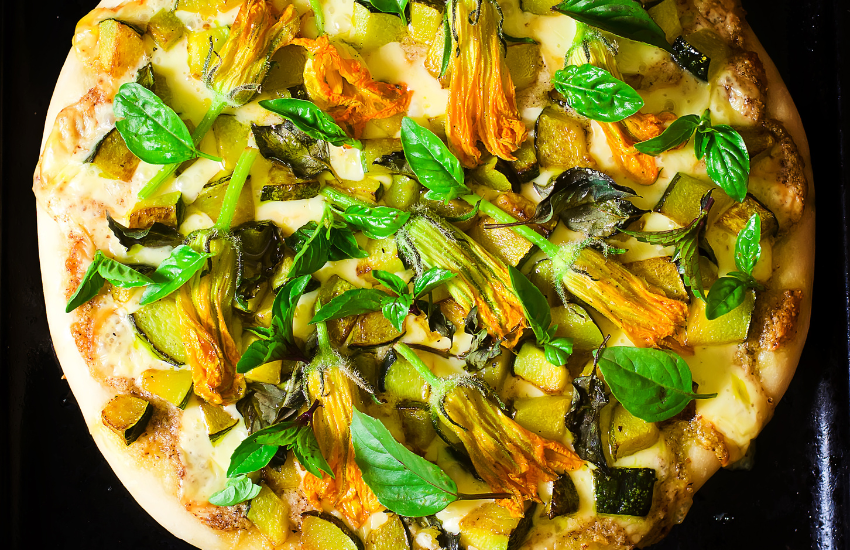 This pizza lives up to its name and will take your taste buds on a ride. You combine zucchini blossom with a four-cheese pizza in this type of pizza. Want to add an acidic punch? Add some olives to the mix! 
Ricotta cheese is the base cheese in this option, and it'll help the pizza run rounds on your tongue! Don't forget to add some dry oregano so you can spike up the combo a bit.
6- Tomato, mozzarella, and Pesto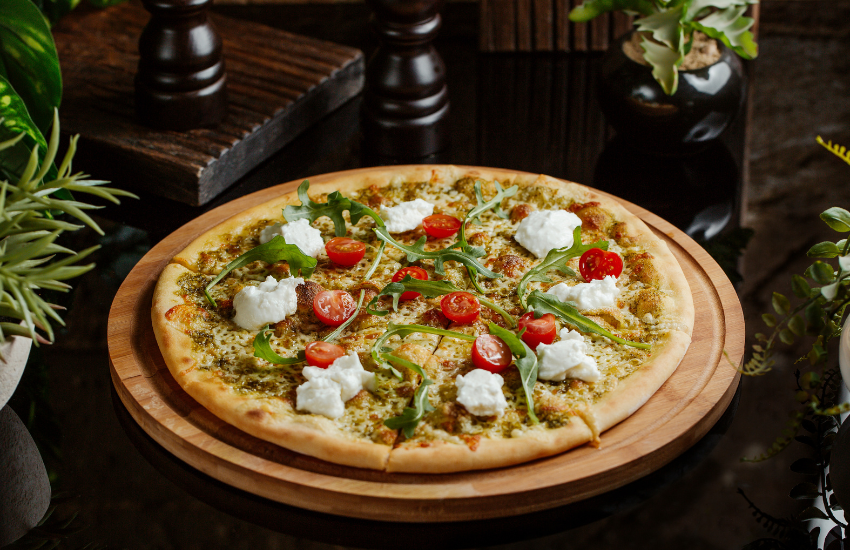 Have you ever heard of Pesto? It's a delicious sauce they traditionally made from basil, olive oil, parmesan cheese, garlic, and pine nuts. You can use it to make your classic pizza topping combinations lively and tasty. They use it not only as a drizzle on top but also as a base sauce.
Other than that, the sun-dried or fresh tomatoes and the mozzarella are classic toppings. The fresh tomatoes are good as they balance the sauce from the pesto, whereas the sun-dried tomatoes add tanginess to the mix.
The mozzarella is a classic cheese, and it'll bring everything together and make your pizza a perfect one.
7- Goat cheese, caramelized onions, roasted pear/apple, balsamic drizzle combo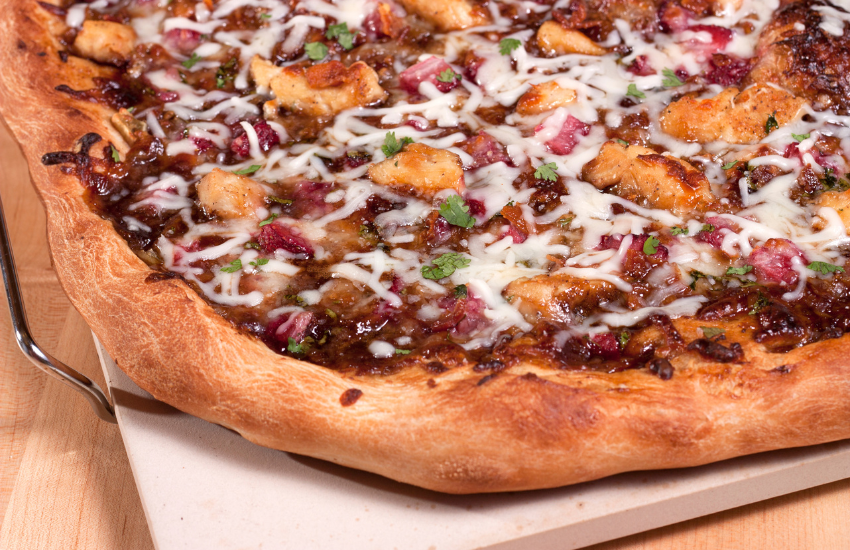 Talk about mouthful toppings, but far from the conventional. Don't let the pineapple on pizza debate steer you away from this delicious combo, and try something new! 
You might like it. Roasted pear and apple slices are not too sweet and bring lovely juiciness to the table.
Along with that, the sweet and earthy flavors of the fruit combine well with the creamy factor of the pizza. That's why we use goat cheese, as it's super creamy and rich. It'll leave an amazing taste in your mouth.
Top that with caramelized onions and balsamic drizzle, giving the whole thing a nice kick; you can add chopped pecans, walnuts, and fresh arugula.
8- Margherita Pizza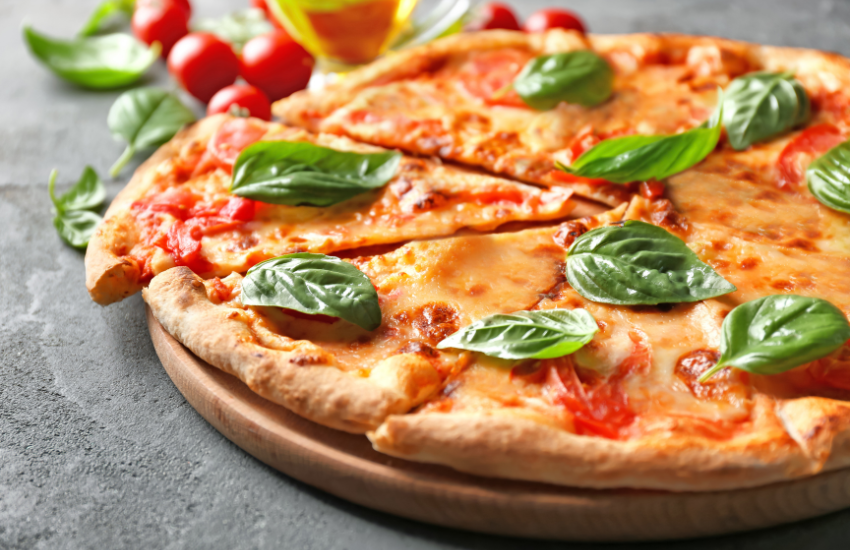 This is a classic pizza, although it's not too commonplace. Fun fact! It was named after Queen Margherita of Italy. It contains a freshly picked combination of basil, tomatoes, and mozzarella and is drizzled in olive oil!
Meaty pizza topping combinations with a hint of Veggies
Veggies aside, here is the real deal of classic combos if you're hungry. Let's look at a few meaty combos to fill you up!
9- Mushrooms, sausages, feta, and spinach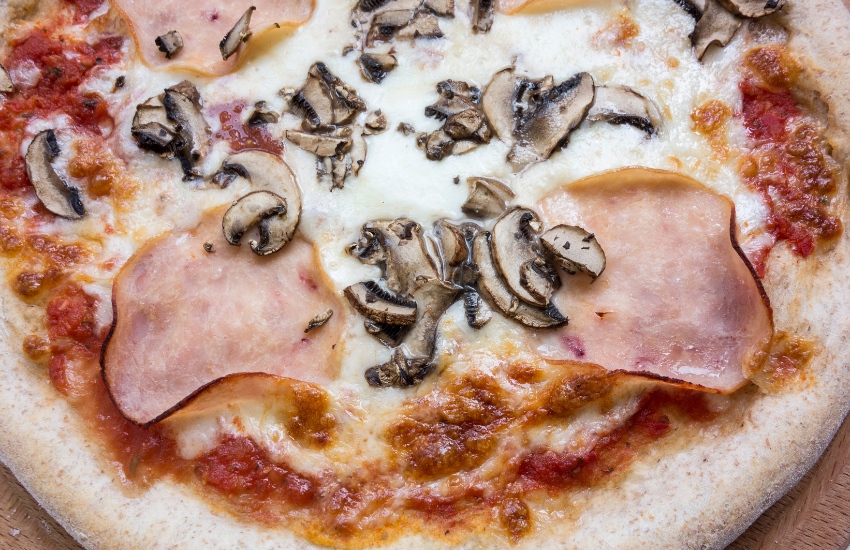 The first combination is unconventional but classic at the same time. Instead of marinara sauce, it has white sauce and mushrooms, spinach, feta, and sausages, and It's tasty and simple. 
The creaminess of the feta and the slight bitterness from the greens give the pizza a different, enjoyable taste, much like a savory pastry. Combine that with the mushrooms and the sausages, and you'll have a rich and fulfilling meal, much more than a simply melted cheese pizza.
10- BBQ sauce, chicken, bacon, and onion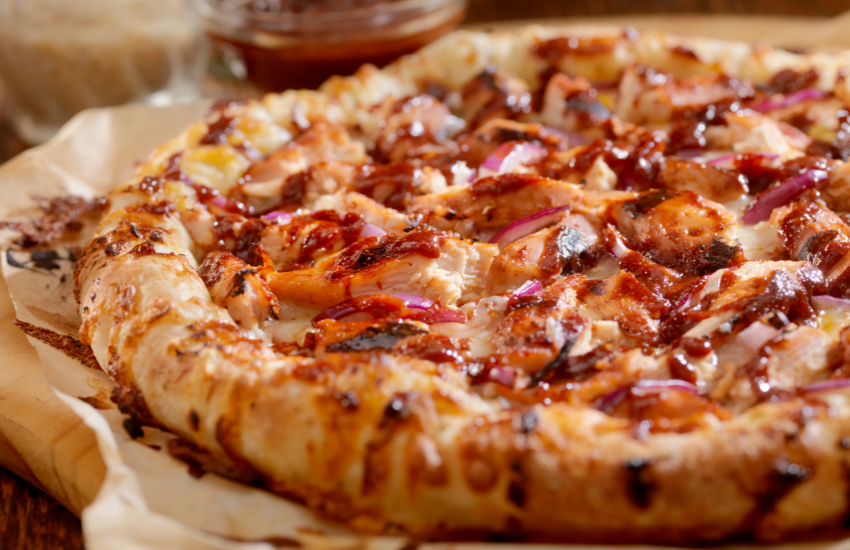 Next up is one of my favorite pizza topping ideas, BBQ chicken; it's one of the most widely loved pizza toppings out there. An easy way to recreate that flavor on top of a pizza is to combine chicken with BBQ sauce and some savory bacon, melty cheese, and onions.
This combo is like comfort food, and it'll leave you comfortable and satisfied, certainly a lot more than a simple pepperoni pizza or even a veggie pizza.
11- Chicken Pesto Pizza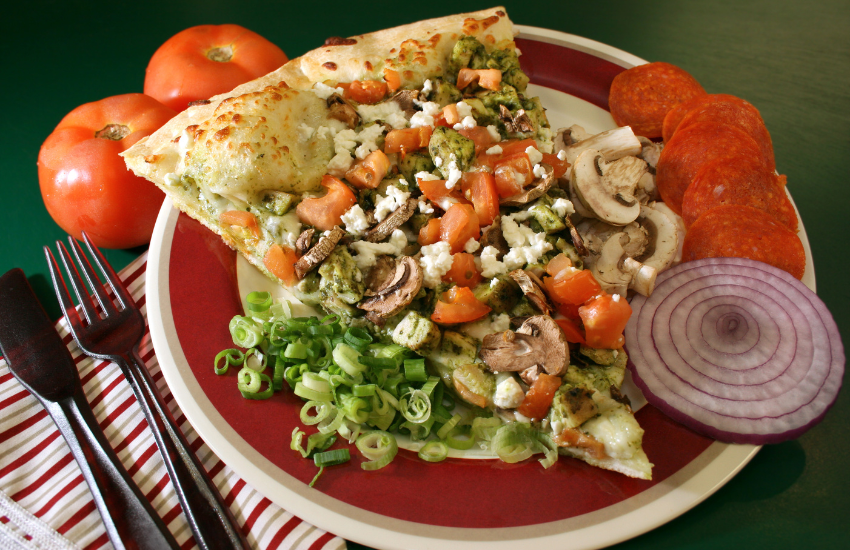 This pizza tastes heavenly, and it'll also provide you with the perfect acidic balance with the help of the special ingredient; pesto. The pesto grains cover the chicken with an ideal texture. Moreover, the pine nuts, creamy cheese base of your choice, and the richness of it all will make a mouth-watering combo. For this choice, the parmesan cheese is the best; you can never go wrong with the classics!
12- Pepperoni and Sausage Pizza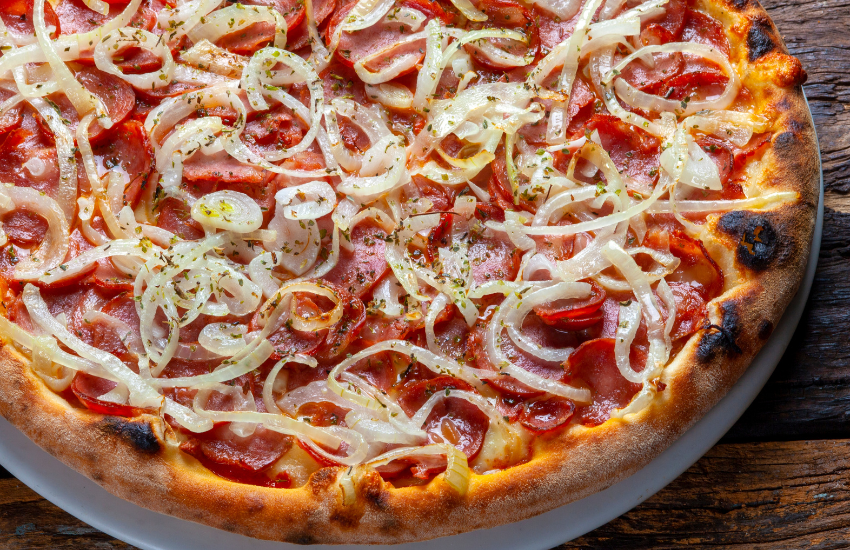 Another combo that has held through the test of time is the pepperoni and sausage one. After combining these two ingredients, you get the ultimate freedom to choose the rest of your toppings and even the cheese base.
This delicious combo can be a little heavy for one person to finish alone, but it's worth it! After all, how can pepperoni and sausage disappoint you?
13- Meat overload Pizza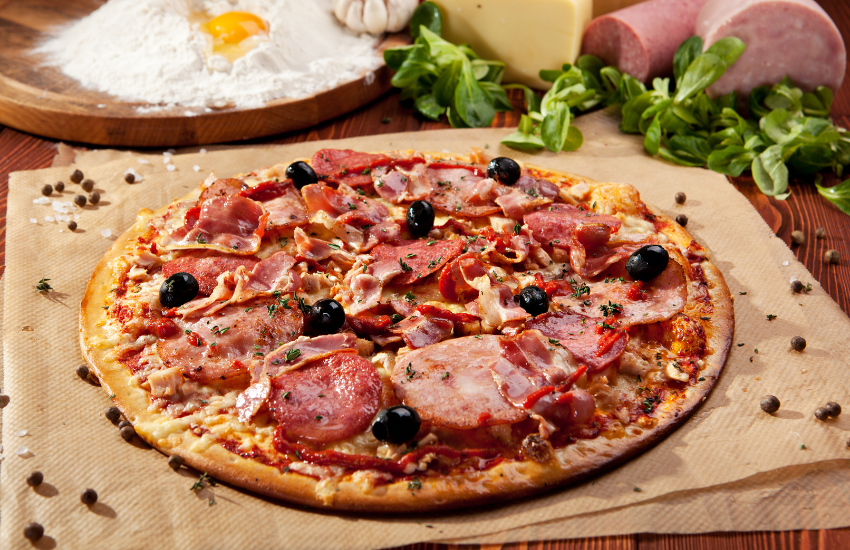 We all know there is no such thing as too much meat on pizza, is there? Of course! Take it further than just plain pepperoni or sausage and include all your favorite toppings simultaneously! Be it BBQ chicken, salami, beef, or even chicken fajita!
You can never go wrong with any meat combo as it's, might I say it? Perfect!
14- Mushroom and… shrimp?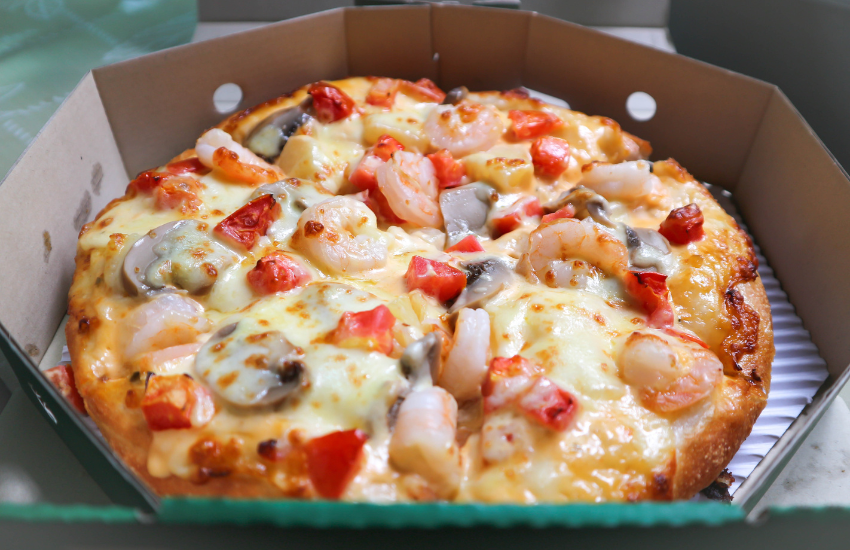 Believe it or not, this is a super famous combo having its own name, "Mar e Monte" which means sea and mountains; even from the name, it gives you high expectations. Seafood on pizza is a controversial topic for pizza lovers.
Some people say dairy and seafood are never meant to be mixed. We beg to differ, and a shrimp and mushroom pizza is divine. The trick here is to use different mushrooms to make your pizza super tasty. You can use a combination of morels, shiitake, and white mushrooms.
You can even add some crimini in there. In the summer, you can browse local shops for other varieties too. 
Making it at home? The best way is to first saute the mushrooms with some garlic in olive oil for a couple of minutes. Cook them slightly but don't overcook!
Shrimp can be fresh or frozen, but the key is to marinate it for about an hour beforehand. Some oregano, red wine vinegar, and basil will make this pizza tastier!
15- Chicken Alfredo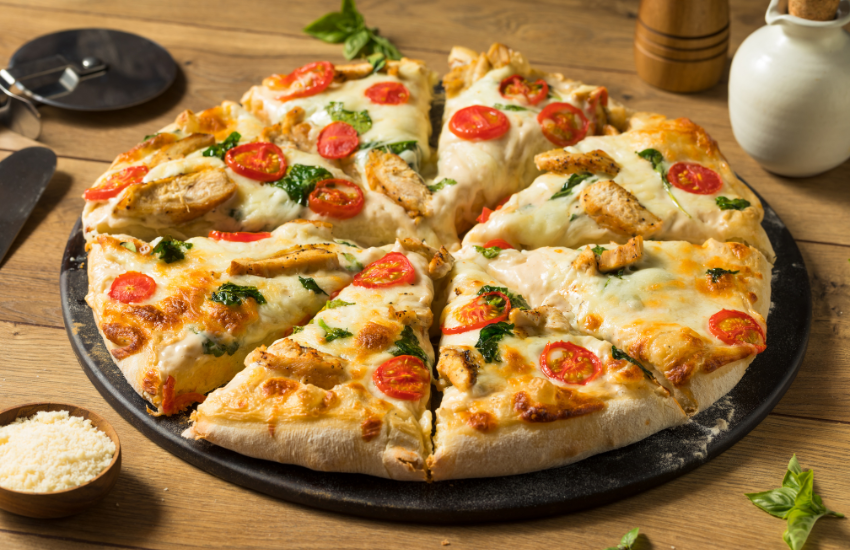 You can use this topping with a pizza Bianca or white pizza. Pizza Bianca has hit the markets and become super popular lately and let's ride with the trend, shall we? They make this type of pizza from white sauce instead of the traditional tomato sauce. 
We use Alfredo sauce instead of the traditional white sauce in this recipe. It'll take your white pizza to the next level with the tastiness of pasta Alfredo. We use grilled chicken here because the smokiness adds more flavor to the mix.
Some garlic, cheese, and fresh parsley in the Alfredo sauce will make your sauce more flavorful than ever! Some people use jarred Alfredo sauce, and it's a bit thicker, though, so look out!
16- The Polynesian Pizza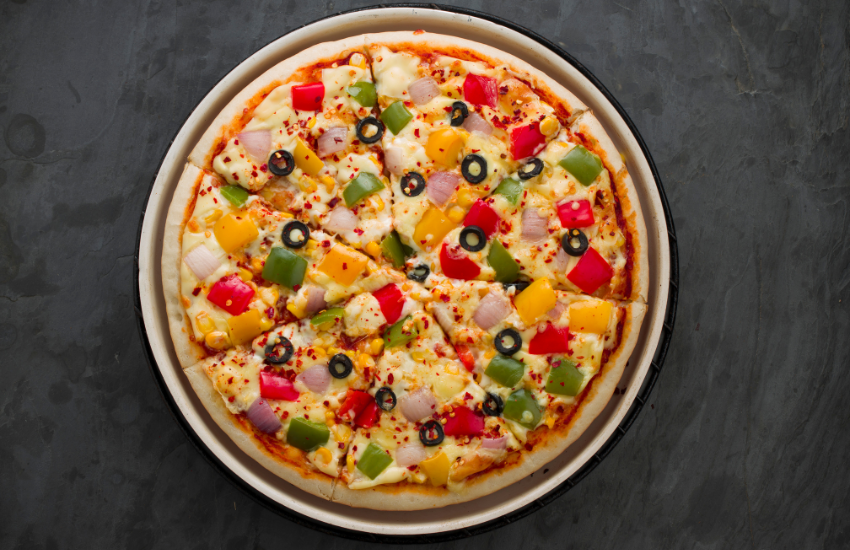 You already know about Hawaiian pizza, but have you ever heard of the Polynesian? My gut says you haven't. It seems like an odd combo, but once you've had it, you'll know all the hype.
Some best pizza combinations are weird. At first sight, they seem unappetizing, but once you've had them, you find out that they're not that bad. They might be your new favorite topping! Polynesian pizza has the same toppings as Hawaiian.
They add mandarin oranges and slivered almonds to it. Woah! Don't leave! We promise it's both good, crunchy, sweet, and salty. 
The trick in this lovely topping combination is to use equal parts of all the ingredients, except almonds. Just sprinkle some on top for the crunch.
17- Garlic and Ranch Pizza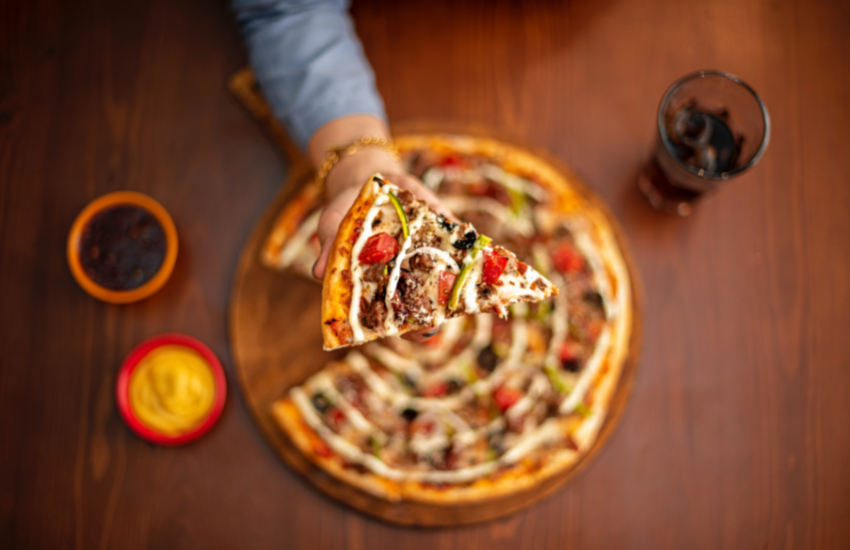 If you love dipping your pizza in ranch dressing, then you'll absolutely love this pizza! You can either make it at home with homemade ranch dressing or order it at a local pizza joint.
It has all the toppings that people love, tomatoes, chicken, and a mozzarella cheese base. It'll melt in your mouth with its creamy and delicious texture.
18- Fireworks in your mouth with Loaded jalapeno popper pizza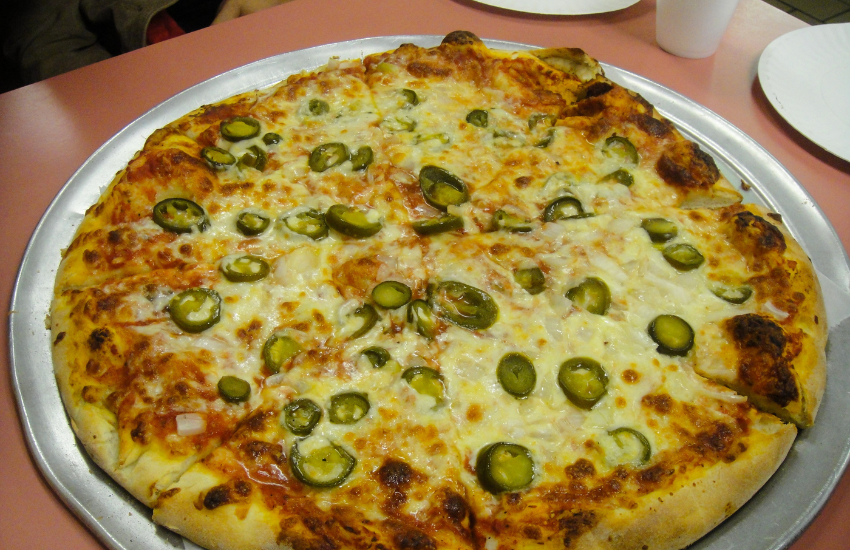 Isn't that a mouthful to say? This is the beginning, as you'll have your mouth full of this pizza once you give it a taste. This pizza is fully packed with flavor, and it'll give you cravings for more. The loaded jalapeno popper pizza combines two things I love: pizza and spice.
It's made with yellow peppers, onions, bacon, and Monterey jack cheese; you can say it's "loaded" with flavor.
You Can Also Have Some Unusual Pizza Toppings.
Do you think Hawaiian or Polynesian are unusual toppings? You make me laugh! They are nothing compared to these combos. But don't be afraid, the best way to form an opinion is to try these for yourself!
19- Smoked salmon, smoked oysters, spinach with a goat cheese base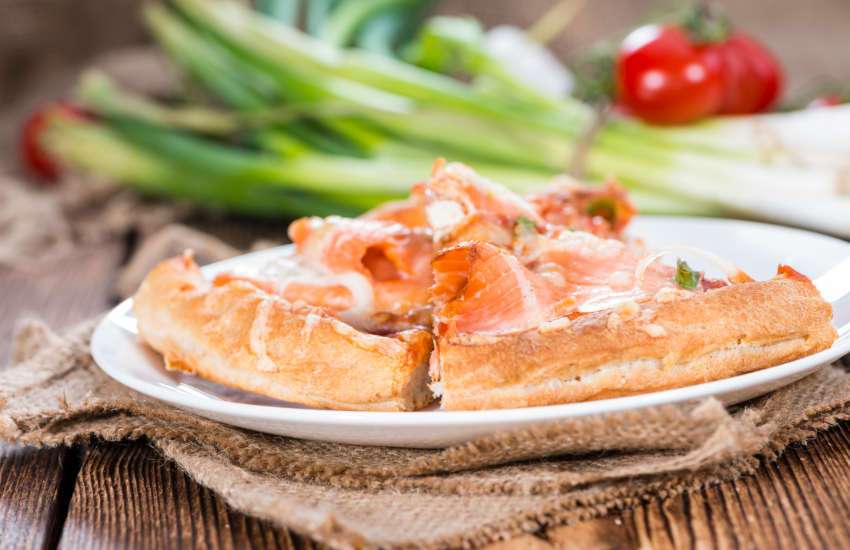 This is an unusual pizza topping, at least by my friends' standards, but in a good way. This seafood-inspired combo uses sliced salmon (or diced into chunks), tinned oysters (smoked), and some spinach.
The goat cheese is the goat for a reason (greatest of all time). It'll add a nice creamy texture to your pizza. 
Bit of mozzarella is also used in the base because why not? The cheesier, the better (and I'm not talking about romcom shows).
The mozzarella helps to balance the goat cheese. The salmon and oysters are super salty, so it's best to pair them up with mild cheeses and other ingredients.
20- Pear, Prosciutto and Gorgonzola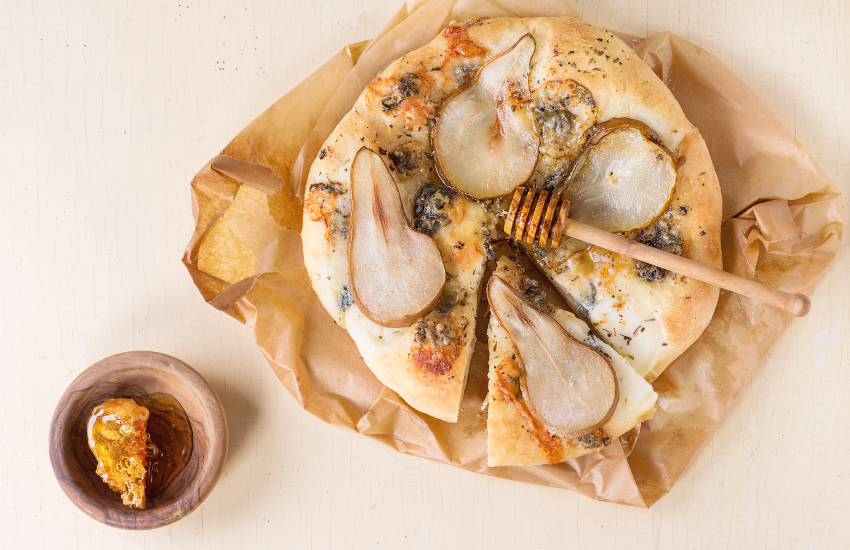 Are you a blue cheese lover? Yes? 
Perfect! 
This pizza topping combo has been specially catered to you. The salty prosciutto, sweet pears, and tangy blue cheese are one of the most fantastic pizza toppings.
Fresh Anjou pears which aren't fully ripe are perfect as they're crunchy and not overwhelmingly sweet. Although many people use ripe or over-ripe pears, they aren't that crunchy. Gorgonzola is the perfect blue cheese for it, as so many are out there.
Some are stronger, some are milder, and most of them are pretty expensive. If you're new to blue cheese, go for the danish blue; it's a great place to start as it's mild and not super expensive.
21- Hot Wing Pizza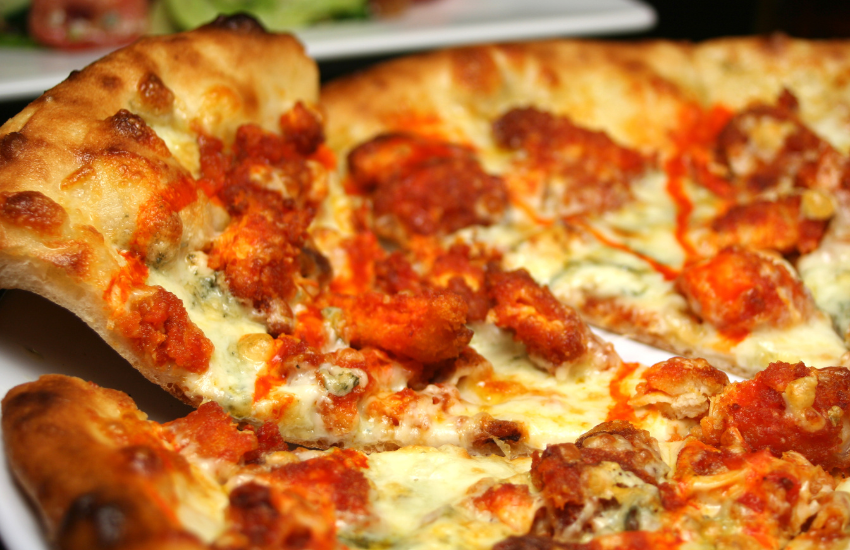 I'm sure that you didn't even know this was a thing among the best pizza combinations. Italian pizza maestros must be rolling in their graves, but I think it's a great combo. If you haven't ever tried it, you're doing yourself a disservice. 
This pizza screams "American" as they love chicken wings, and I agree! Buffalo sauce, bacon, and blue cheese. Serve it with some ranch, and you'll have a heavy-duty pizza for those nights when you feel like getting stuff. Add some onion to spice it up!
Talking about meaty… beef?
22- Hamburger Pizza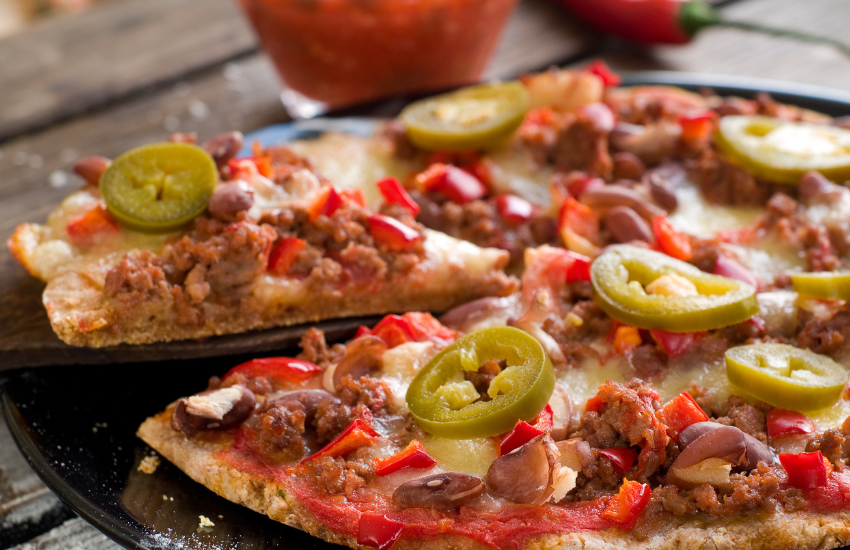 Another one! 
Probably developed in America for people with large appetites. 
After all, who doesn't love hamburgers? You can get creative with this pizza topping! There are so many topping options on a hamburger… Try them all!
We start with ground beef. You can add many more ingredients to it, like bacon, mushrooms, onions, tomatoes, lettuce, and pickles. 
What's that I hear? Do you like cheeseburgers? Well, just add cheddar or pepper jack! 
Tomato sauce wouldn't be delicious with this (just my opinion). You can go for loads of different sauces, like, BBQ sauce, mayonnaise, mustard, or even a combo of sauces! 
Don't go overboard, though! Try to keep it a bit light.
23- Pizza… with taco topping?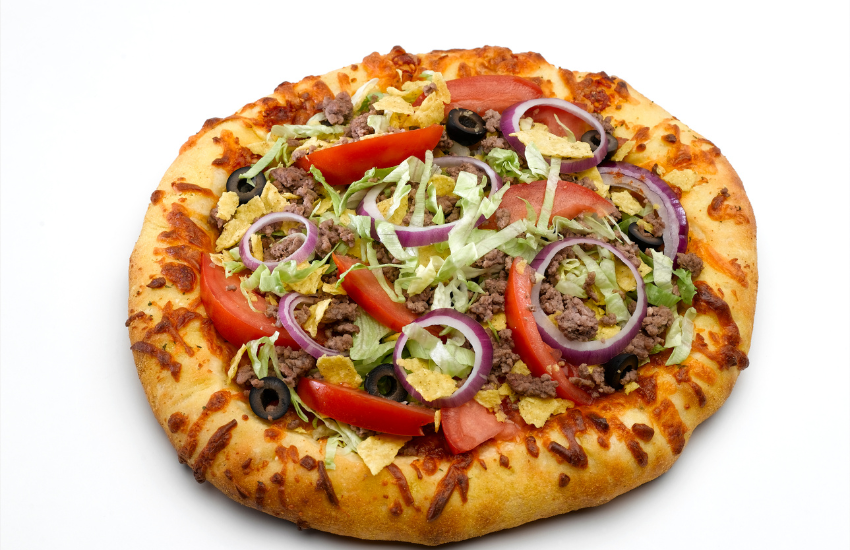 Okay, this is getting weird! This topping combination is similar in concept to the cheeseburger or hamburger pizza, but this time you'll just adapt the ingredients of a taco to top instead of a burger.
For the sauce, we recommend that you make your own, spread out refried beans, and top it with lettuce, olives, jalapeno, salsa, ground beef, and cheese. You can add sour cream, tortilla strips, and guacamole if you're feeling particularly adventurous!
Even more unorthodox combos!
24- Pizza for breakfast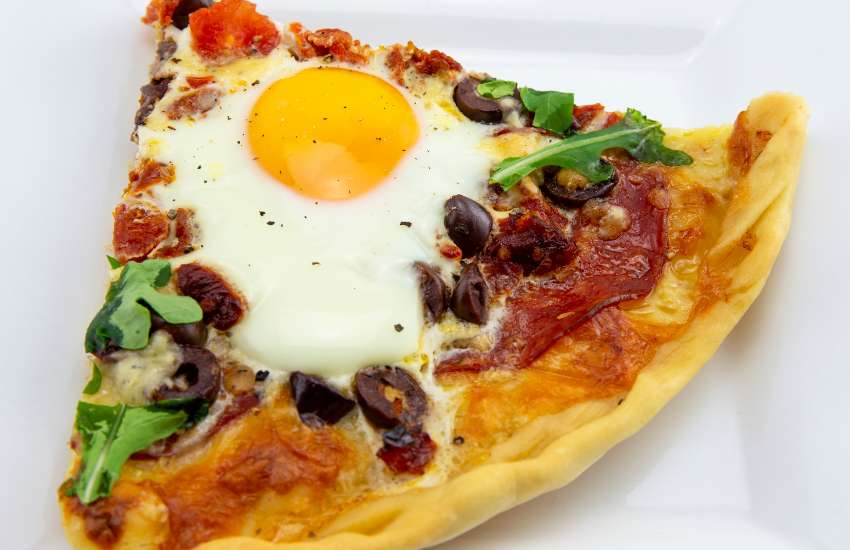 Why wait any more? You can have your favorite dish as a start to your day!  
Although you can eat this pizza any time of the day, load up your homemade pizza dough with all of your favorite foods that you like for breakfast. 
Eggs, sausage, bacon, hash browns, salsa, and mushrooms go crazy! And, of course, your favorite kind of cheese! You can even put in a cheese omelet!
25- BLT pizza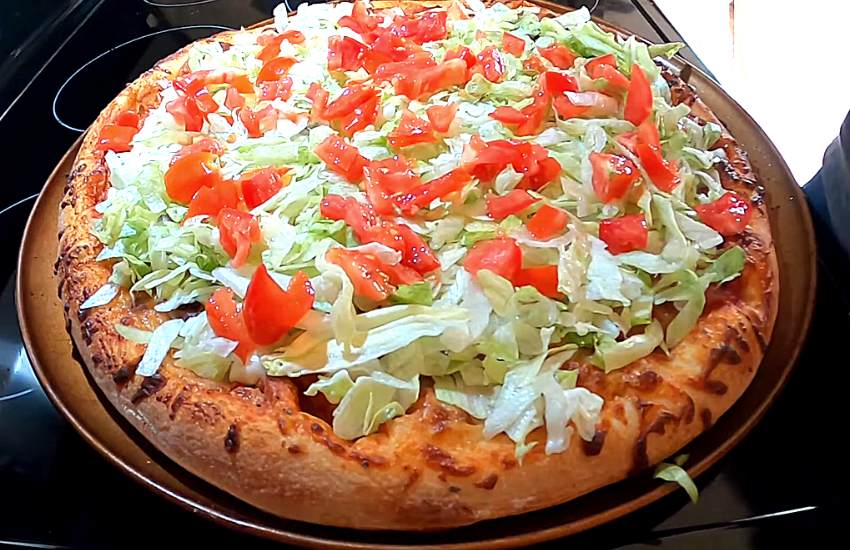 This might be the last one on this list (sad), but it's not the least! It's a BLT, but it's pizza! Spread your mayonnaise onto the crust of your pizza and top it up with Monterey jack cheese, tomatoes, lettuce, and bacon! 
You can shake things up a bit by adding chicken, turkey, and avocado. Add a final touch of some black pepper, and voila! Magnifique!
How can you Choose the Best Pizza Combinations?
Are you at a loss when the time comes to order or make pizza with the right toppings?
Don't worry. We'll make it easier for you by giving you some suggestions to cater to the needs of everyone. These combinations taste amazing, and they'll make you feel like a grown-up! Here they're, and they'll revolutionize your order!
Decide the best but more general pizza combinations first.
At a table of friends, there is always that one person with the widest choice of pizza toppings; for example, excuse me for even saying it, PINEAPPLE AND ANCHOVIES! And some senior members always prefer the most straightforward pizza, just the traditional toppings.
It's impossible to choose the perfect topping for everyone, but a few toppings stand out and can satisfy almost everyone when you invite them to a pizza party. So, first, take into account the most popular pizza toppings.
Decide whether you're a vegetarian or a carnivore.
Personal preference is the key ingredient here, if you're a veggie eater, vegetable toppings will suffice, but for the meat lovers out there, meat is the deciding factor. Of course, if you're an omnivore (like me).
This preference of carnivore, herbivore, or omnivore is known as the "base," and it'll be the deciding factor in choosing which topping is the one for you. Thus, if you need meat, the day calls for meat, like turkey, chicken, or even mutton if you need meat.
If you're having a veggie kind of day, you should choose vegetarian options, such as mushrooms, olives, peppers, zucchini, or even sundried tomatoes for a tangy twist.
Did somebody say cheese? Pay attention to other preferences as well!
Next up, we have the cheese. Who doesn't like cheese, am I right?  Among your guests, many will like cheese.
You have so many options! Mozzarella, cheddar, goat cheese, blue cheese, and so many more.
You can choose any more types of cheese for your preference or even go without it if you don't like it (that's a red flag). The right choice will make your pizza so much better and bring a smile to your face.
Balance is the key.
It's essential to know what kind of toppings you like; keep mixing and matching, and don't be afraid to experiment! However, you should know the ingredients that pair best; for example, pineapple with aged Havarti is a crazy combo!
You can follow a simple rule of thumb to make your subsequent pizza order the best one, balancing the ingredients' acidic taste with the cheese's milky flavor. If the topping is super sour, you should go for a mild and subtle cheese such as cheddar or mozzarella!
Knowing this art of balancing will make you the diva of ordering the best pizza, and everyone will look to you!
Best Pizza Combinations-Final Thoughts
Wow, that was a lot! I hope you feel more inspired now to choose your favorite pizza topping. I like plain and simple BBQ chicken pizza with mozzarella and cheddar cheese. Or you can also go for a classic Neapolitan pizza; the choice is yours!
Now go and buy your favorite pizza. Remember that when you get that late-night pizza craving and you aren't sure about the topping, be adventurous and try out a new topping! You might discover a new love!
mama-cucina.com is a participant in the Amazon Associate program and will earn from qualifying purchases.