Buying high-end kitchen appliances like the Blendtec Total Blender can be a real challenge because they can be crazy expensive. Yet, here's where luck comes into play: if you can find these babies at Costco, you're in for some serious savings – up to 25% off, my friend!
And here's the cherry on top: Costco offers Blendtec's most famous blenders. There are three options, but the Blendtec Total Classic Blender is the one that truly stands out. It has earned the highest user satisfaction over the years. So, despite the hefty price tag, is it worth it?
Heck, yes!
This article will give you the lowdown on why the Blendtec Total Classic Blender is the bomb at Costco. So, without further ado, let's dive into this detailed review!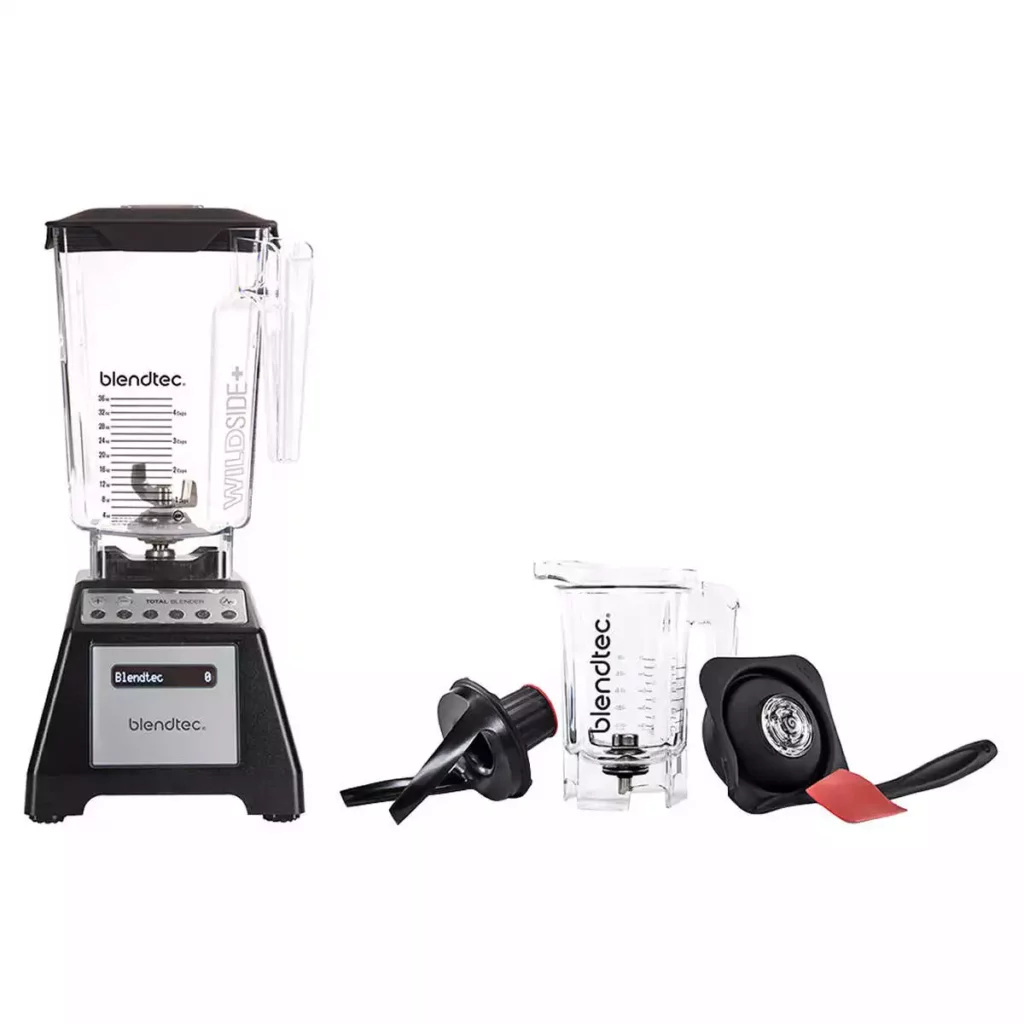 Let's talk about the Blendtec Total Blender, the absolute powerhouse of kitchen appliances. People love it for its top-notch performance and durability. Smoothie lovers, cooking enthusiasts, and even the pros can't get enough of it.
But let's face it! It's a major investment, so let's break down what makes it worth your hard-earned cash.
Design
Let's talk about design first. The Blendtec Total Blender Classic is designed to be sleek and discreet.
It sits nicely on your countertop without taking up too much space. It's relatively light at 7.28 pounds, but you can also store it in a cupboard. The base is sturdy and won't rattle around even at high speeds. Plus, it's easy to clean.
Let's not forget about maintenance. Cleaning the blender is a breeze, but the jar requires more effort. You can make it easier by pulsing some water and dishwasher liquid.
And the best part? The jar is dishwasher safe, so no worries there–I'll advise you to place it on the top rack of your dishwasher.
Ease of use and control system
One of the standout features of the Total Blender is its pre-programmed blending cycles, perfectly labeled for different recipes. Whether you're making batters, whole juices, hot soups, or ice cream, this blender's got you covered.
It's like having your own personal recipe assistant! And if you're feeling creative, you can switch to manual mode with the pulse function for ultimate control and convenience.
Let's check out all the options that this blender offers:
Ice Cream/Frozen Yogurt
Sauces, Dips, Dressings & Batters
Whole Juice
Ice Crush/Milkshake
Soups, Syrups & Fondues
On top of those presets the Total Blender gives you one pulse button and two speed buttons for manual control. With its 10-speed settings, you can customize your blending experience.
After selecting your desired speed, the blender will blend for 50 seconds before automatically stopping to save your ingredients. And if you want to stop the manual cycle, just press any button on the control panel. Easy peasy!
And get this – the blender has a super cool illuminated LCD display panel. It shows you the remaining blending time and even gives you an alert if the machine starts getting too hot.
No need to hover over it like a worried parent – it shuts off automatically based on your settings. This blender is smart, my friend!
Performance
Now let's talk about power. The Blendtec Total Blender is an absolute beast with its 3-peak horsepower motor.
It leaves many competitors in the dust! With this kind of power, you can blend just about anything – frozen fruits, tough veggies, and of course, ice for those refreshing drinks and smoothies. It can even grind grains, perfect for all you bakers out there.
That powerful motor operates Blendtec Total Classic's single-blade unit. These blades are made from cold-forged, hardened stainless steel.
And let me tell you, they mean business. They're designed to draw ingredients in easily and pulverize them like nobody's business.
The square jar design and spinning blades create a liquid vortex that sucks everything in, so you don't need a plunger. These blades are pre-blunted and paired with angled wingtips by Blendtec, making them capable of crushing any hard ingredient. Trust me; you won't miss those sharp blades.
And guess what?
The longer blade tips generate more friction, so your food heats up faster. Those clever folks at Blendtec thought of everything! The blade unit is supported by hardened ball bearings, reducing friction and preventing the motor from getting heated.
Blendtec has been so confident to offer such a lengthy warranty as Weber does for its grills. The reason is the engineering of its blender. This blender doesn't overheat.
How?
The blender shuts off automatically if it's overworked after showing an alert on the LCD display; it'll only resume the job when fully cooled!
COOL, it is!
Hence, it does what it promises. And doesn't shake at all. Yes, it's stable–the base that houses the motor has suction cups on the bottom to keep it firmly in place.
Accessories
When you snag a Blendtec Blender at Costco, it comes with some awesome accessories. Let me break it down for you:
First, you get the WildSide Plus Jar with a handy Gripper Lid. This jar has clear markings and a unique shape. It holds around 4 cups or 32 ounces, marked on one side and 1000 ml on the other. The bottom is narrower, while the top widens significantly.
Then there's the Twister Jar, which comes with Scraper Tines Lid and Gripper Lid.
You also get the Spectacular Spatula
And Blendtec Favorites Recipe Guide
Now, let's talk about those blending containers. Both jars have the same top opening and use the same lid.
The lids are heavy rubber with a square central opening. You can use the opening to add ingredients while blending or close it off with the provided plastic stopper. A plug in the center allows you to add new ingredients later in the blending process.
The star of the show is Blendtec's patented WildSide+ jar. It's BPA-free and designed to create a vortex that draws ingredients down into the blade assembly.
The jar has a wide base and a narrow fifth side, along with vertical ridges on the interior walls to disrupt the blending pattern and accelerate the blend. This awesome jar is compatible with all Blendtec blenders and comes in various sizes, like 32 ounces, 48 ounces, and 90 ounces.
Warranty
When it comes to warranty, Blendtec offers an impressive 2-year warranty on the blender at Costco. It's an investment that will last you a long time.
Pros
This bad boy has an insanely powerful motor, ready to tackle any blending task you throw at it.
It comes with 6 pre-programmed cycles, so you can easily whip up all your favorite blends without a hitch.
If you wanna take control, it has 10 speed options and a pulse function to do your thang.
The container is low-profile and BPA-free, so you can blend away without any worries.
The LCD display is super easy to read, with digital controls and a timer readout to keep you on track.
Made and assembled right here in the good ol' USA.
This baby is built to last, durable, and stable on your countertop.
Cleaning is a breeze; you can even pop it in the dishwasher.
Don't stress about overheating because it has an auto shut-off feature to protect your blender.
Costco's got your back with a 2-year warranty, and you know they're all about that return and refund policy.
Dishwasher-safe, so you don't have to scrub away the gunk.
Cons
Let's be real, this blender can get too loud, but hey, most powerful blenders are noisemakers.
It's definitely on the pricey side, but lucky for you, Costco knocks off $100, so it's a steal.
The manual could use a little improvement; not the best out there.
It's not the best chopper because it's all about that high speed.
Cleaning the jar can be a bit of a hassle.
The power of this blender can sometimes lead to spills, even though the lid is well-sealed.
The jar can become cloudy over time, but honestly, most blenders deal with that issue.
When making nut butter, be prepared to do some frequent scraping.
So there you have it – the pros and cons of the Blendtec Total Blender. But hey, with that Costco discount and warranty, it's definitely worth considering.
Tips For Using Costco's Blendtec Blender
You must know these tips to get the most out of your blender! Keep reading to unlock its true potential!
Cut Your Ingredients
Sometimes, throwing in whole fruits or half-cut fruits can be tricky. They either get stuck in the blender or float around without getting caught by the blades. Therefore, we suggest that you cut your fruits and vegetables into smaller pieces. This will save you from the hassle of repeatedly turning your blender on and off.
Use Enough Liquid
Another issue people face when blending is not using the appropriate amount of liquid. This stalls the blending process and can be frustrating. So, make sure you're using enough liquid for smooth blending purposes.
Know Your Buttons
The Blendtec blender comes with two types of buttons. Each button serves a different function. The whole juice button is designed to blend whole fruits and vegetables. Moreover, it's set to run at higher periods for breaking down tough ingredients.
Whereas the smoothie button is made for lighter blends. To achieve fine blending, we suggest that you press the whole juice button and then press the smoothie button. It'll give your smoothies a creamy consistency.
Clean Up
Cleaning up the Blendtec blender is a breeze! All you need to do is to mix some water and dish soap. Pour the mixture into the blender and hit the "clean" The ease of cleanup with Blendtec blenders is a really good feature. Simply add one cup of water, one drop of dish soap, and the "clean cycle" button.
Let the cycle complete. After that, rinse the jar and dry it with a paper towel. Reassemble the blender and place it back on the base.
FAQs
How long can I expect my Costco Blendtec Blender to last?
Costco offers a two-year warranty for its Blendtec blender. However, it's good to use for 8-10 years! With proper maintenance, you can expect it to last a long time. This is due to its top-quality build and amazing features!
How big is Blendtec Blender from Costco?
It has a pitcher size of 90 ounces (2.7 liters). This might be too tall to fit under kitchen cabinets. The large size is helpful in blending larger quantities of fruits and vegetables. However, it makes it less portable. It's also very heavy, making it difficult to move around.
So, should you get Blendtec Blender at Costco?
To wrap it up, the Blendtec Total Blender is a total rockstar! It's super tough, can handle anything you throw at it, and will last you a long time. Now, if you're just in the market for a simple blender or you've got a big ol' family to feed, this might be a bit much for ya. But if you're a smoothie fanatic, a kitchen daredevil, or you want a blender that's gonna go the distance, then the Total Blender is the one for you. Trust me; it'll be a match made in blender heaven for your kitchen.
mama-cucina.com is a participant in the Amazon Associate program and will earn from qualifying purchases.