Is Costco your go-to place to get some best toaster ovens? If yes, this article is for you. Here we've made a comparison between Costco's 2 best toaster ovens, the former is available to buy for all, but the latter is a member-only item with a slightly higher price.
But the primary purpose of this well-researched article is to help you choose the best toaster oven for your budget by making the most informed decision.
Let's get into article meat without further ado.
Detailed Review of Cuisinart Vs. Calphalon Review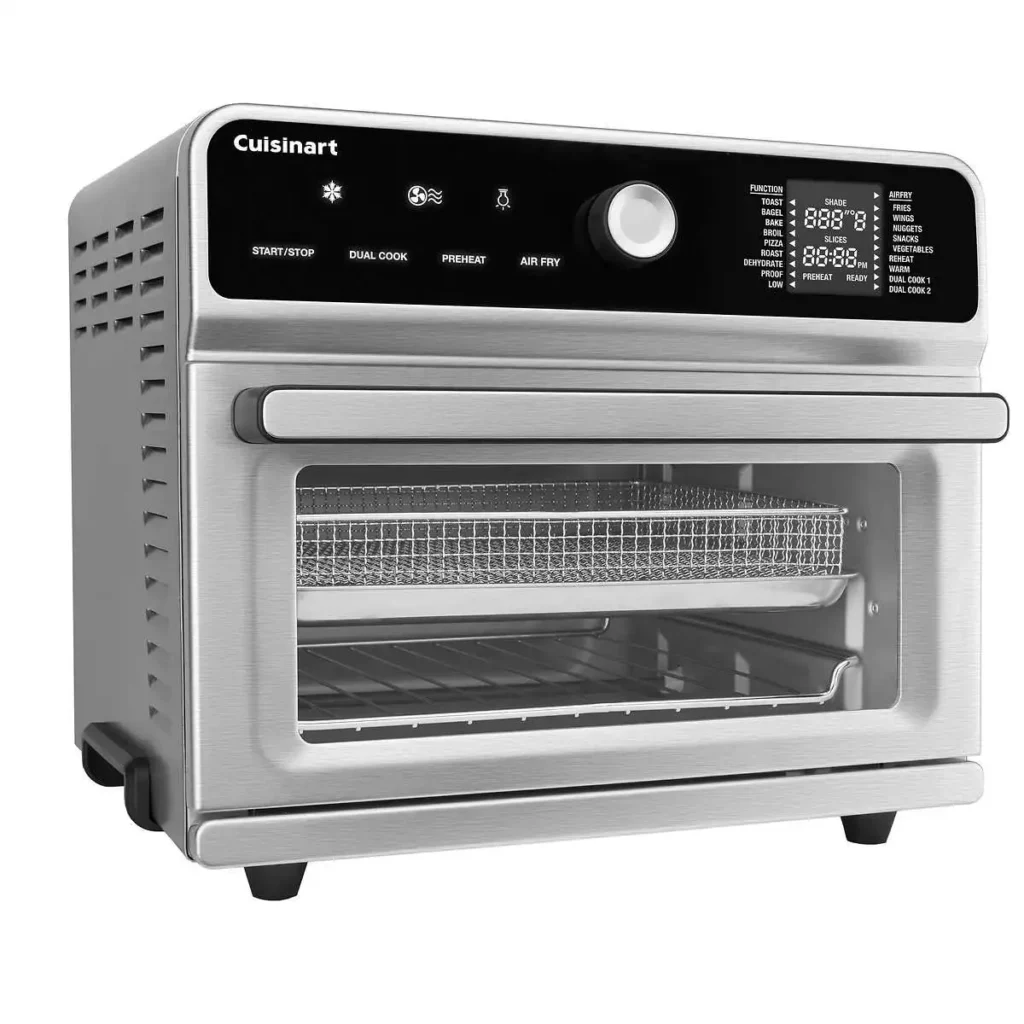 The Cuisinart Digital Airfryer Toaster Oven 0.6 cu. Ft. is a versatile and compact toaster you can get at Costco. Among the toaster ovens at Costco, it's the highest-selling one. Indeed, it has got something to offer there in terms of performance. Yet the user feedback hasn't been fantastic either on Amazon.com or on Costco.
What confusion to make you think whether you should get it!
Below, the detailed review will clear it.
Stand out Features
Temperature range of 80°F to 450°F and a timer of up to 60 minutes.
13 cooking functions, including air fry, bake, broil, toast, roast, bagel, reheat, warm, dual cook, low, dehydrate, and proof.
Dishwasher-safe air fryer basket and baking pan
3-year limited warranty
Design and Build Quality
The Cuisinart Digital Airfryer Convection Toaster Oven 0.6 cu. Ft. at Costco features a sleek digital design with a stainless steel exterior that looks good and is durable. It's a compact oven for your small kitchen countertops with 15.43 x 16.38 x 13.78 inches dimensions and 21 lbs. The digital control panel is right up front, so it's easy to access and use. And let me tell you, the overall build quality is solid, so it'll last you a good while.
I liked that the bottom has a built-in handle to easily pick up and store the oven.
Capacity and Cooking Functions
Don't be fooled by its size! The Cuisinart Digital Airfryer Toaster Oven 0.6 cu. Ft. may be compact, but it can handle frequent cooking. With its 0.6 cubic feet interior, you can fit 6 slices of toast or a 12-inch pizza and 3lb fries.
That's versatile, especially for individuals or small families. And get this: it offers 13 cooking functions like air frying, baking, broiling, toasting, and convection cooking. So, you can whip up all kinds of meals with ease.
Performance
This bad boy brings the heat! With 1800 watts of power and incredible convection technology, the Cuisinart Digital Airfryer Toaster Oven delivers incredible heat output to cook your foods evenly–sometimes overcook as well.
How?
The presets integrated preheating feature can confuse you!
Please don't preheat the oven before throwing food in it. If you do so and select the cooking preset, the reheating cycle will run again before cooking starts. There, you'll need to remove the food halfway. Otherwise, it'll overcook. Conversely, when you put the food without preheating the oven and simply selecting the preset, the digital display panel illuminates the preheat cycle first. Then it shows the selected setting, e.g., air fry, etc.
Other than such instructions, which should be made clear in the user manual, the oven works fantastically.
In short, Cuisinart has made this thing easy to use, my friend, but I need to pinpoint the integrated preheating, though it can be done manually.
Other downsides are also there. For instance, the oven has no cancel/turn off button though you can check the food halfway, and the oven will resume cooking when you close the door. Likewise, the cooling fan also keeps running after removing the food. I think these are pretty manageable things with such a heat bomb.
Cleaning and Maintenance
No one wants a hassle when it comes to cleaning up, right? Well, the Cuisinart Digital Airfryer Toaster Oven is a breeze to clean.
The non-stick interior coating makes it super easy to wipe away any food gunk. And get this: the crumb tray and baking pan are dishwasher safe, so you can just toss 'em in and let the machine do the work. Plus, the compact size means fewer areas to clean overall. Less work, more play!
Pros
Compact size for smaller kitchens or limited counter space.
A reliable air fryer, especially
Versatile and efficient cooking performance
All metal design is fully health-safe.
Advanced convection technology for efficient and faster cooking.
Digital control panel with LCD display and touch screen for precise adjustments.
Durable and aesthetic stainless steel construction.
Easy-to-clean non-stick interior and dishwasher-safe accessories.
Cons
Small capacity may not be suitable for large families.
No interior light to check the cooking progress
No cancel button
Less precise temperature increment setting by 25 degrees only
No guidelines for presets haven't been specified as per food quantity.
The cooling fan keeps running after removing the food.
Presets have an integrated preheat function, besides additional preheat preset, which is chaotic.
My Final Verdict
Overall, the Cuisinart Digital Airfryer Toaster Oven is 0.6 cu. ft. is a nice choice for small households or those looking for a compact and versatile countertop oven. It produces excellent results with various foods, but you must learn how to use it. I'll advise you to get it at Costco physical store, but not online because shipping can damage the oven.OR, if you need a better oven under the same budget, you COSORI Air Fryer Toaster Oven 26.4QT (we've reviewed in the next section).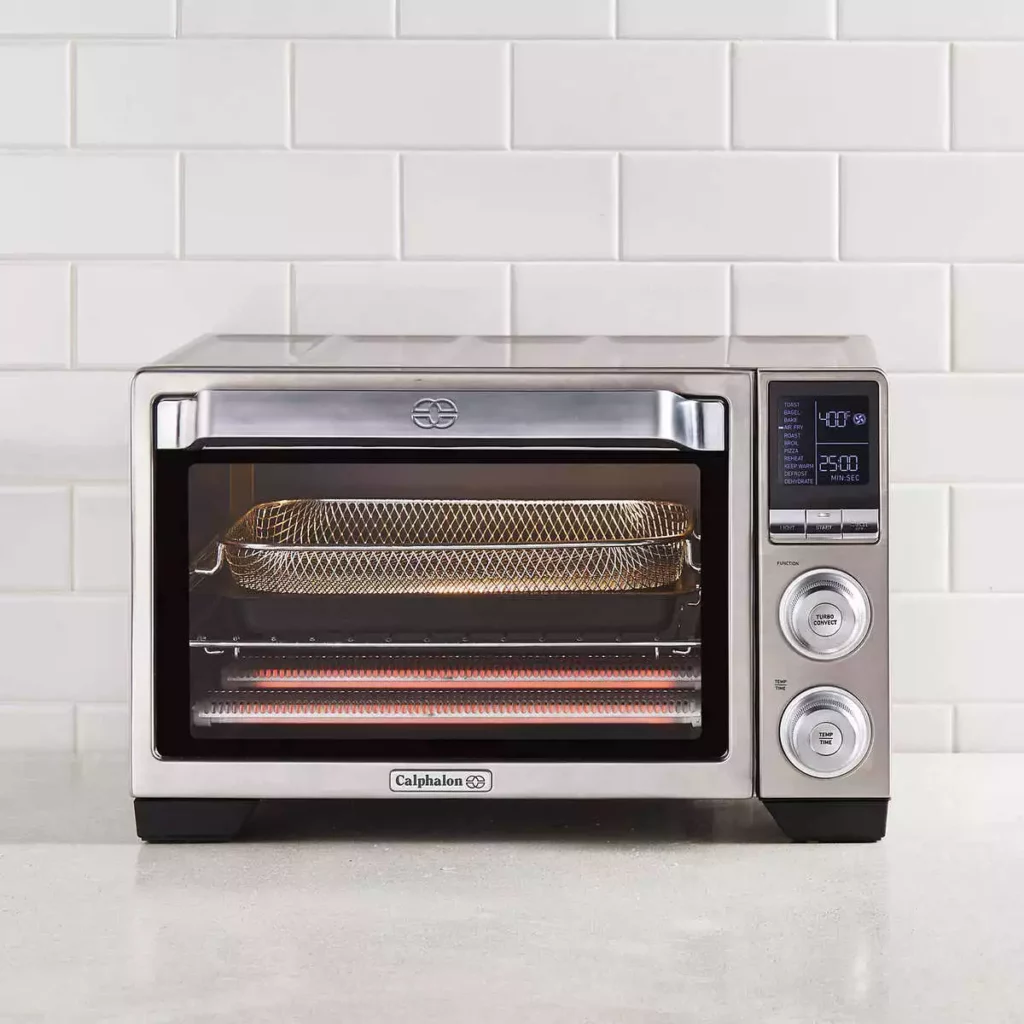 Also, selling high on Costco, the Calphalon Quartz Heat Countertop Toaster Oven with Airfryer is a better toaster oven to get. With its advanced quartz heating technology and air frying capabilities, this countertop oven aims to make cooking easier and healthier.
In this review, I'll dive into its key features, performance, pros, and cons to help you decide if it's the right fit for your kitchen.
Stand out features
Quartz heating technology to heat up oven quickly and evenly
Large capacity of 0.88 cubic feet to cook a 12-inch pizza or a whole chicken.
11 cooking functions, including air fry, bake, broil, toast, roast, bagel, dehydrate, pizza, reheat, warm, and defrost.
Verified temperature accuracy
Non-stick drip tray, air-fryer rack and wire rack included
Design and Build Quality
The Calphalon Quartz Heat Countertop Toaster Oven boasts an impressive and nicest design that fits right in with any kitchen decor. Its compact size is perfect for countertops without taking up too much space.
Made of stainless steel, this oven is durable and adds a touch of elegance. The large viewing window on the oven door lets you monitor your food as it cooks.
Convenient Controls and User-Friendly Features
Pretty compromising; the digital display is small but thankfully bright to be navigated easily.
Besides manual knobs, you get 3 press buttons which include a light button to turn on the interior light), a start button and a cancel button. On the black control panel, these white buttons pop up beautifully to make this unit more pleasing to your eyes.
Further, it has two main control knobs: the first is for selecting a cooking mode, and the second is for setting time/temperature. Let me tell you, the oven follows the setting on the dot.
I love that the heating elements in this oven have been covered to make them infrared. Such innovation helps with more and even heating.
The built-in timer and auto-shutoff feature ensures safety and peace of mind.
Advanced Quartz Heating Technology for fast, even and flavorful cooking
What sets this toaster oven apart is its advanced quartz heating technology. Quartz heating elements are known for their ability to heat quickly and evenly, which can lead to better cooking results. This technology can also help reduce the time it takes to preheat the oven, which can be a major convenience.
Besides the benefits of speed and evenness, Advanced Quartz Heating Technology can also help to produce more flavorful food. Quartz heating elements emit infrared radiation, penetrating food more deeply than traditional heating methods. This can help to lock in moisture and flavor, resulting in more delicious dishes.
Air Fryer Functionality and overall performance
One of the coolest features of the Calphalon Quartz Heat Countertop Toaster Oven is its built-in air-fryer which does the job of air-frying reasonably—not comparable to actual airfare, though. By utilizing powerful convection airflow, it circulates hot air around your food, resulting in that delightful crispy exterior with less oil.
Whether you're craving crispy fries, chicken wings, or onion rings, the air fryer function lets you enjoy healthier versions of your favorite fried foods.
Besides air frying, the rest of the functions (which you can select using the "mode" knob) also work with 100% accuracy.
Surprisingly, the cooking presets have integrated preheat time followed by a beep alarm to let you know the cooking starts here. The Calphalon oven isn't different from the previously discussed Cuisinart here. Yet, the oven doesn't trouble you at all.
The manual clearly instructs you that once you've selected the cooking mode. The preheat cycle will run there, and when you place food inside it, you need to press the start button again.
I haven't got much to say about the cooking performance of this oven because the user's clear instructions, dead-on presets, and temperature accuracy do whatever you want.
Cooking Capacity and Versatility
With its spacious interior, the Calphalon Quartz Heat Countertop Toaster Oven can handle various meals. It can easily fit a 12-inch pizza or six slices of bread, making it suitable for small to medium-sized households.
On top of the air fryer function, it also offers baking, broiling, toasting, and defrosting options. This versatility allows you to prepare various dishes, from your morning toast to scrumptious desserts.
Easy Cleaning and Maintenance
Cleaning the Calphalon Quartz Heat Countertop Toaster Oven is a breeze, thanks to its non-stick interior coating.
The removable crumb tray and air frying basket are dishwasher safe, making cleanup a snap. The non-stick interior walls prevent food residue from sticking, saving you time and effort when wiping it clean. But here is a catch, the mesh-covered heating elements aren't easy to clean, so you need to use parchment paper under the basket.
Pros
Premium build quality
Larger capacity than Cuisinart
Advanced quartz heating technology ensures precise and efficient cooking.
Bright interior light
Spacious interior capacity to accommodate a variety of meals.
Simple to use controls and preset cooking options for user convenience.
The sleek and durable stainless steel design adds a touch of elegance.
Non-stick interior and dishwasher-safe accessories for easy cleaning.
Cons
Airfrying performance is average, not like a dedicated air fryer–it's more like a toaster oven.
The exterior of the oven can get hot during operation.
The beep alert is hardly audible.
Cleaning can be challenging if you don't place a drip pan or parchment paper under the basket.
At Costco, it's a member-only item.
It takes longer to preheat.
My Final Verdict
The Calphalon Quartz Heat Countertop Toaster Oven is superior to the Cuisinart Toaster oven if you want a toaster oven. Yet, it's not a better air fryer than Cuisinart's Digital Airfryer Toaster oven at Costco. Other than this, you must have it–it's far superior to Cuisinart for price, performance and ease of usage.
If it has won you, please try to get it at Costco's physical store, not online–shipping can cause damage.
Best Alternative of Costco Convection Toaster Ovens
The price can't be an ultimate deal breaker; most of the time, it's performance, which means peace of mind. And if you prefer experience over price, here is the best pick for you. It's Cosori Air Fryer Toaster Oven under $150.
Below is a detailed review of the oven.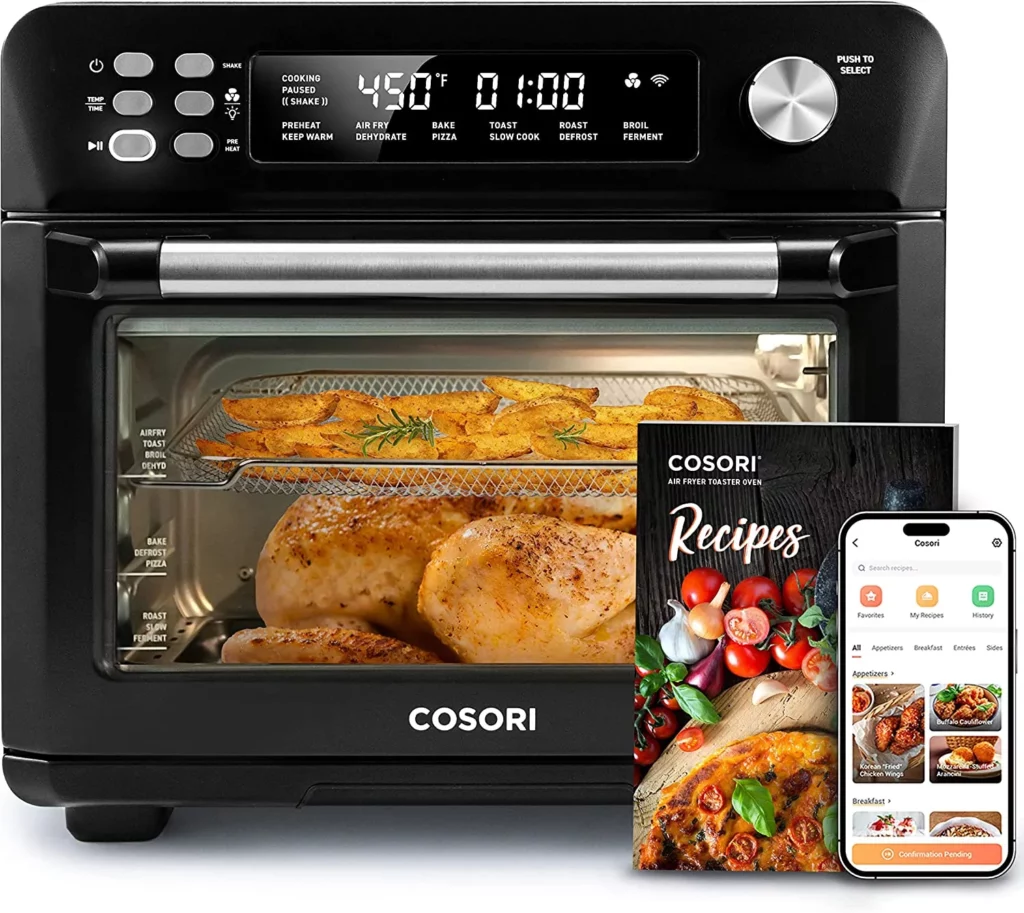 The COSORI Air Fryer Toaster Oven 26.4QT is a cool kitchen gadget that combines the powers of an air fryer, toaster oven, and dehydrator. It's become super popular among home cooks who want a convenient and efficient cooking sidekick. In this review, I'll break down the key features, performance, pros, and cons of the COSORI Air Fryer Toaster Oven 26.4QT.
Stand out features
A temperature range of 80°F to 450°F
Large capacity of 26.4 quarts, enough to cook a whole chicken or a large pizza.
12 cooking functions, including air fry, bake, broil, toast, roast, dehydrate, rotisserie, pizza, bagel, warm, and reheat.
Removable crumb tray and a rotisserie spit.
90-minute timer and an automatic shut-off.
Design and Build Quality
The COSORI Air Fryer Toaster Oven 26.4QT/25L is a beautiful stainless steel toaster oven in black color. It features a solid (industrial) construction, so you can expect it to hold up well. The front panel has an easy-to-use control interface with clear buttons to navigate the cooking functions and settings.
No confusion here!
User-Friendly Features
This handsome boy has outstanding user-friendly features that make your life easier. The LED display illustrates all the cooking settings.
You can adjust the temperature and time controls to get things just right. Besides this, for popular dishes, the oven has preset cooking modes, so you can cook 'em up with a single touch.
Easy peasy, right?
Capacity and Cooking Functions
This air fryer toaster oven is no joke when it comes to size. It's got a whopping 26.4 quarts of space, perfect for cooking big meals and hosting parties.
The COSORI Air Fryer Toaster Oven 26.4QT offers a bunch of cooking functions, including air frying, baking, broiling, toasting, roasting, dehydrating, and warming. With all these options, you won't need any other appliances cluttering up your kitchen.
Performance
One of the best things about the COSORI Air Fryer Toaster Oven 26.4QT is its speed and efficiency. The rapid air circulation technology makes your food crispy and evenly cooked with less oil than deep frying.
The oven heats up quickly – a total time-saver for busy folks. BUT preheating takes some time. And the precise temperature control ensures consistent results with no undercooked or overcooked disasters.
Cleaning and Maintenance
Cleaning up after cooking is a breeze with the COSORI Air Fryer Toaster Oven 26.4QT. The non-stick interior coating keeps food from sticking, so you can wipe it clean in no time.
And guess what? The crumb tray and air fryer basket are dishwasher safe, so you can just toss 'em in and forget about it. Super convenient!
Pros
The air frying function is excellent.
Versatile cooking functions for all kinds of recipes
Rapid air circulation for crispy and even results
Big capacity for families and parties
Intuitive control interface with preset cooking modes
Durable stainless steel construction and sleek design
Easy-to-clean interior and dishwasher-safe accessories
It has an interior light.
Most precise temperature control range of +/-5 degrees
You can get a 2 years warranty by registering the product in 14 days.
Cons
It takes up more counter space because of its large size.
Some folks might initially find the control panel overwhelming with all the functions and settings.
The oven can be noisy when it is in use.
The air fry function can produce some smoke, so using it in a well-ventilated area is important.
The oven is not dishwasher safe.
Alarm beeps are less audible.
Overall, the COSORI Air Fryer Toaster Oven 26.4QT is a great choice for anyone who wants a versatile and powerful countertop oven. It is easy to use, produces excellent results, and is a good value for the price.
How should you Choose a Toaster Oven?
Toaster ovens have become an essential kitchen appliance, offering versatility and convenience for hundred of cooking tasks. One important consideration when shopping for a toaster oven is whether to opt for a model with or without convection technology.
In this section, I'll explore the key factors to help you make an informed decision and choose the right toaster oven for your needs.
Get an Oven with Convection Technology
Before diving into decision-making, let's understand what convection technology entails. Convection toaster ovens have a fan and exhaust system that circulates the hot air within the cooking chamber. This constant air movement enhances heat distribution, resulting in faster and more even cooking. The circulating hot air also promotes the browning and crisping of food, making it a desirable feature for certain recipes.
One of the notable advantages of convection toaster ovens is their ability to reduce cooking time. The circulating hot air speeds up the cooking process by providing consistent heat to all sides of the food.
This can be particularly beneficial when you're pressed for time or need to prepare meals quickly. If efficiency and speed are important factors for you, a convection toaster oven is worth considering.
Versatility
Both convection and non-convection toaster ovens offer a wide range of cooking functions, including toasting, baking, broiling, and more. However, convection models often provide additional versatility due to their ability to cook food more efficiently. The improved airflow can help dehydrate fruits and vegetables, make crispy air-fried dishes, or even roast meats. A convection toaster oven offers greater flexibility if you enjoy experimenting with various cooking techniques.
Energy Efficiency
While convection toaster ovens provide superior cooking performance, they may consume slightly more energy because of the operation of the built-in fan. However, the energy difference is minimal and may vary depending on the specific model. If energy efficiency is a significant concern, checking the product specifications or looking for toaster ovens with energy-saving features is recommended.
Budget and Space Considerations
Toaster ovens with convection technology are slightly more expensive than their non-convection counterparts. If the budget is a primary consideration, a non-convection toaster oven can still offer reliable cooking capabilities without additional cost. If you have limited counter space, a compact non-convection toaster oven might be a better fit, as convection models generally require slightly more room to accommodate the fan and exhaust system.
Final Thoughts
The decision is up to you. You can pick any Coscto oven with the capacity and functionality you need. Cuisinart is a better air fryer, while the Calphalon toaster oven is more a toaster oven but not a good air fryer. Costco's matchless return policy backs both. BUT, Cuisinart has more drawbacks, and returning it can be energy-draining. So, choosing a toaster that has earned superior user satisfaction is better. What else will you need when Cosori Toaster Oven is also cheaper than Costco's ovens besides having a 2 years warranty and
mama-cucina.com is a participant in the Amazon Associate program and will earn from qualifying purchases.