Are you looking forward to upgrading your kitchen with a new food processor but feeling overwhelmed by a few options at Costco? 
You're not alone! 
Knowing where to begin and which model to choose can be hard. 
You don't need to worry anymore. We've reviewed the best food processor available at Costco after excellent research! 
And, if it doesn't meet your needs, please hold on because we've also reviewed a few better alternatives to the Costco food process from Amazon in terms of quality and price.
So keep reading to make your cooking experience smooth and fun-filled!
Review of Cuisinart's Best Food Processor at Costco
Here is the only best Costco food processor that we've reviewed in detail. You can read it whether it suits your needs.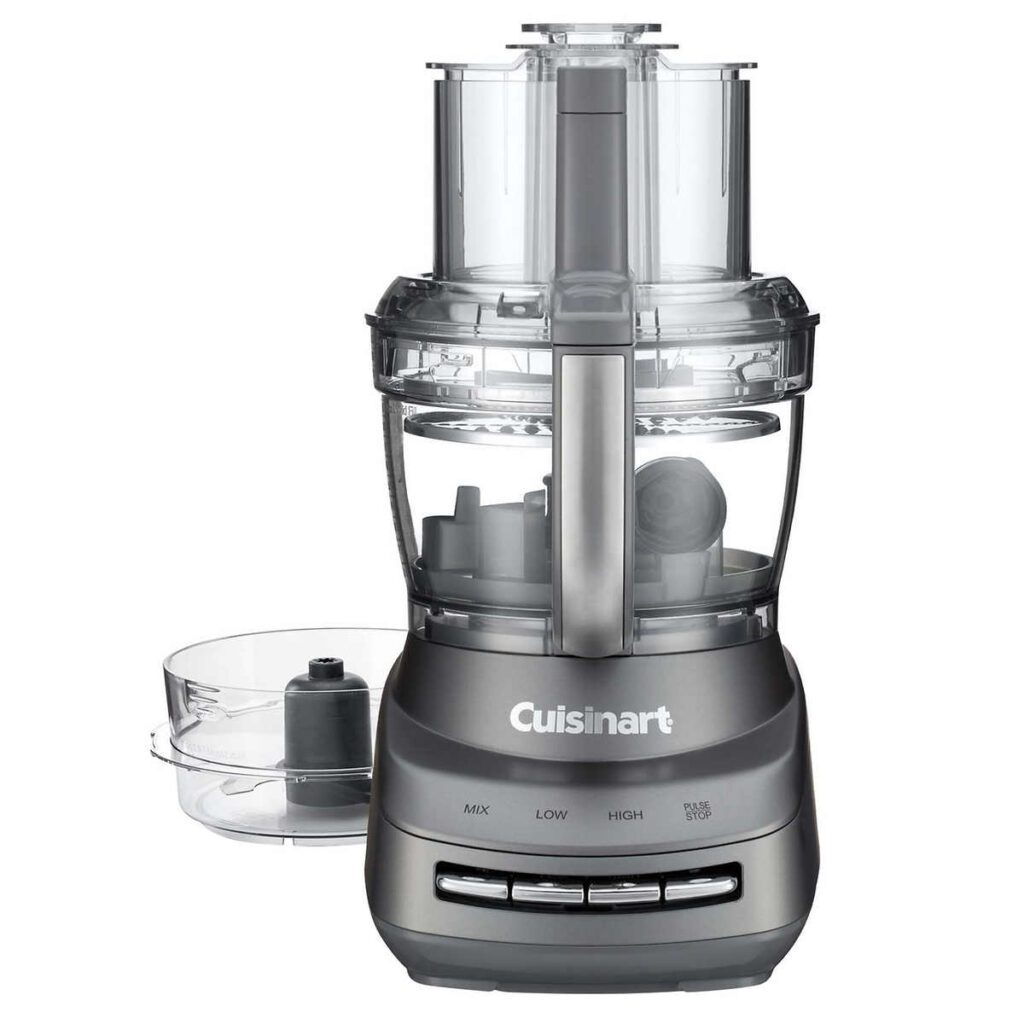 The best food processor you can find at Costco is the Cuisinart Core Custom 13-cup Food Processor with an optional small bowl of 4.5 cup capacity–suitable for all families and small businesses. 
Sleek design
The quality of the Cuisinart Core Custom model is great. The design looks sleek–Its exterior is made of good quality plastic, while the accessories, like the blades, are stainless steel or BPA-free plastic. Yet, you might dislike that the internal gear system is also plastic and flimsy.
The capacity of the Cuisinart Core Custom is excellent. It's a 13-cup food processor means you can blend, cut, and almost do all the work faster than any other food processor–what else would you opt for a large family? 
Apart from the main bowl, you'll also get an additional working bowl with a 4.5-cup capacity; this bowl fits in the primary bowl, and a small blade does the job for it.
Any food processor's gear system must be tightly sealed inside and outside to prevent liquid drippings. In this regard, the Cuisinart Food Processor has a seal-tight system inside but not outside. So, the liquid gathers there and leaks. 
To avoid it, you need to dry the gear system outside. 
Compact and easy-to-use food processor with a huge capacity
The control panel is simple; it has 4 buttons: mix, low, high, and pause/stop.
Besides this, the feed tube is large, allowing you to add a lot of food at once. Therefore, regarding the usage, it's the best. 
You'll also appreciate the Cuisinart Food Processor for its compactness. Instead of getting several blade discs for shredding or slicing, you get a few main discs with adjustable slicing or reversible shredding. 
Likewise, all accessories are storable inside the main bowl. Thus, the entire packaging is easy to store and requires less cabinet space.
Outstanding performance if it works
Let's come to another point: the outstanding performance of the food processor. It does all the work, from blending to chopping, efficiently. You can prepare anything like humus, baby food, or salad.
BUT
It might not work or stop working after a few uses. Here, the Costco return policy and Cuisinart warranty save you.
The slow mix function for dough kneading is also less practical when you want to knead the dough. 
Why? 
Any machine intended for dough making must have a heavy build to remain stable. It's where the Cuisinart Food Processor fails again, and you start missing a dough machine.
Why is it best?
It's easy to use.
Good capacity of (13 cups)
Health-safe material: BPA-free plastic 
It does an excellent job of mixing, chopping, shredding, and slicing.
Dishwasher safe
Backed by Costco's return policy and 3-year limited warranty by Cuisinart
What are the drawbacks?
Costco "Member only" item 
Waste out for shredding and slicing is maximum.
Expensive–you can get a better quality food processor for the same or low price. 
Less stable for dough kneading or processing large food batches, loud and shaky
Liquid builds up under the outer gear system to spill later on.
Not all accessories are included.
Handwashing is a daunting task.
Best Quality Alternatives to Costco Mixers On Amazon (Cheaper than Cuisinart)
Here are the best affordable alternative food processors from Amazon—they excel in terms of quality and affordability.
Do you need an extremely quiet and highly efficient food processor? The Braun EasyPrep is one of the best food processors to let you work in your kitchen peacefully. What's more?
Let's know through this detailed review.
Quality Construction and ergonomic design
After our in-depth research, it's pretty safe to say that it's the best food processor with a quality construction that ensures longevity and safety. The blades are stainless steel–dishwasher safe. And the rest of the unit is made of BPA-free plastic. 
The extensive platform ensures longevity and stability. However, it also requires more counter space–can be a deal breaker if you have limited counter space. 
The food processor by Braun, though, has a large platform; it's a space saver when stored. You don't have to struggle with storing so many discs. Instead, it has one disc that can accommodate separate 7 blades for shredding, slicing, grating, etc., in which you can fit all blades.
It comes with:
Mini bowl
Shredding blade
Slicing blade
Ultimate kugel Potato Latkes blade
Top-rated S blade
Whipping blade
Kneading blade
Citrus juicer attachment blade
Braun has also paid special attention to safety features. I love that the food processor has a mechanism to start only when the lid is completely closed.
Along with stability and safety, there comes peace. The 600-watt motor is also quiet. The food processor system itself is also quiet, especially when used at low speed.
So much good to say; what's disheartening, then?
For such a fantastic unit, you might need a dedicated storage box to assemble so many accessories. 
Excellent performance with precise control
The performance of the food processor is excellent. Being a home chef, you know how often you need to run your machine slowly when slicing and shredding the cheese or veggies. 
It's where Braun has come well through engineering.
It has 2 control knobs/buttons–one is for start & pause, while the other is a dial button for speed control up to 15 ranges with an increment of 2. For this reason, the food processor also proves itself pretty quieter than several renowned food processors. 
All the functions, from slicing to shredding, work smoothly. Besides this, it's a must-have unit for liquifying any food evenly–you can make puree or almond butter easily.
Easy to use and Maintain
Another feature of the food processor is that it's affordable–by affordability, we mean the better quality at the almost similar price that you pay for a Cuisinart Food Processor at Costco. 
Besides the pricing, using this food processor is simple. 
Lastly, it's dishwasher safe, so the cleaning part will be a brainer. 
Have it; you'll love it…!
Why is it best?
Excellent quality construction with a fully sealed gear system to prevent any leakage
Unique compact design with a single disc to fit all 7 blades
An incredible slicer, mixer, and shredder 
Suitable for a large family
Easy to use and clean
Quietest
What are the drawbacks?
Not a great juicer
You have to figure out a suitable speed for your ingredients and operations.
It takes more counter space.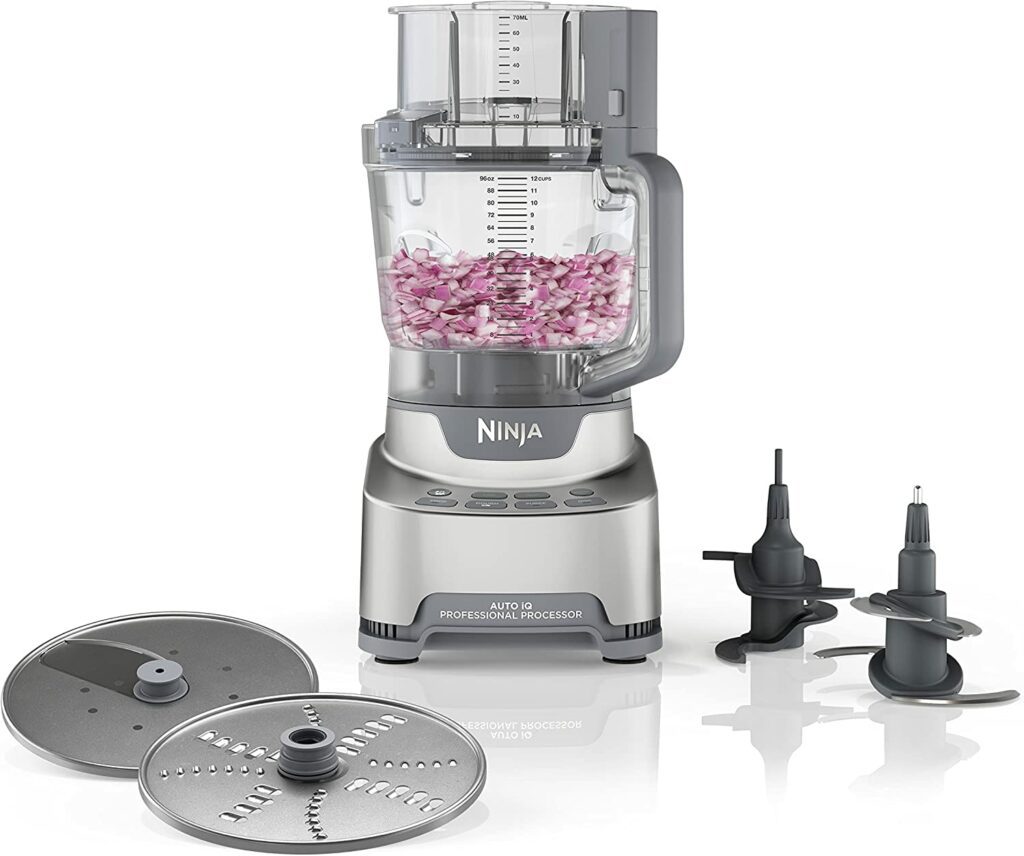 If you think Costco's Cuisinart Food Processor is expensive, check the Ninja BN601 Food Processor. It's also a 12-cup food processor, but the price is significantly lower than the Cuisinart model. 
Outstanding built quality
The built quality of the Ninja BN601 Professional Food Processor is outstanding. It's made of high-quality plastic that'll last for years. You can assemble the machine in 1 minute. 
Once you're done assembling, think about which blades you need among the two (dough and quad chopping blades) and attach anyone. Besides blades, you can use the reversible slicing and shredding disc. 
The locking mechanism is simple. The food processor also has a suction cup at the bottom that ensures the base sticks to the counter. 
Excellent performance 
The biggest advantage of having this food processor is its excellent performance. It's a 4-in-1 food processor that allows you to chop, slice veggies, make a puree, and help knead the dough. 
It comes with:
A double-dough blade 
Reversible shredding disc 
and adjustable slicing disc
Dual stainless steel chopping blade
On the control panel, the food processor has 4 presets chop, dough puree, and disc buttons. Besides this, for manual control, it also features high, low, and pause buttons. 
Among 4 preset functions, 3 work smoothly, and you can find a better choice for making dough. 
You'll also love that processing food is much easier with it because of the 3 size chute. With this chute, you can dice, chop or shred anything from a thin carrot to a large piece of cabbage.
User-friendly and easy-to-clean unit
It's a user-friendly food processor because of multiple reasons. The first reason is that the food processor has an easy-to-use interface. It has several buttons (chop, puree, disc, dough, pulse, low, high, and pause) on the control panel. 
Another fantastic feature is the food processor is easy to clean as all detachable parts are dishwasher safe. 
Why is it best?
A durable but affordable mixer
Highly powerful professional-grade performance because of the 1200 watts of motor
The digital control panel, along with manual control, makes usage easy.
An outstanding cheese shredder
The third blade around the top prevents you from constantly pausing to scraping
What are the drawbacks?
Not suitable for low-hydration dough. 
Not truly a professional food processor, but a professional type food processor for home usage
Some waste of product
Water is trapped inside the bowl handle during cleaning.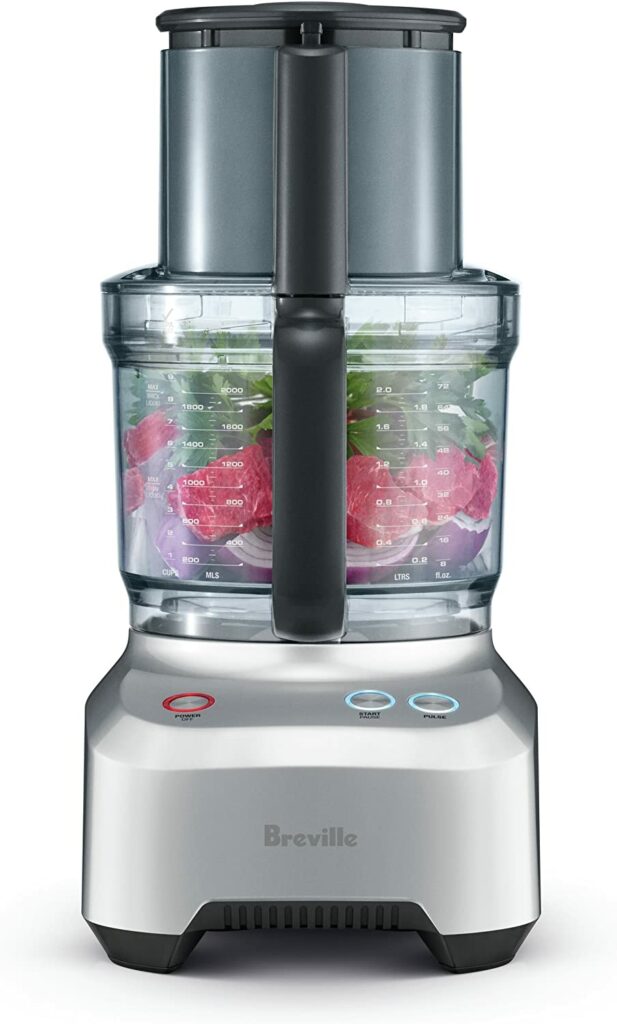 Though not a budget choice, Breville's Sous Chef is the best alternative to Cuisinart Food Processor if you only hunt for quality products that can be improved. It's pricey, but for a 1000 watts motor and performance, the price is justifiable.
Fantastic quality construction and simple design
The Breville Food Processor has a sleek design in silver color. 3 illuminated control buttons on the control panel welcome you. They're a superb addition to help you do your work in low light–you won't find such an addition with any other food processor on our list. 
The quality of the food processor is incredible. It's made of food-grade plastic. 
One of the standout features of the Breville Sous Chef 12 Cup Food Processor is its array of accessories. The machine comes with 5 multi-function discs and 3 blades that allow you to slice, shred, chop, puree, knead, and mix a variety of ingredients. The accessories are designed to perform various tasks, from slicing vegetables to kneading dough, making it a versatile kitchen appliance.
Besides excellent quality accessories, the lid is fully sealed for mess-free food processing. 
To minimize the food waste during processing and allow you more ease during feeding, the Breville Food Processor has a 3-size chute, by eliminating the need to pre-cut large vegetables and fruits. This feature is especially useful when you're processing large quantities of food or when you're in a rush.
Additionally, the locking mechanism is pretty good. You can easily set the work bowl to the base and detach it in a few seconds. 
Cord storage is often a big issue. Yet, Brivelle doesn't disappoint you–the food processor has a dedicated spot to store the cord because the machine has built-in cord storage.
Easy to use and clean
Undoubtedly, Breville Sous Chef Food Processor is pretty easy to use. Install your desired blade or disc, press the button, and you're ready to go.
One of the biggest disadvantages of large food processors is they're challenging to clean up. At this point, it's good for you; that's not the case with this food processor. You can hand wash it. 
YES
A bit of bad luck might happen when you try to wash the bowl in the dishwasher–it proves less durable. So be careful when cleaning it.
The simple control panel also gives you precise control with ease of usage.
Excellent Performance
It's expensive, we agree, but how about the performance? That's also what you could expect after spending above $300. "Precision" has surely been Brevilles' motto when designing this kitchen-work-horse.
Several food processing machines often enchant you with labels like 7-in-1, yet it's rare that all will work perfectly. It's what Breville understands very well. That's why they have designed a pure food processor. 
It has a few "food-processor-essential" features of shredding, slicing, and chopping/mixing.
The simplistic food processor by Breville offers precise control via 3 buttons–power off, start/pause, and pulse that operate the induction motor (for the most precise control) and assist you during slicing, shredding, or kneading. 
The adjustable slicing disc is amazing–you can choose between 30 sizes with thicknesses between 0.3mm and 0.8 mm. Hence, it's a slicing master.
The same goes for shredding and mixing. You can shred anything from mozzarella cheese to carrots in a multiple-size shredder.
Kneading? 
Forget buying a stand mixer if you only want to knead dough in small batches for cookies, bread or pizzas–Breville will assist you.
In short, Breville Food Processor can be your darling.
Why is it best?
A high-end food processor with fantastic durability
Consistent performance for shredding, slicing, and mixing with minimum waste
The build quality is good.
Easy to assemble and use 
Quiet machine
What are the drawbacks?
Pricey
Handwashing the bowl is safer for such an expensive food processor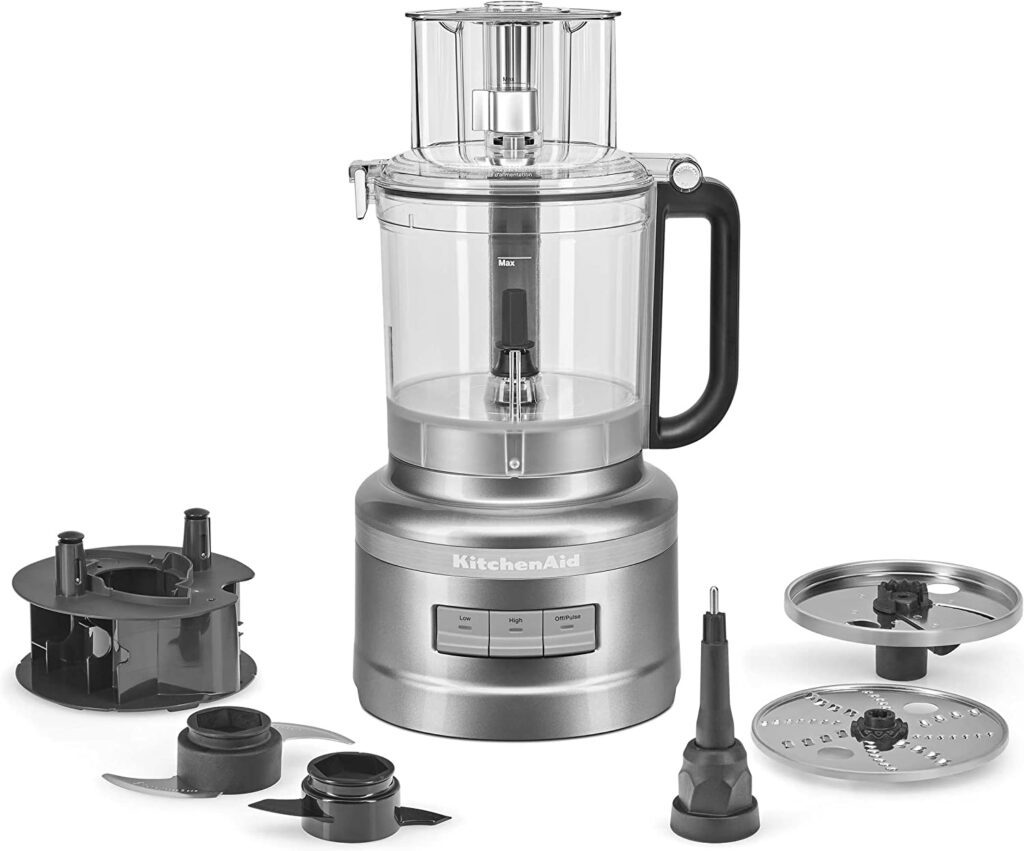 Do you need a large food processor or a smaller one? No matter what size you need, KitchenAid Black Matte is the solution, for it's also available in 7 or 9-cup capacities other than 13 cups. It's the best alternative to the $200+ Cuisinart Food Processor at Costco.
Sleek Design and Construction Quality 
First comes the design and color. The 13-cup capacity food processor is available in silver color to match the kitchen interior. The food processor has a sleek and simple platform with 3 control buttons: low, high, and off/pulse.
Despite being on the same budget as Cuisinart at Costco, the quality is incredible. It's made of BPA-free plastic, and the blades are stainless steel. Hence, the bowl, blades, and accessories are dishwasher-safe. 
On the downside, this food processor doesn't have a blade-locking mechanism like other food processors.
Easy to use
Another notable feature of the KitchenAid Food Processor is that it's easy to use. Though it doesn't have a locking mechanism, the bowl fits easily, and you can detach it instantly. 
The control panel has 3 buttons. These buttons are off/pulse, low, and high.
Press the pulse button when you want to use the food processor at the optimum speed. Otherwise, you can push the high button for hard and the low button for soft fruits and veggies.
The cleaning part is also easy; all removable parts are dishwasher safe. So the machine will be clean in a minimum of time with no issue. 
Incredible performance 
First, let's discuss its excellent performance. It comes with 3 stainless steel blades:
One multi-purpose blade
1 adjustable slicing disc
1 reversible shredding disc
And 1 dough blade. 
You can also get a dicing kit. So, chop vegetables, mince meat, knead the dough, cut anything into slices, shred, and so on. 
This food processor will also whip the cream, and you can make a puree of anything. The best part is the cost, which is reasonable, but you have to compromise on the capacity as it's a cup food processor, so you can add many things to it at once. 
The innovative multi-sized feeding tube makes processing any veggies or fruits easy. Overall, the performance is incredible, yet shredding cheese must be refrigerated for 1 hour.
Why is it best?
Quality construction with durable stainless steel blades and BPA-free plastic
Excellent ability to shred, slice, dice, puree, and knead 
Good choice for making almond or peanut butter
Easy to use and clean
It's pretty quiet.
What are the drawbacks?
The less powerful motor of 500 watts only
A dicing kit is not included.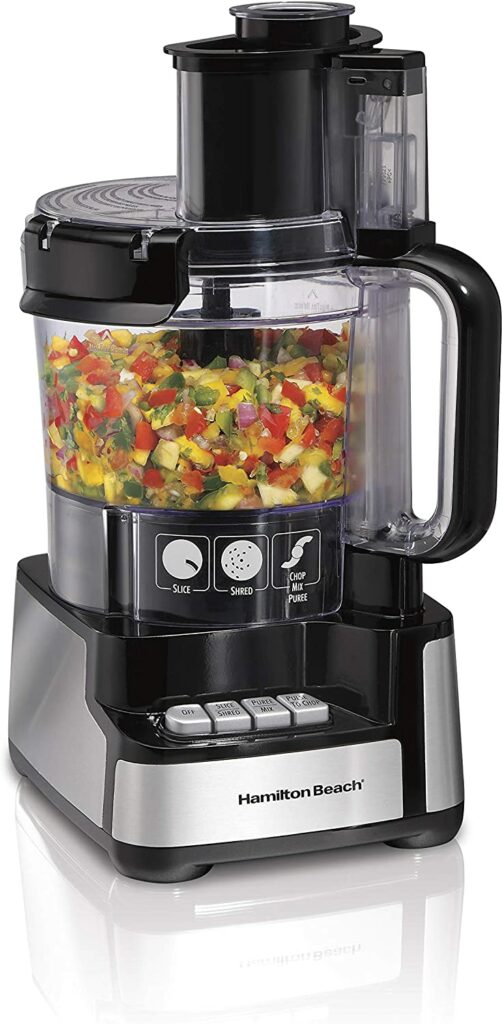 This Hamilton Beach Stack and Snap food processor is the last pick in this article. It's the most affordable food processor, and the capacity is around 12 cups; sounds amazing, right? 
Don't be surprised; it has several other unique features. Let's know about them! 
Excellent built quality
The material of the food processor is plastic, but it's of good quality. Instead, we found the entire unit to be well-built. The plastic is thick, and the bottom unit has suction cups. 
If we talk about the working bowl has two safety latches that are mandatory to use. Otherwise, the food processor won't start because the latches are part of the locking system–safety.
The food processor's feed chute is larger than many other models. 
Thanks to the large feed chute, you can add a lot of food in minimum time. Along with all the features, you'll get an S-blade, and shred/slice disc to chop, mince, and puree easily. 
Incredible performance 
Considering the price, the food processor's performance is incredible. You can cut, make a puree, slice, and shred with it. The puree and shredding parts work superbly, and we've not found any major issues. 
However, the slicing part is a little difficult. Though the chute is big, it has a mark on it; make sure that whatever you're slicing comes under the mark. It's better to cut big veggies like cucumbers into two-piece to slice them.
The result of the puree and shredding will be great, but we can't say the same for slicing–it doesn't slice unevenly. 
Affordable and simple to use. 
Despite offering premium features and good quality, the food processor is affordable compared to other 12-cup food processors. Another of our favorite features is that it's simple to use. 
It has four buttons, slice/shred, puree/mix, pulse, and turn on/off switch. There's no button for dough kneading because the food processor doesn't offer this function. 
Why is it best?
Super affordable 
12-cup food processor 
Excellent built quality
Good performance 
Easy to use 
What are the drawbacks?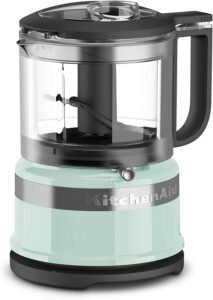 The first thing you should know about this KitchenAid 3.5-cup food chopper is that it's not for chopping a lot of veggies, meat, or fruits. You can only add a small amount of about 3.5 cups to it. That's why it's suitable for a person who lives alone. 
Good quality construction
The quality of the food processor is adequate. It's made of plastic, but it's high-quality. Along with the food processor, you'll get a stainless steel blade with sharp edges and a lid with a drizzle basin. 
Additionally, the locking mechanism is pretty good. You can easily set the work bowl to the base and detach it in a few seconds. At the bottom of the base, the food processor has a small space where you can wrap the cord, eventually saving space. 
Affordable and works well. 
It's affordable; even a student who lives in a hostel or a shared apartment can afford it. The performance is superb; it has two functions, chop and puree, and both work well. 
First, select the function between chop and puree to use the food processor. Then press the top of the handle; once you press it, the food processor will work. The top of the handle is like the pulse button we've discussed in the other models. 
Why is it best?
Suitable for a person who lives alone. 
It's not pricey. 
The performance is outstanding. 
The build quality is good. 
Easy to assemble and use. 
What are the drawbacks?
How should you Choose the Best food processor? Buying Guide
Here are the points you need to know to understand what food processor you and your kitchen need. 
The size and capacity 
The first important point you should know is capacity. You can find a range of 3 – 16 cups of the processor. 3 -10 cups of the processor are excellent for families, while the above are used for business purposes. 
Besides your cooking needs, you should also consider the counter space available in your kitchen. A larger food processor will take up more space, so you may want to consider a smaller size if you have limited counter space. You can also find some food processors with an in-bowl-storage.
Powerful food processor 
The power of a food processor is determined by its motor wattage, and it's an essential factor to consider when buying one. A food processor's power will affect how well it can handle tough ingredients and how quickly it can process food.
A general rule of thumb is to choose a food processor with at least 600 watts of power. This will be sufficient for most food processing tasks, such as chopping, slicing, and grating.
If you use your food processor to handle tougher ingredients, such as nuts or large quantities of dense vegetables, you may want to consider a more powerful motor, such as one with 800 to 1000 watts.
However, remember that a more powerful motor will also increase the price of the food processor. So, you should balance the motor's power with your specific needs and budget to ensure you get the best value for your money.
Quality and Warranty
A high-quality food processor ensures excellent performance and longevity. Here are some factors to consider when choosing a quality food processor:
Brand reputation
Choose a food processor from a reputable brand that produces high-quality kitchen appliances. Research and read reviews to see what other customers say about the brand.
Motor power 
Choose a food processor with a powerful motor, at least 600 watts or more, to ensure it can handle tough ingredients and last longer.
Materials
Look for a food processor with a durable base and bowl made of high-quality materials such as stainless steel or high-grade, dishwasher-safe, BPA-free plastic. A sturdy construction will ensure the food processor lasts longer. Don't forget to ensure that the gear system and blade material are also stainless steel.
Accessories 
Choose a food processor with various accessories, such as different blades and discs, for various tasks such as chopping, shredding, and slicing. This will give you more versatility in the kitchen. When you buy a food processor, the manufacturer has included a few essential accessories with the machine, yet you can get several others from the same manufacturer for an additional price/separately.
Warranty
Look for a food processor with a good warranty covering parts and labor. A good warranty shows the manufacturer's confidence in the product's quality.
Easy to Use
Check the control panel of the food processor; it should be easy to use, with multiple buttons to control speed and functions. A few buttons that it can have are:
Power On/Off button to turn the appliance on or off
Speed control to give you control over the processing speed
"Pulse" functions to provide short bursts of power to the blades to help process tough ingredients and create chunky salsas or grinding nuts. 
Timer to help you keep track of how long the food has been processed
Frequently Asked Questions 
Blender Vs. Food processor, what's the difference?
A chopper and a food processor are both kitchen appliances designed to assist with food preparation, but they serve different purposes.
A chopper is a smaller appliance primarily used to chop or dice vegetables, fruits, nuts, and herbs. It typically has a smaller capacity than a food processor and operates with a simple one-button mechanism. It's ideal for chopping onions, mincing garlic, or grinding nuts.
A food processor, on the other hand, is a larger appliance with a larger capacity and more features. It can chop, slice, shred, blend, puree, and even knead the dough. A food processor usually comes with different blades and attachments that can be used for different functions, and it can handle larger volumes of food than a chopper.
Is a food processor better than a blender?
No, both a food processor and a blender have their unique strengths and weaknesses. No one is better than another because their functions are different. 
A food processor is designed to handle various tasks, such as chopping, shredding, pureeing, and kneading dough. A blender, on the other hand, is designed for blending and pureeing liquids and soft foods. 
Is it OK to use a food processor as a blender?
Yes, a food processor can be used as a blender to some extent, but it may not produce as smooth and consistent results as a dedicated blender. Food processors are designed for a variety of tasks, such as chopping, shredding, pureeing, and kneading dough. 
While blenders are designed specifically for blending and pureeing liquids and soft foods, they typically have a more powerful motor and specialized blades that create smoother blends than a food processor. 
Can I use my food processor to make juice?
A food processor is not designed to make juice. While it can help you chop and puree fruits and vegetables, it cannot extract the juice.
To make juice, you would need a juicer specifically designed to separate the juice from the pulp and fiber of fruits and vegetables. Different types of juicers are available, including centrifugal, masticating, and hydraulic press juicers.
If you don't have a juicer, you can make juice using a blender and then straining it through a fine-mesh sieve or cheesecloth to remove the pulp. However, this method may not be as efficient as using a juicer and may result in less smooth juice with some pulp remaining.
Final Words 
Finding a suitable food processor can enhance your cooking experience by making cooking easy and enjoyable. That's why we've shared the review for the best food processors from Costco and better alternatives from Amazon. 
They all offer a range of features, from compact and easy-to-store designs to powerful motors and large capacities. With a buying guide included, you can weigh the pros and cons of each option and determine which food processor is best per your needs and budget.
GOOD LUCK!
mama-cucina.com is a participant in the Amazon Associate program and will earn from qualifying purchases.