Who doesn't enjoy eating pizza? Originating from Italian cuisine, it has become most fast food.  This is the reason, you want to cook it yourself to let your family and friends enjoy it at our dinner tables.
But do you know what temperature best cooks a delicious, homemade pizza? Most people are shocked to hear that the desired temperature to bake a pizza is as high as your oven will go! 
You might have a hundred different questions right about now. 
Don't worry! 
We have all the answers for you in this article. Read on and find out what's the ideal oven temperature for your homemade pizza. 
Let's get into it!
What is the Best Temperature for Baking Pizza in the Oven?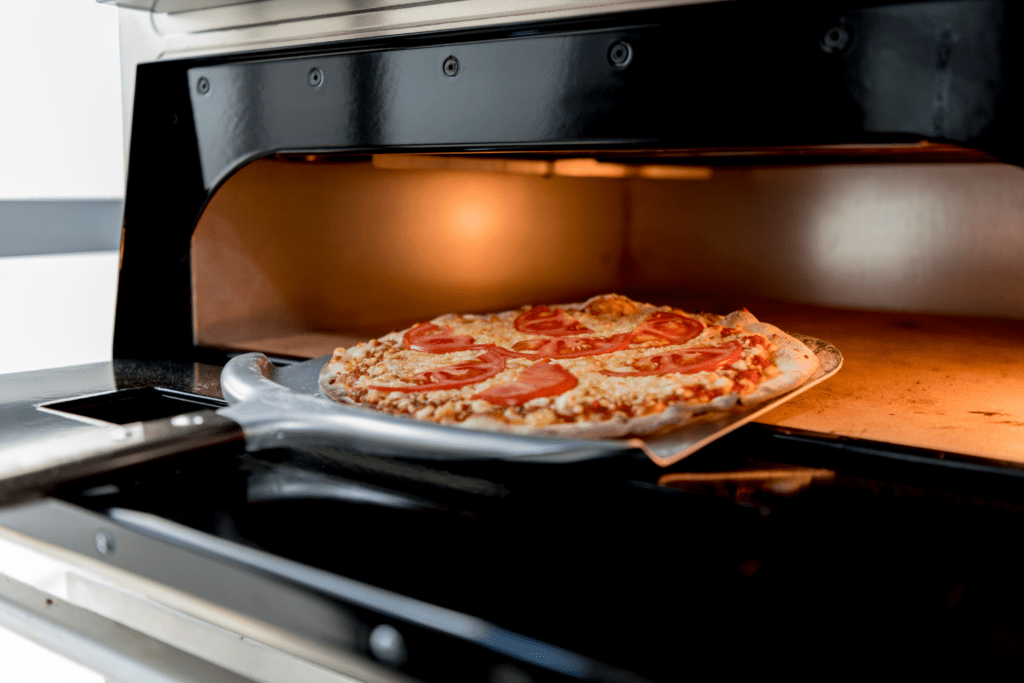 The answer is straightforward: as high as your oven can reach! 
Do you know that in a traditional wood-fired pizza oven, temperatures can reach a scorching 500 degrees Celsius (over 900 degrees Fahrenheit)? This high heat creates a crispy crust and perfectly melted cheese. 
If you're making pizza at home, your typical oven temperature can only reach around 250°C (about 500°F). 
While making pizza at these lower temperatures is possible like, Chicago Style Deep Dish Pizza, or thin crust pizza. Yet, they may not taste as authentic as the real thing.
So, crank up that oven! 
To get as close as possible to a restaurant-style pizza, the best temperature for cooking in your home oven is 250°C (500°F). 
If you have a gas oven, this would be equivalent to gas mark 9. If your oven has a fan-assisted feature, turn it on to improve airflow and increase the temperature. However, if you're lucky enough to have a dedicated pizza oven at home, the temperature will be much higher than 250°C, resulting in an even better pizza!
How to Test the Upper Limits of Your Oven's Heat?
To test the upper limit of your pizza oven's heat, you can perform the following steps: 
Preheat the oven to its maximum temperature and wait for at least 15 minutes to allow it to heat up fully. 
Place an oven-safe thermometer in the center of the oven and let it sit for 5 minutes to get an accurate reading. 
Compare the thermometer reading with the oven's specified maximum temperature, typically written in the owner's manual or on the control panel. They should be closer in number to each other. 
Testing the upper-temperature limit of your oven can improve the taste of your homemade pizza. By ensuring that your oven reaches the highest temperature possible, you can better mimic the conditions of a traditional pizza oven and achieve a more authentic result.
Would it be Damaging to Heat your Oven to its Maximum Capacity? 
The simple answer is no, it won't. 
All ovens are built in a way that should not pose any safety hazard when used correctly. Your oven will not break even if you turn the heat up!
While turning your oven's heat to its maximum temperature is safe, it's always important to follow the manufacturer's instructions and observe proper safety measures when using appliances that produce heat.
Why does it Matter to Bake Pizza at an Extreme Temperature? 
Baking pizza at an extremely high temperature helps to give it a unique and authentic taste that you can only find at restaurants–they have special pizza ovens with highest temetrue ranges. 
But what makes this technique such a blast? Let's look at major reasons that will help make you want to crank your oven temperature up!
The texture of the pizza
The secret to the perfect pizza lies in the temperature used during cooking. High heat is the key to creating that crispy crust we all crave. It not only makes the pizza's texture crispy but also helps the dough rise to perfection, resulting in a soft and crunchy exterior. Using low temperatures can result in a flat, unappetizing crust. 
Cooking the Sauce to Perfection
Besides helping to improve the taste of your dough, the high heat also ensures that your sauce is cooked all the way. 
No one wants to bite into a pizza only to find out that the sauce is still cold! So, next time you're making pizza at home, ensure you're using high heat for baking. 
Bubbling the Cheese
The cheesy, gooey goodness of pizza is what dreams are made of! 
Unfortunately, replicating that same experience at home can be a bit tricky. But why settle for delivery when you can make mouth-watering pizza from scratch? The secret to that perfect cheese is all in the heat. 
High heat melts the cheese and helps to distribute it evenly. Most pizza restaurants use ovens that reach a scorching 800°F to achieve that bubbly cheese! If you want to achieve the same bubbly cheese, we suggest you turn up the heat in your oven!
Cooking the Toppings 
When it comes to pizza, toppings are the cherry on top! But this cherry musn't be runny or undercooked.
To guarantee a delicious and safe pizza, turn up the heat! This way, your toppings will be cooked thoroughly, and you'll have a mouth-watering experience with every bite. 
Best Pizza Cooking Temperature and Duration –Complete Chart
The conventional recommendation for baking pizza is to use a temperature of around 450°F. However, the ideal temperature is not a one-size-fits-all solution. When baking a homemade pizza in an oven, the optimal temperature can vary depending on factors such as the size and ingredients of the pizza. Therefore, there is a range of temperatures that you can choose to achieve the best results.
Unlike brick pizza ovens that can reach extremely high temperatures, often beyond 800°F, many home ovens have a maximum temperature range of 450°F to 550°F. The best way is to play around with different temperature settings.  
While the maximum temperature of most home ovens typically falls between 450°F and 550°F, it's worth exploring a range of temperatures between 400°F and 600°F to see what works best for your pizza.
We have also created a table to help you find out what temperature you can achieve using different ovens. 
| | | | |
| --- | --- | --- | --- |
| Type of Oven | Temperature in Fahrenheit | Temperature in Celsius | Cooking Time for Pizza |
| Wood Fired Pizza Oven  | 850 | 450 | 60 sec-2 min |
| Conventional Oven  | 450-500 | 232-260 | 10-15 min |
| Electric Oven  | 400-450 | 204-232  | 8-12 min |
| Pizza Stone  | 450-500 | 232-260 | 3-5 min |
Best Oven Temperatures for Different Kinds of Pizzas
Just like different ovens require different temperatures to cook pizza, the kind of pizza you're also making matters. Specific kinds of pizza require specific temperatures to cook perfectly. We have created the following table to help you understand the best temperature for which kind of pizza.
| | | | |
| --- | --- | --- | --- |
| Pizza Type | Temperature (F) | Temperature (C) | Cooking Time  |
| Costco pizza | 400 | 204 | 25 min |
| New York-style pizza | 600 | 315 | 12-15 min |
| Detroit-style pizza | 550 | 288 | 15 min |
| Sicilian pizza | 450 | 232 | 20 min |
| Margherita pizza | 450 | 232 | 15-20 min |
| Chicago pizza | 425 | 218 | 20-30 min |
| Hawaiian pizza | 425 | 218 | 10-15 min |
| Neapolitan pizza | 905 | 485 | 2 min |
| Mini pizza | 500 | 260 | 8-10 min |
| Deep Dish Pizza | 350-400°F | 176-232 | 20-28 minutes |
How to Preheat the Oven Before Baking the Pizza to Get  Maximum Heat
It's crucial to preheat your oven along with your pizza stone or baking tray to get the best results. Preheat the oven to the highest temperature for a minimum of 30 minutes. This may seem lengthy, but the cooking surface must reach the desired temperature. 
Although the oven may heat up within 10 minutes, it will take more time for the pizza stone or baking tray to fully heat up.
Pizza Stone Vs. Baking Tray; Which One is Better for Making Pizza at Home?
You can use a pizza stone and a baking tray to make homemade pizza, but each has its pros and cons. Let's discuss them!
A Pizza stone is made of natural or man-made materials such as clay or cordierite and is designed to absorb moisture and heat evenly. It's ideal for creating a crispy crust and can be used to bake other items such as bread, pastries, and more. However, it's heavy and fragile and requires special care when cleaning. 
A baking tray, on the other hand, is made of metal and is lightweight and easy to handle. It's inexpensive and easy to find in most kitchens. It's great for making homemade pizza because it can withstand high temperatures and be used for other baking tasks. 
However, it may not absorb moisture like a pizza stone and may not produce the same crispy crust as a pizza stone. 
In conclusion, a pizza stone is a preferable choice for making a crispy homemade pizza. 
How Should you Place Pizza Tray/Stone in the Oven To For Even Heat Absorption?
Placing the pizza stone or pizza tray in the oven can significantly impact the final result of your pizza. To ensure even heating and the best results, you should place the stone or tray in the hottest part of the oven. 
For most home ovens, the hottest part is typically on the top shelf. However, this may vary depending on the design and features of your specific oven. 
It's essential to make sure that you leave enough space around the stone or tray, so there's even heat circulation. Avoid overcrowding the oven, which can affect heat distribution.
Where should you Place your Pizza in a Pizza Oven?
It's tricky to place your pizza in a right place inside an oven, especially a non-electric oven. When you throw pizza at a wrong place: either near the fire source or too away from it, you'll have overcooked or undercooked pizza.
So, how can you know what's the best place to put your pizza in an oven?
Use an infrared thermometer.
Note the pizza oven temperature at three spots: 
Near the heat source
Near the pizza oven opening 
And right middle of two above mentioned spots.
You'll see that the recorded temperature will be mush higher near the heating source/element, and minimum near the oven opening, while it'll be medium in the middle area of your pizza stone. It's wheer your pizza shoudl land.
Once you've thrown your pizza in the oven, don't overlook it, don't engage in making next pizza. Just pay your entire attention to your current pie. And rotate it as you see professional pizza makers doing so. 
By being vigilant and watchful, you'll surely get a perfect pizza out of your any gas/wood/chacroal or pellet fired pizza oven.
Similarly, you must keep checking your pizza in a electric oven.
What's the Ideal Temperature to Cook Frozen Pizza? 
Cooking frozen pizza might seem scary but don't worry! You can transform your frozen pizza from a bland and limp disappointment to a delicious, crispy, and satisfying meal with simple tips and tricks. 
Start by letting your frozen pizza thaw in the refrigerator for a couple of hours or overnight to prevent contamination. Before baking, use a kitchen knife to poke a few holes in the crust to allow steam to escape and reduce excess moisture. 
After that, preheat your oven to the highest temperature possible, usually around 550°F for most home ovens. To ensure that your frozen pizza is evenly cooked, rotating it halfway through the cooking time is best. We recommend that you should modify the cooking time based on the desired level of crispiness for the crust. 
Generally, frozen pizza takes 8-12 minutes to cook. It's also a good idea to pay attention to the pizza while it cooks to avoid over-baking and burning the cheese or toppings.
A great way to know if the pizza is cooked is to see if the cheese has become bubbly and the crust is deep golden brown. Let it cool down, and enjoy!
What's the Ideal Temperature to Reheat Pizza?
You must reheat your pizza properly to bring it back to life. Firstly, make sure your oven is fully preheated to 375°F. Slow reheating will result in a dry and unappetizing pizza, so getting the temperature right is important. 
Next, prepare the baking tray before placing your pizza in the oven. You can either cover the tray with foil or use a dedicated pizza pan. Then, place it in the oven for a few minutes to heat up. Once the tray is hot, you can carefully remove it from the oven and place your pizza on it.
After that, put the entire tray back in the oven and let it cook for around 10 minutes. This should be enough time to heat the pizza through and achieve the ideal level of crispiness for the crust. Once the pizza is done, take it out of the oven and let it cool for a few minutes. Enjoy your delicious, hot, and crispy pizza. 
What's the Most Important Tool to for Cooking a Perfect Pizza?
It's not a pizza stone, nor a pizz a peel.
After getting a pizza oven, you must get some most accurate pizza oven thermometer. It's helpful in several ways:
Final Thoughts
In conclusion, finding the right oven temperature for pizza is crucial to creating a delicious, crispy crust and melted cheese. So, crank up the heat in your oven to the highest temperature possible and get ready to enjoy the best homemade pizza of your life!
While high heat is important, make sure you're willing to pay for the added degree of heat. Always use caution when cooking with high heat to avoid any kitchen disasters. 
Next time you're making pizza, will you turn your oven's heat as high as it can go?
mama-cucina.com is a participant in the Amazon Associate program and will earn from qualifying purchases.