Do you need the correct answer to "how to season a pizza stone?" Some folks prefer using pizza stone without seasoning, and some plump for seasoning it. 
If you fall in the first category, you may think about how to do this task. To be sure, you will get the correct answer here, for which you have been hunting different sites for so long. So come and let's enjoy the crisp-loaded pizzas awarding read with us or more details. 
How a Pizza Stone Looks Like & What Does Seasoning Mean?

Before moving forward towards the main answer of this content, we have to let beginners know about the pizza stone and the term "seasoning." Pizza stone or baking stone is round-shaped cordierite or ceramic plate made to bear a high heat capacity. It is unrivaled in giving a perfect brownish look to the crust within significantly less time. Most importantly, these stones can absorb much heat and retain it longer than the cast iron pan. 
Seasoning is coating your stone with a thin layer of oil to prevent the food from sticking, making a protective layer on it. And the seasoning process of the new pizza stone is more or less similar to that of cast iron mold. 
But please don't always rely on seasoning the stones with oils. Sometimes natural seasoning can be a good option. No doubt it's time taking, but it would set you free from the trouble of seasoning or oiling the stone each time before use. 
How To Season Your Pizza Stone? Step By Step Guide
To start the seasoning process, you must have the following essentials with you:
A pizza stone

Any lightweight oil

A lint-free piece of cloth

An oven that can operate at about 450°F
Step 1: Properly Dry and Clean the Stone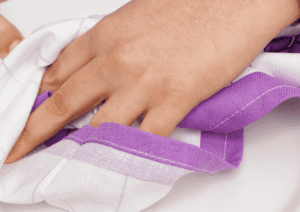 For seasoning, you have to clean the stone initially. There is no need to wash it; take a wet towel soaked in warm water and clean the stone surface. Make sure you've entirely squeezed the cloth so that it doesn't wet the stone excessively.
If the stone comes in contact, the tiny pores on the surface will become filled with water. And when you season it with oil, both water and oil will come in contact, resulting in something odd.
Step 2: Make a Thin Coating of Oil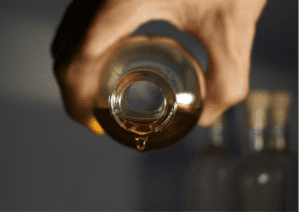 In the second step, take any lightweight oil that is not with a sharp aroma. Pour a few drops of oil on the surface of the pizza stone and use the lint-free clean cloth to spread throughout the surface so that it creates a thin layer. You should avoid using olive oil, but flaxseed or rapeseed oil would be a better option. 
In this way, all the sides will become equally oiled, and you won't feel any greasy patches on the surface. Here is a precautionary measure at this point that you must not ignore. 
Don't forget to check that you are not using a wet cloth at any cost. Otherwise, the pores will clog with bubbles, and the oil won't reach deep into the porous stone. 
Step 3: Preheat  your Oven and Pizza Stone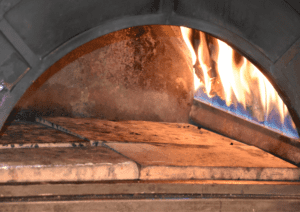 It's time to preheat your oven with a minimum temperature of at least 500°F. Pay special attention to place the pizza stone in the oven and preheat both things simultaneously. 
You may find it a typical step, but if you preheat the oven in one shift and then place the pizza stone in the preheated oven, it may get cracks. And the main reason can be the clear temperature difference between both. 
So initially, place the pizza stone in the oven and then set it to a specific temperature for preheating to avoid any inconvenience. 
Step 4: Start Baking the Pizza Stone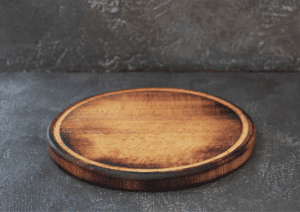 After preheating, both the things will come at the same temperature. The next thing you have to do is to bake the stone for about twenty minutes now. 
Now, turn the oven off and let the stone cool. Here cooling doesn't mean that the pizza stone will come in at its original temperature at which it was before preheating. 
Yet, remember that the stone will retain heat. Thus, it would come something between the original and the baking temperature. 
Bring it out of the oven with great care wearing oven gloves. At this state, your stone will become one or two tones darker than the original color. 
Step 5: Place Pizza Dough and Bake Pizza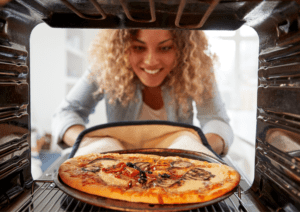 Is the process for "how to season a pizza stone complete? No…!
Can you guess what to do next with this seasoned pizza stone? It's to cook pizza.
Place the pizza dough on the pizza peel, cover the dough with pizza sauce, and place chunks of chicken with sliced capsicum and onion on it. 
Now load these ingredients with cheese and add additional flavors according to your choice. When you are done with the pizza flavoring and toppings, slide the pizza into the pizza oven by placing it on the baking stone. 
And Slide this pizza-loaded pizza peel, and start cooking pizza in the oven for your required time, and a delicious pizza with a soft and non-sticky crust is in front of you. Nothing, but it's the time to enjoy this perfectly baked pizza with your folks, so let's get started!
Having learned how to season a pizza stone, you might think that the process is completed here. No, it's not! 
One of the most common mistakes that the majority makes is, they follow all the steps once. And don't repeat the process again and again. 
It's our responsibility to make our audience aware of the precautions. So, please repeat the whole process from step one to four at least twice. 
Resultantly, the stone will catch a glazed look in a bit darker color. And it's the perfect look of a pizza stone for baking pizza at home. 
Are the Seasoning Opposing Points Justifying? 
After going through the step-by-step guide, you must also glance at some of the foremost reasons you shouldn't season your pizza stone. But this doesn't mean that all these points are fair. 
The Seasoning Process isn't essential.
There is nothing more significant than the information provided by the manufacturer. If you find a product with a manufacturer note "doesn't recommend seasoning," but you see it as incompetent without seasoning. 
Then, indeed, that note is useless for you. Ignoring that note, you'll undoubtedly season a pizza stone to get satisfactory results. So, the manufacturer's recommendation is not always worth following. 
Natural Seasoning is a Better Option.
Do you know you can also naturally season your baking stone? Want to dig it more? 
You'll be jiggered to know that it doesn't require a different oil coating; instead, excess oil dips down on the stone surface when the food starts to cook. And this oil helps to make the surface smooth and non-sticky.  
But this isn't always right as it can take time to leave the oil, and in this time, the lower surface of the food can stick to the stone. And you can end up having a dry pizza that is more likely to stick on the stone. 
So, if you want smashing results on the first try, don't follow the tip of natural seasoning as mentioned above.
Seasoning Gives Off Smoke and Strong Smell
Some people state that most pizza stones give off a foul odor when preheated at a high temperature. Yes, this can happen when you use any thick oil with a strong flavor or aroma. But you can prevent this condition by using a lightweight oil with a light smell. You can opt for rapeseed oil. 
Apart from this solution, please consider not to use too much oil so that even a tiny amount stays on the surface that then becomes the reason for smell or smoke. 
How to Clean Seasoned Pizza Stones? 
You are now done with seasoning and have enjoyed a cheesy pizza; the next step is to come back to the kitchen and clean the seasoned stone. You will feel a bit more relaxed to know that cleaning a seasoned pizza is far easier-peasy than the fresh pizza stone. 
For this, you need the following things:
Spatula or Stone Brush

Baking Soda

Water

Cloth
Pick a plastic spatula and get shut off the food leftovers to make the surface clean. Now take two tablespoons full of bicarbonate soda and make a paste with equal amounts of clod water. Make sure the paste is not so runny; otherwise, it will go to waste in a flash. 
Now scrub the paste on the pizza stone, especially on the stains. After this, wipe off all the scrub paste with a soaked cloth. And ta-dah, an immaculate pizza stone is in front of you and is ready to use again in the hot oven.
FAQs
Q. How do you use a pizza stone for the first time?
For the first time, the pizza stone is in dire need to be seasoned. So, initially oil the stone surface and then preheat it by placing it in the oven. After that, turn the oven on and set the temperature at about 500°F. 
In this case, both the stone and the oven will get preheated at the same time. Now bake the pizza stone for about half an hour. 
After this, bring it out and let it cool. It'll retain heat. Repeat this process two to three times until the stone comes in a dark shade. 
The darker the shade is, the better pizza you'll have. So, follow this step when you have to use the pizza stone for the first time. 
Q. Do you season pizza stone for the first time before baking pizza?
The answer can be "Yes" in the case when I have to use the pizza stone for the first time if it's not sealed. And "no" in the case when the new pizza stone is sealed. That's so because the sealed pizza stones don't need to be seasoned. 
Moreover, if you've used your pizza stone more than three to four times and thoroughly cleaned it after every use, there is no need to season it again before baking. The reason is, regular usage will make the surface oily and non-stick. So it will become ready to use.
Q. Should I oil my pizza stone?
To be honest, manufacturers don't recommend seasoning. Pizza stones are usually non-stick; hence there is no need to oil them. Using oils can make the surface greasy and also give off an odd smell and smoke in your pizzas. If the surface feels sticky, naturally seasoning the pizza stone will make it smooth, but it's time-consuming. 
However, if you get a pizza craft pizza stone, don't commit a bloomer of seasoning or oiling it. That's because these pizza stones come with a perfect finish and are ready to use in your kitchen. 
Q. What kind of oil should I use to season a pizza stone?
You need not to be confused in selecting oil for seasoning your pizza stone. Most minds go towards olive oil, but it's thick and possesses a sharp aroma. So, it may not reach the pores of the baking stone evenly. And when baked, it can give off a bad smell. 
Instead, you can also opt for flaxseed or rapeseed oil. The reason behind this recommendation is, both of these are lightweight and with a very light aroma. And these oils penetrate deeply into the porous surface. Above all, these oils don't give off an irritating smell. 
Final Thoughts
For seasoning, you will still find a difference of opinion between different individuals. And it'll remain a topic of debate for a long time. So, leaving this conflict behind, we have stepped forward and made you able to answer "how to season a pizza stone." 
When all is said and done, can you point out the most important takeaway of this content? Yes, it's to preheat the oven and pizza stone before baking it. We are fully wrapped with happiness that you got the main idea of this question, for which we have designed the entire content. 
Practically apply this process to make homemade pizza in your kitchen, and let us know about your experience in the comment section. Yes, we'll be waiting for your reviews. 
mama-cucina.com is a participant in the Amazon Associate program and will earn from qualifying purchases.