Do you really want to know, is pizza a pie? Are you struggling to have the answer to this question for so long?  
Both pizza and pie give a precise meaning when coming individually in a discussion. But when someone calls pizza a pie, it's a confusing statement. 
Moreover, it's been one of the frequently searched questions on search engines for a long time. But most of the people don't get satisfactory results. 
If you're also in the same boat, then no need to peep here and there. You'll get the appropriate answer in this post. 
Let's move ahead and start exploring: is it justifying to call pizza a pie? Read the entire content thoroughly before making any decision. Many exciting points are waiting for your reading. So, let's start the proceedings. 
Pizza, Pitta, And Pie: How Are These Three Related?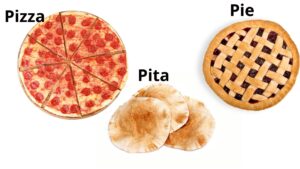 Before moving into the deep discussion, let us first tell you about the connection of the words Pizza, Pie, and Pitta. Pitta is the word making a connection between the rest of the two words. 
Do you know how? 
The term pizza is derived from the Greek word "Pitta," which keeps the meaning of pie in it. So you can understand why pizza is sometimes called pie. 
Still don't get it? Don't worry. Our whole article is based on this discussion. In the end, all your confusions will get their answer. 
What is a Pie? A Short Introduction
Can you answer what a pie is? Probably a baked dish having the filling of fruits or meat with a baked crust on top? 
Okay, we can consider your answer.
Until you don't have engraved information about pie in your mind, you can't differentiate between pizza and pie. Not mainly the difference, but you must also know the similarities. 
So let's move a little deeper. 
When it comes to pie, most people say it's a desert. Not just a dessert but a beef pie or a veggie pie like bologna pie can also be a part of your dinner. 
So you've to initially bring this thought of calling pie a sweet-based dish out of your mind. Then you are allowed to move forward.
History of Pie
The term pie belongs to the Egyptians. They used to prepare it before 2000 BC. 
Later on, in the 5th century, they took it to the next level and created pastry shells. From the 5th century to the 16th century, only the meat pie was in demand as it was the source of high energy and protein. 
If we could say that it was the only kind of pie for the Egyptians till the 16th century, it wouldn't be wrong either.
Although people liked it very much because they didn't have the second option, it was not that good for eating. It was like a coffin having some meat in it. The crust was also harder than that of flatbread. So, you can imagine the taste of Egyptians. 
After that, the English people took charge to make it more delicious. Yes, they introduced many different kinds of pie, including the sweet ones. The first-ever fruit pie in England was for Queen Elizabeth I. 
After that, it got famous all over the world. After the sweet pie from England, the greek introduced the apple pie and many other flavors that you'll come to know in the below-section. 
What's a Must-Have For Calling Pie a Pie? 
The main thing that is a must-have to call any dish a pie is a baked crust. It can be just a bottom crust. But in some areas, an upper crust is also considered fundamental for a pie. So, you can say a pie is something with a base and an enclosed baked crust. The one with only the bottom crust is called the open-faced baked pie. 
Most of the pies are 2 inches thick and have a diameter of 8 inches. So you can have an idea about the sizing too.
Flour, salt, water, butter are the main ingredients for making pie. Don't forget these are the ingredients you can skip or change. An adequately baked golden-brown crust is possible using these ingredients in a balanced amount. 
After this, you can add an upper layer or the filling according to your choice e.g., making tomato pie, pumpkin pie, apple pie, or any other pie recipe. You can also use beef mince, chicken pieces, chopped and sliced veggies, or fruit pieces mixed with sweet and sour sauce. 
If you don't want to add the second or the upper baked crust, you can opt for a cream thin layer of cream, mayo cheese sauce, custard, or whatever suits your taste buds. Yes, it depends on you what you want to add as the topping material. There's no restriction. 
But always try to add according to the main ingredients. If you are making an apple pie, you should add some apples on the top rather than cheese. 
Here's a Wide Variety of Pies:
The actual pie isn't of a single type. You may have heard about the apple pies or the cherry pie. So we've tried to enlist some of the famous pies below. All of them are different in ingredients and taste but almost the same in shape. 
Pumpkin Pie

Pecan Pie

Cherry Pie

Sugar Cream Pie

Shepherd's Pie

Lemon Meringue Pie

Key Lime Pie

Rhubarb Pie

Coconut Cream Pie

French Silk Pie

Australian Meat Pie

Steak and Onion Pie
What exactly is Pizza? A Brief Introduction to Pizza
A round plate of bread dough topped with spiced tomato sauce and various other things refer to pizza. The spices, toppings, and sauce vary from pizza to pizza or from restaurant to restaurant. Apart from the upper ingredients, the base dough and the crust remain the same.
Initially, pizza dough is prepared by adding warm water, sugar, salt, yeast, olive oil, and milk to flour. It's properly kneaded to make a soft mixture. Then, it's left aside to let the dough rise, and in the meantime, you can prepare the toppings or other ingredients. 
Once the dough is ready, it's placed in the pizza mold. All the required ingredients like sausage slices, chicken pieces marinated with powdered red pepper and garlic powder, bacon, jalapeno, olives, and green pepper are added. 
Not necessarily all these, but you've to select them according to your preference. Yes, there are tons of ingredients in the pizza flavors, and you can get all these from the grocery store. 
Okay, when a pizza is all filled with toppings, what's next to come? Yes, a roof of cheddar and mozzarella cheese on the top. Other than these two kinds of cheese, you can add other ingredients according to your taste and needs. Later a sprinkle of oregano makes it perfect to go in the oven. 
In this way, a perfectly baked, cheesy, fresh pizza comes out with a mind-refreshing aroma and a beautiful appearance. 
Not just two, three, or four, but there's a wide variety of pizzas worldwide. Pizza eating is so prevalent in America that every 8th American would eat pizza in a day. 
History of Pizza – Chief Chef to Queen Margherita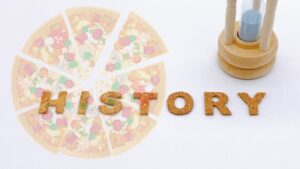 Pizza is not a new recipe to the world. It belongs to the sixth century BC dish and has an Italian origin. Some Greek historians have written that "The Persian Soldiers baked flatbreads on their defensive shields and then put cheese over it in their research papers." 
So, we've to say that it's not a new dish. 
Other historians say that Persian soldiers were not the first to start eating flatbreads covered with some toppings. Yes, they say that Naples used to put tomato mesh on the flatbreads. Unlike the Persian Soldiers, the Naples also added herbs, cheese, and olive oil to make a better variety of flatbreads that they highly liked for eating.  
Another is saying that Naples used to take flatbreads from the elite people of that time. Yes, the elite ones didn't want to eat simple bread. So, they gave it to Naples, who did experiments on it and gave birth to the pizza. 
Raffaele Esposito And Three Pizzas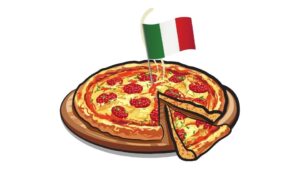 A chief chef from Naples, Raffaele Esposito, made 3 pizzas for the Umberto King and Margherita Queen on their visit to France. Raffaele also put a small-sized Italian flag over the pizza to show it as an Italian Dish. 
The Margherita di Savoia Queen loved this Italian Pizza and wrote a letter to thank him. Due to this, the chief chef decided to name that pizza flavor Margherita. 
After that, Naples introduced their dish to the whole world, and people admired it to the fullest because of its unique taste. According to Statista research, by the end of 2021, there will be approximately 90000 pizza restaurants in the US. Yes, you heard that right. Till 2020, this number is standing at 79000 and is expected to rise to 90000 by the end of 2021. 
When it comes to sales, then only the US people will have eaten $48 billion pizzas till 2020. Yes, it's such a huge number. But this is not it. You'll see a $12 billion rise in this number till the end of 2021. 
Different flavors of pizzas are coming to the market every day with unique tastes and ingredients. Due to this, it's becoming a never-ending dish of the world.
Here let us make you aware that Lombardi's restaurant is the first pizzeria in New York City, United States. 
A Lot of Pizza Options and Still Counting!
Depending upon the unconditional love of pizza enthusiasts, pizza restaurants now provide a lot of variations, with each unrivaled in taste. Till now, there are tons of different pizza flavors out there in the market. 
Each of them has different kinds of ingredients, dough type, toppings, and sauces. So, you need to select according to your taste and desires. Some of them are spicy, while others aren't. Let's have a look at some of the most popular pizza options.
New-York Style Pizza 

Chicago Deep Dish Pizza 

Sicilian 

Calzone Pizza

Detroit 

Margherita Pizza

California

Bánh Pizza

Greek Pizza

Salami Pizza 
In simple words, you can say that it's a cheese pie loaded with various ingredients. 
When and Where Did Pizza First Get the Name "Pie"?
Not you or me, but Italian immigrants get the crown of calling pizza a pie for the first time. It happened in the late 1800s in the United States. Initially, the Italian immigrants started selling this delicious round tomato topped food item in America. 
Indeed, the food by these Italian immigrants needed some name. So, with time, it got an English name: "tomato pie." From then to now, it's one of the most loved fast food items in the world. 
Later, a new name arrived: the mixture of both languages, thus called pizza pie. That's how pizza got the name pie for the first time. 
When and Where Did Pizza First Get the Name "Pizza"?
The word "pizza" had records dating back to 997 AD in Gaeta, Italy. The Italian documentation says that the bishop of the small town would receive "Duodecim pizze" or twelve pizzas from a certain tenant on Christmas day and Easter Sunday. 
Tomato Pizza and Tomato Pie are not the Same.
Read the following lines before distressing your mind in understanding how a tomato pie can be called a tomato pizza.
It is also referred to as Pomidore pizza in Italian. Pomidore means tomato, and pizza means pie, so Pomidore pizza is also a tomato pie. There's no difference in it when you learn the Italian language. 
Firstly, the Italian Americans started selling this food item, and it got popular within no time. That's why it started to be called with the English name "tomato pie." 
The Term "Pizza Pie" isn't Pizza Type at all!
No, the word pizza-pie isn't a specific type of pizza at all. It's neither a flavor nor a form of pizza. 
Initially, all the pizza lovers are aware that the delicious and mouth-watering dish of pizzas is the production or invention of Italy. Secondly, the word pizza is Italian for the word pie. So there's nothing terrible about calling pizza a pizza pie. Isn't it? 
Now you'll have a confusion: is pizza pie a single slice or a whole pizza? Let us clarify to you that it's the entire pizza. A single piece of pizza doesn't mean a pie. The word pie and pizza pie possess the same meaning in them. 
Let's make it simpler with an example. 
You ordered a 12" or medium-sized pizza with your friends. Now you'll say that it was such a mouth-watering pie. 
Here the word pie is an extra noun to use with the word pizza. In short, a whole pizza, pizza pie, and pie are the same terms to use for a single and similar thing. 
Pizza and Pie are Similar in Shape, Crust, and Ingredients.
Here are some similarities that show that pizza and pie are the same or pizza is a pie. 
Pizza and pie both come in a round circular shape. There's no other shape of these two. You'll always get them in a round/circular shape. 
The crust is the main thing to have in both pie and pizza. So it's another similarity to say that pizza is a pie. 
Similar Ingredients of Dough
As we discussed earlier, the materials used in making dough are almost similar. Flour, salt, sugar, water, milk, oil/butter are the main ingredients. 
Both are Cut Into Same Shape
Both of these are cut in triangular-shaped slices. You can say that pizza is cut like a pie or vice versa. 
You cannot cut the pizza in cubes or rectangles nor a pie. 
Pizza and Pie are Different in Toppings and Pastry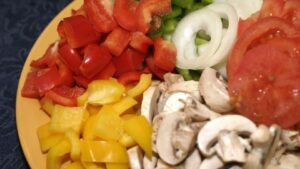 It's pretty obvious that the pie crust has a pastry or fruits dipped in sauce on the top. While on the other hand, pizza is prepared with different toppings. So this is what makes the main difference between pizza pie and pie. 
Can you call Pizza a Pie? 
To some extent, we can call a pizza a pie or vice versa regarding the shape, size, and dough. But when it comes to the ingredients, you can't say pie is a pizza or pizza is a pie. 
There are hundreds of changes in the ingredients of both. Like in pizza, we add sauces, meat, cheese, and many other ingredients on top of doubt, and then we bake it. 
But in the pie, we don't have as many toppings as we do in the pizza. If it's a cherry pie, we add a small cherry to it. 
On the other hand, in the case of a coconut pie, we add some sliced coconut pieces to it, not the sauces, meat, and other pizza ingredients. So, we can't say a pie is similar to pizza when we talk about the toppings. 
FAQs about "Is Pizza a Pie?"
Is pizza Italian for pie?
No, pizza isn't Italian for pie. Pizza is a different dish, while pie also has many differences from pizza. Thus, we can't precisely describe pizza as a pie in Italian. 
Is pizza called tomato pie?
You can say pizza is a tomato pie. That's because most of the ingredients are the same. When Italian-Americans started selling pizza, they later named it a tomato pie.
But there are still a few differences. 
Originally, tomato pie had a thick, rectangular crust covered with hard cheese. Crushed tomatoes are the main ingredient. 
Yet, pizza has a thinner crust than tomato pie and is covered mainly with mozzarella and cheddar and a variety of toppings in pizza. 
Did pizza or pie come first?
Pie came first. In the 5th century, ancient Greeks invented the pie first. 
While, in the 18th century, baker Raffaele Esposito from Naples invented pizza for the very first time. But before this, round flatbread with toppings was also in the market.
How many pizzas are in a pie?
You may confuse slices with the word pie. Here pie doesn't mean slices of pizza. But there's referred to a whole pizza as a pizza pie or a pie. A large pizza pie doesn't mean a big slice, but it may be a large-sized pizza. 
Do all Americans call pizza a pie?
No, not all Americans call pizza a pie. 
In 1980 linguist Barbara Hunt Lazerson conducted an informal study to figure out how many people use the word pie for pizza. She asked 185 college students for lists of all forms of pie. The survey found that only 11.4% of students described pizza as a form of pie. 
Final thoughts on, " is Pizza a Pie?"
We can't deny that the Italian immigrants named pizza as pie. Where there are some similarities, we also consider the differencing points between the two. 
Both are with a baked crust, having the same round shape and similarity in bread dough. 

You can't use the other ingredients of pizza for baking a pie. Like you can't add the topping of chicken, poultry, jalapeno, or sliced veggies on a pie. 

By pizza pie, simply means pizza, not pie.
Now, is there any stubborn person who adds small cubes of fruits to a pizza? Indeed no one. 
So the question, "is pizza a pie" is considerable when you talk about the shape, dough material, cutting method, and baked crust, but not for the technical nature of your pizza. 
Pick up your mobile, order pizza pie from your nearest pizza shop, and enjoy partying with your buddies. 
mama-cucina.com is a participant in the Amazon Associate program and will earn from qualifying purchases.