Are you interested in Kitchen Professional Series 6-Quart Mixer at Costco? Then you must like to know everything about it because you often enjoy romance with baking. 
And, here, I'll help you with my research. I've covered all about this KitchenAid Professional 600 Mixer in my reviews section and compared it with other competitive options. The reason is that getting it at Costco is a loss! 
Want to know "how?"
Let's get started with an in-depth review and buying guide article without further ado!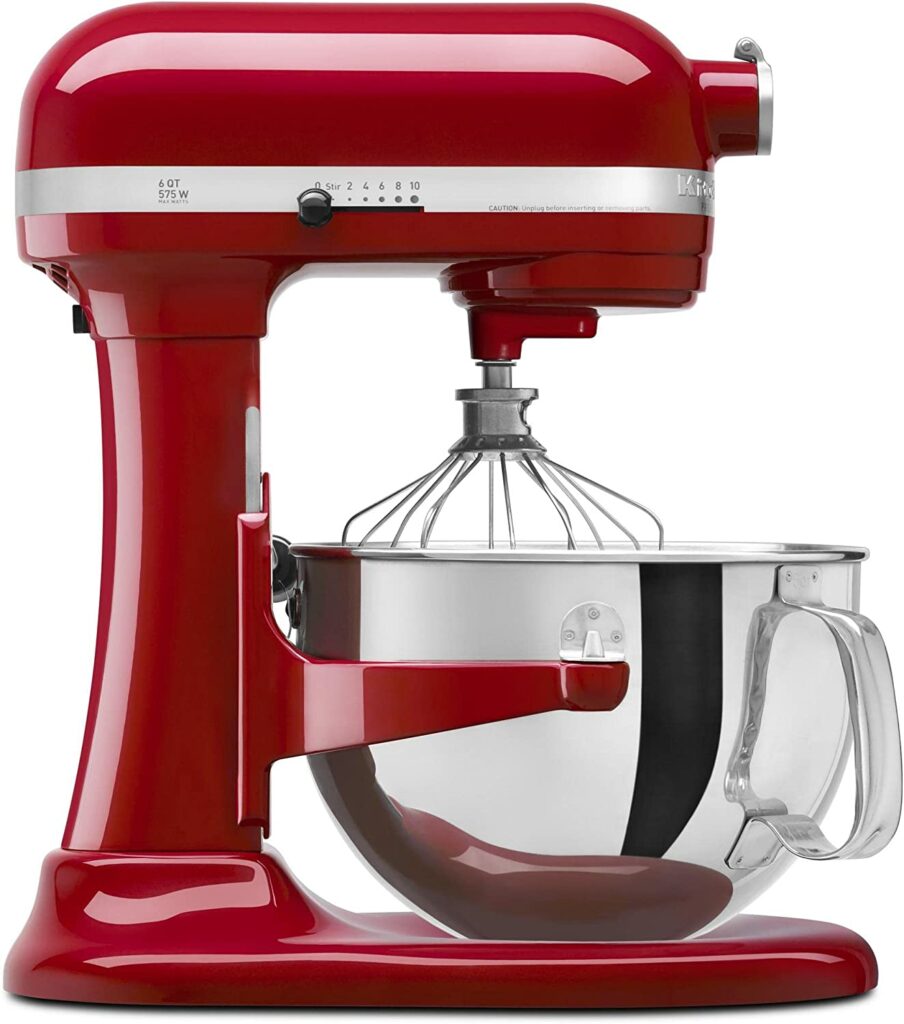 When you want to know what KitchenAid Mixer you can get at Costco, you have only one option. It's the Professional Series 6 Quart Mixer of iron steel (with a bowl lift design). It's the size that most home bakers need when they frequently bake for their families with over 5 members.
Is it for you? Our detailed review will answer you.
Design and Overview
The KitchenAid 6 Quart Mixer is available in up to 10 different colors. Yet, this cheapest KitchenAid Mixer at Costco has steel and iron as the primary material. But, the blades are of stainless steel–a flex-edge beater is also a gift. 
Only 2 colors are available at Costco: red and silver. Still, you can love it because it's not "plastic."
The mixer comes with a bowl lift design. So, you get a more sturdy machine being a single unit–tilt heads have a joint for titling, making them less sturdy. 
The 6-quart bowl capacity makes about 12-13 dozen cookies' mixture. Additionally, the bowl is more aesthetic–thanks to its glossy stainless steel finish.
The KitchenAid mixer is, of course, a heavy-duty baking mixer Yet, because of its bowl-lift design, it's 17 inches tall and can't fit under many cabinets. So, before you regret having it if you have a small kitchen, I'll advise you first to measure your storage area to avoid any inconvenience.
Accessories and Attachments Options
The KitchenAid Pro 600 mixer features 3 standard attachments: a flex-edge flat beater, spiral dough hook, and wire hook. The dough hook and wire whip are not dishwasher safe at all–the coating can chip off. 
In such a situation, you might start thinking that plastic-coated hooks could be easier to clean. In short, it's safer to opt for a hand wash only.
Apart from the standard attachments, this heavy machine is compatible with all other KitchenAid attachments.
Performance
In terms of performance KitchenAid Professional 600 Mixer is a beast–if it works. Yes, there have been some complaints about the machines' faulty performance during dough kneading.  
Despite being covered under Costco's most trustworthy return policy, you must think twice. 
Otherwise, if you succeed in getting a good quality stainless steel KitchenAid Mixer with dishwasher-safe accessories, at some more reliable store, you'll enjoy mixing and kneading a ton of cookies, bread loaves, and pizzas out of it. 
Let me discuss the performance in detail!
AC motor performance
KitchenAid Professional 600 Mixer uses the same AC motor of 575 watts. It's why you might miss the torque (powerful mixing force with more control) that essentially any pro-quality mixer needs. Yet, the attachment shaft connects to the AC motor shaft directly. Thus, it somehow compensates for the torque deficiency. In a nutshell, mixing is great.
Machine Mixing System
The Kitchen Aid Mixer has a 67-point planetary motion to help mix all the ingredients properly. So, when you knead the dough, no residue is stuck in the bowl.
The 10-speed functions and the soft start feature allow you more control over the mixing process. I especially like the slow startup function that keeps the dry ingredients from splashing.
How can I forget about the pouring shield with a splash guard? 
They're further helpful for mess-free mixing and beating. Often large bowls are notorious for mixing small quantities. Yet, this mixer does the tough job well, like dough kneading. 
Mixing and kneading 
Can you hope for the same for mixing a small badge of some batter? 
No, the batter sits in the bottom while the whisk beater keeps rotating–I was a bit disappointed to see that! 
Besides this, It's also pretty common to keep scraping the bowl during the course. However, I've got some good news. 
If you mix large quantities, you can lift the bowl by using the adjustment screw featured at the front area of the KitchenAid Mixer handle. Thus, the hook attachment reaches the bottom. 
If all goes fine, can this mixer make dough for 8 loaves of bread? Naaa! 
That's the bowl capacity, but you should assume it's the motor power. If you try to do so, the machine will crawl over the counter and heat up. An anti-slip mat can treat this issue!
Likewise, if you try to mix concrete, the machine can fail–I have seen fellows loading the mixers with hard and dry ingredients. You'll be afraid to lose your dear baking partner in this case. 
Be kind, please! If you want to add ingredients for cookies etc., don't overdo the speed.
Whipping
Then comes whipping… Here, the Kitchen-Aid mixer will prove reliable. The whipping will be done perfectly in 3 minutes only–excessive whipping can prove disastrous for the recipe. 
How can you know this? 
Your cake sponge will show it–you'll see a great rise there. Yet, if you run longer, excessive whipping can ruin the material. 
Noise Level
What can you expect from an AC-powered motor? Some noise, obviously! 
You can easily classify KitchenAid Pro 600 mixers among noisy machines. Speed matters here–the noise is annoying at higher speeds.
In short, the machine is good, but the unit isn't fully stainless steel. 
Why like it? 
Bowl, pouring shield, and coated dough hook and beater are dishwasher safe.
It can knead 2-3 bread loaves' dough.
The mixing and beating performance is great.
It's durable.
What are some cons?
The whisk is not dishwasher-safe.
The paint can chip off.
It's noisy and noisiest at higher speeds–kinda a screeching sound!
Should you get a KitchenAid mixer at Costco?
The KitchenAid Professional 600 Mixer itself is a great machine. It has earned about 92-94% of users' trust at different stores. 
At Costco, you can save yourself through their incredible return policy. Yet, it can also be a good idea to make a fruitful investment in some other KitchenAid mixer from the same series or some other series if the size isn't according to your need. If price is your concern, you can buy some other KitchenAid Mixer during sale days when you can get about 30% off at other super stores.
Another point to remember is that the KitchenAid mixer at Costco is a "member-only" item. So, if you already have a Costco membership, this mixer will save you a lot. Even if you don't have a Costco membership, you can look forward to getting it for about $100 or more if you'll be buying more at Costco in the future.
But, if you don't have a Costco membership or want one, get this mixer at a higher price from another place.
What are Some Better Alternatives to Costco KitchenAid Mixers?
As said earlier, Costco sells only one Kitchen Aid Mixer. So, you'll have to put your Costco membership card aside and look for other options if the size is too big for you. 
I've reviewed a few KitchenAid mixers here with excellent performance and dishwasher-safe accessories. 
You can save money by reading this article for 15 more minutes studying these reviews. Let's start!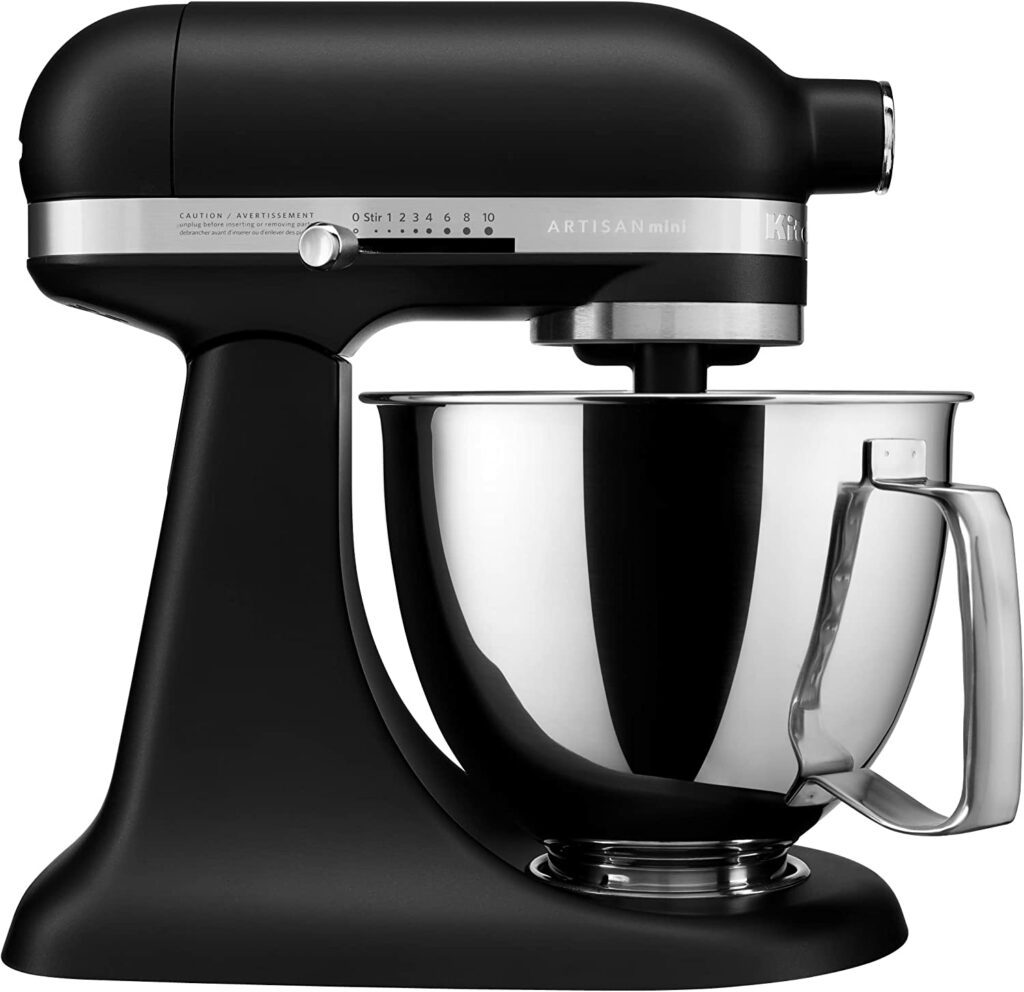 If you're a home baker and looking for a sturdier and easy-to-clean small KitchenAid mixer, the KitchenAid Artisan mini is worth considering.
Made with brushed stainless steel, all accessories of this Stand mixer are dishwasher safe. 
Just like typical KitchenAid stand mixers, this machine features 10-speed controls to help you mix your ingredients with precise control. 
Design and Overview
The KitchenAid Mini Plus Artisan stand mixer promises longevity. It has stainless steel built, including the main body and all knobs. So, no matter what color you choose, the first impression of this machine is that of a sturdy unit like all KitchenAid mixers. 
The unit's base is also heavy and stable during challenging tasks like dough kneading.
The KitchenAid Artisan Mini Plus 3.5 Quart Mixer is available in several colors, just like the Artisan Series, but few in number. Of course, these colors are equally appealing.
With a small foot/bowl rest, 15.7 inches tall tilted and 12.3 inches when not tilted, this 16-pound stand mixer is perfect to fit under small cabinets.
I really love the fact that this Artisan Mini Plus (matte) is not textured. Likewise, it's not glossy at all. Hence, cleaning is effortless; you won't be struggling with removing the fingerprints.
The attachment also shines after a little cleaning. The flex-edge beater and nylon-coated C-shaped hook are dishwasher-safe. But, the stainless steel wire whisk requires hand washing.
How about the stainless steel bowl? The bowl inner needs several soapy washes before using it lest you should keep cleaning it with a paper towel. It's common with all KitchenAid Mixers.
I think, had Kictheid cleaned the bowl, no first batches would have been ruined. Please be careful about this only downside of the KitchenAid Artisan Mini Plus Mixer.
Size
"The KitchenAid Artisan Mini Plus has a 3.5-quart capacity, which means you can prepare 5 dozen cookies;" how often do you have to learn this? Indeed, this KitchenAid Mini mixer has been made to meet the baking needs of 1-3. 
Then who should get it? Anyone new to baking or bakes less frequently, or has limited space. The large-sized mixers aim at facilitating daily baking needs.
The sad part of the KitchenAid 3.5 quart Mixers story is that I have seen dozens of bakers disliking it for its small capacity.
How can professional bakers tolerate such a small unit on their kitchen counters? 
They can't! 
So, please don't care about an expert baker's advice for a while; it's purely for home baking, and in that scenario, it performs excellently.
Performance
The machine is mini; you agree! 
But does it compromise on utility? 
No way!
It comes with 10-speed control: from stirring to beating and kneading. The "soft start" is also included with all speeds. 
They say it'll revert to a soft start if you start it accidentally at a higher speed. It's not true. You can try it–LOL!
KitchenAid allows you to add 10 KitchenAid attachments to this unit. Yet, the ice cream attachment can be too big for its small bowl. 
Motor
The KitchenAid Artisan has a small DC motor of 250 watts. You might doubt the performance of this small motor. 
Don't worry; since its DC-powered motor offers, it offers the required torque and control over speed. 
The same power, but the AC motor, also runs KitchenAid. Classic Mixers. These motors are sufficient for all attachments; the mixer only needs more power to play with large quantities in 6-8 quart mixers.
Hence, all operations are smooth, from using attachments to kneading dough bread. Besides this, it's also energy efficient, quieter, and durable.
Mixing
When you mix with a Mini Kitchen Aid mixer, no ingredients stick to the bowl wall–thanks to its 69 planetary motion, which ensures that attachment touches the bowl fully. This 69-planetary motion is better than Artisan's 59 points planetary motion.
It's an incredible mixer for mixing and creaming small quantities, even daily.
Kneading
The KitchenAid Artisan Mini Plus stand mixer comes with a c-shaped, minimalist dough hook. 
Does it do the job of kneading pizza, pastry, and bread dough?
Since spiral-shaped dough hooks have been introduced for large home mixers, the C-shaped dough hooks are often mistaken as in-efficient. Honestly, C-shaped dough hooks are not different from spiral-shaped hooks. Truth is, they're unnecessary for small mixers of up to 5 quarts. 
Spiral-shaped dough hooks are better for kneading large batches–they've got nothing to do with mini mixers.
In short, the KitchenAid Artisan Mini Plus can be one of the best picks in your kitchen.
Noise
The KitchenAid Mini Plus mixer has a mini motor. Therefore, the noise is a sort of humming–screeching sound is unknown. Thus, it's a perfectly quiet mixer for RVs and Apartment kitchens.
Bottom Line 
Compared with the premium counterpart KitchenAid 600 Professional mixer, the Mini Version is handy for home baking. It's easy to store and clean (accessories are dishwasher safe). 
It can do anything from beating a single egg to kneading bread for 1 loaf. Above all, its small but powerful DC motor offers torque for kneading pizza or bread doughs. Overall, for occasional baking needs, it's ideal. The only downside is that it has no splatter shield.
Why like it?
Solid construction with dishwasher-safe bowl and accessories
Flex edge beater minimizes the need for scraping the bowl.
The DC-powered motor allows more control besides reducing the noise level
Perfect for beginners and occasional baking needs
Easy to use, clean, and store
Less noisy
What are the cons?
It has no splatter shield.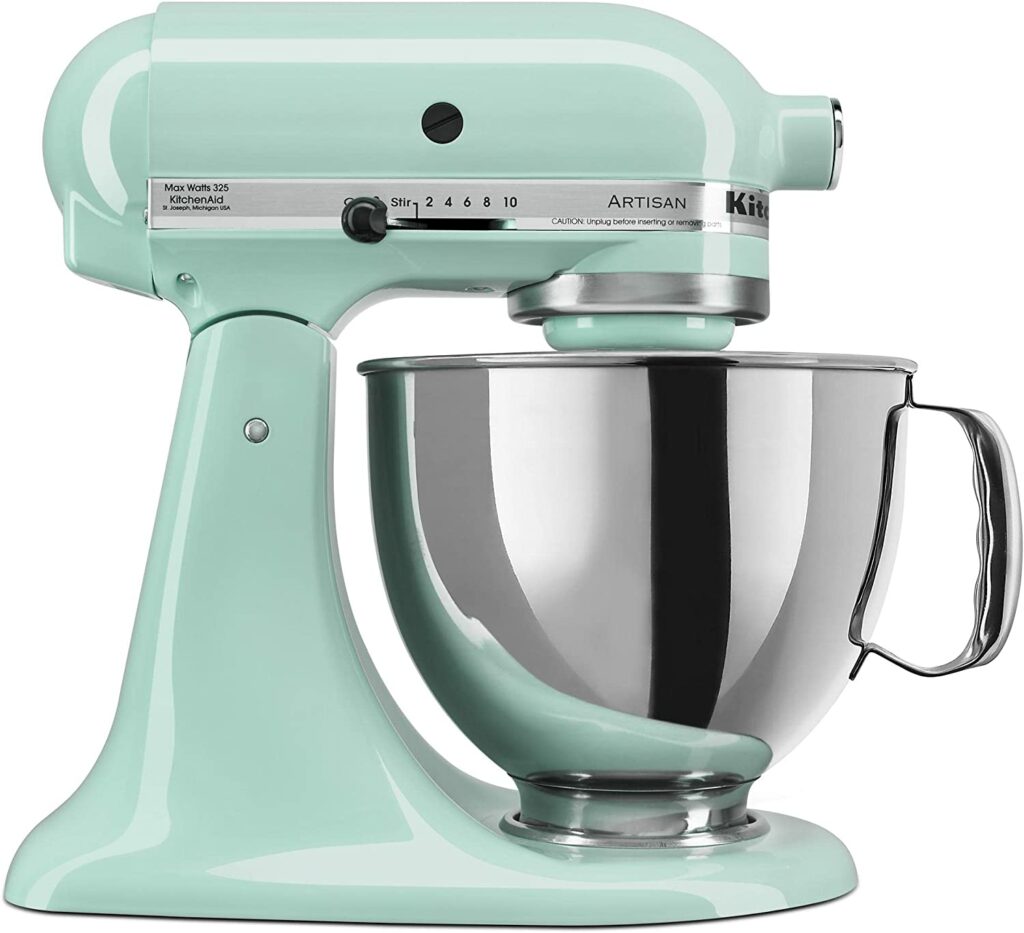 Here is another great alternative to the Costco KitchenAid mixer. It's a KitchenAid Artisan 5 Qt Stainless Steel Stand Mixer which closely identifies the 6 Quart Capacity of Costco KitchenAid Mixer. 
Thoroughly made with stainless steel material and nylon-coated attachments, it's one of the most dependable mixers. Let's know how it can be an excellent pick for you.
Design and Overview.
The mixer's dimensions are 8.7 inches x 14.1 inches x 13.9 inches. Thus it can fit under the cabinets. However, when untitled, it's taller than KitchenAid's Professional Series Bowl Lift style mixers–you can even think of getting a bowl lift style Kitchen Aid mixer if space isn't an issue. But, give it a second thought if Costco is your store–it's not a good quality mixer there.
In KitchenAid's Artisan series of cute mixers, you get:
The C-shaped nylon-coated dough hook, nylon-coated flat beater, and pouring shield are top-rack dishwasher safe.
The bowl is of polished stainless steel material with a handle making it accessible and easy to clean.
The unit is run by a 375-watt AC motor.
The Artisan Mixers are a bit pricey.
The KitchenAid Artisan Mixer comes in 20 colors from 7 color families. So, you can pick any mixer if you love to add colors to your kitchen. Yet, if you love white color, that's not available.
Besides complete metal construction, detailings have also been taken care of. For instance, near the shaft, the area is covered with stainless steel; this speaks of the units' durability. 
The knob handles are also of stainless steel. So cleaning in nooks and crooks is also easy peasy–spills and splatters are common to mixers, and cleaning becomes easy when the mixer has a satiny surface.
But, when you get the mixer for the first time, cleaning a stainless steel bowl with polish residue is really challenging. The grey residue can ruin the entire batch if you forget to clean it. Please clean the bowl with a paper towel after seasoning it with olive oil, then give it a soapy wash.
I love that for usage; the mixer is straightforward again. Adding ingredients to the bowl and starting with the soft-speed feature will further help you. And, to add ingredients on the go, the pouring shield saves you from flour clouds and splatters. 
In addition, the medium-sized bowl rest is fully stable. So, you don't worry about a "dance show" typical of large mixers.
Capacity
If you need a large mixer like KitchenAid Professional 600, the KitchenAid Classic with a 4.5-quart mixing bowl is closer to it. This sturdy mixer can mix 9 dozen cookies and bread for 1 large bread dough.
Hence, the mixer is sufficient for a family of 5. It's the reason that I call it a mixer for every home.
Performance
The KitchenAid Mixer's AC 350 watts AC motor with 10 speeds is great for mixing and kneading all your ingredients. It comes with a 59-point touch planetary mixing to ensure that all ingredients are thoroughly collected during the mixing process. 
How efficiently? That needs a bit more insight that I'll discuss below.
Motor
The KitchenAid 5 Quart Artisan Mixer has a powerful AC motor of 325 watts. For this AC motor, missing torque is obvious. But the 325 power works outstandingly.
Besides baking and mixing, this heavy-duty motor allows you to add all KitchenAid attachments at work. 
Indeed, KitchenAid Artisan's motor is huge but don't overload it–you'll end up with a shaking and overheated machine!
Whipping and beating
The KitchenAid 5 Quart Artisan Mixer has a nylon-coated, dishwasher-safe beater that is a win. Combined with a planetary touch-point mixing system, this flat beater does a fantastic job of whipping creams and frostings or mixing batter for pastries. 
Do you have to scrap the bowl?
Yes, it's needed, but not too frequently. Still, it's worry-free because, no matter what home mixer you get, they leave some residue in the bottom and along the walls. Therefore, the manufacturer keeps adding new features and accessories to fill the gap.
If you do a lot of baking, especially cake, and pastries, in a medium size mixer, it'll be superb to get a dedicated flex edge to replace your regular one better.
Kneading 
You shouldn't daydream about kneading 2 or more loads in this mixer. Forget about the capacity at this point. It can only knead the dough for a single loaf only. 
If you go for 2 or more loaves, the bowl will overflow, and the dough will stick to the beater, which means no kneading. Likewise, it'll overheat the motor.
Other than this real-time capacity limitation, the 5-quart mixer is excellent for kneading any dough: pizza, bread, or cookies. Also, you won't see any dough sticking to the bowl, nor would you scrape that.
In a nutshell. For an everyday loaf or a few pizzas, you can have it–or even love it!
Noise
Listening to KitchenAid music at low speed is a pleasure. Yet, at high speed, yes, it's noisy. I hope you won't mind that for such an incredible performance!
Bottom Line
KitchenAid Artisan 5 Quart mixer is one of my favorite KitchenAid mixers for home baking because of its competent motor and dishwasher-safe accessories. 
Not only this, but it's also easy to use and maintain because of dishwasher-safe accessories. Don't forget to get rid of bowl polish residue–typical of all KitchenAid stainless steel bowls.
Why like it?
Sturdily built with dishwasher-safe bowl, beater, and dough hook.
Sleek design with up to 20 color options.
 It needs less scraping.
The AC-powered motor of 325 watts is less noisy.
Perfect for occasional baking
What are the cons?
It can't knead more than a single loaf of bread simultaneously.
Bowl needs proper cleaning with olive oil to get rid of black residue.
FAQs
What size stand mixer should you choose?
Price is a secondary factor when you want a stand mixer. You can add a few more bucks to get a better machine with guaranteed user satisfaction.
Yet size is a primary factor you should consider.
Choosing a stand mixer according to size depends on your baking needs. As a rule of thumb, each quart is for 2 dozen cookies: 5-quart bowls will mix 1 dozen cookie dough. Though such a big bowl seems enough for 2 bread loaves' dough, you should not exceed the total ingredient weight of 1000 grams which includes flour, water, yeast, etc. Otherwise, the dough will overflow the attachment. 
Hence, a 3.5 – 5 quart bowl will knead 1000 grams or 1000 ml ingredients efficiently.
Yet, for kneading 2 bread loaves or ingredients over 1000 grams, get a large mixer of 6-8 quarts.
Here is a big "don't."
It is common to get advice about having a small mixer as a beginner or a large one for daily baking. Contrarily, what if you only bake small batches every day or large batches occasionally? Or let's say you're a beginner in baking, but it's your passion, and soon you'll be doing a lot of baking in your kitchen. In such a case, you must go for a professional mixer.
Of course, the above advice will be wrong.
So, the size of the mixer depends on the quantities you'll be being, not frequency.
All the KitchenAid mixers are incredible with DC or AC motors, but you should avoid overloading your mixer–it'll shake a lot.
Are KitchenAid bowl lift mixers taller than other KitchenAid mixers?
KitchenAid bowl-lift mixers are taller than the tilt head mixers at first glance. But if you compare a tilt head mixer when open with a bowl lift mixer of similar capacity, even a Mini Artisan mixer is taller than a KitchenAid Professional 600 Bowl Lift Mixer. 
For example, the Professional 600 mixer is 16.5 inches tall, and the Artisan 5-quart mixer is 17.5 inches tall. Hence, reconsider your available area where you'll store and use your mixer, and get one that fits there. Also, please make sure that your stand mixer has dishwasher-safe accessories.
Should you get a KitchenAid mixer with a glass bowl?
Stand mixers with glass or ceramic bowls are more lucrative for being transparent and dishwasher-safe. It's also appreciable that you can put them in the refrigerator or microwave; yet being thick, they're that deep. 
Plus, they can break. So, they cost you XX time. If aesthetic is your preference, get a glass or ceramic bowl.
Are KitchenAid mixers cheaper at Costco?
Yes, KitchenAid Stand mixers are cheaper at Costco, not only in price but in quality. How? 
There is only one KitchenAid Mixer. The material of the Costco Kitchen Aid Mixer is not stainless steel but iron steel. And, if you want to get a sturdier material KitchenAid mixer like stainless steel from the same line, that's not available at Costco. 
Why do stand mixers overheat?
The complaints of machine overheating stem from because of kneading dough in large quantities or operating your stand mixer at high speed. 
To keep your machine in good working condition:
Start your machine at stir speed, whatever you want to mix or knead.
Knead the dough at a slow speed of 2 and don't exceed it–it'll save time but won't overburden your stand mixer.
To knead dough in large quantities, divide the batch in half.
Patience is the key…!
Which KitchenAid mixers are more stable? 
Bowl lift stand mixers are more stable because of their huge size and weight. Most of them are about 29+ lbs heavier.  In comparison, the smaller KitchenAid mixers like Artisan or Classic are no more than 25 lbs to make them less stable.
But remember that when challenged with more quantity and speed, all machines lose stability.
Can you use KitchenAid mixer bowls interchangeably?
No, you can't use mixers' bowls interchangeably; that will affect the attachment movement and performance in the bowl. Here is an exception… you can interchange the mixing bowl by 0.5+/- quart capacity difference. 
What does planetary mixing touch point mean by KitchenAid Mixers?
During planetary mixing action, the attachment/blade revolves around its axis and then rotates inside the bowl to ensure that everything is mixed. More touch points mean better mixing.
All KitchenAid's Artisan, Professional, and Commercial stand mixers have planetary mixing. 
Final Thoughts
Buying a KitchenAid mixer at Costco saves you about a hundred bucks. Besides this, Costco's return and refund policy is also at your back. 
The only drawback is that even from KitchenAid's Professional 600 series, you don't get a sturdier option. And, if you want to get a stainless steel Kitchen Aid mixer, you need to go to other places like Amazon or Walmart.
Similarly, if the size doesn't match your baking needs, you can't pick KitchenAid Mixer at Costco. So, I'll advise you to reflect on your mixing and kneading demands and make an informed decision. 
BEST OF LUCK!
mama-cucina.com is a participant in the Amazon Associate program and will earn from qualifying purchases.