Do you want to know what leopard spotting is and why the term is used for pizzas? Leopard spotting on pizza is the hallmark of one of the best Neapolitan pizzas!
This blog post is for you. 
Here, I'll help you learn about the leading spotting and why pizza pros love it.
What is Leopard Spotting on a Pizza?
Leopard spots are the brown and black charred pattern on a well-cooked pizza crust. 
The pattern results from the high heat of 800°F and 900°F (430°C and 485°C) in a wood-fired oven, hitting the crust's raised parts, known as the "cornicione." Steam bubbles inside the crust, created by 70 or 80% high-hydration dough, rise and get caramelized, forming crisp, slightly charred spots. This effect is caused by the Maillard reaction (a chemical reaction that occurs between amino acids and sugars in the dough). The leopard spotting adds rustic charm, crunch, and flavor to Neapolitan-style pizza, Sicilian pizza, pizza Margherita, pinsa, and calzones, showcasing craftsmanship and ingredient quality.
Why Does Leapoard Spotting on Italian Crusts Matter?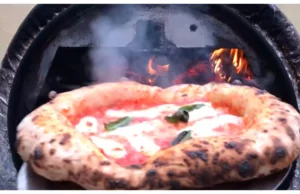 Leopard spotting on pizza is a desirable characteristic for several reasons:
1. Visual Appeal
Leopard spots, those distinct brown spots on the pizza crust, enhance the visual appeal of the pizza by creating an appetizing contrast.
2. Texture and Flavor
Leopard spotting indicates the right balance of heat and dough hydration during baking, resulting in a crispy and flavorful crust, making each bite satisfying.
3. Authenticity
In traditional Neapolitan and artisanal pizza-making, leopard spotting signifies authenticity and adherence to classic baking techniques. It reflects the expertise of the pizzaiolo and the quality of ingredients used, showcasing a genuine pizza experience.
4. Culinary Significance
For pizza enthusiasts and connoisseurs, leopard spotting is a mark of a well-crafted pizza. It symbolizes attention to detail and dedication to the art of pizza-making, elevating the culinary experience for pizza lovers.
5. Indication of Quality
Leopard spotting indicates that the pizza is cooked to perfection, highlighting the skill of the chef or pizzaiolo. 
In short, leopard spotting on pizza is not just about looks; it's a testament to the artistry and expertise behind a well-made pizza.
How Exactly Do Pizza Masters Achieve Leopard Spotting?
Pizza masters achieve leopard spotting, those distinctive dark spots on the crust, through a combination of careful techniques and ingredients. Let's break down the factors that contribute to this coveted characteristic:
1. Dough Ingredients
Flour

: High-quality, finely ground flour, like tipo 00, is often used. It provides a smooth texture to the dough.

Water

: The hydration level, or the ratio of water to flour, is crucial. Higher hydration, usually around 65-70%, creates a softer dough that's easier to work with.

Yeast

: A small amount of yeast (preferably fresh) is used for a longer fermentation period, allowing the dough to develop flavor.

Salt

: Salt not only adds taste but also regulates the fermentation process and strengthens the dough structure.
2. Hydration Level
A higher hydration level, like 70% or 80 %, makes the dough softer and more elastic. It helps in creating those characteristic air pockets and leopard spots during baking.
3. Fermentation Time
Allowing the dough to ferment slowly, usually for 24-72 hours in the refrigerator, enhances its flavor and texture. During this time, the dough develops gases, creating air pockets and those sought-after leopard spots.
4. Oven Temperature
Pizza masters use high temperatures, often between 800°F and 900°F (430°C and 485°C), in wood-fired or professional pizza ovens. This high heat cooks the pizza quickly, creating a crisp crust and beautiful spotting.
5. Proper Stretching
The dough needs to be stretched evenly, maintaining a consistent thickness. This uniformity ensures even baking and spotting across the crust.
6. Type of Oven and Cooking Surface
Wood-fired ovens, with their intense and even heat, are excellent for achieving leopard spotting. Pizza stones or steel baking surfaces also contribute by retaining and distributing heat effectively.
7. Timely Rotation of Pizza
Quick rotation of the pizza in a wood-fired oven helps achieve leopard spots by ensuring even exposure to high heat. The fast rotation prevents one side of the crust from getting burnt while allowing the heat to caramelize the surface sugars and proteins evenly. This uniform heat distribution produces the characteristic brown and black spots, creating the desirable leopard pattern on the pizza crust.
Simply put, achieving leopard spotting requires a well-hydrated dough, long fermentation for flavor development, high oven temperatures, and skilled techniques in stretching and baking. By mastering these factors, pizza makers create that perfect balance of crispy, airy, and spotted crust that pizza enthusiasts love.
Conclusion
Leopard spotting on pizza means it's a top-notch Neapolitan pizza. This pattern happens as a result of following the authentic pizza recipe, pizza oven temperature, and techniques. It shows the pizza maker's talent, impressing pizza fans everywhere. So, when you have pizza, watch out for those leopard spots. They indicate excellent pizza-making and superb taste, whether you're at home or a restaurant. Enjoy the authentic experience!
mama-cucina.com is a participant in the Amazon Associate program and will earn from qualifying purchases.