With an overwhelming array of juicers on the market, two types that often spark curiosity and confusion are the masticating juicer and the cold press juicer.
You start wondering, what sets them apart? Which one truly reigns supreme in the world of juicing?
If you've ever pondered over this juicer dilemma, fear not!
In this article, you'll delve into the intriguing world of juicing technology to uncover the key differences between masticating and cold press juicers.
So, grab your favorite glass and join us on this juicer journey to determine which method is the ultimate sip for your health and taste preferences.
What's the Difference Between Masticating and Cold Press Juicer in the First Place?
The primary difference between cold press and masticating juicers lies in their names. The name cold press is mistakenly used to refer to the masticating juicer.
The terms cold press and masticating are so common that you can hardly differentiate between them. The term "cold press" is used to emphasize the difference between a centrifugal juicer (working at thousands of rotations per minute to transfer heat to juice) and a masticating juicer which uses 40 to 100 RPM
If you visit some store to get a juicer, you'll find almost every masticating juicer with a term written on it, "cold press." This term, "cold press," is only used to emphasize that juice extracted through a masticating juicer will not be heated at all. So, the nutrient loss will be minimal.
Technically speaking, the way a masticating juicer works, still produces some heat. A masticating juicer has a spiral screw in the auger rotating at a speed of 40-100 rotations per minute–the lower the rotation rate, the colder the juice. Yet, most masticating juicers on store shelves have an RPM between 80-100. So, there is little heat in the juice, especially when you're continuously extracting the juice.
In contrast, a juicer that extracts juice by pressing food just as your manual juicers do has no heat to transfer. It's why they're the cold press juicers in the true sense. So, the term cold press is actually for a juicer that extracts juice by pressing the food as you do in your handheld or manual juicers or juice presses.
Understanding Masticating Juicer and Cold Press Juicer Aka. Juice Press in Detail.
Now that it's clear that masticating and cold press juicers are not the same, understanding them in detail can be more helpful as it'll allow you to decide on a better juicer.
What is a masticating juicer?
A masticating juicer is a type of juicer that uses a slow-turning spiral screw in the auger to crush and grind fruits and vegetables, extracting the juice. The screw rotates at about 80-100 RPM, which is much slower than the speed of centrifugal juicers. This slow speed prevents the produce from heating up, which helps to preserve the nutrients in the juice. WHALL Slow Juicer is an example of
Unlike traditional centrifugal juicers, which use high-speed spinning blades to shred and separate the juice, masticating juicers employ a unique, gentle approach to juice extraction.
The key component that sets masticating juicers apart is the auger or single-gear mechanism. This auger is a long, spiral-shaped screw that rotates slowly and steadily. When fruits or vegetables are fed into the juicer, the auger slowly crushes and masticates the produce, breaking down the cellular structure and releasing the juice.
What are some pros of masticating juicers?
Improved preservation of nutrients
Reduced juice oxidation
Enhanced juice quality and flavor
Increased juice yield from fruits and vegetables
Ability to process a wide range of produce types
Minimal production of foam
Quiet operational performance
Efficient juice extraction process
Drier pulp output
Ideal for leafy greens and wheatgrass.
What are some cons of masticating juicers?
Slower juicing process
Higher initial cost
Larger and heavier compared to centrifugal juicers
More parts to clean
Longer assembly and disassembly time
Some models may have a narrower feed chute, requiring more prep work for production.
What is a cold press juicer?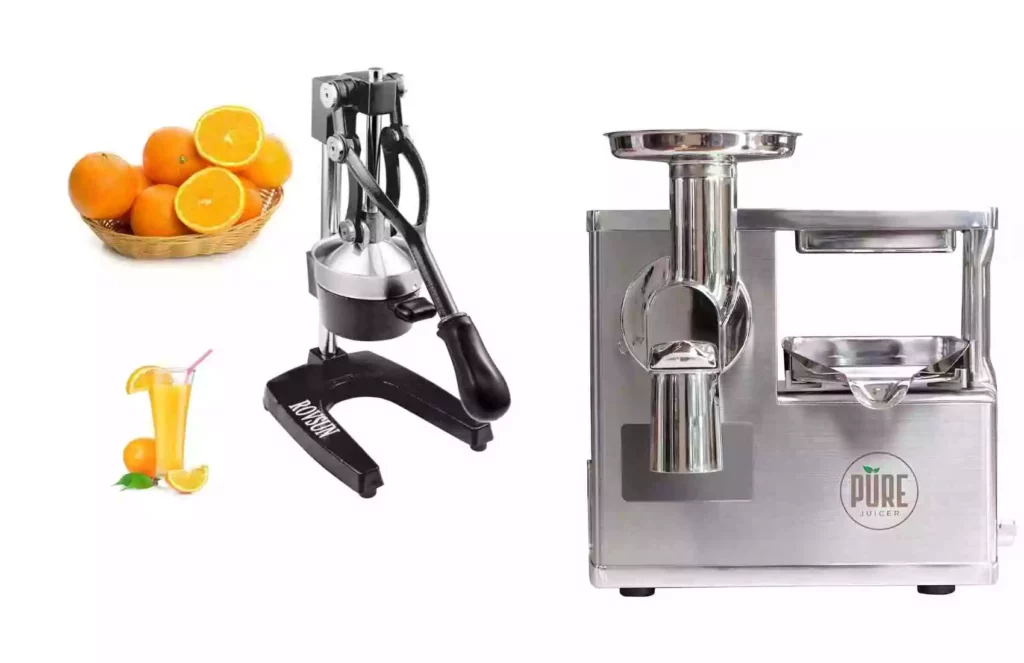 A cold press juicer is any juicer that aims at extracting juice by pressing the ingredients. These juicers produce no heat to transfer to the juice. It's why the juice is the most nutrient-rich. Some screw auger juicers (masticating juicers with 40 rotations per minute) also fall under this category, besides other juicers. Some other examples of cold press juicers are:
However, some handheld cold press juicers are less versatile. So, for extracting juice from a variety of foods, you need a larger juicer like a two-stage juicer.
What are some pros of true cold press juicers?
Higher nutrient retention
Reduced oxidation
Longer shelf life of the juice
Better juice quality and taste
Minimal foam production
Quieter operation compared to centrifugal juicers
Easier digestion of the juice
Reduced chances of frothing or foaming in juice.
Easy to use
Less cleaning effort
What are some cons of true cold press juicers?
Some cold press juicers might not be versatile.
The more versatile juicer can be expensive.
They don't extract juice fast.
Not ideal for leafy greens.
The pulp can be wet.
Conclusion
Masticating and cold press juicers are not the same. The term "cold press" is used only to highlight the minimal heat production in masticating juicers, which most commonly operate on 80-100 rotations per minute. Instead, the other hydraulic juicers, piston juicers, two-stage juicers and sqeezers can be better classifies as cold press juicers.
If you need a true cold press juicer, handheld juicers, manual juicers, two-stage juicers, and piston press juicers are for you. I hope today's blog post must have been helpful for you to allow you to step toward your next nutrient-rich glass of juice.
mama-cucina.com is a participant in the Amazon Associate program and will earn from qualifying purchases.