Are you tired of slow blenders that make chunky smoothies? Do you want to switch to an advanced blender?
Well, you're in luck! Because we have something special for you.
And it's only a click away!
We're talking about the Nutribullet Blenders from Costco! You can get the 2 best Nutribullet Blenders at Costco.
These blenders are the talk of the town. And you'll be talking about it too once you get to know about its amazing features.
So let's get started!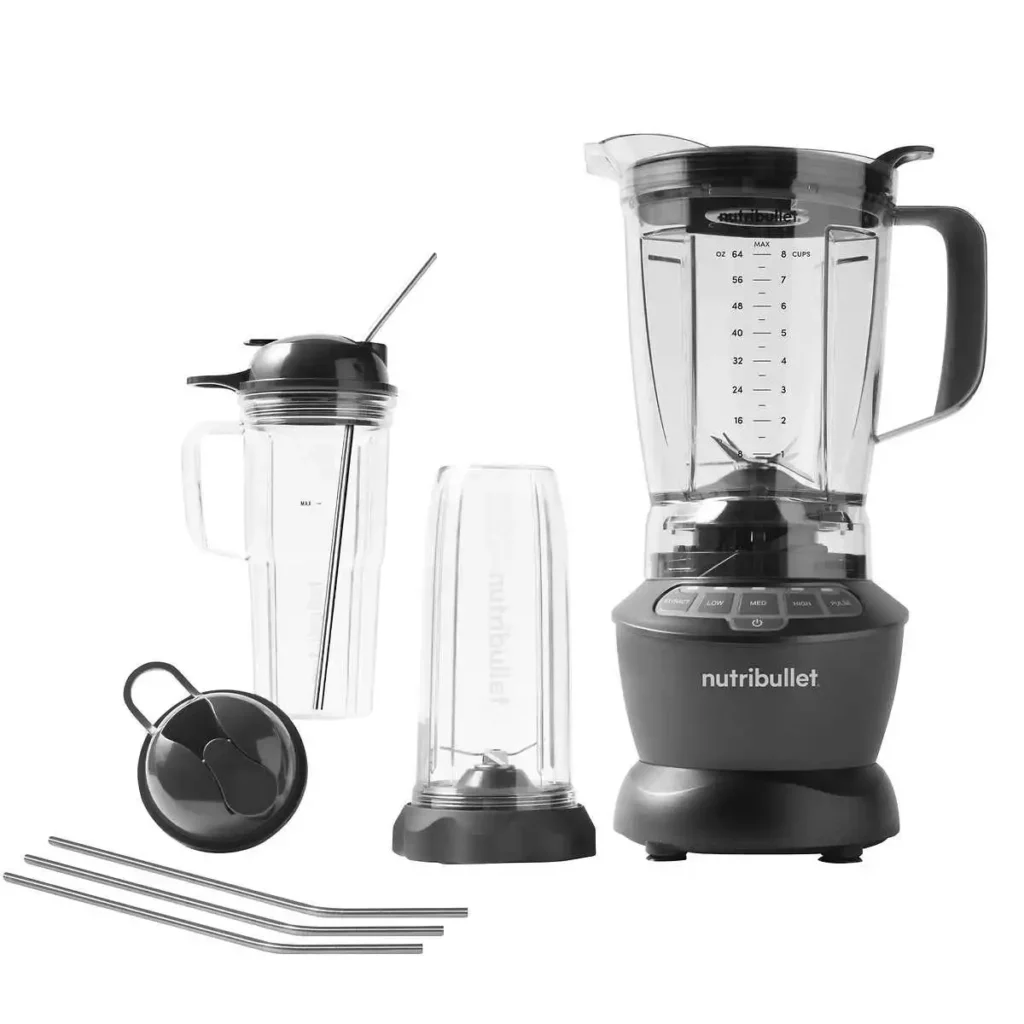 The best, cheapest and most excellent quality blender at Costco is Nutribullet Combo Blender.
If you love making smoothies for you and your family, this product is for you. It has a multi-serving pitcher, which means you can make as many smoothies as you want! It also comes with a single-serve cup from which you can drink your smoothie. This 1200 watts, high-functioning blender combo will make you forget slow blenders once and for all!
It comes with multiple speeds. It also has a pulse function and amazing extraction capabilities that'll leave you wanting more!
The easy-twist extractor blades are perfect for making delicious smoothies. Not only that, they're so sharp that they can easily crush ice!
The blender also comes with stainless steel straws and a recipe book. Level up your game with this amazing product from Costco. Moreover, it's BPA-free.
The easy grip handles ensure a proper seal with no leaks. Its 1200 watts power lets you prepare a limitless variety of smoothies, sauces, nut butter, soups, and more.
Price
The cost for the Nutribullet Blender Combo at Costco is $99.99. It's an affordable price compared to other blenders on the market.
It's definitely value for money! Though it comes with a one-year warranty, Costco's return policy also backs you.
So, get your hands on this awesome appliance now! You can also check the price on Amazon.
Pros
No auto functioning keeps it simple to use.
It's easy to clean.
You can change the speeds, such as low, medium, and high, besides the pulse function.
It's a compact and stable machine.
It comes with an extraction setting to blend your smoothies automatically.
It can crush ice and frozen fruits.
BPA-free and dishwasher-safe accessories
Cons
Overall feel of this blender is cheap.
It might not be a great chopper for nuts or carrots.
It's very loud.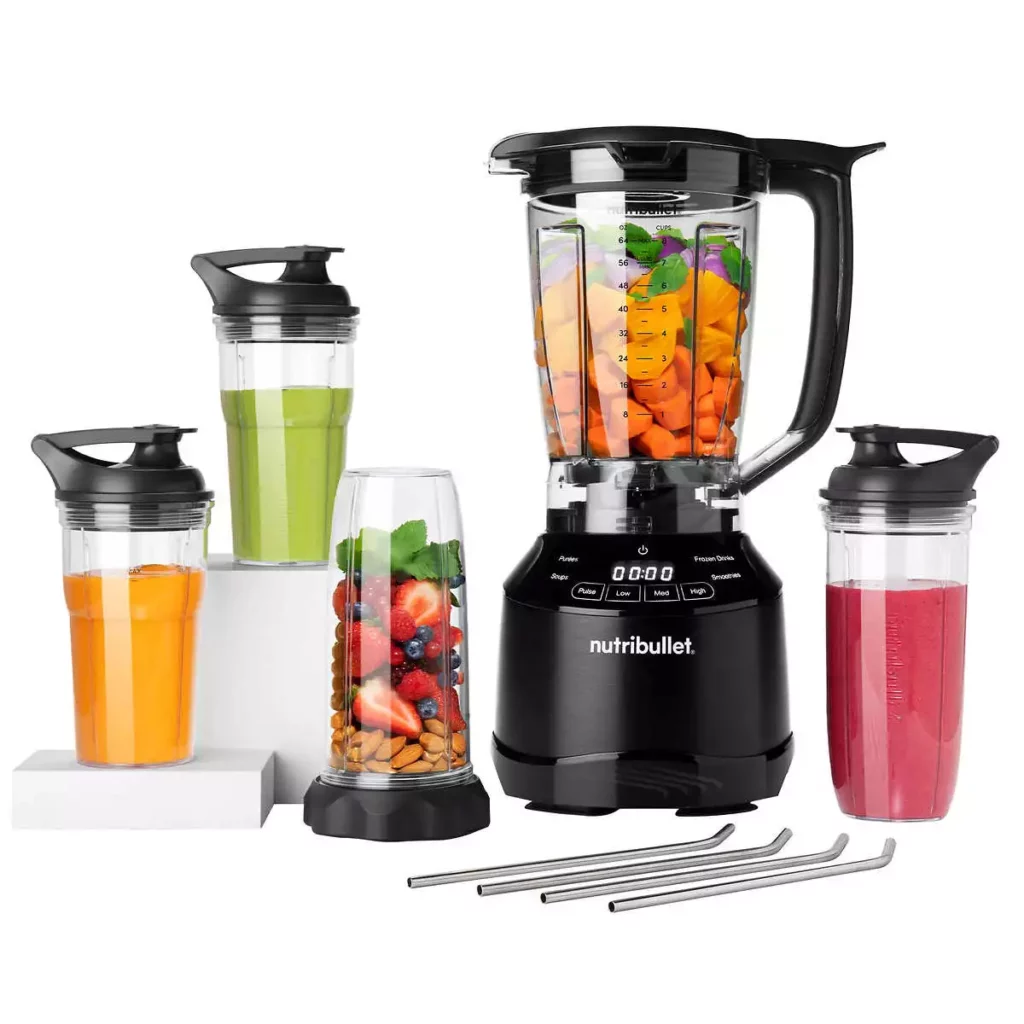 The second Nutribullet Blender at Costco is the Smart Touch Blender. It comes with a high-performance 1500W motor. It can crush the hardest ingredients! The combo consists of a multi-serving pitcher and single-serve cups.
It has a sleek touchscreen display that lights up so you can even control it in the dark. You can use the speeds given or just use the smart pulse control to make delicious smoothies.
The NutriBullet Smart Touch Blender Combo comes with various accessories, including a 64-ounce BPA-free pitcher, two 16-ounce to-go cups, and two twister blades. The pitcher and to-go cups are also made of durable BPA-free plastic, and they are dishwasher-safe for easy cleanup.
The best feature of this product is that it allows you to switch between single-serve cups and a bigger blender jug for times when you want to make large quantities. Moreover, the touchscreen control panel lets you run the blender manually or through pre-programmed settings. Now that's an awesome feature!
Price
This blender sells for $159.99 on the Costco website. We would say this is a reasonable price with all its amazing features. You won't find such a sleek and efficient blender on the market. Its one-year warranty allows you to replace or repair any damage to the product.
You can also check the price at Amazon to compare it with Costco.
Pros
The blending base of the blender can differentiate between the single-serve cups and the multi-serving pitcher.
The pitchers are dishwasher-safe and BPA-free.
It can crush ice.
It can chop vegetables
Excellent performance when it comes to chopping nuts and other tough ingredients
It comes with multiple serving cups.
It comes with steel straws for your smoothies.
Cons
It cannot chop fibrous vegetables like kale.
It makes a lot of noise when the setting is on high speed.
How long can you expect the Costco NutriBullet to last?
When buying any kitchen appliance, its worth is measured by how long it lasts. And for the Nutribullet Blenders, this can vary. Usually, blenders can last you for about 4-20 years. This, of course, depends upon how well you treat it.
However, in case of damage, it's easier to replace the blender than to get it repaired. Not to mention that the repairing process often costs more than the blender itself.
In the case of a NutriBullet, you can avail of Costco's return policy–you can return any item to Costco for a full refund, no questions asked. Or you can buy the accessories that need replacement rather than buying a new blender. It'll save you a lot of money long term wise. Its company also suggests that you replace the blades after every 6 months.
To make your NutriBullet last longer, you can limit the blending time to one minute at a time. Moreover, it's safer to wash the blender by hand instead of a dishwasher. Even though it's dishwasher-safe, it can still get damaged. By washing it yourself, you'll reduce the chances of damage to the pitchers.
FAQs
Can I crush the ice with a Nutribullet Blender combo?
The answer is yes, you can! In fact, the NutriBullet performs perfectly for crushing ice. However, ice can damage the blades. Therefore, we recommend adding your liquids first and then adding the ice. This will help ensure that your blender works efficiently. It will also prevent damage.
In addition to crushing ice, the NutriBullet is also great for making soft frozen smoothies and green smoothies. The extraction mode is perfect for this! So, whether you're looking to whip up a refreshing frozen drink or a healthy smoothie packed with fruits and veggies, the Nutribullet Blender combo is up to the task!
What are the disadvantages of Costco NutriBullet?
There's no doubt that the Nutribullet has amazing features. However, it has some limitations. One of them is that you can't use it for professional use due to its limited battery life. This makes it less powerful and less effective. Moreover, its small capacity isn't suitable for larger families.
Another disadvantage of this blender is that it's not suitable for blending fibrous ingredients like kale. However, it does have good build quality. It'll last you a long time. Just give it a chance and find out!
Why is the NutriBullet so loud?
If you have purchased a NutriBullet from Costco, then you know it can get pretty loud. This is especially true when you're using it at high speed.
You might be wondering why? Well, the noise is primarily caused by the motor working hard and the pulsing action of the food inside the blending container.
NutriBullets are designed to be powerful and efficient. As a result, they'll always have a certain level of noise. So, while you might not be able to completely eliminate the noise, the performance and convenience they offer can make up for it.
But don't fret! You can dampen the noise to some extent. Here's what you can do to help your blender make less noise:
Put a towel under the blender or use a rubber mat for this purpose. It'll absorb some of the vibrations from the blender. Hence, the noise level will be reduced.
You can also try blending in a separate room or using it during times when noise won't be an issue.
Conclusion
In conclusion, Costco Nutribullet Blenders are excellent appliances. Each model has its pros and cons. That being said, they're perfect for you and your family, as they'll do everything from making smoothies to preparing delicious soups!
We hope this article helped you get to know this appliance better. But you wouldn't know how amazing it actually is until you try it out yourself.
So, what are you waiting for? Head to Costco today and get your hands on this epic appliance. Or visit their website to order it for you and your loved ones. You won't regret it!
mama-cucina.com is a participant in the Amazon Associate program and will earn from qualifying purchases.