If you're a pizza lover, you know that there's nothing quite like the flavor of a homemade pizza straight out of the oven. 
But let's face it, and not all ovens are created equal. You need a pizza oven that can handle high temperatures to achieve that perfect crispy crust and gooey cheese. That's where the Ooni Koda comes in!
The Ooni Koda is a gas-powered pizza oven designed for outdoor use. It's a game-changer for anyone who wants to make restaurant-quality pizza in the comfort of their backyard. Read on to find out more about this fantastic pizza oven and how you should use it correctly to get fantastic pizzas!
For setting up, Ooni Koda is awesome. Ooni Koda comes ready and assembled. 
There's no need to spend much time assembling complicated parts or dealing with a messy assembly process. You must slide in the pizza stone, flip out the legs, and attach a propane tank. The oven has no propane tank, so you must purchase that yourself.
The Ooni Koda is designed to work with standard propane canisters, so you can easily find the right size at your local hardware store. The hose is around 3 feet long, which is more than enough to allow you to set up the propane canister on the ground while the Koda sits on a table above it.
And the best part? This powerful pizza oven can cook a mouth-watering pizza in 60 seconds! Overall, setting up your Ooni Koda is a breeze. 
Preheating the Ooni Koda Pizza Oven
Preheating your Ooni Koda is easier. The control dial is located at the back of the oven. 
All you need to do is ignite a single flame strip at the top of the pizza stone. With the flame on high, it rolls over the oven's roof, heating the stone to an impressive 950°F (500°C) in 15 minutes, according to Ooni. 
However, leave it for at least 25 minutes to reach this optimal temperature. The oven has no temperature gauge, so you can use a heat gun to check. While not an essential tool, it can come in handy. 
It's also important to consider the wind conditions when setting up your Ooni Koda. Make sure to angle the oven in the wind's direction to prevent strong gusts from entering the oven. It'll keep the temperature from decreasing or even extinguishing in case of wind. 
Making the Pizza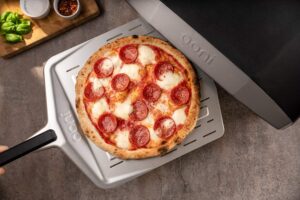 After preheating your Ooni Koda oven, it's time to make your pizza. Follow the steps mentioned below so you can create your pizza:
With your dough ball on a floured surface, press it down to form a disc. Don't use a rolling pin, as this can destroy the air pockets in your dough. 
Lift and rotate the disc gently to stretch it out. Remember that stretching your dough is easiest at room temperature, so allow your cold-proved dough to sit out of the fridge for at least 4 hours to reach room temperature. If the dough is too cool, it'll be challenging to work with as it springs back on itself. If it's too warm, it'll become sticky and tear easily, making it challenging to handle.
Before you add your toppings, make sure to flour the surface of your pizza peel.
Then, lay your pizza on the floured peel without moving or pressing down on it to avoid sticking. 
Add the pizza toppings. When it comes to toppings, remember that less is more. Simple and light toppings will make launching your pizza into the Ooni Koda pizza oven easier. 
Be mindful not to add too much sauce or heavy ingredients that can weigh down the crust. 
Assembling your pizza efficiently ensures it doesn't stick to the peel. So take your time, use light toppings, and confidently launch your pizza into the oven!
Cooking the Pizza in Ooni Koda
Follow the pizza cooking procedure carefully.
Once your pizza is ready, slide it onto the preheated pizza stone in your Ooni Koda. Use your pizza peel for this step. Make sure to target the peel at the back of the stone. Then, gently pull it back to release the pizza onto the stone. It's like forth and back motion.
Close the oven door and wait approximately 40 seconds until the crust is crispy and the cheese is melted and bubbly. Keep a close eye on the pizza as it cooks; it can burn unattended. Turning the pizza regularly during cooking is essential to ensure an even bake. 
Once your pizza is cooked to perfection, use your pizza peel to remove it from the oven. Transfer your freshly cooked pizza onto a cutting board. Allow it to cool for a few minutes before slicing it up. Enjoy your delicious, homemade pizza straight from Ooni Koda!
Tips and Tricks for using the Ooni Koda Pizza Oven
Using the Ooni Koda to make delectable pizzas is easy. However, our tips and tricks will help you ease your pizza journey. Keep reading to learn how to use the Ooni Koda pizza oven to its full potential! 
Control the flame size.
One unique feature of the Ooni Koda gas pizza oven is its L-shaped burner. It allows for easy control of the flame size. With the control dial at the back of the oven, you can adjust the flame size according to your preferences. 
It's useful as it enables you to manage your pizza's temperature and cooking time. Moreover, the side gas burner extends to the front of the oven, which helps to keep the pizza stone hot and close to you. 
The Ooni Koda burner system offers an excellent advantage for those who want precise control over their pizza cooking process.
Use a pizza oven thermometer. 
It's important to know the temperature of your Ooni Koda pizza oven and its stone. Unfortunately, the oven doesn't come with a temperature gauge. Therefore, it's a good idea to purchase an infrared or laser gun thermometer, which can measure the pizza stone's temperature and the oven's interior. 
This is a useful tool to ensure your oven is hot enough to cook your pizza perfectly. It's also helpful for experimenting with different types of food that require different cooking temperatures.
Add flour to the pizza stone. 
Adding a bit of cornmeal flour can provide a good slippery surface to counter pizza dough from sticking to the baking stone. However, if the pizza doesn't cook in the middle, it can still stick to the stone and become ruined. 
To ensure optimal results, we recommend using high-quality 00 flour. This finely ground Italian flour is known for producing pizza dough that is easy to work with. It also helps to stretch the pizza and has excellent texture and flavor. 
Beware not to sprinkle the flour excessively, for it can burn and cause a burnt pizza bottom instead.
Invest in a Pizza Peel 
Ooni Koda has included an aluminum peel that helps insert and remove the pizza from the oven. However, some users find the peel too flexible–it can cause the pizza to drop. 
You must practice a wrist flick to launch the pizza into the oven with the peel to avoid this. This technique takes a bit of practice, but once mastered, it becomes easier. 
Although a proper pizza peel is not included with the oven, it can be purchased from the Ooni website.
Know where to place the pizza in the oven.
The Ooni Koda pizza oven has a variation in temperature across its cooking surface. The area near the burners at the back can reach a temperature of up to 950°F (510°C), while the front of the oven is cooler at around 500°F (260°C). 
This means that the edges of the pizza crust closest to the flame can scorch very quickly, sometimes even before the pizza is inside the oven. 
Therefore, it's important to be mindful of where you place the pizza on the stone. We say that the farther away it is from the back, the better. This way, the pizza will cook more evenly, and the crust won't burn.
Cook and Rotate your Pizza
Usually, the Ooni oven beginners complain about the extremely high temperature and don't know how to keep their pizzas from burning.
Here is the single perfect solution.
Once the pizza stone records the temperature between 700-900F, throw your pizza on the stone and minimize the oven temperature to the lowest possible range. The hot pizza stone will keep cooking the pizza, and it won't burn at all.
Another challenge people face while using the Ooni Koda or any high-heat pizza oven pizza is rotating the pizza in the Ooni Koda oven. It's a challenging task. 
The last challenge is rotating the pizza, for which you have to be a "super" man/woman.
If you're a beginner, We recommend removing the pizza from the oven using a pizza peel. Then, use a fork to spin it 90 or 180 degrees, and put it back in the oven by launching it with the peel. 
Although it's preferable to rotate the pizza inside the oven, the small opening makes it impossible. So, as long as you rotate the pizza, it should turn out great. 
Pay close attention 
When using the Ooni Koda pizza oven, you need to keep your eyes peeled like a hawk! 
This powerful oven has hotspots. As a result, the crusts can char, so you need to be careful where you place the pizza on the stone. 
But that's not all – the pizza needs to be turned frequently to prevent burning. Even a few seconds can distinguish between perfect results and a blackened disaster! 
That's right, and you'll need to stay alert and keep a close eye on your pizza as it cooks. Be bold and turn it after 10 to 20 seconds to ensure that it cooks evenly and doesn't burn.
Trust Ooni Koda for its versatility.
You can cook anything in your Ooni Koda that's inside it. But how?
Trust it.
Learn about temperature control.
Be confident with your recipes.
Among all the above-mentioned factors, the best thing to learn is your Ooni Koda temperature. Using an infrared thermometer, you can control and regulate your Ooni Koda temperature according to your recipes.
Don't be obsessed with Onni Koda cleaning.
Cleaning an Ooni Koda pizza oven is a breeze! These ovens are built to be tough and hassle-free. 
The inside of the oven is largely self-cleaning, thanks to its high temperature. This means that it burns off most food debris. And if there are any bits left, you can use the Ooni Pizza Oven Brush to remove them.
If you're dealing with stubborn debris, don't worry – there's a solution! Carefully remove the baking stone, flip it over, and place it back in the oven. The next time you use it, the bottom of the stone will clean itself thoroughly. Plus, cleaning the outside of the oven is a cinch – all it takes is a damp cloth and a quick wipe. 
Just be sure to dry it immediately and avoid abrasive or chemical cleaning products that could corrode or contaminate the oven. It's important to remember that the oven is where you're cooking your delicious dinner, so you'll want to keep it clean and free of rust. 
Store your Ooni Koda like a precious gem.
The Ooni Koda pizza oven is lightweight and portable. It's perfect for outdoor cooking adventures. However, as much as we'd love to leave it out in the open to show it off, it's important to remember that it's not weather-resistant. 
So, if you plan on keeping it outside, you'll need to cover it up and store it in a weatherproof spot, like a shed. If you're short on outdoor space or want to bring the pizza party inside, the Ooni Koda is incredibly compact and easy to store. 
Once it's detached from the gas and folded down, it takes up very little space and weighs only 9.25kg, making it a breeze to carry around. You can easily store it and move it around.
FAQs
Can the Ooni Koda pizza oven rust?
The Ooni Koda has many stainless steel parts. It means that it's susceptible to rust and patina. Stainless steel, although durable, is not completely immune to rust, especially if it is exposed to moisture or harsh weather conditions for prolonged periods. 
However, the company has taken measures to reduce the likelihood of rusting, such as applying a heat-resistant finish to the oven's exterior and providing a custom-fit cover to protect it from the elements. It is essential to properly maintain and store your Ooni pizza oven to prolong its life and prevent rust from forming. 
Why Does Ooni Koda Pizza oven have no inbuilt temperature gauge?
Ooni Koda comes with all blessings but saves you from the big misfortune of having a less accurate and less helpful built-in temp gauge.
Yeah, you read right. Having no temperature gauge in your pizza oven is a plus, for the integrated temperature gauges are less reliable. And as for the pizza game, it all depends on your playground (pizza stone). 
For cooking pizza, the pizza stones' temperature comes first–yes, you'll also check the pizza oven's internal temperature. If it's at the highest, check the pizza stone's temperature in the middle (between the heat source and pizza oven opening, which has to be 800-900 F. For that purpose, only the infrared thermometer works best. 
Conclusion
The Ooni Koda pizza oven is a top-quality pizza oven that delivers excellent performance and value for money. If you're a pizza enthusiast who wants to take your homemade pizza game to the next stage, the Ooni Koda is a must-have addition to your backyard. 
It's a powerful, versatile, and easy-to-use pizza oven that will make its mark on your family and friends.
So why not take the plunge and enhance your pizza game with the Ooni Koda today?
mama-cucina.com is a participant in the Amazon Associate program and will earn from qualifying purchases.