If you're in the market for a versatile and efficient kitchen appliance, then look no further. The Oster French Door Toaster Oven has been making waves with its unique design and exceptional features.
In this post, we'll dig into why this particular toaster oven is a must-have for your kitchen and why Costco is the perfect place to snag this gem. From its accessibility and space efficiency to its sleek aesthetic and outstanding performance, we'll uncover all the benefits that make the Oster French Door Toaster Oven an irresistible choice.
So, get ready to discover why Costco is the go-to destination for this great appliance that will elevate your cooking experience to new heights!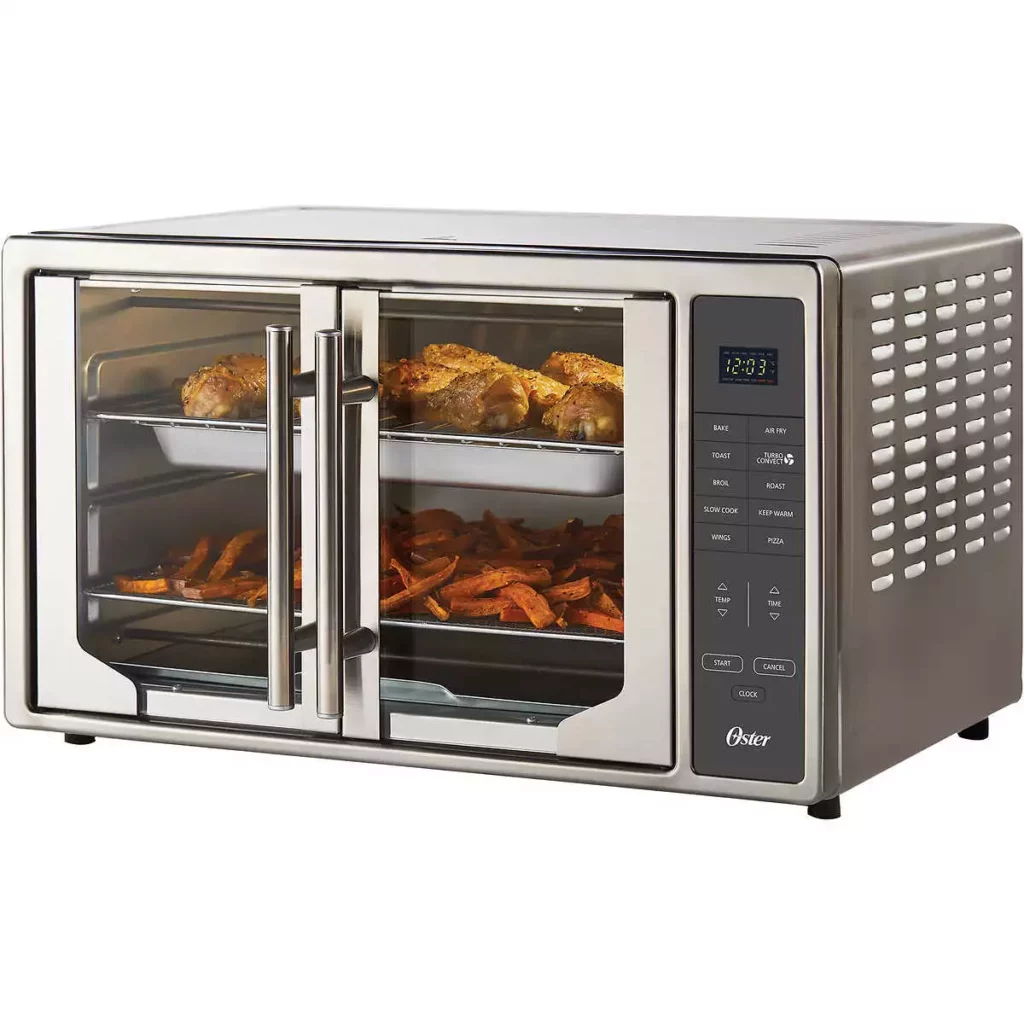 Here are the top 9 reasons why Oster Air Fryer Oven with turbo convection is the best oven.
1. It's a sleek, big size oven with an extra-large capacity.
Alright, folks, let me tell you about this cool (actually hot) Oster Air Fryer Toaster Oven! The Oster Air Fryer Toaster Oven will totally jazz up your kitchen with its brushed stainless steel body. It's a decent size, measuring 20.71 x 24.61 x 17.01 inches and weighing 27.2 pounds. The quality of the materials is top-notch too. The stainless steel body is built to last, and all the extra accessories are solid and sturdy, made with high-quality materials.
The best part? This bad boy has an XL capacity of 42 liters that can fit two massive 16″ pizzas or other dishes. Perfect for big families or folks who like to throw parties, you can cook up a storm without breaking a sweat.
2. The French doors open fully wide!
The French doors on this thing are smooth as butter and open on both sides with just one hand. But watch out, they're spring-loaded, so make sure to swing them wide open, or you might end up smashing them and causing a big mess.
3. The cooking space can be utilized to optimum.
The Oster French Door Oven has 3 rack positions that let you cook a variety of meals all at once. And get this, you don't need to buy any extra cooking accessories because it comes with sturdy racks, a broil rack, a baking pan, and a crumb tray that can handle a big ol' casserole dish or a 14-inch pizza tray.
4. It's equally versatile as all good quality ovens.
Now, let's talk about the cool features. This thing is a 10-in-1 wonder! It can air fry, toast, bake, roast, and even dehydrate. You name it, and it can probably do it. Crispy snacks? No problem. Freshly baked cookies? Easy peasy. Toasted bread? Piece of cake.
5. The cooking performance is consistent.
In terms of performance, this oven delivers consistent results. It heats up quickly and cooks everything evenly. No more burnt edges or undercooked centers.
6. Cooking in this oven is fun.
DOES it look fancy?
IT IS!
The fun cooking comes from the fact the oven has an illuminated interior. You love to see your food cooking under the little yellow sun in it!
And big viewing window makes a perfect combo to let you see your food cooking up a storm. When preheating is done, the oven beeps, calling for food and then the light comes on to stay lighted during cooking.
What ELSE?
The preheat cycle is a boss too. It quickly heats the oven to the perfect temperature and lets you know when it's ready. And the timer doesn't start until the oven is heated up to perfection.
7. It's your energy saver in the kitchen.
Listen up, folks! This air fryer toaster oven is the real deal regarding temperature control. Its turbo convection baking technology is a game-changer, allowing you to cook your food using a whopping 50% less energy. That means you'll save some serious power while still enjoying your delicious meals.
8. Cleaning is easy.
Now, onto the cleaning part. This oven has got your back in that department too. It's got a non-stick tray at the bottom that catches all those pesky crumbs. It's super easy to remove for cleaning, but here's the thing – the tray doesn't have any lips, so be careful when you take it out. No one wants to spill those crumbs everywhere, right?
The metal shelf is a breeze to clean as well. Just pop it out, throw it in the dishwasher, and you're good to go. Cleaning this bad boy won't eat up much of your time, that's for sure.
9. Safety is Oster's priority.
Safety-wise, this oven has a 12-hour auto-shutoff feature, so you don't have to worry about forgetting to turn it off when your food is done. By automatically shutting off the toaster oven after a predetermined time, the 12-hour shut-off timer helps save energy and reduce electricity costs.
It prevents unnecessary power consumption, especially if you tend to forget to turn off appliances when not in use. This feature aligns with sustainability efforts and can contribute to a more eco-friendly kitchen.
So much good to say. Are there any Shortcomings?
Let's be realistic dear friends. I won't keep bragging about Oster French Oven. It has some areas for improvement too. I'll discuss the one by one here.
The first is about precision! The oven allows you to adjust the heat by 25 degrees increment. If you're a seasoned home chef, you'll find it pretty compromising here, for many recipes need more precise temperature control.
Second, air frying is what the oven isn't meant for – the convection fan is positioned on the side wall, which messes with the airflow needed for perfect air frying. In contrast, the fan sits right on the ceiling for that burst of even heat in your actual air fryers.
Third, the outside of the oven can get hot, so don't forget your oven mitts.
Four, you have to be gentle when closing those French doors to ensure a good seal and optimal cooking temperatures.
Lastly, reading the display needs effort if you have a vision problem–the buttons/selections are small and less bright.
In a nutshell, if you're all about that cooking capacity and love having options in the kitchen, the Oster air fryer toaster oven is the way to go. It's perfect for those with a big appetite and a flexible cooking style. It's tailor-made for your space and way of life.
Pros
The cooking performance is out of this world–thanks to turbo convection
It has a massive capacity.
It's easy to use.
Cleaning is effortless
The 12-hour timer shuts off automatically to save food and electricity.
All accessories are dishwasher safe.
The spring-loaded, full-swing demanding doors open wide.
Besides Oster's one-year warranty, Costco's return policy is a money saver.
Cons
Average performance for air frying
The control panel is hard to read.
The exterior gets extremely hot.
The cord is on the short side– 2 feet.
While it's a solid toaster oven, it's not the best option if you're looking for top-notch air frying capabilities.
This big size oven isn't ideal for small countertops.
It compromises on preciseness–a 25-degree increment isn't a great thing.
It's essential to get this oven.
FAQs
Are the Oster French Door Toaster Oven French doors made of glass?
Yes, so the French doors on the Oster French Door Toaster Oven are actually made of glass. But not just any glass; they're made of this special stuff called tempered glass.
It's like super tough and resistant to breaking because it's been treated with heat. So even if it does break, it won't shatter into those big, dangerous pieces.
And here's the cool part: with those tempered glass doors, you can totally peek inside and see what's cooking without opening them up.
That way, you keep all that precious heat trapped inside, and your food won't dry out. Plus, the doors are self-cleaning, so you don't have to stress about keeping them spotless.
Why don't Oster French Door Toaster Oven French doors close tightly?
Technically, the Oster French Door Oven doors not closing tightly isn't a problem. Nor do they cause a significant heat loss to affect the oven's cooking performance.
The truth is the hairline gap is part of the design. The doors are engineered this way to help with the thermal stress, which can otherwise cause the doors to crack. Additionally, it helps with the easy opening and closing of doors.
Final Verdict
All in all, the Oster Air Fryer Oven at Costco is a versatile and efficient kitchen companion. It's got the looks, the capacity, and the features to tackle any cooking task. Whether you're aiming for healthier meals or just want to save time, this oven has your back. Just watch out for the hot exterior and handle those French doors with care.
Happy cooking!
mama-cucina.com is a participant in the Amazon Associate program and will earn from qualifying purchases.