Have you been stuck on how to fix the overproofed pizza dough? You might not have expected it, yet the surprise has been ready. The good news is, yes, you can fix bake your pizza without delaying the feast and also prevent it from happening in the future. 
We've covered the whole science of pizza dough proofing, checking, and controlling it in this article.
Whether it's about perfectly proofing pizza dough or fixing it, just give it a mindful read. Soon, you'll be enjoying a regret-free, great pizza. Let's come.
How do you Achieve Properly Proofed Pizza Dough Balls, Primarily?
Any pizza dough primarily aims at achieving light and crispy crust with the help of yeast. Hence, controlling the yeast's favorable activity is crucial for making pizza dough.
And what happens, whenever you think this step is insignificant or ignore the minor details, the result can be a dense, springy, and overproof dough. 
The major steps of pizza making process are given below:
Get and combine the ingredients 
Knead the flour to build gluten 
Let the dough rest after covering with plastic wrap and proof the pizza dough (yeast consume the sugar and build CO2, which lets the bread flour rise) 
Make dough balls
Shape the dough for pizza by using hands or roller.
Bake.
All is good until you mess up with step no 5, the proofing of the dough.
If the dough balls get overproof, the yeast eats up all the sugar, leaving nothing for the oven spring. As a result, you lose the dough's rise before the baking step as the dough falls back a bit. 
What is Over-Proofing?
Flours you use to make dough contain a good amount of gluten or proteins. The amount of gluten in flour differs according to flour type. 
When you add yeast to flour, it converts the starch into sugar and feeds on it. The fermentation starts right after you wet the yeast in flour, producing carbon dioxide bubbles in the dough mixtures and improving its volume. 
Raw pizza dough must be left for proofing until it doubles in size. Remember, more gluten means the dough will rise more with good elasticity. That's why it's preferable not to use strong flour for proof pizza dough because it contains more gluten, giving the pizza dough a degree of elasticity. 
Overproofed dough balls can't achieve any more spring (the rise in the pizza oven) as the gluten network is already torn, and the pizza crust turned out bubbly and airy.
The video below explains how yeast works to help you have an ideally proofed pizza dough. Please ignore the thumbnail 😉
How Can You Know if you have an Overproofed Pizza Dough? 
Check your pizza if it has lost its shape and has created many bubbles; then, my buddy, your dough has become overproof. You can't check your pizza dough by following this method until you've already baked an annoying pizza and you're wondering what has happened to the crust?
Another beforehand method of telling if the dough is overproof is checking the texture. Overproof pizza dough balls, checking these signs:
Pizza dough rose more than double.
It's more bubbly.
It's sticky and runny to lose its shape.
Why is your Pizza Dough Over Proofed? Top 4 Reasons.
What mistakes actually abandon your pizza dough? Let's go through the reason that causes your pizza to get overproof. 
Using the Wrong Type or Quantity of Yeast
Yeast is a single-cell microorganism that has been serving pizza lovers for millennia. It's dear to us because of its role in pizza dough and fermentation. 
Yeast works with various bacteria. One form or another, yeast provides the leavening for essentially all of our leavened bread, including excellent pizza crust.
Using the wrong type of yeast or too much yeast can speed up the yeast activity to the point that we get pizza dough blown more quickly than expected. If you've added too much yeast to your dough, please avoid leaving your pizza dough to rise at room temperature. Instead, not when the fridge temperature will slow down yeast activity.
The Wrong Type of Floor
The type of flour also matters a lot. Stronger flour has more gluten, which means it develops fast. Hence, it's not advisable to make pizzas.
The consistency of the dough depends upon two factors;
Gluten 
Water absorption ratio
The flour should have the right amount of gluten content. The ideal content ratio of gluten for pizzas is 11-12%. And, for this purpose, the 00 flour has this range. It's the reason Italians always prefer to use 00 flour for making the Neapolitan pizza dough.
And about the water absorption ratio, it depends on how finely ground the flour is. The fine flour absorbs water better to result in the ideal soft texture of the dough again. Again, Italian 00 flour is great for water absorption.
Prolonged time
The more time you give your dough to rise, the more yeast activity will be there. Resultantly, your pizza dough might keep on proofing despite using the right amount of ingredients and the right temperature. So, rely little on time, even if the recipe advises it.
Keep checking your pizza dough until it doubles its size. You can also check the proofing doneness by using a few techniques discussed in the later section of the article.
Wrong Temperature
More surprisingly, the temperature can be the devil to ruin your entire proofing. Sometimes, it can be out of confusion or some bad temperature gun to indicate unfavorable temperature. 
And, you might put aside your dough and wait for it to rise more than necessary. So, whenever you prepare pizza dough, make sure that you're 100% sure about your environment's temperature.
How can you Fix Overproofed Pizza Dough?
Suppose your dough balls are also full of bubbles and over fermented. You don't need to waste it away. These two classic techniques can help you recover your overproof pizza dough.
Knockback Pizza Dough
The classic technique to fix the overproof pizza dough is knocking back your pizza dough. What is it? How it works, let me explain. 
The process of knocking the pizza will remove the air from it. Thus, it'll proof again. 
There are many ways to knock down pizza dough. Here's what I found the best:
Take your dough out of the container and place it on a flat surface. 
Press down on the dough with full pressure, like kneading. 
Make a fist and squeeze out the air from the dough. Make sure to make a slow punch.
Now pick the dough in your hand and try to squeeze out the rest of the air. 
Finally, make the ball of dough again and cover it properly with a pastic wrap before using it for cooking. 
However, use it right away before it gets over proofed again. 
Re-balling the Dough 
Another great way to fix your overproof pizza is by folding it again and again in a ball shape.
This one is pretty simple; just take out your sticky individual dough balls from the container. Use your hand and gently fold it inwards to make balls. After doing this movement four to five times, you will notice it has turned into a round ball again. 
Now you have to leave it for another hour to get proof before you cook pizza. You can also use any other technique that works for you. 
If the dough is light, you can just squeeze the air out with your hands. However, if the dough is heavy, then place it on a flat surface and use a fist with pressure to get the air from the dough. 
In the end, it's all about removing the air out of the individual pizza dough ball. 
How to Check if the Pizza Dough is Proofed, Overproofed, or Underproofed? 
Different factors influence how long it'll take for your dough to rise, including the kitchen's temperature, type and amount of flour, and yeast amount.
Here are two ways to check if your dough is ready to go in the oven.
Finger Test for Proofing. 
The poke test is the traditional and easiest way to tell whether shaped and rested dough has fully risen.
And how do you do the finger poke test, you ask? Well, just as it sounds, here are the simple trick:
First, wet finger and press down on the proofed pizza dough, and if: 
It completely springs back up even with the surface, which means it's underproof and needs more proof.
In case it remains fully depressed at the depth you pressed down, that's the indication your dough is over-proofed.
But If it springs back up, leaving a shallow dimple kind of shape or an indent, it's good to go!
The Windowpane Test
Windowpane test can also help you test if the proofed pizza dough is ready to use. Take a dough ball and stretch it with your hands. 
Make a thin layer. If you can make a thin layer without ripping it apart, that means your dough has fermented. However, if it gets ripped, you need to fix it because your dough has gone overproofed.
How Long Does it Take to Proof the Pizza Dough? 
When you're proofing the pizza dough at room temperature, then let it rest for a time. If you leave it overnight in the fridge, it's enough. 
However, your key indicator should not be pizza dough rising time but the volume of the dough. Your goal should be to get a dough that is doubled in size. It's your most prominent sign. So keep an eye on the dough now and then to see whether it has doubled in size. 
If it's, it's ready to be baked even though it's only been 1 hour which is less than recommended by most bakers.
How can you Avoid Over Proofing the Pizza Dough?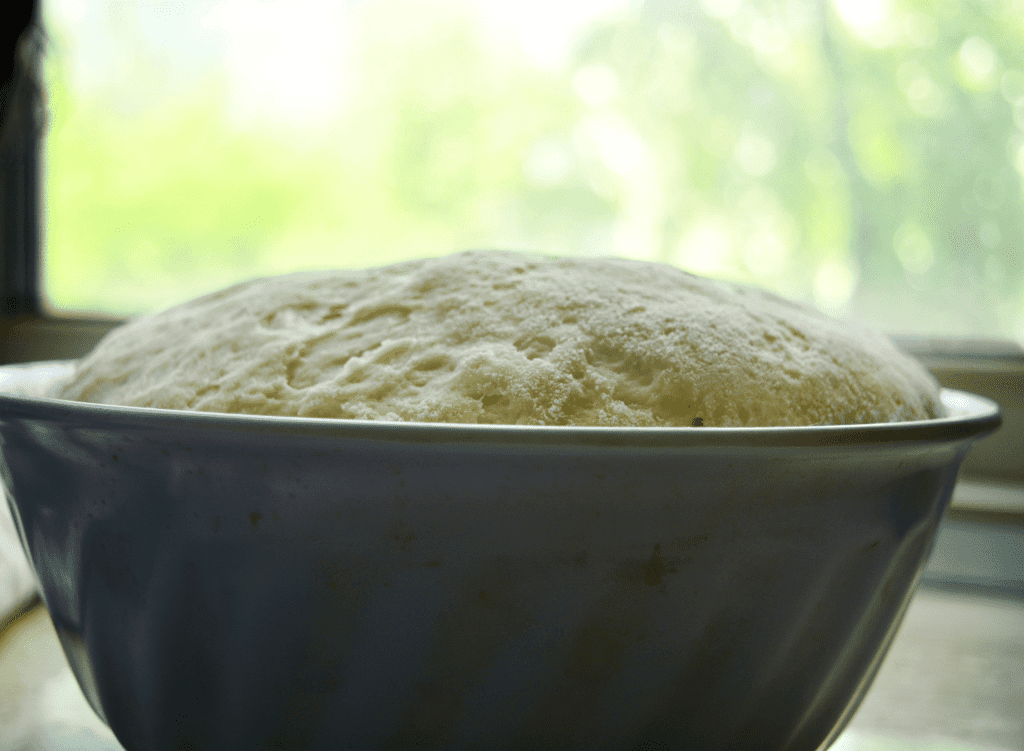 Here are some tips and tricks that you can use to avoid the over-proofing of your pizza dough. 
The Ideal Temperature
Ensuring the right temperature is the first step for making the right dough. The more warm the temperature is, the faster the dough will rise. However, a faster rise doesn't always mean a better rise. 
The dough starts to ferment right after you mix the ingredients. 
The best temperature for the perfectly proofed dough is 75°F, of room temperature, and for cold proofing, it should be around 50°F. 
Especially for bulk fermenting overnight, setting the right temperature is very important. Ensure that the environment is not too warm as the dough will rise too quickly and collapse later. The structure of gluten will not be able to keep up with fermentation that deflates the air bubbles.
Generally, room temperature is acceptable for perfect dough springs, but if you live in an area where the climate is hot, you might need to place your dough in a cool place. You can place your dough in a turned-off oven in such a case. 
It's best to keep the temperature right so the bubbles don't collapse and the dough rises perfectly. 
The Right Type of Yeast
Most people think that only temperature forces their dough to go overproof. However, Pizza dough can rise three to four times and still bake up fine. The hydration is not the issue, but the quality of the yeast is. 
Type and amount of yeast you use matter a lot. Because yeast is a living organism, it's a bit slow in cold water; that is why bakers store their dough under refrigerated conditions for more than three days. 
Instant yeast is a strain that matures very quickly. Strictly speaking, it's not ideal for long fermentation. It gives an excellent significant first and second rise as it develops fast and plows through its food. 
If you want to use instant yeast for baking your pizza within 12 hours of mixing the dough, then you would be OK with the final results, 
Dry yeast, on the other hand, is best for pizza dough. Dry yeast has more shell life to help develop gluten properly.
If you opt for dry yeast, it'll be suitable to use for up to 24 hours. Unopened instant dry yeast has a 1 to 2 years shelf life at room temperature (65° to 80°F).
The technique is to use 3% of the yeast in the flour. The less yeast used in flour, the longer the dough can ferment. 
Tip: Whenever you want to delay baking, reduce the amount of yeast in the recipe and use active dry yeast.
Use the Right Tools.
Use a sheet pan & baking rack when you're proofing pizza dough. These work best to even out airflow.
Your best bet to avoid over proofing dough is to store your dough in the fridge when you're sure there will be a delay in bake time, and the dough should be just fine. Similarly, if you need quick proof dough, go ahead and put your practically-over-proofed dough in the fridge. It won't harm it, and at the very least, you'll minimize how over-proofed it can get.
FAQs 
How long should the dough be proof?
The proofing time for dough depends on the temperature, type of flour, and the amount of yeast. 
In general, the ideal time is about 4 to 6 hours at room temperature and 12-48 hours for bulk ferment. But if you're using the cold proofing technique, you need to store your dough in the fridge for 1 to 2 days.
Is it OK to leave the dough to rise overnight?
You can leave the dough to rise overnight, but you have to store it in the fridge. Leaving dough at room temperature overnight can result in over fermenting. So to avoid this, place your dough in the fridge. It'll slow down the rise for 8 to 48 hours or longer. 
You can also check out "how long can pizza dough sit out?"
Can I refrigerate risen dough overnight?
Yes, it's traditional practice to save the risen dough for later use. Professional bakers also use this technique/ placing the risen dough in the refrigerator slows down the yeast activity. 
Remember that this will not cause the dough to reverse the rise. The yeast will stay alive, but it'll work less rapidly. Yet, when working with frozen dough, remember not to get it too hot, which will kill the yeast.
What does over-proofed dough pizza taste like? 
Over-proof pizza has floppy and sour tasting. 
But It's worth noticing that over-proofed dough is usually not as sour as under-proofed dough. The over-proofed dough should still have some nice air and crust holes, which helps produce a light, airy and delicious pizza. 
Is over fermented dough safe to eat?
Fermented or over-proofed dough pizza is safe to eat by making a flat and dense pie, despite the taste being sour. Secondly, not all people can eat overly yeasty food. 
What is Retarding Dough? 
Retarding is the process of chilling dough to slow down yeast activity during the final rise. Professional bakers may use a specialized refrigerator known as a dough retarder, typically kept at 44-55°F. You can achieve the same results by using a regular refrigerator to let your pizza dough rise.
Not only that, but the slow rising of dough makes the crust turn out more tasty.
Because when yeast slows down, it breaks the large molecules into smaller ones. These small molecules are more flavorsome and complex, making them more delicious to eat. 
Wrapping Up How to Rescue Overproofed Dough
Generally, slightly over-proofed pizza dough can still hold the best shape for a crusty and crispy pizza. Yet, for an overgrown dough, you have to seek some solution to use it. And you can do so by releasing the excessive gas from your pizza dough by kneading and pressing each ball separately. More importantly, you need to avoid it in the future. For this purpose, make sure you've fully learned how proofing works and the proper steps.
In this regard, we hope this article has been helpful for you. Using the comments section, let us know your experience with your over-proofed pizza dough.
mama-cucina.com is a participant in the Amazon Associate program and will earn from qualifying purchases.