Do you want to know what's the difference is between pinsa vs pizza? Let me make you believe that "pinsa" is not pizza. Nor is it a new style of pizza or a new crust.
Pinsa differs from the pizza we eat. It originated at the time of the Ancient Roman Empire. Since "Pinsa" is different, there are a lot of distinctions. 
In this article, we'll clearly differentiate between these two. Let's see what makes them pole apart despite the presentation. Here we come.
What is Pinsa Romana?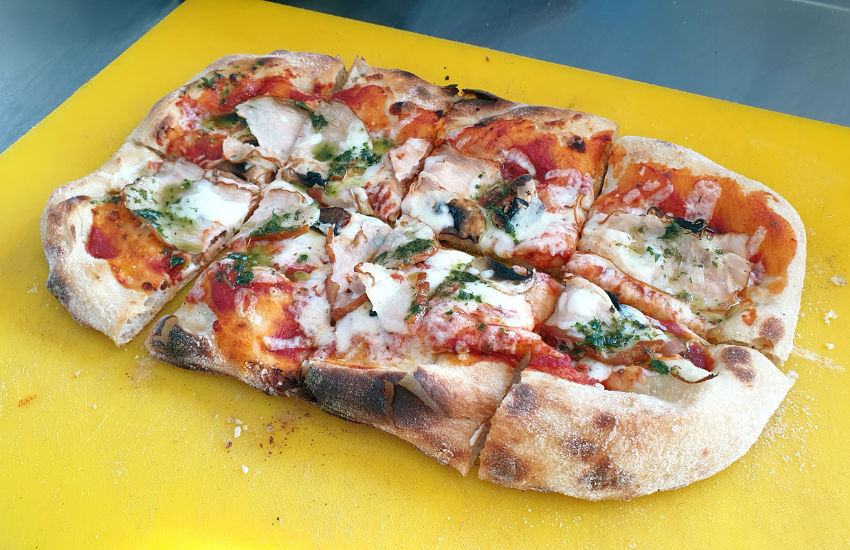 The name comes from the Latin word "Pinsere," which means "push the dough by hand." As you can see, this is completely different compared to pizza. 
It has oval shape, while the pizza usually comes in a perfect circle shape or other shapes as well.
In terms of taste, both are quite famous, but traditional pizza is more famous worldwide. In contrast, pinsa is not very popular. Yet you can find over 5000 Pinserie worldwide. 
Pinsa has different tastes because the procedure of making the dough is entirely different.
Today's Pinsa is a modern version of the ancient Roman Pinsa. The delicious dish is made from an ancient bread recipe that was famous in the rural population of Rome. 
Later it was made in a new way which we still used to make pinsa. Because of the dough's ingredients difference, primarily, the pinsa has the following features:
It's crispy outside and soft and fluffy inside.
Not chewy or soggy
Remain authentic, unlike k pizza, which has many variations in pizza crust.
More aromatic owing to dough maturation processes
Pizza vs Pinsa: Key Differences
Before we jump into the discussion about pizza vs pinsa, remember, it's all about comparing the crusts. 
Both share toppings. You can use any topping according to your taste, yet it's the dough and curt that make them different.
Both share toppings, you can use any topping according to your taste, yet it's the dough and curt that make them different.
Texture and shape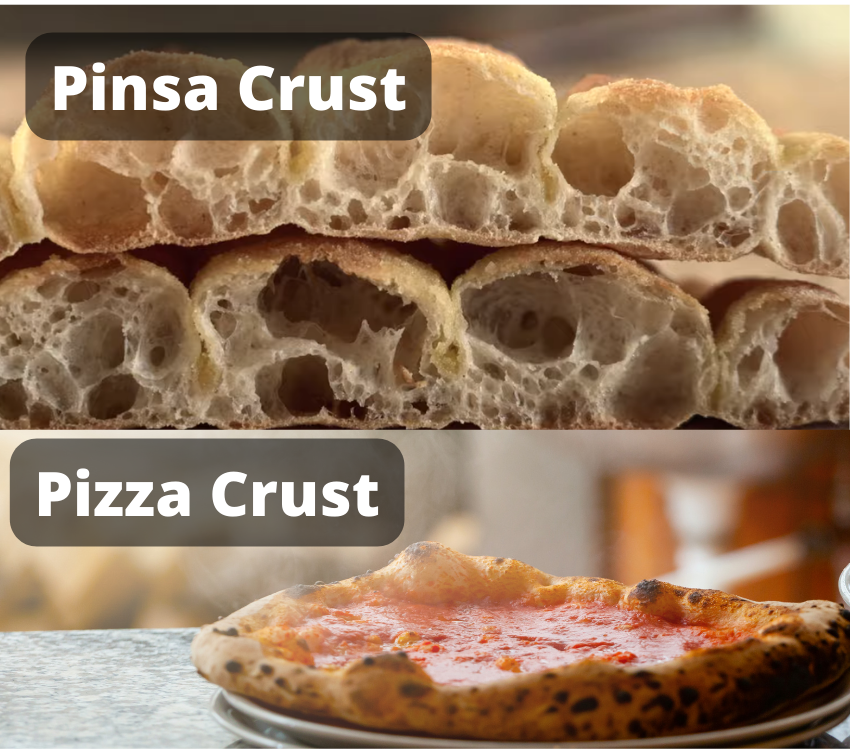 While looking at the Pinsa, we realize it's not thin; the crust is thick. Still, the texture of the pinsa base is crispy, unlike other thick pizza crusts that are doughy and have a chewy texture.
When considering the inside, it's soft and puffy. So it's perfect for those who like the crispy texture of thin pizza but also want to eat the soft crust. And that's one of the most significant differences between pinsa and pizza. To put it simply, pinsa can be comparable with authentic Neapolitan pizza in terms of crust, but not with any other pizza variation.
Taste
Pizza and pinsa both have complex tastes. Pizza has a more umami taste: a mix of sweet, sour, and salty tastes. Yet, Pinsa has a more defined, delicious taste but is less sweet owing to no use of sugar.
Thus, the taste of pinsa is thought to be closer to rural Roman or Italian bread. Adding rice flour and a mix of grains give extra taste to the crust because of higher hydration and fermentation. The 
Ingredients
Pinsa has added ingredients, unlike pizza that has fewer ingredients. The ingredients you need to make the Pinsa dough are:
Wheat flour
Soy flour
Rice flour
Yeast.
Ice Cold Water. 
Sea salt
Extra virgin olive oil
In contrast, for pizza dough you only need:
Ingredients you need to make pinsa dough 
The ingredients you need to make the Pinsa dough are:
Plain flour 
Yeast
Water (not too cold)
Salt
Sugar
Extra virgin olive oil
The Difference in ‌Dough Making Process
Just like the fermentation period, the dough-making process is also different from a regular pizza. To make pinsa, you need four main different things: wheat, soy, rice flour, and dry yeast. These ingredients will be used in different proportions. 
Once you're done with the ingredients, you need cold water for the dough. When mixing or kneading the flour ingredients the first time, we only use 80% of the cold water. After kneading the dough, we add extra virgin olive oil, salt, and the remaining 20% of the cold water and leave it for 20 minutes.
Then we knead the dough again and leave it for at least 15 to 20 minutes. Later on, it's important to check the texture of the dough whether it's easily stretchable.
If it turns out so, transfer the dough into another bowl, cover it properly and place it in the fridge for at least 24 hours. This process is called the fermentation process.
Thanks to this process, the dough will become digestible and double in size after 24 hours. Afterward, you need to shape the dough by pressing your finger and stretching it from the center to form an elongated shape. 
Once the pinsa is shaped properly, you can take it into the oven. Remember the oven needed to be pre-heated at 250°C, then decrease the temperature to 200°C at the time of baking the pinsa dough.
Here is how you can make pinsa at home.
Which One is More Healthy, Pinsa or Pizza? 
Health is one of the essential aspects for countless people. And that's also a reason many people don't eat pizza since it's unhealthy. 
If that's the case with you, pinsa is the best option. The reason is the ingredients and fermentation period.
Fermentation is a process in which chemical changes in an organic substance. When we place the dough in a bowl and cover it adequately, at that specific time, a metabolic process happens. 
The sugar, starches, and proteins break down. This makes the pinsa more digestible for the human body.
One more thing that makes the pinsa more healthy is its hydration. At the time of making pinsa dough, we use a high proportion of water, about 80% to 90%. In contrast, the pizza dough only contains 50% to 60% of the water. That's another reason pinsa is easily digestible compared to pizza. 
Difference Between Pinsa and Pizza- Key Takeaways
As you can see in the discussion above, everything is different in pizza and pinsa. For more ease, we've concluded the major differences below. So you can understand each point with no hassle. 
The recipe and the techniques for making the dough are different. 
Pinsa is baked at a low temperature of about, while most pizza crusts need a high temperature of above 500F. 
Pinsa is healthy as compared to pizza. In pinsa, we use rice flour that has fewer carbohydrates, proteins, and calories. 
Pinsa is GERD friendly when you fear eating pizza with acid reflux. The reason is, it's easier to digest.
Pinsa is good for weight loss owing to fewer calories and fewer carbs. Yet, it's advisable to have it in moderation.
In addition, soy flour also contains vitamins A, B, C, calcium, iron, and potassium. Furthermore, it's gluten-free, so there's no need to worry about cholesterol. 
The fermentation process of pinsa is longer. Pizza dough needs about a few hours depending on the yeast type. In contrast, pinsa dough needs at least 24 hours. 
Pinsa is easily digestible thanks to the fermentation process and the high proportion of water we use at the time of kneading.
In pinsa dough, we use cold water, and in pizza; we don't.
We rest the pinsa dough 2 to 3 times for about 15 to 20 minutes before the fermentation process. 
Frequently Asked Questions about Pinsa vs. Pizza
Can you freeze Pinsa dough? 
Yes, you can easily freeze extra pinsa flour. But remember that you need to thaw it and leave it in the kitchen so that the dough comes to room temperature before use.
Can you make pinsa using leftover pizza dough? 
Yes, making pinsa out of leftover pizza dough is pretty easy. It'll only require you to use mixed flour to stretch the dough. In this video, you can learn the entire process of making pinsa using pizza dough.
Can you eat Pinsa for weight loss or Keto? 
Yes, you can eat pinsa on keto only if it fits your macros. So,eat it in small quantities. If you think pinsa is keto friendly, it's not.
Final Words
We hope you've found the answer to Pinsa vs. Pizza differences. Pinsa is undeniably a healthy and tasty option. You can also top it with the items you want. If you like pepperoni, go with it, or you can go try other flavors as well.
If you've questions about the pinsa or pizza, please let us know in the comment section. We'll assist you with the answer soon. 
mama-cucina.com is a participant in the Amazon Associate program and will earn from qualifying purchases.