Are you tired of the same old pizza but need something deliciously cheesy for you and your dear ones?
Stop worrying!
Today's blog post is going to serve you the top 15 cheesy alternatives to pizza that are not only tastier but also healthier.
Say goodbye to monotonous pizzas and say hello to a world of cheesy goodness!
Whether you're a cheese lover or just looking for a change, these mouthwatering options will leave you wanting more.
So, let's embark on a cheesy adventure and discover the best pizza alternatives to delight your taste buds and nourish your body.
Here we begin with the delightful goodness of these cheesy creations!
1. Chicken Parmesan–Delicious Low-Carb Option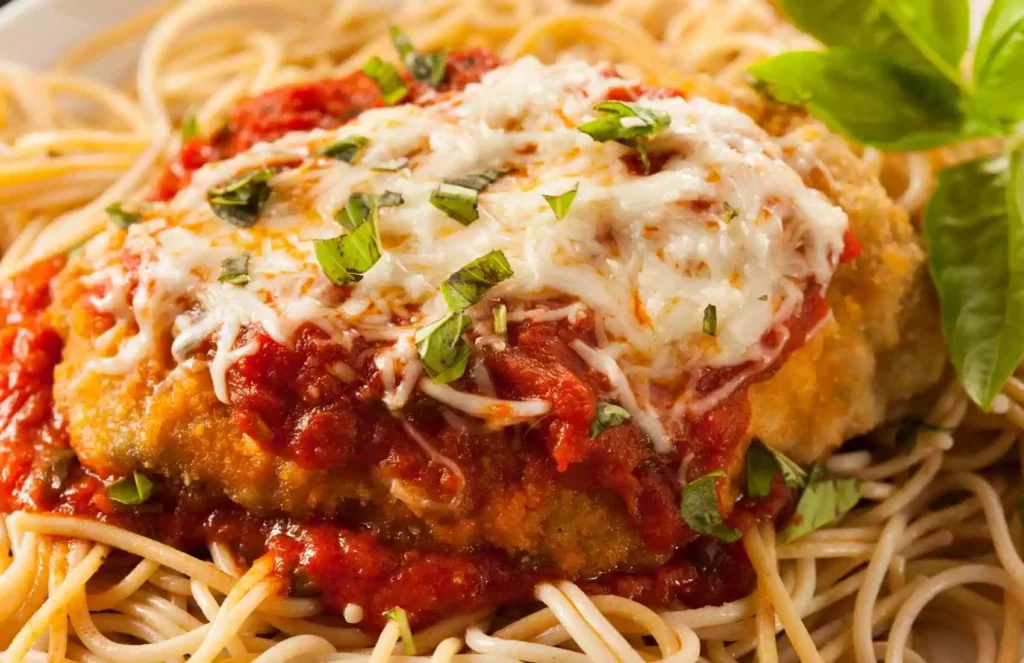 Chicken parmesan, also known as "chicken parm," or "chicken parmigiana," is a mouthwatering Italian-American dish loaded with tons of flavors. This beloved dish has become a favorite in many households and restaurants, offering a hearty and flavorful option for those seeking a taste of Italy on their plate.
To make the chicken, pounded thin chicken breast coated with breadcrumbs and fried until crispy and golden. Next, the fried chicken cutlets are covered with marinara sauce and topped with slices of mozzarella cheese. Finally, the dish is baked until the cheese is melted and bubbly.
The result is an irresistible combination of crispy chicken, flavorful tomato sauce, and gooey melted cheese.
Why Better than Pizza?
Chicken Parmesan is a protein-packed dish, providing a filling and satisfying meal.
Lower carb content makes it a better option for those watching their carbohydrate intake.
The combination of breaded chicken, marinara sauce, and melted cheese in chicken parmesan offers a more delicious taste than traditional pizza.
2. Lobster Mac and Cheese–a Luxurious Delicacy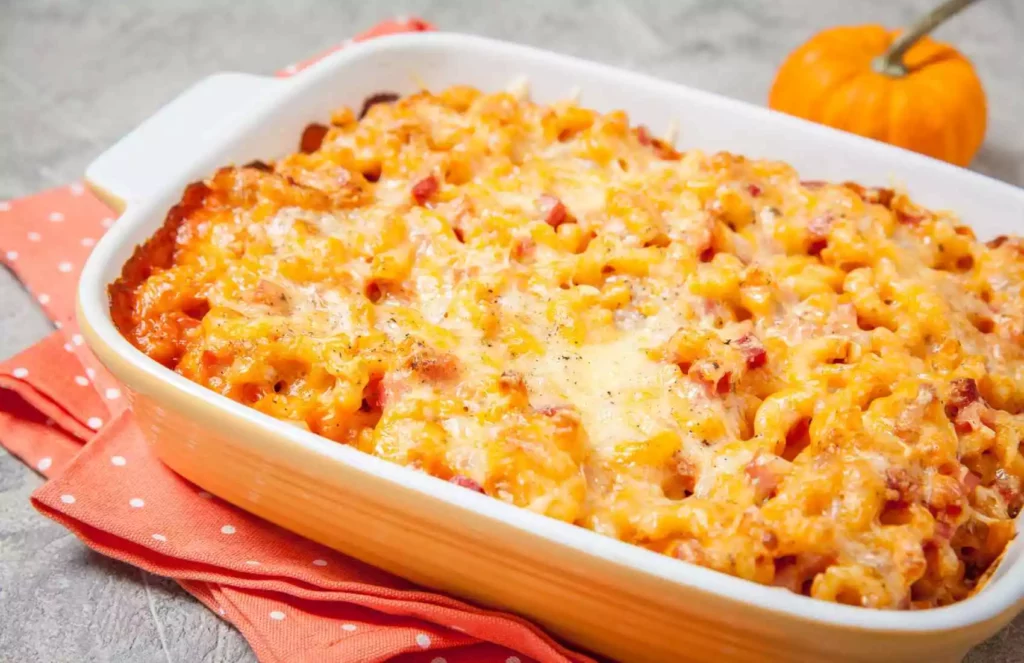 Lobster mac and cheese is one of the most indulgent dishes. It combines the richness of macaroni and cheese with succulent chunks of lobster. This gourmet delight takes the classic mac and cheese to a new level of deliciousness when combined with cooked and chopped lobster. 
Why Better than Pizza?
It's more luxurious.
It's more flavorful because the combination of lobster, cheese, and pasta is simply unbeatable.
More visually appealing
It's more satisfying, as it's a hearty dish.
It's more versatile.
3. Grilled Shrimp and Pineapple Skewers–A Refreshing Side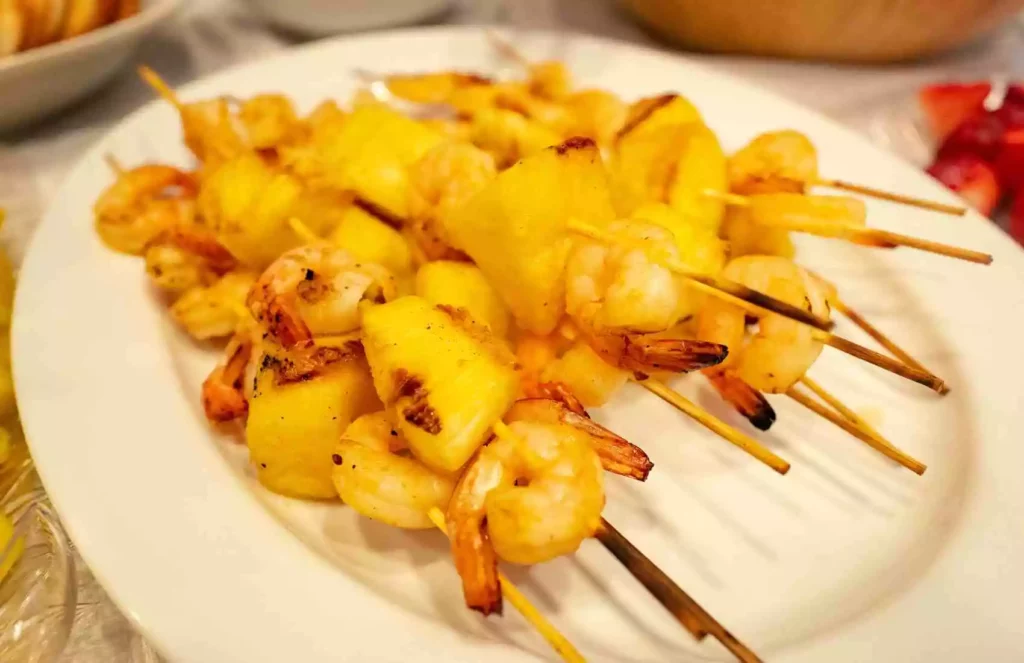 Grilled shrimp and pineapple skewers are a delightful and savory but easy-to-make dish, perfect for summer barbecue. The grilling process combines the juiciness of shrimp with the sweetness of pineapple.
To make the dish, the shrimp are marinated in a mixture of olive oil, garlic, lemon juice, and spices.
Next, the shrimp and pineapple are threaded onto skewers marinated in the mixture. Lastly, the shrimps and pineapple skewers are grilled over medium-high heat until the shrimp are cooked, and the pineapple is lightly caramelized.
By the end, you get a delicious and colorful combination of flavors!
Why Better than Pizza?
More refreshing twist and healthier.
It's a standout choice for seafood lovers.
A guilt-free option that still satisfies your taste buds
More visually appealing
4. Eggplant Parmesan–Healthier Alternative to Pizza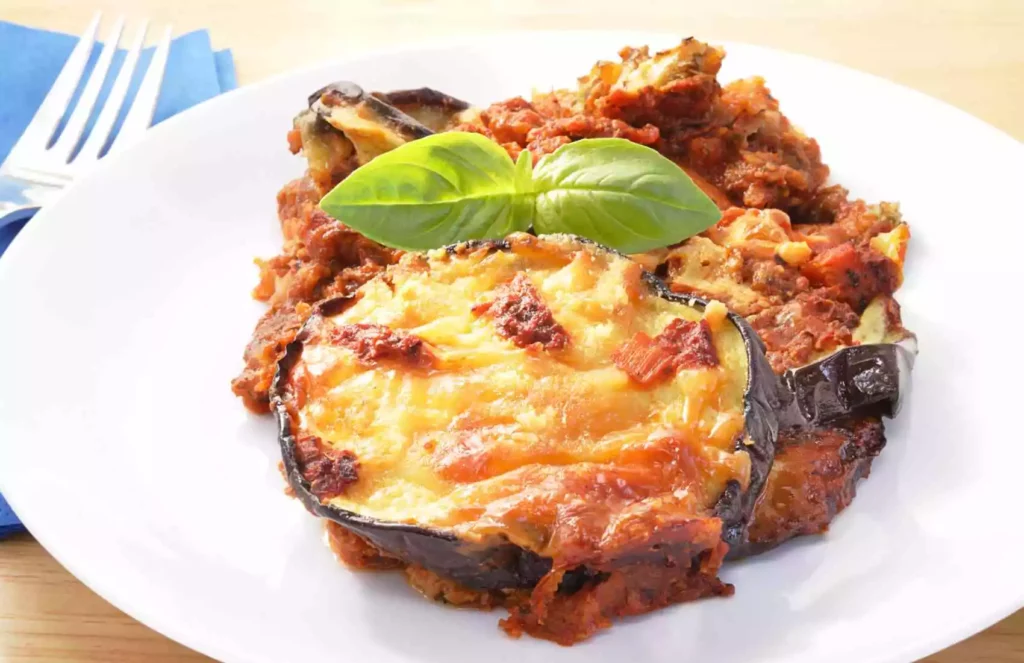 Eggplant Parmesan is an inviting Italian vegetarian dish showcasing eggplant's rich flavors. Slices of eggplant are dipped in beaten eggs and coated in breadcrumbs, fried until crispy. Then these slices are layered with marinara sauce and melted cheese (mozzarella or parmesan). The layers are repeated until the dish is full. Finally, a thick layer of extra sauce and cheese is added, and eggplant parmesan is baked.
When it comes out of the oven, be ready to enjoy the eggplant's crispy texture, the sauce's richness, and the gooey cheese.
Why Better than Pizza?
Healthier being low in carbs
It's a wholesome and satisfying pizza alternative.
A meatless option for vegetarians
A delightful medley of flavors
Lighter, more nutritious option as a guilt-free meal.
5. Mushroom and Spinach Lasagna–Meatless Option
Mushroom and spinach lasagna is a great pizza alternative if you prefer a vegetarian dish. The dish features layers of lasagna noodles filled with a savory mixture of sautéed mushrooms, fresh spinach, and creamy ricotta cheese.
To make the dish the layers of noodles, ricotta mixture, cooked mushrooms, and sauteed spinach are assembled in a baking dish.
The result is a delightful departure from pizza; mushroom and spinach lasagna is a yum-yum choice.
Why Better than Pizza?
It's more filling and nutritious than pizza.
The creamy filling, complemented by the tangy tomato sauce, brings a unique and satisfying taste to each mouthful.
It's a wholesome meal.
More visually pleasing
6. Spinach and Feta Stuffed Chicken Breast–Best Keto Choice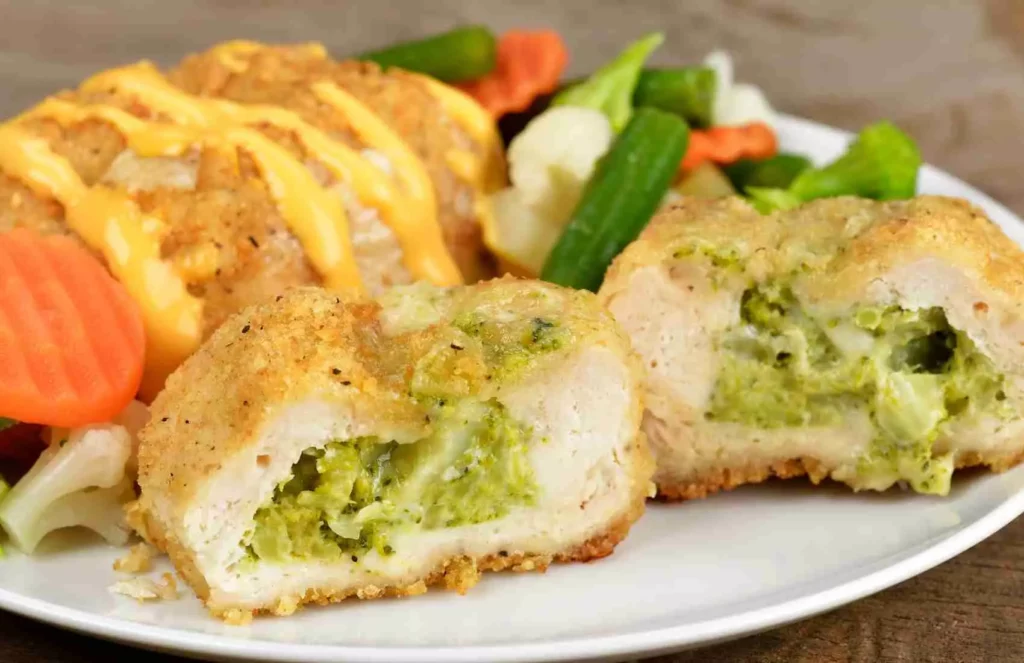 Spinach and feta stuffed chicken breast is a delicious and healthier alternative to pizza. It involves filling boneless, skinless chicken breasts with a mixture of cooked spinach, crumbled feta cheese, garlic, and herbs. The stuffed chicken breasts are pan seared (optionally) and then baked. The resulting bites are packed with nutrients and are a healthier option.
It's a hearty dish with a burst of flavors from the creamy feta and earthy spinach, perfect for any occasion.
Why Better than Pizza?
It offers a protein-rich and healthier option.
It's an ultimate delectable option for low-carb eaters.
The unique taste lets you explore new flavors.
It presents an elegant and visually appealing presentation, making it an excellent choice for special occasions or a gourmet dinner.
7. Mexican Chicken Enchiladas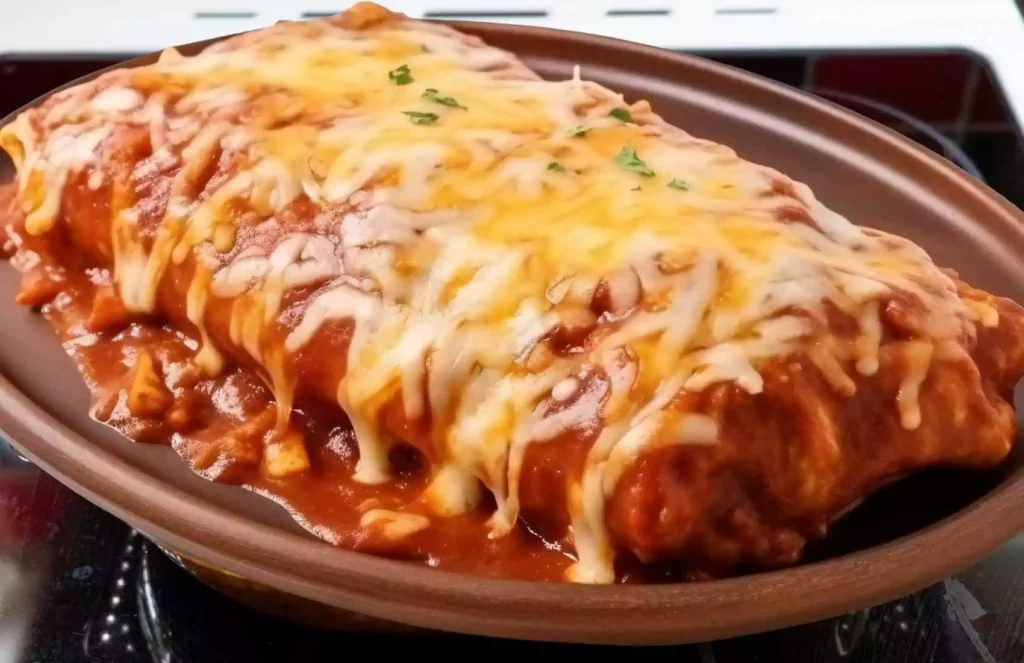 Mexican chicken enchiladas are a mouthwatering dish from Mexico. They have soft corn tortillas rolled around a filling of shredded chicken, onions, and sometimes other ingredients like cheese or beans. The rolled tortillas are baked, covered with a savory enchilada sauce made from tomatoes, chili peppers, and spices, and topped with grated cheese. The combination of tender chicken, tangy sauce, and melted cheese creates a delightful mix of textures and flavors that will leave you craving more.
Why Better than Pizza?
It introduces a burst of spicy and savory goodness.
Mexican chicken enchiladas offer more complex flavors, unlike pizza.
Loaded with toppings and several ingredients, they're more visually attractive.
Enchiladas offer a versatile and customizable option, allowing you to experiment with various fillings and toppings.
8. Indian Butter Chicken – A Unique Pizza Substitute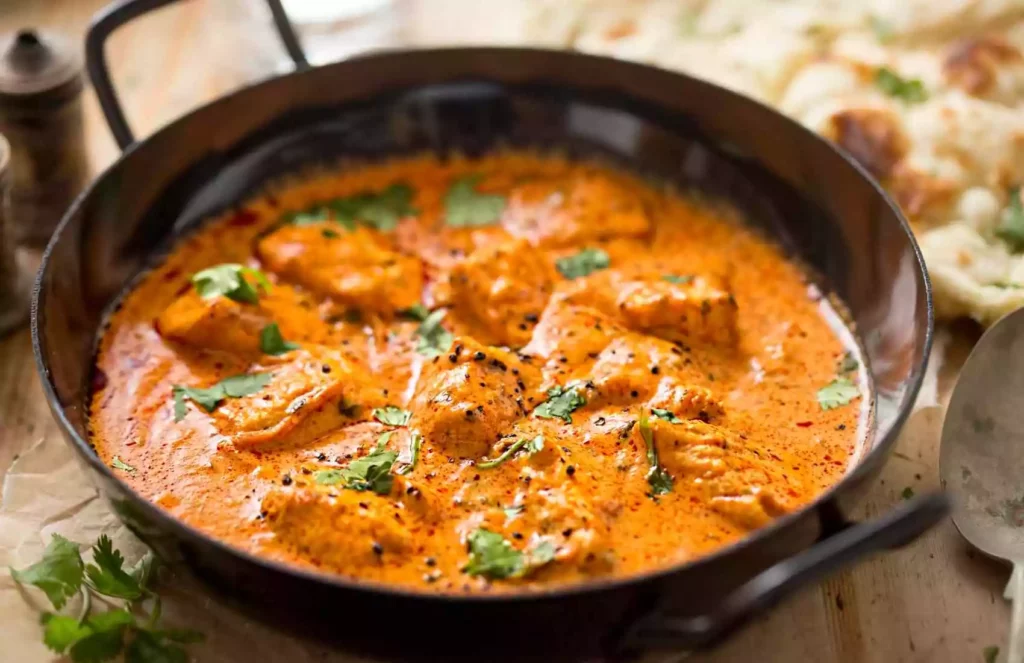 Indian butter chicken, also known as "Murgh Makhani," is a delicious dish from India. It has tender pieces of chicken marinated in yogurt and spices like ginger, garlic, and garam masala. The marinated chicken is cooked in a creamy tomato-based sauce with butter and cream. Indian butter chicken is often garnished with fresh coriander leaves before serving.
This classic Indian dish is a great pizza alternative to try something traditional yet unique.
Why Better than Pizza?
It offers a creamy taste as compared with that tangy sauce on pizza.
A complete meal on its own, with the perfect balance of protein and flavor
It's a whole, fulfilling, and satisfying meal without additional sides.
It's tender and juicier.
It is more versatile as it can be served with various sides, such as rice, naan, or roti.
9. Greek Spanakopita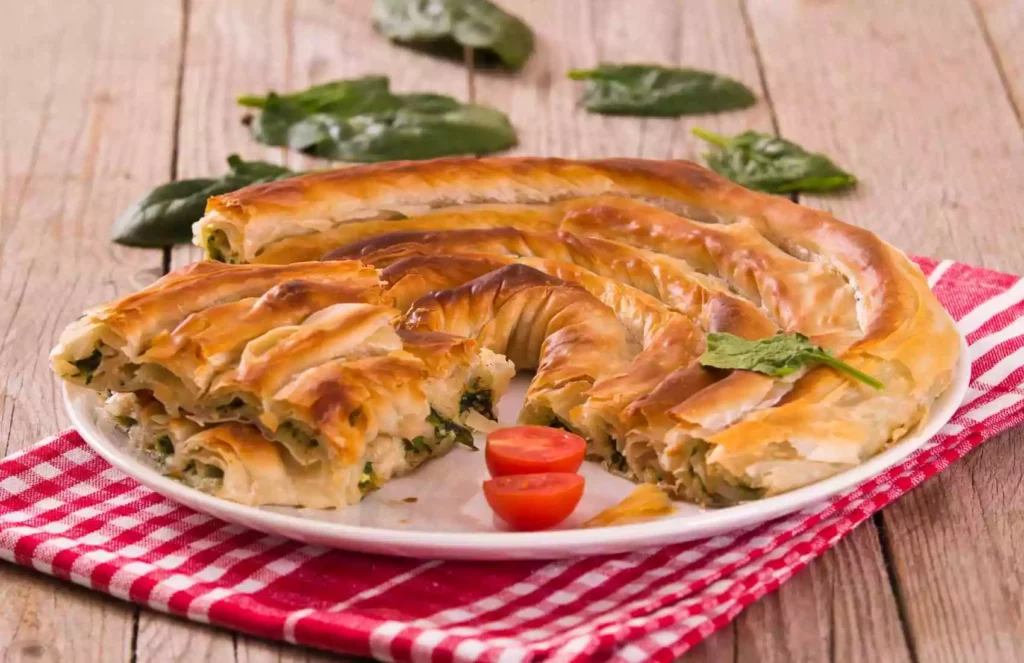 Greek spanakopita is a delicious Greek pastry that delights the taste buds with its wholesome ingredients. This delightful dish has flaky phyllo dough layers filled with fresh spinach, tangy feta cheese, onions, herbs, and seasonings. The filling is expertly blended to create a harmonious balance of flavors and textures.
Once baked to golden perfection, Greek spanakopita becomes a delightful mix of tastes. Whether you're a fan of Greek food or looking for a nutritious pizza alternative, Greek spanakopita will surely please your palate.
Why Better than Pizza?
The unique and exotic taste of the Mediterranean diet
The dish's richness and tanginess stand out from traditional pizza flavors.
It offers a wholesome and nutritious alternative to pizza.
10. Egyptian Koshari with Cheese Topping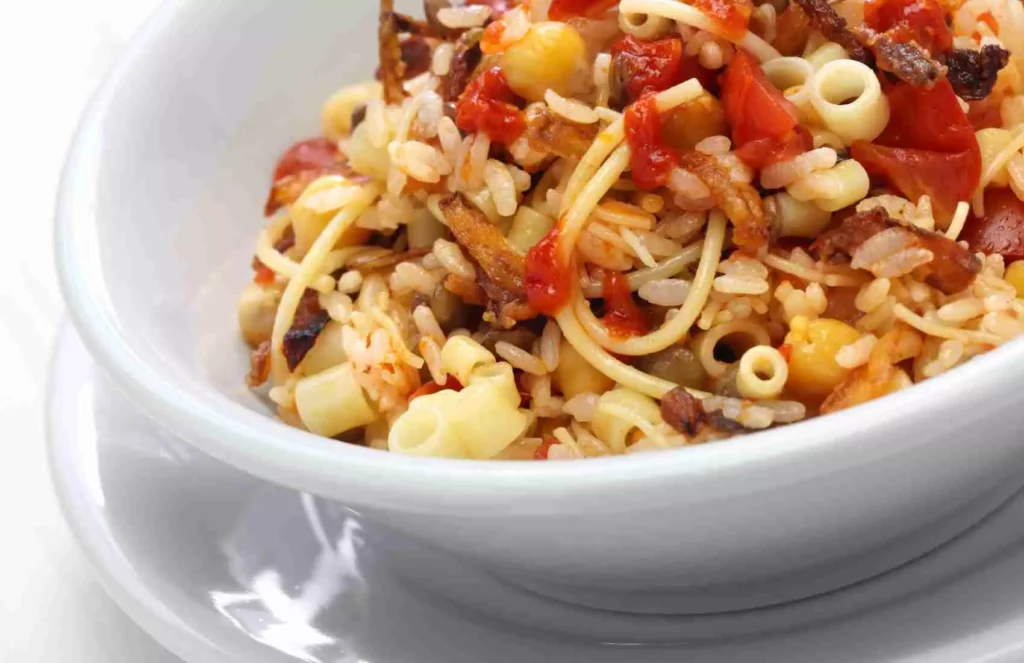 Traditional Egyptian street food, koshari is one of the richest alternatives to pizza. The koshari combines rice, lentils, and macaroni, creating a delightful blend of textures. The dish is then topped with a tangy and spiced tomato sauce and garnished with crispy fried onions for added crunch. 
Lastly, a generous sprinkling of cheese on the top adds flavor to this savory goodness. This combination of ingredients creates a delightful symphony of tastes that is both satisfying and comforting.
Why Better than Pizza?
With dozens of ingredients, it offers a more flavorful culinary experience than traditional pizza.
This high-protein and high-fiber meal is more health friendly than pizza.
Affordable than pizza
Gluten-free option
11. Spanish Queso Fundido with chorizo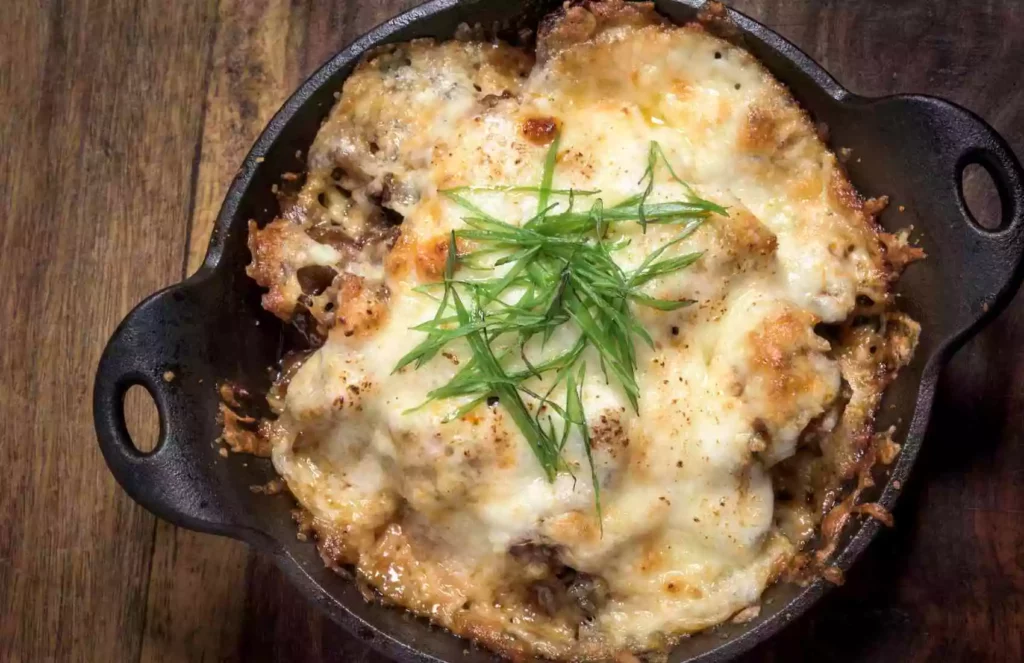 If you love cheese more than pizza, Spanish Queso Fundido with chorizo is for you. This delectable creation features melted cheeses: Cheddar, Monterey Jack, or Oaxaca, mixed with crumbled chorizo sausage. The combination of the savory, spiced chorizo with the creamy melted cheese creates a delightful medley of flavors. Such an explosion of flavors leaves your taste buds shouting for more. 
This rich and flavorful Spanish dish is perfect for sharing with friends and family, making it a favorite choice for gatherings and parties.
Why Better than Pizza?
The creamier flavors are more complex and intense.
Being not as common as pizza, it serves as a more unique and exciting option at your dining table.
It's a more filling and healthy meal than pizza.
12. Australian Meat Pie with Melted Cheese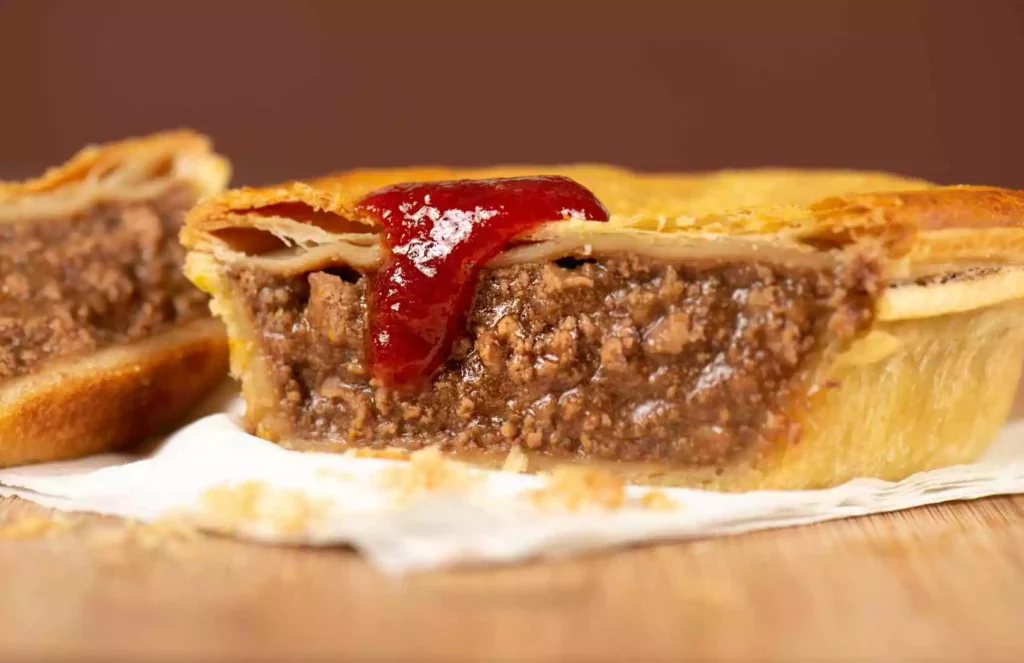 The Australian meat pie is a yummy and famous dish from Australia. It has a flaky crust filled with tender and seasoned meat, usually beef and gravy. On top of the pie, there's a thick layer of melted cheese, making it gooey and delicious. The combination of the buttery crust, tasty meat, and melted cheese creates a delightful mix of flavors and textures.
You'll love the Australian meat pie as it's a comforting food and a popular choice for quick meals or snacks. Whether you're a fan of Australian food or just looking for a tasty treat, the Australian meat pie with melted cheese is sure to satisfy your taste buds and make you want more.
Why Better than Pizza?
Rich and savory filling creates a satisfying taste experience.
Convenient and easy-to-eat option
The unique pastry crust sets it apart from traditional pizza dough.
As cultural icons, they add to their appeal and nostalgic value.
Gooey cheese topping for a delightful treat
13. Korean Cheese Corn Dog- Nothing But Cheese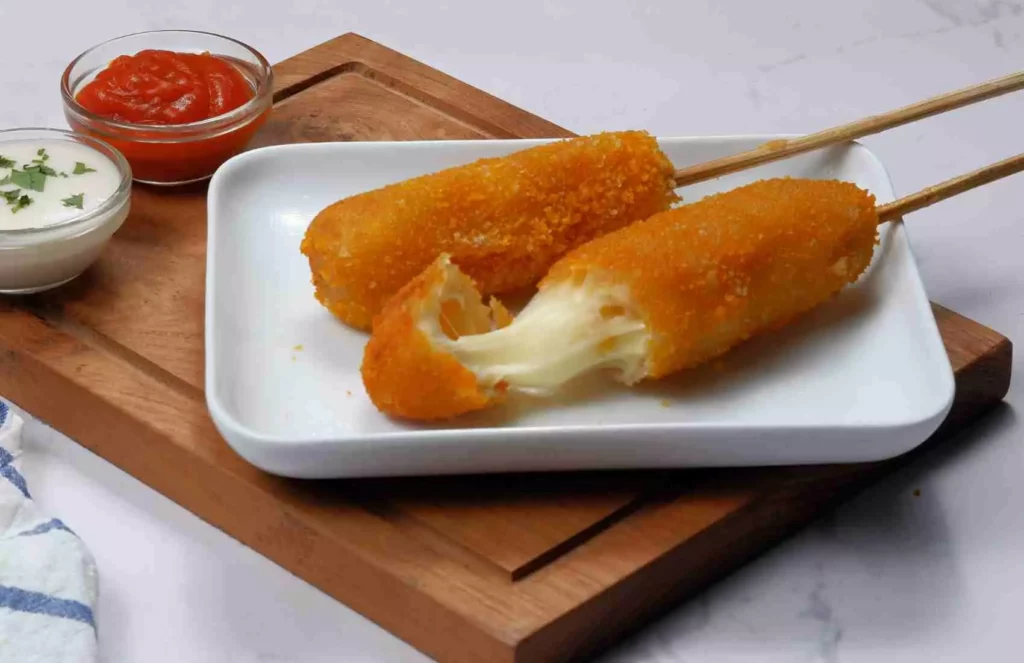 The Korean cheese corn dog is a yummy and popular street food from South Korea. It's a delicious hot dog or sausage coated in a thick layer of cornmeal batter. Then, it's generously covered with shredded mozzarella cheese and deep-fried until it becomes crispy and golden.
You can find Korean cheese corn dogs with various toppings like sugar, ketchup, mustard, or even more cheese.
Whether you love Korean food or just want a tasty treat, the Korean cheese corn dog is sure to please your taste buds and leave you wanting more.
Why Better than Pizza?
Unique flavor profile with the savory hot dog, gooey cheese, and crispy cornmeal batter.
They are convenient and handheld options, making them easy to enjoy on the go.
Quick preparation
Customizable toppings
A less messy and more practical choice for many.
14. Chicken Quesadillas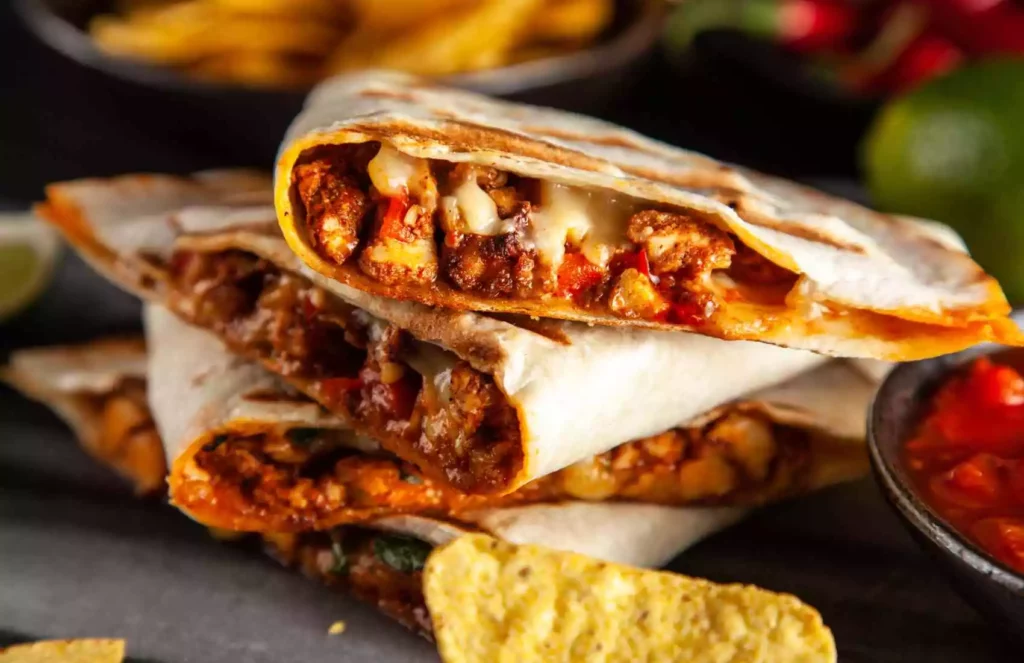 Chicken quesadillas are a yummy and popular Mexican dish. They are made with tortillas filled with seasoned and cooked chicken, cheese, and other tasty ingredients. The word "quesadilla" comes from the Spanish word "queso," which means cheese.
To make these delicious treats, flour tortillas are layered with shredded or diced chicken and melted cheese and folded in a half-moon shape. Then they're toasted on a griddle or skillet until the cheese melts and the tortilla turns crispy and golden.
You can enjoy chicken quesadillas with sour cream, guacamole, or salsa for dipping, making them even more irresistible.
Why Better than Pizza?
Chicken quesadillas are easy to eat on the go, while pizza requires plates and utensils.
Quesadillas cook quickly, making them a faster option for a satisfying meal.
They can be customized with various fillings and toppings, offering a wide range of flavor combinations.
They often have a thinner crust and less cheese, making them a lighter choice compared to pizza.
Quesadillas can be made at home easily, eliminating the wait for delivery or takeout.
15. Cacio e Pepe – The Simplest Choice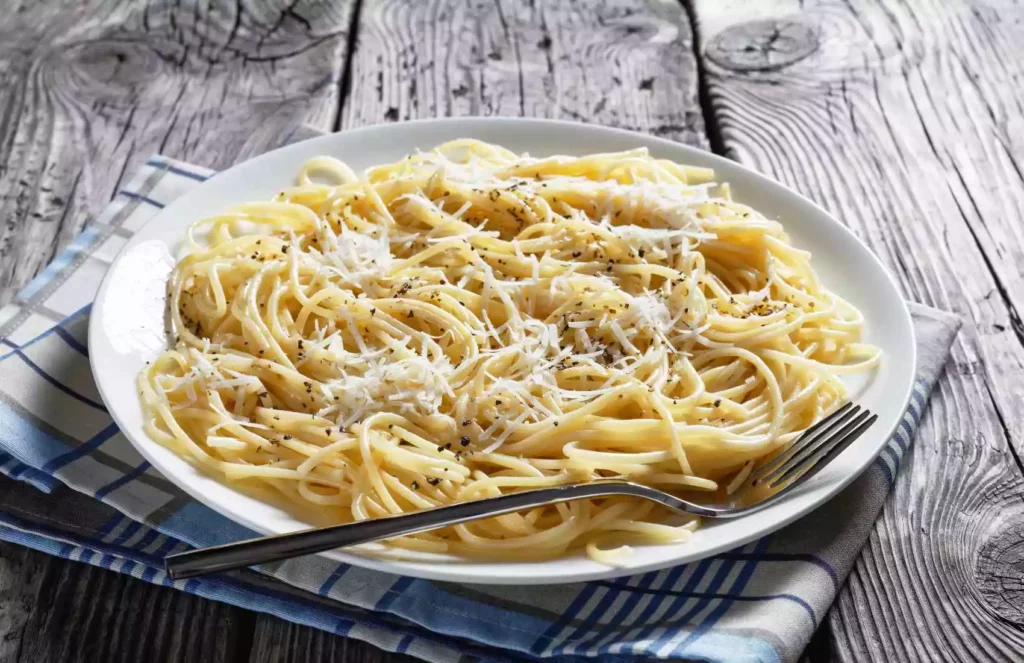 Cacio e Pepe is a classic Roman pasta dish known for its simplicity and bold flavors. The name translates to "cheese and pepper" in Italian, which reflects its main ingredients. Cooked pasta is combined with a sauce made from Pecorino Romano cheese, which adds a rich, salty flavor, and freshly ground black pepper, which provides a delightful spicy kick. The creamy sauce forms by emulsifying the cheese and pasta water, creating a luscious coating that clings to the noodles. This timeless recipe celebrates the essence of Italian cuisine: combining a few high-quality ingredients to create a delicious and satisfying dish.
Why Better than Pizza?
Cacio e Pepe is simple to prepare: it relies on minimal ingredients, pasta, cheese, and pepper.
Generally, Cacio e Pepe has fewer calories than a loaded pizza, making it a lighter option for those conscious of their calorie intake.
Cacio e Pepe is relatively quick and straightforward to make.
The combination of Pecorino Romano cheese and black pepper creates a distinctive, bold flavor that sets it apart from the taste of pizza.
Conclusion
In conclusion, trying different foods instead of pizza can be really fun and tasty! There are so many yummy options like crepes, chicken parmesan, and quesadillas. These top 15 alternatives show how diverse and delicious food can be from all over the world. You can choose healthier choices or try something totally new and special.
So, next time you want a change, go ahead and explore beyond pizza to find these yummy alternatives.
Enjoy your food adventure and happy eating!
mama-cucina.com is a participant in the Amazon Associate program and will earn from qualifying purchases.