We all know that PIZZA HUT offers countless types of toppings. But do you know the same thing goes for pizza hut crust types? 
Pizza is a famous food all around the world. Numerous brands are well-known just because of their pizza, so no doubt it's a competitive business. And the more competitive the market is, the more you've to offer your customer. 
That's the reason pizza has different versions. Every food brand tries its best to provide the maximum flavors and options to everyone. 
If you go to Italy, you'll notice a different taste of pizza compared to the US. It's not mainly because of the topping but also because of the crust that confused many people.
Cheer Yourself Up!
In this article, we'll discuss the pizza crust and what types are available at PIZZA HUT. So you can understand the differences well and choose the right type of crusts while ordering easily. 
What's Pizza Crust? Understand First!
Before we go further, one question that we want to answer is "What's pizza crust?". Most people think that the crust is the edges, or some think it is the center part of the pizza.
The truth is both parts, or in other words, the entire base of the pizza, including the edges, is the crust. The crust not only has different types, but it can be made from different ingredients. Usually, it's made from flour and other items, but you can also find ways to make flourless pizzas. Hopefully, this clears your concept, so let's move toward the crux of the matter, "pizza hut crust types." 
7 Main Types of Pizza Crusts at Pizza Hut 
Again you can find numerous types of crust at PIZZA HUT's branches worldwide. The reason is pizza crust has various categories like seasonal or temporary crusts and main types of crust, and all of them are different. 
For instance, hot dog stuffed crust (seasonal crust) is only famous in South Korea, Japan, and some other countries. So the chances are that this crust may not be available in your country. In contrast, some crusts are the main part of the PIZZA HUT  menu at all branches, like hand-tossed crust. 
But heave a sigh of relief. For your ease, we'll discuss the main types of the crust first available at Pizza Hut's menu;
then, we'll go towards the seasonal or temporary crust. PIZZA HUT offers stuffed crust, pan pizza crust, hand-tossed crust, and thin-crust in the main category. Aside from the last crust (thin n crispy crust), all of the others are thick.
1. Original Stuffed Crust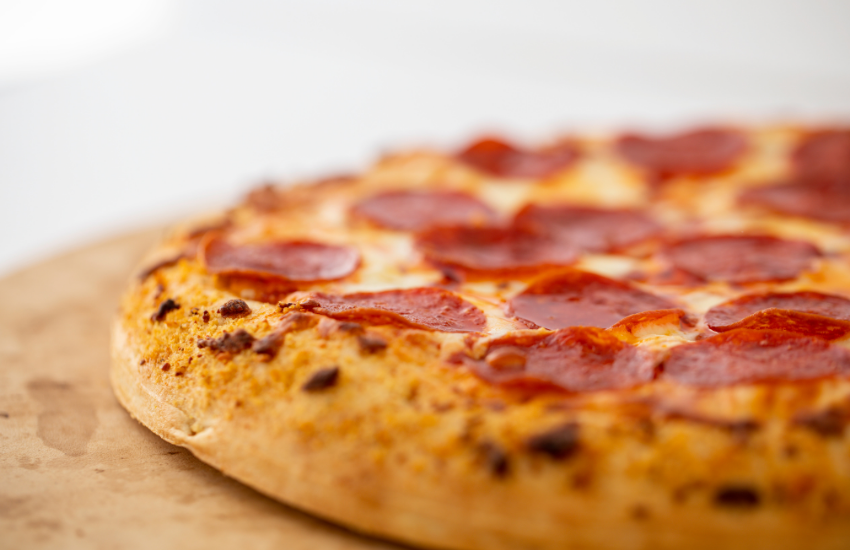 Stuffed crust is a cheese aficionados' favorite, and there's nothing wrong with it; we all love eating cheesy food. So it started in 1995, and since then, it's been the focus of food lovers' attention. 
Many pizza lovers don't like the empty hard edges, and the PIZZA HUT stuffed pizza-style crust comes with the solution. The solution is in this pizza; you'll find that the edges are filled with cheese, which makes the edges finger-licking good. 
Another good thing is that up to five types of cheeses, mozzarella, provolone, fontina, asiago, and white cheddar, are used to make this crust. It's not a light option due to the ingredients, but it's worth every penny. 
This style isn't only generous in the cheese and terms of toppings. Since the dough is perfect to go with deeply layered toppings (but not overloaded), that's super hard to resist, particularly if you're a foodie.
2. Pizza Hut Original Pan Pizza Crust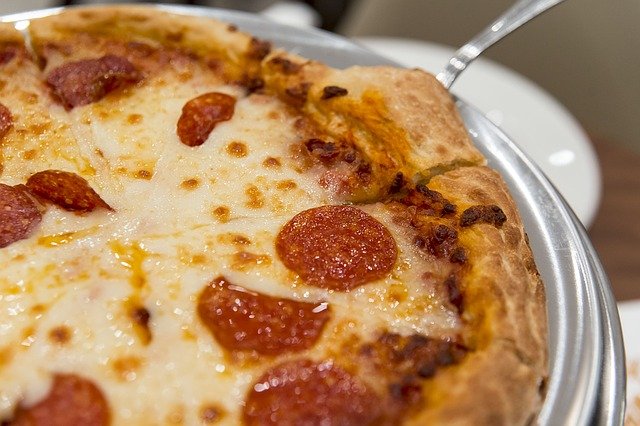 We're going to discuss another type of pizza crust called the "pan crust." It's known to be the first type of pizza crust that people first ate in 1950. This pizza was the hit of their time, and the same thing is for the present. It's still one of the most popular types of pizza. 
The name of the pizza comes from the style. The pizza was made in a cast-iron skillet or pan at above 500 F temperature for up to 35 minutes, so it's called pan pizza. In terms of size, the pizza comes in a middle way; it's not too thin or thick like a deep-dish pizza. The base is crunchy and softer from the inside. 
The ingredients needed to make the crust are relatively similar to what you need for other pizzas, such as flour, water, yeast, salt, and olive oil. 
The difference is in the process of making the base of the pizza. The texture in the dough for the pan pizza is not soft. Instead, we need a tad stiffer dough that should be smooth and flexible so that it can be spread on the pan without cracking. 
3. Classic Hand Tossed Pizza: Combination of Thick and Thin Crust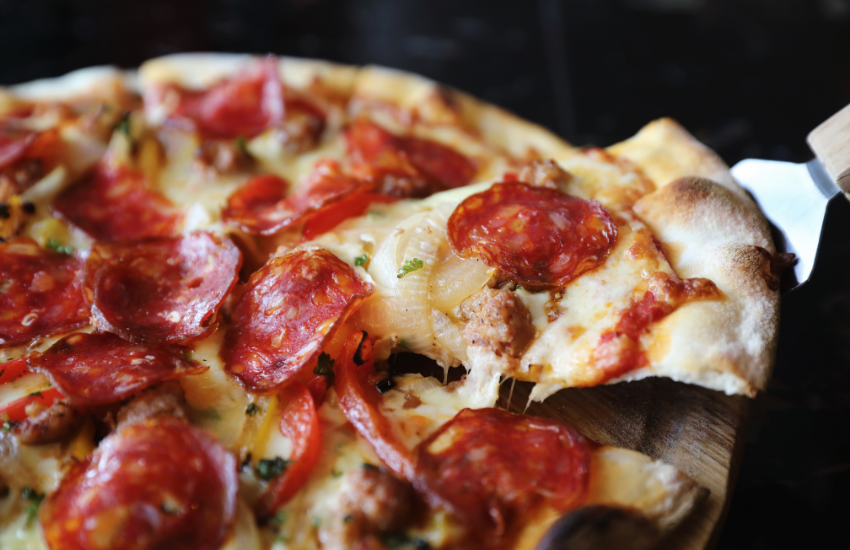 The hand-tossed pizza crust is quite different from others. Nor is it too thick like pan pizza or thin, which makes it perfect for some people. 
The main thing that creates the difference in size is the preparation. While preparing the hand-tossed classic crust, the dough is stretched by hand into the air until it's shaped perfectly. 
This process creates air pockets in the dough that eliminates the chances of dough rising high in the oven. And we get the quintessential medium crust. Since it's a medium crust, the pizza won't be too chewy in taste. Instead, the base will be lighter and fluffy with some crunch. 
4. Pizza HUT Thin and Crispy Crust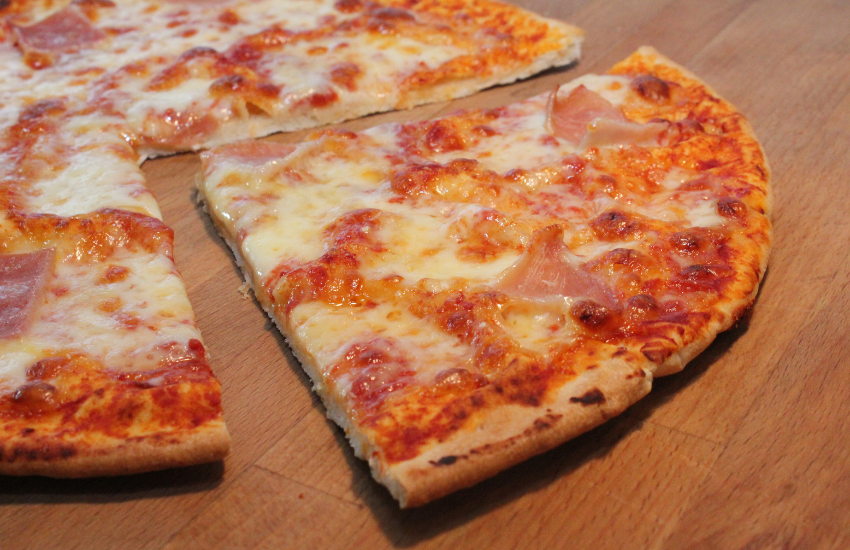 Usually, a crust thinner than the 1/2 inches size comes in the category of thin pizza crust. And it could be any crust but remember here we're only discussing the PIZZA HUT thin and crispy crust. So make sure not to mix it with any other type. 
This crust is one of the most popular crusts of PIZZA HUT that is loved by a huge audience. The pizza caters to the customers who don't like doughy, chewy, and thick pizza crusts that pan pizza, stuffed crust, etc. All of these crusts are thick, but this one is not. 
Instead, the crust is sturdy, thin, and has cracker-like consistency. It's not doughy because less amount of dough is used while making this pizza crust. 
That also means you can't fold the pizza base (crust) easily due to its hard consistency. However, the benefit is it allows you to do the deeply layered topping. Moreover, since this crust is considered the main type of crust of PIZZA HUT, it's easily available in all of their branches. 
5. Gluten Free Crust 
Thin pizzas are no doubt a tasty and healthy option in contrast to thick pizzas. But there's something more healthy that's Gluten-free pizza crust. This means you're eating a pizza that's gluten-free so it won't increase the chances of heart disease, keep insulin control, and so on.
Aside from health benefits, it's a delicious treat that's cheesy and full of flavor thanks to its toppings which are tomato sauce, red onions, cheese, etc. 
6. Neapolitan Pizza Crust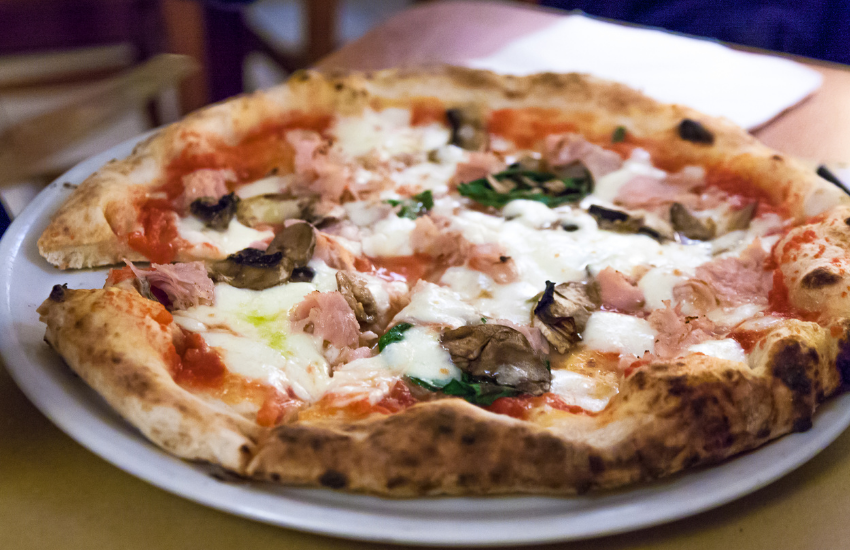 The next crust type we're going to discuss is the Neapolitan-style pizza. This style has been around since the 18th century; it's quite famous all around the world, particularly in Italy, where it originated. In fact, one organization sets the standard for Neapolitan-style pizza.
PIZZA HUT introduced this traditional pizza style again in the '90s. It becomes famous due to its thin crust that's crispy and crunchy with flavourful toppings of tomato sauces and mozzarella cheese that make it more perfect. 
7. The Edge Crustless Pizza (Crust)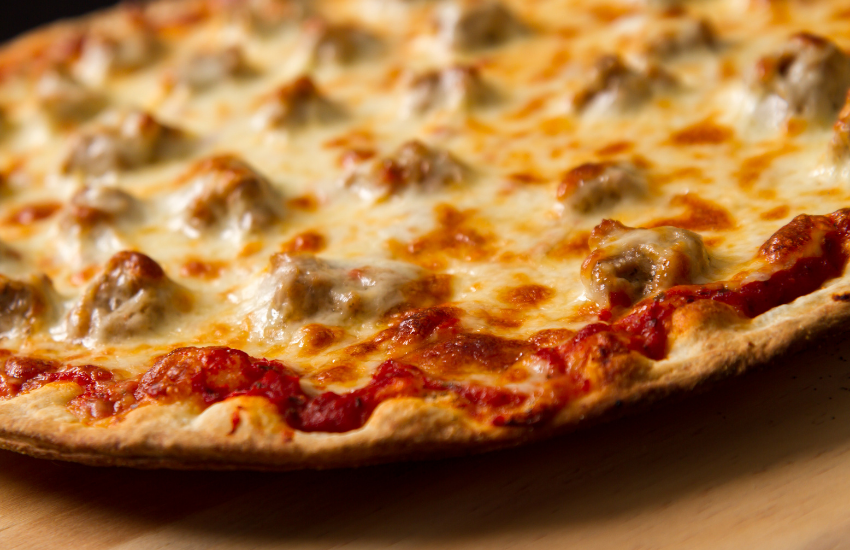 The pizza Hut's edge pizza, with upto 4 topping variations is one of the most iconic slices from Pizza Hut. In this pizza, the thin crust that has been topped with toppings expanded to the edges so that you see no rise at all. This pizza crust lets you enjoy 4 versions: 
Vegetarian pizza, loaded with bell peppers, tomatoes, onion and cheese
Italian Sausage pizza
Ultimate Pizza loaded with cheese
4 Meat Pizza with 4 types of sausage 
The thing to note is the super thin crust and no edges at all. It's what makes the Edge pizza different from thin crust pizza.
The pizza can make a good choice for GERD or Acid reflux sufferers for the carbohydrates content is low, especially in vegetarian, 
Top 13 Seasonal and Temporary Pizza Crust Types
Now it's time to talk about some famous seasonal or temporary pizza crusts. So let's start with the topic. 
1. Hawaiian Style Crust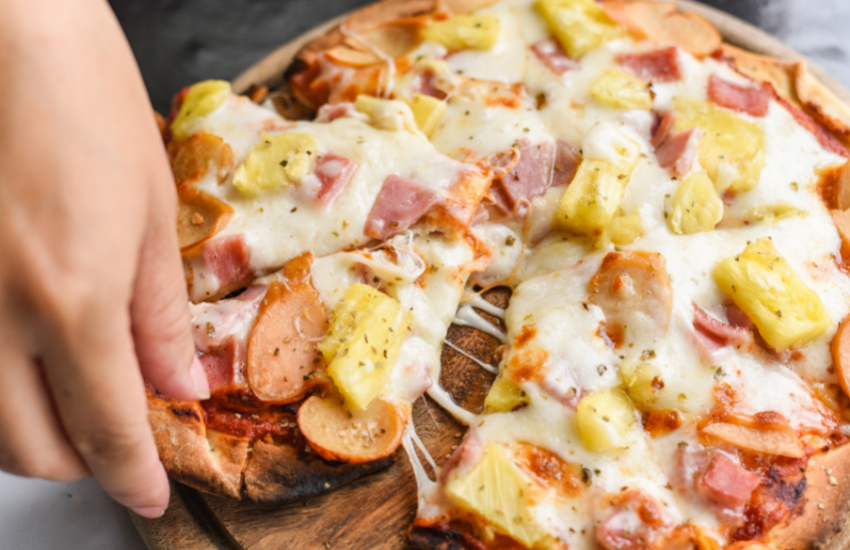 The Hawaiian-style pizza features another famous crust. The pizza originated in Canada by Sam Panapoulos in 1962. Since then, it's been one of the most controversial types of pizza due to its taste. 
PIZZA HUT also offers this crust in their branches. Some people like it, and for some people, it's not delicious, which is fair; everyone has a different taste. However, being controversial is its sweet, salty and cheesy crust taste. 
Yes, you'll experience all of these flavors in one bite. In addition, if we consider the toppings, it's unique too. It's served with a combination of pineapple, cheese, bacon, and ham toppings. So for people who don't like pineapple's sweet taste and tart taste, this crust is not suitable for you. But for the ones who like to try something new and flavourful, it's the best option. 
2. Hot Dog Stuffed Crust Pizza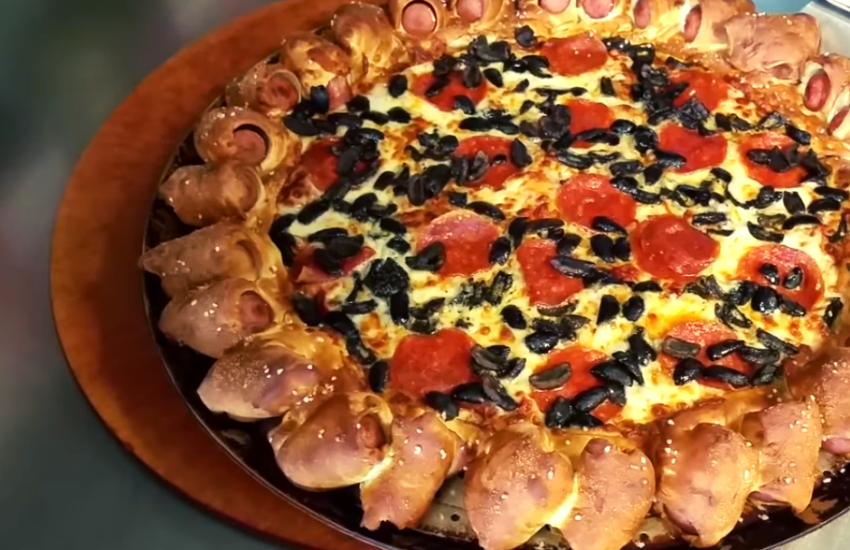 The next pizza crust is Hot Dog stuffed crust. As the name suggests, the crust contains hot dog sausages. The pizza's look is mouthwatering; it was first introduced in the United States in 2015. So it's not been a long time, but it's one of the popular seasonal pizza crusts, particularly in Asian countries like China, South Korea, Japan, etc. 
In terms of crust, the pizza is full of cheese and drizzled with mustard sauces that add more flavor. When seeing the center part of the crust, we determine it's not thick pizza, but the edges are large. The entire pizza is surrounded by halos stuffed with hot dog bites. A person who's a pizza enthusiast and also loves hot dogs will surely find the combination of hot dog stuffed crust delicious. 
You can also make this pizza at home, if you love making pizza at home.
3. Shrimp Cheese Bite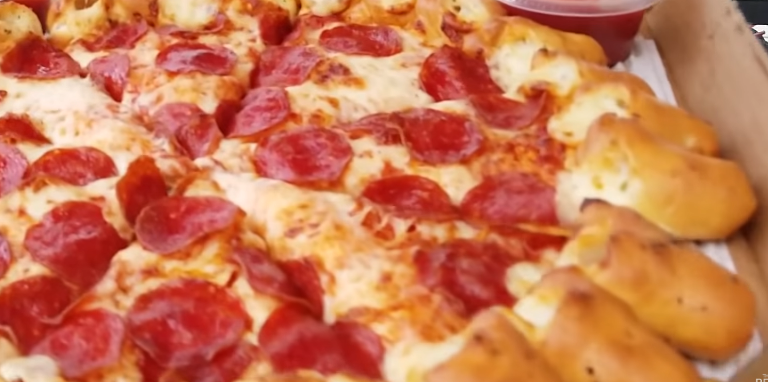 Shrimp cheese bite is another variation of PIZZA HUT stuffed crust favorite of South Korean, Japanese, and Chinese people due to its ingredients. These countries are well-known for eating seafood, and this pizza crust is exactly what they want. 
The crust is filled with cheese, and the edges of the pizza are stuffed with shrimp. With every bite, you'll simultaneously enjoy the cheesy pizza and seafood taste. However, if you don't like seafood, the shrimp cheese bite crust isn't for you. You can go with any other pizza crust of PIZZA HUT according to your taste. 
4. Butter Chicken Masala Sausage Crust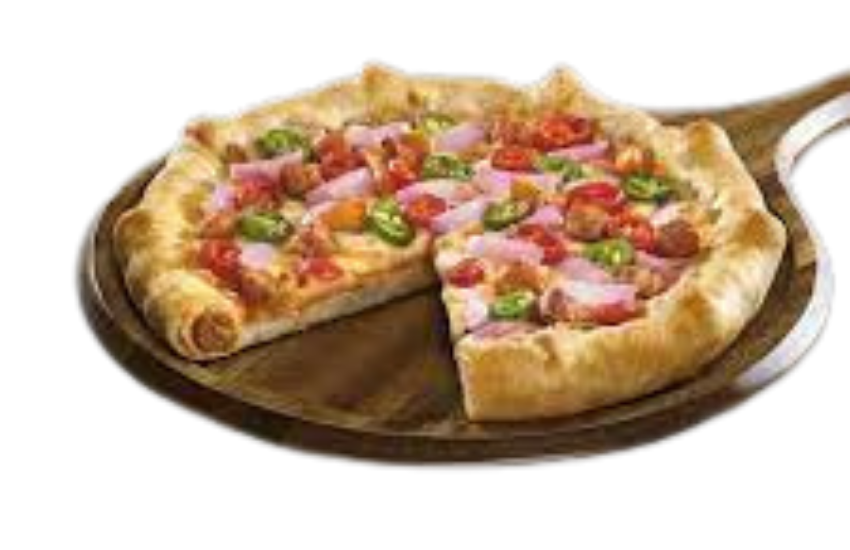 Chicken masala sausage crust is the ideal choice for middle eastern people. It's one of the best, spiciest options PIZZA HUT offers. In terms of taste, it's crispy (not too much) and spicy due to its toppings which are chicken pieces, onion, sauces, cheese, and jalapenos. 
5. Bacon Cheeseburger Pizza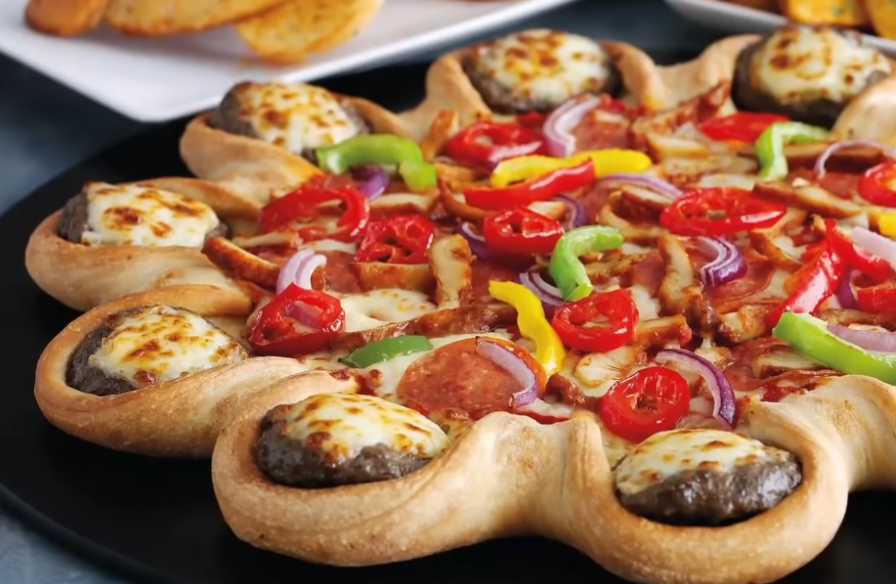 Bacon cheeseburger pizza, the name sounds strange, right? Well, you shouldn't worry about it. With this pizza, you'll enjoy flavors of bacon, cheeseburger, and a delicious crust that will definitely win your heart. 
The pizza is made with the usual dough ingredients, but the size of this pizza is totally unique. Have you ever seen a pizza in flower or fidget spinner shape? 
Not, then be ready; this pizza will leave you amazed. It comes in the shape of a fidget spinner, or we can say flower. In addition, it is topped with special sauces, bacon, and different types of cheeses. 
6. Veggies' Lover Deep Dish Pizza Crust (Seasonal)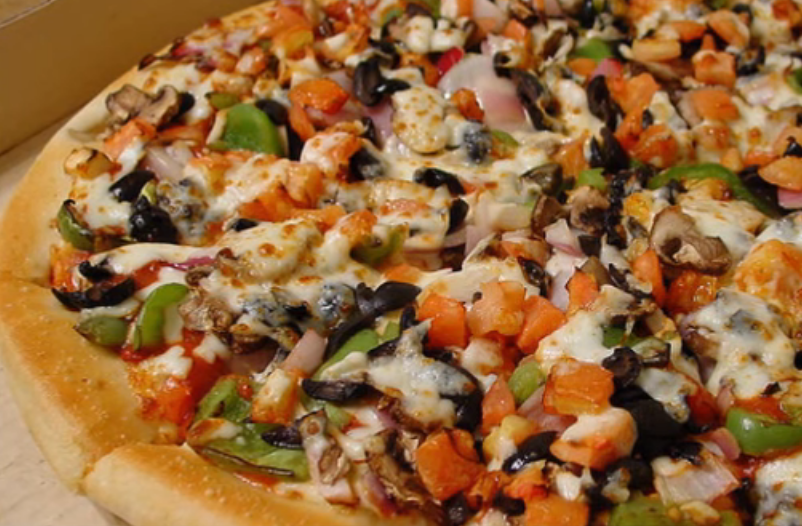 Not all of us like meat, and again it's a personal choice. That's why PIZZA HUT offers this amazing seasonal crust for you. 
It's a deep-dish crust that looks exactly like a small but deep dish from the outside. It's not thin, which makes it the perfect choice for people who like chewy and thick pizzas.
The pizza is topped with different things like sauces, pepperoni and cheese on the top and bottom (double layer of cheese). 
7. Holiday Special – Ham Supreme Stuffed Crust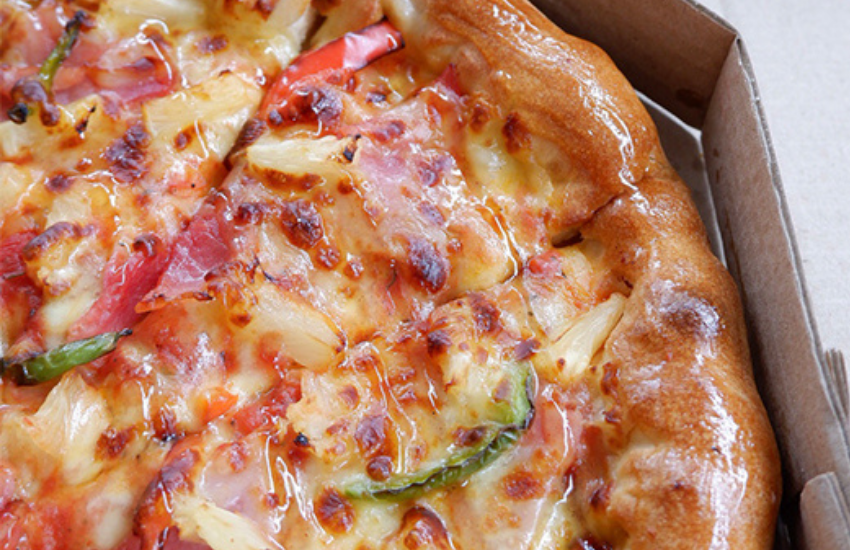 Holidays are important for all cultures. That's the reason why PIZZA HUT offers a special type of pizza crust, aka Holiday ham supreme stuffed crust, also known as special holiday crust on special occasions like Christmas. 
This crust is perfect for family pizza night and holiday parties to get into the festive spirit. First due to its amazing cheesy taste, second for its look. It's a thin pizza but with large edges. 
The topping of the pizza is green and red bell pepper and pineapple. Since it's a stuffed pizza, be ready for cheese burst edges that are also filled with ham chunks. 
8. Skinny Slice Crust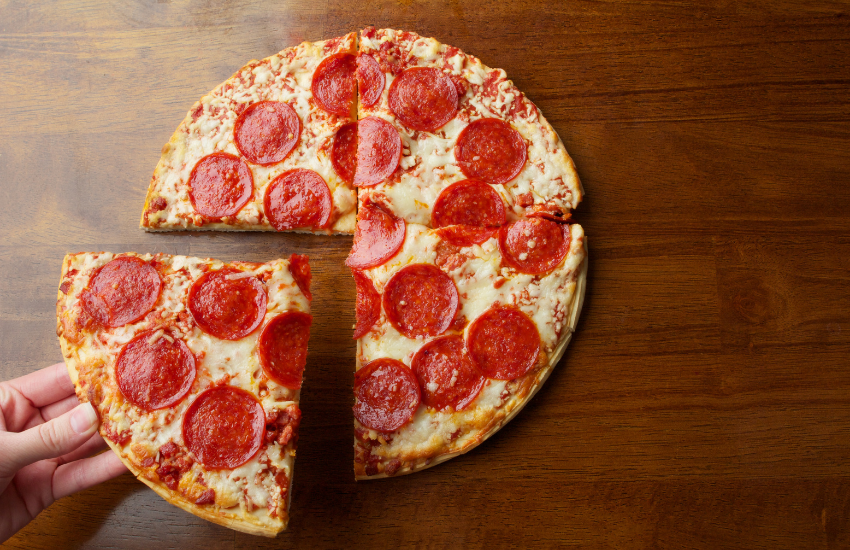 Skinny slice crust is a new version of pizza of PIZZA HUT. If you think that it's healthy because of any special or secret ingredients, you're wrong. The pizza is made exactly like any other pizza with the same ingredients. 
The only few differences are the crust is thinner, and the toppings are light. For instance, this isn't a cheesy pizza, so it's healthy. Due to these reasons, the skinny slice crust contains 210 calories, which is low in contrast to other PIZZA HUT pizzas. 
9. Cheesy Bite Crust Pizza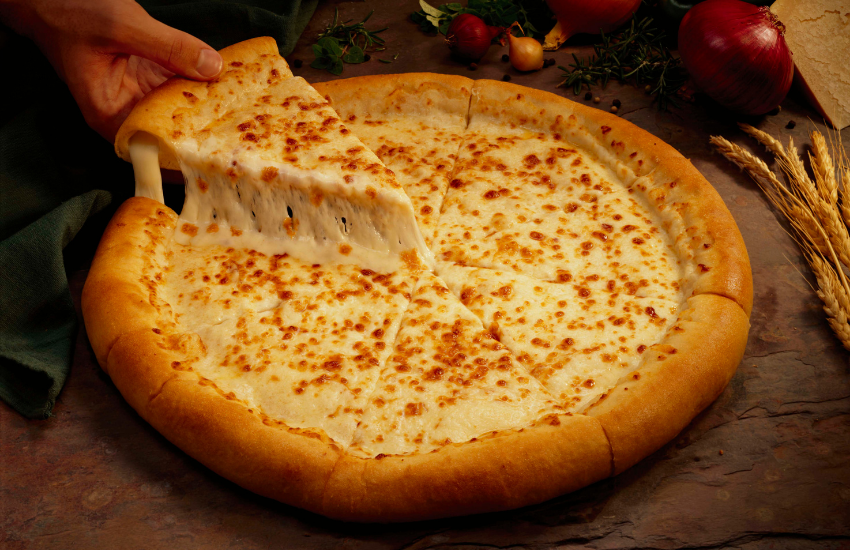 This cheesy crust pizza is a delicious treat for the one who loves the taste of melting cheese in every bite. One misunderstanding is people think the crust is chewy in texture. 
While that's not the case, it's not chewy nor too crispy like a thin crust. It's medium-way, topped with cheese and pepperoni. In short, cheesy bite crust pizza is fun to eat. 
10. Big New Yorker Pizza Crust
Big New Yorker pizza is one of the most popular and common styles of pizza throughout the United States. It was made in early 1900. Since then, it's been the favorite of countless pizza aficionados. 
Pizza Hut's pizza is a large pizza of 16 inches and is quite different due to the crust taste. Despite being thin, the crust is light (not sturdy), it's cheese and  flavourful, and easily foldable. It's why you have to fold its slice before a bite. 
Another best thing about this pizza crust is that it's perfect for spice lovers. It's topped with spicy red hot sauce, onion, cheese, and also with pepperoni. 
11. Pizza Hut Sicilian Style Hand Tossed Pizza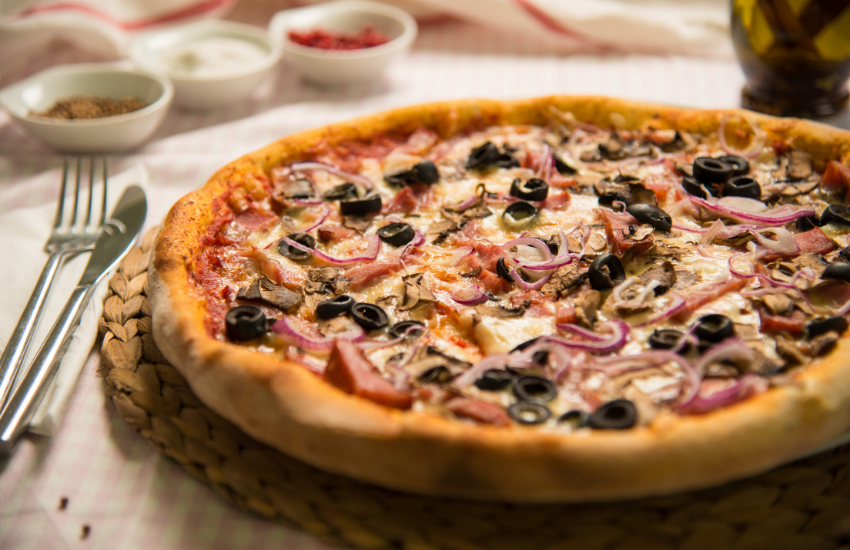 Sicilian-style pizza is a typical thick crust pizza. It's also known as "Sfincione," which means thick sponge in the Italian language. As the name suggests, it has a thick, chewier, and spongy crust. In addition, the crust is also fluffy because, at the time of making the dough, a hefty amount of water and oil (lard or butter) is used. 
In terms of size, the crust is more than a half-inch thick. The pizza is cooked in a rectangular pan instead of a circle; that's the most prominent difference. For the topping, PIZZA HUT uses Italian sausages, cheese, onion, and jalapenos that ensure a delicious taste. 
12. Italian 4 Cheese Pizza Crust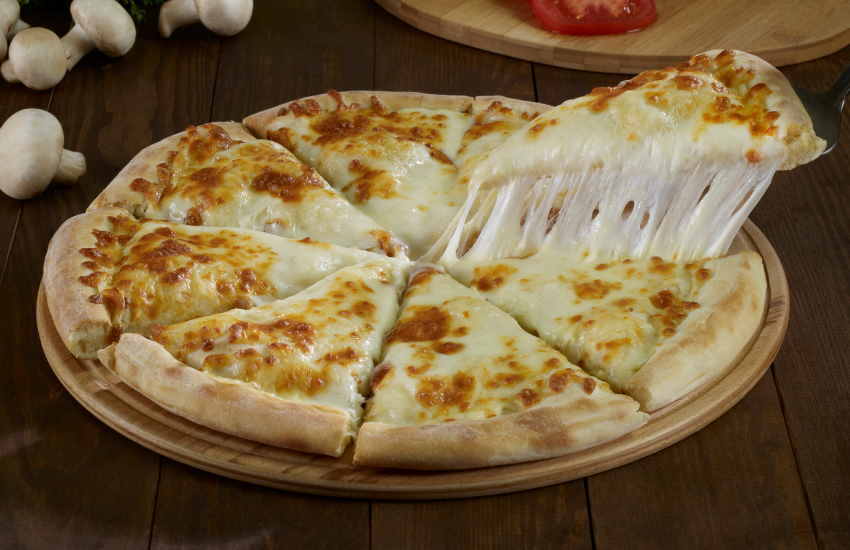 Everyone wants to try different things, and for these people, PIZZA HUT introduces the Italian four-cheese crust. The specialty of this pizza crust is it's topped with a combination of four cheeses that gives a unique cheesy flavor. 
13. Pizza Hut Spicy Chicken Sausage Crust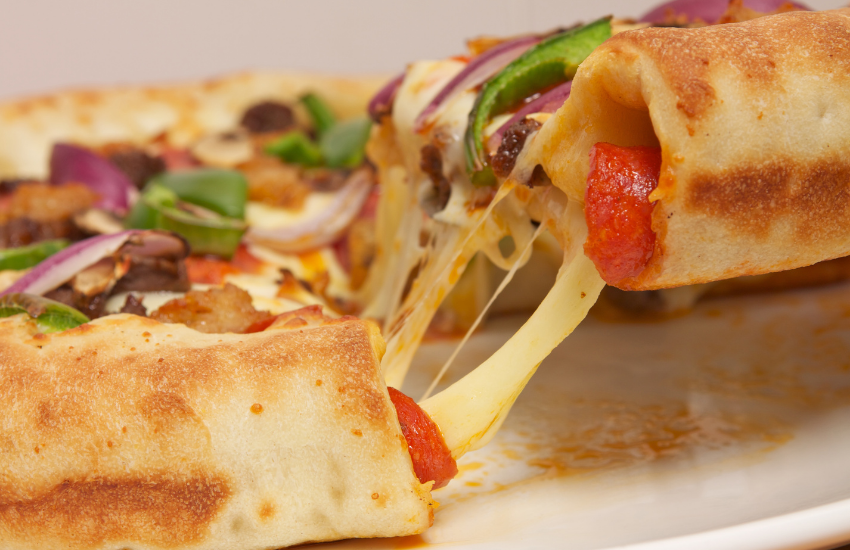 Chicken masala sausage crust is the ideal choice for middle eastern people. It's one of the best, spiciest options PIZZA HUT offers. In terms of taste, it's crispy (not too much) and spicy due to its toppings which are chicken pieces, onion, sauces, cheese, and jalapenos. 
FAQs about PIZZA HUT Crust Types 
What are the different crusts of PIZZA HUT?
Pizza crust has various types. Some are famous worldwide while some are in specific areas. Here are the names of their main types of crusts. 
Original Stuffed crust. 
Pan pizza crust. 
Hand-tossed pizza crust. 
Pan pizza crust. 
 Which is better: thin or thick crust?
It totally depends on you and your choices. If you love crunchy bases of pizzas that can't be foldable (not all thin pizzas are unfoldable), then go with the thin pizzas. At the same time, a person who loves thick, light, crispy but soft crust rather than thick crust is better for you. Again it depends on what you want to eat. 
Why do people prefer thin crust pizza?
Health always matters, and it's the first concern of everyone. This is the main reason why people prefer thin crust pizza rather than thick pizza. 
Thin pizzas are crunchy and flavourful with low calories and carbohydrates. In comparison, thick pizza contains high calories, sodium fat, etc., so they are not a healthy option.  
What makes pizza crust thin vs. thick?
The main thing that makes the crust thin or thick is the style of making the dough. You might notice that most of the ingredients of the dough are the same, but the difference is in quantity and procedure. 
For instance, if you want to make pan crust pizza, then you need to knead the dough until it's a tad stiffer. At the same time, some pizza crusts need a soft dough, so we used ingredients and kneaded it accordingly. That's what makes pizza crusts thin vs. thick. 
Is hand-tossed thicker crust?
The crust of the hand-tossed pizza isn't too thick or too thin. It's a medium-sized pizza that's light, crunchy, and fluffy. 
We hand-tossed the pizza in the air to make this ideal crust, so the dough comes into the perfect shape. This hand-rolled method creates an air pocket in the dough, ensuring that the pizza is not too thick in the oven.
What is a pan pizza?
Pan pizza is the first type of pizza, it originated in 1950, and since then, people have been in love with this flavor and crust. It was made in the cast iron skillet or pan, called pan pizza. In terms of looks, it has a thick crust that's soft from the inside and crunchy from the outside. 
What is the difference between deep dish and thin crust Pizza Hut?
The main difference between deep and thin-crust pizza is that the deep dish crust is thick, and the other has a thin crust. The deep-dish pizza crust is sturdy and chewy due to its thickness, while the thin crust is not. The thin crust is lighter and has a crunchy base. 
Conclusion 
We hope you've enjoyed our guide about the "Pizza Hut's crust types." Remember that we've not discussed all types of pizza crust here. We just discussed the tip of the iceberg. However, if you want to know about particular types, then please tell us in the comment section. We'll try our best to assist you in our next guide. 
Till then, Good Luck, all Pizzaiolos!
mama-cucina.com is a participant in the Amazon Associate program and will earn from qualifying purchases.