Are you ready to learn how to make delicious homemade pizza using the Big Green Egg? 
In this interactive guide, we'll cover everything you need to know about making pizza on the Big Green Egg. We'll walk you through the entire process, from choosing the right dough to selecting your toppings and cooking your pizza to perfection.
Additionally, we'll share effective tips and tricks to help you achieve the perfect pizza every time and also answer questions you may have about making pizza on Big Green Egg.
So, let's get started! 
Are you ready to fire up the Big Green Egg and make some delicious pizza?
1. Setting Up the Big Green Egg Right Way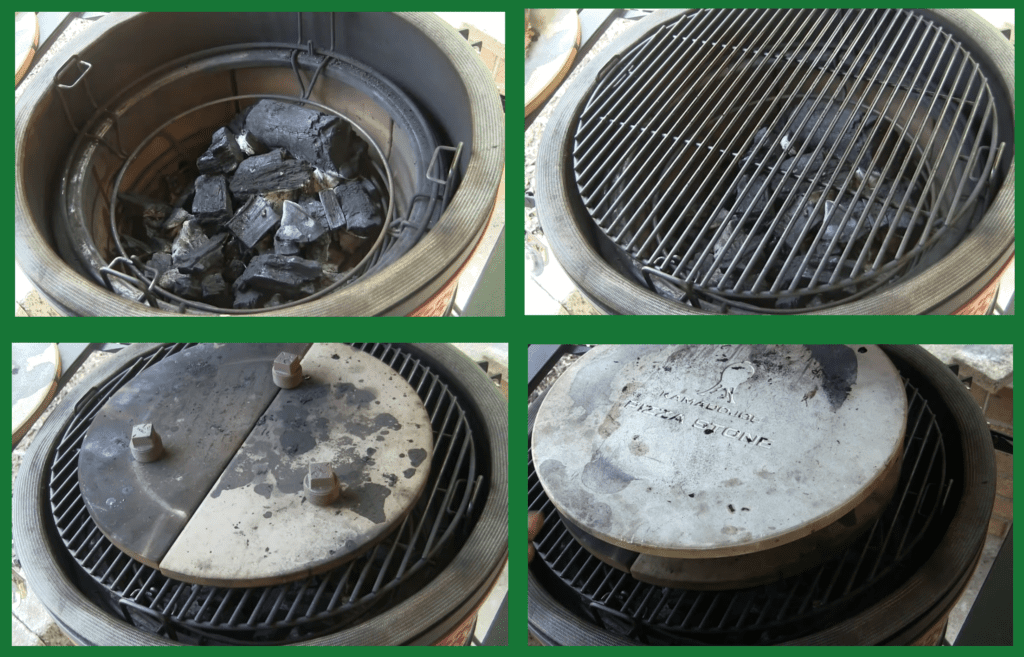 Do you want to know what makes restaurant pizzas so crispy and perfect? The secret lies in their indirect cooking method. The Big Green Egg is a versatile and popular ceramic cooker used for grilling, smoking, and baking. 
It works by placing a barrier, such as a pizza stone or a drip pan, between the direct heat and the food as it creates a convection oven-like environment. This allows the heat to circulate evenly, resulting in a perfectly cooked pizza with a crispy crust and melted cheese. 
Setting the big green egg up for indirect cooking is easy and can be done in a few steps. Let's see how you can set up your BGE to make restaurant-quality pizzas at home!
Use Big Green Egg ConvEGGtor 
The convEGGtor is a part of the BGE kit. While many users find it to be an indispensable tool for cooking, The Big Green Egg ConvEGGtor is an optional accessory. 
It's a stainless steel accessory designed to be used with the Big Green Egg grill, a popular brand of ceramic kamado-style grills. 
The ConvEGGtor allows for indirect cooking by creating a convection cooking environment in the grill, which can cause more even cooking and increased temperature control.
The convEGGtor has a basket where you can put your cooking grid. 
Putting up the Baking Stone
The baking stone goes on top of the grid. You can put it in place by either placing it directly over your grid or putting it a little higher. 
You can do this by using the top part of the expander kit. Another way is to ball up some aluminum foil and stick it under the baking stone to raise it. Bricks also come in handy if you want your stone to sit higher in the dome.
For deep-dish pizzas, you can use a deep-dish pan on the baking stone and put it directly on the grill to make pizzas and casseroles. 
2. Preheating the Big Green Grill 
Preheating is an important step in cooking pizza. To preheat your Big Green Egg, fill it with organic charcoal and light it using the ignition pads. Next, open the front draft of the dome and base for about 20 minutes to let the charcoal heat up. 
Close the lid and set the temperature to 572°F (300°C) by fitting the cast iron top valve. Wait for an additional 5 minutes before placing the convEGGtor and flat baking stone inside the Big Green Egg. Close the lid and let the pizza plate heat up for another 20 minutes.
To increase the temperature, open the double-function iron valve and front draft. Place the ConvEGGtor with legs up or legs down, depending on the desired temperature and thickness of the pizza crust. 
3. Cooking your Pizza Carefully On The Big Green Egg 
To cook your pizza, you can follow your favorite recipe and add your desired ingredients. The possibilities are endless when making a pizza on the BGE! 
After preparing your dough and adding the sauce and toppings, simply slide your pizza onto the BGE by giving the pizza peel a little wiggle. Shut the lid on the big green egg and let the pizza settle. 
Let it cook for about 4-5 minutes or until the crust has bubbled up. Then start checking how done it is. You don't need to rotate the pizza in a BGE, as it already provides an even distribution of heat. You can let your pizza cook for a few more minutes to ensure the crust is golden and crispy.
Pull the pizza out and let it cool for a couple of minutes. Cut the pizza into slices and enjoy!
Bonus Tips & Tricks for Cooking Pizza on a Big Green Egg
Cooking pizza on a Big Green Egg is an art that requires some tips and tricks to master. Whether you're a seasoned pizza chef or just starting out, you'll find these tips full of useful information to help you get the most out of your Big Green Egg. 
Here are all the great tips and tricks that you can use the next time you're using a big green egg to make the perfect pizza!
Pat dry wet ingredients using a paper towel.
Since the pizza stone temperature in Big Green Egg is lower than the pizza stone in your wood or gas ovens, you can't overload pizza dough with many wet ingredients. If you want to use a few more veggies like tomatoes or cheese slices, it's a good idea to pat dry them using a paper towel. 
Preheat the baking stone.
Preheat the baking stone before placing the pizza on it. This ensures an evenly cooked and burn-free crust. 
Balance your pizza crust and toppings.
Ensure the right balance between the thickness of the crust and the toppings. A thin crust requires fewer toppings compared to a thick crust. 
If you're using a ConvEGGtor basket, the baking stone will sit higher in the green egg. It'll reduce the risk of burning as more radiant heat from the ceramic dome is used, which is more intense as the pizza is closer to the heat source.
Maintain the Temperature
Make sure that you're maintaining a temperature of between 527-572°F (275-300°C) while baking the pizza. For thin-crust pizzas, use a higher temperature for a shorter cooking time, while for thick-crust pizzas, use a lower temperature. 
Use a Pizza Peel 
A pizza peel is helpful for handling pizza when cooking on a BGE. It helps to transfer the pizza to and from a hot surface, such as a pizza stone or griddle. 
When making pizza on a Big Green Egg (or any other type of grill or oven), using a pizza peel can help to position the pizza properly. Likewise, it also helps remove pizza safely without burning or damaging it. 
Give a try to cornmeal for cooking a perfect pizza! 
When it comes to making pizza, cornmeal plays a vital role. It's the key to smoothly transferring the pizza from the pizza peel to the stone. To avoid your pizza from sticking to the surface, sprinkle a generous amount of cornmeal on your peel or any surface you use. This method will help you place the pizza perfectly on the pizza stone. 
Use a Pizza Screen 
Like cornmeal, a pizza screen is another tool you can use if you want to avoid a sticky situation. 
A pizza screen is a circular, mesh-like tray made of metal or aluminum used in pizza making. The primary purpose of using a pizza screen is to allow air to circulate around the pizza while it cooks, ensuring that the crust cooks evenly without becoming soggy.
Additionally, using a pizza screen allows you to easily move your pizza in and out of the Big Green Egg, as the screen can be easily lifted with a pizza peel. It's especially helpful when cooking multiple pizzas at once, as it allows you to quickly and easily move pizzas in and out of the oven.
Overall, using a pizza screen is a great option for making pizza on the Big Green Egg.
Simply place the finished pizza on the screen, and then transfer it onto the baking stone using the screen. 
Once the pizza is fully cooked, the screen makes it effortless to remove it from the stone. It ensures a perfectly intact crust every time!
Using a Baking Stone and ConvEGGtor 
The Big Green Egg uses indirect heat to get the pizza stone hot by using either a baking stone or the ConvEGGtor. These options provide a ceramic layer that houses the pizza stone and directs heat towards it, ensuring it is ready for pizza making. 
The ConvEGGtor and baking stone also protect the pizza from the intense heat of the coals below, resulting in evenly cooked and perfectly melted pizzas every time.
Here is the order of how you should set your pizza stone in Big Green Egg:
Place a ConvEGGtor 
Place grill grate on ConvEGGtor
Place 2 pizza stones
OR
Place the heat deflector plate
Place grill grate over it
Set 2 pizza stones
OR if you don't have a heat deflector plate
Place the grill grate
Place 2 pizza stones on it by creating a gap between both of these by using a few nuts or small brick pieces to ensure conduction.
Use Charcoal moderately
It's a misconception that you don't have to use too much charcoal while making a pizza on a BGE. In fact, putting in a lot of charcoal is useful as it'll help you cook for hours before running out of charcoal and tearing the entire BGE apart to add more charcoal. 
You can use your favorite wood chunks for extra flavor.
Who doesn't love pizzas from wood-fired pizza ovens? Wood chunks of different flavors in grilling because it adds a unique taste and aroma to your pizza by smoking the toppings, especially. 
Here's how you can use wood chunks in your Big Green Egg:
Soak the wood chunks in water for at least 30 minutes before use. This will help them to smolder instead of burn up quickly.
Throw a few wood chunks into your Big Green Egg when the charcoal has fully lighted. 
Burp the Egg
"Burping" is a process that refers to the opening of the grill's air vents to release any built-up pressure. It prevents safety hazards while opening the Big Green Egg. 
Burping is necessary because the BGE is designed to be airtight, which helps to regulate temperature and maintain consistent cooking conditions. However, if there is too much pressure inside the grill, it can affect the cooking temperature and potentially cause food to cook unevenly. 
Regularly burping the Big Green Egg throughout the cooking process can also be useful in maintaining consistent temperature and ensuring that your food cooks evenly.
Pizza Parchment Paper
Parchment paper can be a lifesaver when making pizza on a Big Green Egg. Placing the dough on a piece of parchment paper before cooking can prevent the dough from sticking to the peel or the stone. 
Having trouble with a sticky crust? 
Try using parchment paper for a no-fuss pizza-making experience. Simply place the parchment paper with the pizza on top of the pizza stone and let it cook. You can keep the parchment paper for the entire cooking time or remove it halfway through once the dough is firm. 
Don't check your pizza too early.
Opening the Big Green Egg lid causes heat loss, right? So what about your pizza?
When you cook pizza in Big Green Egg, your pizza already gets less heat as compared with pizza ovens. So, give some time to cook and check our pizza after 4-5 minutes.
As the heat source is under the pizza, not at a side, you also don't need to rotate your pizza. Just be patient and vigilant!
Don't make large pizzas on BGEgg.
Your pizzas need perfect conduction heat to cook on BGEgg. A small pizza will get more heat than a large 14-inch pizza–small pizza will also be easier to throw on the pizza stone. So, please go for the small or medium pizzas, especially when you're cooking pizza for the first time on your Big Green Egg.
Use the Right Temperature 
Temperature is a vital factor when making pizza on a Big Green Egg. The ideal temperature depends on several factors, including the hydration level of the dough, the pizza style, toppings, and the amount of sugar it contains. 
Higher hydration dough can tolerate higher temperatures, while more sugar in the dough increases the risk of burning.
While you can go as high as you want, keeping grill temperatures under 600°F to prevent any safety hazards and preserve the Big Green Egg's gasket longer is best. 
The right temperature also depends on the thickness of the dough and the number of pizzas you're making. A balanced temperature will result in a perfectly cooked pizza. 
In conclusion, finding the right cooking temperature requires considering the type of dough you're using and its specific requirements. And for authentic Neapolitan pizza, your pizza stone must record at least 450F. 
Cleaning the Big Green Egg
Cleaning your BGE is a crucial step to ensure its longevity and maintain its performance. It's recommended that you clean it out after every 3-4 uses. The first step is to let the Egg cool completely after cooking to avoid cracks and damage to the ceramic.
Next, empty the ash pan and wash it with soap and water. To clean the exterior of the Egg, use a damp cloth. If there are any grease stains, you can use a solution of warm water and vinegar to remove them. Lastly, clean the gasket with a damp cloth and store the egg in a dry area. 
FAQs
What are the different kinds of pizzas that I can make on a Big Green Egg? 
The Big Green Egg is a versatile oven that can accommodate various pizza styles, from classic Neapolitan to the hearty Chicago style and the famous New York-style pizza. The possibilities are endless, so feel free to experiment and find your favorite!
How long do I need to cook my pizza on the green egg?
It takes 8-10 minutes to cook pizza using a BGE. To achieve a perfectly cooked pizza on the Big Green Egg, you'll need to ensure you have the right equipment. Start by dusting your aluminum pizza peel with flour. Then, use the peel to transfer the pizza to the baking stone. 
Once the pizza is in place, close the lid of the Big Green Egg and let it cook for around 8 to 10 minutes, or until the crust is crispy and the cheese is melted to your liking. Enjoy a yummy pizza! 
Should I use a Big Green Pizza Kit or Pizza Wedges?
No, you need not use the pizza kit by Big Green Egg at all. The kit has wedges that create an oven-like opening to allow you to manipulate pizza on the pizzas stone. 
But simultaneously, they cause heat loss through this "door." Your Big Green Egg already produces less heat than any gas or wood-fired pizza oven.
So, it's better to invest in other accessories that could help you cook pizza on BGEgg, like an infrared pizza oven thermometer, pizza peel, pizza screen, or heat deflector plate, than wasting $$ on this kit.
Conclusion
Making pizza on a Big Green Egg is a fantastic and delicious way to enjoy your favorite dish. By following our guide, you will master the art of pizza making on a Big Green Egg in no time.
Do you want to achieve a delicious, crispy crust and mouth-watering pizza in the comfort of your backyard?
Fire up your Big Green Egg and create a mouth-watering pizza today!
Remember, the main focus should be on having a good time!
mama-cucina.com is a participant in the Amazon Associate program and will earn from qualifying purchases.