Pizza parties are fun, saucy, and a perfect way to get together and chill with the slices of pizza. 
If you're going to throw the pizza party, you want everything to be perfect. Whether hosting your colleagues with pizzas or throwing a casual event for friends and family, things can become overwhelming if you don't know where to start.
If you can relate to this, worry no more; you've landed in the right place. Put on your party hat and grab a pen and paper because we're about to dish out some incredible pizza party tips that will have your guests raving about your hosting skills for years.
Without wasting a minute, let's get into it!
Pro Tips for Planning a Pizza Party
The perfect execution of a perfect party starts with perfect planning. Decide on the guest list, time, location, and venue for the party. 
List the Guests.
Know the number of adults and kids attending the event. An adult has an appetite for 3 to 4 slices of pizza. Kids typically consume less food than adults, so knowing the number of kids on the guest list can help you adjust the amount of pizza you'll need for the party,
Plan your budget.
This is your time to impress everyone with your generosity and hospitality while ensuring you stay within your budget. You can skip the decor part if you're on a low budget. Keep the venue simple yet clean. 
Decide the Venue
If you think your backyard is spacious enough, that's good. Otherwise, booking a venue that can easily accommodate everyone attending the party is best. 
Plan the menu and pizza sides.
Yes, we know it's a pizza party, but having some other snacks or a dessert won't hurt if that fits your budget.  
Decorations
Decorate the venue according to the event attendees. If you're hosting a kid's event, arrange fun games and create a colorful set. Go for neutral decor if it's a formal event. A pink theme would be great for girls to get together.
Planning can help you stay organized and ensure that everything goes smoothly. 
6 Bomb Tips for Throwing the Best Pizza Party with Homemade Pizzas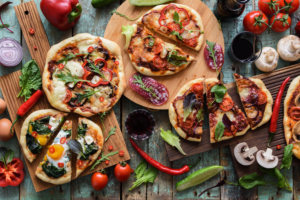 Let's dive into some incredibly helpful tips you need for the upcoming pizza party that makes the guest happy.
1. Choose the right ingredients.
The ingredients can affect the final result, so arrange fresh and high-quality ingredients for your pizza party.
Start with homemade dough. You can get the frozen dough as well if you want. For cheese, go with the classic options like mozzarella and cheddar cheese (they're cost-effective). 
Adding fresh herbs and spices such as red pepper flakes and oregano can add a lot of flavor to your pizza. You can also include a variety of vegetables and sauces, as everyone has different tastes and preferences. Besides classic ones like pepperoni and mushrooms, try using chicken, prosciutto, or fruit like figs or pineapple.
For the sauce, use canned ones, or be creative and make your own at home by blending some tomatoes with olive oil, garlic, and your favorite spices.
2. Make the pizza dough a day before the party.
Making your dough is not only budget-friendly but also a fun and rewarding activity. After planning the party, the best tip I can give you is to make the pizza dough a day ahead of the party. Thus, you'll get sufficient time to let your pizza dough rise. 
Prepare a variety of doughs, such as Neapolitan, whole wheat, gluten-free, cauliflower crust, and sourdough, to serve people with different dietary requirements. 
3. Cut and chop the vegetables for toppings.
Cut and chop the vegetables before the guest arrives at the party. Thus, you'll have more time to socialize with your guests and enjoy the party without worrying about chopping vegetables.
Vegetables, like bell peppers, onions, and mushrooms, can be chopped and stored in the refrigerator for several hours without losing their freshness.
This step lets you throw everything together and bake fresh pizza for the party when the guest arrives. 
4. Set up for baking 
You'll probably use a stone oven if it's an outdoor party. Getting a good quality pizza stone is a foolproof way to make restaurant-quality pizzas at home. 
Don't forget to bake your electric oven at 500 F for 30 minutes when you use a pizza stone. Once reheated, the stone will retain the heat, and you can throw one pie after another. With the help of a preheated stone oven, you can cook one pizza in 8 to 10 minutes.
If baking indoors, keep your AC on or open all the windows as it gets hot quickly. Get your hands on rectangular pizza stones, rimless sheets, or parchment papers to add pizza to the oven with less effort. 
5. Choose a quick and easy recipe.
Please don't go to the search engine to find the secret recipes to make one of its kind pizza no one ever had imagined. Instead, stick to a basic and simple way! Choose some thin-crust, quick-to-bake pizza.
As a host, you'll also have guests to attend to, so using a quick and easy recipe for making homemade pizza is essential. You don't want to spend the entire party making pizza and miss out on enjoying the occasion.
Or this purpose, no pizza can be better than authentic Neapolitan pizza. If you own a gas or wood-fired pizza oven, you can bake dozen of pizzas in an hour. Thus, it'll be economical as well. 
6. Set up a pizza bar.
Put the worry aside and let the guest involve making the party more memorable. Setting a pizza bar will allow you to have a fun and interactive party with your friends and family. 
To do so:
Use a long table or surface area to arrange the pizza station. 
Prepare all ingredients before your guest arrives. 
Chop the vegetables, shred the cheese, and cook any chicken. 
Place everything in separate bowls or plates and add labels so your guest can easily access them. 
Set pizza cutters, plates, and baking or parchment sheets on the table ready to grab so your guest can pick and use that to customize their pizza and slide them into the oven. Make sure you've got enough room for everyone to work comfortably.
Arrange the meat option (pepperoni, sausage, chicken, or shrimp) in the first row. Set vegetables (bell peppers, mushrooms, onions, tomatoes, olives, or capsicum) in the second row. 
Finally, add some cheeses, herbs, and spices in a separate line. 
If you can afford it, hire a chef for the cooking, or you can assign the duty to a friend who is an expert in baking. The person in charge can set the oven temperature right and ensure no pies get burned or remain undercooked. 
7. Decorate your pizza party venue. 
Along with the food, it's vital that you set the atmosphere and decoration for the party to be fun and exciting. 
Use pizza-themed tableware, including paper plates, napkins, cups, and tablecloths. Match the color of balloons with pizza toppings like red, green, white, and orange. You can create a photo booth with funny and DIY arrows and shapes for kids. Besides this, you can also consider incorporating Italian-themed decorations such as Italian flags, red and white checkered tablecloths, and posters of iconic Italian landmarks.
Put together some "Pizza" spelling balloons with matching garlands. These balloons can add a fun touch to your decorations. Or do some DIY and cut buntings in a pizza slice shape. Hang them at the entrance or around the photo booth. 
Use the pizza boxes as serving platters for snacks. In addition, you can prepare some pizza-themed party favors for adults or goody bags for kids containing stickers, pizza cutters, oven mitts, candles, or recipe cards.
Create a warm and cozy ambiance by using string lights, candles, or even colorful LED lights to add a pop of color.
Set the mood with some Italian-inspired music, or create a playlist of upbeat songs to get your guests in the party spirit.
These are just suggestions. You can choose what is doable for you and easy on your budget. The idea is to create a fun and interactive atmosphere.
8. Plan games and fun activities.
To make the party an interactive and memorable event, arrange some games and fun activities, such as: 
Pizza box relay
Blindfold pizza taste test
Pizza-making contests
Movie night
Or you can create interesting pizza trivia rounds with questions like "what is the most popular pizza topping in the world?" or "what is the origin of pizza?" The guest with the correct answers wins a prize.
Arrange some cute little gifts for the winners or send them home with some extra pizza as a compliment. 
Pizza Party Tips when Ordering Pizza from a Restaurant or Pizzeria
You might want to order pizza for the guests instead of going from the hassle of making it at home. Even when you've to order pizza for the party, you need a perfect plan in place for the smooth execution of a perfect pizza party. 
Choose the right pizzeria.
The most important thing is to check and find a good pizzeria. The most famous pizza places, including Pizza Hut, Domino, and Little Caesars, are everyone's favorite pizza places. However, if you want to go budget-friendly, then look for local pizza providers in your area. 
Whichever pizzeria you choose, it's important to contact them at least 24 hours before the party. Search a bit on the internet and note down the review for hot-selling deals that are cheap but delicious. 
Check out the pizza types.
Pizza is an Italian dish, but you can find a different variety worldwide. To make your party extra special, mix, match, and order some of the most popular types of pizza. You've got a large variety to choose from, including; 
New York Pizza
Chicago Style
Margherita Pizza
BBQ Chicken Pizza
Hawaiian Pizza
Cheese Pizza
Italian Pizza.
Neapolitan Pizza.
California Pizza.
Sicilian Pizza.
Greek Pizza
Order the right number of pizzas.
When estimating how much pizza to order for a group of adults, it's safe to assume one person can eat 3 to 4 slices depending on their hunger level. Kids eat less, so a general rule of thumb is to estimate 2 slices per kid and 3 slices per adult. 
Use this formula:
Number of Pizzas = (Number of Guests x Slices per Guest) / Slices per Pizza
For example, let's say you're having a party with 10 guests, and each guest is expected to eat 3 slices of pizza. If you're ordering medium pizzas with 8 slices each, the calculation would be:
Number of Pizzas = (10 guests x 3 slices per guest) / 8 slices per pizza = 3.75 pizzas
You can order 4 medium pizzas for a group of 10 people. However, if you're serving other food along with pizza, you can reduce the pizza you need for the party. 
Delivery and setup
If the pizzeria is close to the venue of the party, then pick up the delivery yourself to save the delivery charges. However, if you're busy making other arrangements, you can choose the delivery option. 
Just make sure to speak to the provider at least a day before and confirm the day and timing of the party. 
FAQs
What should I serve at a pizza party?
The pizza is the star of the pizza party, but you must add some complimentary side dishes or snacks for your guest. You can choose any appetizers, such as garlic bread, bruschetta, salad, antipasto platters, or mini pizzas.
Instead of an appetizer, you can go with snacks like French fries, chicken rolls, onion rings, caesar salad, or mozzarella sticks.
Add a bunch of different kinds of drinks, such as soft drinks, soda, iced tea, or juice.
When you think that is enough, remember there is always room for dessert. Arrange a sweet corner and add anything from cookies, brownies, cinnamon, cupcakes, and tiramisu.
What toppings can you put on pizza?
When it comes to pizza toppings, you've got a large and unlimited variety. Here are some classic options for you to choose from: 
Pepperoni
Mushrooms
Sausage
Onions
Bell peppers
Olives
Pineapple
Ham
Bacon
Spinach
Tomatoes
Jalapeños
Chicken
Feta cheese
Goat cheese
Artichokes
Sun-dried tomatoes
Anchovies
Ricotta cheese
Roasted garlic
How much pizza should I order for a pizza party?
The answer depends on the number of guests, their appetite, and other food served at the party. You can use a simple formula to calculate the perfect amount you need for your guest. 
Multiply the number of guests with slices per person eats and then divide it by the number of slices in one pizza. 
Should I order from a local pizzeria or make the pizzas myself?
If you believe in your cooking skills and can handle baking multiple pizzas without any mishaps, then why not? However, ordering from the local pizzeria saves you time, and there is enough pizza for your guests to enjoy and have fun. 
Conclusion 
Whether you choose homemade pizza or order from the pizzeria, the purpose of the pizza party is to bring friends and family together and have a fun and memorable day. 
Arrange a variety of toppings and crust options so everyone can enjoy them. However, keep in mind the dietary restrictions of your guest. There is nothing wrong with serving other side snacks at the pizza party; it only gives your guest more options. 
Don't forget to plan games or activities to make the occasion memorable. 
With little planning and some creativity, you can throw a successful pizza party. We hope these tips come in handy for you. For more information, read this article "How many pizzas do you need for the party?" 
mama-cucina.com is a participant in the Amazon Associate program and will earn from qualifying purchases.