Are you wondering about "what is the difference between pizza sauce vs spaghetti sauce?" Or questions worry you like :
Can just the pizza sauce be used to make both the food items?
Can you transform pizza sauce into spaghetti sauce?
What is the difference between pizza sauce vs pasta sauce?
MEH…. finding a perfect answer is truly hard! The reason is that you find many people making a compression between pizza and spaghetti sauce only using customized recipes.
The truth is, to define a boundary between these two, you must differentiate between authentic, local Italian recipes.
It'll be relaxing to know that this article discusses authentic pizza sauce Vs. authentic spaghetti sauce. Thus, you'll go with a clear head and make your spaghetti or pizza sauce as authentic as Italian grandmas do.
Ready to dive into the differences? Here you go!
Pizza Sauce Vs. Spaghetti Sauce – the Key Differences
Pizzas and spaghetti are the things we can't stop loving. Can you? For sure, not. 
Not just mine or yours, but pizza and spaghetti are the mutual love of the majority of the food lovers. That's why we keep giving both of them a try at home. 
But when it comes to both sauces, most people get confused. Here are a few clear differences between both.
The preparation Method is Different — Cooked and Uncooked
The preparation method makes a clear-cut boundary between the two.
For sure, both are tomato-based sauces, but pizza sauce is an uncooked tomato sauce that is directly spread on the pizza dough and cooks with the toppings in the pizza oven. 
While on the other hand, the spaghetti sauce is firstly cooked in a pan and then used with pasta to give a balanced taste. 
And if you think deeply, the preparation method of both the sauces does the justice to their particular dish. Didn't you get what we're talking about? 
While making a delicious pizza, the dough and the toppings are uncooked, and the cheese is also unheated. So spreading a cooked sauce won't go well as it will become overcooked after going into the oven. And it will also lose its freshness and taste. 
Thus, to retain a more flavourful and fresher taste, pizza sauce is left uncooked and only cooks once after going into the oven. 
And when it comes to the spaghetti sauce, the story is vice versa. 
Would you like to have an uncooked sauce loaded on the top of your spaghetti? Absolutely not!
Therefore, in this case, the cooked sauce suits best as the spaghetti or pasta is also boiled or cooked. So cooked pasta, when it comes with the cooked sauce, makes the perfect combo.
As a result, we can say that the preparation methods of both these sauces are worthy and apt for their dish. 
In short, the pizza sauce requires 1-5 mins preparation time, and spaghetti sauce can take ½ to 1 hour, depending on the quantity.
The Kind of Tomatoes Used is Different.
The tomatoes make a great difference between the pizza sauce and the pasta or spaghetti sauce. 
Pizza Sauce Tomatoes
Since pizza is already too acidic and loaded with a lot of carbs and proteins, acidic tomatoes can make your pizza more acidic. Here, only San Marzano makes the best choice, for they're less acidic. The reason is that San Marzano tomatoes have a PH of 4.2-4.5; in contrast, the PH of Roma tomatoes is higher by 4.6-4.7.
Pizza sauce has a smooth texture. This smooth texture is attained by using pureed tomatoes. Other than the pureed tomatoes, any other kind of tomatoes will fail to give you this texture and smoothness. And for this purpose, sweet, less acidic tomato sauce only comes through San Marzano tomatoes.  
Spaghetti Sauce Tomatoes
As for Speghattei sauce, you can use any tomatoes local to Italy. And Roma is the best. Yet, the San Marzano, Roma, Aish, Viva Italia, or other tomatoes can go fine. WHY? The spaghetti sauce preparation method advises you to eliminate the water released by the tomatoes. Thus, the acidity is reduced, in contrast to pizza sauce.
Spaghetti doesn't demand a smooth texture in its sauce when it's about consistency. But its sauce is more of a pulpy and chunky texture. That's why chopped, diced, or chunky tomatoes are preferred for making spaghetti sauce. The chunks of tomatoes, when rolled with the spaghetti, give your taste buds the best feel.
Seasoning is also Different.
What do you think about the seasoning? Do the pizza sauce and the spaghetti sauce share the same herbs, or do they differ on this point too? 
Let us tell you that both these sauces have different seasonings.
Seasonings of Pizza Sauce
Firstly, let's discuss pizza sauce. The pizza sauce isn't loaded with a lot of seasonings. 
It's a seasoned tomato sauce that keeps a little taste of salt, oregano, or basil. Salt adds a balance to the sweet taste of San Marzano tomatoes. While the basil works to liven up the flavor and oregano plays its role in leaving an earthy and sweet aroma in the sauce.
Seasonings of Spaghetti Sauce
Believe me or not, authentic Italian, Spaghetti sauce is stress-free: with fewer ingredients and seasoning combined with olive oil. BUT, it takes time to cook.
Spaghetti sauce doesn't copy the pizza sauce at all regarding the seasonings. You'll find basil or a few herbs and salt in this sauce. 
Other seasonings only depend on your personal choice. You can add chili flakes, spices, oregano, and parsley to leave a fresh flavor, while the balsamic vinegar brings a tangy flavor to the taste. 
Pizza Sauce Vs. Spaghetti Sauce – the Key Similarities
Knowing about pizza and spaghetti sauce, it's not surprising to get confused. The only reason is that the sauces share a few similarities.
Ingredients are Alike.
When it comes to the ingredients, the listing isn't lengthy. Below we've listed the ingredients from each:
Pizza Sauce Ingredients
For making the pizza sauce, you need to have:
Canned Tomatoes Puree
Salt
Basil
It won't go wrong if we say that pizza sauce is just pure tomatoes with a little addition of simple seasonings. The pizza sauce doesn't need to be complex and more flavored because the additional layer of cheese and the other toppings also have their taste to make the pizza delicious. 
Spaghetti Sauce Ingredients
Spaghetti sauce is also simple in terms of the ingredients. As it's served on the boiled spaghetti, it needs to be fully flavored in order to make the spaghetti relish. And that flavor primarily comes from:
Tomatoes
Salt
Basil
Salt
Extra Virgin Olive Oil
Italian Herbs (optional)
Sprinkled parmesan cheese
If the spaghetti sauce doesn't hold taste in it, it'll also not enhance the taste of spaghetti. Remember, these are only a few fresh ingredients that make the magic happen.
Water Content is not Different.
The pizza sauce has a higher concentration of tomato paste with less water content. The main reason behind this consistency is that the pizza dough can become soggy if you add pizza sauce with high water content. Plus, it won't hold the toppings added to it. 
Thus pizza sauce is made with less water content and more tomato paste. 
Like, the spaghetti sauce also features concentrated tomato paste with more water content. In simple words, it's also thicker.
How to Make Authentic Italian Pizza Sauce (Step by Step Guide)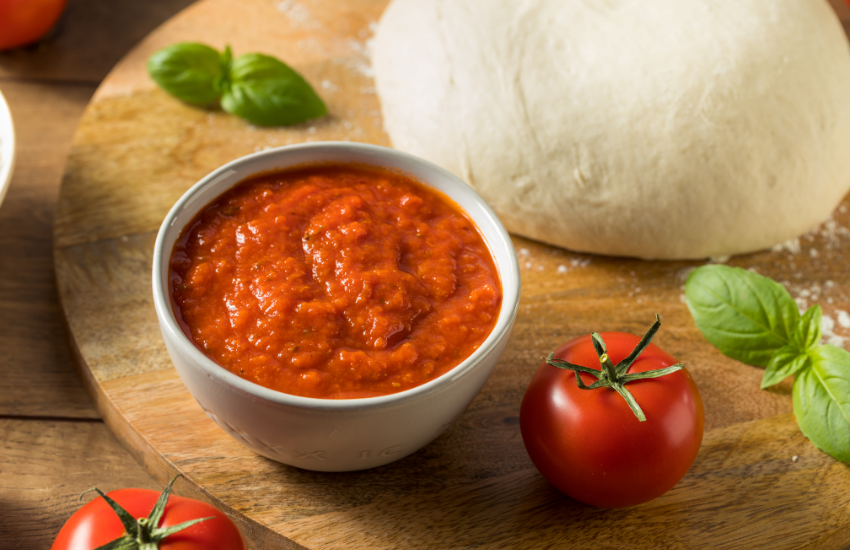 After coming through the differences between the two sauces, we want you to have a complete recipe for both sauces. If you don't have the pizza sauce, we don't want you to cancel your pizza-making plan. 
Ingredients  
1 Cane of tomatoes San Marzano 
1 teaspoon salt
Few basil leaves
Complete Method
Come with us and have a look at the detailed recipe. 
Put the tomatoes in the bowl and mash them with your hands (as originally done), or you can simply blend them.
Blend all the tomatoes to make a smooth paste. 
You can also leave it with a bit of chunky texture if you like a chunky pizza sauce.
 Next, add salt, and basil leaves and blend for a pulse. OR, mix them well if you're making the paste using your hands.
You can optionally add chili flakes if you want a spicy flavor.
Pour this sauce on the pizza crust, and make a layer of your favorite toppings, followed by a layer of cheese and a sprinkle of oregano. Your delicious cheesy pizza with simple, light, and best pizza sauce is ready to go into the oven.
An All-Inclusive Note to Make Authentic Spaghetti Sauce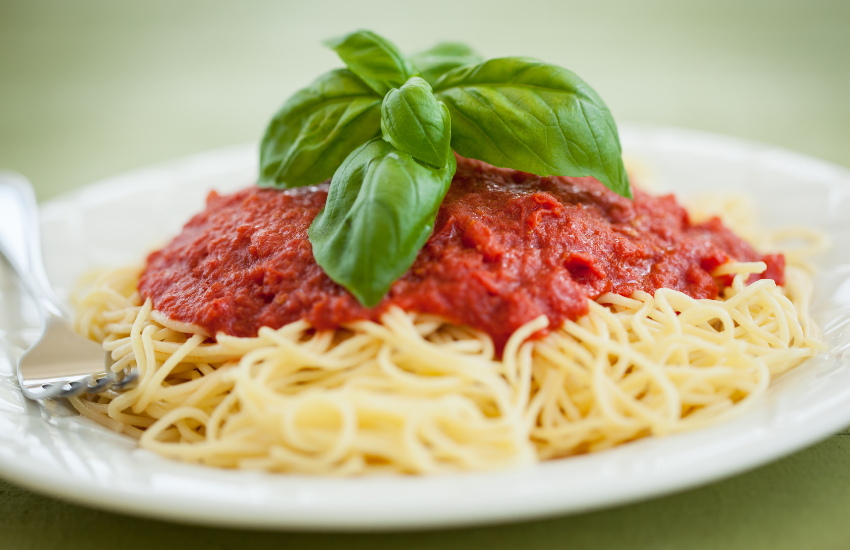 Before jumping into the detailed note on the recipe, you need to know the essentials required to make the spaghetti sauce. 
Ingredients
This listing includes the following ingredients,
1 kg fresh tomatoes
2 to 3 tablespoons olive oil
Salt (5 grams)
Basil leaves
Detailed Cooking Process
The first step of making the spaghetti sauce is the same as the pizza sauce. 
First, wash the Roma tomatoes, remove the green part, slice the tomato in half, squeeze it a bit and then remove the upper-middle hard yellow part from each tomato slice. Remember not to remove the seeds at this stage.
Let the tomatoes cook over medium heat to release all the acidity-loaded juices. It'll take about 30-40 minutes. 
Keep on stirring the tomatoes after every 5 minutes.
When you see significant water has come out of the tomatoes, turn the flame off.
Let the tomatoes cool. 
Put the tomatoes into a strainer to get rid of juices. 
Now you'll have only tomato pulp.
Start smashing it with your hand, and remove the peels and hard seeds.
Add salt to it.
Use a manual mincer to blend it by using a few pulses only.
The sauce is ready. Only add the salt and transfer the sauce into the jar.
In a jar, put a few freshest basil leaves in the jar and pour sauce over them. Put 1-2 tablespoons of extra virgin olive oil over the top and close the jar tightly.
NOTE: If you want to sterilize the sauce in the jar for later use, give it a boil for 15 minutes.
Add this sauce to your boiled spaghetti, garnish it with some freshly chopped basil leaves and enjoy. 
Below is the recipe for original spaghetti sauce as made in Italy. By watching the video, you can modify yours.
Spaghetti Sauce Can Also Contain Ground Beef or Pork 
If you're a real spaghetti lover and have tried various types of spaghetti, you might have also experienced the meaty spaghetti sauce. Have you? No?
You can also make this sauce by adding ground beef or pork before it starts simmering. 
Besides beef or pork, you can add Italian sausages or even a minced beef and pork mixture. 
Not a meat lover? You can opt for chopped mushrooms. Trust me; all these add-ins taste so good. 
Want a detailed recipe for the meaty spaghetti sauce? Let's come with us. 
What Do You Need to Have For this Recipe?
½ kg fresh tomatoes (chopped)
2 cup tomato puree
1 ½ cup tomato paste
1 medium-sized diced onion
2 tablespoon olive oil
1 tablespoon minced garlic
¼ cup diced green bell pepper
1 cup minced beef
1 cup minced pork
2 minced meat sausages
1 teaspoon brown sugar
Salt and pepper according to your taste
½ teaspoon dried oregano
½ teaspoon dried basil
Complete Recipe of Meaty Spaghetti Sauce
The ingredients for this recipe are the same with the addition of beef, pork, or sausages and some bell peppers.
You need first to dice a medium-sized onion.
Pour some olive oil into a deep cooking pot and add the diced onion with some diced bell peppers and minced garlic.
Add the minced beef, pork, and sausages to the pot and cook at low to medium flame for 10 minutes.
Add to freshly chopped tomatoes, followed by the tomato puree and tomato paste into the beef, pork, and sausages mixture.   
Throw some brown sugar, dried oregano, and dried basil.
Add salt and pepper according to the taste and let it simmer at a low flame.  
Ta-dah! Your spaghetti sauce with some chunks of meat and veggies is ready to go on the top of the boiled spaghetti. You're surely going to enjoy it. 
Can You Make Spaghetti Sauce from Pizza Sauce? Hell Yes!  
Here comes the most exciting part of the content you have been waiting for so long. 
What if you have spaghetti on your menu today, but you are out of spaghetti sauce and only have pizza sauce? 
Noo!
There's no need to change your menu. You can transform your pizza sauce into spaghetti sauce. Isn't it cool? 
Want to give us a pat on the back for this hack? Oh, why not! 😉
Let's come out of stress and follow these below-mentioned steps to get the perfect spaghetti sauce from the pizza sauce.
For this, empty your pizza sauce can into the pan and place it on the stove. Now add the spaghetti sauce seasonings, including chili flakes, sugar, red wine vinegar, etc. But make sure not to add the seasonings already present in the pizza sauce repeatedly. Otherwise, you'll make something else other than the spaghetti sauce and the pizza sauce. 
Let the sauce simmer at a low flame. The time of simmering depends upon the 
consistency you want. Therefore, manage the timings according to your requirements.
Can You Use Cooked Spaghetti Sauce to Substitute Pizza Sauce? 
The answer to the above question is "YES." Even though the preparation methods are different, you can use the spaghetti sauce alternatively, only in cases:
If you have acidic foods sensitivity like GERD, only use spaghetti sauce with San Marzano tomatoes.
OR
If you don't care about the acid content of your pasta sauce, you can use spaghetti sauce made using any kind of tomatoes.
HOWEVER, if it's a meaty spaghetti sauce, you can't even think of transforming spaghetti sauce into pizza sauce.
Not just the variation of preparation method, but you should also know that the ingredients in both the sauces are different. Yes, there are some common ingredients, but not all the spaghetti sauce ingredients can go over on the pizza dough.
Pizza Sauce Vs. Spaghetti Sauce — Key TakeAways
Pizza sauce must only use San Marzano tomatoes to control acidity level, yet for spaghetti sauce, you can use any tomatoes.
In pizza sauce you use pureed canned tomatoes. Yet, for the spaghetti sauce you need fresh tomatoes.
Pizza sauce requires less preparation time than spaghetti sauce; that might need up to 1 hour.
The ingredients are almost the same.
Water content is almost the same.
Authentic pizza sauce and spaghetti sauce both share the same texture: chunky, not all like paste, though you often see that folks refer to pizza sauce as having a smooth texture.
Wrapping it Up!
Let us summarize the content by saying that pizza and spaghetti sauce are different. And the most important differentiating point is the preparation method. We hope you won't forget that pizza sauce is raw or uncooked tomato sauce. In comparison, the second one is cooked and simmered. 
Also, you're open to adding some additional ingredients and seasoning in pizza sauce to substitute pasta sauce. And, you can also use pasta or spaghetti sauce to replace pizza sauce just as you can use the marinara sauce on pizza dough.
We tried our best to answer all the most important yet the most asked queries by giving you a detailed note on the difference between pizza sauce and spaghetti sauce. 
Still, if you have any questions knocking on your mind, you're welcome to leave that query in the comment section. We'll be glad to answer all the questions of our readers. 
mama-cucina.com is a participant in the Amazon Associate program and will earn from qualifying purchases.