Pizza vs. cheeseburger is a never-ending battle among fast food lovers.
Some like to eat pizza, and others want burgers all the time. And then some love both. In addition, you can't compare the two in taste because everyone has different preferences. 
However, with the actual content or ingredients, one can be a healthier and better option for you than the others.
Today, we'll compare pizza and cheeseburger, discuss which is healthier, and how you can make a better choice on your next takeaway. 
Let's get started. 
Pizza Vs. Cheeseburger: General Comparison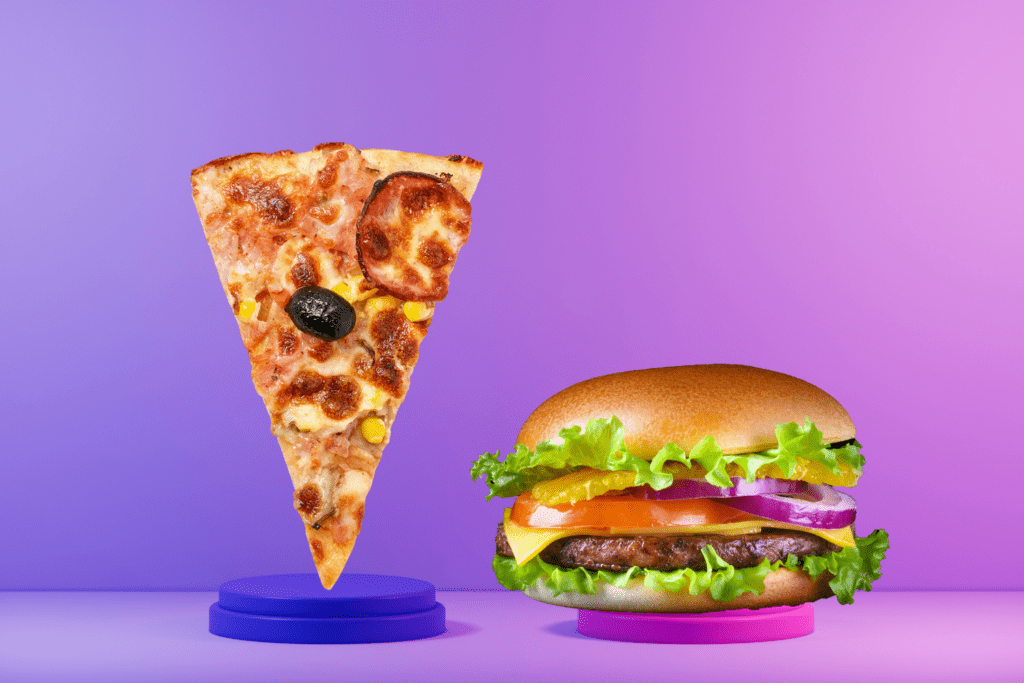 Pizza is an Italian dish comprising flatbread made from refined flour topped with olives, mushrooms, cheese, and oregano.
On the other hand, the origin of the cheeseburger goes back to Hamburg, Germany. A cheeseburger is just a hamburger topped with a cheese slice.
According to Google trends, pizzas are more popular; however, USDA has something else to say. A report states that Americans eat almost 50 billion burgers in a year. 
If you ask what Americans eat the most, the common answer would be burgers. Yet that's not the case with Italians; they prefer pizza anytime, anywhere. 
In conclusion, we can't say which is more popular: pizza or a cheeseburger. Their popularity differs from country to country.
Pizza Vs. Cheeseburger: Ingredients 
The ingredients of pizza make all the difference. Every place has its signature style of making it. 
In addition, ingredients are the main determining factor in whether the pizza is healthy or unhealthy.
Some of the key ingredients of pizza are:
Crust
Chicken or meat slices
Tomato sauce
Vegetables (Mushroom, olives, tomato),
Mozzarella and Cheddar cheese.
Similarly, burgers are also made of some basic ingredients:
Beef patty
Burger bun
Ketchup
Cheese slices
Vegetables (tomatoes, pickles, onion). 
When we look at the ingredients, pizza and a cheeseburger contain all the essential macronutrients: fat, carbs, and protein. 
Nutritional Comparison
After all these years, we finally know that no food is good or bad. All that matters is the calorie intake. A person should eat a specific range of calories to avoid gaining extra fat and weight. 
A single patty of cheeseburger has around 300 calories. In contrast, one slice of pizza contains about 150-285 calories. So a small pizza will have around 1200 calories.
Undoubtedly, the cheeseburger is a winner here. It has fewer calories than pizza, but it's also more fulfilling to eat. You won't feel hungry after eating one burger. But you may not feel full after consuming one slice of pizza. 
Calories are not a giveaway of how healthy the food is. Sometimes high-calorie food is more healthy than low calories. So let's look at the other nutritional value of a pizza and a cheeseburger to see which is healthier.
Cholesterol 
What makes fast food bad is its high amount of cholesterol. 
One cheeseburger has more cholesterol. Let's calculate it.
One hamburger double patty has 56.4 mg of cholesterol.
One cheese slice has about 29.4 mg of cholesterol.
While the burger bun has about 35 mg of cholesterol.
Thus, in a single burger, you get nearly 116 milligrams of cholesterol, which is more than a pizza slice. 
 While one slice of pizza contains 18.2 mg. More interestingly, one single burger can satiate you, but one slice of pizza might not kill your hunger resultantly, you'll go as high as eating full pizza and getting above 100 mg cholesterol. Here pizza and cheeseburgers both have a tie. The health expert suggests you shouldn't exceed 300 milligrams of cholesterol daily. 
Fat Content
Fat is not always bad. Unlike popular belief, fat is an important macronutrient. About 20 to 30% of your daily calorie intake should come from fat. 
When we talk about processed food like pizza and cheeseburgers, these foods usually contain high fat. Only one cheeseburger has 14 g of fat, and one pizza slice has 10g, so 4 slices of pizza will have almost 40g of fat.  
Cholesterol and saturated fat increase LDL levels and decrease the amount of good cholesterol HDL levels. The imbalance causes various health issues in your body. 
So, in that case, the burger is your way to go. Not that healthy, but still a better option than a pizza. 
Sodium 
Most processed and takeaway food, like pizza and burgers, usually contains high sodium. That's why you feel thirsty whenever you eat or order takeaways. 
Where cheeseburgers with a double patty and a single cheese slice have nearly 750 mg of sodium, one slice of pizza (weighing about 100 grams) has 639.9 mg. Now just count the sodium in a small pizza can be nearly 1200 mg. 
This doesn't mean you can't eat pizza anymore. FDA recommends less than 2300 mg sodium in a daily diet. So as long as you eat in moderation, you can enjoy your favorite fast food without worrying. 
Calcium 
The amount of cheese in your fast food often relates to high calories and terrible food choices. However, the same cheese is a rich source of calcium your body needs. 
Where both pizza and cheeseburgers have a good amount of calcium, the variety of cheese can change the game. 
Cheddar and mozzarella cheese are rich in calcium that helps build strong bones. However, if you have the option, go for parmesan cheese, which has a high amount of calcium. 
Cheeseburger again wins the game apparently, if you compare one whale burger with a single pizza slice, as one patty burger contains about 191 mg of calcium. 
The pizza slice has 201.2 mg of calcium per slice. The more slices you eat, the more calcium you get, ironically, which also leads to high calories. 
Carbohydrates 
The self-proclaimed influencers and experts would tell you how bad carbs are for you, especially if you are trying to lose weight. What if that is not true at all? Carbs are so important for our bodies. 
Our bodies break carbs into glucose. The glucose acts as fuel to create energy that keeps you going and physically active. 
About 40% of your daily calories should come from carbohydrates. 
Pizza and cheeseburgers both provide a good amount of carbs. A burger and a slice of pizza have almost the same amount of carbs, equal to 30 grams.
Vitamin Content 
Cheeseburgers have vitamins A, C, D, iron, and potassium. Similarly, pizza also contains vitamin A, r thiamin, riboflavin, niacin, and iron.
It's important to note that the vitamins and other nutritional value depend on how the pizza and cheeseburger are made and what ingredients are used.
Here is a table that compares popular McDonald's cheeseburgers and Pizza Hut Pepperoni pizzas to give you an idea.
Let's have a look. 
| | | |
| --- | --- | --- |
| Nutritional Value  | Pizza Hut Pepperoni Small 6 inches pizza | Mcdonald's Regular Cheeseburger |
| Calories  | 610 cal | 300 cal  |
| Protein | 26 g | 15 g |
| Carbohydrates  | 67 g | 32 g |
| Sodium  | 1.1410 mg | 720 mg  |
| Total Fat  | 14 g (1 slice) | 13 g |
Pizza Vs. Cheeseburger: Which Tastes Better?
Now, in taste, it depends from person to person. Everyone has different taste buds. Some prefer pizza over burgers, and there is nothing wrong with that. 
However, the point is pizza only tastes good when having the right toppings. You can put whatever you want on the pizza, unlimited option, yes! 
But does it taste good? Some toppings are more popular than others, like cheese, sausages, capsicum, and pepperoni. 
The recent pineapple or bacon pizza version is terrible. Some may like them, but the number who will eat a pineapple pizza is small.
However, when it's about burgers, they taste almost similar. A juicy burger is more light on your pocket than the average pizza. A regular burger costs around $1 to $2 in the US, while a small-size pizza costs you $4. 
Pizza Vs. Cheeseburger: Which Is Healthier?
Both pizza and cheeseburgers are unhealthy when eaten routinely because they contain a high amount of sodium. High sodium intake can lead to many health issues, such as heart disease, high blood pressure, and stroke. 
However, when we compare both heads to heads, burgers are a much healthier option than pizza (the fact that you eat one burger and tend to eat many pizzas slices puts you at risk of consuming more cholesterol, carbs, and sodium). However, different factors like the size of the burger, the amount of cheese, and the patty ingredients directly influence the outcome. 
The usual size of the burger bun is 3 inches, which easily takes two portions of beef or chicken patty. So opt for a smaller burger if you want to be safe. Remember the sale the size of the bun, the less amount of ingredients like cheese, patty, and other sauces it can hold on to. 
FAQs
Why are pizza and burgers called junk food? 
Pizza and cheeseburgers can both be made healthily at home. However, the one you order is called processed food and is counted as junk food because of the outrageous amount of sodium, cholesterol, and fat content.
Can you eat pizza every day?
You can eat a healthy homemade version of mini pizza every day. Our body needs various nutrients, so eating the same food limits the nutrients we take and eventually leads to boredom. More to the point, eating pizza from fast-food chains daily is not good for your body or your budget. 
Can you eat a cheeseburger every day?
You'll be surprised to learn that you can eat cheeseburgers every day but only homemade.
If made right, homemade cheeseburgers taste delicious, just like you used to eat from your favorite fast food chain.
You can even make a healthier cheeseburger by using a whole wheat bun and grilling your patty instead of frying it. 
How many pizza slices can you eat in a day?
For kids, one large slice is more than enough. As for adults, 2 are good. However, 2 to 3 pizza slices a day would be a good choice if you're a pizza aficionado. However, it's important to not only eat this junk food once a week.
Can you eat pizza and cheeseburgers interchangeably?
Of course, you can eat pizza and cheeseburgers interchangeably. Eating the same fast food often becomes boring. However, eat both of them in moderation. 
There is no harm in eating pizza and burgers once in a while unless you don't have any underlying medical health condition like diabetes or PCOS. 
Pizza vs Burger: which one is more versatile? 
Pizza, without a doubt, is a more versatile dish. You can play with toppings and create your version. Most fast food chains sell specific burgers, but when it comes to pizza, they offer a large variety, so it becomes impossible for you to refuse to order one. 
Wrapping Up
Pizza is rich in protein, carbohydrates, and vitamins A and C. In contrast, cheeseburgers are an excellent source of lean protein, fat, and calcium. Sadly, both contain high amounts of sodium, fat, and cholesterol, which makes them unhealthy options when consumed regularly or in addition to your usual meals. 
The best way to enjoy your favorite fast food is by making a healthier version at home. Believe it or not, you can make triple the amount at the same price at home. Plus, you'll know what you are eating. 
mama-cucina.com is a participant in the Amazon Associate program and will earn from qualifying purchases.