Has the curiosity of something like Pizza vs Marinara sauce stuck into your mind? You don't know things like: 
Which is better: pizza or marinara sauce? 
Which is tastier, the pasta sauce or the pizza? 
Is pizza sauce worth trying, or can we say hell yes to the marinara sauce too? 
We know all Italian food lovers, including you, want to explore these questions for a long time. You know what? You've set your foot in the right place today. 
This content is all about the difference between these two sauces and much more. Therefore, with no delay, let's enter the part revealing all the information about this topic. 
What is Pizza Sauce-A Brief Introduction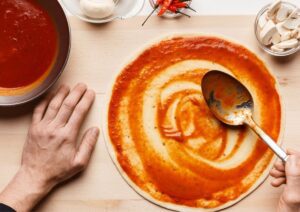 Who isn't aware of the name "pizza sauce?" If someone is still ignorant about it, the name introduces itself. Pizza sauce- the sauce that is a base ingredient of all the pizzas. The sauce that you can't ignore in making delicious cheesy, parmesan cheese-loaded pizza. 
This sauce is fresh tomato sauce with a blend of garlic and seasoning like salt. It would be great to say that pizza sauce is the thickened tomato sauce or puree with some herbs and spices. And yes, don't forget that this sauce is not cooked at all; it only goes through the cooking process during the baking time. 
It's thick in consistency, so the pizza dough doesn't get soggy, plus the sauce works as the binding agent for other ingredients. 
What is Marinara Sauce: An Incisive Introduction
 
The marinara sauce refers to tomato-based sauce or red sauce. When tomatoes, garlic powder, oregano, olive oil, and salt are cooked and brought into a thick form, this is what you call marinara sauce. 
You won't need to add any additional water because the crushed tomatoes will compensate for water.
As the tomatoes are added in crushed form and not blended, you'll find some tomato chunks that look super tasty coming in the mouth. It's versatile to add to pizza, pasta, spaghetti, or any other such dishes. 
Swirl spaghetti on a plate, pour some marinara sauce, and garnish it with herbs. Or make some grilled sandwiches and serve Marinara as a dipping sauce. Ahh, what a heavenly meal to enjoy! 
Marinara vs Pizza Sauce- the Points that Draw a Line
Yes, pizza and Marinara are both tomato sauces, but many differential points are an obvious barrier between the two. These points include, 
Mashed or Cooked Tomatoes- The Main Difference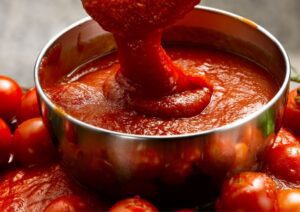 Before bringing any other point to the discussion, we've got here the most prominent difference. And it's the cooking method. The ingredients might be the same, but the preparation procedures differ from each other. 
In preparing the marinara/pasta sauce, you must cook the tomato sauce or the crushed tomatoes in a pan to get smooth tomato sauce; you usually prepare this tomato sauce at the final step using some best tomato strainers. But in the other case, pizza sauce doesn't need any cooking steps. It's just based on mixing the ingredients. That's what you must know when looking for distinctive points. 
Consistency is also Different.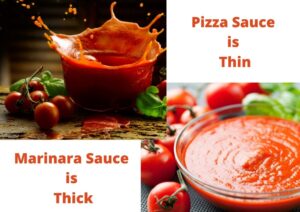 The second difference is consistency. Marinara is a thicker sauce, while pizza sauce is thinner. Marinara is cooked so that all the extra water is dried.  As there are chunks in it, they may also make it denser than the other sauce, yet they are smoothened by using a tomato strainer. 
On the other hand, pizza sauce is made using tomato puree mixed with other ingredients, so it is thin. One main reason for its consistency is that it requires a good spread and coverage on the pizza dough. So if it's too thick, it won't spread adequately on the dough. 
Flavors Vary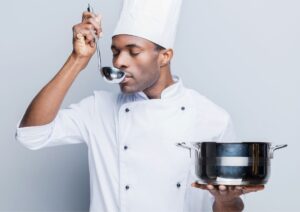 Do you know which sauce has the more robust flavor? It's so humorous that all the pizza lovers will vote for pizza sauces. 
But let us clarify that marinara sauce is more flavored. And it may be because all the ingredients get cooked and leave their full strength, aroma, and taste in the traditional tomato sauce. That's why it's more suitable to enjoy noodles and other cooked or boiled food as pasta sauce. 
Pizza sauce doesn't give an enhanced taste in comparison to the Marinara. Majorly, pizza sauce is a salty tomato sauce with a bit of flavor from other herbs. 
Why is Pizza Sauce Different than Marinara?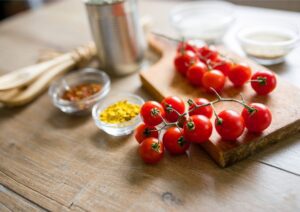 The magic happens because of ingredients and preparation methods when it's about the difference between pizza sauce vs Mariana sauce. So, here is how the difference occurs.
How do they Make Authentic Italian Pizza Sauce? 
Nothing too special, but you can make pizza sauce with all the ingredients readily available in your kitchen cabinet. 
Ingredients
I cane of San Marzano

Tomatoes

1 Tsp.

Olive Oil

1/2 Tbsp.

Salt

Fresh Basil  leaves (a handful)
Recipe
Open the tomato cane and put the tomatoes/tomato puree in a bowl

Blend them using an electric hand mixer.

Add salt, olive oil, and fresh basil, and blend again. Your pizza sauce is ready to cover your pizza dough.
Note
For making the original pizza sauce, it would be amazing if you smash and mix all ingredients by hand. It'll bring more chunks and a less watery texture to your sauce.
Can you make Fusion Pizza Sauce? 
You can add a few more seasonings and ingredients to your pizza sauce, but without cooking it. This pizza sauce doesn't demand any extra effort; it's as easy as pie. Even teenagers can quickly make it. Here is the recipe for easy homemade pizza sauce.
Ingredients
15 oz. Tomato Sauce
6 oz. Tomato Paste
1 Tsp. Olive Oil
1/2 tsp. Garlic Powder
1/2 tsp. Onion Powder
1/2 Tbsp. Salt
1/4 tsp. Crushed Red Pepper
1 tsp. Sugar (Secret Ingredient)
Basil  (as per Taste)
Dried Oregano (as per Taste)
Italian  Seasoning (as per Taste)
Cracked Pepper (Fresh)
Instructions
Pour one teaspoon of olive oil into a saucepan and add garlic powder, onion powder, and crushed red pepper and saute them for 30 seconds on a low flame.
Remove the pan from the fire, and add the rest of all ingredients.
Mix all the ingredients using a hand blender. Your hot pizza sauce is ready.
How do they Make Marinara or Pasta Sauce? 
As said earlier, the ingredients used to prepare the tomato sauce and the pasta sauce different. Here is how the entire process goes.
The ingredients include:
28 ounces fresh or canned

1 Medium Diced Onion

1 tbsp Fresh Oregano

 4 Tbsp Olive Oil

2 Cloves Minced Garlic

1 tbsp Dry Oregano

Salt (as per taste)

Red Chilli Flakes (as per taste, but optional)

Black Pepper (as per taste, but optional)
Directions to Make Marinara Sauce
If you want to learn how to make a balanced marinara sauce, follow the steps mentioned below. 
Initially, set a large and deep cooking pot on the stove, pour two tablespoons of olive oil, and heat it on a medium flame. 

Add the minced or diced garlic to the oil and cook until a soft pink color rises. 

Now add sliced onion and fry. 

Add crushed, canned tomatoes in the skillet, and don't forget to add ½ cup of water to get even the last chunks of tomatoes from the can. 

In the next step, you've to add oregano, pepper, salt, fresh basil, and red pepper flakes. 

Stir the whole mixture, lower down the flame, and let the tomato paste simmer for half an hour until you see the oil droplets on the surface and water reduced by half. 

Now remove the basil leaves, and smash the chunks to get the required consistency. It's ready to serve with a variety of meals. 
Pro Tips To Make Delicious Marinara Sauce!
Would you love to make a restaurant-like Marinara sauce? Follow these bonus tips:
Use San Marzano Tomatoes to Prepare Tomato Sauce 
We don't want to keep any point secret. That's why sharing a crucial tip with you. Please pay special attention to it.
It's evident that the type of ingredients matters a lot in making any food item. So we recommend you to use only San Marzano tomatoes. 
You'll now question, "Why?" The answer is, these tomatoes are sweeter and rich in taste. Thus, you won't need to add sugar separately. 
Pizza Sauce vs Marinara, Which is Better for Pizza?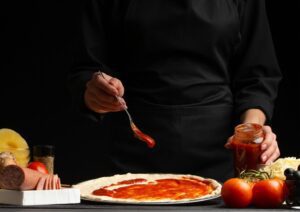 Both pizza sauce and Marinara have an unrivaled role in Italian seasoning. Yet, pizza sauce is undoubtedly better. Here are the reasons:
Pizza sauce is a hit to go for different varieties of pizzas. In contrast, Marinara is not a priority for pizzas, but some peeps still use it.
It's because of the consistency and its precooked nature. You can't add a precooked or chunky sauce to pizza dough. 
When the pre-made tomato sauce with spices goes into the oven, it overcooks and can ruin other ingredients' taste. 
All the restaurants want to offer something unique to their customers. Thus, each restaurant makes its pizza sauce, keeping the key ingredients the same. Using Marinara instead of pizza sauce is not a good option at all. 
Pizza Sauce vs. Marinara, Which is Better for Pasta?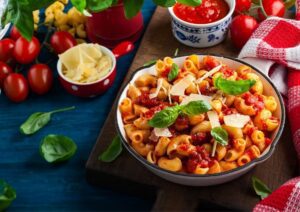 Pasta demands a sauce that is rich in taste and is also precooked. You can't enjoy your pasta and noodles with a sauce that has raw tomatoes with some spices. Thus, you'll go with Marinara to use with pasta. 
FAQs About Pizza Sauce vs Pasta Sauce Marinara
Can you use the marinara sauce on pizza?
Yes, you can use marinara for your pizzas. Some people prefer a change in flavor in pizzas. So Marinara can give you a different yet more rich flavor. 
That's because Marinara contains more herbs, spices, and above all, highly fresh tomatoes. So all these ingredients can bring some twists to your pizza.
Make sure not to simmer the sauce; otherwise, it will become too thick, and when baked in the oven, it can become overcooked. Just evaporate the excess tomato juice so that it doesn't remain runny. 
Is marinara sauce for pasta or pizza?
Marinara sauce is mainly for pasta, so you can also call it pasta sauce. But if you like to taste new flavors, you can use it for pizza too.
What is the difference between spaghetti sauce and pizza sauce?
Spaghetti sauce is also a type of Marinara, but there are still a few differences. 
Spaghetti sauce goes with chicken, meat, and a few veggies as well. In comparison, pizza sauce is just a tomato sauce with a few mild spices. 
The second difference is preparation. You've to cook spaghetti sauce in chicken and veggies while pizza sauce isn't cooked but directly applied to the pizza sauce. 
Can these two sauces be used interchangeably?
Marinara sauce may not be the best topping for pizza because of its consistency. Pizza Sauce can be used as a dipping sauce or pasta sauce to provide an excellent taste. Marinara can be thinned by adding tomato purees if you want to use it as a base for your pizzas.
To Summarize the Difference between Marinara vs Pizza Sauce
Let's quickly wrap up the entire discussion here. So that you may also indicate the difference between pizza and marinara sauce
Marinara is thick, while pizza sauce is thin.

Marinara is prepared after cooking tomatoes and smashing them. In contrast, pizza sauce is made by mixing tomato paste with seasoning and herbs only.

Marinara is a complete flavor package, but p

izza sauce offers a limited flavor. 

Marinara is versatile enough to add to pizza, mozzarella sticks, pasta, meatballs, Afritada, fish parmigiana, and even creamy tomato soup.  But p

izza sauce is only for pizza: any pizza loaded with parmesan cheese.
Don't limit your thinking by relating pizza sauce to pizza only. Apart from pizza, you can cook pizza sauce in many ways and use it with various other dishes. 
Having known everything about pizza sauce vs Marinara,  your mind is now full of creative ideas to use both marinara and pizza sauce differently. And that's highly appreciating to use them in your way to get some twist in your cooking. 
mama-cucina.com is a participant in the Amazon Associate program and will earn from qualifying purchases.