Do you ever find yourself irresistibly drawn to a hot pizza's cheesy, gooey goodness, even when you just had a meal? Craving for pizza can sometimes feel too intense to ignore. And, in such cases, you wonder why this delicious dish has such a powerful hold on our taste buds.
In this blog post, we're diving deep into the surprising reasons behind your insatiable pizza cravings. From the science behind its flavors to our emotional connection with this popular comfort food, get ready to uncover the secrets that make us all pizza lovers at heart.
Prepare to be amazed as we explore the irresistible allure of that perfect pizza slice!
Based on research utilizing the Yale Food Addiction Scale, pizza ranked as the top food linked to behaviors resembling addiction in eating habits.
A Quick Brainstorming to Understand Your Pizza Cravings
Before you get into knowing the reasons behind your pizza cravings and ways to control them, a few questions can help you land this article and figure out the cause by jumping to the relevant section
How often do you crave pizza?
At what time of day do you carve pizza more?
Are you busy these days? (Maybe stress led pizza carving)
What pizza toppings do you want to add most? (Maybe some nostalgic or addictive pizza carving)
What happens if you don't eat pizza?
Do you crave pizza more when alone or when around others? (It might be social or psychological factors causing carvings).
What pizza crust do you love to eat the most, thin or thick? (Some nostalgic reason or lack of energy might cause it).
Do you want to get pizza from some specific restaurant? (It might be some ads, pizza-related content, or discussions making you crave it).
Are you watching pizza ads these days?
Top 2 Reasons Behind Pizza Addiction and Cravings
Based on research utilizing the Yale Food Addiction Scale, pizza ranked as the top food linked to behaviors resembling addiction in eating habits. You're not alone; pizza is to blame.
But what causes it?
Craving pizza isn't just a matter of personal taste—Some science role-play behind it. Here's a simple explanation of the science behind pizza cravings:
Brain Chemistry
Dopamine is an addictive "feel-good" chemical the brain releases as pleasure and reward. Our brain releases more dopamine when we eat foods combining fats, processed carbs, and salt (sodium chloride), which triggers dopamine release. At the same time, pizza's combination of cheesy, savory, and sometimes sweet flavors and its chewy and crispy textures create a sensory delight to release dopamine further.
Over time, our brain associates this highest food-consumption-related pleasure with pizza, leading to addictive behavior–whenever you want to feel happier with your food, you return to pizza. As a result, the cycle of pizza craving and pleasure goes on.
Hence, the brain's response to pizza's nutritional content, complex texture, and taste make it a comfortable and addictive choice for you.
Stress
Whether chronic or acute, stress can increase the release of the hunger hormone ghrelin, which may make you crave high-calorie comfort foods like pizza. When you're stressed, your body seeks ways to feel better. Here, pizza, as a tasty and addictive food, provides you with temporary satisfaction from eating it. Thus, it briefly distracts you from stress.
What Other Factors Contribute to Your Sudden Pizza Cravings?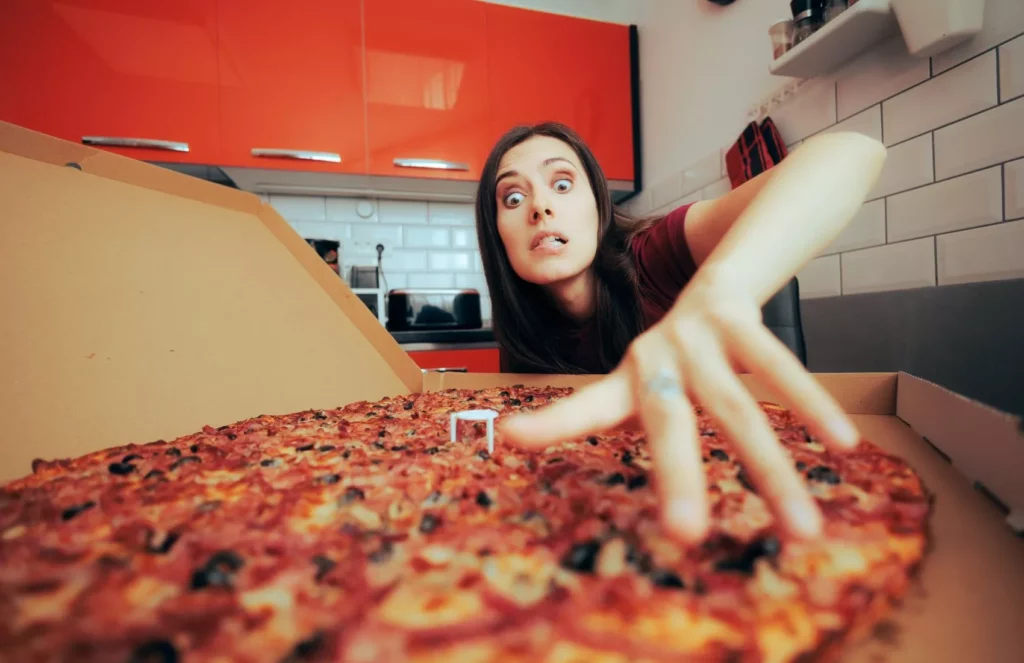 Your brain chemistry and stress are the primary reasons for your addiction and pizza craving. Oftentimes, specific secondary reasons serve as clues to these major factors. These are classified as psychological, emotional, and nutritional.
1. Psychological Factors
Cultural Familiarity
Pizza is a widely recognized and loved food, making it a default choice for many people. The mere thought or sight of pizza can trigger cravings because of its cultural prevalence.
Advertisement
Repeated exposure to pizza ads and images can establish a mental link between pizza and pleasure, causing cravings. So, if you're currently yearning for pizza, it could be due to frequent exposure to media featuring pizza or perhaps a nearby billboard promoting it.
2. Emotional Factors
Comfort Food
Pizza is often considered a comfort food. People may crave it when feeling stressed, anxious, or sad because it provides a sense of familiarity and emotional comfort, as discussed earlier.
Social Gatherings
Pizza is a common choice for social gatherings and celebrations. The positive associations with spending time with loved ones and enjoying pizza can trigger cravings to recreate those enjoyable moments.
Nostalgia
Memories of enjoyable pizza meals from the past can evoke strong emotional connections. Cravings for pizza may arise when you want to relive those pleasant memories.
3. Dietary or Nutritional Factors
Craving pizza can be linked to several nutritional needs and deficiencies in our body:
Carbohydrates
The pizza crust is rich in carbohydrates. Cravings for pizza might show a low-carb intake or a need for quick energy.
Proteins
Cheese on pizza provides protein. Cravings may suggest that your body needs more protein for muscle repair and growth.
Calcium
Cheese is a good source of calcium. If you lack calcium, your body might crave cheesy foods like pizza to fulfill this deficiency, which is crucial for bone health.
Fats
The cheese and sometimes meats on pizza offer fats. Cravings mean your body needs healthy fats necessary for brain function and hormone production.
Sodium
Cravings for salty pizza may indicate low sodium levels. Sodium is vital for fluid balance and nerve function.
B Vitamins
Pizza ingredients like cheese and meats contain B vitamins crucial for energy production. Cravings might indicate a deficiency in these vitamins.
Zinc
Meats on pizza provide zinc. Cravings might indicate a lack of this mineral essential for immune function and wound healing.
Remember, the possibility that you crave pizza because of nutritional needs is less. Several other choices are also there to cope with particular dietary needs. Yet, in such cases, easy access to pizza and taste preference also plays a role.
In short, pizza cravings are influenced by several factors; identifying the cause gives you more control over healthy choices.
Health Implications of Frequent Pizza Consumption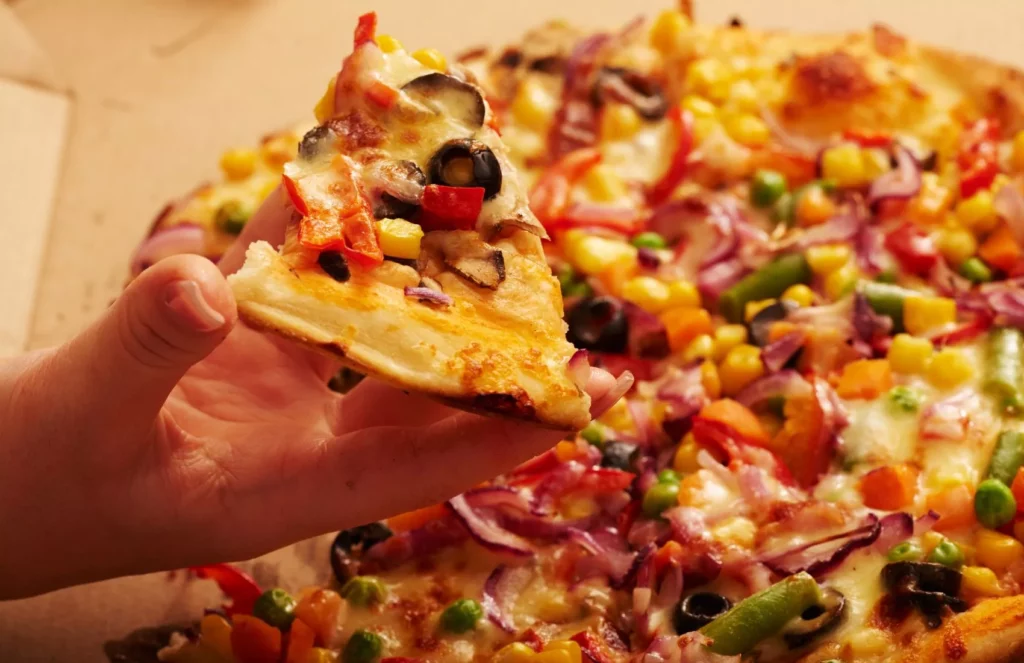 Enjoying pizza occasionally is fine, but frequent consumption can have health implications. Here's an easy-to-read breakdown of the health concerns related to frequent pizza consumption:
Weight Gain
Pizza is often high in calories, especially because of the cheese, processed meats, and oily crust. Regularly consuming more calories than your body needs can lead to weight gain and obesity.
High Sodium Levels
Pizza contains a lot of salt, which can contribute to high blood pressure. Excess sodium intake can strain the heart and lead to cardiovascular problems over time.
Unhealthy Fats
Pizza often contains saturated and trans fats, which can raise bad cholesterol levels in the blood. High cholesterol increases the risk of heart disease and stroke.
Processed Meats
Pizzas with toppings like pepperoni and sausage contain processed meats linked to an increased risk of cancer, particularly colorectal cancer.
Blood Sugar Spikes
The refined carbohydrates in pizza crust can cause rapid spikes in blood sugar levels. Over time, this can contribute to insulin resistance and type 2 diabetes.
Digestive Issues
Pizza sauces and cheese can be acidic, leading to acid reflux or heartburn, especially if consumed close to bedtime. Spicy toppings can also irritate the digestive system.
Nutrient Imbalance
Consuming too much pizza might mean you're missing out on essential nutrients from other food groups, leading to an imbalanced diet.
Lack of Fiber
Most pizzas lack fiber, which is crucial for digestive health. Owing to a lack of fiber, excessive indulgence in pizza can lead to bloating, stomach cramps, and acid reflux. Pizza's high-fat content can slow down digestion, leading to discomfort and constipation. Additionally, the cheese and gluten in the crust can be hard to digest for some people, causing digestive distress. Excessive pizza consumption can disrupt the natural balance of gut bacteria, eventually leading to further digestive problems.
Additives and Preservatives
Processed ingredients in pizza, such as preservatives and artificial additives, may have negative health effects if consumed excessively over time.
Dental Issues
Pizza, especially sticky cheese, can contribute to tooth decay if proper oral hygiene is not maintained. The high sugar content in some sauces can also be harmful to teeth.
Mindless Eating
Pizza is often consumed mindlessly, especially during social events or while watching TV. This can lead to overeating and disrupt your body's natural hunger cues.
Increased Risk of Certain Diseases
Frequent consumption of unhealthy foods like pizza is associated with a higher risk of developing chronic diseases such as heart disease, diabetes, and certain cancers.
Hence
Enjoying pizza occasionally is okay. However, frequently consuming highly processed and unhealthy varieties can lead to various health issues. Balancing indulgence with a nutritious and well-rounded diet is essential for overall health and well-being.
How Can You Curb Pizza Cravings?
Curbing pizza cravings might seem challenging, but there are effective strategies to help manage those temptations. Here are some easy-to-read solutions:
Practice Moderation
Allow yourself to enjoy pizza occasionally but in moderate portions. Limiting how often you indulge can help reduce cravings.
Mindful Eating
Pay attention to your body's hunger and fullness signals. Practice mindful eating by savoring each bite, which can reduce the urge to overeat.
Plan Balanced Meals
Ensure your regular meals are balanced and nutritious. Include a variety of fruits, vegetables, lean proteins, and whole grains to keep you satisfied and less likely to crave unhealthy foods.
Opt for Healthy Alternatives
Explore healthier pizza options. Make your own pizza at home using whole wheat crust, lots of veggies, and lean proteins. You can even use cauliflower crust for a low-carb alternative.
Stay Hydrated
Sometimes, dehydration can be mistaken for hunger or cravings. Drink water throughout the day to stay properly hydrated and reduce unnecessary food cravings.
Exercise Regularly
Engage in regular physical activity. Exercise can help regulate your appetite and improve your mood, making it easier to resist cravings.
Manage Stress
Stress often triggers emotional eating, including pizza cravings. Practice stress-reducing activities like yoga, meditation, or hobbies you enjoy to curb emotional triggers.
Get Enough Sleep
Lack of sleep can disrupt your hormones, making you crave high-calorie foods like pizza. Aim for 7-9 hours of quality sleep each night to support your overall well-being.
Distract Yourself
When a craving strikes, engage in activities that divert your attention. Call a friend, go for a walk, or indulge in a hobby to distract yourself from the craving.
Healthy Snacking
Keep healthy snacks on hand, such as fruits, nuts, or yogurt. These alternatives can satisfy your hunger between meals, reducing the chances of craving unhealthy foods.
Support System
Share your goals with friends or family who can encourage and support you. Having a strong support system can help you stay on track and resist cravings.
Food Journaling
Keep a food journal to track your meals and cravings. Identifying patterns can help you understand your triggers and find effective ways to manage them.
Remember, cravings are normal, but finding healthy ways to manage them can lead to better overall health and well-being. Adopting these strategies can curb pizza cravings and make healthier food choices.
When Should You Seek Professional Help?
If you find yourself struggling to control pizza cravings despite your best efforts, seeking professional help is crucial. If cravings interfere with your daily life, cause distress, or lead to unhealthy eating patterns, it's time to consult a registered dietitian, nutritionist, or mental health professional. They can provide personalized guidance, develop a tailored eating plan, and help address underlying emotional triggers.
FAQs
Why do I Crave Pizza At Night?
Late-night pizza cravings are a common phenomenon, and there are several reasons behind these irresistible urges.
Firstly, during late hours, our brain often craves comfort foods to unwind or de-stress, and pizza provides comfort with its cheesy goodness.
Additionally, hunger hormones like ghrelin spike in the evening, making our body long for calorie-packed foods, and pizza fits the bill perfectly with its carb and fat content. Hormonal changes, especially during menstrual cycles, can lead to drops in serotonin levels, triggering carb cravings.
The sheer convenience of pizza delivery after a tiring day makes it an easy choice.
Alcohol-induced hunger and lowered inhibitions intensify these cravings among those enjoying the nightlife,
Our body's internal clock, circadian rhythms, can also influence nighttime appetite.
Exposure to pizza advertisements on late-night TV or online platforms subconsciously plants the idea of pizza in our minds, making it an irresistible choice.
In a nutshell, late-night pizza cravings are a mix of emotional comfort, biological signals, social influences, convenience, and media exposure.
Why Do I Crave Pizza Durning Pregnancy?
During pregnancy, cravings for specific foods like pizza are common due to hormonal changes and nutritional needs.
Cravings often occur due to hormonal fluctuations, especially in the first trimester, when hormones like estrogen and progesterone are at their peak.
Additionally, your body might be craving certain nutrients found in pizza ingredients, such as carbohydrates for energy, calcium for baby's bone development, and proteins for tissue repair.
Moreover, the variety of flavors in pizza – the salty cheese, savory sauce, and carbs from the crust – can be particularly appealing when experiencing taste changes during pregnancy. It's okay to indulge in such cravings yet maintain a balanced diet for your and your baby's overall health.
Conclusion
Your love for pizza is more than just a preference; it's deeply rooted in our brain chemistry, emotions, and everyday experiences. From late-night cravings driven by stress and hormonal fluctuations to the enticing influence of media and social gatherings, pizza's appeal is multifaceted. While enjoying an occasional slice is normal, it's crucial to be mindful of the health implications associated with frequent consumption, such as weight gain and digestive issues. By understanding the reasons behind our cravings and adopting healthy coping strategies like mindful eating, balanced nutrition, and managing stress, we can indulge sensibly and prioritize our overall well-being.
Remember, seeking professional help is essential if cravings interfere significantly with daily life.
mama-cucina.com is a participant in the Amazon Associate program and will earn from qualifying purchases.