If you want to expand your outdoor cooking game and create some delicious pizzas, you might consider the Gozeny Roccbox. It's a little powerhouse is a tabletop oven that can make mouth-watering homemade pizzas. 
And MUCH MORE!
It's a high-heat cooking appliance that can help you whip up many delicious dishes in your backyard if used correctly. Whether it's traditional Neapolitan pizza or NY-style pie, the Roccbox has you covered.
Yes, the RIGHT WAY!
How?
By following the top tips to use the Roccbox. How exciting!
Let's find out the best tips you can follow as a beginner for Gozeny Roccbox Pizza Oven.
1. Get Necessary Gozney Roccbox Accessories 
Everything you need comes in the box when you buy the Roccbox pizza oven, but count them and check whether every accessory works fine, especially the thermometer. So you don't have to fret about buying additional equipment or tools. Here's what you can hope to find in the box: 
The Roccbox pizza oven is completely pre-assembled and ready to use. 
A stainless steel peel is designed to fit the Roccbox pizza oven. 
A gas burner and a wood burner, so you can choose which fuel source to use depending on your preferences and cooking needs.
A hopper tool that's used to load wood into the wood burner.
An instruction manual that will guide you through the setup process and help you get the most out of your Roccbox. 
A recipe book that includes a variety of delicious pizza and non-pizza recipes to try.
And finally, a thermometer will allow you to monitor the temperature inside the oven–yet it's best to get a more accurate infrared thermometer separately.
2. Set up Your Gozney Roccbox Right Way!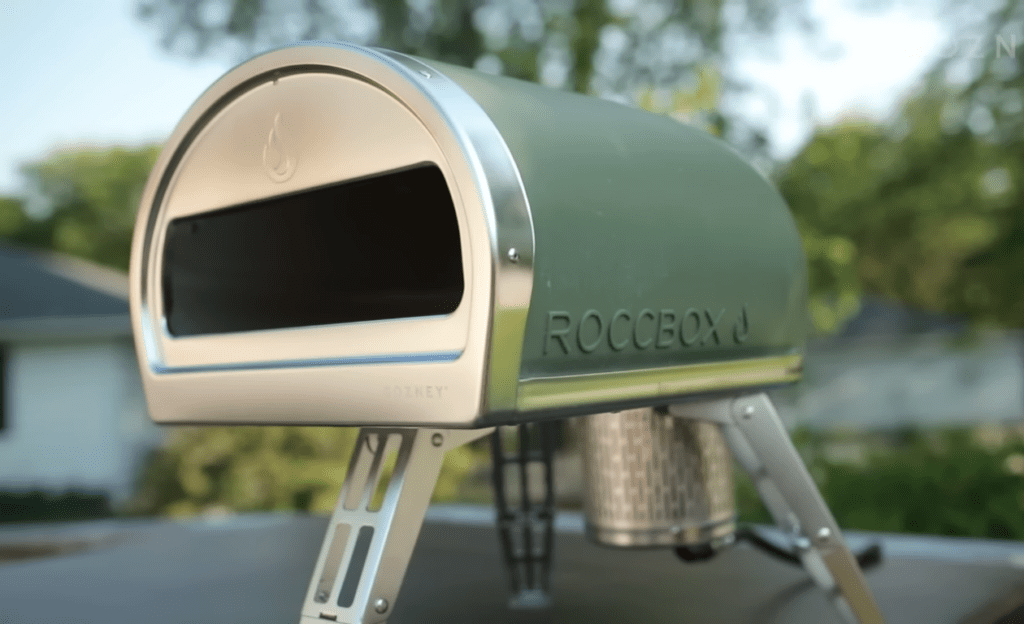 At first glance, the Gozney Roccbox might seem like a daunting cooking tool with its big flames and high temperatures, but don't be intimidated! It's easy to set up. 
All you need to do to set up your Roccbox pizza oven is to fold out the legs of the oven. Attach the gas or wood burner, and that's it! 
With the two burners included in the box, you won't have to bother about running out of gas or making additional purchases. 
All you have to do is to switch out the burners correctly as needed and keep cooking delicious meals on the go. 
Setting up the gas burner
There is nothing difficult about using gas with Gozeny, simply follow the recommended process by the manufacturers.
The gas burner comes with a hose and gas regulator already connected. You don't need to worry about any additional parts or connections. 
To begin, locate the burner opening at the bottom of the oven. 
Insert the gas burner into the opening. 
Click it into place by rotating it in an anticlockwise direction. 
That's it! Your Roccbox pizza oven is now ready to use with gas.
Setting up the wood burner
Who doesn't love the epic wood flavor in the pizza? The good news is that setting up the wood burner is just as easy as setting up the gas burner. 
You'll follow the same process of inserting the burner into the opening at the bottom of the oven and clicking it into place by rotating it.
However, there are a few things that can keep you from using wood as a main fuel for your pizza oven, like:
The cooking time for pizza in the Roccbox doesn't allow enough time for the wood smoke to add significant flavor to the food. 
Feeding and maintaining the fire is tricky and requires more effort.
By using the wrong wood or moist wood, you can mess up the entire process of pizza making.
Preheating will take more time–about 40 minutes to record the optimum temperature on the 90mm pizza stone base of 400+ centigrade.
However, taking certain precautions when using the wood burner is important to ensure safe and effective cooking. 
Use only dried and appropriately chopped hardwoods in the wood burner. Avoid using any freshly cut wood, painted wood, or softwood. They can produce harmful fumes to ruin the taste of your food. 
Use dry woods to keep a consistent, smoke-free fire.
Be super vigilant in feeding the fire while using wood on your Gozeny. Since your pizza-making already needs great attention for beginners, it also becomes difficult to monitor the fire. As a rule of thumb, after filling the fuel box with wood, you should check it after every 7 minutes and refuel it. Likewise, you need to throw 3 wood chunks each time.
Size the wood chunks according to the fuel box so that you may close the door. It's essential to close the rear door for safety and push the flame inside the oven rather than popping off the rear.
Don't overload the fuel tray; it'll reduce the airflow.
Always check the pizza stone temperature before throwing your next pizza–the temperature should be according to your pizza type.
With these simple steps, you can switch between gas and wood burners to customize your cooking experience in the Gozney Roccbox pizza oven.
3. Place your Gozeny Pizza Oven Following the Wind Direction.
No matter what pizza oven you use, placing it in the correct direction is essential, so the wind doesn't interfere with the fire. So how should you place it?
In the direction of blowing wind…
For instance, if the wind blows east to west, your pizza oven should face the west.
4. Preheat, Preheat, and Preheat your Gozeny Every Time you Place a Pizza.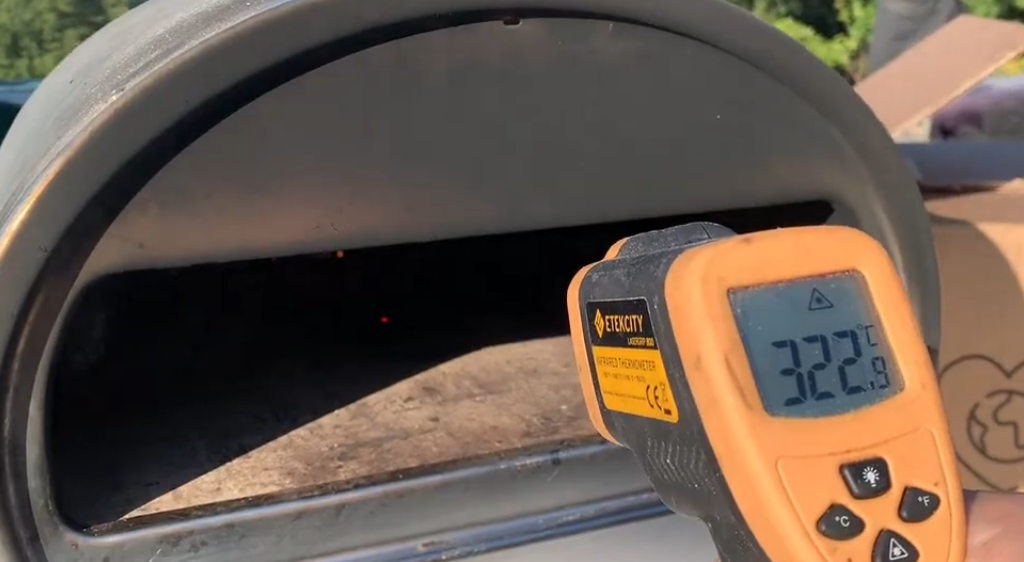 Before cooking anything on the baking stone of the Gozney Roccbox, it is essential to preheat it first. If you're using the gas burner, connect the gas line and turn the oven on to the lowest heat setting, which is still quite hot. Then, let the unit heat up for 30 minutes with nothing in it.
This process will cure the stone and make it ready to use. 
You can use the built-in thermometer to monitor the temperature. With the gas at full power, the oven reaches the desired cooking temperature of 752°F (400°C) in about 20 minutes. However, as mentioned in the manual, we recommend letting the oven heat for 30 minutes on the first use to cure it. 
Also, please lower the flame once your pizza oven stone records the temperature of 500C. Thus, you'll save your pizza from overcooking or burning it.
5. Cook Pizza by following the Correct Recipe, Temperature, and Time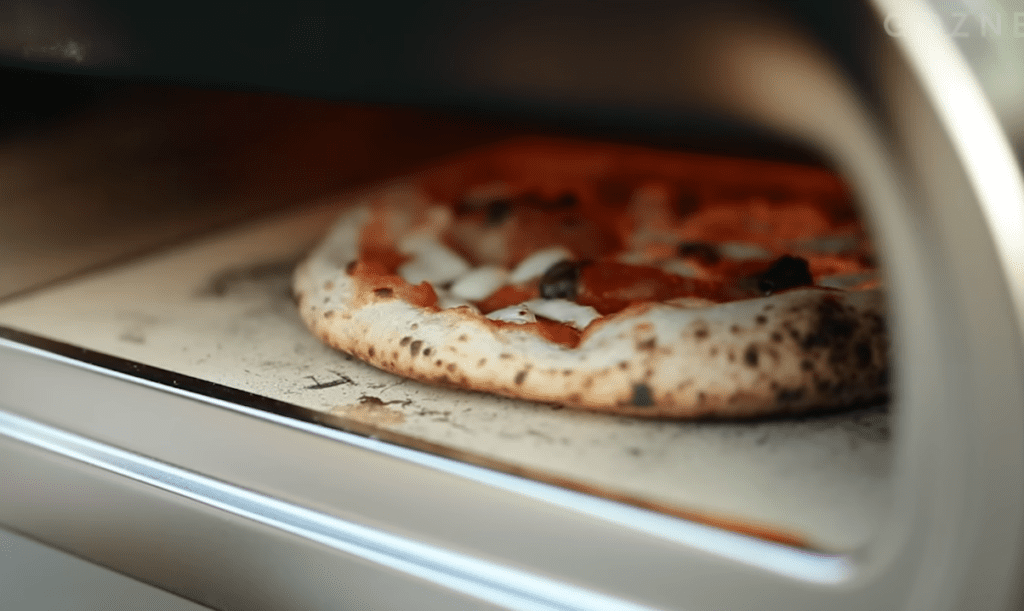 To cook a pizza in the Gozney Roccbox pizza oven, follow the recipe and advisable temperature –it's not about time, but pizza stone temperature. 
A few basic steps are mentioned below:
Prepare your pizza dough. 
Add your desired toppings before transferring them onto a Gozney peel (dusted with cornmeal). 
Adjust the pizza to stretch it to the edges of the peel. Give it a quick shuffle test to make sure it can move freely. 
Relocate the pizza onto the pizza stone in the oven and let it bake for 20 to 30 seconds before turning it with the peel. Although Gozney claims that the Roccbox makes pizza in 60 seconds, it might need more or less time to achieve the perfect crust and blistered appearance according to your pizza style.
Turn the pizza (if you're cooking Neapolitan pizza) every 20 to 30 seconds for 90 seconds or until it's cooked to your desired level. 
Remove the pizza from the oven by using the Roccbox pizza transferring peel. 
Place it onto a board, slice and enjoy your delicious homemade pizza! 
6. Use Your Gozeny Roccbox Correctly by following the Additional Tips
You must know that the Gozney Roccbox is a versatile and exciting addition to any backyard. To use this amazing oven to its full potential, we have made a complete list of tips for you. 
Here are all the helpful tips and tricks that you can use:
Heat your oven.
The Gozney Roccbox is an incredibly powerful cooker that can reach high temperatures without much effort, up to 700 °F (372°C) and even as high as 950°F (510°C). It's possible that the flame is too high and the toppings are getting cooked too fast, while the bottom has not yet had time to cook. 
The best way to deal with this problem is to allow the Gozney Roccbox oven to heat up to around 788°F (420°C) for at least 40 minutes. Turn the flame down slightly right before cooking to maintain an optimum temperature. This method usually produces the most evenly cooked pizza.
Use a regular pizza peel. 
Roccbox has attempted to simplify the pizza-making process with its non-stick peel. However, the peel has small openings. This can lead to flour spilling on the floor and making the process messier than necessary. 
It's especially notable since effective pizza peels are typically made of a single metal sheet without openings or holes. Therefore, we recommend using a regular pizza peel instead of the Gozney Roccbox one. 
Avoid using cornmeal.
Many recipes suggest using cornmeal to prevent the pizza from sticking to the peel. However, it may prevent the crust from cooking evenly.
If you top your pizza, slide it onto a lightly floured peel, and quickly transfer it to the oven, it shouldn't stick. 
This won't affect the cooking process in any way. It's better to avoid using cornmeal on your pizza and stick to a light dusting of flour to prevent a sticky situation.
Turn and rotate your pizza.
It's a no-brainer. 
To ensure that your pizza cooks evenly and doesn't burn, turn it frequently while it's in the oven. We recommend turning the pizza every 20-30 seconds to achieve the best results. 
Always pay ATTENTION.
The Gozney Roccbox is known for its high temperatures. This means that pizza can cook quickly in the Roccbox. Therefore, it's crucial to always keep a close eye on it.
Doing so can prevent burning and ensure that your pizza is cooked to perfection in no time.
7. Don't Worry about Cleaning your Oven. 
You read it right. There's no need to clean the Gozney Roccbox even if you lost some pizza inside it–yes, the learning curve comes with a few burnt pizzas. 
The manufacturer doesn't recommend cleaning it at all! This is because the Roccbox gets incredibly hot, and anything left on the stone during cooking is…well, burned to oblivion. Yet, you might find it stuck to the pizza stone. To remove stuck burnt junk from the pizza stone, use a good-quality cleaning brush with a scraper. The cleaning brushes are handy tools for under $10 as well.
In the same way, keeping the burner area clear of any food debris is essential, as this can interfere with the cooking process. If the burner does get dirty, we suggest that you use a can of compressed air to clean out any bits of food near the back of the oven. 
While you shouldn't clean the interior of the Roccbox, it is okay to clean the exterior if it gets dirty. To do so, we recommend using mild soap and water. This will help keep your Roccbox clean and well-maintained without interfering with its cooking abilities.
8. Invest in a Roccbox Weatherproof Cover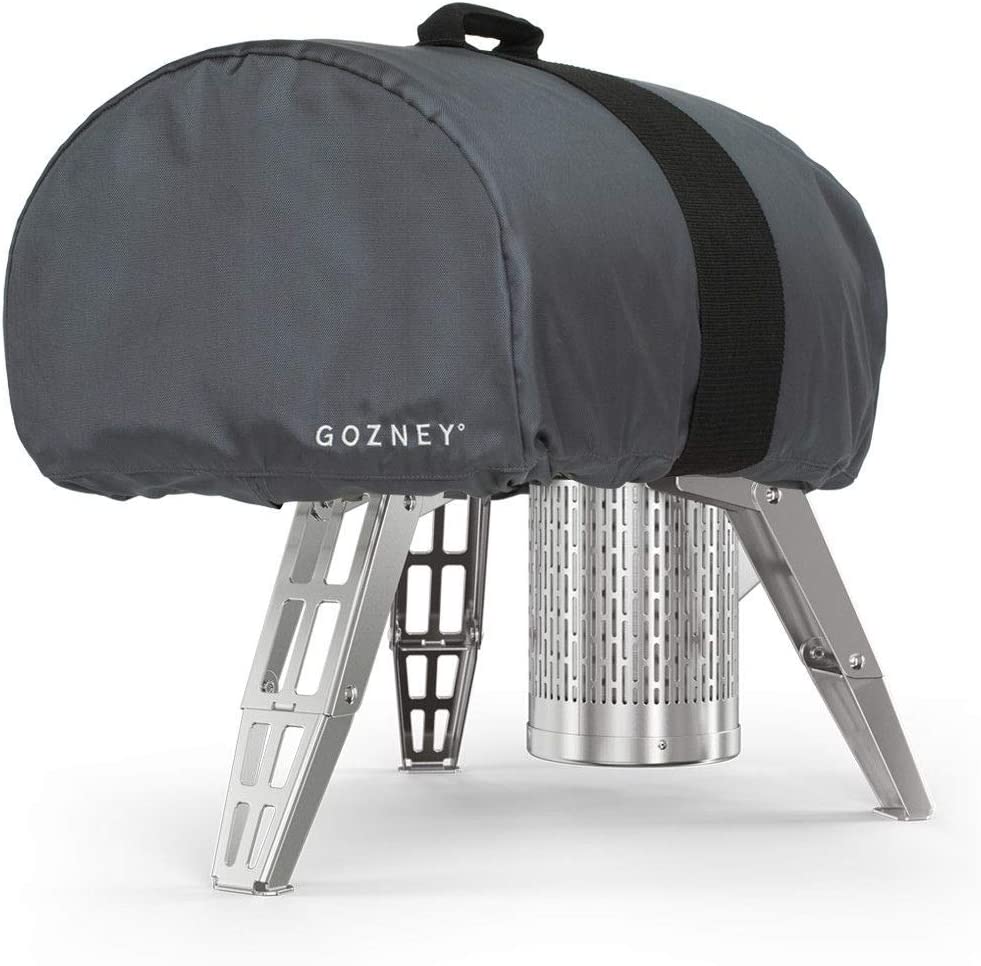 To protect your Roccbox, it is recommended to use a cover. Pizza ovens are not cheap; therefore, they deserve a certain level of protection while in storage. If you can keep your oven indoors year-round, then you only need to worry about dust. 
However, if you store your Roccbox in a shed, garage, or outside, then you will need a heavy-duty cover to protect it from the elements. Using a cover, such as the Gozney Roccbox Weatherproof Cover, will help keep your Roccbox looking fresh, whether you use it several times a week or only a couple of times a year. 
It's made from 600D heavy-duty nylon and is 100% waterproof. By investing in a cover, you can help extend the life of your Roccbox and protect it from any potential damage that may occur during storage.
FAQs
How many pizzas can a Roccbox fit?
The Gozney Roccbox is designed to cook one pizza at a time. The cooking area is shallow, measuring only 8.4cm in height. But the cordierite stone bottom of the oven retains heat very well. After removing one pizza, you can immediately add another without waiting for the oven to heat up again. 
While it may only cook one pizza at a time, the quick cook time and ability to cook multiple pizzas in succession make it easy to feed a crowd or experiment with different pizza recipes.
Wood Vs. Gas, which fuel goes best in Roccbox?
The Gozney Roccbox can be used with wood or gas as fuel. The crucial difference between the two is the cooking time and resulting crust texture. If you prefer a crispy and blistered crust, cooking with wood will give you the desired result. But will require a longer cooking time (around two minutes). 
On the other hand, cooking with gas produces perfectly blistered and crisp results in just 60 seconds, or sometimes even less! Gas is the original fuel source for the Roccbox, and it is clear why it was designed this way. 
Ultimately, the choice between wood and gas comes down to personal preference and desired crust texture, but both methods will produce delicious and flavorful pizzas in the Roccbox.
Conclusion
In conclusion, Roccbox is an excellent option for anyone looking to enjoy homemade pizza on the go. This innovative gadget provides a compact and portable alternative to traditional pizza ovens. Its compact size means it'll only take up a little space on your patio, deck, or balcony, and you can easily transport it to the beach, park, or camping trip.
Its ability to cook a wide range of dishes and incredible temperature retention is a great investment for anyone looking to create delicious meals in the great outdoors.
So, are you ready to make some delicious pizzas with the Gozney Roccbox?
mama-cucina.com is a participant in the Amazon Associate program and will earn from qualifying purchases.