Pizza is, without a doubt, the best comfort food in the history of food. To quit pizza when you go green would be a significant loss. Wouldn't it be phenomenal if there was a way you could eat this delicious food while still being able to care for the environment and animals and go vegan?
Well, there is a way! 
The answer is Vegan pizza. Your average pizza dough is vegan; you just need to change the toppings to make it fully vegan! Yeah! It's that easy. You could even enjoy it with your non-vegan buddies by using plant-based meat… yeah, that's a thing.
What's a Vegan Pizza, & What Alternatives you Can Use In It?
You probably already know what veganism is; if not, have you been living under a rock? Just kidding! 
We'll explain! It's a diet where people don't consume any animal products. This can be due to wanting to save the environment or medical reasons.
Of course, it includes the obvious stuff as they don't eat meat, but it also includes other foods which don't seem as if they're non-vegan at first glances, such as cheese, gelatin, and even some food colorings which they make from animal products. 
Meat and cheese aren't vegan, we get it, but life isn't complete without a meaty and cheesy pizza. Not for me, it isn't! With so many technological advancements, there are alternatives to almost everything, even meat and cheese!
Vegan Cheese! What's that?
Are you on a vegan diet but craving some melty, gooey goodness? Good news! 
You don't need to skip it. But what is it? And what are the ingredients?
Vegan cheese is 100% animal free. There is no doubt that vegan cheese companies make them from proteins in veggies, usually soy and nuts such as cashews—even oils such as coconut oil. 
The ingredients inside vegan cheese are highly processed, so if you're trying to avoid processed foods, this may not be the alternative. You'll first notice when you eat vegan cheese that it's not as gooey and melty-like as the original. 
All brands are different, so if you don't like one brand, try another; vegan cheese makers are consistently developing new ways to make vegan cheese taste more like the real thing.
Vegan Parmesan
There are many vegan versions of the famous parmesan cheese. They derive many of them from nuts, such as cashews or seeds. We also add seasonings and nutritional yeast.
Vegan "cashew nut" ricotta
Another advancement in technology that makes me salute science! Vegan ricotta is like the original; you won't notice the difference! The unique texture is so similar that you can't differentiate it!
Vegan mozzarella
Vegan mozzarella is the real deal! The taste and texture are so eerily similar to the original thing that you'll be confused about if it's vegan! But believe it! So you don't have to quit this tasty goodness on your quest for a healthier lifestyle.
Gooey Vegan Cheddar
Vegan cheddar is perfect as it melts beautifully to give you a cheese texture. They make it from soy, nuts such as cashews and macadamias, and vegetable oils like coconut oil. Some companies also derive them from tapioca, peas, and arrowroot!
Vegan meat? Is it really beyond meat?
Vegan… meat? How's that possible? 
Well, it's not a dream! It's meat… but meatless, confused yet?
 Did you know that the "meaty" taste inside food comes from heme? It's a compound inside animal meat that gives it its flavor. You guessed it, and we can also derive it from plants!
Beyond Meat and Impossible Meat are just two companies that deliver meatless meats; many are out there! They make the patties from a combination of pea and brown rice proteins and fats such as coconut and canola.
Vegan meat also contains minerals, such as calcium and iron, and natural flavorings. The result is a patty that isn't just veggies; the texture, appearance, and flavor are just like the real thing. They don't only come in patties, and there are also sausages and pepperoni!
Of course, vegan meat is more expensive than regular meat, as it's a specialty item.
How can you Make your Vegan Pizza Worth Dying for?
So many pizza topping options are available, even if you're vegan. It can be pretty puzzling if you're new to vegan or haven't tried vegan pizza before. 
Don't worry! We're here to guide you to make the best vegan pizza possible.
The most important thing to remember, just like a regular pizza, is that balance is critical; try new things as you need to know what kind of toppings you love and what suits you. Keep on mixing things up, and have fun!
You don't even have to give up on cheese! You heard that right! There are vegan varieties of cheese out there! They don't have any dairy products and are perfect for your vegan diet. You can follow the rule of pizza here too! Acidic toppings go with mild cheese.
Now feast your eyes on these fantastic vegan pizza combos that'll make you happy and your non-vegan friends' mouths water!
The Best Vegan Toppings
Who's ready to get their appetite rolling? I know I am!
Thai Green Curry pizza
Starting strong, here comes the Thai green curry pizza; it has all your favorite Thai flavors… but get this, as a pizza! The secret sauce inside this delicious goodness is the special Thai green curry paste, lime juice, and fresh Thai chile. 
They blend the paste with oil-free hummus (a mashed chickpea paste) and frozen peas. Okay, it's a little unusual, so what? Try it! You might have a new love!
BBQ pizza… but with cauliflower,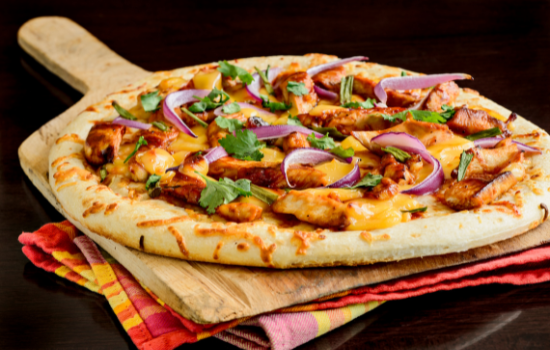 This vegan pizza will satisfy your cravings for a BBQ pizza, but the recipe calls for crispy cauliflower instead of chicken. The garlic sauce combined with the BBQ cauliflower crust delivers a unique taste that'll make your tastebuds happy. Or, on your regular vegan pizza crust you can top the grilled cauliflower.
This kind of pizza is easy to make compared to a chicken BBQ pizza, and it's much healthier too. You can add a cheese base, too; of course, you will use the cheese they make from vegan products. The whole thing will surely be a perfect combo for BBQ and pizza lovers.
Socca pizza
The most remarkable thing about this pizza is that it is vegan and gluten-free, so if you're allergic or anyone at the gathering is allergic, this is the perfect alternative. They don't make the dough from flour; instead, it's made from a combo of chickpea flour, salt, and water.
They top the dough with tomato sauce, and you can add a vegan cheese base. With this pizza, you can afford to go wild, bring in the kids and let them decide the toppings! 
Add colorful veggies such as green bell peppers, tomatoes, or even beetroot, and I'm sure you'll love this combo.
.Potato pizza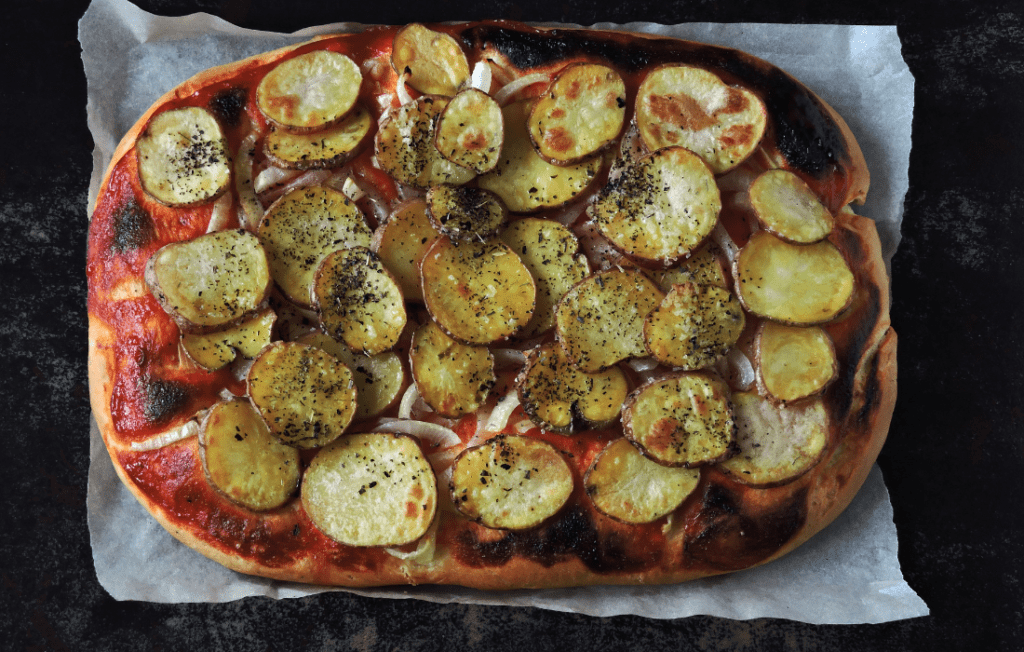 This vegan pizza is another delicious combo that you HAVE to try. It's creamy, crispy, and fragrant; everyone at the dinner table will love it. The dough is the traditional Neapolitan thin crust. It's pretty similar to the pizza Bianca, just with the absence of animal products.
They top it with creamy cashew ricotta (it's vegan, made from cashews), thinly cut golden potatoes, caramelized leeks, and rosemary. It's one of the best-tasting pizzas ever, not even compared to vegan pizzas but also non-vegan pizzas.
Vegan greek pizza
Next up, we have the vegan greek pizza, and right from the name, we can see something special about it. Bonus points because not only is it flavorful and tasty, but also super healthy. This pizza is made with Neapolitan dough as the base.
They slather the dough with tomato sauce and hummus (a thick paste made from chickpeas and olive oil). This makes it high in protein, as hummus is an excellent source of protein. Then it's topped with kalamata olives, artichoke hearts, and fresh herbs.
All these ingredients come together beautifully and pack with greek-inspired pizza full of flavor.
Hot and fiery chipotle pizza
Are the pizzas on this list not doing it for you? Do you like something full of spice? This spicy chipotle pizza is inspired by Mexican cuisine, and you know how spicy that is! The crust is also super healthy as it's made from whole wheat! Whole wheat has so many nutrients.
It's topped with spicy chipotle sauce; you can use vegan cheese as the base. The toppings include sweet corn, olives, onions, and all your beloved veggies inside a chipotle wrap!
Ethiopian berbere chickpea pizza with chickpea crust
The Ethiopian chickpea pizza is fully packed with flavor! They first lather the base with tomato sauce. After that, you can even add some vegan mozzarella cheese to make it tasty! Then some boiled chickpeas are added along with onions and sundried tomatoes.
The thing that makes this pizza super tasty and stands out from the competition is that they top it with tahini garlic dressing. It also goes great with a creamy sauce or a vegan ranch!
The good news is that to make your vegan pizza packed with healthy proteins, you can make the pizza crust using chickpea flour. 
Grilled veggie pizza… with a yeast-free crust?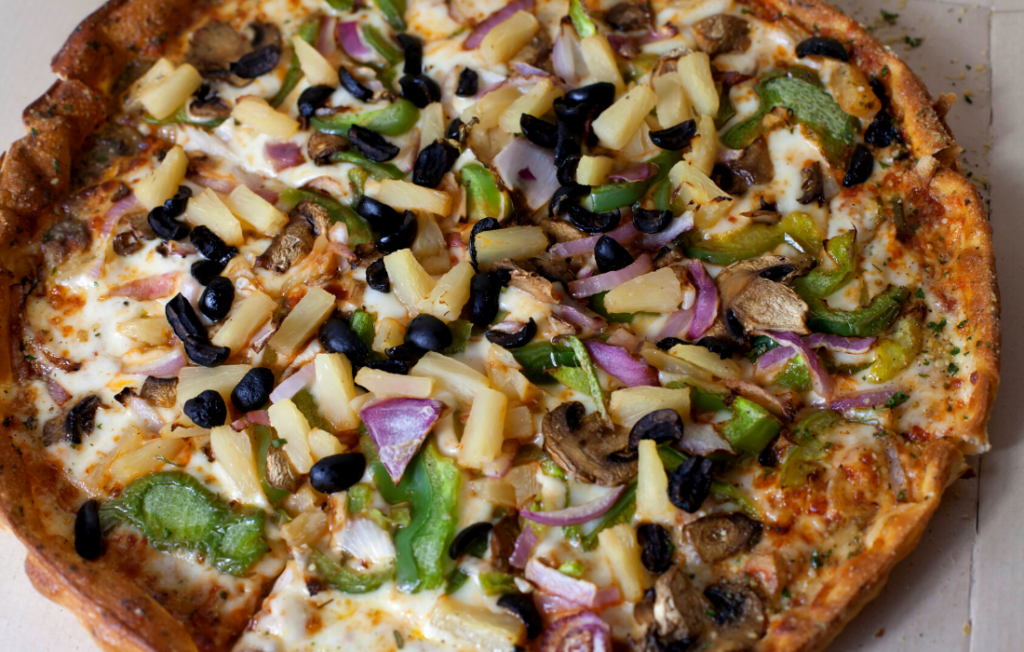 The remarkable thing about this pizza is that it doesn't have any yeast in the crust; they use baking powder as the rising agent. They top it with tomato sauce, shredded vegan cheese, mushrooms, red bell peppers, red onion, and zucchini. 
This sure is a flavorful combo! The crust is super crispy and tasty, and they also brush it with some olive oil, making it extra crisp and delicious!
Air-fryer mini pizzas with Alfredo sauce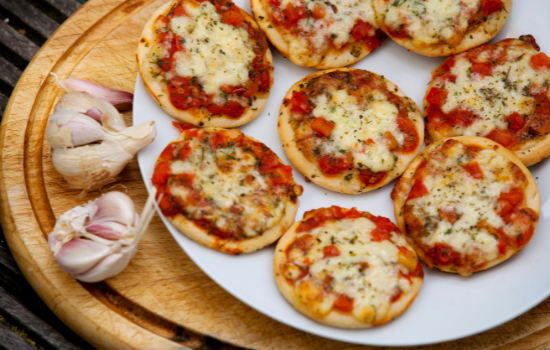 Air-fryers are a great way to make personal pizzas, in half the time it takes to make one in the oven. This makes them an unmatched option for a quick snack or if you need a quick energy boost. Some people even partially bake the crust beforehand to make them even quicker!
It's topped with fresh basil, your favorite veggies (such as bell peppers, onions, or any veggies you fancy!), and the main ingredient: Alfredo sauce. All these flavors come together tastefully, making you crave more instantly!
Vegan pizza Margherita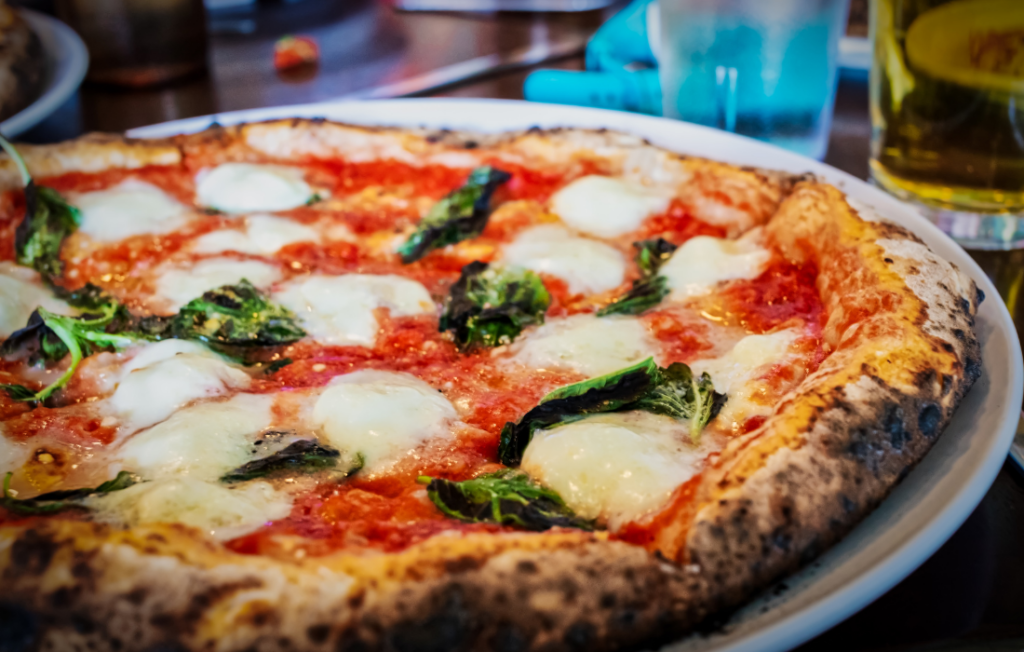 Pizza Margherita is an Italian pizza that is so famous that it's served in every pizzeria and restaurant. But this one has a twist; it's completely vegan! You don't need to worry about quitting this tasty meal once you go vegan!
The base is made from tomato sauce, not marinara sauce or Italian seasoning. The cheese the original Margherita pizza uses is mozzarella, but we go for vegan mozzarella. It's topped with fresh basil leaves, oregano, and extra virgin olive oil, which is added raw at the end.
Pizza Alla Norma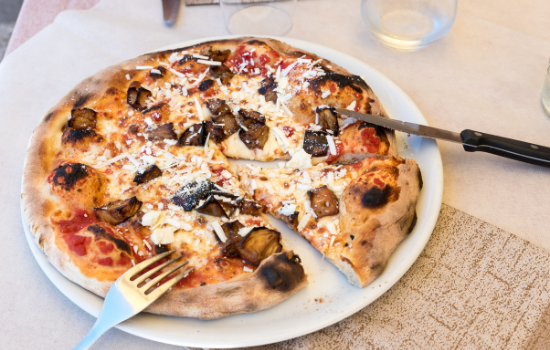 The pizza Alla Norma is another typically Italian pizza. They used the combo in Italy. They add eggplants to anything, and it's called Norma. Instead of fried eggplants, you can use grilled ones to make them healthier. 
Salted ricotta is used in the original recipe, but we use cashew ricotta, as it's vegan. First, the pizza base is made from tomato sauce and topped with vegan mozzarella, then the sliced fried or grilled eggplant is placed on top. After that, vegan ricotta is sprinkled on top.
Pizza with zucchini toppings
This pizza is pretty similar to the last one, but the difference is that if you don't like eggplants, then you can opt for this one. It has fried or grilled zucchini in place of the eggplant.
You can go for the healthier option by grilling the zucchini; it'll be lighter on a diet too. If you need the flavor of some cheese, then you can opt for vegan mozzarella instead.
Not only this, but to have the healthiest pizza under the sun, you can also make pizza crust out of zucchini. Likewise, you can also go untraditional, like making pizza boats.
Vegan pizza Bianca with fresh cherry tomatoes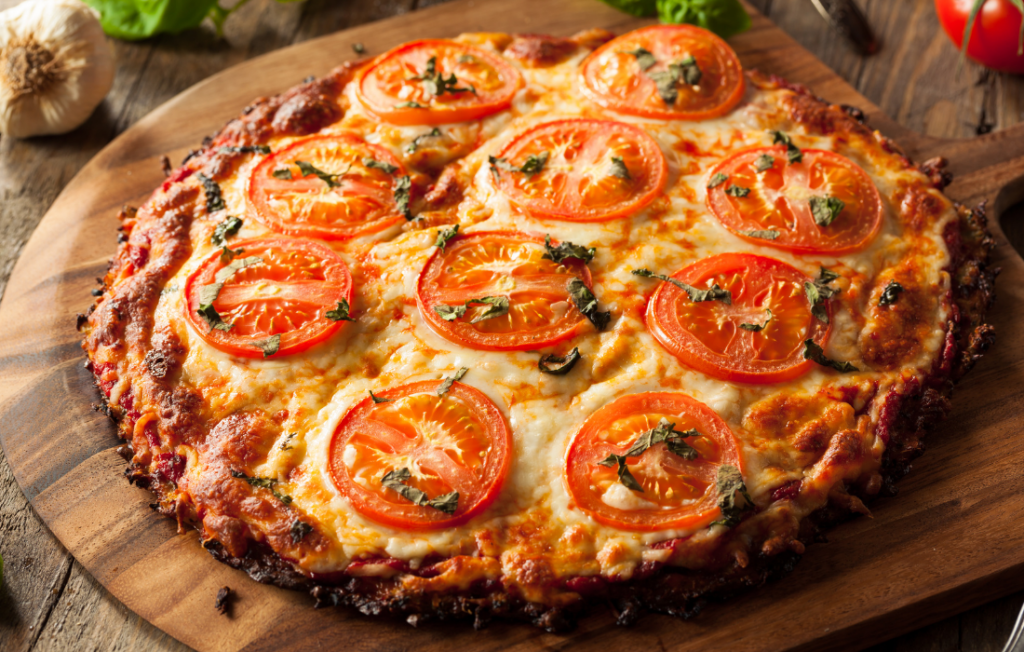 You have probably heard of this type of pizza, and we call the pizza without tomato sauce "pizza Bianca" or white pizza. Usually, white sauce or cheese is added to it, but we'll go for some vegan cheese—either cashew nut ricotta or vegan mozzarella.  
They make this pizza with fresh veggies; the tomato sauce usually overpowers the veggies' taste. The cherry tomatoes are perfect; if you use enough, your pizza will be perfectly moist. 
Add fresh extra virgin olive oil at the end, and the vegan mozzarella combines to become melted Caprese.
Vegan pepperoni pizza
If you don't believe me, vegan pepperoni is made from soy protein and doesn't have any animal products inside it. It's the same old classic topping made with a vegan twist! Yeah, that's right! You can enjoy a traditional pepperoni pizza even on your vegan journey!
If you don't have access to vegan pepperoni, you can go for marinated and baked zucchini slices instead. But you can make your own pepperoni without getting it from a store.
Let me tell you, and they're delicious! You can even add a vegan cheese of your liking; I like a lot of cheese; make a mozzarella base and sprinkle cheddar on top. Of course, I'm talking about vegan cheese, duh!
Vegan butternut squash pizza
Butternut squash makes such a smooth and silky pizza sauce full of flavor! It's the perfect base for a fall-inspired pizza (more like a pie, though). The creamy sauce is topped with apples and pecans. This is such a tasty autumn pizza, yum!
The butternut squash pizza sauce fulfils the 'creamy' criteria of the pizza, even without the cheese! You can still add some vegan cheese to your liking, but if you ask me? I think it's okay even without the cheese. If you have to have cheese, go for vegan mozzarella.
Vegan French bread pizza
This pizza is quick to make and delicious to boot! If you guess what it is, it's pizza, but instead of the dough, the toppings are on bread or baguette. 
A baguette is cut into halves, then pizza sauce (tomato sauce) is spread on top and toppings of your choice. You can use vegan mozzarella as the cheese base and add bell peppers, mushrooms, and vegan pepperoni.
You can use fried zucchini slices if you don't have vegan pepperoni. This is one of my favorite vegan comfort foods, and I'm sure once you have a taste, it'll be yours too!
Cauliflower crust pizza
Cauliflower is pretty trendy these days for replacing other high-carb foods. It's highly versatile, from rice to oatmeal, and even being used in soup thickeners. As a pizza crust, it's unmatched, giving a golden, crispy, and light texture to appease your tastebuds.
In addition to being vegan, it makes your pizza gluten-free; thus, it's an all-in-all healthier option. You can top it with a vegan cheese of your choice and tomato sauce. You can even add some hummus!
Spinach pizza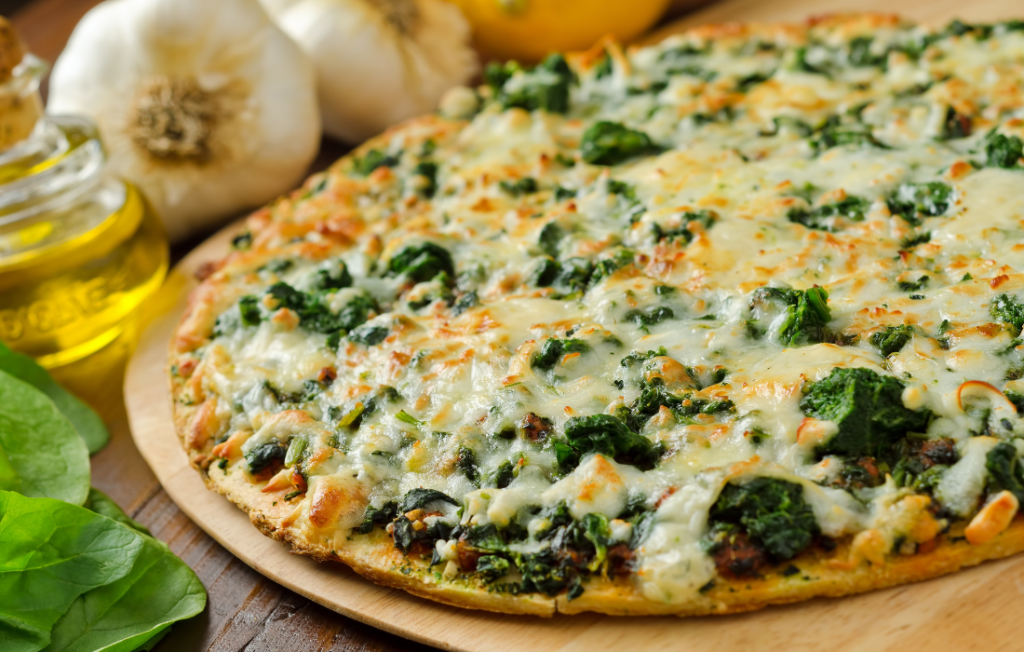 Have you ever tasted spinach and artichoke dip? Isn't it creamy and delightful? But you must hate that it's usually unhealthy and not vegan! But you can easily replace the dairy ingredients with white beans, cashews, and a vegan cheese of your choice!
Nutritional yeast will fulfill your cheesy desires if you don't have any vegan cheese! You can opt not to add tomato sauce in this and just go with creamy cashew ricotta and then add spinach and artichoke on top!
Simple pizza Bianca
I tried this pizza once. It was a fantastic combo; it made my mouth water just thinking about it. It had a white garlic sauce base topped with marinated zucchini, roasted garlic, and artichoke hearts.
You could even turn up the spice by adding peppers, and I think that'd be delightful (if you can't tell, I love spicy foods). Some vegan mozzarella would also make it pretty tasty.
FAQs
What are the best vegan toppings?
With so many vegan pizza toppings, these are my favorite!
Cherry tomatoes
Vegan cheese
Spinach
Sun-dried tomatoes
Mushrooms
Olives
That's just my choice, though, and you probably have your favorite toppings, so don't hesitate to try them all!
Should you cook vegetables before putting on pizza?
If you like raw and crispy veggies on your pizza, then you need to keep some things in mind; some veggies, such as zucchini and even mushrooms, release water when you cook them. That can make the pizza soggy, so remember, if you want to add them raw, don't add too many.
Another thing to remember is that pizza is cooked at a high temperature, but only for 10 minutes. That's not enough for vegetables like broccoli or potatoes to cook properly. I'd advise cooking them beforehand. If you decide to add them raw, cut them very finely.
How do you prevent the vegan veggie pizza from getting soggy?
We have already explained the causes of soggy pizza, but there are a few things you can do to prevent sogginess. First, don't put too many veggies on it. The second is that you always put the veggies over the vegan cheese. You can also pre-cook the veggies beforehand.
Bake the pizza in a super hot oven over a pizza stone.
What's Daiya cheese?
Daiya is a pretty well-known company. They make a range of vegan products. The most famous product is their mozzarella. Most vegan cheeses aren't perfect, but from the field of companies, Daiya cheese is unmatched.
It's healthy and tasty, and the texture is exactly like the real thing. It stretches out, melts, bubbles, everything!
How do you cook vegan meat?
We cook vegan meat products almost precisely like the real thing. Let's take a vegan meat company, for example, beyond meat. They sell their meat products ready to cook without any further preparation required. Their ground beef is similar to actual beef.
We can use it in a similar way as natural beef is cooked. You just cook it and crumble it to use in whatever you want! In our case, it's pizza!
Final Thoughts
If you're going vegan, it's a great service to the environment and yourself! But that doesn't mean bland foods must hamper you! Live it up. There are many delicious vegan foods, like the vegan pizzas we described.
Try them all and find your new love! We hope that the vegan pizzas satisfy your desires and you'll give them a try!
mama-cucina.com is a participant in the Amazon Associate program and will earn from qualifying purchases.