When you love Italian cuisine and want to try the most delicious Italian recipes, it's common to get confused between the sauces, especially the marinara sauce. The traditional Italian red tomato sauce has such variant uses that you are often confused about whether you're using a spaghetti sauce, marinara sauce, or Pomodoro sauce.  
And you keep on searching about "what is marinara sauce" or its most authentic recipes. 
We understand your worry very well. It's' why in this article, we'll be discussing marinara sauce. You can hope that in the end, you'll be more confident about using the marinara sauce in your food.
Here we come.
What is Marinara sauce?
Marinara, sometimes known as "red sauce," is a tomato-based sauce that frequently comprises extra virgin olive oil, garlic, onions, herbs, and spice. The sauce is complex compared to the other 2 most famous Italian sauces: pizza sauce and Pomodoro sauce, yet a bit simpler than its descendant: spaghetti sauce.  
It's popular in Italian-American cuisine in the United States for its versatile use, from being a simple pasta sauce and a pizza topping to a sauce for classic meals like eggplant or chicken parmesan.
BUT, when you come across several marinara sauce recipes, few are original as made in Italian homes. Rest are fusions, especially when you follow non-Italian chefs.
Does it mean Italian cuisine doesn't allow you to boast the marinara sauce flavors? NO!
You can add a few chunks of apples to add an extra sweet scent, 1-2 carrots to add color, or little sugar to make it less acidic.
What is the origin of Marinara Sauce?
The exact origin of tomato sauce, "marinara," is unknown. However, it's believed that this sauce was first made in Neles, a metropolitan of Italy when the Spanish introduced the Italians to tomatoes in 1600 when they colonized Europe. 
About the marinara (sailors style/ sea fearing/ mariner style) sauce, it's believed that either chefs or landlubbers on ships of Italian and Spanish explorers included this sauce in sailors' meals. The reason was that being acidic, it could last longer without going bad. Soon, it was the favorite lunch of Italy's merchants on lengthy sea voyages.
However, the local Italians hesitated to use the tomatoes for a long time except for medicinal use. Later, Italians began to use the tomatoes in the form of sauce as time passed. Initially, the carnivorous, rich Italian people didn't admire it at all, but the poor adopted it as the tastiest nutrient-rich food.
As stated by Diego Zancani, emeritus professor of medieval and modern languages at Oxford University and author of "How We Fell in Love with Italian Food,"
"The earliest recipe for tomato sauce was published in 1694 by Neapolitan chef Antonio Latini in his book "Lo Scalco alla Moderna."
The book mentioned that you could make an amazing sauce by mixing a few herbs and onions into tomatoes. And this sauce could pair well with protein-based recipes.
Meanwhile, a dish for pasta with tomato sauce appears in chef Francesco Leonardi's 1790 cookbook, L'Apicio Moderno.
Thus, no matter how it began, as a result of voyages, this versatile sauce became a staple of Italian cuisine before making its way to the New World, where it grew into an essential component of Italian-American food. 
How Does Marinara Sauce Taste?
For the reason that traditional marinara is intended to be delectably simple, the taste profile should be fairly constant throughout. The traditional marinara sauce tastes like its main ingredient, fresh tomatoes, but with a silky texture and a strong bite from the olive oil. 
Marinara should always be cooked using fresh tomatoes to ensure a tasty dish, and desired spices and aromatics can be added to taste.
What is the Texture of Marinara Sauce?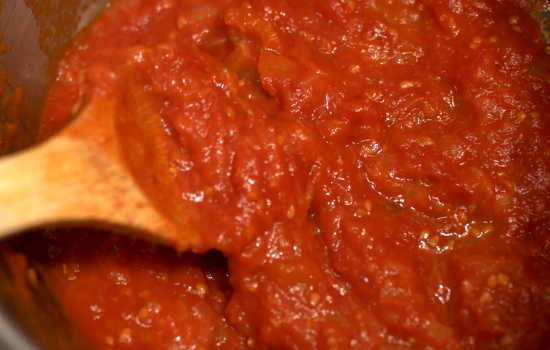 The marinara sauce has a velvety runny texture. Compared to its counterpart, Pomodoro sauce, marinara sauce is relatively less condensed. Likewise, it's brighter, which is why it looks pretty bright red. 
While the counterpart, Pomodoro sauce, has a deeper and darker color because it is cooked for a prolonged period, while the marinara only needs 30-45 minutes of cooking.
However, its color is less bright when compared with "no-cook" traditional pizza sauce and is thicker than pizza sauce.
What are the Main Ingredients in Marinara Sauce?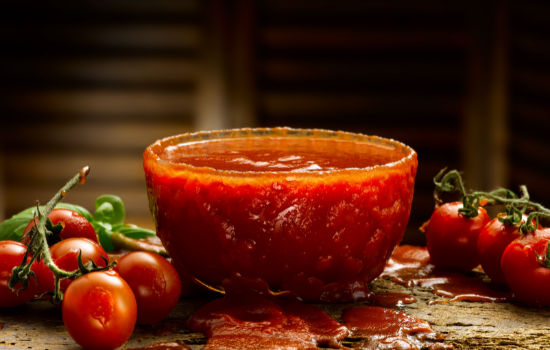 Traditional marinara sauce's basic components are delectably simple. Of course, there are San Marzano tomatoes, as well as garlic, basil, extra virgin olive oil, and salt. Onion is commonly included in sauce variants. While you can add extra seasoning like chili flakes or oregano.
To keep the tomatoes' brightness, add all these fresh ingredients and cook them over high to medium flame. Also avoid over-cooking. 
The result will be a brilliant sauce. Since the marinara tomato sauce doesn't require prolonged cooking, it's better to cook it a few hours before serving it. If you have planned a special lunch or dinner on Sunday, you can make it on Saturday night.
Authentic Italian Marinara Sauce Recipes
You can find tons of marinara sauce recipes. As said earlier, finding a traditional Italian marinara sauce recipe is hard. We understand this, and it's why we've got you a way of making a classic marinara sauce at home.
Recipe#1: How to Make Marinara Sauce from Scratch 
Ingredients
2 pounds of tomatoes (preferably San Marzano or Roma tomatoes, yet you can also use any available to you.)
1 medium onion (white or yellow)
2 garlic cloves
4 tbsp of extra virgin olive oil
1 tsp rock salt
10-15 fresh basil leaves (you can also use 1 tbsp of dried crushed basil leaves)
Instructions:
Wash the tomatoes and put them in a large pot. Add boiling hot water to the pot to soften the tomatoes.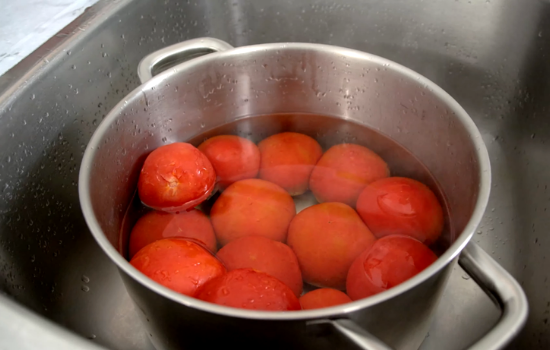 After 10 minutes, rinse the hot water and pour ice cold water into the pot to cool down the tomatoes.
Make an "x" on the top of each tomato with a sharp knife and remove the tomato peels. Also, remove the hard green part from the middle of each tomato.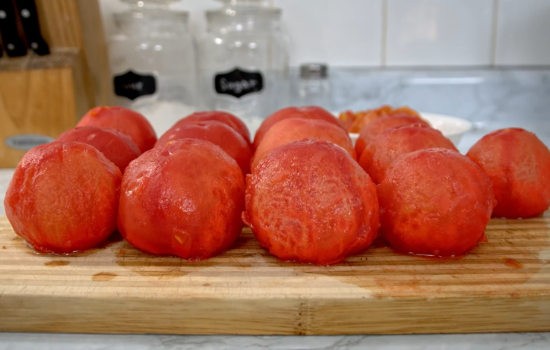 Cut the tomatoes into small pieces.
Cut the onions and garlic cloves, and fry in the olive oil on medium heat until translucent.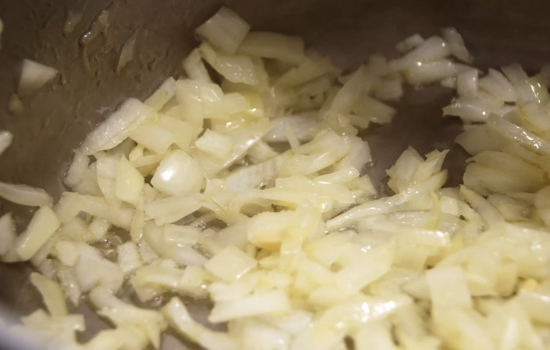 Add the tomatoes to the pan and cook for 30-45 minutes until you don't see excessive water in the pot.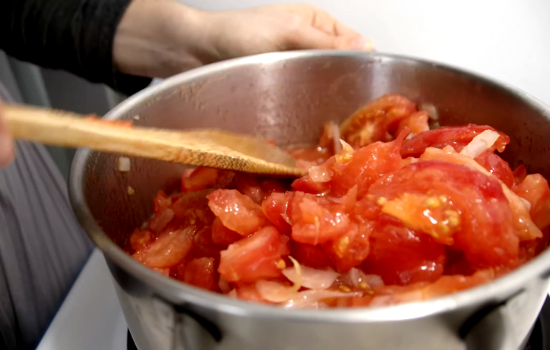 When the tomatoes have been cooked, add seasoning to them and blend by 1-2 pulses to get a smooth texture in your marinara sauce.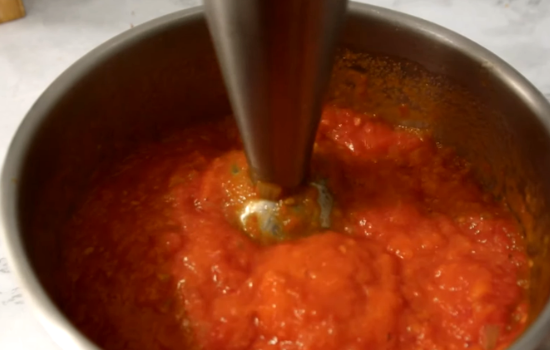 Add the fresh leaves to the end and mix the sauce well. 
Note
The chopped fresh basil leaves have a refreshing strong flavor, so you need not cook them in the sauce. Adding them at the last moment will add a more robust flavor.
Yet, if you go for dried basil, add it in the beginning. They'll release the flavor by cooking.
The Tastiest Marinara Sauce Recipe from Canned Tomatoes – Fusion Version
Italian recipes also allow you to make them a bit more delicious to the extent they remain authentic. It's why you're allowed to add a little apple flavor or bell peppers. Apples infuse a marvelous sweet scent to your sauce, and red bell peppers will enhance the sauce's red color.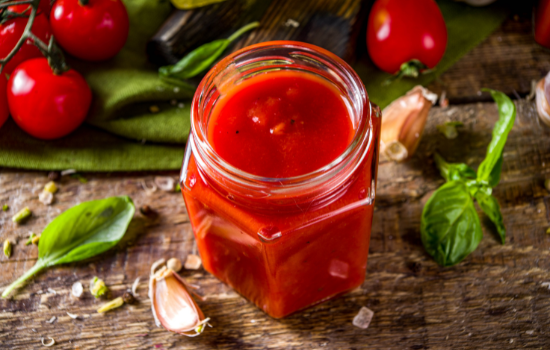 Ingredients
2 canes of San Marzano tomatoes (28 oz each)
1 medium onion (white or yellow)
2 garlic cloves
½ red bell pepper (cut in cubes)
1 apple cut in 4 quarters
4 tbsp of extra virgin olive oil
1 tsp rock salt
10-15 fresh basil leaves (you can also use 1 tbsp of dried crushed basil leaves.)
Ingredients
Open the tomato canes and pour tomatoes into a large bowl.
Crush them using your hands, preferably. You can also use a food mill or hand blender to get a smooth texture.
Fry the onion and garlic in the extra virgin olive oil until transparent.
Add tomatoes and bell pepper to the sauce and apple.
Let it cook for 30 minutes. (If you multiply the quantity by 2X, you can extend the simmering time up to 45 minutes.
After cooking, remove the apple pieces from the sauce.
Add hand-crushed fresh basil leaves and salt into the sauce and mix it.
Your appetizing marinara sauce is ready to go with pizzas, any kinds of pasta, and all other main courses.
What Mistakes the Italian Chefs Don't Make when Preparing Marinara Sauce?
After getting into several marinara sauce recipes, we've found that Italian chefs might not like most of them. The reason is most of them are full of self-innovations. 
It's common for cooking enthusiasts to add more flavoring, but according to Italian chefs, simplicity is the key. Instead of embellishing the recipe, keep your sauce simple but add extra seasoning to your main meal, left to each eater's choice.
Below are the top mistakes an Italian chef will hate to make when cooking classic Italian sauce.
1. Adding Too Many Onions
One most common mistake is adding too much onion. 
Come on, please; you're not making onion and tomato soups. Adding onion in large quantities will deprive the sauce of the tomato taste and add extra thickness to your sauce, which has to be thin. 
2. Adding Too Much Garlic
You must raise your eyebrows or even frown when anyone advises you to add a lot of garlic. The strong garlic taste is essential, but it can be drastic for your traditional marinara sauce when added in a large quantity.
3. Overly Insisting on Fresh tomatoes or San Marzano tomatoes only
Italian chefs don't insist on using only fresh or San Marzano tomatoes. Fresh is better, they agree? Yet, also know how they'll combine the fresh tomatoes with the sauce. Honestly, it requires a lot of work, from removing the peel to cutting.
It's also noticeable that fresh tomatoes taste best when served raw and fresh, like in salads. Likewise, you should also remember that tomatoes are seasonal, and prices often spike depending on their availability. 
So, in such cases, forget about the fresh tomatoes, and try to make your marinara sauce out of some best-canned tomatoes. These tomatoes, however, must be from some good brand that doesn't load it with salt and also process them little. Furthermore, if you use canned tomatoes, your marinara sauce will have a consistent flavor every time you make it.
4. Making it at the sauce 11th hour and finishing ASAP
Patience is the key for every food, especially those demanding good cooking time. The same goes with the marinara sauce. Many times, considering it less significant, you tend to make it in a hurry, which can result in a less tasty sauce.
WHO WILL LOVE THAT?
No one, of course! 
So, cook your marinara slowly to ensure that it tastes delicious and does wonders to the complimentary recipes.
5. Over blending the marinara sauce
In the food processor, crush it. Marinara must be smoothly pureed after cooking, correct? 
No.
You have freedom here: the texture of your marinara is all up to you. In a food processor, pulse, not puree, the mixture as much or as little as you like. 
Pulsing will allow you to keep track of the process and stop when the sauce has reached the desired texture. Leaving a few bits in for texture might enhance the eating experience. It'll be more dramatic. If you want a smooth marinara, that's OK, but it's unnecessary.
6. Adding dried herbs in the end
You add dried herbs, salt, and pepper after the cooking procedure. Because the greatest marinara is cooked slowly over medium heat, adding dried flavorings early (if fresh are not available) ensures that they have enough time to infuse the sauce with flavor without becoming bitter. Of course, you may add additional spice as you cook and taste, but seasoning early in the process will provide you with a tasty base.
Please remember that this guideline only applies to dried spices and herbs. Fresh herbs like basil should be added after the cooking time.
7. Discarding all the pasta water
Surprises can wait for you. What will you do if your marinara sauce seems too dry and "jammy?" Pasta water can help you in this regard if you're making marinara sauce or pasta, specifically. So, when you rinse the pasta water, save 1 cup. 
If you feel that marinara sauce is unnecessarily thick, add this water gradually and control the consistency. Ultimately, your sauce will be flawless.
8. Adding so many ingredients in a single recipe
You can add red bell peppers, apples, celery, and even carrots. But should you add all these in a single batch? 
NO.
Additional ingredients certainly add flavor and color to your sauce. Still, they might exceed the tomato to other ingredients ratio, and all you get will be only some tomato sauce but not marinara. Thus, you can end up with more negative results. Please avoid such experiments.
Marinara Vs Pomodoro Vs Pizza Vs and Spaghetti Sauce
Italian tomato sauces move from simplicity to complexity. Supposing the tomatoes as the base, the sauces vary in terms of additional ingredients and preparation methods.
To help you know how they differ, below, we've differentiated between them precisely.
 
Pizza Sauce
Pomodoro Sauce
Marinara Sauce
Spaghetti Sauce
Difference
Original Italian pizza sauce is the simplest tomato sauce made using tomato puree with some extra virgin olive oil, basil, and salt. You can also use it to replace your Pomodoro or marinara sauce, yet cook it first as it's primarily uncooked.
Pomodoro sauce is the most famous Italian tomato sauce, which is simply known as tomato sauce. It is made by boiling the tomatoes and crushing them in food mills. Later it is simmered for several hours with salt, fresh basil, and olive oil are added. You can use it as an alternative to marinara or pizza sauce.
Marinara sauce is a basic tomato sauce made of tomatoes, like onions, garlic, seasoning, and basil.
It goes with your pasta dishes and Italian sausage. You can use it to replace pizza, Pomodoro, spaghetti, or dipping sauce.
Spaghetti sauce is a heartier sauce with canned crushed tomatoes and a few veggies as base ingredients. It is sometimes known as a "meat sauce." 
Preferred Tomatoes(fresh or canned)
San Marzano
San Marzano, Romana, cherry tomatoes, or any available
San Marzano, Romana, or any available
San Marzano, Romana, or any available tomato paste or crushed tomatoes
Cooking Time
Zero
Up to 4 hours slow simmering
45 minutes cooking at the high-medium  flame
Up to 1 hour
Primary Ingredients
Salt, Extra virgin olive oil, Basil leaves
Salt, Extra virgin olive oil, Basil leaves
Onions, Garlic, Salt, Extra virgin olive oil, and basil leaves.
Passata, onion, carrot, celery, Salt, Extra virgin olive oil, Basil leaves, ground beef
Additional Ingredients
No
No
Red bell peppers, celery, carrots, or apple
Your favorite Italian seasoning, red pepper flakes
How can you Store Homemade Marinara Sauce?
You can store the marinara sauce in the fridge for up to a week. It also freezes well. So, don't be afraid to make a large batch! This Italian Marinara Sauce recipe can be stored in the freezer for up to 6 months! Simply defrost the sauce in the refrigerator overnight.
If you need to defrost traditional marinara sauce quickly, microwave it on low for short intervals or place it on the stovetop frozen. Defrost slowly and frequently for both methods.
We hope you've enjoyed knowing "what is marinara sauce." You can make yours now. 
GOOD LUCK!
mama-cucina.com is a participant in the Amazon Associate program and will earn from qualifying purchases.