Have you ever had Pizza Bianca? If you're a pizza connoisseur, you might've come across this name. Pizza Bianca is white pizza. It's spread with ricotta cheese and parmesan cheese mixture instead of the usual tomato sauce.
In Rome, bakeries or pizza shops sell Roman white pizza as large slabs of golden flatbread drizzled with a bit of olive oil. It's a staple food of Rome consumed throughout the day, whether day or night.
Although it's called white pizza, it's closer to being a type of bread than what people traditionally consider pizza.
Where Does Pizza Bianca Originate From?
Pizza Bianca originates from Rome's bakers, who, before they baked their loaves of bread, put a small piece of pizza dough into the oven to test the temperature. They make the dough from flour, yeast, salt, water, and extra virgin olive oil, leaving it to rise for hours or days, much like a traditional pizza.
Once proven, they stretch the dough, top it with cream and cheese, and put it in the oven to bake.
What's the most critical difference between pizza and pizza Bianca?
The most significant difference between average pizza and pizza Bianca is that on a standard pizza, we put tomato sauce on it, but many people don't like tomato sauce. On pizza Bianca, there isn't any tomato sauce; instead, we top it with cream or white sauce. 
A perfect substitute for those who hate tomato sauce-like, my brother! 
Another big difference between the two is the place of origin. We all know pizza originated in Naples, Italy, but pizza Bianca is a staple dish of Rome!
How Can you Make Pizza Bianca at Home – White Pizza Recipe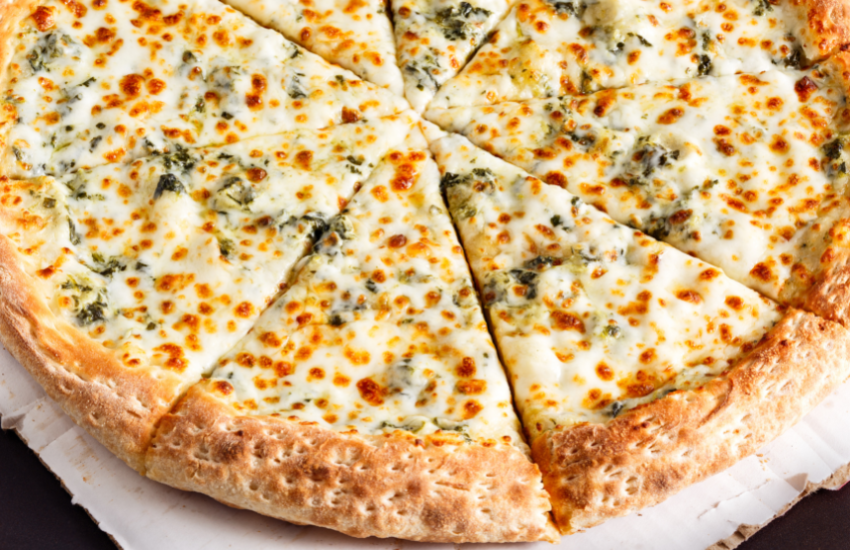 Okay, now you know what pizza Bianca is and how it originated. Despite that, the big question remains… How do we make it? It's not that hard; it might even be easier than the standard Neapolitan pizza. 
Although it may be a staple dish of Rome, Italian pizza maestros make it well. You can find many white pizza recipes, yet the one you choose has to be authentic. Below we've got you the authentic pizza Bianca recipe.
Ingredients 
For the dough
1kg of 00 flour
2.7 cups of water (650ml)
30g of refined salt
0.03oz of yeast (dry)
10g of sugar, which gives the crust a nice brownish color
For toppings
One cup of fresh mozzarella
One cup of parmesan cheese
1 Potato
Salt to taste
Extra virgin olive oil for drizzling 
For white pizza, Bianca sauce
21g of butter
7.5 ml of extra virgin olive oil
15g of all-purpose flour
One teaspoon of minced garlic
250 ml or a cup of milk
Salt to taste (I use ¼ tsp)
Black pepper to taste (I use 1/8th tsp)
¼ tsp of herbs (oregano)
Parmesan cheese 22g
Fresh Basil leaves
Instructions
The most vital part- the homemade pizza dough
Take a large bowl and start combining all the ingredients for the dough. Mix the salt in the water first, then add flour. Keep on adding the flour while mixing simultaneously, then add the yeast. This whole mixing should take you about 15 minutes. 
Finally, add the sugar and keep mixing; besides giving the crust a nice brown color, the sugar also acts as fuel for the yeast. If the dough is too sticky for you to work, let it rest for 10 minutes under a cover and then knead it again. When it's mixed well, add the olive oil.
Mix the olive oil into the dough well, and then cover the bowl with a wrap or a plastic film.
Leave it to rest for 5-10 minutes at room temperature. We know this process is called Autolyse, and the yeast must grow.
Kneading the dough
Next up, knead your dough on the counter for 20 minutes until it's mixed adequately. It might still be sticky, but you don't need to worry about that. 
Leave the dough to sit at normal room temperature for 4-6 hours so the yeast can ferment more. 
After that period, you'll see that your big fluffy dough is double its original size! Divide it into 250-gram parts and sprinkle flour on top. 
Put the dough balls into a dough box for another 6 hours inside the refrigerator. The dough ball shape helps maintain the shape and tension.
Making the potato topping
You're making the pizza Bianca with a potato topping, so you must make the yummy potato first!
Take one potato, and boil it until it's cooked. Take it out and remove the skin.
Sprinkle salt to taste and drizzle some olive oil on top. 
Add about a tablespoon or two of parmesan cheese on top too. Mix it all with a fork, and crush the potato! Put the mixed potato into a masher and mash everything into another bowl.
This is an essential part of your pizza Bianca, a unique ingredient to help give it the best taste ever!
Making the Bianca Sauce
This is another critical step. It'll give your pizza a fantastic taste. 
Put a stove on medium heat and pour the olive oil inside, then add the butter and melt it.
Next up, you put in the all-purpose flour and must keep stirring, so there aren't any lumps in the mixture. Keep stirring and cook for a few minutes until the mixture is lightly toasted. 
Add the minced garlic and go well. 
After that, pour the milk slowly while stirring, so everything is mixed correctly. Cook for a few minutes until your sauce is thick and smooth.
Now add the salt, pepper, and mixed herbs. Stir well, and then turn off the heat. 
Add the cheese to the mix. Stir it until the cheese is melted and combined. The sauce will thicken even more when cooled. Please remove it from the stove.
Making the Pizza Bianca
Everything is ready, and we can combine everything to make the pizza Bianca.
Stretching the dough
Take your dough ball and let it sit at room temperature for at least 30 minutes. 
Then lay it on a surface after sprinkling flour so it doesn't stick to any surface. 
Shape it slowly with your hands from the bottom up to give it a circular shape. 
After that, slap the dough to spread it out. Always use the ends and don't touch the middle of the dough. Focus on the lots of the dough, and the middle part will stretch out by itself later. Don't touch the rim of the dough either, as it'll become a delicious crust.
Few words about the baking temperature and preheating
You must know that the perfect temperature to bake a pizza is 626 degrees Fahrenheit. Most conventional ovens can't reach such a high temperature, so you'll need a hot pizza stone. Set your temperature range to the highest temperature and preheat the pizza stone for about an hour.
It needs to be super hot for the pizza to cook perfectly.
Adding the toppings and baking
As we already know, the most significant difference between a regular pizza and pizza Bianca is that pizza Bianca doesn't have any tomato sauce. 
Take the white sauce you prepared and pour some of it on top of your pizza with a spoon. A spoon with a broad base will be perfect for this job. Only pour enough so that you can still see the surface of the dough through it. 
After that, add the mozzarella cheese on top of the pizza. And then comes the secret ingredient, the potato! 
Put the potato we made inside a masher again and use it to top your whole pizza with it. Drizzle some olive oil on top according to taste too. 
Add extra parmesan cheese on top, some black pepper according to taste, and a pinch of salt. Also sprinkle a few fresh basil leaves.
Place the pizza on a pizza peel and put it inside the oven. If you have a pizza oven, you'll need to cook it for about a minute to 90 seconds and keep rotating it every 20-30 seconds. It'll take 6-8 minutes in a domestic oven turning the pizza every two to three minutes. 
Note: When cooking bianca pizza in an electric oven, pre-cook the pizza crust for 5 minutes, and then add the toppings. The reason is, unlike Neapolitan style pizza, pizza Bianca has many toppings which can slow down the dough cooking process, and resultantly you can have a hard crust.
Also note that, since your bianca pizza has heavy toppings, you can also set the stretched pizza dough in a cast iron skillet or rimmed baking sheet and then add the toppings, it'll save your pizza from breaking when you stretch it on the pizza peel.
Serve the pizza
Remove the pizza Bianca from the oven with the peel. Always wear protective gloves so you don't hurt yourself. You can top it with a wild rocket before serving too. Get ready to have the best pizza Bianca ever!
What are Different Toppings You Can Use on Your  Bianca Pizza?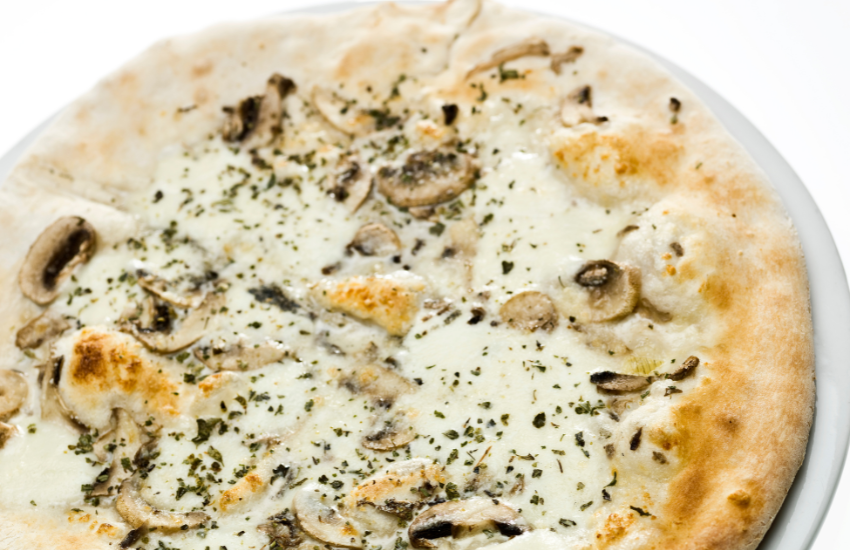 You can use different toppings on your pizza Bianca, such as fresh or grilled veggies like mushrooms, or cauliflower, as long as there aren't any tomatoes. You can even add salami or some sort of meat if you love it. Just remember not to use tomato sauce!
You can substitute the cheeses in this recipe with your favorite cheeses, such as cheddar cheese or even blue cheese if you're feeling adventurous! If you want a different taste, you can even use Alfredo sauce instead of the Bianca sauce!
FAQs about Pizza Bianca
How do you store pizza Bianca?
If you have any leftovers, which, trust me, you won't have, you can wrap them up and store them in the fridge. You can heat it up again either in the microwave or in your oven. You can even freeze it. You'll have to defrost it thoroughly in the fridge beforehand, though!
Can I use plain flour for the dough?
It's recommended to use 00 flour, but if ‌it's unavailable, then you can use regular bread flour too. It has a lower protein content so the texture will be slightly off compared to 00 flour. Higher protein content makes the gluten sit better and be more developed.
What hydration dough should you use for pizza Bianca?
The best hydration for pizza Bianca is the same as any other pizza. You can use 60% hydration, 70%, or even 80% hydration dough for your pizza. 
If you ask me, 70% is the best hydration for pizza dough as it isn't too hard and dry and easier to work with than the super soft 80% hydration dough.  
Focaccia vs. Pizza Bianca, what's the difference?
Pizza Bianca is a roman recipe, whereas pizza Focaccia is a recipe originating in the north of Italy. There isn't much distinction between the two, just that pizza Focaccia has a spongier and breadier dough compared to pizza Bianca.
How should you eat Pizza Bianca?
Romans eat pizza Bianca whenever they want during the day, it's mostly considered a snack, and it's cheap. It's usually given to young children as a mid-morning snack or school lunch. Some people even split it in half and eat it like a sandwich, much like a calzone!
In Rome, people even eat pizza Bianca as a dessert! Wanna know how? Well, they fill their sheets of pizza Bianca with sweet stuff such as Nutella! Weird, right? But you won't know how it tastes until you try it!
How do you know your Pizza Bianca is fully baked?
One sign that'll tell you that your pizza Bianca is baked is that after some time the white sauce and the cheeses on top will start bubbling and boiling, which means it's ready!
How can I prevent soggy Pizza Bianca?
Soggy Pizza Bianca is usually the result of the mozzarella being fresh and leaving water. You can combat this issue by breaking up the fresh mozzarella and wrapping it up in paper towels for up to an hour. 
You can even use slices of mozzarella instead of cubes. It'll release all the excess water. You just need to slice up the mozzarella, put it into a sieve, and leave it for a few hours.
ENJOY YOUR FIRST HOME-MADE PIZZA BIANCA!
mama-cucina.com is a participant in the Amazon Associate program and will earn from qualifying purchases.