Are you curious about the secret ingredient that can change your pizza game–positively? Meet "poolish," the artisanal touch that transforms ordinary pizza dough into a culinary masterpiece. 
Originating from Polish bakers and perfected over centuries, poolish isn't just dough; it's a tradition. Let's uncover the magic behind this historical technique and learn how it can take your homemade pizza to the next level!
What is Poolish?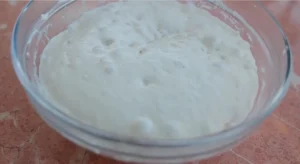 Poolish is a pre-fermented liquid dough used in making bread or classic pizza dough to enhance its flavor and texture. Its history traces back to Polish bakers in the 19th century, who brought this technique to France, where it got its name.
Unlike direct dough methods, poolish involves fermenting a mixture of equal parts flour and water with a pinch of yeast overnight. After mixing the poolish ingredients, the mixture is left at room temperature for 1 hour, then put in the refrigerator to slow ferment for 16 to 24 hours. Poolish's unique fermentation contributes to the dough's texture and taste in 2 ways:
This extended fermentation period allows natural enzymes to break down complex starches into simpler sugars. This entire process gets you a dough that is easier to digest and boasts a rich, nuanced taste.

Its slow fermentation process makes yeast produce carbon dioxide gas, creating bubbles that give the dough a light, airy structure. This also develops the dough's gluten, making it stretchier and easier to work with. 
When integrated into pizza dough, poolish not only enhances the crust's texture but also imparts a subtle, tangy flavor that's quintessentially artisanal.
Hence, poolish is a historical method borrowed from Polish and French baking traditions that many pizza pros prefer to use for making the most delicious iconic Italian pizzas.
Why Do Bakers Like Using Poolish for Making Pizza Dough?
Pizza maestros love using poolish to prepare pizza dough for several reasons, such as:
Enhanced Flavor

: Poolish imparts a subtle, tangy taste to the dough, making the pizza more flavorful.

Improved Texture

: Slow fermentation creates bubbles, resulting in a light, pillowy crust.

Finer crumb structure

: Poolish helps to produce a finer crumb structure in bread. This is because the fermentation process helps to develop the gluten in the dough, which gives the bread its structure.

Easier Digestion

: Enzymes in poolish break down starches, making the dough easier to digest.

Stretchier Dough

: Poolish fermentation enhances gluten development, making the dough stretchy and easy to work with.

Artisanal Quality

: Bakers value Poolish for its artisanal touch, elevating the pizza's overall quality.

Extended Shelf Life

: Slow fermentation extends the dough's shelf life, allowing for better planning in commercial settings.

Tradition and History

: Bakers appreciate the historical roots of Poolish, connecting their craft to centuries-old baking traditions.

Consistent Results

: Poolish offers a reliable method for consistent pizza dough, ensuring uniform quality across batches.
How Much Poolish is Used For Making Pizza Dough?
To make pizza dough using poolish, you have two options: 20% or 100% poolish ratio.
For 20% Poolish Dough
:
Prepare poolish separately.

Make pizza dough with 60% hydration.

Add 20% of the prepared poolish to the dough ingredients. For example, if you have 1000 grams of dough, add 200 grams of poolish.

Mix, knead, and let it ferment again.
For 100% Poolish Dough:
Prepare poolish following your recipe.

Then, combine the entire poolish with 22.5% dry flour, yeast, salt, and olive oil. For instance, if you used 1 liter of cold water, 1 kg of 00 flour, 5 grams of dry yeast, and 5 grams of honey for poolish, add 450 grams of 00 flour, 5 grams of dry yeast, 30 grams of salt, and 30 grams of olive oil.

 Knead the dough and let it ferment again according to the recipe.
Whether you use 20% or 100% poolish, both can result in a consistent crust texture.
Tests have shown that both types of dough achieve similar outcomes
, dispelling the myth that more poolish leads to significantly different results. The key to professional pizza dough is perfecting the poolish proofing process, ensuring the right temperature for fermentation.
Ingredients
300 milliliters of water

5 grams of honey

6 grams of fresh yeast (or 5 grams of dry yeast)

700 grams of 00 flour

25 grams of sea salt

10 grams of olive oil
Instructions
Prepare the Poolish (Pre-ferment):
In a bowl, combine 300 ml of water, 5 grams of honey, and 6 grams of fresh yeast. Mix until yeast is dissolved.

Add 300 grams of 00 flour to the mixture. Stir until well combined.

Cover the bowl and let it rest at room temperature for 1 hour. After 1 hour, refrigerate it for 16 to 24 hours.
Bring the Poolish to Room Temperature:
Take the poolish out of the fridge and let it sit at room temperature for 30 minutes to 1 hour.
Prepare the Pizza Dough:
Take a large mixing bowl and combine the poolish with 400 ml of water. Mix well to integrate the poolish into the water.

Add 700 grams of 00 flour to the mixture. Stir until a rough dough forms.

Sprinkle 25 grams of sea salt over the dough and mix until incorporated.

Drizzle 10 grams of olive oil over the dough. Knead the dough in the bowl until it starts to come together.
Kneading and Forming the Dough:
Lightly four the kneading surface and transfer the dough onto it. Knead the dough for 10-15 minutes to turn it smooth and elastic.

Form the dough into a ball and let it rest for 15-20 minutes.
Making Dough Balls:
Divide the dough into individual pizza portions, each weighing around 250 grams.

Shape each portion into a tight ball, ensuring there's no air inside. Close the dough on the bottom to create a smooth surface.
Final Fermentation:
Place the dough balls upside down in a dough box or a tray dusted with a bit of flour. Ensure there is no air inside the box.

Let the dough balls ferment at room temperature for 2 hours or until they have visibly expanded and are soft to the touch.
Baking Your Pizza:
Preheat your oven, ideally with a pizza stone, to the highest temperature (around 500°F or 260°C) for at least 1 hour.

Stretch the dough gently on a semolina-dusted pizza peel.

Add your favorite pizza toppings.

Carefully slide the pizza onto the hot pizza stone in the oven.

Bake for about 8-10 minutes or until the crust is golden and crispy.
Enjoy Your Perfect Pizza:
Take your pizza out of the oven and let it cool for a minute.

Slice it, savor the aroma, and enjoy your homemade pizza with the perfect balance of softness and crunchiness.
Remember, the key to great pizza lies in your ingredients' timing and quality. 
Enjoy your pizza-making journey!
mama-cucina.com is a participant in the Amazon Associate program and will earn from qualifying purchases.