If you've been making Pizzas for some time, you might've come across the word "Poolish" in making better pizza. But what is it? Poolish is a type of pre-ferment that you make for your pizza. It's like a liquid sponge, and it's used as a starter in the dough.
A little bit of History of Poolish as Dough Starter
The concept of Poolish is relatively recent and is believed to have originated in Poland in the 19th century. From there, Poolish made its way to France, where it was known as a poolish. 
In the beginning, french bakers started using it regularly for bread and baguettes thanks to the consistency and less sourness. Eventually, it spread to Naples in Italy for making artisan pizzas because it can make delicious Neopolitan pizza regardless of the type of flour you use.
Why should you Use a Poolish Starter?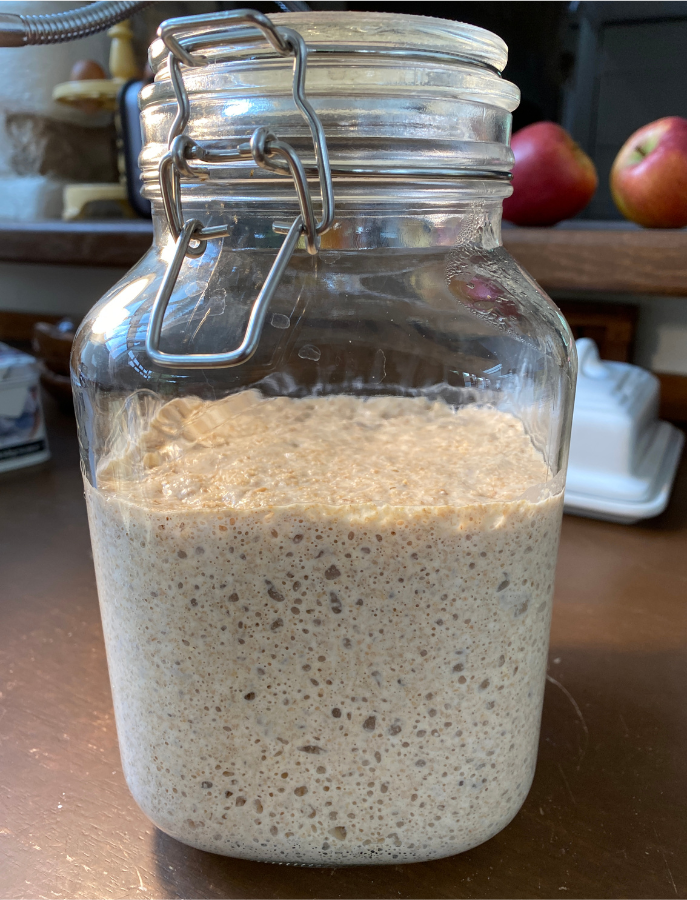 The fantastic thing about Poolish is that with little effort, you can enhance the taste of your pizza ten-fold! Pizza maestros usually use it to improve flavor and texture. In Poolish, the flour and water ratio (the hydration) is 1:1. 
This 100% hydration creates the perfect setting for the yeast to grow. Thanks to this, the yeast rises, and poolish gives the pizza a light, airy texture. 
Although Poolish improves the flavor and texture, the main reason that poolish is used is that it gives the dough characteristics that make it seem as if it's been proved for a long time even though it's been proved for a short time. 
Usually, when the dough is proved for longer, the yeast culture develops more, resulting in more flavors and smells. With the help of poolish, you can achieve that same flavor and fragrance in half the time. 
The Poolish can achieve the texture achieved by a 48-72 hour proven dough in 24 hours. These advantages of saving time, effort, and fantastic taste have led to numerous pizzerias using poolish to make their pizzas.
Since by using poolish, you can reduce the required rising time for your pizza, you can make poolish and freeze it for 6 months. Every time you want a perfectly risen pizza dough, just add it to the rest of the ingredients and get your best pizza dough in a few hours.
Poolish for Beginners – Detailed Pizza Poolish Recipe
Poolish is super essential in making the best Neopolitan pizza as it gives the dough a nice airy texture; you can even prefer and make Poolish beforehand so that you can quickly make pizza when required. 
Let's prepare it from scratch to make your pizza dough more fragrant, lighter and puffy.
Ingredients Required
Water, 300ml
280W or 00 flour, 300 grams 
Dry yeast is about 3 grams (double for fresh yeast)
Honey, 3 grams
A crucial tip to note is that the water should be cold. Many recipes call for warm water, but that's for the quick rising of the dough. We need a slow rise for the best pizza.
Step-1 Preparing the poolish
First, to make a poolish, pour cold water into a bowl. After that, add 3 grams of dry yeast and 3 grams of honey in this bowl. We use honey as it's more organic and natural compared to sugar.
Go ahead and mix the yeast into the honey water mixture. Let this yeast mixture set for about 3 minutes at room temperature and take another bowl. Put 300g of flour into the bowl.
Remember that even this amount of Poolish is enough for up to 2 liters of water or 20 pizzas! After that, we increased the doses of everything except the yeast and honey. Now take your bowl of yeast water and dump in the flour.
Slowly dump in the flour while mixing the mixture with a spoon. Keep mixing everything with your spoon. We use 280W flour, which isn't too strong. The longer the fermentation, the stronger the flour needs to be. 280W flour poolish will be suitable for a day. 
Dissolve everything up well with your spoon, and make sure there aren't any lumps inside.
Step-2 Resting the Poolish
The way you leave your Poolish to rest is super important. 
First, let it rest at room temperature for about an hour. Afterward, you throw it in the fridge for 16-24 hours. 
Up to 24 hours is fine, but if you leave it longer, the acid will start to develop and not be good anymore.
You can use the poolish directly as you remove it from the refrigerator, but it's best to wait around 30 minutes to let the temperature normalize.
How can you use the poolish for pizza?
You can use your poolish in two ways. The easiest way is to take your poolish and add the rest of the flour to it, and Voila! Your dough will be ready to make the best-tasting Neopolitan pizza you've ever had!
The other way is a little comprehensive; you need to use water, salt, and flour to make the dough.
Let's go over the second way,
Ingredients
400ml water.
700 grams of 00 flour.
Twenty-five grams of refined salt.
Using the Poolish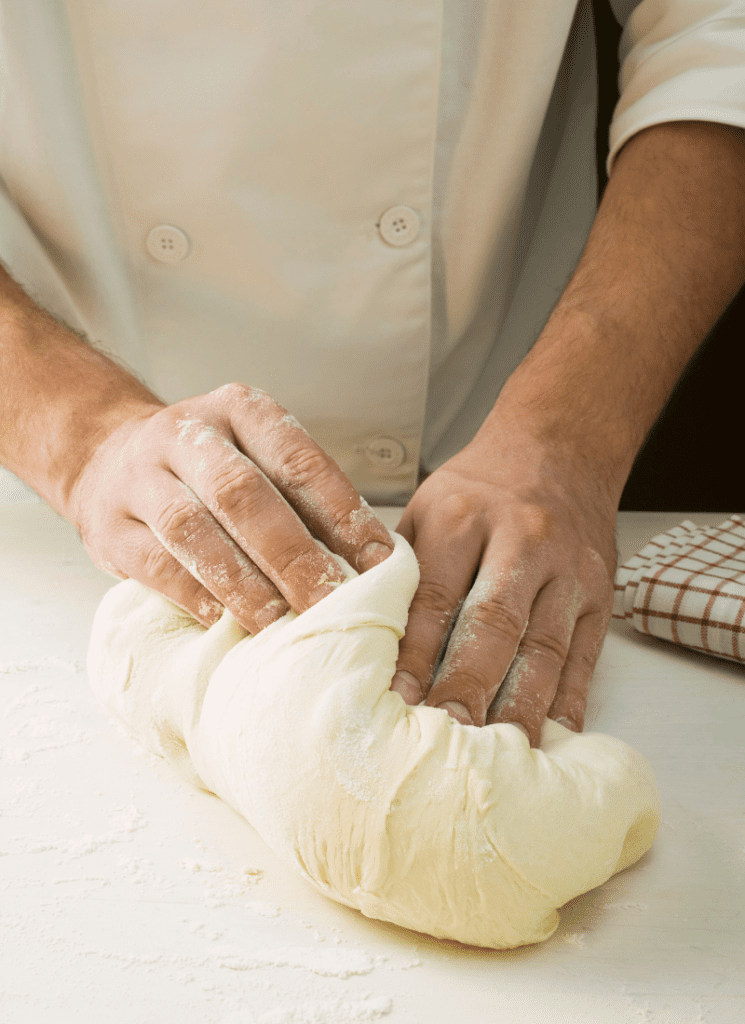 Add the water to the flour and mix them inside the bowl. You can even use a machine to prepare the dough, but using your hand is better. Keep mixing until it's relatively smooth.
Dump the dough (just water and flour) onto the counter and knead it. Keep doing this for 5 minutes or until the dough is adequately mixed. 
Cover the dough with a lid and leave it to rest for an hour. 00 flour has a higher protein content, resulting in higher gluten content and better dough texture and taste. The gluten will develop when we leave it to rest for an hour.
Now you'll have a nice high gluten dough. Take the Poolish that you prepared beforehand and pour it all on top of the dough. Quickly and gently mix it all up. It'll be a little complicated as the poolish will be sticking to everything. This step can be easier with the dough machine. After around 10 minutes of working the dough, it'll be integrated appropriately.
Add salt at the end and remix it until the salt is fully mixed. You'll start noticing how airy your dough is, making your pizza super soft and crunchy. After the salt is mixed, add the olive oil.
Keep kneading and closing the dough inside. This makes the structure smooth. Move quickly if it's sticky. You can even leave it covered for 10 minutes. That'll make it less sticky and easier to work.
Rest the dough
Take a bowl, glaze it with a bit of olive oil and place the dough inside. Close it up and refrigerate it for 6 hours. After that, you'll see how solid and airy your dough is. Now make 250-gram dough balls with your dough and place them inside the dough container.
Sprinkle with a bit of flour and let the balls rest for 2-3 hours at room temperature. The dough balls will double in size.
FAQs about Pizza Poolish
What to do when air bubbles appear on top of dough balls?
When air bubbles appear on top of your dough balls, don't worry! You don't need to knead the ball again. Just leave the bubbles alone! It's the sign of nice airy and fantastic dough.
Can you reduce the amount of yeast if you want to reduce the amount of dough?
You can experiment with what goes for you, but 1 gram of yeast per 100 grams of flour for 24-32 hour fermentation, and you can cut the quantity in half if you plan to let it rest for 48-72 hours. This is for fresh yeast; use half the amount if you use dry yeast.
Poolish vs sourdough starter, what's the difference?
Poolish is a loose preferment with equal parts of flour and water by weight, meaning it's 100% hydration, with a small amount of store-bought yeast. We make a sourdough starter with natural yeast instead of a store-bought one. Poolish can be thought of as a less sour sourdough.
In fact, poolish is a type of sourdough starter or preferment, but it is made with commercial yeast rather than natural or wild yeast as used in making levain. A poolish also takes much less time to make than a sourdough starter. Likewise, it's less acidic as compared with sourdough that is made using levain. 
The reason is that the acid-producing naturally occurring bacteria in the levain ferments the dough by consuming simple sugar to produce carbon dioxide and organic acids. Thus, the acids impart a distinct sourness and complex flavor profile to the bread.
What's the difference between poolish and biga?
Biga is much dryer compared to Poolish, and poolish has 100% hydration, whereas Biga has only 50%. The final temperature of Biga doesn't exceed 21 degrees celsius, whereas, for Poolish, it's 25 degrees Celsius.
Biga is a pre-fermented dough, and we use it to make the final dough more fragrant, light, and digestible. It's different from the direct or indirect dough. Making dough with Poolish is more accessible as it's soft, unlike the dry Biga. 
After making the dough, the consistency will be the same for both, but the fragrance will be different due to the different cultures inside. Poolish pizza is softer and airier compared to Biga. Biga pizza will be crispier.
mama-cucina.com is a participant in the Amazon Associate program and will earn from qualifying purchases.