Wood vs metal pizza peel, which is better? You must be confused when you're a chef or in the habit of making pizzas at home; it's certain that you know the importance of a pizza peel. However, if you are indecisive about what kind of pizza peel you need, this guide can help. 
If you're well into the business, you'd have come across two types of pizza peels; wood and metal pizza peels. But the question is: what exactly is the difference between a wood and metal pizza peel? 
Don't be impatient; we're going to dig deep into what they're, how they differ, and what type of pizza peel you need. But first things first, let's unfold what exactly pizza peels are and what they're used for.
Wood vs Metal Pizza Peel: What is a Pizza Peel? 
A pizza peel is a simple tool that helps move pizza into the oven, rotate it, and pull it out of the oven. There are two prevalent types of pizza peels; wood pizza peel and metal pizza peel. 
Besides these two frequent ones, there are many other types, such as plastic and perforated metal pizza peels. The basic design of a pizza peel features a flat blade and a handle attached to it. 
But before you buy one, you need to keep a few things in mind. Some of the most important considerations include:
Longevity,

Heat resistance 

Ease of cleaning
You must also check whether a pizza peel is made of a non-stick material or features a non-stick coating or not.
As far as the handle length is concerned, it must be in proportion to the size of your oven. The handle, in addition, must be strong enough to accommodate large pizzas.
Before discussing the difference between wood and metal pizza peels, it's time to learn about the types of pizza peels based on what they're used for.
What are Launching and Turning Pizza Peels?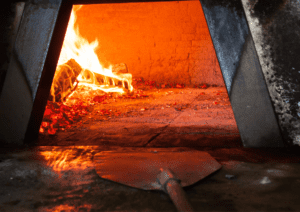 As is evident from their names, launching and turning pizza peels have different roles in pizza making.
The launching pizza peel refers to large and flat peels mainly used in restaurants and pizza shops. Launching pizza peels are used to put pizza or bread in the oven and to remove them.
They're made of wood or metal. A launching pizza peel is not suitable for rotating pizza. 
If you want to do so, you may have to pull the pizza out using a launching peel and turn it by hand. After rotating the pizza, you can replace it in the oven using the same launching peel.
The turning pizza peel refers to peels that have smaller and circular paddles with slots in them. The purpose of having slots in them is to prevent the pizza from sticking. These peels always come with a metal paddle and a wood or rubber handle. Wood or rubber handles are used to minimize heat transfer.
Now that you've learned about launching and turning peels, we should discuss the two types of pizza peels based on the material used.
What are Wood Pizza Peels?
Pizza peels that contain a wood head or paddle are referred to as wood pizza peels. As far as the handle is concerned, it could be made of any material, including wood, metal, or even plastic. If you want to prevent your peel from sticking to the rough dough, wood pizza peels are a great option. In addition, they don't disrupt fragile toppings on your pizzas.
Another reason for preferring wood peels over their metal counterparts is their aesthetic and natural looks. If you store and maintain them well, they'll last for years.
What are Metal Pizza Peels?
Pizza peels with metal blades or heads are called metal pizza peels. Most of the peels include blades made of aluminum, easy to use, clean, and maintain. These peels don't need to be air-dried after washing, unlike their wood counterparts. Another benefit of using them is that they don't retain stains or odors. Wood peels, on the other hand, are absorbent and can start giving off unpleasant smells.
Metal pizza peels can easily slip under the pizza, turn it, and remove it from the oven. One of the biggest drawbacks of using a metal peel is that it can stick to the rough dough, cornicione (doughy edge), or pizza toppings.
Pizza Peel Wood or Steel: What's the Difference?
Wood and metal, both peels have their merits and demerits. We've provided a brief comparison of both types in the following:
When it comes to longevity, metal pizza peels are considered more durable than wood pizza peels. Wood pizza peels, on the other hand, have no elasticity and are prone to breakage.
When it comes to design and looks, wood peels stand out from metal ones. It's because they provide a more natural look, have aesthetic appeal, and are soothing to feel.
Metal pizza peels, however, offer a range of design options to select from. Most of them feature a customizable handle that can be adjusted to suit your needs, and it makes sliding the pizza a snap.
Metal pizza peels are thin and lightweight. Wood peels, on the contrary, are thick and heavier in weight. If you're a minimalist, a metal pizza peel is a great match for you because of its low weight.
Wood pizza peels have excellent grip, and in this regard, are preferable to any metal peel. Since we use oils for making pizzas, metal peels are not a good option.
As far as oven usage is concerned, metal pizza peels offer better utility. Metal pizza peels are also used for heating purposes, and metal peels are good conductors of heat.
But if you have a wood peel, you don't need to purchase a pizza screen. It's because wood peels are non-sticky. If you're using a metal peel, having a pizza screen is a must. It's because metal peels are extremely slippery and don't have a good grip.
Metal peels may collect condensation from the dough, causing the pizza to stick to the peel as you try to slide it off, potentially upsetting the bottom of your pizza and disrupting your toppings.
When it comes to slicing the pizza, metal peels are of great help. It's something you can't do with a wooden peel, or you'll end up damaging your pizza.
Using wooden pizza peel ensures that the taste remains intact. Metal peels, especially aluminum ones, can alter the taste of your pizza, and that's why most people don't like them.
Aluminum is a metal, and when heated, some of the aluminum nano-particles leach into the food, causing aluminum toxicity in the long run. The same is true for other metal peels. So, if you've got a predisposition to dementia, Parkinson's, or Alzheimer's, you shouldn't be using any metal peels. A wooden pizza peel is a good alternative.
Wood pizza peels are also safe to use because they're poor conductors of heat. Metal peels with rubber or wooden handles are also safe to operate but not as good as a wooden peel.
Wooden peels are hard to clean because they absorb oils and other condiments from the pizza. Metal peels, on the other hand, are easy to clean, maintain, and store.
As for the price, metal peels are cheaper than wooden pizza peels.
If you cannot afford two pizza peels at once or don't want clutter, there's also a third option: a perforated metal peel with a wooden handle.
Perforated Metal Pizza Peel – another Useful Pizza Type
Perforated metal pizza peel contains a lot of holes in their paddles. It's the presence of holes that makes them less sticky, just like wood pizza peels. In addition, It's easy to clean and maintain.
Wooden pizza peels have a rough surface, and there's no chance for the vacuum to build up between the surface and pizza. Perforated metal pizza peels also perform the same function, letting air pass through the holes to prevent a vacuum. Consequently, perforated metal peels are almost non-stick.
What's more, due to their decreased surface area, perforated metal peels offer little friction between the paddle and raw dough. Simultaneously, they retain less pizza flour and allow it to run off through holes.
What is the Best Pizza Peel? Know the Top Options
Now, when you have known a lot about wood vs. metal and perforated pizza peel, our top picks from the best pizza peels can help you pick your best metal pizza peel, or best wooden pizza peel, even the perforated peel as well. Here are these as reviewed, keeping the actual user's experience in view.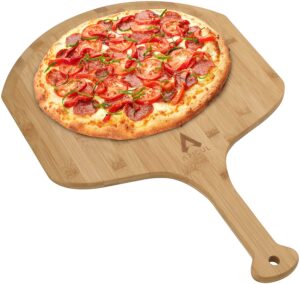 It's one of the finest wood pizza peels you'll ever come across. It's made of bamboo wood and has garnered a 4.9 rating on Amazon. The best thing about this wooden pizza peel is its excellent resistance against splitting, cracking, and warping.
This wooden pizza peel has a natural, food-grade oil finish to prevent moisture absorption, making it stand out from thousands of others.
Another great thing about this peel is that it includes a large paddle and a long handle. In addition, it's lightweight but sturdy.
Its board has tapered edges to facilitate its movement under the pizza.
Pros
The wooden pizza peel is made of bamboo wood.

It's resistant to scraping, splitting, and warping.

It contains a food-grade oil finish.

The wooden pizza peel resists moisture absorption.

It contains tapered edges to facilitate rotating and removing the pizza.
Cons
The pizza peel has a sophisticated design.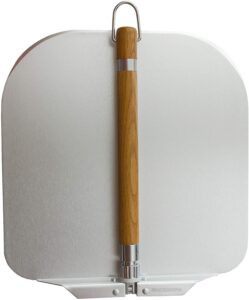 This metal pizza peel from NeatNuseful features a unique, futuristic, and ergonomic design. You can deploy or lock its handle besides folding for easy storage. When locked, it's strong enough to handle any large-sized pizza. The handle can also be removed and placed back.
Although this best metal pizza peel is made of aluminum, it has a protective coating on its board to prevent the metal from corroding and leaching. The coating also prevents the metal from reacting to any acidic foods.
Its paddle contains beveled edges, instead of square ones, to facilitate sliding it under the pizza.
Pros
It has a great design.

The handle can be folded, locked, or removed.

The peel includes a protective coating over the aluminum surface.

It contains sloping edges.
Cons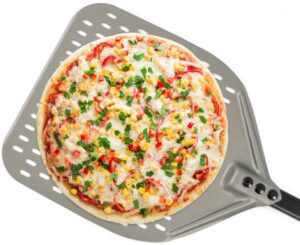 This best-perforated pizza peel comes with an anodized aluminum paddle to offer better wear and corrosion resistance. It's because the thin film of anodized aluminum prevents the oxidation of the metal. It has sloping edges, making turning and removing pizza a breeze.
As far as the handle is concerned, it's long enough to put the pizza in a large oven. Moreover, it features insulating plastic at the end of the handle to protect your hands from the indirect effects of heating.
Pros
It contains an anodized aluminum paddle.

Holes are numerous and small.

It features a long handle with a plastic covering at the end.
Cons
It has a conventional design.
Wood vs Metal Pizza Peel: FAQs
How thick should a pizza peel be?
Metal pizza peels are generally approximately 1 to 3 millimeters- thick. A wood pizza peel is generally around 1/2 to 3/4 inch thick.
Why does my pizza stick to the peel? 
Smooth surfaces create suction between the moist dough and the peel. Airflow between the pizza and the peel prevents this sticking. Rougher and perforated surfaces help create this type of airflow. You can also apply flour or cornmeal to the surface of a pizza peel to reduce sticking.
Final Thoughts
When it's about wood vs metal pizza peel, you need both, one for moving or launching the pizza into the oven and one for turning and removing it.
A wood pizza peel is ideal for launching the pizza into the oven. The reason is apparent and discussed in detail above; flour or raw dough tends to stick less to a wooden peel.
A metal pizza peel is best for rotating or removing the pizza from the oven. They can slide easily under the pizza and are easy to use.
mama-cucina.com is a participant in the Amazon Associate program and will earn from qualifying purchases.