Have you been told that calzone and stromboli are the same, yet looking at them, you think they're different? Therefore, now you're feeling inquisitive about the differences between calzone and stromboli.
Don't worry, you've come to the right place.
In this detailed guide, we'll uncover all the differences between these mouthwatering folded delights like their origins, their key ingredients, preparation techniques, and even the age-old debate of taste. Thus, we'll help you choose between them or even taste both as distinctive recipes—we've included delicious recipes for calzone and stromboli in this article as well.
Let's read!
What's Stromboli, its Origin, Key Ingredients and Rolling Technique?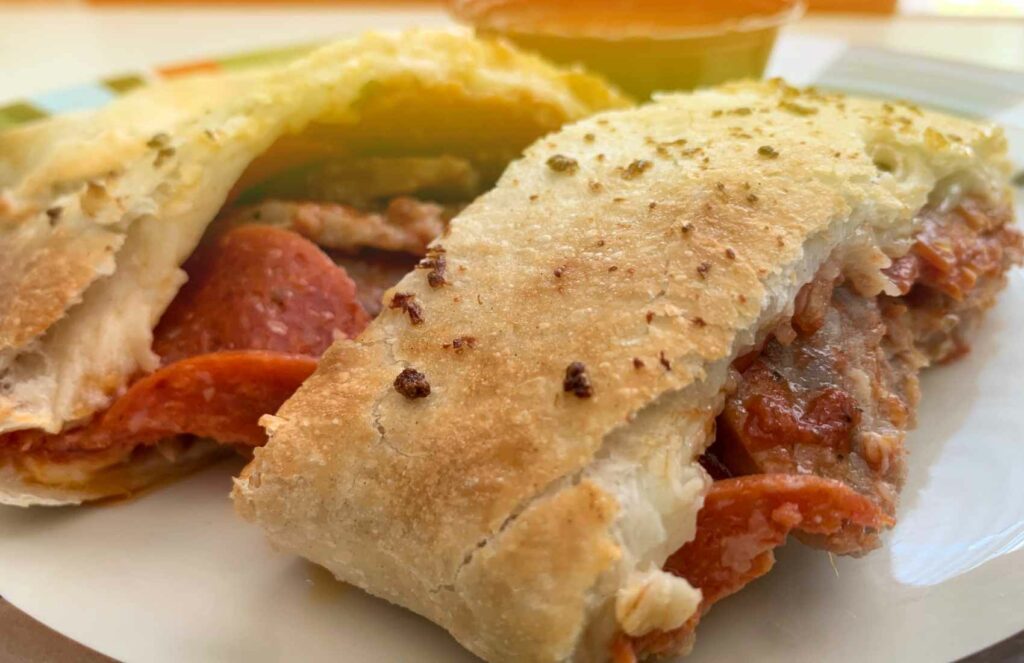 Stromboli is a mouthwatering Italian-American dish that's often confused with calzone, but it has its own unique characteristics. It's a rolled pizza but in long log shape.
Origin
Stromboli originated in Italy, but Italian-Americans invented it in the Philadelphia area in the 1950s. The name "stromboli" is taken from the volcanic island of Stromboli off the coast of Sicily, Italy. Some believe Italian immigrants in the United States who were looking for a convenient way to enjoy the flavors of pizza on the go created it.
Key Ingredients
Besides pizza dough as the main ingredient, the stromboli has various ingredients as filling. These ingredients of filling can vary, but often they're:
Mozzarella cheese
Italian meats (such as pepperoni, salami, or ham)
vegetables (like bell peppers and onions).
Sometimes, it includes tomato sauce or pesto.
Herbs like oregano and basil with a pinch of red pepper flakes for a bit of heat.
In essence, stromboli is like a pizza rolled up into a log shape, baked until the crust is golden brown and crispy, and the cheesy filling is bubbling.
Stromboli is folded straightforwardly. First, pizza dough is rolled and stretched into a rectangular shape. Then, the desired fillings (cheese, meats, veggies) go on the rolled dough, leaving some space at the edges.
Next, one long side of the dough is carefully stretched and folded over the fillings, covering them completely. Then this covered filling is further rolled to give stromboli its log-like shape. Lastly, the edges are sealed, forming a log-like shape.
Finally, the stromboli is transferred to a baking sheet, seam-side down, and baked until it's golden brown and deliciously crispy.
You can see the unique and real stromboli folding process here, used at restaurants.
What's Calzone, its Origin, Key Ingredients & Folding Technique?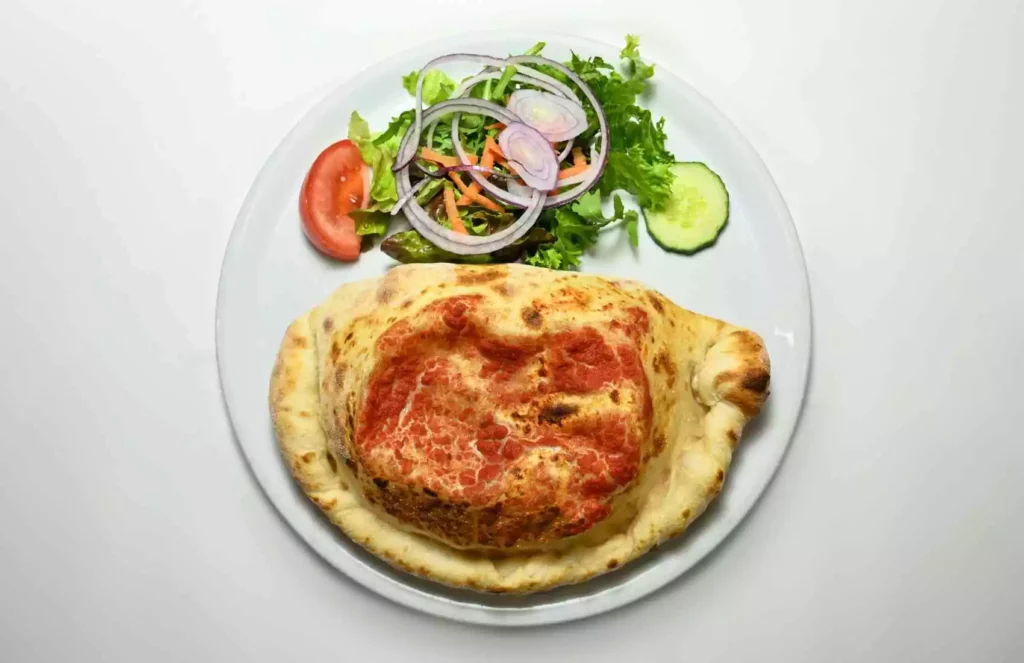 A calzone is like a pizza's cozy cousin, resembling a half circle cushion. It's an Italian dish that starts with pizza dough but takes on a different shape of half moon or half circle pocket. Calzone originated in Naples, Italy in the 18th century. The name "calzone" literally means "pant leg" in Italian because calzone was originally shaped like a half-moon to resemble a pant leg.
Origin
Calzone has its roots in Italy, particularly in Naples, where it's considered traditional street food. It's believed to have been invented in the 18th century as a convenient way for people to enjoy pizza on the go without the mess. Over time, it has become a popular dish in many parts of the world.
Key Ingredients
The heart of a calzone dough, which is borrowed from pizza dough, is its filling. Calzone's fillings can vary widely, yet the most common ingredients include:
Mozzarella cheese
Ricotta cheese
Cooked meats (such as pepperoni, sausage, or ham)
Extra Virgin Olive oil
Italian Pizza Sauce (preferably Neapolitan pizza Sauce)
Sometimes vegetables (like mushrooms, bell peppers, or spinach)
These ingredients are folded inside the pizza dough, creating a tasty and satisfying meal. Some calzones may have a tomato-based sauce outside with a spoon of ricotta cheese and a drizzle of olive oil., but the sauce is usually thicker than traditional pizza sauce.
Folding Technique
Folding a calzone involves a simple technique.
First the pizza dough is rolled in a circle or disc shape, keeping it thin at the edges and thick in the center. The blended ricotta cheese, cured meat, and mozzarella cheese are topped over the dough respectively, on half of the circle. Then, the other half of the rolled-out pizza dough is gently lifted over the other half and folded over the top, creating a half-moon shape. 
The edges are pinched together to seal the calzone. Lastly, a few small slits are made on the top to allow steam to escape while it cooks, preventing the calzone from puffing up too much. Finally, some pizza sauce is spread over the bread to bake calzone, along with a spoon of ricotta cheese, a few basil leaves and a drizzle of olive oil.
You can see the process of real Italian calzone-making here.
4 Key Similarities Between Calzone and Stromboli
Calzone and Stromboli, because of sharing similar dough and filling ingredients, share several key similarities:
1. Dough
Both dishes use pizza dough as the foundation. The dough is rolled out to hold fillings inside the dough, unlike pizza, which is topped with ingredients.
2. Fillings
Both are filled with a variety of ingredients, such as cheese, Italian meats (like pepperoni or salami), and vegetables.
3. Filling Distribution
In a calzone, the fillings are evenly distributed throughout the interior. When you take a bite, you get a balanced mix of ingredients in each mouthful.
Filings in a stromboli may look layered, yet they're also distributed evenly to give you a uniform taste.
4. Baking
Calzone and stromboli are both baked in the oven until the dough is golden brown, and the fillings are hot and melty.
10 Key Differences Between Calzone and Stromboli
Stromboli and calzone, despite being similar in some ways, have distinct differences that set them apart.
Here are the key distinctions between these two delicious Italian-inspired dishes:
1. Origin
Calzone originated in Naples, Italy in the 18th Century.
Stromboli, despite its Italian name, originated in Philadelphia (United States) in the early 1950s.
2. Name
"Calzone" is an Italian word that means "trouser" or "pant leg," referring to the folded shape of the dish that resembles a half-moon or crescent.
On the other hand, "Stromboli" is believed to be named after a volcanic island in Italy, Stromboli, or the Italian film "Stromboli" starring Ingrid Bergman. Stromboli's name isn't about its log-like shape.
3. Shape and Folding
Calzone is folded into a half-moon shape, which resembles a turnover or a large stuffed pizza pocket.
Stromboli, on the other hand, is shaped like a cylindrical log or a long roll that holds fillings– it resembles a burrito or a jelly roll. When sliced, it gets you spiral pattern slices.
4. Texture and Presentation
Calzone often has a thicker, bread-like crust, making it look like a pillow.
Stromboli, because of its rolling techniques, which makes fillings press the dough and prevent it from expanding, has a thinner and crispier crust, similar to a rolled pizza. 
5. Cheese
Calzone has ricotta cheese as its primary cheese for creating a creamy and slightly grainy texture. Yet, it may also have mozzarella cheese to add a gooey, melty quality to the filling.
Stromboli, in contrast, mainly features mozzarella cheese in its filling as shredded or cubed to attain a stringy texture when melted.
6. Sauce
Contrary to popular belief, authentic Italian calzone doesn't have any tomato-based sauce inside the pocket. Instead, the closed calzone pocket is thinly layered with thick pizza sauce made by blending San Marzano tomatoes.
Unlike calzone, stromboli has thick pizza sauce inside the roll. When sliced, the red color of the sauce gives a captivating presentation to the stromboli.
7. Size
Calzone is smaller compared to stromboli. So, it often makes a personal meal just like authentic Neapolitan pizza. You can hold it in one hand easily as an on-the-go snack.
Stromboli is elongated in size compared to the calzone. It's like a cylindrical log or a rolled sandwich, which is sliced into portions and served among several people. Therefore it makes an ideal side dish.
8. Serving (What Goes with Calzone and Stromboli)
Calzone, despite being topped with tomato sauce, needs some sauce to eat. It's because the tomato sauce topping dries out during baking but gives calzone a red color on the top.
Stromboli has a tomato sauce inside to make it moist. Additionally, the generous amount of mozzarella cheese makes it more gooey to eat. This is why stromboli doesn't need a sauce, in a true sense. Yet, depending on your personal preferences, you can use sauce to eat it.
9. Texture and Taste
Stromboli and calzone differ in both texture and taste.
Stromboli has a firmer and slightly crispier texture because of its stretched and rolled shape. It boasts a more diverse, intense and complex flavor profile with a focus on the blend of pepperoni, salami, ham, and Italian sausages.
In contrast, calzone has a softer, doughier texture due to its folded, pocket-like structure. It offers a balanced taste of ricotta cheese, mozzarella cheese, tomato sauce, and pepperoni, besides the complementing flavors of dough. The flavor experience in a calzone tends to be harmonious, allowing each ingredient to shine without overpowering the others.
10. Healthiness
When comparing the healthiness of calzone and stromboli, it boils down to their ingredients and preparation methods. Calzone often features a variety of fillings that can include nutritious options like vegetables (spinach, bell peppers, mushrooms), protein sources (grilled chicken, turkey, Italian sausage), and cheese. Tomato sauce in calzones can provide vitamins and antioxidants.
On the other hand, stromboli fillings tend to be higher in saturated fat and sodium, including ingredients like pepperoni and salami. While stromboli also contains cheese, it can be calorie-dense. At the same time, it lacks veggies. Stromboli often lacks tomato sauce in the filling, reducing its calorie and nutrient content.
In Summary
Both calzone and stromboli are delicious Italian-inspired dishes made from pizza dough and filled with flavorful ingredients. Their distinct shapes, textures, and origins make them unique culinary experiences.
Easy, Homemade, Healthier Calzone Recipe
Here's how you can make a delicious calzone at home:
Ingredients for Dough
500g very strong flour (oo flour or all-purpose flour)
5g dried yeast
225g water at 25-26°C
4g oil extra virgin olive oil
7 grams of sea salt
Ingredients for Filling (Classic Calzone)
Ricotta cheese 100 grams (mixed until smooth)
Mozzarella cheese 100 grams, cubed
Napoli-type salami, thinly sliced and cut into strips
San Marzano tomatoes can, crushed (add a pinch of salt per 100 grams)
Fresh basil leaves
Ground black pepper
Extra virgin olive oil
Steps
1. Prepare the Dough (You can also Use Store Bought Frozen Pizza Dough)
Start by mixing oil, water, and yeast in a bowl.
Add half of the flour mixture to the liquid mixture and mix until no flour streaks remain.
Knead the dough with your hands for about 6 minutes.
Add a pinch of salt to the dough and knead for another 6 minutes until it becomes smoother and slightly harder.
Gradually add the remaining flour, using a folding technique.
Knead the dough until it appears smooth, showing no imperfections.
Let the dough rest for 20 minutes, covered with a wet cloth.
After resting, fold and manipulate the dough to trap oxygen. Repeat until it becomes smoother. Then rest it for an additional 10 minutes.
Place the dough balls in a tray.
Allow them to ferment in the refrigerator for about 24-48 hours. This slow fermentation creates a bubbly crust and a soft interior.
Now you have perfectly prepared pizza dough balls. Use them to make delicious pizzas of your choice. Enjoy your homemade pizza!
2. Divide and Shape the Dough
After the dough has rested, cut it into portions. With half a liter of water, get around 5 portions.
Shape each portion into a ball or pat by gently stretching the dough. You can make them round or oval.
3. Prepare the Filling (Classic Calzone)
Mix the ricotta cheese until it's smooth.
Cut the mozzarella cheese (fiordilatte) into slices.
Thinly slice and cut Napoli type salami into strips.
Blend San Marzano tomatoes using a hand blender or by hand and add a pinch of salt per 100 grams.
Tear or chop fresh basil leaves.
Optionally, add Pecorino cheese for extra flavor.
4. Assemble and Bake
Preheat your home oven for 20 minutes to the highest temperature with a baking stone inside.
Roll out each dough ball into a thin circle or oval shape, keeping the center slightly thicker than the edges.
On one half of the dough, spread a layer of ricotta cheese, leaving an inch of border around the edge.
Layer on it sliced salami, mozzarella, crushed tomatoes, basil, and a drizzle of olive oil.
Fold the other half of the dough over the filling to create a half-moon shape.
Seal the edges by pinching and folding them together.
Make a few small slits on the top of the calzone to prevent steam from building up.
Spread a thin layer of tomato sauce on closed calzone. Then top it with 2-3 basil leaves, add one spoon of ricotta cheese over them and add a drizzle of extra virgin olive oil.
Place the calzone on the preheated baking stone and bake for 6-7 minutes until golden brown.
5. Serve
Remove the calzone from the oven, drizzle with a bit of olive oil, and add some fresh basil leaves.
Let it cool slightly, then slice and enjoy your homemade calzone!
Now you have the recipe for a delicious homemade Italian calzone with a classic filling. Feel free to get creative with your fillings or try out the other variations mentioned in the video.
Buon appetito!
Easy, Homemade, Healthier Stromboli Recipe
Ingredients
1 pound of whole milk mozzarella cheese, grated
1/2 pound of salami or pepperoni slices
½ pound of ham slices
200 grams of tomato sauce (pizza sauce)
Parchment paper
1 egg (for egg wash)
Note
For dough, follow the recipe we shared for dough making in the last recipe for calzone. OR, get store bought frozen pizza dough.
Instructions
Roll Out the Dough and Layer Filling
Roll out the dough ball on a sheet of parchment paper into a large, thin rectangle. Leave a little border along the edges.
Spread a thin layer of tomato sauce on the stretched dough leaving 1 inch of margin.
Lay a single layer of salami slices evenly over the rolled-out dough.
Follow with a layer of grated mozzarella cheese.
Layer ham over it.
Roll and Seal
Carefully roll up the dough into a log, using the parchment paper to help lift and roll it. (We shared the rolling technique with you previously).
Seal the ends and any thin spots to prevent blowouts.
Egg Wash and Vents
Brush the stromboli with a beaten egg for a shiny finish.
Create steam vents on top by making small, evenly-spaced cuts.
Bake
Preheat your oven to 400°F (200°C).
Transfer the stromboli, still on the parchment paper, onto a baking sheet.
Bake for about 25-30 minutes or until it's golden brown and cooked through.
Serve and Enjoy
Allow the stromboli to cool for 10-15 minutes on a cutting board before slicing it into pieces along the vents you created.
Serve your homemade stromboli as an appetizer, snack, or meal. Enjoy the delicious nostalgia!
FAQs
Is stromboli a sandwich?
No, stromboli is not a sandwich. It's more like a rolled pizza with cured meat and cheese fillings.
Is Stromboli Italian?
Stromboli's name indeed comes from the Italian island of Stromboli. But actually, it's an American dish, a fusion of pizza dough and Italian ingredients, like San Marzano tomato sauce, ricotta mozzarella cheese and pepperoni. It originated in Philadelphia, in the early 1950s. 
Can you Make Stromboli Ahead of Time?
Yes, you can prepare stromboli ahead of time. You can assemble it, wrap it in plastic wrap or foil, and refrigerate it until you're ready to bake it.
Can you Eat Stromboli when Pregnant?
Stromboli is safe to eat during pregnancy as long as the cured meats and cheese are cooked properly. Please consult your healthcare consultant if you have specific concerns.
Can you Freeze Cooked Stromboli?
Yes, you can freeze stromboli after baking. Allow it to cool completely, then wrap it tightly in plastic wrap aluminum foil or place it in an airtight container before freezing. 
Is Calzone a Sandwich?
No, a calzone is not a sandwich. It's a stuffed Italian pizza pocket filled with various ingredients.
Is Calzone Italian?
Yes, calzone is of Italian origin and is believed to have originated in Naples, Italy.
Can you Make a Calzone Ahead of Time?
Yes, you can make calzones ahead of time. You can assemble the calzones, refrigerate them, and bake them when you're ready to enjoy them.
Can You Freeze Calzone After Baking?
Yes, you can freeze calzone after cooking. Let it cool completely. Wrap it tightly in plastic wrap and aluminum foil. Then, place it in an airtight container before freezing. To reheat, thaw it in the refrigerator and follow the reheating instructions mentioned for stromboli.
Why is Calzone not a Pizza?
A calzone is not a pizza because it's a different dish, even though it's made from pizza dough. Unlike pizza, calzone is folded in half, creating a pocket filled with ingredients, while pizza is open-faced with toppings on top. So, the way they're assembled and eaten sets them apart.
Does Calzone Taste Like Pizza?
Yes, calzone does taste like pizza, but there are some differences. The dough and many of the ingredients in calzone are the same as pizza, so you'll find familiar pizza flavors. However, the way they're layered and baked can result in slightly different taste experiences.
Does Stromboli Taste Like Pizza?
Yes, stromboli tastes quite similar to pizza. Stromboli is made with pizza dough and filled with pizza ingredients like cheese, meats, and veggies. So, you'll get a similar flavor profile, but the presentation is different – stromboli is rolled up like a pinwheel, yet pizza is open-faced.
mama-cucina.com is a participant in the Amazon Associate program and will earn from qualifying purchases.