Do you want to know the difference between Calzone dough and pizza? The answer is the dough recipe for both is the same. But why is the taste different? The stuffing, and the way these ingredients are cooked inside folded calzone crust, make the difference.
Yet, through detailed research, we've found that calzones are more than just pizzas folded in half; they're more like stuffed pizza dough and taste differently, though the dough is the same. In this article, you'll also find a next-level dough recipe that many professional Italian Pizza Mastero use interchangeably for pizzas and calzones.
Besides this, you'll know how calzones are different from pizzas.
How much? Let's get into the meat of this article.
Pizza Dough Vs Calzone Dough – What's the primary difference?
As stated earlier, the calzone dough is not different than pizza dough. You can use any pizza dough to make calzone, yet the authentic Neapolitan pizza dough with 60-70% hydration ( water to flour ratio) will be the best.
Although both pizza dough and Calzone dough are made similarly, we'll go over how to prepare them both to get a good idea of the differences.
Pizza dough recipe – Calzone recipe, in other words
Ingredients
1kg of 00 grade fine flour (300 grams to go into poolish and 700 grams for the dough making)
About 700ml of cold water.
25g of refined salt.
10g of olive oil.
6 grams of yeast (Depending on what kind of yeast you have and the temperature).
5g of sugar will give the pizza dough a nice brown color (You can use 5 grams of honey instead).
Dough kneading and proofing process
The ingredients for both types of dough are pretty much the same, so you won't have to go through the trouble of buying separate ingredients for Calzones. The same goes with the dough kneading and proofing method, which begins the poolish making. Here is what you need to do to make calzone or pizza dough.
Step-1 Prepare the poolish.
Mix the salt into 300ml of water and sugar/honey first. 
Mix the yeast in the water and honey mixture and mix up the 300 grams of flour well. 
Leave the bowl at room temperature (25 degrees Celsius) for about an hour. You can place it in the microwave if it's cold outside as it'll provide a pleasant and humid environment. It'll invoke autolysis, which helps the yeast to grow. The resulting mixture is called poolish. Usually, it's less grown.
Next, leave the poolish in the fridge for 16 hours or overnight. 
An interesting question arises; can you use the poolish right away from the refrigerator? Yes, you can, but it's best to wait around 30 minutes to let the temperature reach room temperature.
Step-2 Prepare the calzone or pizza dough.
When you remove the poolish from the fridge, you'll get a flat mixture; it's not unusual because it has been in the fridge for so long. Now you'll make the dough, so follow the steps carefully!
Add the rest of 400ml of water directly into the poolish and mix it. You can prepare it using your hands or in the dough machine. Of course, it's much easier inside a dough machine.
Now add the salt into it and mix it thoroughly. Next up, add in 700 grams of flour. Mix everything well.
When kneading by hand, knead and work the dough on the counter. The goal is to make it smooth; you'll need to move your hands quickly as the dough is sticky. Once it's soft, add the olive oil. But avoid using oil or water excessively when kneading the dough. It helps the cooking process. 
Step-3 Rest dough for proofing
Place the dough under a bowl for about 15 minutes. This will make the gluten stronger. Afterward, cover your hands in olive oil and pull the dough up from the sides. Make a ball, and you'll see how smooth it is!
Spread a bit of olive oil in a large bowl, place the dough inside and cover it. 
Put it in the fridge right away! You need to leave it in there for 16 to 24 hours. It'll be puffy and full of air when you take it out. 
Let it rest for 30 minutes, and make dough balls by equally dividing the dough into 4-6 parts according to your pizza or calzone size.
Shift the dough balls into the storage box and again rest them at room temperature for 1-2 hours before stretching.
Pizza Vs Calzone – Here, all the Differences Arise!
By now, you've found that pizza vs calzone dough is the same, and calzone is a folded pizza. So, what makes the difference? The stretching, filling/toppings, and baking process. Below, we'll discuss these steps in detail.
Stretching a calzone is different than a pizza.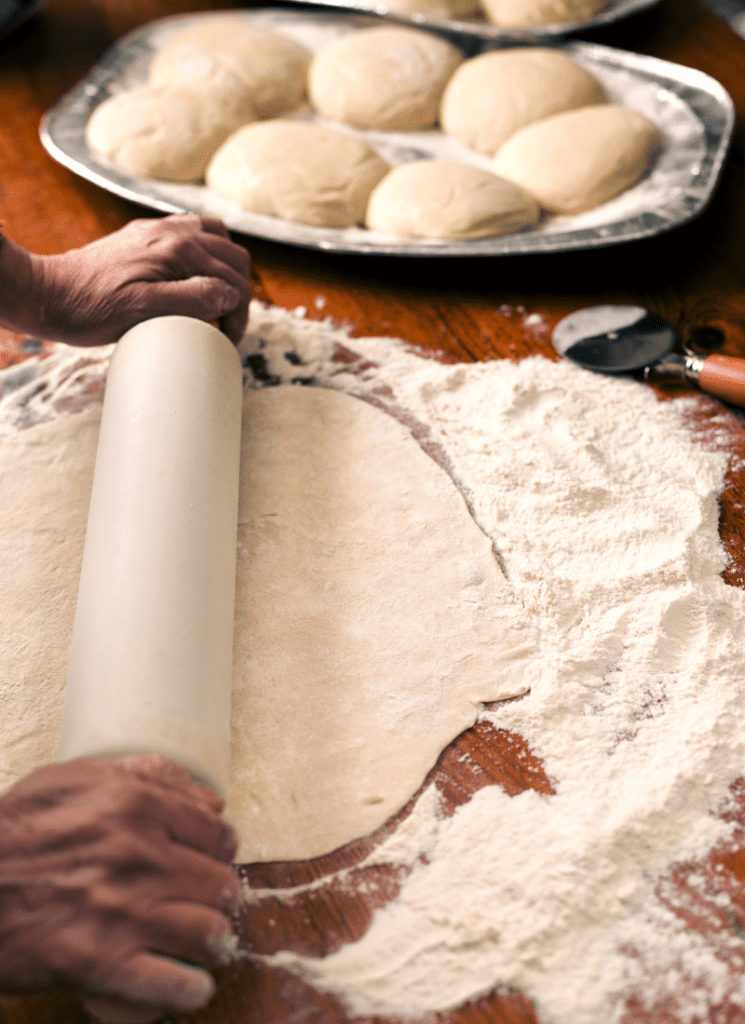 When you take out the dough you prepared from the fridge, to make calzone, you have to stretch it. It's super essential how you stretch out the dough for the Calzone.
You must press across and leave the center thicker than the edges, which will be joined together when you fold the crust in a half circle. In contrast, stretching pizza dough is purely vice versa; you keep the pizza crust thin in the center and thick from the edges. 
Also, don't stretch the calzone crust out too big. Gently press it all over and on top of it. Since your calzone does not have to be puffy, you can also use a rolling pin which is a big "NO" in case of pizza crust stretching.
When stretching the dough, whether pizza or calzone, use a 50 or 50 mixture of semolina and plain flour.
Calzone stuffing and toppings vary.
You use toppings and stuffing for a calzone simultaneously, while for pizza, you only use toppings.
To stuff the calzone, put two teaspoons of ricotta on the half side of the crust, leaving a 1-inch margin or closing it. Next, place the salami and the fresh mozzarella on top of the salami. Remember not to use tomato/pizza sauce inside the calzone. 
For Calzones, you need to close it up, unlike the Pizza!
Finally, close the clean side of the dough over the side with the toppings and close it up. Press just the sides and pinch them to seal correctly. Sprinkle some flour on the counter and flip over the Calzone. 
With your palms, you need to smack the edges carefully so that the Calzone is sealed up from the sides. Flip it back and create a small hole on top of the Calzone; otherwise, it will pop and make a mess in the oven.
Cover the Calzone with the tomato sauce, not too much as it'll spill. Put a bit of basil, ricotta cheese, pepper, and a pinch of olive oil on top of the Calzone. Be super fast and put the Calzone in the oven with the help of a peel; otherwise, it'll cause a mess.
You have to pierce the calzone to avoid steam build-up.
Calzone has a lot of stuffing inside with water chess as well, These all ingredients have water, and the steel remains trapped inside the calzone; it'll come out watery and soggy. You must make a few cuts by poking the knife into the calzone's top surface to prevent this before transferring it to the baking sheet or pizza stone.
The baking temperature or calzone is higher than a pizza.
Baking calzone is different than a pizza. Since a calzone has stuffed ingredients and layered dough, it'll require a higher temperature to bake. So, you have to set up your oven at the highest temperature with a pizza stone inside it. This way, the pizza stone will be super hot by the time you need to put in the Calzone to bake.
Whereas for the Pizza, you need to set the temperature to about 626 Fahrenheit. Calzones require a higher temperature and less time to cook better, but the timing is less than a pizza, which lasts about 6 minutes.
Calzone Vs Pizza –  What Makes them Different other than Preparation Methods?
The primary difference between pizza and Calzone is that pizza is baked flat, while for Calzone, the dough is closed, like stuffed bread. Pizza is eaten in almost every part of the world and needs no introduction, but that's not the case for Calzone.
Calzone is always like a mystery box, and pizza is never! 
Another exciting thing about a Calzone is that it has the element of surprise. If you don't order it yourself, you can see the toppings of the pizza on top, but you won't know what's inside a calzone unless you cut it open!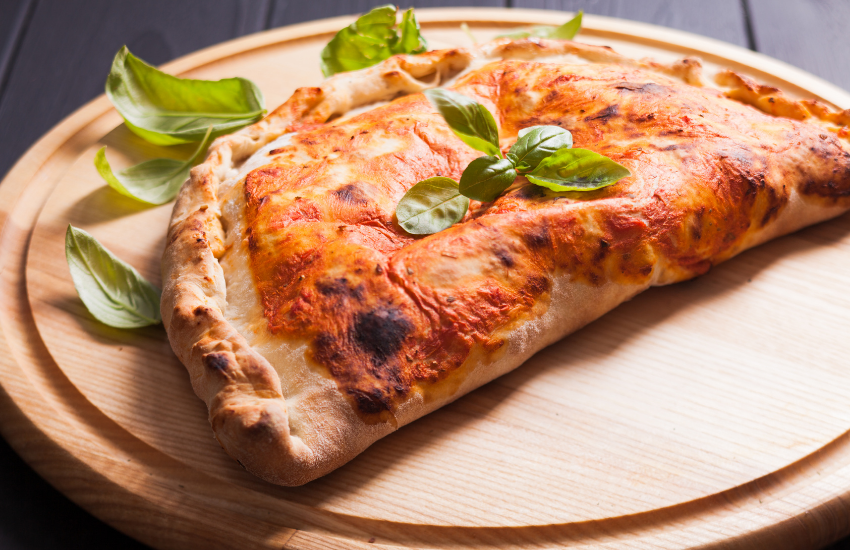 Prefer the crust? Go Calzones!
Calzones are perfect for people who love the crust of the pizza. You'll get the bite of the crispiest and crunchiest dough in the calzone as the crust surrounds the toppings! And, thus you get 2X the crust as compared with pizza.
Calzone is more moist and easy chewy.
The cheese dries out quickly on a pizza as it's in the open. Not the calzones, though! The crust covers the gooey cheese and keeps the heat inside. Besides that, you can take it anywhere. It's like a portable pizza!
FAQs
Is calzone a kind of a pizza?
Yes, a Calzone is also a kind of pizza. In fact, at one point in time in Italy, Calzones were considered the best kind of pizza to take and eat on the go or get delivered somewhere thanks to their pocket-like nature. It's kind of like a pizza pocket-but much better.
How did calzones originate?
Calzones also originated in the 18th century in Naples, Italy. The name translates to "pant legs." It was designed to be the food for the working class because of its super-portable design. 
Unlike a regular pizza, as all the toppings are inside, we can eat it much like a sandwich! Thus, it's easier to eat.
Can a calzone be round like circular shaped pizza dough?
Yes, your calzone does not necessarily have a half circle shape; you can make a large size calzone like stuffed pizza. For this purpose, you can use two dough balls, one will hold the stuffing, and the other will cover it. Thus, your calzone will be like a stuffed pizza.
60 vs 70 vs 80 % hydration pizza dough, which is best for calzone?
A simple answer is that 60-70% hydration dough is best for a calzone. Whether you're a professional baker or a beginner, 80% hydration is purely epic for Neapolitan pizzas; since your calzone has not to be puffy like Neapolitan, you need not challenge yourself to handle 80% hydration pizza dough.
Why do you need 00 flour, and what if it's unavailable?
00 flour is typically much more refined than other types of flour and has a much higher content than other types of flour. Don't worry; you can even use simple bread flour to make it. You'll need to use a little less water, but you'll end up with a fantastic pizza!
What's the difference between fresh yeast and dry yeast?
According to the original Italian recipes, you should always use fresh yeast to make your dough. But if you have the dry one, always remember to use half the amount compared to fresh yeast. It's because dry yeast is much more potent compared to fresh yeast.
What is the nutrition difference between calzones and pizza?
A typical Calzone, about 424 g, has about 1306 calories, of which 811 are from fat. It also has a pretty high protein level, about 66g. So it's pretty healthy unless you add more stuff inside it. 
It's not gluten-free as we are using wheat, but you can make it vegan friendly by not adding any dairy products.
Compared to that, a similar portion of pizza has about 1140 calories, out of which 372 are from fat and 48g of protein. Calzone dough is much richer than pizza dough; we have to use more of it, hence the higher calories.
How do you prepare toppings for pizza and calzone?
Take a can of San Marzano tomato sauce and empty it into a bowl. Put in a dash of salt and a few leaves of basil. Next, put in about a teaspoon of olive oil and mix it up using a hand blender or smashing it through your hands. The olive oil gives an excellent taste to the tomato sauce.
Can you use store-bought or pre-made pizza dough for making calzone?
Since the dough for calzone is no different than regular pizza dough, you can certainly use any store-bought dough ball or leftover pizza dough to enjoy delicious bites of calzones.
Can you use bread dough for making calzone?
Yes, you can use homemade, leftover bread dough for making calzone, yet, this will be way more different than classic Italian calzone.
mama-cucina.com is a participant in the Amazon Associate program and will earn from qualifying purchases.