Do you want to know what are the best pizza turning peels? I'm sure you love to bake pizzas in your home oven seamlessly. And it's where you need to find some best pizza peel.
I'm here to help you. I've got you the top 5 pizza spinners/turning peels with or without perforations after a tiresome research of 48 hours. Besides this, this article also covers pizza peels under various budget options.
So, which one is most suited for you, you can decide by reading this well-researched article.
Let's get started.
5 Best Pizza Turning Peels Discussed in Detail
Here are my top picks for the best pizza turning peels list. Below I've discussed them in detail besides their pros and cons.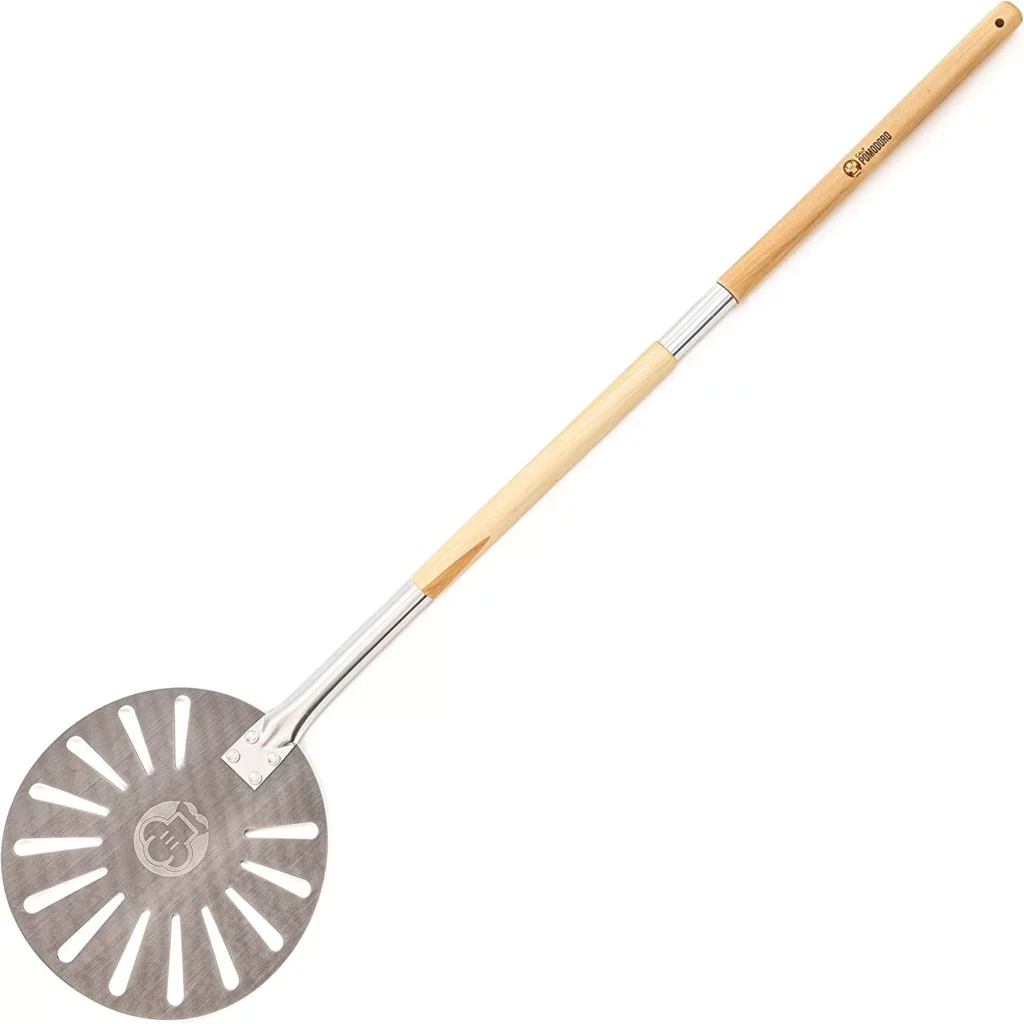 How about getting an inexpensive pizza-turning peel for your portable and outdoor wood-fired ovens?
Try out the Chef Pomodoro Pizza Peel! It can exceed your expectations in every way.
This pizza peel has been designed for easy handling and maneuvering, making it a must-have tool for anyone serious about their pizza-making game. The wide 9″ aluminum head is sturdy and lightweight, making it a breeze to maneuver and rotate your pizza in a scorching hot oven.
Not only does this peel excel in functionality, but it is also built to last. The hard-anodized aluminum head can withstand extremely high temperatures, ensuring its durability.
The smooth and natural wooden handle adds a touch of elegance and offers a comfortable grip. The peel's tapered edge allows for easy sliding under the dough, and its lightweight construction makes it a breeze to rotate it multiple times with precision.
This peel can handle everything whether you have a home pizza oven or a commercial-sized one. The detachable 47″ wooden handle provides the perfect length to prevent any burns while ensuring precise control over your pizza.
I highly recommend the Chef Pomodoro Pizza Peel for any pizza, except that it has one downside! What? The manufacturers claim that you can store it by unscrewing the handle. How often will you unscrew the handle; won't it cost durability?
If you want an under $50 pizza turning peel, you can also check out Chef Pomodoro's 47-inch Supreme Pizza Peel with an aluminum handle. How can I forget to mention that the Supreme Pizza Peel also has a detachable handle?
Pros
The long overall size provides extended reach for larger ovens.
Pinewood handle for a comfortable and firm grip.
A 9-inch wide head is suitable for handling larger pizzas.
It can also be used for launching/throwing small-size pizzas in the oven.
A versatile tool for professional or home use.
A budget choice
Storable
Perforations are wide to help you remove cornmeal underneath pizzas and steam buildup.
Cons
storing after detaching the handle can weaken the screws' functionality.
Not dishwasher safe, requiring hand washing for cleaning.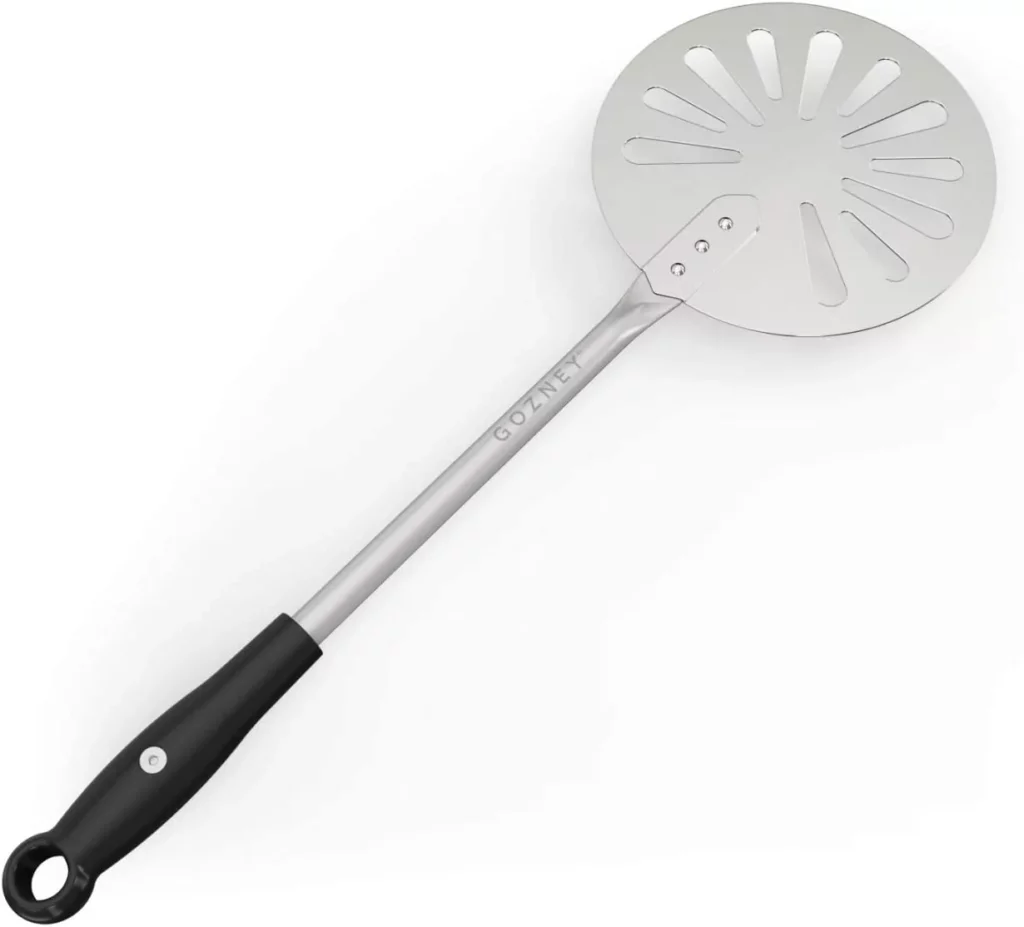 The ROCCBOX Pizza Turning Peel is an awesome pizza-making tool specifically made for handling pizzas in professional or home ovens.
First off, you'll notice how solid and well-made the ROCCBOX Pizza Turning Peel is. It's crafted from high-quality stainless steel that's built to last and won't get rusty or corroded. The pizza peel's long handle has been attached to the perforated head using 3 parallel rivets (than triangular placement); thus the attachment is pretty sturdy. You can feel confident using it to handle even the heaviest pizzas without worrying about bending or flexing.
One of the cool features of the ROCCBOX Pizza Turning Peel is its perforated head. The holes in the peel serve a couple of purposes. They reduce the contact area with the pizza dough. So it doesn't stick too much.
Also, these perforations let heat and steam escape from the bottom of the pizza, giving you a nice crispy crust. This feature is especially great for getting that perfect texture and flavor in your pizzas.
The 17 cm head of the turning peel is also generously sized. So, it can handle pizzas of different sizes. Likewise, the thin edge of the peel is designed to minimize any disruption to the pizza when you're turning it.
Storage is made easy with the hole in the handle, allowing you to install and remove the handle at your convenience. Elevate your pizza-making game with the Roccbox pizza turning peel!
Please remember, though it has been designed for Roccbox portable pizza oven, it can pair with any pizza oven. And honestly, you won't regret having it!
Pros
Sturdy and well-built stainless steel construction
Professional level and versatile pizza peel, so it can be used with other pizza ovens
The long wooden handle and 17cm diameter of the spatula offer ideal flexibility.
Perforated surface to prevent sticking and promote airflow
Easy to clean by hand wash
Cons
It can be challenging to use for newbies to pizza peels
The handle length might be too long for some of you
Perforated surfaces can be difficult to clean
Expensive
Can't be used to launch pizzas

The luxurious pizza peel (bearing brand tag) is a game-changer of you've been new to using pizza spinners! Its exceptional features and quality construction make it an indispensable tool for your home pizzeria.
First, the Ooni Turning Peel is incredibly efficient. It allows you to slide your pizzas effortlessly in and out of the hot oven, ensuring that the base stays in constant contact with the pizza stone. This results in faster cooking times and a perfectly baked crust.
The 7-inch turning peel head has tapered edges, which make it easy to get underneath the pizza from various angles. Thus, you can turn and spin the pizza with utmost ease.
The lightweight design of this peel is also worth mentioning. It's comfortable to hold and maneuver, reducing strain on my hands.
The handle is made of glass-reinforced nylon, which adds to its lightweight nature and ensures durability. I must appreciate the ergonomic design, which makes its use easy, even during longer pizza-making sessions.
The smooth surface of the anodized aluminum blade is a standout feature. It provides a non-stick effect, allowing the pizzas to slide off effortlessly onto the peel.
Above all, the perforations on the pizza paddle help excess flour to fall away, resulting in a beautifully cooked and crispy pizza base. Besides this, this perforation also removes the steam buildup underneath the pizza, which helps you to get crispy pizza bottoms.
YET
if you compare it with the previously discussed Gozeny Roccbox pizza peel, it's not better than tha (nearly equal) but pricier. Besides that, the perforations are also narrower. In my opinion, you should go for Ooni pizza peel if you're loyal to Ooni only!
But for price and value, Gozeny/Roccbox is better than Ooni.
Pros
Efficient and easy to use for beginners to pizza peels for its 7" diameter
Lightweight and durable
Easy to clean
Perforations for better flour removal
Versatile for various pizza sizes and toppings
It has a hole in the handle for easy storage e.g., hanging on the wall.
Cons
Extremely overpriced
It may require some practice for optimal use.
The handle length is not adjustable.
Requires hand washing for maintenance
Can't be used as a pizza launching peel.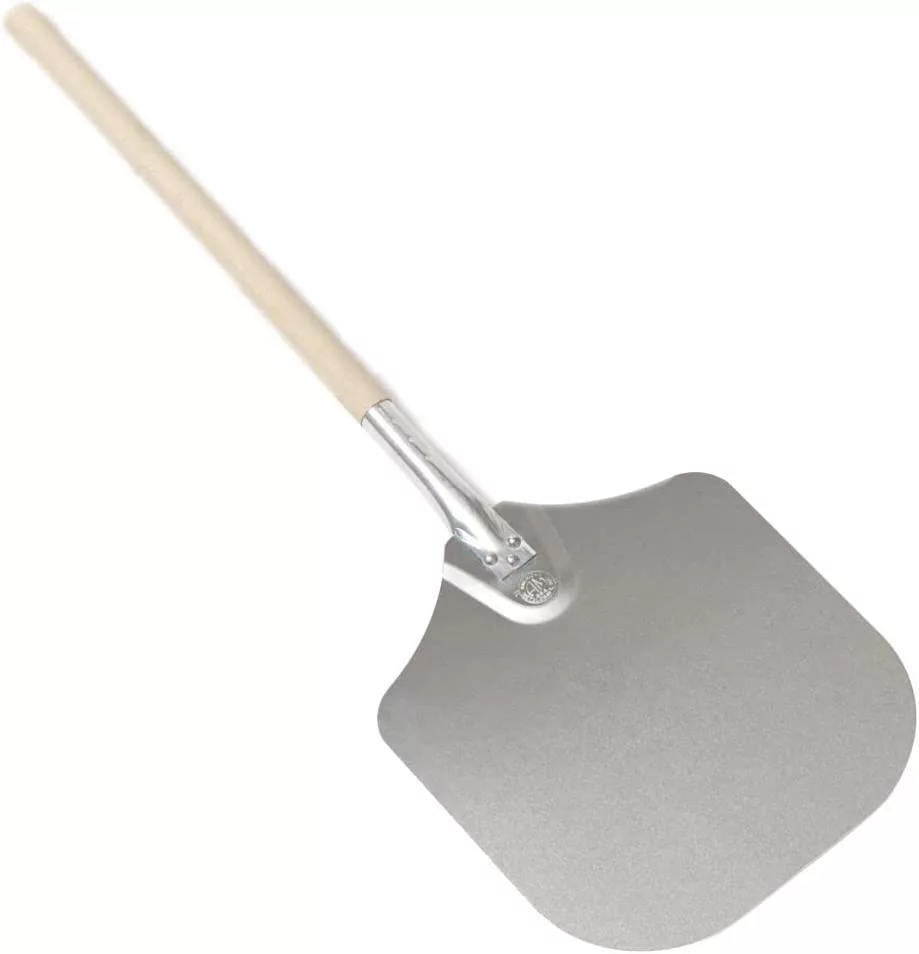 American Metalcraft's Aluminum Pizza Peel can be your ultimate tool for pulling out the perfect pizza! Made with a 14-gauge aluminum blade, this peel allows you to rotate or transfer pizzas like a charm.
The 12″ x 14″ size aluminum blade is ideal for shifting medium-sized pizzas. Yet, the size becomes universal when using this pizza peel as a turning peel. So, you can use it to spin or launch pizzas of small to large sizes–it'll do the job without exertion.
The pizza peel is available in varying handle lengths, e.g. 26, 35.5, 52, or 64 inches. So, you can go for any size that meets your needs.
During turning pizzas, the grip matters–slippery handles can make you late when the pizza is burning on the stone.
Don't worry! Metalcraft's Aluminum Pizza Peel will save you with its wooden handle.
Turning pizzas with a heavy peel can be hell!
Who Likes? No one!
Metalcraft's Aluminum Pizza Peel weighs only 1.4 pounds. So, you can keep a cooking dozen of pizzas for your family.
The surface of the peel? Though it's not perforated (you can perforate it), it's sleek to slide your pizza on the stone in no time. It needs only a light dusting of cornmeal or semolina under your pizza.
The versatility of this peel extends beyond pizzas. It's perfect for pastries, breads, pies and even works as a cake lifter.
The only downside is that it only allows you a hand wash–pretty obvious with expensive pizza spinners too! Isn't that true?
Pros
Lightweight and easy to handle
Durable aluminum construction
Comfortable grip with the wooden handle
Versatile to be used as pizza launching peel as well
Reasonably priced
Has no sharp edges
Cons
No hole or loop in the handle for hanging it
Not dishwasher safe
It may not be suitable for professional or heavy-duty use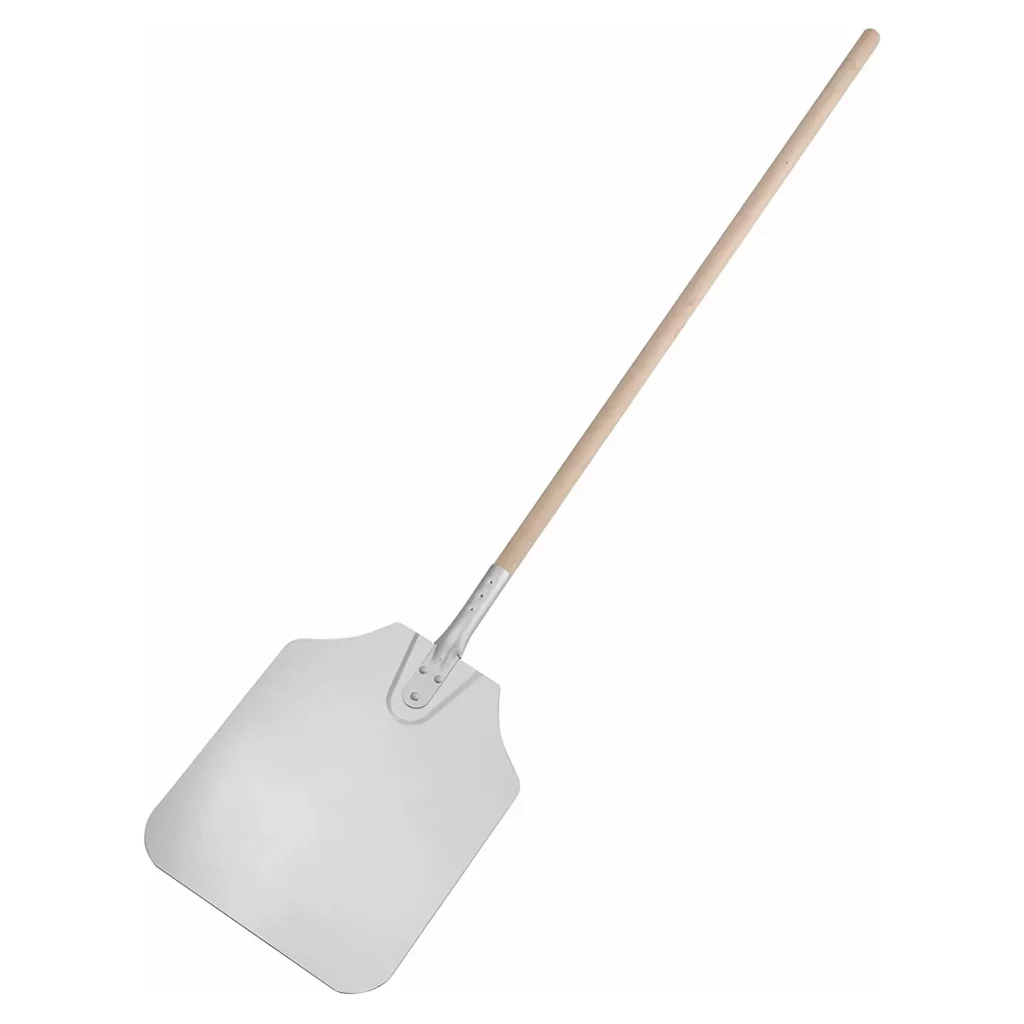 Do you need an affordable pizza-turning peel for your outdoor wood-fired pizza oven? And are you fine with the non-perforated pizza peel?
Here comes Winco Pizza Peel with its 52" long handle and 12 inches wide blade, perfect for your wood-fired outdoor pizza ovens.
Yes, it can withstand high temperatures. Thankfully, the long handle is a special safety feature that allows you to launch, rotate and turn your pizzas in the high heat of gas or wood pizza ovens.
Cleaning up is a breeze! You can simply wipe it with a moist cloth or hand wash it.
This perfect pizza peel elevates your pizza-making experience! The sleek aluminum color adds a touch of sophistication to your pizzeria. Its unique shape, reminiscent of a cartoon character, adds a fun and playful element to your pizza-making process.
In short, the Winco – APP-52 Pizza Peel is a must-have tool for any pizza enthusiast.
Pros
Durable aluminum construction for long-lasting use
It has excellent reach for large wood-fired pizza ovens.
Study enough to withstand extra hot wood-fired pizza ovens
Lightweight design for easy maneuverability
Versatile for use with various types of pizza ovens
Cons
The long handle may not suit everyone.
The long handle length is unadjustable.
The handle might seem wobbly.
Aluminum material needs careful handling to avoid scratches or damage.
How Should You Choose the Best Pizza Spinner for You?
No problem! Here's a guide to help you pick the perfect pizza turning peel:
Turning Peel Type
Pizza peel can be differentiated according to their design: perforated or non-perforated. Choosing between a pizza turning peel with holes or without holes is all about what you prefer and what works best for your pizza-making. Here's what to think about each type of pizza turning peel aka. Spinner:
Benefits of using perforated pizza turning peel
The little holes in a perforated peel help air circulate so your crust stays crispy. Great for pizzas with lots of moisture or toppings that release moisture while baking.
Besides helping you to make crispy pizzas, those holes also prevent your pizza from sticking to the peel. No more pizza disasters during the transfer!
The extra air circulation from the perforations means your pizza bakes faster and more evenly. Hot air gets to the crust from both the top and bottom.
Perforated pizza peels have so much goodness but are challenging to clean. This is because the dough particles may get stuck in the holes, so you can't use them to launch pizzas.
Benefits of using a non-perforated pizza turning peel
Non-perforated peels are handy beyond pizza. You can use them for bread, pastries, or any baked goodies. They have a smooth surface that works well for other bakings.
Cleaning a non-perforated peel is a breeze. No small holes to worry about where dough or toppings can get stuck. Thus, it's super helpful when you're dealing with sticky stuff.
In the end, it's up to you to choose whether you want a perforated or non-perforated pizza turning peel.
Material
Go for a peel made from top-notch materials. Stainless steel or aluminum peels are popular because they're tough, heat-resistant, and easy to clean. Avoid cheap peels that might warp or crack.
Size and Shape
Consider your pizza and oven size. You want a peel that comfortably fits your pizzas. Also, make sure the peel's shape matches your pizzas—round, square, or rectangular.
Handle Length
Choose a peel with a long handle to keep your hands safe from oven heat. A longer handle gives you better control and makes it easier to turn and retrieve pizzas.
Peel Thickness
The turning peel's thickness matters. Thicker peels are sturdier and less likely to bend when transferring pizzas. Just remember, super thick peels might be heavier and harder to handle.
Grip
Look for a peel with a comfy and secure grip. Some have rubber or wooden handles for better control. A good grip means you can maneuver the peel without dropping or ruining your pizza.
Surface Texture
Consider the peel's surface. A smooth surface helps the pizza slide off effortlessly. Some peels even have holes or non-stick coatings to prevent sticking and make transferring a breeze.
Maintenance and Cleaning
Check if the peel needs any special maintenance or cleaning. It's best to choose one that's easy to clean and doesn't require a ton of upkeep.
Price and Value
Compare prices and think about what you're getting for your money. While sticking to your budget is important, prioritize quality and functionality. Investing in a high-quality peel that lasts for years is usually worth it.
Hope this helps you find the perfect pizza turning peel! Enjoy your pizza-making adventures!
By considering these factors, you can choose a pizza turning peel that meets your needs and enhances your pizza-making experience. Happy pizza baking!
FAQs
Can you use a wooden pizza peel as a pizza-turning peel?
You can use a wooden pizza peel as a pizza turner or spinner, but it may not be ideal, especially for making many pizzas. Here are a few reasons.
Wooden peels are heavier, making them harder to handle, especially when making multiple pizzas.
They lack a built-in rotation mechanism. So, you have to spin the pizza manually by using your hands and wrists, which can strain them.
The larger size and heavier weight of the wooden peel make it challenging to maintain precise control, potentially leading to uneven cooking or toppings sliding off.
The rough surface of wooden peels creates more friction, making it tougher to rotate the pizza smoothly and potentially stretching or tearing the dough.
So, if you plan to cook pizzas regularly, investing in a dedicated pizza spinner with a rotating handle and circular blade is recommended. They offer smoother spins, less strain on your hands and wrists, and faster pizza cooking.
Can I use a pizza turning peel with any type of pizza oven?
Yes, a pizza turning peel can be used with any type of pizza oven, including traditional ovens, wood-fired ovens, and countertop pizza ovens.
Can I use a pizza-turning peel for purposes other than pizza?
Absolutely! While primarily designed for pizzas, a pizza-turning peel can also transfer and turn other baked goods like bread, pastries, or pies.
How should you clean and maintain a pizza turning peel?
To clean a pizza turning peel, simply wipe off any food debris with a damp cloth or sponge. Avoid using abrasive cleaners or soaking the peel in water. Regularly oiling the wooden handle can help maintain its quality and prevent drying out.
Do pizza turning peels have a handle with an adjustable length?
The handle length of a pizza-turning peel is typically fixed and not adjustable. However, some models like Chef Pomodoro have detachable handles that can be interchanged for different lengths.
Are pizza turning peels dishwasher safe?
Most pizza turning peels can't handle the dishwasher. The hot temps and strong detergents can mess up the wooden handle or the peel itself. Those turning peels with wooden handles usually must be washed by hand to keep them in good shape and avoid bending or breaking. Just use some warm water and mild dish soap to clean it up, and make sure it's completely dry before you put it away.
Are pizza turning peels safe to use in high-temperature pizza ovens?
Yes, pizza turning peels are designed to withstand high temperatures and are safe in high-temperature pizza ovens. However, following the manufacturer's instructions and exercising caution when handling the peel in hot environments is important.
How do you prevent the pizza from sticking to the pizza turning peel?
To prevent the pizza from sticking to the peel, lightly dust it with flour, cornmeal, or semolina before placing the pizza dough on it. This helps create a barrier between the dough and the peel, allowing for easier sliding and transfer onto the oven or baking surface.
Final Thoughts
The Chef Pomdoor Pizza Peel is the best Pizza Turning peel with adjustable handle length (also detachable), 9 inches wide blade head, and wider perforations. It's also not overly priced– brand name doesn't rob you of your hard-earned money. Other than this, other pizza spinners in our list are also excellent with equal functionality. So, you can choose any.
Good luck!
mama-cucina.com is a participant in the Amazon Associate program and will earn from qualifying purchases.