Do you want to know what causes the burnt pizza bottom and how you can fix it? The cause and effect principle certainly works here. You can fix burnt pizza bottoms by spotting the exact cause and eliminating it in just a minute. BTW, in this article, we'll not advise you to grind the pizza bottom to fix it!
Similarly, you don't need to follow several steps. Just get your checklist, know what wrong you have been doing, fix it, and all trouble is gone. 
This detailed guide will help you understand how pizza dough, toppings, temperature, and time work together to get you perfectly cooked pizza; and where all wrong happens. Let's get into the article.
1-Temperature Affects Baking a Pizza – First Thing to Know
Primarily, 2 things affect your pizza: duration and temperature. If any of these 2 exceeds the required limit or the balance is disturbed, the result will be a burnt pizza crust.
To put it simply:
3 major factors result in either cooked or overcooked pizza — and uncooked as well.
The question arises: how hot should a pizza oven be to cook an excellent pizza?
The answer is that a wood-fired pizza oven offers a maximum heat output of 850F (450C) to 900F (500C) for cooking a pizza. And, the time remains under 90 seconds only. In such ovens, the pizza stones' surface temperature can be around 400 degrees centigrade. Temperature over 400 degrees centigrade can burn pizza, while below 400C can cause the pizza to cook slowly. At such high heat, the pizza masters monitor the pizzas vigilantly, rotate them, and keep cooking hundreds of pizzas every day.
It's all about baking pizza in wood-fired pizza ovens for commercial ovens designed to produce a maximum heat of 900F.
Yet, the real problem arises when you cook pizza using a non-pizza-specific method like an electric oven (convection or toaster), grill or air fryer, etc. They don't offer the excellent heat that pizza needs. 
It's why you have to use DIY solutions like a pizza stone, pizza steel on a gas or charcoal grill, or an electric oven. You preheat it longer so that it may retain enough heat of about 500-800F degrees to cook your pizza. Still, the real challenge is to get a delicious pizza for you.
So, no matter what method you use to cook pizza, you have to get maximum and even heat for your pizza. 
2-Pizza Baking Time is Essential Baking a Pizza – Second Reason 
The balance between pizza cooking time and temperature is the ultimate thing that guarantees a fantastic pizza. 
Gas or wood-fired ovens cook the pizza in seconds. Yet, in other pizza makers, owing to the low-temperature range, it takes far longer to cook the pizza.
For instance, an electric pizza oven can hardly exceed the temperature range of 450-500 °F (230–260 °C). This range is 50% lower than the wood pizza ovens. 
In such a case, you adopt techniques like preheating pizza stones or pizza steel to help the cooking surface retain more heat and cook your pizza, and cooking pizza for a longer time of 10-15 minutes. Most of the time, you're successful in baking your pizza at such a lower temperature if nothing goes wrong. 
And, what goes wrong, then?
We'll discuss it in the next sections by addressing each cooking method separately.
3-Your Pizza Itself is Responsible for Burning Pizza Bottom- Third Reason
Temperature can be fine, and the time you allow your pizza to cook can also be well observed, yet, a few more things can also ruin your end product.
These are in the pizza itself.
So, what are these?
Let's have a look
Pizza crust thickness level and unevenness
Too thin or too thick crust pizza can be a culprit in your way of cooking a pizza. For example, a thin crust will cook faster, and the leopard spotting can, unfortunately, turn into burnt pizza crust.
On the other hand, when looking forward to cooking a thick crust, you might miscalculate the time and cook it longer to cause the pizza bottom to burn. 
Cold pizza dough causes burnt pizza bottom.
Frozen, unthawed pizza crust, contrary to your hopes, can burn. How? 
When placed in the hot stone, the top section will still be cold and look undercooked, while simultaneously, the lower crust will soon thaw and cook at a normal pace. Thus, though deceived, your pizza crust will become burnt underneath. 
We'll advise you to always thaw your pizza crust and only put it in the oven when it has reached room temperature.
Hydration level
Pizza dough hydration means the water-to-flour ratio. The higher the hydration is, the more time a pizza will need to cook. 
Hydration level does not significantly affect pizza cooking in a wood or gas oven. Whether it's 60% or 80% hydration, the pizza will cook under 60 seconds, and you'll have to monitor it carefully. 
However, in an electric oven, it'll demand more time, and vice versa for a low-hydration pizza crust. So, if you notice your pizzas burning constantly, it can be because the hydration is lower: 50-60%, and your pizza oven temperature is high.
Pizza toppings
Pizza toppings are the tastiest but most annoying when you overload your pizza. Pizza lovers often lose their pizza by burning it because of many toppings and sauces to secure more flavors. 
The result is that you're gazing at the pizza toppings in your oven and waiting for them to be cooked, which takes more time, while the pizza's crust is already burnt.
If you think you've been making this mistake, here are a few key points to remember:
Don't load your pizza with many uncooked or watery toppings.
If you're using raw toppings, please cook them a bit before spreading them on your pizza; you can saute them for this purpose.
If you're planning to eat more cheese on your pizza, please strain the cheese in a double strainer by keeping it in your fridge for 1-2 hours before using it, and also by drying it with paper towels to get rid of excessive water.
The key to cooking pizza toppings is you see bubbling, and your pizza is done. So, forget about using many uncooked toppings or aiming to cook them in the oven.
Pizza dough recipe
Believe it or not, not keeping your pizza dough simple can result in a "prone to overcooked" pizza crust.
If we have to put it simply, pizza dough is only about: flour, water, sea salt, yeast, and a few drops of olive oil. 
Anything added extra, like eggs, honey, oil, or sugar, can make you think about why your pizza burns every time. This problem is common with store-bought pizza crusts or dough balls — they have too much sugar and other additives that retain heat faster.
In the same way, adding more oil means you're getting more heat to your pizza. The reason is, that fats hold more heat than other ingredients in your pizza dough and make it cook faster (frying it rather than baking).
Therefore, we'll advise you to use homemade 70% hydration pizza dough to get a nice, chewy pizza crust.
Cooking pizza crust and pizza bottom
When cooking a pizza, you must balance how brown your pizza should be from top to bottom; it's where the wood pizza ovens work.
The pizza maestros keep checking the pizza bottom for doneness, then pick the pizza on pizza steel and color it near the flame. They don't always wait for the pizza edges to be well done when the pizza is lying on a hot surface.
Using too much flour when stretching the pizza crust
Probably your pizza crust has a lot of dry Italian pizza flour (semolina and plain flour) when you're stretching it, and this excess flour burns inside the oven and causes a burnt pizza bottom. You can avoid it by using less flour under the dough, tossing your pizza properly while stretching (primarily), and using a perforated pizza peel (as a secondary measure). 
Do you think everything is fine with your pizza? In the next section, we'll discuss each cooking method and the resulting burning of your pizza crust. It'll help you find the exact reason.
Why Does Pizza Bottom Burn in a Wood or Gas Pizza Oven?
Wood-fired or gas-fired pizza ovens work similarly. A huge fire makes the entire pizza oven: walls, floor, and roof hot and crest convection. Yet, this temperature is far higher, almost 800-900F.
Still, the stone surface is hotter near the heat source: wood or gas fire, and usually, it's advisable not to place pizza near the heat source.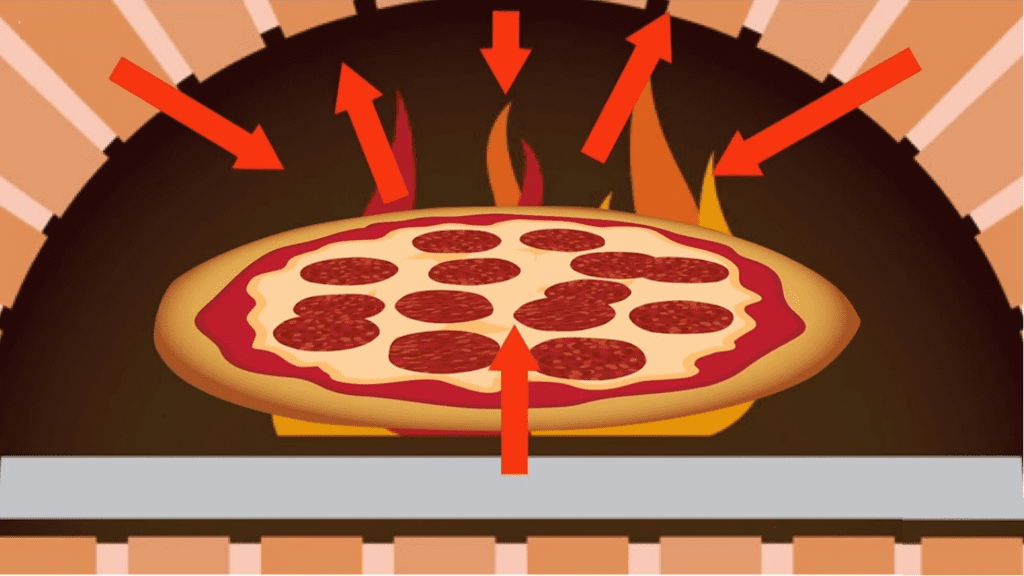 Many things can burn a pizza in wood pizza, besides those mentioned in the second section of this article.
You have a thin-crust pizza that can hardly tolerate such heat, or your crust is unevenly stretched. Some spots are thin, and others are thick, and that's why the pizza is overcooked.
You might place the pizza near the heat source, which is the hottest, while a pizza oven has 3 spots: a colder spot near the door, a moderately hot area in the middle or opposite the fire, and the hottest near the fire. 
So, you must find a suitable area by checking the oven floor using an infrared thermometer. As a rule of thumb, the pizza stone surface where you place your pizza should be about 430 degrees centigrade (about 800 F).
As stated earlier, the dry flour stuck to your pizza bottom can be burned in the oven and cause a burnt pizza crust.
You use watery cheese, more sauce, or pizza toppings. Therefore, you have to wait to cook them, which is a bad idea, as discussed already.
And, lastly, be vigilant, and pay attention to your pizza. Keep checking the bottom using a stainless steel pizza peel, and if it's done, shift the pizza on the peel and get it more heat by nearing the main fire.
What Causes Burnt Pizza Bottom in Portable Gas Ovens: Ooni Koda, Karu, or Roccbox?
Portable gas ovens like Ooni Koda, Roccbox, or Karu work like woodfired pizza ovens, except that they're small; you can only cook 1 pizza at a time. Therefore, they also have the same heat zones: almost 800 temperature in the mid, higher near the heat source, and a bit low near the opening. So, you have to take care of your pizza stone temperature before placing it, and when it's cooking, be watchful so that you may rotate your pizza to ensure even heat distribution. Besides this, also consider the points listed below.
When you stretch your pizza crust, it most likely has a lot of dry flour (semolina and plain flour), and this surplus flour burns inside the oven. Thus, it results in a scorched pizza bottom.
You use watery cheese, more sauce, or more pizza toppings, and so you have to wait for them to cook, which is a perfectly awful idea, as previously mentioned.
Finally, be careful and pay attention to the pizza you're cooking; continuously check the bottom with a stainless steel pizza peel, and if it's done, shift the pizza on the peel and increase the heat by moving it closer to the main fire.
Your pizza crust is either too thin to withstand such heat or unevenly stretched, with some places thin and others thick. It's the reason why pizza gets overdone.
The pizza stone hot zones are less utilizable in the case of portable ovens. It's because the small ovens accommodate only one pizza. Yet, this one pizza will cook differently: even in the middle, it more cooked at the side near the fire and less cooked near the pizza oven opening, so you have to rotate it. Since the pizza oven is extremely hot, you must be super fast.
What Causes Burnt Pizza Bottom in Grills?
Finally comes the most challenging part of cooking a pizza: it's on a grill or charcoal grill like a Weber Kettle or Kamado Joe. You can't simply palace the pizza on the grill grates. 
Instead, you must place it on a preheated pizza stone set to the maximum temperature your grill allows.
Still, it burns! 
If your pizza recipe is just perfect, the only solution is to ensure that the temperature of the pizza stone and inside the girl dome is the same. This way, your pizza toppings, and pizza button will cook simultaneously. 
How can you do it, then?
Follow the pizza baking instructions specific to the grill type. For example, charcoal grills can easily attain a temperature of 700 degrees higher, while gas grills don't exceed 550F.
And most of the time, the charcoal grills burn the pizza bottom because the pizza stone's temperature limit of 500 is crossed easily, and your pizza stone can be as ho as 400 degrees centigrade.
THEN, WHAT SHOULD YOU DO?
LIFT THE PIZZA STONE!
The key is preheating the grill the highest and creating the gap between the heating source i.e., charcoal. Here is what you can do:
Place 1 pizza stone directly over the grill grates and then place the 2nd pizza stone over it, but after creating the gap to produce convection. You can use anything between these two pizza stones, like nuts or pebbles.
OR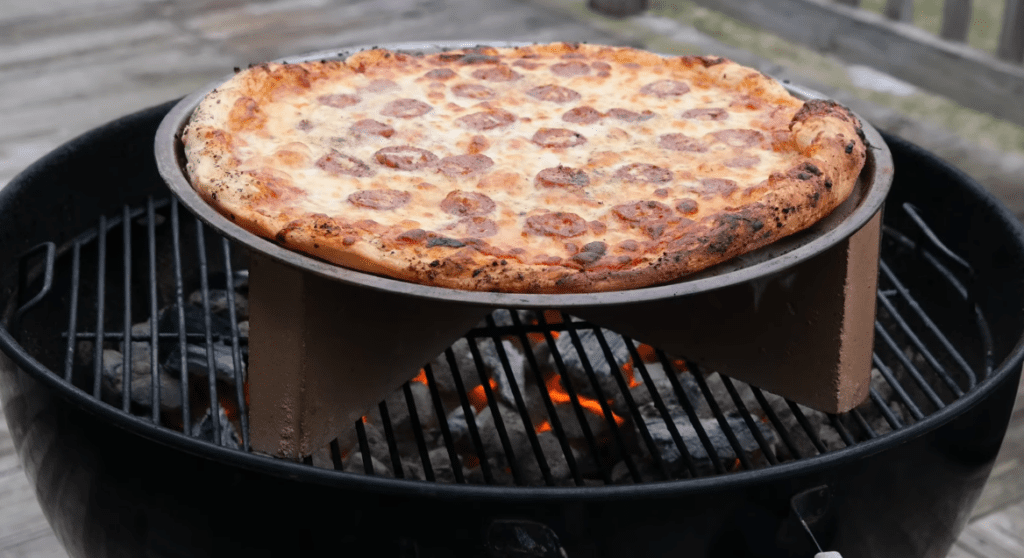 Use any barrier between the stone and grates to lift it about 4-6 inches higher, as you can see here. The best way will be using a fire brick. Cooking pizza on a charcoal grill will take 10-15 minutes.
Thus, this single trick can save your every pizza. Also, do not forget to preheat your pizza stone properly before placing the next pizza on it.
No matter what charcoal grill you use, your infrared thermometer must record the pizza stones' temperature between 400C and 700F degrees.
And, if you use a gas grill, the pizza stone must be near 500F temperature, for your gas grills can't go above this limit.
What Causes Burnt Pizza Bottom in Oven? 
Baking ovens can hardly be responsible for any such problem, except that the convection fan is malfunctioning and not circulating the heat properly. Another reason is that the pizza stone's heating elements produce more heat. 
Using an infrared thermometer, you can know this problem by checking the pizza stone surface's temperature in the middle and edges. If the bottom heating elements in the oven are creating hot spots in your pizza stone, place the pizza stone in the upper rack and also use parchment paper on the pizza stone.
And, if you burn your pizza crust often while trying to cook the toppings, the solution is the simplest.
Raise your pizza stone higher to catch more heat from the ceiling heating elements to cook the toppings. Place the pizza stone on the upper rack or lift it higher using a baking sheet or pan underneath. 
Remember, when you place pizza on the stone, turn the oven dial to highest, preheat the stone for 1 hour, and keep checking your pizza.
If all is set, then the problem can only be in the pizza crust or toppings.
We've already discussed the factors regarding pizza recipes: toppings or dough.
FAQs
Should you cook pizza on a low temperature to prevent burning?
By no means cook your pizza at a significantly low temperature. It might help with saving your pizza, but the crust will be too dry and hard to chew. It's owing to moisture loss because of cooking it for an extended time.
Can you get a puffy pizza crust on the grill without burning it?
Yes, yet it's challenging to get an exact woodfired oven-like crust on a grill. The reason is that the puffiness in the pizza crust is caused by fast evaporation from high heat.
So, you have to maintain the highest pizza stone temperature and avoid loading the pizza heavily. You can better get such a crust on charcoal grills.
Can you fix an already burnt pizza bottom?
If your pizza has already been burnt, you should not consume it though there is a solution: grind it!
ENJOY YOUR PERFECTLY COOKED PIZZA!
mama-cucina.com is a participant in the Amazon Associate program and will earn from qualifying purchases.