Can dogs eat pizza? No, you shouldn't give pizza to your dog for eating, it isn't safe, especially a store-bought.
They can eat pizza as they have teeth and the ability to chew and swallow. They also won't refuse from tasting a pizza slice.
But here is an exception that comes from your intent!
Your question about whether a dog can eat pizza or not might be based on the intent like:
Should you give your dog a pizza?

Is pizza safe for dogs?

Can you give a pizza crust to your dog?

Is vegetable pizza OK for dogs?

Is cheese pizza safe for a dog?

Can dogs eat pizza crust?

What ingredients in a pizza are harmful to your dog?

Is Pepperoni pizza safe for a dog?

Can dogs eat pizza sauce?
You might be agreeing with us after reading these questions that by asking, " can dogs eat pizza, you never meant to doubt the chewing or tasting ability of your dog. But, you want to be on the safer side; after all, your dog is dear to you. Well, if you're nodding your head in yes, you've landed at the right place. In this article, we'll be debunking dogs' pizza-eating myths and finding out all the ingredients which can be safe for your dog or harmful.
So here we begin.
Can Dogs Eat Pizza?
This question has at least two facets. If you're being literal, then yes, dogs can eat pizza. Dogs have fewer taste buds than us, and our sense of taste is six times as powerful as theirs.
 In simple words, their sense of taste is less discriminating than ours. So, if you frequently feed them your food, they'll be conditioned to expect it from you every time. Dogs are also bad at impulse control, so they can eat pizza whenever you offer them.
Now we come to the other facet of the question. If you mean whether it's safe for a dog to eat pizza or not, then probably not. 
Dogs are "largely" carnivores, and their bodies are designed to consume meat. They're not great at eating and assimilating human foods, especially in large amounts.
But you should not worry if you occasionally feed your pet a slice of pizza or two. Before we look at why you shouldn't regularly feed your dog pizza, let's discover whether dogs are carnivores or omnivores?
Are Dogs Omnivores or Carnivores?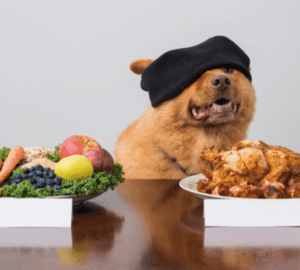 As we have already said, dogs are "largely" predatory animals. However, they have certain omnivorous elements that allow them to also function as omnivores. 
We'll have a detailed look into the matter by discussing omnivorous and carnivorous features in dogs.
Simply because dogs are classified in the order Carnivora doesn't make them carnivores. Let's have a look at the omnivore angle about dogs in detail.
First of all, the "intestinal length" of dogs resembles those of omnivores. Since meat is easily digested, the intestinal length of carnivores is relatively short. 
Omnivores have comparatively longer intestines than carnivores. And because carbohydrates are hard to digest, herbivores have much longer intestines.
Secondly, wolves, the dog's wild ancestors, also eat grains. However, if wolves can eat cereals, it makes sense to conclude that domesticated dogs can also consume carbohydrates.
Thirdly, a recent study has discovered three genes related to starch and glucose digestion in dogs.
The carnivore perspective
Even though the intestinal length of dogs is longer than those of cats, the volume of both canine and feline intestines is the same. It's because cats have a comparatively wider girth of intestines.
In addition, dogs and cats have low "coefficients of fermentation." You can think of this metric as the ability of an animal to break down glucose. Dogs don't have the right tools (enzymes) to break down carbohydrates. 
If an animal can't derive energy from grains, they're of little to zero nutritional value. Long story short, dogs can't be termed as conclusively and exclusively omnivores. 
They're also not "obligate carnivores" like cats. However, by and large, they're carnivores that can also function as omnivores sometimes.
It's best to view feeding strategies as a spectrum rather than in black and white. And dogs lie between omnivores and carnivores in this spectrum.
Now that we've briefly discussed dogs' feeding strategies let's look at what ingredients a pizza contains and whether it's safe or unsafe for a dog to eat pizza.
What are the Dog-Safe Ingredients in a Pizza?
Pizza is a versatile food. You can choose between different ingredients, customize the recipe, and personalize its taste. Certain elements in pizza remain the same, like a regular crust made of dough, tomato sauce, and cheese. However, most individual preferences lie in pizza toppings.
Let us review some of the essential and preferred components of pizza in detail and also look at whether they're safe or unsafe for your dog.
Pizza crust or pizza dough
Pizza crust, made of pizza dough, contains flour, yeast, olive oil, eggs, salt, and water. The raw pizza dough is then baked in the oven to yield a crispy texture.
Now that we know the ingredients of a pizza base, there's nothing in the base that we can stamp as harmful to dogs unless taken in excessive amounts for a long time. As we have already discussed, at least three genes have been discovered in dogs related to carbohydrate digestion. 
So, it shouldn't be a problem for your pet to eat pizza crusts. There's nothing unusual about the water either.
Eggs, another ingredient of pizza bases, are perfectly safe for dogs. They're also a great source of nutrition for your canine companion because they're rich in proteins, fatty acids, and vitamins.
Salt intake in moderate amounts is as safe for dogs as it is for humans. Most pizzas don't contain excessive amounts of salt. 
If your dog suffers from hypertension or has issues related to electrolyte imbalance, pizza salts can be dangerous for your dog and even cause death. Olive oil is not only safe for dogs; it's indeed beneficial for them. It's good for their skin and coat. It helps them maintain healthy body weight, improves the taste of your dog's food, and boosts its immune system.
As far as pizza bases are concerned, they're perfectly safe for your dog, as is revealed by the facts mentioned above. However, note that excess of everything is bad.
Most pizza sauces are made from ripe tomatoes, which are perfectly healthy for dogs. But pizza sauces often contain other ingredients, too, such as herbs, garlic and onions. Those additional ingredients in pizza sauce could be harmful to your dog. Onions and garlic are also part of most toppings. So, pizza sauces are a big "NOOO."
Cheese is a perfect training tool for dogs. Most dogs love it, especially puppies. It's full of essential fatty acids, protein, calcium, vitamin A and B-complex vitamins. But moderation is the key.
Some dogs have lactose intolerance. While cheese doesn't contain as much lactose as milk, its low lactose content can still be a problem for lactose-intolerant dogs. 
You should never feed your canine companion cheese if it suffers from the condition.
What Pizza Ingredients are Harmful to dogs' health?
We've seen that pizza bases are perfectly safe for dogs. Even though the dough contains yeasts, all yeasts die at a temperature of 138°F. 
Otherwise, yeast is highly toxic to dogs. Other base ingredients such as water, salt, olive oil, and eggs are safe for dogs and healthy sources of nutrition if taken in moderate amounts.
Pizza sauce, if made from tomatoes, is also healthy for dogs. However, most pizza sauces contain onion and garlic.
Onions contain a toxic compound called N-propyl disulfide. This volatile liquid breaks down red blood cells and, in turn, leads to anaemia in dogs.
Onions also contain thiosulfate, a compound that produces a similar reaction in dogs. The compound binds to your dog's oxygen-carrying cells and impairs the cells' ability to carry oxygen. It also tricks your pet's body into thinking that the erythrocytes (red blood cells) are invaders. As a result, your dog's body starts engulfing its own blood cells in a process called hemolysis, leading to hemolytic anaemia.
Whether raw or cooked, the whole onion plant is toxic to dogs, including the leaves, juice, and powder.
Symptoms of onion toxicity in dogs include lethargy, decreased appetite, fainting, pale gums, and reddish urine. One medium to large onion can lead to onion toxicity in dogs.
Garlic, too, is a member of the allium family. Like other members of the family, it's rich in thiosulfate and N-propyl disulfide. However, these compounds are less concentrated in garlic than onions, meaning that your dog would have to eat a lot of cloves to get sick.
Symptoms of garlic toxicity in dogs are nearly similar to those of onion toxicity. The main culprits are the same, N-propyl disulfide and thiosulfate, which cause hemolytic anaemia.
Dogs are carnivorous animals and love meat. Processed meat is meat that has been salted, smoked, dried, canned, or otherwise preserved.
If the pizza is topped with roast chicken, it is OK for your dog to have a small portion. However, most pizzas are made with highly processed meat.
Meats like salami, pepperoni, and bacon are salted and usually contain a lot of fat. Both fat and salt can harm your pet's digestive system. If too much is eaten at once, the dog will get sick. Also, if consumed over a long period, they will gain weight and develop numerous health problems.
Hawaiian pizzas come with pineapple toppings. While raw pineapple is nutritious for dogs as it contains beneficial minerals, such as manganese, iron, and potassium, pineapple on a Hawaiian pizza isn't raw. It's syrupy because it contains added sugar. Sugar is not something to be consumed by a carnivore. So, it's a bad idea to give a Hawaiian pizza to your pet companion.
Some seasoning and spices are harmful to dogs, such as those containing onion, garlic, salt, cocoa powder, and nutmeg. Some are beneficial to dogs like basil, cinnamon, ginger, parsley, and turmeric.
Since we're not sure exactly what seasonings and spices are present in a store-bought pizza, you should never feed it to your dog.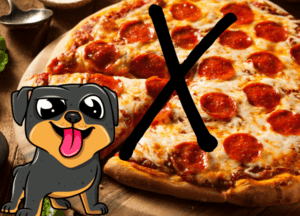 It might seem tempting at first glance, yet pepperoni is also one of the harmful ingredients/ toppings for your dog's health. They're clearly not dog food being processed and coming with additives like fat and sodium, which can ultimately result in pancreatic or kidney-related issues, including hurting your dog's stomach.
FAQs about Dogs Eating Pizza
Can I make homemade pizza for my dog?
Yes, you can make homemade pizza for your dog. Its ingredients vary, but dogs love cooked veg and meat. A standard pizza crust is safe for your pet; you can use it as a base. You can add tomato sauce, raw pineapple toppings, mozzarella, basil, and turmeric.
However, making a dog-friendly pizza would only waste food. It's because your pet won't appreciate it. Your dog won't be excited about food just because the shape looks like a pizza. 
You can't think in place of your pet. The little we know about dogs is that they don't analyze food the way we do. So, making a homemade pizza for your dog isn't worth the effort, time, and investment.
What should I do if my dog eats pizza?
If your dog has nibbled a slice of pizza, it shouldn't be a matter of concern. However, it would be best if you did not let it happen frequently.
If your dog eats a whole pizza that was loaded with onion, garlic, and seasonings, you may need to call your veterinarian. They can treat your dog to induce vomiting to avoid serious problems and possible life risks.
You can also check for certain symptoms before you call your veterinarian. Immediate and most common symptoms of pizza toxicity include stomach pain and diarrhoea.
Sometimes, your dog may not show immediate symptoms. It happens when your pet has been eating pizza for a long time. In this case, your dog can be suffering from hemolytic anaemia. Lethargy, decreased appetite, fainting, and reddish urine are common symptoms of anaemia.
Are mushrooms on pizza bad for dogs?
No. Mushrooms consumed by humans and sold in stores aren't bad for dogs. Indeed, mushrooms are a useful source of nutrition for dogs. However, wild mushrooms are probably a common cause of canine death.
Since mushrooms sold in superstores are not toxic, they're safe, healthy, and even nutritious for dogs.
Can dogs eat veggie pizza?
Without a doubt, concluding our entire discussion, the worst thing you can do with your dog is to offer it with a veggie pizza slice. No matter if it contains healthy mushrooms, capsicums or cheese, yet it's undoubtedly toxic. So, be careful not to cut a veggie cheesy pizza slice for your dog.
Safe and Toxic Pizza Ingredients List for Dogs 

Ingredients

Safe or Unsafe

White Floor

Safe if cooked

Salt

Safe in Moderation

Sugar

Unsafe

Yeast

Unsafe

Eggs

Safe

Cheese (with no added herbs)

Safe

Tomatoes

Safe

Garlic

Unsafe

Onions

Unsafe

Vinegar ( in sauces)

 Not Safe

Vegetable Oil

Safe

Olive Oil

Safe

Corn

Safe

Olives

Safe in Moderation

Cucumbers

Safe

Capsicum

Safe

Mushrooms

 Safe

Black Pepper

Safe in Moderation

Chilli

Safe in Moderation

Italian Herbs

Safe

Chicken

Safe

Bacon

Safe

Turkey

Safe

Beef

Safe

Pepperoni

Unsafe

Pineapple

Safe if uncooked
A word from us
The dogs are members of the Carnivora family and are "largely" carnivores. However, they're not obligate or exclusively carnivores because they can eat cereals like their wild ancestors. 
They're also not omnivores but lie somewhere between carnivores and omnivores. It's what centuries of evolution and domestication turned them into. Some parts of pizza like cheese, pizza base, and tomato sauce are not only safe for dogs but indeed of immense nutritional value. 
But some pizza parts, such as onion and garlic, different kinds of sauces, processed meat, sugary pineapple, and seasonings and spices are harmful to them. Since pizza is not an element but a mixture, we've to evaluate the safety based on ingredients. These substances are toxic to dogs and can even cause death.
For this reason, it's not recommended to feed a whole pizza to your dog. You can give it a slice or two randomly once a month. You can't provide your dog pizza regularly or frequently.
mama-cucina.com is a participant in the Amazon Associate program and will earn from qualifying purchases.