Do you want to know what are the top performing convection toaster ovens? And you want to ensure you find one that saves energy, has excellent cooking performance with multiple cooking functions, cooks food evenly, and takes less space on your counter shelf?
Here, we've listed the best convection ovens with multiple features that diversify your cooking experience. Besides this, we've also shared the buying guide for what you need to look for in the convection oven before buying one; hopefully, it'll help you make the best decision. Let's go!
Top 9 Convection Toaster Oven Reviews in Detail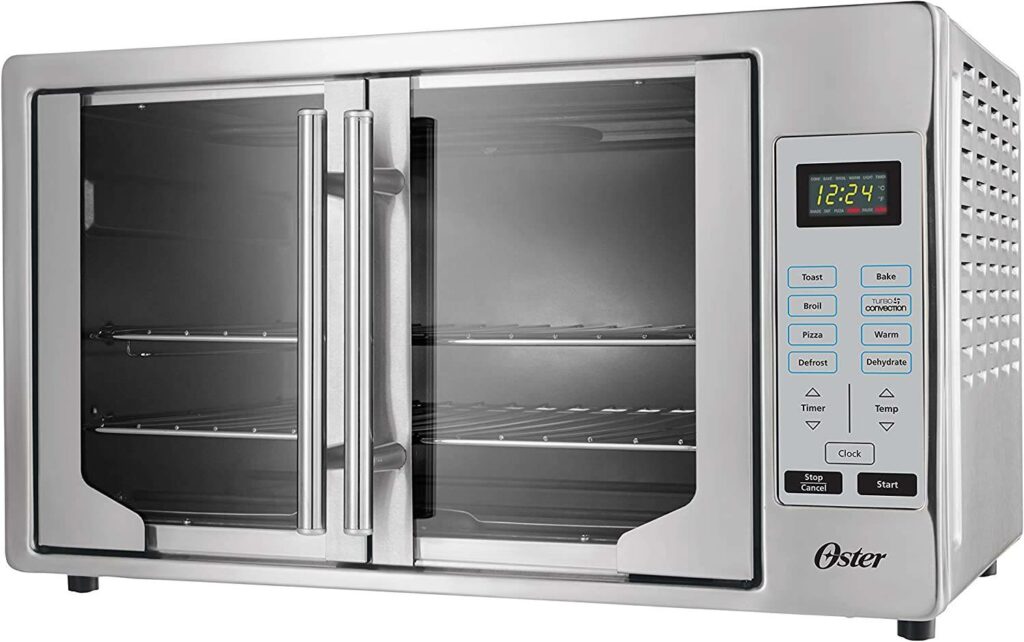 Are you looking for a toaster oven that stands out for its aesthetics and design? Here is Oster's convection toaster oven. It's equipped with a wide range of cooking options, which places it among the finest convection toaster ovens on our list.
Design
First, let us appreciate the "French door" style of the Oster oven, which gives it its signature aesthetics. Furthermore, it also allows you to transfer food more comfortably.
This large oven measures 23.8 by 20.15 by 15.1 inches. The toaster oven has a Teflon-lined interior and a brushed stainless steel exterior. Because of this, this oven is easy to maintain and long-lasting.
Inside, you get plenty of room, with dimensions 15.75 inches across and 16.36 inches deep. It can easily accommodate a 14″ pizza, 9×13 inches baking pan, 12 lb gobbler, and 14 bread slices.
The digital touch control buttons on the Oster toaster oven simplify the process of selecting the desired cooking mode.
Its two separate tracks allow for a wide range of cooking options.
Compared to toasting, baking is more controllable. It takes just 5-7 minutes to preheat before you bake anything.
And as default, the timer setting is 20 minutes; you may modify it to your preference.
The Oster toaster oven's outside is stainless steel, and its inside is Teflon-coated for easy cleaning. Moreover, a crumb tray can be removed and cleaned independently.
The extra accessories you get with this oven are:
One baking sheet
1 crumb tray
Cooking Performance
With convection turbo technology, the Oster toaster oven is faster and more even at cooking. Using a convection fan to circulate air within the stove may save cooking time by as much as 30 percent.
This oven has seven presets beyond the usual fare, including toasting, baking, broiling, defrosting, pizza baking, and keeping food warm and dry.
You must hit Start or Stop/Cancel twice to begin or end baking. When the oven is switched off, the lights go out.
Furthermore, for up to 6 hours of slow cooking, the Oster toaster oven control includes a fixed temperature of 150°F (65.5°C). You may use the whole 1500 watts of electricity to cook at temperatures as high as 450 degrees Fahrenheit.
An automatic shutoff works after 90 minutes. When cooked at the right temperature, the crust of a pizza turns golden and crispy. A 14-inch cake can be baked with no problems "15 minutes, including preheating, is all you need to make a pizza.
Unfortunately, no toast timer can be seen when using the machine. However, the quarter-based shading numbers shown by the device start at 4 and turn off after 2 minutes.
In addition, the oven's inside light remains on the whole cooking time, so you can monitor the progress of your meal without disturbing the cooking process.
Verdict  
The Oster French door oven is a snip to clean indeed. It's the stainless steel material that makes it durable and also ensures pain-free cleaning.
This model's buttons are also a bit soft and sometimes distressing. At the same time, the oven's cable is short. In short, despite a few compromises, the Oster oven comes with matchless performance.
Few reported issues can worry you. They're especially about the oven's door. Is it the brand's fault? NO!
How? Here is the truth…
First, it's about the oven doors not staying open… It's because of a little misunderstanding, in fact. The oven door has been designed so that, if opened accidentally, it should close automatically after some time as the oven doesn't feature an "auto shut off" system. So, to keep you must open it in full swing.
Second, you find a hairline gap between the doors. Does it cause heat loss? OR is it a design flaw? Not at all! No brand would do such a blunder. So, you need not block this gap. Soon you'll see that your oven is cooking incredibly.
Third, the oven door can shatter. Yes, they do. It's because of microcracks,, and any oven door can explode, and the reasons can be some minor mistakes you keep repeating.
In a nutshell, the Oster oven can be a baking or roasting beast. You only need to put your confidence in your guy!
Pros
Impressive design with innovative doors
The cooking performance is terrific.
Large and roomy
Use and cleaning are easy.
It's not expensive.
Cons
The Power Cord is Too Short
Noisy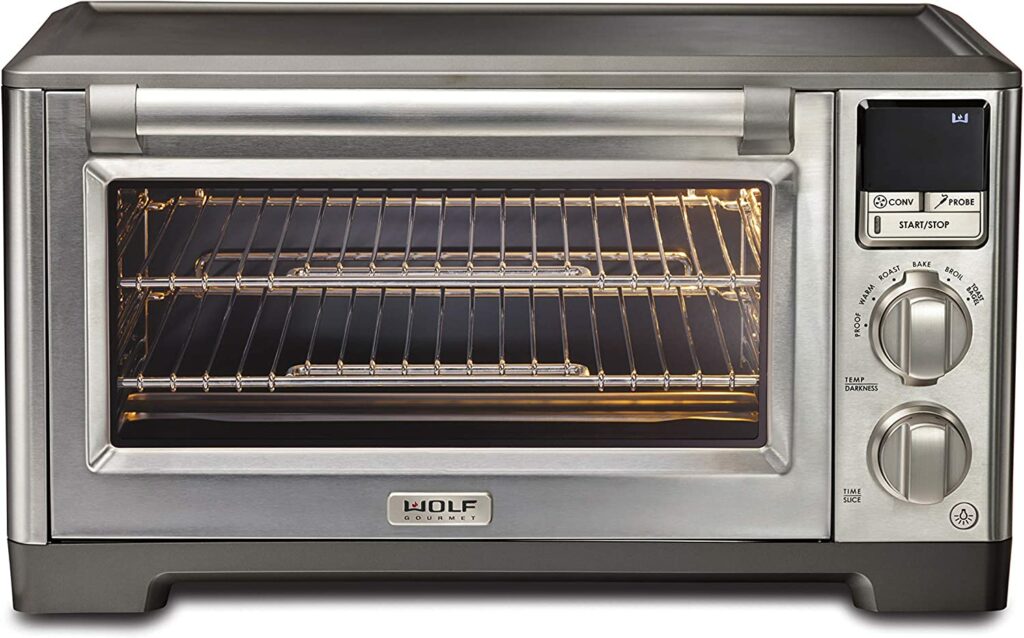 Do you want to have a premium quality convection toaster oven without worrying much about the budget? If yes, the Wolf Gourmet Elite Convection Toaster Oven can be a great option. 
While keeping the Kitchen cool, it heats up to temperature lightning fast. It can cook everything from pizza, baked potatoes, pies, homemade bread, cookies, cinnamon rolls, baked chicken, and casseroles, and you name it!
Design
The simple but sleek design is perfect for your kitchen. The exterior of this oven is 16.7 x 22.4 x 12.5 inches. However, the interior capacity is 1.1-cu.-ft., but spacious enough to fit a 5½-pound chicken. 
The stainless steel build of the oven gives it a more compact look. The oven fits most quarter sheet pans and 9″ x 13″ stoneware dishes. It has two easy-glide racks that make it easy to reach and reposition into three positions.
A large LED control panel and two silver knobs for adjusting temperature and cooking functions are on display next to the glass door. 
Heat loss has been a big problem with many ovens. Yet, in this oven, a gasket runs around the top of the oven's interior to prevent the heat from losing. 
Likewise, the spring-loaded door is also sealed, preventing heat loss. Thus, this convection toaster oven is more insulated than a typical oven with a seal around the door. 
No heat loss; this oven still has a "typical" issue. It's the oven top getting hot. So, make sure not to touch it without gloves and not put anything above that gets melted due to heat.
The Wolf convection toaster oven is easy to use and clean. The racks slide out easily to make cleaning hassle-free. 
Besides this, a crumb catcher tray comes with the oven. So, you can easily remove it, wash it, or dust the crumbs off. You can also remove side rack holders for thorough cleaning. 
Accessories you'll get with the Wolf Elite convection toaster oven are:
2 oven racks
1 baking pan that has a broiling rack insert 
Integrated probe thermometer
Extra pair of black knobs
Removable crumb tray 
Cooking Performance
The multitasking Wolf Elite convection toaster oven has 7 cooking modes: proof, bake, warm, toast, roast, broil, and bagel. In addition, the oven has five heating elements that provide even heat for the fast broiling function.
With intuitive controls, you can easily select time, temperature, cooking mode, and function. These ensure that you get precise and ideal temperature settings for each mode. Next, the convection fan circulates heat thoroughly for even roasting and baking with no hot spot and reduces cooking time by 25%. 
You'll like the halogen light to the oven's interior, which keeps the interior bright so you can check on your food while it's cooking. However, the old model of the wolf elite doesn't come with the inner light.
You can quickly toast 6 slices of bread. The size is big compared to many toaster ovens, so it takes some time to heat up. However, The 1800W power can heat the oven to 400 degrees in 8-10 mins. 
It also does an excellent job with proofing; you can easily proof two loaves of bread. The results are amazing — the food is baked and roasted evenly with no hot spots. 
While cooking, the sides of the oven get extremely hot. However, the control handle stays cool enough to use during cooking. When paying $$$, you expect a better heating control system.
Final Verdict 
The Wolf Gourmet convection oven is excellent for its high-quality construction, efficient performance, and simple operation. The Wolf convection oven with the toaster is perfect for handling overflow sides during the holidays when the regular oven pulls around the clock.
The only downside of the Wolf Elite convection toaster oven is the high price tag. But given the unique features and five-year limited warranty, it'll be worth investing the money in this bad boy. 
Pros
Perfect size and compact built 
Quick and even cooking
Easy to use and clean
The convection fan is quiet
built-in temperature probe
5-year warranty
Cons
A bit overpriced 
The oven's top gets pretty hot
Doesn't toast evenly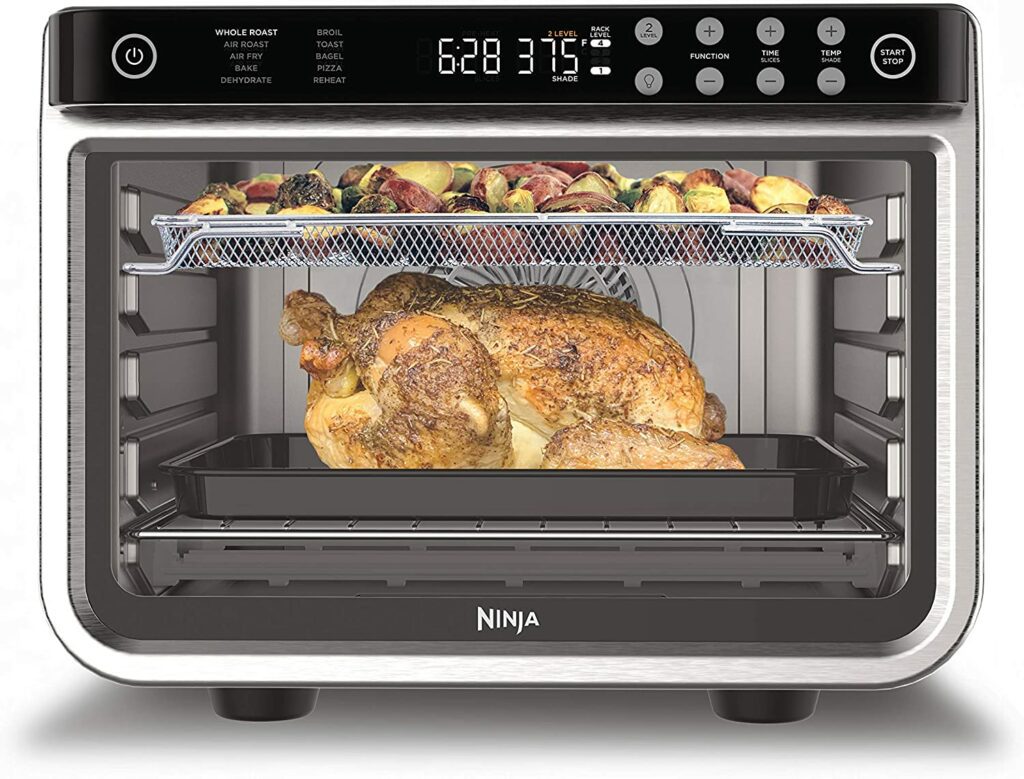 The Ninja DT201 is one of Amazon's Top Selling convection ovens. Let's break down what makes it the best convection toaster oven. 
A convection toaster oven with a dehydrator! Ninja DT201 convection toaster oven is huge and compact simultaneously.
Design 
This Ninja Foodi 10-in-1 XL Pro oven can accommodate full family meals and cook faster than a regular oven. The sleek design and stainless finish give your kitchen a lavish look it needs. 
It has a uniquely designed top-to-bottom ventilation system. The exterior of ninja pro-Xl is 17.09 x 20.22 x 13.34 inches, and the interior is spacious enough to fit a 5-lb. chicken, 12-inch pizzas, or up to 12-lb turkey breast. It can also fit a 9×13 pan/dish, but the one that doesn't have handles, the one with the handle, will not fit. 
Ninja oven's black digital display puts the controls at eye level, making them easy to see and use. The door is made of tempered glass for safety. One step ahead, this toaster oven has an interior light that will automatically turn on when the door is open while cooking and when 1 minute before the cooking time ends. 
Such a good oven! Where is the problem? It's cleaning time…
The manufacturer says that it's dishwasher safe. However, the factory recommends hand-washing of all parts. 
The truth is, the Ninja XL pro is hard to clean. Especially after air frying or roasting meat, when oil splatters all over the inside, drippings get onto the heat elements above and below, even with a drip pan.
It comes with a one-year manufacturer warranty and additional accessories, including: 
2 Sheet Pans
2 Wire Racks
Air Fry Basket
Roast Tray
Crumb Tray
15-Recipe Guide
DT200 Series Owner's Guide
Cooking performance
The Ninja is really a ninja appliance regarding versatility in cooking functions. This oven can air fry, roast, bake, whole roast, broil, toast, bagel, dehydrate, reheat, and pizza. 
With a high wattage of 1800 watts, the convection power of Ninja cooks anything from brussels sprouts to frozen french fries, from panko-crusted chicken breasts to chicken. In short, the functionality of ninja 10 in 1 is matchless. 
For instance, 360 degrees roast technology roasts all sides of chicken, beef, and more without needing you to rotate your pan. 
Ninja Pro XL preheats in 1 minute to the highest temperatures of 425 F. Potentially, it's 10X faster than a full-size oven when working optimally!
It automatically starts to countdown once preheating is about to be over. So, we'll advise you to keep your food ready before you preheat it.
The fast cooking of the oven is also a result of the high-velocity fan beside the that's why you feel the noise of a convection fan though it's not too loud. The highest temperature for this system is 450F.  
Final Verdict
Ninja oven is overall a satisfying product in terms of temperature, evenness, and maintenance of cooking, which always remains the primary concern when buying a convection countertop oven.
Some customers complained that the company sent them the wrong model (the DT200 unit instead of the DT201). It's upsetting you're paying extra and still getting the cheaper model with fewer features. The manufacturer must look into it. 
The size is perfect for big families, plus it cooks meals faster. So given the reasonable price and functionality, you can consider having the Ninja XL pro. 
Pros
Cook faster with 10*convection technology 
Cook two foods at once on two different racks
Uniquely designed air roast function 
Accurate temperature settings 
Easy to use 
Cons
A little noisy
The exterior gets very hot
Hard to clean
Customer support is less responsive
The 1-year warranty isn't sufficient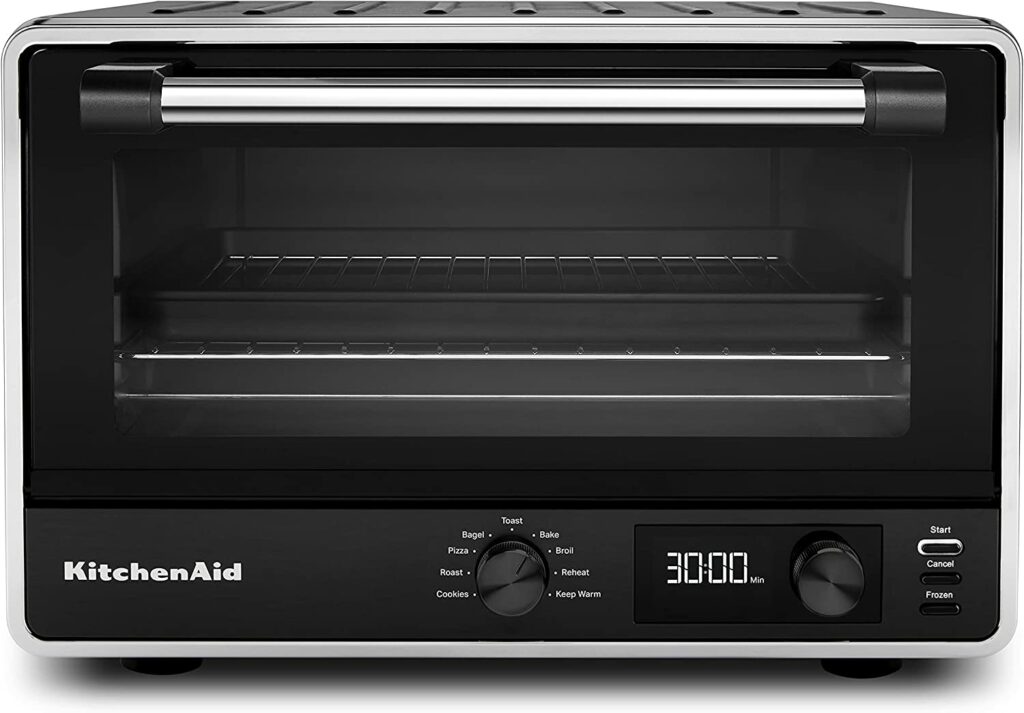 With sleek designs and amazing features, KitchenAid's convection countertop ovens are trendsetters. 
Let's look at the amazing cooking features this oven offers.
The KitchenAid digital countertop oven offers a large capacity on a small footprint. The black matte color with metal is built to give your kitchen a sleek and stylish look. Besides this, the KitchenAid oven's dimensions are 16″ x 17″ x 11.3″, a size that fits any countertop nicely.
Despite the small footprint, it has 50% more capacity. The internal dimensions are approximately 8.5 h x 15″ w x 12″ d. It can easily fit a 9 X13 inches baking pan with a grill rack. Yet, it cannot hold a 12″ pizza and can't roast a whole chicken as it's not deep enough. 
Design
It features a convection system that includes 4 heating elements and a fan. Unlike traditional baking systems, this combination provides more consistent temperatures and airflow.
It comes with a large black digital display. First, the control panel offers presets to choose between 9 functions like broil, frozen, roast, toast, pizza, bagel, bake, keep warm, or reheat, and a unique knob for setting the time for customized cooking. Besides this, it has a couple of push-buttons for on and off.
Sadly, you'll miss a "pause button." 
The interior is made of nonstick material, which is easy to clean, plus you get the crumb tray you can wipe off after every cooking session. This model has been powered by 1800 wattage and is backed by the 90-day Amazon Renewed Guarantee. With this convection oven, you also get:
1 removable metal drip 
1 crumb tray
1 removable metal rack
Thus, the usage is pretty convenient, and the same is with cleaning.
In short, when it's about design and capacity, the KitchenAid's toaster oven is great. Yet, on the downside, like several rivals, the buttons are not illuminated, nor does it have an illuminated interior to allow you to check your food progress — less progressive!
Cooking Performance 
With KitchenAid KCO211BM, you get 9 preset cooking functions – bake, broil, toast, warm, reheat, bagel, pizza, cookies, roast, and frozen. 
Surprisingly, the company doesn't advertise this, but the convection oven also works as an air fryer. All you have to do is select a convection bake and set the temperature to max. It'll turn into a giant air fryer. Not only does it become a giant air fryer, but it works better than standalone air fryers. 
The large capacity of the KitchenAid convection oven can cook everything from Red Baron to frozen pizzas. Moreover, you get the preset temperature and time for all cooking functions. All you have to do is select the feature using the knob. 
The toast feature is great. Besides this, you can easily cook frozen meals in it. For baking, you can deselect the convection setting, so things like delicate cakes get baked in a still environment without blowing air from a convection fan. 
On the downside, the oven lacks insulation; eventually, the exterior gets hot. 
Should it worry you? NOOO! The reason is that the door handle and knobs stay cool. Thus you can carry on your cooking safely. 
It also has a countdown option. The countdown starts when the preheat is done. Push the button, stop, and go back to displaying the temperature. You're ready to bake or roast your food evenly. 
Final Verdict
KitchenAid is a perfect unit for a relatively small kitchen that takes less space but gives 50% more space inside, so you don't have to experience any cooking limitations.
With fantastic features and a limited warranty, the KitchenAid convection oven is indeed one of the best convection toaster ovens.
Pros
9 preset cooking functions with even cooking
50% more capacity 
Easy to clean
Great functionality 
1-year extendable warranty
Cons
No rubber seal on the door
No digital clock to check the time of cooking
The oven has no interior light to let you monitor your food
The oven exterior tends to get hot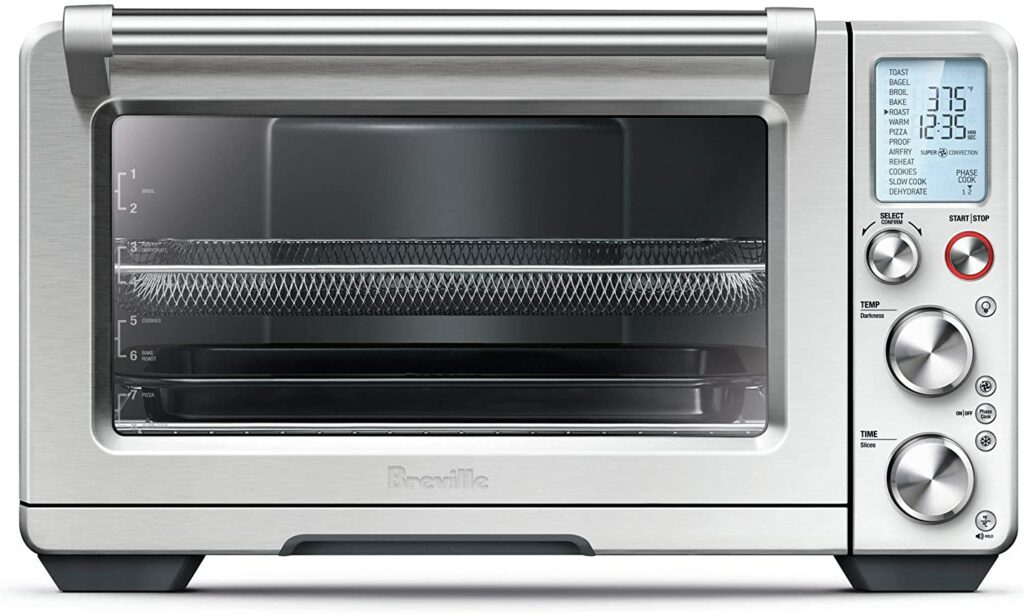 The top-of-the-line Breville Smart Oven Air Fryer Pro has awesome features and a stunning design. Let's take a look at why Breville is the finest smart oven for your house.
Design
Breville BOV900BSS The Smart Oven Air Fryer Pro is incredibly easy to use. The overall design and functionality are amazing. 
The exterior of this unit is 21.5 x 17.5 x 12.7 inches and is made of brushed stainless steel. The interior of this oven is huge, almost 16″ wide, 12 'deep, and 7″ high. 
It can easily fit huge 11lb roasts or tall loaves of bread without scorching the top parts and yet provide excellent results. With 8 rack settings, you have an infinite range of levels for cooking various-sized dishes.
This model's 13 cooking settings make it much more flexible than the Smart Oven Pro. The big LED digital display makes reading easier. A door seal wraps all the way around to keep more heat in.
The oven is easy to clean and has a user-friendly interface. The warranty of this oven is 2 years, unlike other toaster ovens that only come with one year. 
You'll get the following accessories with this unit:
13-inch pizza pan
Two oven racks
9 13-inch broil rack 
Enamel Roasting Pan
Mesh basket rack for dehydrating and air frying
Cooking Performance
The Breville smart air fryer oven has 6 quartz elements and convection technology with a 450-degree Fahrenheit range. So, it cooks food much faster and better than a regular oven or air fryer. 
Super Convection mode increases the fan speed, which results in a crisper, faster, and even cooking speed than ever before. Besides all these, the oven is accurate at low or high temperatures. This bad boy preheats in 2-4 mins!
Compared to the older model smart oven pro, this oven offers several new features such as proofing and dehydration. The Proofing mode, which was recently introduced, proofs the dough for optimal baking outcomes. Similarly, you may dehydrate up to four trays in one go.
You don't need a separate air fryer to cook frozen snack items like fries and onion rings. Furthermore, the baking function produces flawless results. It beautifully bakes cakes and evenly browns cookies.
The new phase cook feature, which lets you configure back-to-back cooking processes, is the standout feature. For example, you may roast chicken crisp and brown on the exterior before switching to a slow cooking technique that cooks the chicken juicily on the inside. The rotation reminder notifies you halfway through to flip the pan around for the greatest even result, which is incredible.
Now about the toasting feature, this oven can toast 9 slices at a time. It puts heat exactly where it's needed. Interestingly, once you have finished making toast or toasting a bagel and the oven is still hot, it's best to adjust the cooking time if you want to make more. 
The toast feature takes 3 to 6 minutes. This oven takes slightly longer to toast than the smart oven pro, but only about a minute longer. 
Final Verdict
Designed with a touch-sensitive user-friendly interface and pre-programmed cooking features, the Breville BOV900BSS is the best air fryer oven you could own.
The other design Smart Oven Pro was criticized for failing the control panel, but they improved this time by adding a cooling fan within the air's control panel to protect the delicate electronics from overheating and to extend the life of the oven. Overall, it's a touch pricey but well worth it.
Pros
When you open the door, the light turns on.
When the door is opened, the system automatically pauses
The beeping sound may be adjusted and entirely hushed
Auto-eject for toast and air fry settings
Design of a new magnetic rack-puller
Cons
The fast convection fan is loud
It takes longer to reach a certain temperature
Difficult to learn the settings for a beginner as it has no recipe book 
Expensive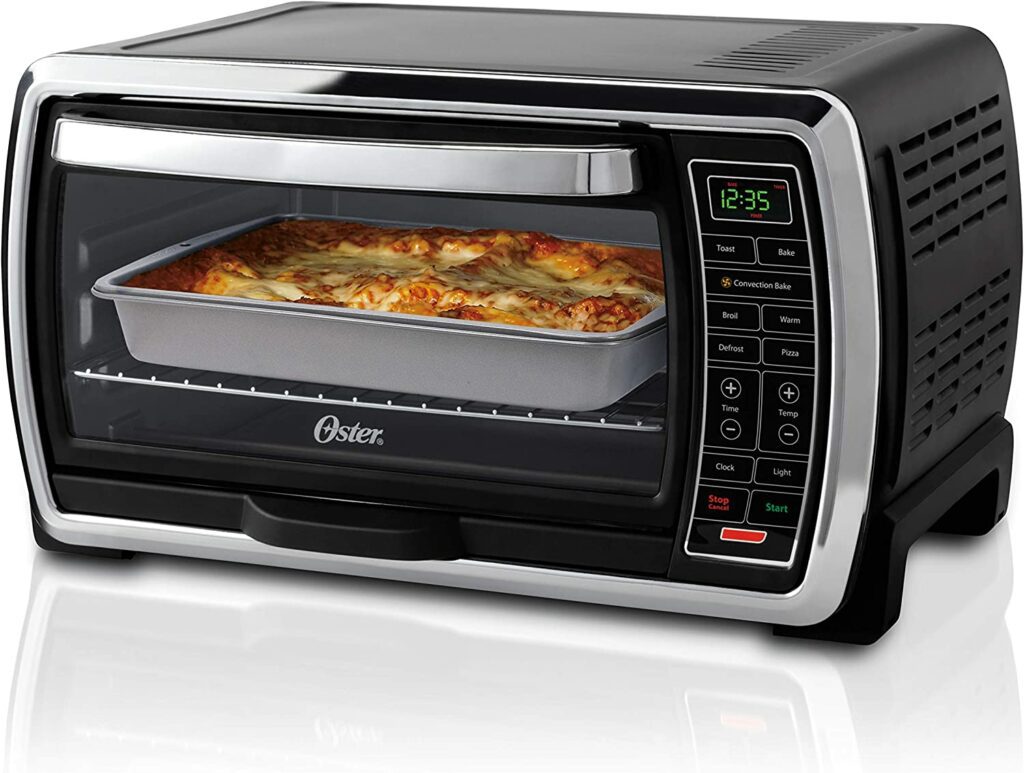 Do you need a small but smart convection oven? This countertop Oster Toaster Oven has everything you need in a high-quality convection countertop oven with a knob-free, completely digital control panel…
How? Let's get into the review.
Design 
The Oster stainless steel convection oven is famous for its high-quality build and features. The well-designed stainless steel countertop oven has easy navigation and is reasonably large. 
This unit comes with the latest convection technology. The exterior dimension is about 19.72 w x 16.29 d x 11.33 h inches. Though it only accommodates one rack at a time, the large capacity can easily fit a pan with a measure of 2 inches in height, 10.5 inches in width, and 12.5 inches in length. The oven has 1300 wattage power. 
Unlike other models that make things difficult by including all features in one knob, Oster comes with multiple independent controls; you can easily choose the pre-set cooking feature. Not only this but by using the temperature control button "+/-" you can further adjust the temperature and enjoy perfectly cooked food. This is what any beginner would love.
Adding to the convenience, the machine also has an interior light that automatically turns on when the door is open. Therefore, a model like this is a wise choice for anyone with limited counter space because of its energy efficiency, roomy interior, and ease of cleaning. 
For easy peasy cleaning, first, the oven's sleek stainless steel body only needs a wipe. Second, inside removable crumb tray keeps collecting the drips or crumbs. You can remove the tray and clean it quickly after each cooking.
This six-slice toaster convection oven includes two rack settings for deep and shallow dishes, as well as a baking pan up to 13 inches by 9 inches.
This portable convection toaster oven also comes with a 1-year manufacturer warranty. You also get a few accessories with it, like:
A durable baking pan
Removable crumb
Yes, it's the crumb tray that makes the cleaning easy.
Cooking Performance 
The Oster has fantastic features that make cooking enjoyable for you. Its versatility allows you to choose between 7 presets: warm, bake, defrost, broil, toast, and make pizza. Not only this, but you can also customize the temperature and time settings to cook your recipes perfectly.
Among the presets, the defrost feature is great. The timer adds to the convenience. Interior light makes it easy to clean the interior—the temperature ranges from 150 to 450 degrees Fahrenheit. It's wonderful to help you cook demanding meals like frozen pizzas.
You can easily bake 12″ pizza, casseroles, and cookies and roast the chicken. Many users complain that the toast feature doesn't make toast well. 
The oven has a 7-minute timer to preheat. The interior light is also a great addition. However, while making toast, the light shuts off after the toast cycle is finished, which is annoying.
Its turbo convection heat technology speeds up cooking time and browns food more consistently than conventional ovens. Turbo broilers use infrared/halogen light heat and emit infrared heat for heat transfer.
A thing many users find annoying is the microscopic and practically unreadable little red LED words placed randomly around the digital clock display, which lights up all the time during the oven runs. We hope you'll get used to it!
Final Verdict
The unit is one of the best toaster ovens with convection that Oster has made. It comes at half the price compared to its competitive brand ovens. The visibility is great. 
Despite the low price, the oven offers 7 preset cooking functions, including pizza and toast. This high-rated oven from Oster has excellent capacity, is reliable, and does not cost an arm and a leg to replace like other brands. 
Pros
Larger capacity oven at an affordable price
Long 3.5-inch power cord
Turbo convection technology and great cooking performance
Interior light
The digital control panel ensures an excellent user interface
Cons 
There are few presets (only 7)
Slow toasting
The oven emits heat
The control buttons are hard to press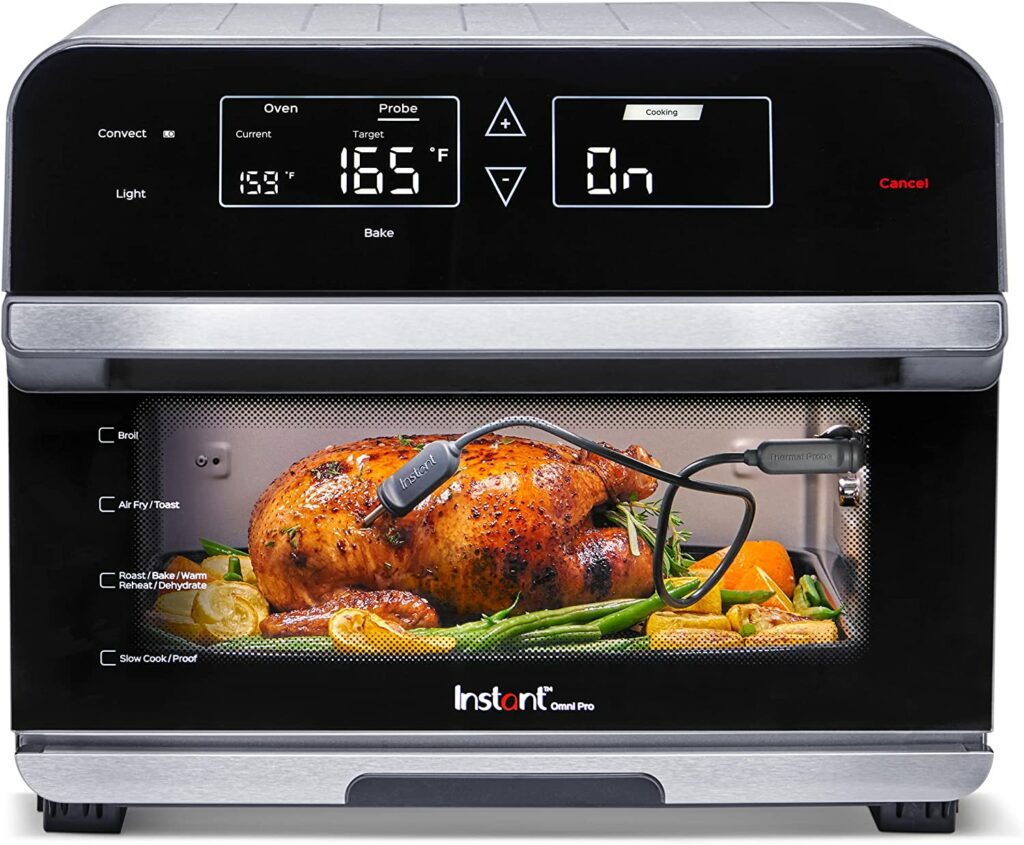 The Instant Pot Omni Pro 18L is a stylish, feature-rich air fryer convection toaster oven. Let's see what it is capable of.
Design 
The best convection toaster oven with rotisserie. Instant Pot Omni Pro is a 14-in-1 combo convection toaster oven. It incorporates multi-cooking features, including an air fryer, bake, toast, rotisserie, electric cooker, proofer, dehydrator, broiler, slow cook, convection roaster, warmer, and split cooking & temperature probe. 
The interior is wide, and the outer dimensions are 15.55 x 14 x 13.89 inches. This sleek oven becomes more durable as it's made of stainless steel. The instant pot Omni pro needs 1800 wattage power— the excellent temperature range needs this. 
With a big digital display, you can keep the entire cooking process in check. However, the buttons on the front are hard to push, according to users. 
It has a removable glass door that can be removed to wash the food splatters. However, you need to be a little careful with the oven door as it's quite a loose hinge, so if you don't push it to shut, it can fall onto the counter, causing it to crack. 
The cord length is 29 inches — it's not long enough.
Pretty easy to use, but the trays have to be taken out and swapped, which might frustrate some. 
Just like cleaning, the oven is also easy to clean. The reason is that the accessories are dishwasher safe. You get a lot of accessories along with the oven, including:
Temperature probe
Enamel baking tray
Stainless-steel oven rack
Air frying basket
BBQ-style rotisserie spit and forks
Lift tool
Cooking Performance 
This 14-in-1 combo convection oven can cook everything from roasts to fries. The intuitive design makes setting the temperature and time for each cooking feature easy. 
It contains a convection fan that circulates super-hot air from the top for even crisp air frying. In addition, it has golden quartz infrared, the ultra-fast dual radiant heat which preheats faster and cooks food evenly.
It also has a split cook feature, which allows you to combine two cooking programs. Double-layer glass doors provide effective temperature and prevent any heat loss. 
It comes with a temperature probe that gives you more precise control over the cooking process. 
The air fryer basket can fit more food than any other air fryer. You can cook steak, hamburgers, pork chops, chicken breasts, bacon, chicken nuggets, French fries, and whatnot.
Temperature can be perfectly adjusted from 170° to 450°F. The amazing thing is it has seven customizable toasting levels for toasting bread, bagels, and more. This also includes a preheating option, which is great.
Final Verdict
This great oven has a bit of a hefty price tag.
The oven is a giant once you've learned to use it. Yes, it requires understanding. 
WHY?
Many complain about the lack of instruction and care in the user manual. Figure out a lot of things on your own. The oven also gets hot, so keep 5″ space on each side.
Another downside of this oven is that it emits a terrible rubber smell. However, it's because of not properly cleaning the oven before first use. You can avoid it!
Pros
Multi-tasker 
14-in-1 combo with incredible cooking performance
Split cooking mode 
Touch-sensitive responsive control panel
Sleek and aesthetic design with a premium feel
Cons 
Loud
Lack of instructions 
It comes at a steep price.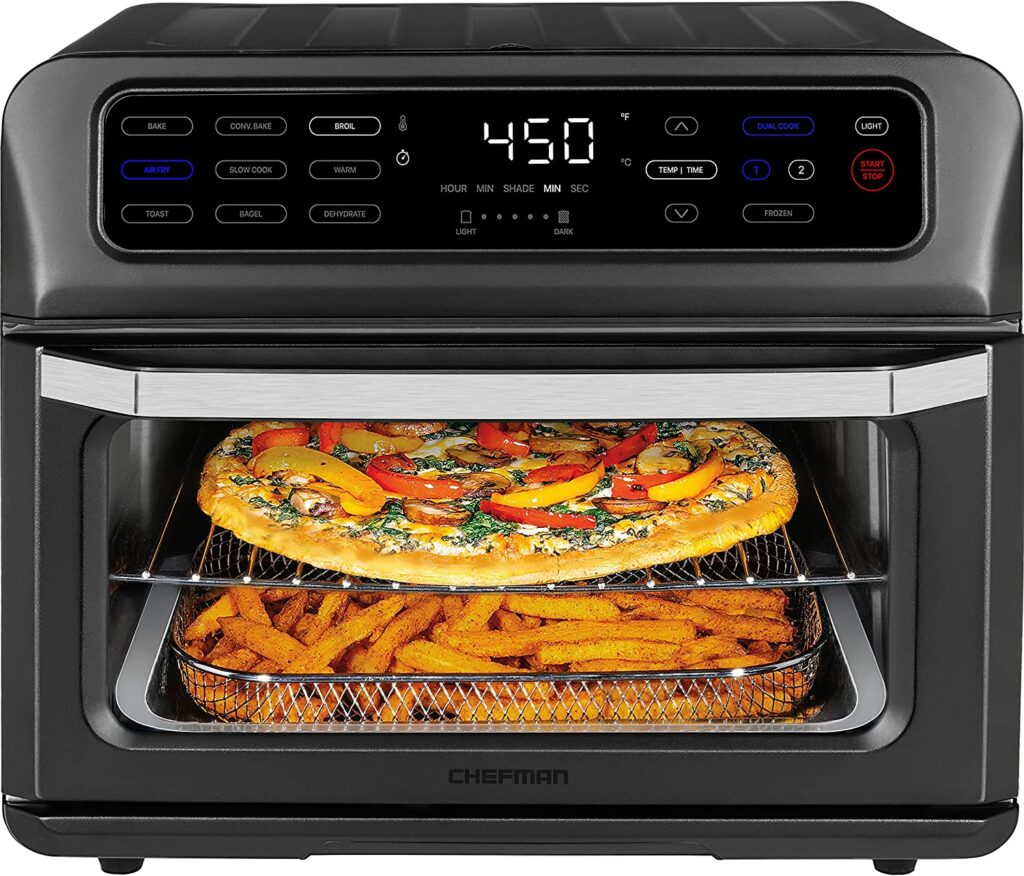 Do you need an XL convection toaster oven? The Chefman Air Fryer is another large XL toaster oven, perfect for large families and for cooking multiple foods in one go. 
Design 
Chefman is another great convection oven with an air fryer. It features a stainless steel build and is also portable. 
This simple but highly functional air fryer toaster oven is neither too big nor too small. The exterior is 15 x 15.75 x 14 inches. There is a large digital display on the upper front side. 
The Chefman air fryer toaster has 9 different cooking functions. You can slow cook, dehydrate, warm, broil, bagel, convection bake, air fry, and toast in one multi-functional unit. 
The oven also has 60 mins timers which are amazing. In addition, it offers an auto shut-off function, so once your food gets cooked, the oven shuts off automatically. 
The user-friendly interface and controls are simple and easy to use, adding convenience and efficiency to your cooking experience. The spacious 20-liter capacity fits medium frozen pizza, up to 6 slices of toast, or whole chicken, so you can make a variety of food for the entire family — without heating your regular oven.
The best part is that CHEFMAN is UL certified with advanced safety technology for long-lasting durability. Moreover, a 1-year assurance warranty is provided by Chefman. 
It comes with several racks, which complete the purpose of multi-cooking. 
The interior is made of nonstick material, which can be easily cleaned or wiped off. For cleaning purposes, the crumb tray is wide enough to catch the food particles, so there is no mess. 
The CHEFMAN Oven includes the following extras:
1 Broil pan
1 Air fry basket
1 Baking rack
2 Dehydrator racks
1 Removable crumb tray
Cooking Performance 
The high-speed convection fans of the Chefman air fryer toaster oven speed up baking & provide that desired brownish crunch & flavor to your food. The temperature range is between 200-450°F, making it easy to adjust the precise temperature according to food. 
The roast and convection feature delivers amazing results for various foods like chops, roast chicken, and pizza. Besides these, baked items also turn out pretty well. 
The convection setting on this oven truly provides a significantly reduced cooking time. Besides these, you can achieve the desired toast shade with this unit; it works wonderfully as an air fryer. 
The highlight of this oven is its cool touch. Unlike many toaster ovens, it gets a little warm but not scorching hot. However, the machine emits a strong odor during its first use. Should you avoid this oven, then?
No, this odor will be gone after the first use.
With dual-function cooking technology, you can program your air fryer + toaster oven to cook with one preset. It automatically tunes into a second preset for any meal. 
The Cook time is almost 10 to 20 mins, which is significantly faster than expensive ovens. Another amazing thing is that the oven turns off if the door is opened.
Some complain that the unit vents hot air out of the back, so pull it away a few inches from all sides.
Final Verdict
The medium-built Chefman air fryer toaster oven can easily fit on your countertop and perform multiple cooking functions four times faster than a regular oven. 
The trade-off is that it'll fit larger pans for baking and roasting than many other models.
The CHEFMAN 20L unique design convection oven offers fantastic features.
Pros
Intuitive and easy to use 
4 times faster
Dual cooking function
The fan is not too loud
Large capacity 
The system turns off automatically when the door is opened
Cons
No pause button 
The oven's rear is uninsulted
The alarm's beep sound is barely audible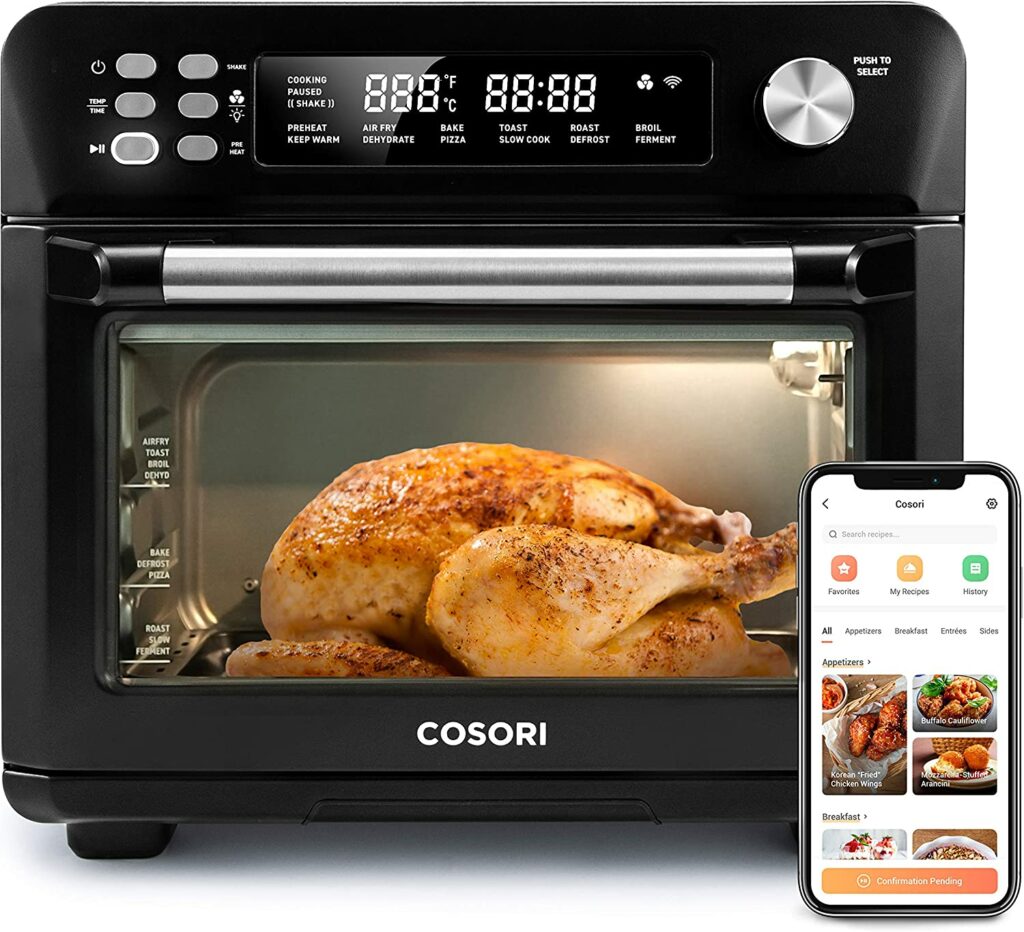 Let Alexa handle your convection oven for you, making cooking more fun. The latest unit of the COSORI Air Fryer Toaster oven cooks food much differently than other models of COSORI. Additionally, it has an app feature. Here's a brief breakdown of its design, cooking performance, and pros and cons. 
Design 
The COSORI is the best convection toaster oven with rotisserie, and an air fryer, of course. 
If you need a modern touch and want something that can work even when you're not around, then the COSORI convection toaster oven is a great option. 
The interior dimension of this unit is 12.8 x 13.4 x 8.9 inches (D x W x H), and the exterior dimension is: 16.3 x 16.9 x 15.5 inches (D x W x H)
The highlight of this oven is its compatibility with Amazon Alexa and Google help, which is cool! It comes with a smart app feature, which means you can easily connect it with the app. 
APP Control-VeSync, and with voice control, you can send commands easily. Even the COSORI Air Fryer Toaster oven basket is labeled as smart. The unit offers 12 versatile cooking features. 
It can easily fit the 5-pound chicken. Up to 6 slices of bread(4 x 4 inches), a 12-inch pizza in the oven's 26 quart / 25-liter capacity. The door lays flat when you open it, making it easy for you to take out your food,
Moreover, the oven uses 1800W and AC 120V, 60HZ. 
The manual does not state that the trays are dishwasher safe. On the downside, it requires quite a clean-up when you cook fried chicken. 
Like most air fryer units, this one also emits a smell during first use. After a few minutes, the smell will eventually go away. The oven comes with a 1-year limited warranty. 
The COSORI convection toaster oven comes with:
Crumb tray
Air fryer basket
Food tray
1 Wire rack
Rotisserie fork set and rotisserie handle
Recipe book
and user manual
Cooking Performance 
The machine can air fry, preheat, dehydrate, bake pizza, roast, toast, bagel, broil, defrost, ferment, and keep warm. The reason is its incredibly low and high-temperature range of 80°-450°F. 
Inside, it has more room than previous models, which can easily feed 7 people at a time. 
It Performs great as dehydrating and can work best for dried fruits or beef jerky. It also has the ferment option. 
The ferment function is a game-changer, which can make a dough, proof bread, pizza, and rolls, and it can also make yogurt. 
The convection fan and 5 heating elements cook food evenly and faster. With the help of a voice-over and app, you can control the whole cooking process. 
The app can also control the light in the oven. Incredibly, the oven has 3 levels to position your baking tray. Based on your settings, the oven lets you know on which level you can cook your food. 
SO HELPFUL!
The air fryer feature works great. You can cook pizza, fry chicken, and make steak. This oven makes cooking the steak 100x easier.
The app also suggests the recipes along with the required temperature and time needed. 
With the help of a convection oven, you get results similar to deep frying. The food comes out crunchy and crispy. 
Final Verdict
This amazing smart convection oven is for you if you want something that performs multiple tasks and takes less space and time. If you have a big family, this one covers all the burden of cooking extra food on holidays. If the oven is full, it doesn't cook as evenly as a standard oven.
Don't worry; the smart oven doesn't cost you a hefty price. 
The price? Don't worry!
It's affordable, considering the cooking feature it offers. 
Pros 
Interior light 
Smart oven 
12 versatile cooking features 
The convection fan can be turned on and off
Much quieter than a regular basket air fryer 
Cons
No rotisserie
Oven gets hot
Emit smoke while cooking greasy food like chicken
No Auto Shut off system — the timer continues to run even after the oven is open.
How should you Choose a Convection Toaster Oven? Buying Guide
Convection toaster ovens come with a wide range of features and cooking functions. You can find different sizes in the market, from big to small. 
Most models come with multiple cooking functions, while some others are straightforward. They also include helpful accessories that make the entire process more convenient. Before investing in a new convection toaster oven, you must consider several important things. 
Size and Capacity
Regarding choosing the right size of convection countertop oven for your kitchen, you need to consider two factors: the amount of cooking space you want and the available counter space in your kitchen. In addition, consider what you cook almost every day and which kind of cooking function you don't need. 
The convection technology is available in different toaster ovens, ranging from wall-mount toaster ovens to small countertop convection toaster ovens. Most convection ovens measure the size of how many pieces of bread slices the oven can toast at once. You can find the ones that toast only four slices to the big ones that can accommodate 12 at once. 
The rule of thumb is to invest in a large convection toaster oven that you can fit in your kitchen. The bigger you own, the more food you can cook simultaneously. The primary function of a convection toaster oven is to circulate heat through the fan. The big oven provides more space for hot air, which cooks food more evenly. 
Temperature Range
The more heating the oven has, the less temperature it requires to cook food.
The convection toaster oven relies on the exhaust system. That's why it's a much better option than other types of ovens. It uses less temperature and less time to cook, bake, or broil. 
Check the position of the heating element. It'll more efficiently regulate the temperature if it's near the fan.
Control Panel
The display is important as well. Some come with bright LED-lit and back-lit displays, while others come only with mechanical dials. You want to go for the back-lit display as it makes things easier to see and navigate.
Some high-end brand convection toaster ovens may be equipped with touch screens, unlike traditional manual dials or knobs settings. Touch screen display also gives a more sleek look to your countertop oven. 
The higher-quality convection oven has more settings and presets. Look for the multiple-feature oven that doesn't cost you an arm and a leg. 
Cooking and Baking Functions
Regarding settings, the convection toaster ovens come in a wide variety: roast, bake, broil, proof, and toast. New models include air frying, rotisserie, dehydrating, fermenting, and warming modes. If You're sure you'll use all these different settings, then it's worth spending a little extra on the oven with the most advanced features and settings. 
Apart from these fantastic cooking modes, the convection oven makes your baking experience more enjoyable, with preset options for toast, pizza, and bagels. It's perfect for someone who wants to simplify their baking expertise. 
The best convection toaster oven for your home is the one that simplifies and improves the cooking you do daily, not the one that complicates your daily culinary routine. 
Additional Features
A convection oven with more settings comes with more valuable accessories, such as a fry basket, rotisserie fork, removable wire racks, and cookbooks. Think about the food you cook daily. Because if you overlook the accessories when buying the oven, you'll have to buy them later. 
There are many other valuable features that you should also look for in the convection oven. You're getting for your home. Some useful features include interior lights, timers, and automatic shut-off features that can save your electricity and food from getting overcooked or burned.
Interior lights can be a small addition. Yet, it comes in handy to look at your food while it cooks in the oven; plus, it helps clean the oven from the inside thoroughly. 
Final Thoughts
The best convection toaster oven definition can vary based on your budget, how many cooking features you need, and how many family members you have. We hope this article helps you decide on your next purchase. 
mama-cucina.com is a participant in the Amazon Associate program and will earn from qualifying purchases.