So, you want to know, "how can you cook pizza on a Blackstone grill?" The good news is, it's pretty easy. This article is the solution. 
Blackstone griddle's cold rolled steel is ideal for cooking the roast, sauteing, searing, making egg sandwiches, grilling kababs, and baking pizza! Yes, you have heard me right; you can bake various items on a Black stone griddle, including a pizza. 
All you need are the exact techniques for baking a perfect crusty, delicious pizza which we'll discuss in this article. Let's move into the meat of this article.
Can you Cook Pizza on a Griddle?
Yes, you can use your griddle to bake delicious treats for you and your small family. All you need is some source of the griddle dome or something that covers the food from all sides. 
Griddle provides intense heat, which is essential for baking. Blackstone has their power source in propane gas, so they produce high heat.
Just like cooking, baking anything on a griddle takes the food taste to the next level. Top of all, the whole atmosphere and aura you get to enjoy while cooking Blackstone griddle pizza in the backyard is a plus. 
So, How can you Cook Pizza on a Blackstone Griddle?
You can make and bake anything on a griddle, and pizza is no exception. Only you need are right accessories and follow the pizza-making steps precisely.
Griddle pizza tastes delicious, and it is healthier than ordering from restaurants. You can personalize it as you want with your favorite pizza toppings. 
Only you'll need your Blackstone griddle, pizza ingredients, a few extra props, and the proper techniques that are going to serve you well here.
Griddle Accessories You Might Need to Cook Pizza on a Flat Top Grill.
A griddle is perfect for cooking pizza, but getting your hands on a few items can make the whole job more convenient for you. These accessories will save you more time and some greasy laundry. 
Here's what you can buy to make cooking pizza on a griddle an easy process. 
Gridley Spade and Spatula
If you own a griddle, getting your hands on a griddle spatula is a must. Not only for pizza, but you need these for cooking and grilling other food. The top of the girdle is a flat stone, so you need metal spatulas that can cook the food quickly. 
Infrared Temperature Gun 
An infrared Temperature Gun is essential to fully understand what your Griddle can do and what areas are putting out the heat you need. 
Griddle Hood
Having a griddle hood makes your griddle experience fantastic. You can grill and bake simultaneously. The hood can help cover your food correctly and create an "Oven" temperature to provide consistent heat.
Also, you cook outside, so there is a lot of dust and debris that can sneak into your food. The hood provides perfect covering so your food remains clean. 
Cooking pizza on a Blackstone griddle is a little different from how you cook one in the oven. That's why I have shared step-by-step processes that you can follow easily to make a Blackstone griddle pizza. Depending on your preferences, you can tweak them if you want and switch some of them to make the pizza better and more suitable to your taste.
Preparation and Essentials to Cook Pizza on Blackstone Griddle.
First, get all the stuff you need to make pizza.
For this purpose, you'll need:
A  griddle cooking dome to turn your griddle into an oven.
A large flat spatula to flip or move your pizza dough during cooking
Pizza ingredients and recipe.
Stainless or wooden Pizza Peel to transfer your stretched pizza dough on the griddle.
When it comes to cooking pizza, you have no limits about what ingredients you want to use. Quantity does matter for quality. Make sure to:
Use the correct recipe for the dough and the ideal rising time. 
Don't cut too big veggies that take years to cook.
Make sure to keep them thinly sliced.
Step-1:  Make/ Prepare Pizza Dough 
It's ideal to follow the proper dough-making process besides letting it sit for 12-24 hours. Yet, if you're making pizza on Griddle the same day without resting your pizza dough for 12-24 hours, use this process:
Prepare your pizza dough using some reliable recipe, and use proper equipment like a pizza dough mixer.
• Let the pizza dough rise at room temperature for two hours until it has doubled in size.
• Use it immediately or refrigerate or freeze it for use later. (You can refrigerate it for up to 3 days).
To Make Pizza the Next Day (or Later):
• If you are not planning to make the pizza the same day, place the covered pizza dough in the refrigerator, so it rises slowly overnight.
• When making the pizza, take the dough out from the refrigerator and let it sit at room temperature for at least 1 hour.
Step 2:  Use Blackstone Griddle's Extensive Area for Cooking Meat and Veggies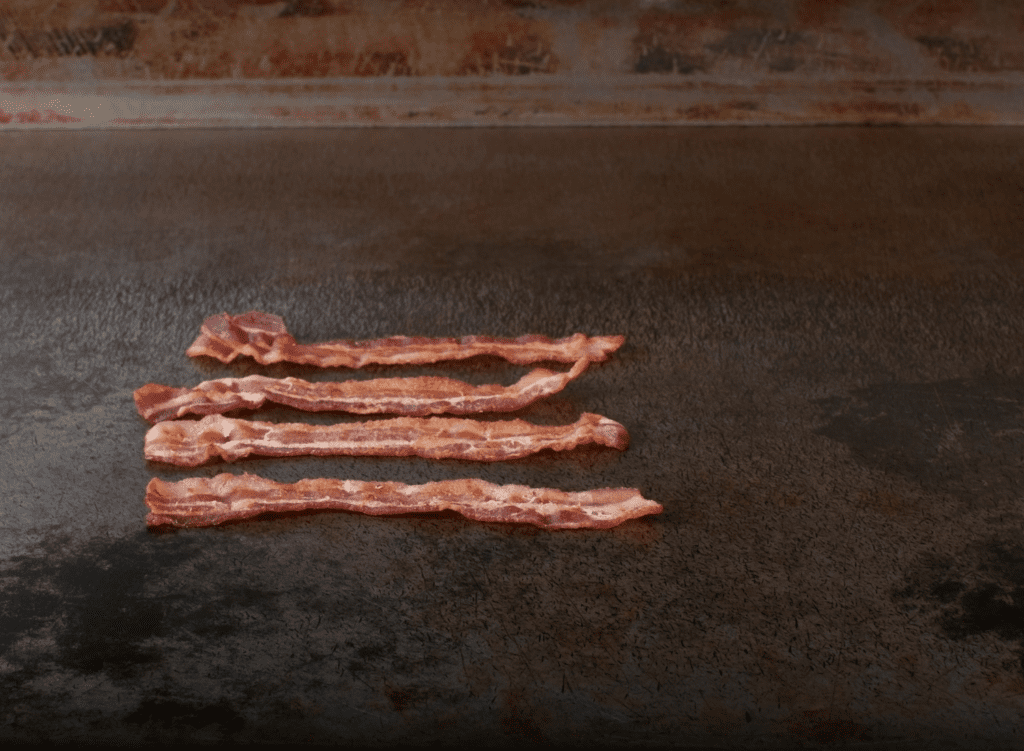 Use one side of the griddle's cooking surface to cook meat or chicken, and on the other side, cook your veggies. That's the benefit of using a Griddle. You can do all parts of preparing pizza simultaneously on its large stovetop.
Please ensure you also saute your veggies on your Blackstone griddle top so they're not left uncooked on the pizza top. Once they are done, remove them from the top and keep them in a bowl. 
Step 3: Prepare the Blackstone Griddle for Pizza Crust
When your topping is prepared, it's time to cook the crust. For this purpose, first, remove food debris from the griddle, and add a few drops of oil to season your griddle afresh. 
Preheat your Blackstone griddle to 350°F to 400 °F, or you can set the grill to medium-high heat.
Please leave it to preheat properly. Once your Griddle surface is ready, Transfer your stretched pizza dough using a pizza peel and cover it with a griddle dome or a lid. 
Leave it to cook for 3-5 minutes, depending on the thickness of your pizza dough, without removing the lid. Now check if it is cooked from the button and flip it. At this point, you'll need to use your spatula to see the condition of the pizza dough underneath.
If done, flip it and cook it without covering it with the dome. You'll need to turn the heat slowly and add toppings during the course. While adding toppings on the cooked side of the crust, make sure to adjust the temperature so the bottom doesn't get burned. 
Step 4: Add your Toppings 
This process is to be super quick lest the other side of your pizza dough is fully cooked, and you'll add the toppings.
Following your Blackstone griddle pizza recipe, apply pizza sauce, and add some mozzarella cheese. On top of the cheese, add all your veggies and chicken pieces, then again add mozzarella and cheddar cheese as much as you like.
Don't overload it; overloading can result in a soggy pizza.
Step 5: Let the Topping and Crust Cook Evenly
Once you've added everything, set the temperature to 375 degrees. Cover it with a pizza dome and then leave it for almost 7-10 minutes or more, depending on the time required for melting all the cheese, and cook the bottom of the pizza dough until it turns crispy. Ensure the top is not too hot to burn or overcook the bottom of the crust.
Check after 7 minutes if the cheese is melted and the crust looks brown, remove it; otherwise, leave it for five more minutes. 
You can use an infrared thermometer to check the temperature of the top and side of the pizza dough. The dough usually gets more heat near the grate in open areas than near the thicker center. 
With the help of an infrared thermometer, adjust the griddle temperature of the cooktop if necessary.
Once your pizza is done, please don't rush to remove it immediately; you might ruin it. Wait a few minutes and let the Griddle surface cool down. 
Now use a good spatula to remove the pizza carefully and move it on a cutting board. Now sprinkle it with fresh parmesan cheese and slice it up. Finally, serve griddle pizza and enjoy. 
How Long Should You Cook Homemade Pizza Dough on a Griddle?
Homemade pizza dough without adding toppings takes about 10 to 12 minutes to cook evenly. 
Once you cook one side of pizza dough, flip it, add all your toppings, and then let it cook until it gets completely cooked. You can insert a wooden stick straight into your pizza dough to check the doneness. If it 
comes out neat, the pizza crust is done without carrying any dough particles. Yet, you'll need to cook until the top of the pizza dough gets brown. However, keep an eye on the bottom of the pizza. 
If the bottom is getting overcooked, set the temperature to low heat(200 °F ). Once the top of the pizza dough gets cooked, please remove it from the griddle surface and serve. 
Would you need to use a Pizza Stone?
Pizza stones are always appreciated for cooking a wood-fired oven like pizza. They only require reheating in an oven or grill. So, preheating a pizza stone isn't different from preheating a pizza stone on a grill. 
You can preheat a pizza stone like this. And cook your pizza over it following the steps mentioned above. The result will be amazing.
What to do if you Don't have a Dome Lid to Turn your Blackstone Griddle into a Pizza Oven?
Blackstone griddle does not come with a lid. However, you need one to bake griddle pizza and other goods. The best thing is to buy a dome lid or a pizza hood from amazon or target. However, if you can't find it, then turn your lasagna tray into one. 
How?
Take a large 12.4 inch x9.75 inch x2 inch lasagna tray and put it upside down over your griddle pizza. It'll be a little difficult to remove it over the hot stovetop. But I have a solution for it as well. Let the stove cool down, and use gloves and pizza peel to pick the tray up. 
It might be a good alternative, but in the long run, you need a griddle dome. So it is best to invest some money and buy one. 
How can you Cook a Frozen Pizza on a Blackstone Griddle? 
Here is a step-by-step guide on cooking frozen pizza on Blackstone Griddle.
Step 1: Thaw your Frozen Pizza
Before you start reheating, thaw the pizza by putting it out of the fridge ahead of time. This step is essential for a better pizza crust. Plus, it'll save the heat you need to steam the pizza.
Step 2: Preheat the Griddle and Cook Your Pizza.
Once the pizza gets thawed completely, preheat your Griddle to 375 to 400 degrees Fahrenheit for 15 minutes.
Place your frozen pizza right in the middle of the griddle at the same temperature and let it cook for about 5-7 minutes. After 5 to 7 minutes, move the griddle dome and turn the pizza around, so it gets cooked evenly from all sides. 
Check the pizza's crust in between to see if it has evenly browned sides. Let it cook until the crust is crispy and the cheese gets melted. Remove the pizza carefully using a pizza peel and cut it while it is hot and enjoy!
Few things that you should keep in mind while cooking frozen pizza on the Griddle. 
Don't preheat the griddle too long.
Don't cook frozen food straight on the hot griddle.
How Long Should You Cook Frozen Pizza Dough on a Griddle?
You can cook frozen pizza on medium or medium-low heat for 5 to 7 minutes for each side. 
However, if you see the cheese has already melted and the crust has charred enough, you can put it off the stove. 
Pros and Cons of Cooking Pizza on Griddle
If you don't have a Blackstone griddle, you should consider getting one. There are many advantages of using a Blackstone Griddle compared to traditional grills. 
Pros
It comes with a large cooktop that ranges from 17 inches to 36 inches in size.
Blackstone is famous for its finely engineered and built quality products.
The Griddle has an adjustable temperature for your convenience. 
Easy to Cleanup
Cons
However, every product has some downside so does Blackstone griddle
Without proper maintenance, the steel surface of the griddle can get rusty.
It's not easy to store such a large guy in your backyard; you can't fold or remove any parts to fit it in your storeroom.
Wrapping Up
Baking a pizza on griddle's cooking surface is more a 'technique' than a recipe. This is because pizza contains many sauces, dough, and toppings recipes. In fact, Italian family pizza recipes are made up of what the kids want to be added to their choice of base.
So if you don't have a Blackstone pizza oven but a Blackstone griddle in your home, then you must give it a try. Cooking pizzas for your family and having a little party in your backyard seems like a great idea.
Enjoy your pizza slice cooked on the griddle's cooking surface!
mama-cucina.com is a participant in the Amazon Associate program and will earn from qualifying purchases.