Do you want to know the difference between a pizza pan and a stone? Do you also feel less confident in picking one? 
Is the pizza pan the show stopper, or can the pizza stone win the match? This question has undoubtedly knocked your mind. 
One might have the cooking time in hours, while the second one needs just a few minutes to present an evenly cooked pizza in front of you. Apart from this, the level of crispiness can be another factor creating confusion in plumping for the right one. 
Today's article is all about the discussion of pizza pan vs pizza stone. If you're a beginner or even an intermediate in the field, this content will benefit you.
So let's unwind the pile of differences between the two and go through the review of a few products. 
Pizza Stone vs. Pan – A Quick Overview 
All pizza lovers know very well that the best pizza is nicely baked with a crispy crust. After getting all the necessary and quality ingredients, it's the cooking tool that matters the most. And for getting a pizza properly cooked, having charred spots on the top, and a crispy crust, you need to have the best pizza baking tool. 
Pizza stones are considered the older yet typical cookware for baking pizzas. But pizza pans stepped into the market for some time and proved themselves to be an excellent addition to bakeware. 
Pizza Stone vs. Pan – The Main Difference
If you place the pizza in the pizza maker for a long time, the crust will get hard and dry. And on the other hand, if you remove it early, the bottom will stay soggy. Therefore, a well-cooked pizza always demands the right baking tool. And it's what makes pizza stones and pizza pans different from each other. 
How? Keep reading.
Heat Retention and Distribution in Pizza 
Pizza stone stays the star of the show when it's about heat distribution. A pizza stone needs to be preheated before use. 
When preheated, it becomes hot and stores heat, giving your pizza a super crispy crust and a fully cooked bottom. It won't let your pizza crust become dry with the base soggy. 
On the other hand, you can't preheat your pizza pan. As you prepare your pizza in the pan, it'll take some time to get ready to bake. A non-preheated or cold pizza pan is proportional to an increased baking time. And this is what prevents your pizza from getting the right crisp.
Perforation 
Another main difference between the stone and the pan is the perforations. The surface of the pizza stone is porous. 
The porous base can make the cooking process faster by absorbing moisture. Preheating might take longer than the pan, but it is worth trying. The crispy pizza crust, charred brown spots, and nicely cooked bottom are all the perks of using the pizza stone.
Most pizza pans don't have a perforated base, so they collect steam under the crust. Therefore, pans take more time to get hot, but they can also make your pizza soggy. 
Still, you can have a pizza pan with holes or without holes. Using a pizza pan is better than being a professional pizza maker.
Pros and Cons of Using Pizza Stone and Pizza Pan
When it's about pizza stone vs pan, both options differ from each other in various aspects. Let's move forward to know the plus points and the drawbacks of both. 
Pros of Using a Pizza Stone
Once you go through these benefits, you'll surely be convinced to buy a pizza stone for making pizza at home. 
Perfect Charred Spots
When you use a pizza stone that's perfectly preheated, all you'll get is a nicely baked bottom with bubbled cheese and charred spots. These charred spots make your pizza look more yummy, like a well-done pizza. 
Perforated Surface Absorbs Moisture
The perforations or holes on the base of this tool catch and lock all the steam. When extra moisture goes down in the perforations, the bottom of the dough cooks immediately. 
Requires Less Time
When the stone is already preheated, it'll take less time to bake. In fact, it'll immediately start baking and will complete the process in a short time. 
Goodbye to Dried and Hard Crust
A pizza is of no use if the crust is dry and hard. But this isn't the problem in the pizza stones. As we mentioned in the above point, pizza pans require less time in baking. The less the pizza lies on the stone, the soft the crust will be. 
Cons of Getting a Pizza Stones
We don't want our readers to just focus on the positive side. Along with the benefits, we want you to also glance at the drawbacks of the pizza stones. These points include:
Stones might not be easy to use.
Practice is the key to proper usage of the pizza stone. 
It might crack because of a sudden temperature change or any other reason. 
The blockage of the perforations because of the dripping of fat might make it challenging to clean.
Spilled cheese and sauces might also create some unpleasant odor and taste. 
Using a  pizza stone isn't good as far as energy consumption is concerned. Since pizza stone requires more time to heat, it also costs you fuel. So, if you want to save energy, avoid a pizza stone.
Pros of Using Pizza Pans
Before deciding, let's glimpse the pros of the pizza pans. 
Unchallenging to Use
A pizza pan can be attractive because of its unchallenging usage. When baking pizza in a pizza pan, you simply spread the dough, add the sauce, toppings, and cheese, and place it in the oven. 
No steel or metal peels or any other additional tool is required. Above all, you don't need to preheat your pan for a long time.
Trouble-free Cleaning
Indeed, because of the non-stick coating, the majority of the pans possess a non-stick coating. Because of this coating, the residue and the hard stains don't get stuck on the base. And you can clean the pan smoothly. 
Saves Fuel and Energy
Pizza pans, of course, heat in no time. It's why they also save fuel. So, have a pizza pan if you're conscious of fuel cost.
Cons of Using Pizza Pans
With many positive points, there are some negative points about the pizza pans. These include the following.
Pizza pans take too long to get ready for baking. 
The baking time is too long. 
Non-perforated pans trap steam that prevents the dough from getting crisp. 
In perforated pans, the dough might trap in the perforations. 
Pizza Stone vs Cast Iron Pan 
There's another fantastic option if you want to go with the pizza pans, keeping all the ordinary pans aside. It's a cast-iron pan. 
So we'd suggest either going with the stone or buying a cast iron pan that's much better in performance than the ordinary one. 
Let's compare both options to help you put your hands on the best one. 
Cracking
Pizza stones can crack because of the temperature changes resulting from placing the cold and raw pizza dough on them. While on the other hand, the latter ones are free from this problem. 
Durability
The durability of the stones is less. That's because they can easily break if dropped accidentally. In comparison, the latter is quite durable and can serve you for a long time. 
Ease of Usage and Cleanliness
Whether it's cleaning or usage, the pizza stones are less convenient in use and cleaning. You can clean the pan with a sponge or brush. In the same way, they offer easy usage. Handles on one or both sides help the user comfortably move the pan in and out of the oven. 
Some Cons of Cast Iron Pizza Pans
These pans might not be a good pick because of the following reasons. 
These pans are heavy and a little challenging to handle.
The enameled pizza pans can't work well at over 400 degrees Fahrenheit. 
If you want to bake your pizza higher than 425 degrees, you'll need to buy a non-enameled one. 
At too high temperatures, they might break because of thermal shock.
Cast iron pizza pans are high-maintenance pizza tools. They can catch rust. So, they require regular seasoning.
Key Take Away
Choosing between a pizza stone and a pizza pan involves understanding their distinct advantages and limitations. Pizza stones yield a perfectly charred crust, absorb moisture, and ensure quick baking, but they require careful handling, might crack, and can be challenging to clean.
Pizza pans, on the other hand, offer easy usage, quick heating, and hassle-free cleaning due to their non-stick coating. Cast iron pans present a durable alternative but come with their own challenges, including weight and maintenance.
Consider your priorities—whether it's crispiness, convenience, or durability—when selecting the right tool for your homemade pizza, balancing benefits with potential drawbacks for the best baking experience.
What are the Best Pizza Baking Tools to Buy?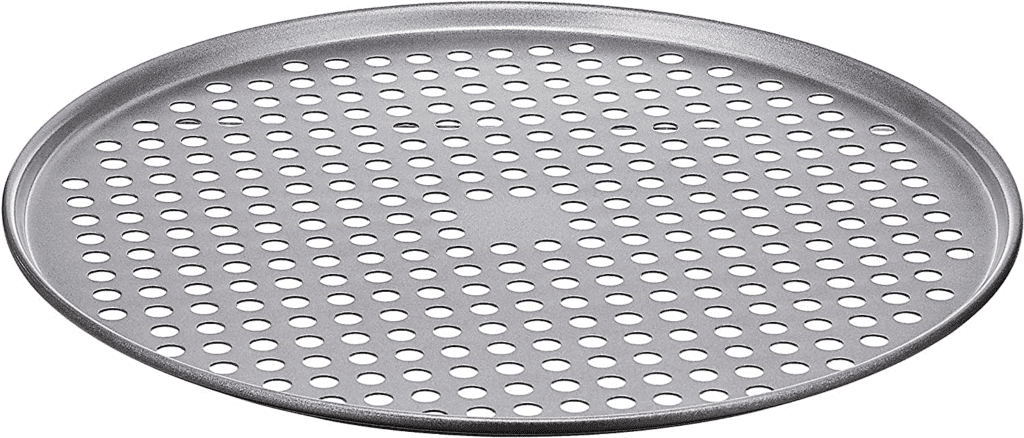 Have you decided to buy a pizza pan for your kitchen now? We've got a fantastic option for you. It's the Cuisinart Chef's Classic Nonstick Pizza Pan. Doubtlessly, Cuisinart has made it worth buying by presenting it with many inspiring features. 
Let's have a look at the features.
Quick Features
Highly Durable Body Design
Matchless Performance
Highly Durable Body Design
Cuisinart has made this pan perfect for making a large-sized pizza in it. With the 14 inches spacious surface, you'll get free from the trouble of making two to three mini or small pizzas. 
You'll find it with high-quality stainless steel construction. Therefore, no need to worry about durability. You won't need to buy a new pan for even years. Just invest once, and enjoy the real taste of pizza at home for a long time. 
The exact dimensions of this pan are 15 x 14.4 x 1 inch, with a weight of about 1.14 pounds. Hence, it's clear that the pan is so lightweight and ideal for your kitchen. 
One of the most inspiring features of this pan is its thick rolled edges that work to prevent warping. Thus, your pan won't go out of shape because of the heat in the oven. 
Matchless Performance
After the taste, it's the crispiness that every pizza lover needs in homemade pizza. In this case, the perforations made on the pan can work well. For sure, the crispiness is linked to the heat of the tool. 
The manufacturer has made the pan with the heavy gauge aluminized steel construction to get the even heat. Even heat distribution can immediately give you the rightly baked crust with the perfect crisp. 
When you're done cooking and enjoying the homemade pizza, the next thing that might trouble you is its cleaning. But relax, here, you'll get a nonstick interior and exterior. The nonstick coating eases the cleaning process, and you can quickly release the food particles stuck on the surface. 
Pros 
Even heat distribution gives a perfect fluff to the pizza dough. 
A nonstick interior makes the cleaning process easy. 
Thick rolled edges prevent it from warping.
Simple to use.
It offers easy food release.
Cons
The dough might sink through the large holes. 
It might catch rusty scratches on the surface. 
The silver coating might start to scratch and peel off. 

Have you read some recent posts about cast iron pans and want one for your kitchen? We've one from Lodge, a piece of excellence both in performance and design. If an ordinary pizza pan isn't of your type, you can give this one a try. 
Let's explore what the points that make this pan worth buying are. Also, check the features that make it preferable to the ordinary pizza pan. 
Quick Features
Round-Shaped Comfortable Body Design
Master in Performance
Round-Shaped Comfortable Body Design
The first thing that catches every buyer's attention is the body design. The jet-black round-shaped pan has a spacious area that can make a 14-inch pizza. 
Lodge has paid particular attention to the design to make it comfortable. Thus you'll get it with two large handles to give you better control during cooking. You won't face any difficulty placing it in the hot oven or bringing it out. 
It's not specifically for pizza, but it's made to bake goodies or roast veggies. In the same way, you aren't restricted to using it just in the oven. Instead, you can use it on the stove, over a campfire, or grill. 
Let us tell you the exact size. Item dimensions are 18.43 x 14.75 x 1.25 inches with 9.55 lbs. 
Master in Performance
As the pan is pre-seasoned with 100% vegetable oil, neither will your pizza stick to the surface nor you'll face any difficulty cleaning. It's one of the distinctive features of this tool that makes it preferable to the other pans. 
Another great addition is its unparalleled heat retention and even heating. Because of this, your pizza will be ready in a short time without hardening the crust. 
Not just baking, but this product can also serve you in searing, frying, grilling, and broiling. So it won't go wrong if we say it's a multipurpose product. 
But you should know that it might be a heavy one and might not be easy to handle. It needs regular maintenance; otherwise, it won't give you a perfect pizza. The distribution of heat might not be that great. 
Pros
Handles offer a good grip.
It's pretty easy to use and clean.
Highly durable. 
Highly versatile.
It comes with a good heat retention capacity.
Cons
It might be a heavy one and might not be easy to handle. 
It needs regular seasoning; otherwise, it won't give you a perfect pizza. 
The distribution of heat might not be that great.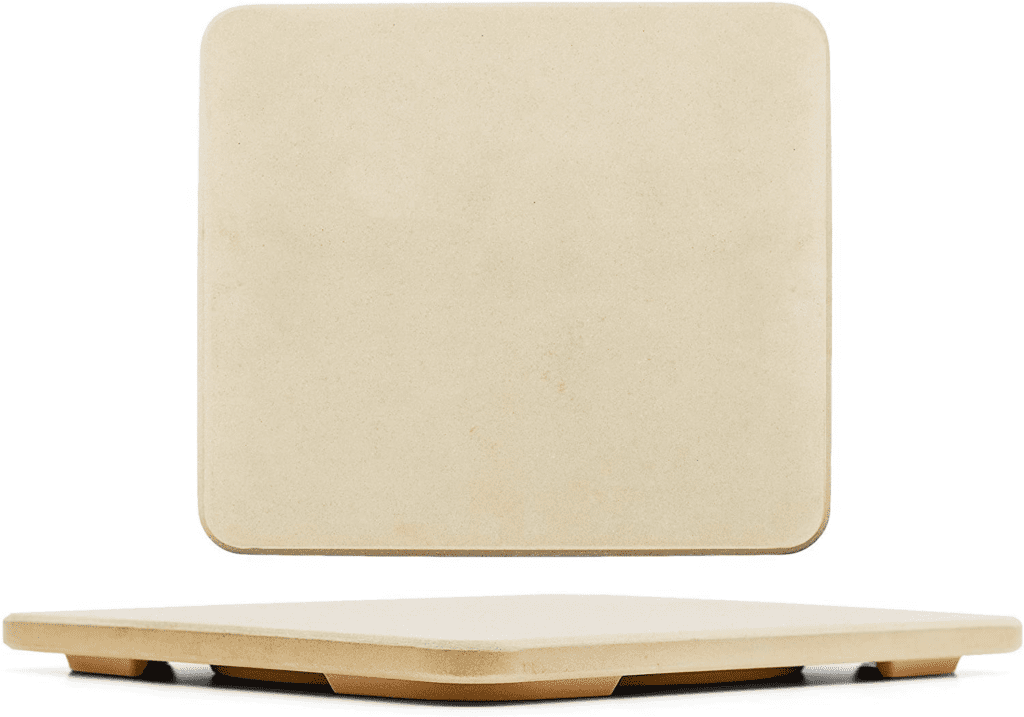 Pizza stones are doubtlessly a matchless option. But not all the stones are up to the mark, and you must grab the best one. Here we're with Solido's number 1 pizza baking tool, a second-to-none option among all the pizza stones. 
Let's dig a little deeper to know the detailed features of this master tool.
Quick Features
Awe-inspiring Design
Best of Best Performance 
Awe-inspiring Design
If you are hunting for good performance and a stylish look in the pizza stones, this is the product you have been looking for so long. Solido's SYNCHKG100421 model has a modern rectangular shape. The white light brown color makes it look more elegant. 
You'll find it made with high-quality cordierite. Cordierite makes it withstand as high as 2000 degrees Fahrenheit. 
That's amazing!
The Solido Pizza Stone is equipped with feet on the underside to give a nice balance to the stone. Moreover, these feet also give you extra grip, thus making the stone maneuver. 
As it's just 16 x 14 x 1.1 inches, it can perfectly fit all standard ovens. Do you know that you get a slightly larger surface area than the round pizza stones because of the edges and the rectangular shape? 
Best of Best Performance
Do you want to use a pizza stone for multipurpose tasks? Yes, you can because this is perfect for making bread and cookies, even baking frozen pizza or baking your favorite food. Whether you want to use it on a grill, oven rack, or BBQ, this product will fall best for all these options. 
The unique heat spiral feature is the secret to making the restaurant-style delicious pizza. This heat spiral helps it retain more heat in the center. This fantastic feature also lets your stone heat up faster than ordinary stones. 
Your hard crust problem is no more in your way, and you can also say goodbye to a bad, hard, and non-crispy bottom. 
Pros
Highly durable pizza stone.
Simple to use 
Spacious baking area
Heat spiral features let the stone heat up faster.
It retains more heat in the center.
Cons
It might break because of the temperature change. 
You might find it difficult to clean. 
It might be heavy and thus difficult to handle. 
Frequently Asked Questions 
Which gives a better taste: pizza pan or stone?
Doubtlessly, the taste is the prime need of all pizza lovers. So, everyone seeks a tool that can mimic the taste of the restaurants. 
You might see the pizza pan winning the competition, among other factors. But when it comes to the taste, the pizza stone cuts the other baking tools, including the pans. 
When you transfer the assembled pizza to the preheated pizza stone, the initial heat starts baking your pizza immediately. And the stone takes less time to bake. Thus, your pizza will become more crispy and flavorful. 
Want to switch to a wood-fired taste? No worries, place the stone in a wood-fired oven, and you'll get the perfect wood-fired taste and aroma in your pizza. 
Pizza stone vs. pizza pan, which is easier to use?
When there are many other leading factors, we can't ignore the point of convenience. Without going deep into the discussion, it's pretty clear that pizza pans are more convenient.
Pizza pans don't need to be preheated. Place the assembled pizza on it, and it's ready to bake. 
But on the other hand, pizza stones gain a lot of heat during preheating. Plus, you must slide your pizza on the stone in the hot oven. So it might not be an easy task for you. You might make some mistakes and burn your hand. 
Or the burst of heat escaping from the oven might harm you. That's why pizza baking stones are considered less convenient. 
Is it better to cook pizza on stone?
A pizza stone is a good tool as it can give you the perfect crispy pizza with charred spots. Moreover, this tool can also offer you pizzas with the restaurant's taste. Plus, they prevent moisture from collecting under the crust. 
Is a pizza stone worth buying?
A pizza stone is a worthwhile tool to use in your kitchen. Less baking time, charred spots, and crispy crust free from moisture all make it worth buying and worth trying. 
Is stone or metal better for pizza?
Both can be good options. But a cast-iron pan (metal pan) can give you the best results in terms of heat conductivity. Metal pans have high heat conductivity and can become hot faster than stones. And they can also withstand high temperatures. 
But if we talk about the ordinary metal pans, they might not be a good pick. That's because pizza stone can give you a nicely cooked crust and an outstanding crisp in a short time. 
mama-cucina.com is a participant in the Amazon Associate program and will earn from qualifying purchases.