Italian Pizzas have been a staple of Italian cuisine and culture, dating back to the 16th century. From there, it permeated the world, served in various ways, and became famous worldwide. 
But, what is authentic Italian pizza really like? What qualities and ingredients make it the delicious and famous cuisine that we all know and love? 
Italian food is regional, and you find a variety of pie or, to be more exact, flatbreads such as Focaccia and Pinsa.
Some famous pizzas such as pizza Napoletana, pizza Romana, pizza Al Taglio, and many more you might have never heard of before. All regions of Italy serve a variety of pie that is just revised recipes of the classic one: Napoletana and Romana, corresponding to Campania (Naples) and Lazio (Rome).
Pizza is an Italian dish, but it has lost its natural essence and taste when made worldwide. The authentic Italian taste is nothing close to what you used to enjoy in your home country. Each city in Italy has its styles and tweaks. The authentic Italian taste in the pie is so delicious that you will end up eating all by yourself. 
This article has listed the most authentic and delicious pizza right from the Italian cuisine that you can and must try once in your life.
Without further ado, Let's go!
What Makes an Original, Traditional Italian Pizza?
The five things that make the most authentic Italian pizza are: 
The Crust: Base is an essential component of the original Italian pizza and is traditionally thin but has a fluffy consistency. It is made with '00' flour, the finest and refined variety of flour. Italian pies are so thin people don't share slices; they eat a whole pie themselves. 
The Fresh Sauce is made with a combination of Italian and San Marzano peeled tomatoes, grown in rich Italian soil, seasoned with various well-portioned herbs and extra virgin olive oil. 
The tomatoes you find on most Napolitans pizza are coming from Vesuvio Volcano or from dell'Agro Sarnese Nocerino if it's San Marzano. 
The Toppings: Creamy buffalo cheese like mozzarella di bufala and various veggies set authentic Italian pizza apart from its recreations worldwide. The veggies used by Italians are the unique ones, including prosciutto San Daniele, Provolone, artichokes, Italian sausage, salami, black olives, and anchovies.
Other people love pizza loaded with too many toppings, but Italy does not appreciate it. 
Last but not least, The Chef: Not everyone can pull out the best Italian taste. Only those who have mastered the art can create the best Italian pizzas. 
Almost all Italian pizzas are made with the same rules and techniques. 
Italian pizzerias stretch the base by hand and bake in a wood-fired oven at over 450°C; it doesn't take 5-10 minutes to cook thoroughly. The dough can rise slowly rather than being aided by artificial boosters. Because the oven is set at a very high temperature, the crust turns out much thinner and crunchy. 
Top Traditional Italian Pizzas Types and Toppings Variations, Right From Italy
It all started back in the 16th century when early explorers brought the tomato back to Europe from Peru. Neapolitans have mastered the craft of making the best and unique pie in the world, and even UNESCO lists pizza as an intangible cultural heritage.
The authentic pizzas of Italy are simple, but the guidelines of how it's made and enjoyed are strict. Here's what the president of AVPN (An organization that seeks to protect the authenticity and tradition of Neapolitan pizza around the world), Antonio Pace, said in an interview:
"Pizzas are made everywhere, and they are called Neapolitan. It would be more appreciated if they made them properly, contributing to our city's image. There is a big difference between Naples and the world: Pizza in Naples is not only the product; it is a philosophy of life!"
Here are the types of Italian pizzas that are originally available in Italy, and you must try them on your next trip to Italy!
Pizza Margherita
Pizza Marinara
Focaccia Pugliese
Roman Al Taglio
Pinsa
Quattro Stagioni
Diavola 
Pizza Fritta
Ortolana/Vegetariana
Pizza Capricciosa
Pizza Quattro Formaggi
Boscaiola Pizza
Frutti di Mare
Pizza Melanzane
Pizza Alla Pala
1. Margherita 
Margherita is the most classic Neapolitan pizza or known as " true pizza" worldwide. Pizza Margherita can be defined in simple words: The Queen of Italy!
The chef who invented Margherita named it after Queen Margherita of Italy. It is the most famous pizza in Italy and worldwide. It is a variation of the most authentic pizza of Italy: Neapolitan pizza. 
The colors of the national flag of Italy inspired the toppings of Margherita: tomato (red), mozzarella (white), and basil (green).
It has a rich marinara/pasta sauce flavor- Fresh mozzarella with the San Marzano tomato sweet and tangy taste. The crust is chewy and delicious and has those Neapolitan-Esque burnt bubbles.
What goes inside the famous Margherita pizza? Here's the list.
Ingredients:
Fresh basil leaves 
Garlic cloves
Kosher salt
San Marzano tomatoes
Parmigiano-reggiano cheese
Mozzarella cheese 
The secret behind the popularity of Margherita is the fresh cheese (mozzarella) that still contains milk. Other pizzas made around the world use dry cheese so that you can expect a difference in taste. 
2. Pizza Marinara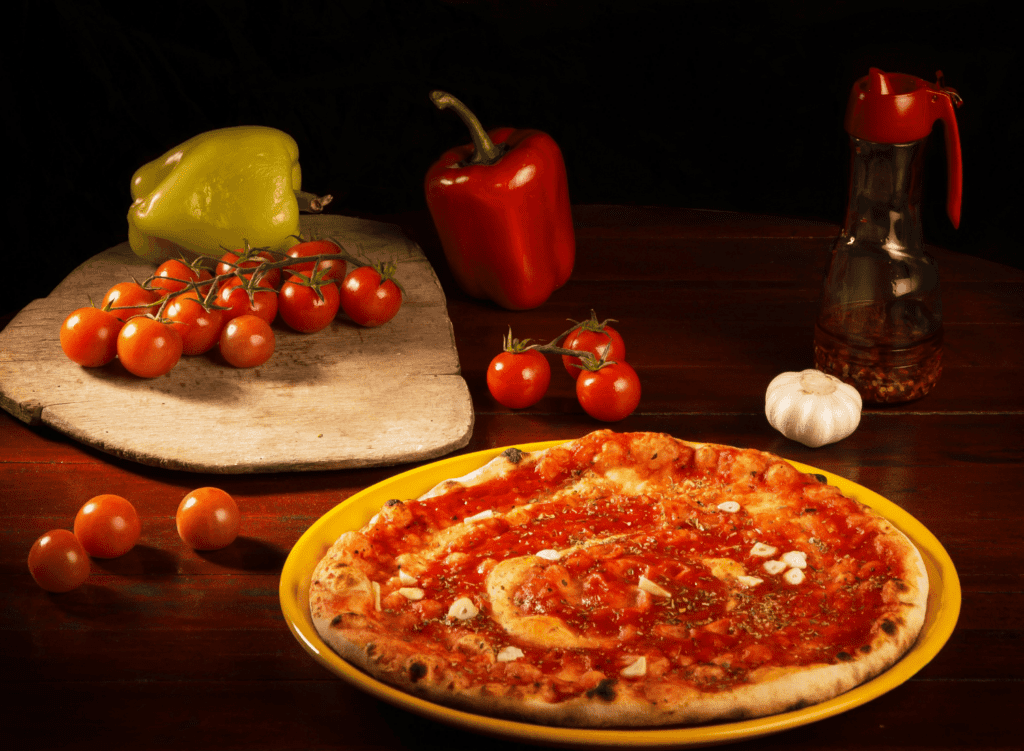 Pizza marinara is the most ancient tomato-topped pizza, known as "Alla marinara." It is a style of Neapolitan pizza which has no cheese, and it's all about tomato, garlic, and oregano. 
Marinara Means "seafaring"; however, it doesn't have seafood. Mariana was a staple food of the fishermen who consumed it upon returning home from fishing in the Bay of Naples.
It's also a relatively healthy pizza. Those of you who love vegan and avoid cheese will like it more. 
Ingredients:
All-purpose Flour Semolina
Tomato sauce
Garlic cloves
Dried Oregano 
Kosher salt
Virgin olive oil. 
Because only a handful of ingredients are used for Marinara, the flavor of pizza marinara depends on the quality of the ingredients. 
The marinara sauce needs to be perfect for this pizza. If the chef gets the sauce wrong, you cannot enjoy the authentic taste. 
3. Focaccia Pugliese
Right from the heart of Apulia, Focaccia Pugliese is next in the line of the best authentic Italian pan pizza. It is also called Apulian or Barese focaccia. 
It is served all around Apulia; you can find focaccia pizza served with olives, capers, and anchovies tomatoes stuffed into the dough.
The focaccia pizza base is prepared using ancient kneading techniques similar to autolysis.
Autolysis or pain a l'ancienne is a French technique used for baguettes. In this technique, you leave flour mixed with water for a night or a day. So when we make the flour fermented, the enzymes in the flour get activated with moisture to allow good maturation.
This pizza only can be made perfect with four essential steps:
Autolysis techniques
the combination of extraordinary natural ingredients and
Last but not least, the right passion. 
The Focaccia pie is crunchy and colorful. You can make it easily at home if you follow the correct technique. 
What goes inside the soft and fluffy pizza?
Ingredients of Focaccia Pugliese:
00 Flour
Type 1 semi-whole flour
Brewer's yeast
Extra virgin olive oil
Sea salt
Toppings
Red and yellow date tomatoes
Cherry tomatoes (semi dried)
Red onion
Olive with their stones 
Oregano
Italian pizzerias use wood ovens to make the best Focaccia Pugliese. It takes 12 minutes at 250 to 300 degrees Fahrenheit.
4. Roman Al Taglio
Want to have slices of pizza rather than a whole pie? Try out pizza al taglio. It is also called 'by the slice' pizza. It is street food. A pizza slice is cut up with scissors in size you prefer, paid for by weight, and you eat it with your hands. 
Pizza al Taglio is popular street food in Italy. You can find pizzeria or small bakeries selling pizza al Taglio everywhere in the city. 
The dough made by following the same rule applied to all Italian pizzas:
00 Flour
Warm water
Fresh Brewers Yeast
Salt and Sugar
Olive oil 
For toppings, You can ask to add anything you like: 
Spinach, 
Onion, 
Artichoke hearts, 
Mushrooms,
Pepperoni, garlic, 
Zucchini, potatoes, 
Salami, 
Olives, 
Prosciutto Crudo,
Seafood
Possibilities are infinite!
It has many varieties, including "pizza Rossa" (only tomato sauce), "pizza Bianca" (just oil and salt).
5. Pinsa 
Pinsa is another authentic one famous in Italy as flatbread rather than a pizza.
It is made with rice flour, soy flour, and grains like wheat or spelt. Its crust has a high protein content and a low glycemic index. The pinsa crust has crispy textures on the outside and soft inside, like a cloud of dough with its elongated shape.
The term 'Pinsa' comes from the Latin word 'Pinterest,' which translates to 'push the dough by the hands.' Pinsa has been a part of Roman artisan baking for over 100 years. It has become famous in the US in the last couple of years. This oblong flatbread was first invented at pizzeria La Pratolina by pizza chef Corrado Di Marco in 2001. 
Compared to regular pizza, pinsa dough is a much healthier option. It is low in carbs and calories. Pinsa dough has less fat, less starch, less cholesterol, fewer glutens, and less sugar. 
A saying goes, "the pizza is only the red one," which doesn't apply to pinsa. Pinsa is white; no tomato sauce is used as a base. 
The Pinsa recipe is one of those hidden jewels of Italian cuisine that only a master of Italian cuisine can pull it best. 
Ingredients:
Wheat flour
Rice flour
Spelt (or soy) flour
Coldwater
Natural yeast dehydrated beer yeast
Sea salt for the dough
Extra virgin olive oil for the dough
Rosemary 
Pinsa doesn't have springy slices as much as regular pizza does. The dough is highly hydrated, so it has a high percentage of water in the flour; in fact, it reaches up to 75-80% of the weight of the flour.
6. Quattro Stagioni
Quattro Stagioni is another authentic Italian pizza. The name Quattro Stagioni In Italian, means "four seasons." It has the same diverse ingredients as pizza Capricciosa, except it is prepared in four sections.
Each section represents one season of the year. The diverse ingredients of each section give strong flavors. There is no better pizza recipe with this diversity of topping that all family members love. The crispy ideal base, the combination of the delicious mozzarella cheese and tomato sauce, topped with the fresh summer taste of basil. Ahh! 
You can find a variety of toppings in this one, but the star of the show and the ones that represent four seasons are:
Ingredients:
Flours
Dried Yeast
Salt and sugar
Semolina Flours for dusting
Tomato and basil- summer
Artichokes-spring
Mushrooms- fall
Olives and Prosciutto cotto-winter
Tomato sauce
Ham
Mozzarella
Stagioni is famous for its crunchy crust. To avoid getting the crust soggy, some toppings get oven-dried before adding them to the pizza base. Some restaurants make vegetarian versions by replacing the ham with Veggies.
7. Diavola
Looking for pizza that suits your spicy taste buds? Diavola is Italy's favorite spicy pizza starring: spicy peppers, Kalamata olives, and gooey mozzarella cheese.
In Italy, it's referred to as Devil-style sauce pizza or Pizza Devil based on its spicy notes. Italians love Diavola, but it is famous as pepperoni pizza worldwide, especially in the US. The plenty of hot salami and pickled jalapenos make an addictively good combo.
The base of this ultra crispy pizza is the same as Margherita pizza.
Ingredients:
Flour (Margherita pizza base)
Oil 
Yeast 
Sugar
Pepperoni
chili peppers
Spicy sausage
Black olives
The slices of pepperoni are arranged above the cheese, which releases spicy oil on the surface of the pizza and makes the sausage crispier. 
8. Pizza Fritta
Have you heard about fried pizza before? Let me introduce fried pizza from the heart of Naples city. It is a classic pizza, the most popular pizza among locals and international foodies.
This pizza is stuffed with Ricotta, Parmesan, mozzarella, and basil deep fried in vegetable oil. 
It is easier to fry in oil than managing a wood oven. The texture is doughnut-like from the outside and has cheesy insides. One bite and ricotta and provolone cheese will melt in your mouth. 
Ingredients:
Hero tomato sauce
Tipo 00 flour
Parmesan cheese
Ricotta cheese
Mozzarella cheese
fresh basil
vegetable oil, for frying
Frying the starchy and cheesy pizza seems imprudent, but it is a wonder of cooking science. The big bread dough stuffed with ricotta, provola cheese, and tomato cooked by deep-frying changes into exceptionally golden colors that give you the new experience of eating pizza. An experience you must have once in life.
9. Ortolana/Vegetariana Pizza
Another authentic Italian pizza is Ortolano, which in Italian means "from the vegetable patch. This greengrocer's pizza is loaded with veggies and a somewhat healthier option, as it's made with grilled veggies. 
It comprises a basic pizza dough smeared with tomato sauce, topped with fragrant Margherita, potatoes, rosemary, and thinly sliced asparagus.
It is also a perfect pizza for vegetarians. Apart from delicious veggies, the following ingredients go inside the Ortolana. 
Ingredients 
00 Flour
Tomato Puree
bocconcini or fresh mozzarella 
Red bell peppers roasted, skinned, and sliced
Eggplant roasted
Artichoke hearts
Extra virgin Olive Oil 
Oregano 
Salt
The fact is that Ortolana is not only for vegetarians but for everyone. If you have not tried all veggie pizza before, give this one a chance, and you are not ordering any other veggie pizza again!
10. Pizza Capricciosa
The fantastic capriccioso is another classic Italian pizza. It's famous worldwide, and that is for a good reason. 
Capricciosa is topped with the incredible combination of tomato pulp, mozzarella, Virginia ham, mushrooms, prosciutto cotto, black olives, and fior di latte with the option to add anchovies.
Simply everything that needs to make you go WOW!
Just like other traditional pizzas in Italy, Capricciosa has its own history. It is called Capricciosa because it was first invented in 1973 in a pizzeria of Rome called LA Capricciosa. 
The sauce of Capricciosa is just too delicious. It is made using fresh San Marzano tomatoes, Evo oil, fresh basils, and oregano. You only imagine the flavor until you taste it yourself.
The base is like Margherita; just the topping is different. 
Here's the delicious topping of Capricciosa made of:
San Marzano tomatoes 
Mozzarella
Prosciutto cotto (Italian cooked ham)
Artichoke heart wedges in olive oil
Fresh cremini mushrooms (in Italian, funghi champignons)
Black olives, like Gaeta, Taggiasche, or Kalamata
Every pizzeria in Italy serves Capricciosa with its own signature variations. Some put sausages, capers, and anchovies. And some pizzeria garnished it with boiled eff and mussels. 
11. Pizza Quattro Formaggi
If you're looking for the cheesiest pizza, then look no further than this classic Pizza Quattro Formaggio is topped with not one but four delicious cheeses.
The name Quattro Formaggio itself means "four kinds of cheese" in Italian.
Pizza Quattro Formaggi is not a newcomer in the pizzeria world. It is known to have originated in the 18th century from the Lazio region but is becoming popular nowadays.
The gorgeous combination of mozzarella, gorgonzola, fontina, and Parmigiano-Reggiano creates the ultra cheesy crux of the recipe loved by cheese aficionados all over the world. 
Apart from four incredible kinds of cheese, these ingredients go inside the Quattro Formaggi Pizza.
Ingredients:
Dry yeast 
Sugar
All-purpose flour
Salt
Toppings
Basil
Tomato
Cheese (Mozzarella, gorgonzola, fontina, e Parmigiano-Reggiano)
Ground Mild Italian Sausage
fresh herbs
Some restaurants serve the "Blanca" version of Quattro Formaggi, which features no tomato sauce on the pizza. 
12. Boscaiola Pizza
Boscaiola is another authentic Italian pizza from Neapolitan cuisine. It is now the most demanded pizza outside of Italy. 
"Boscaiola' means woodcutter. This pasta Alla Boscaiola pie is traditionally based on mushrooms' most popular wood food!
The rise and ripening time of the pizza dough are essential elements for its success. 
However, you can find its variant prepared with different sauces and toppings. Some use porcini mushrooms, champignon mushrooms, bacon, sausages, ham, and others use eggplant and boiled egg. It all boils down to preference or the restaurant style. 
But what about the original recipe? The original one was made with four main steps:
Leveling out the base with hand
Add pasta discs and mushrooms
Bake 
And then add prosciutto on top!
The ingredients that you need for this pie are as follows:
00 Flour
Instant yeast
Salt
Olive oil
Tomatoes
Mushrooms
Harlots
Garlic clove
Mozzarella cheese
Butter
Sage leaf Chopped
Parsley 
Vegetable broth
pizza sauce or marinara sauce,
dried oregano and basil
It is occasionally prepared without tomatoes and can be enriched with a drizzle of olive oil, olives, or fresh parsley.
13. Frutti di Mare
Calling all seafood lovers! Frutti di Mare pizza is one of the most popular Italian pizzas made using the famous Frutti De mare pasta recipe. The Frutti di mare means "fruit of the sea" and refers to seafood in Italian.
The pizza, just like famous pasta, is packed with tons of fresh seafood, including shrimp, mussels, scallops, clams, and squid cooked in a garlicky, sometimes spicy marinara sauce.
The base gets seasoned with delicious arrabbiata sauce (spicy marinara sauce), topped with seafood, and finished with fresh basil leaves.
Ingredients:
00 Flour
Dry yeast
Salt and sugar
FOR THE FRUTTI DI MARE TOPPING:
Grated mozzarella
Steamed mussels, out of the shell (or use canned smoked mussels)
Anchovy filets
Raw shrimp
Calamari rings
Frutti di mare is one of those classic Italian dishes that only true sea lovers can admire. So if you are not a fan of seafood, this one is not for you!
14. Pizza Melanzane
Melanzane in Italy means eggplant. So you might have guessed it is another delicious vegetarian pizza from Italy. 
Apart from eggplant, it has yummy veggies like capsicum and potato, and parmesan. The bomb combination of eggplant and parmesan is out of the world. 
Some pizzerias grill the eggplant before they go over the pizza base. The authentic taste comes from the cheese often added after baking instead of before.
The cheese crowns of pizza are then topped with tomato, roasted eggplant, chili flakes, and fresh basil leaves. 
Ingredients:
Strong White Bread Flour
100g Khorasan Flour
Fresh eggplant, diced
Olive oil
Chopped garlic
Chunky marinara sauce
Fresh-diced buffalo mozzarella
Shredded parmesan
Ricotta
Tomato sauce 
Salt and pepper
When the pizza receives the heat, it softens the cheese but doesn't melt it. This way, cheese keeps its creamy sweet flavor and stays supple instead of becoming stretched. 
15. Pizza Alla Pala
Pizza Alla pala is a unique Italian pizza that is served on a paddle right after coming from the electric oven. The pizza is named after the wooden board on which it's served: You can't eat it alone: it's for groups. 
This heavy pie is baked using the long rising dough that is shaped like oval bread. To be thick doesn't mean that the pizza is hard, it's soft and loaded with fresh toppings. 
What toppings make Pizza Alla Pala?
Black olives
Salamino Piccante
Cherry Tomatoes
Prosciutto & stracciatella cheese
With such a blend of these delicious ingredients, you can surely see cheese-loaded slices.
FAQS about Traditional Italian Pizzas
Which Toppings Would Never be on an Original Italian Pizza?
Some toppings can never go with real authentic Italian pizzas.
Chicken or beef 
No sauces like ketchup or chili shawarma.
Seasonal fruit (pears, pumpkins, apples)
High gluten flour is never used for Italian pizza.
Fruits, nuts, or sweet additives 
What is special about Italian pizza?
The authentic Italian pizza is famous for having homemade sauce prepared from freshly peeled tomatoes and a combination of savory, complementing herbs. You'll also note that true Italian pizza does not include both toppings and sauce in the cooking process. 
The sauce is simply layered along with the crust. In addition, the pure mozzarella from Mediterranean buffaloes is another delicious ingredient of real Italian pizzas.
What is the most popular topping on pizza in Italy?
Capricciosa Pizza, meaning "capricious," is one of Italy's most popular pizza toppings, appearing on pizzeria menus around the region. This is a traditional Margherita with black olives, ham, artichokes, and porcini mushrooms on top.
All of the ingredients for the Capricciosa Pizza are spread generously over the pizza. The pizza Quattro Stagioni also has the same components used, but instead of being blended together, each ingredient is separated into four quarters.
The Capricciosa has a rich recipe and a wide range of pizza toppings. Yet, when you're working with simple ingredients, you want to make sure they're of the highest quality. Always choose extra virgin olive oil-based preserves and Italian ham. 
Wrapping Up the Most Popular Italian Pizza Types
About 90% of the pizza lovers around the world do not know what an original pizza is! But you know now!
When you experience truly bona fide Italian pizza, don't think it'll be the same version of your favorite slice back home.
Eating a delicious slice of pizza in Italy is truly an out-of-the-world experience. Authentic Italian pizza is a mouth-watering treat all its own and is incomparable to any pie you may have.
It's about time you visit one of the famous or authentic Italian pizzerias nearby and eat pizza from Italy. I hope this article helps you decide which traditional Italian pizza you can try first by visiting a good Italian pizzeria near you. 
mama-cucina.com is a participant in the Amazon Associate program and will earn from qualifying purchases.