Are you looking for the best countertop pizza oven? Or you're contemplating buying an electric oven, a countertop convection oven?
It's the best place for you to decide on the best pizza oven for your needs. Our reviews of these pizza ovens are based on the analysis of hundreds of user reviews and a mix of pizza-making expertise.
Hence, we'll answer all your questions, whether you're a pizza-making expert or a beginner learning to make their first pizza.
A quick read of this article will help you choose the best pizza oven for your needs and budget.
Best Countertop Pizza Oven Reviews in Detail
Pizza making has never been easier without advancing technologies and the creation of improved electrical appliances. Yet, it's pretty easy to make a restaurant-style pizza at the convenience of your home.
Below are reviews of some of the best countertop pizza ovens. These should help you find the best pizza oven according to your needs and budget.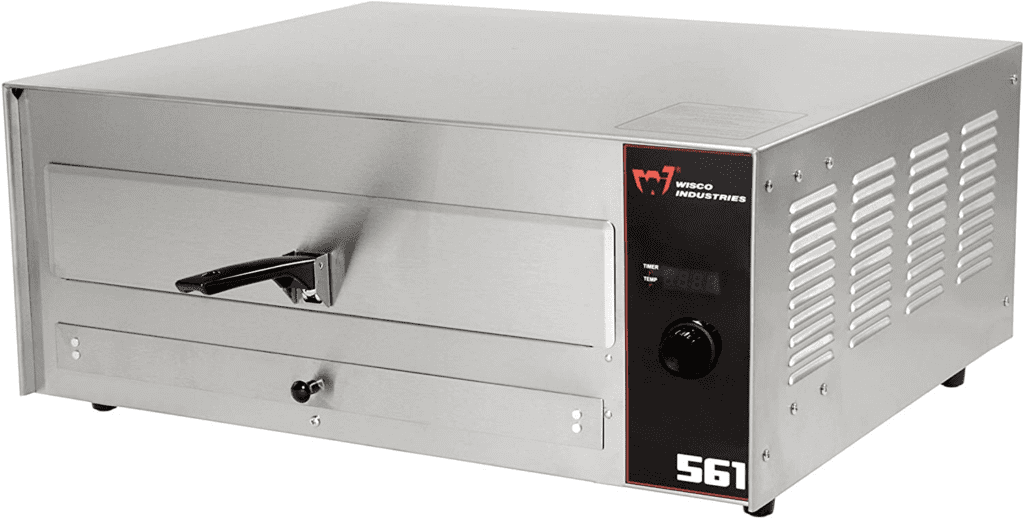 The Wisco 561 Deluxe pizza maker and the multipurpose oven is some of the best countertop pizza ovens. It allows you to cook pizzas that wouldn't look out of place compared to pizza from any restaurant. It's an excellent purchase for anyone looking to bake some restaurant-like homemade pizza.
Let's look at some of its salient features and review them.
Sleek and Convenient Design
The overall design of the appliance is exceptionally sleek and basic. The oven's architecture makes it one of the most convenient kitchen appliances to use. It has been designed such that even a beginner to pizza making can quickly figure out how to operate it.
The oven has an easy-to-operate control system on the right side, with a pullout stainless steel rack to put your pizza in and get it cooked.
Its small compact size and unembellished design add a minimalistic touch to the kitchen's overall look. The crumb tray is positioned beneath the cooking tray. You can remove it by using the small, button-like knob.
The timer is made of LEDs. As a result, you can check the cooking time.
The thermostat, like the overall design, is straightforward. It's not a challenging number game.
Topping it all off, the base of the oven has anti-slip feet, which rest it firmly on the countertop. It's an essential addition, given that it protects it from falling by any accidental pull.
Temperature Range
Since this oven is specifically designed for baking pizza, its temperature range is ideal for pizza making, between 150 to 500 degrees F.
The thermostat knob lets you set the top and lower warming racks to a maximum temperature of 550 degrees. The temperature suffices to bake one big pizza every 10 minutes. Thus, it can yield 6 pizzas every hour.
Production Efficiency
This pizza oven has a single rack, which is enough for cooking pizzas at home.
While it may not be the best option for making multiple pizzas simultaneously. For example, this Wisco pizza oven can cook no more than 6 large pizzas per hour— it's not good to bake dozen of pizzas every hour.
Portable Size
The design of the Wisco oven makes it one of the best options to get if you need an oven at a camping site. The appliance's sleek design and compact architecture make it one of the go-to options for small families that go camping often.
This oven weighs only 38.4 pounds with 19.5 x 23.6 x 10.25 dimensions. How convenient it'll be to have this 1300-watt outdoor pizza oven for baking pizzas in your RV park's outdoor kitchen to enjoy a variety of flavors during your party?
Cleaning and Maintenance
One of the best things about this oven is that it's made of stainless steel, making it easy to clean. Wiping the oven with a cloth gets the job done, and unloading the crumb catcher is also pretty convenient.
In short, this oven would be an incredible get for small families that plan to make indoor and outdoor restaurant-like pizza.
Pros
It makes excellent 16-18 inch restaurant-style pizza
The cleaning is effortless.
It is pretty simple to use.
Because of its stainless steel body, it is exceptionally durable.
Comes with a one-year parts warranty
Cons
Just like with any other electrical appliance, it can malfunction, especially since the alarm system and control knob might stop working after some time.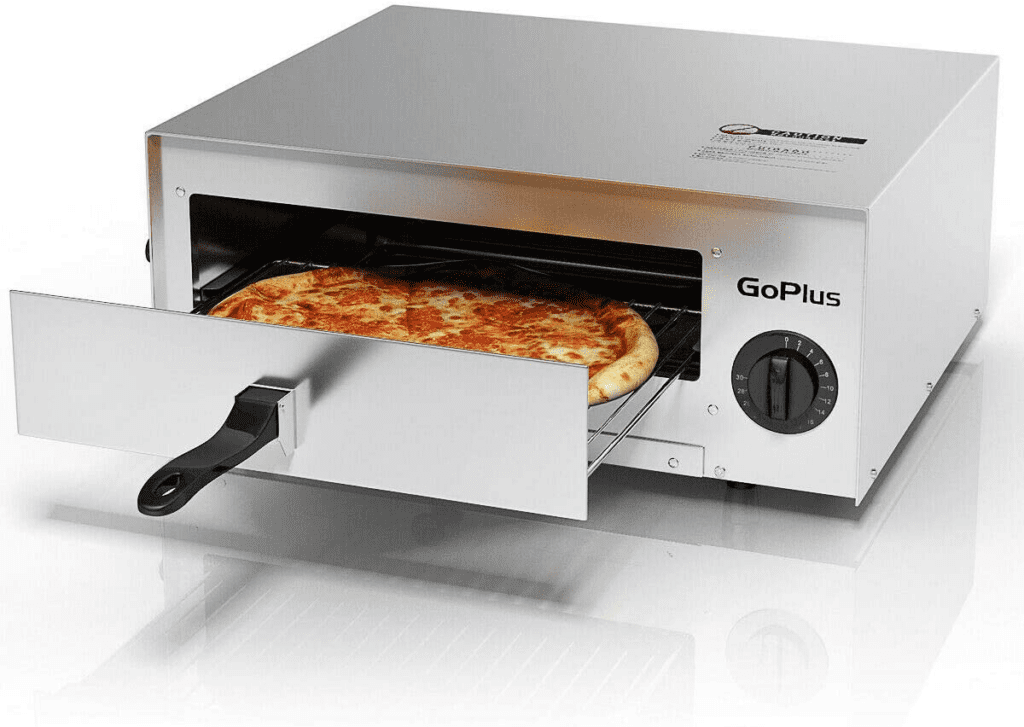 If you're in the market for an oven similar to the Wisco 561 but the price range is above your budget, then the Goplus electric oven is the best, cheaper alternative for you.
Let us review and compare the oven to its more expensive alternative to make it easy to decide which would best suit your needs and budget.
Design
The Goplus stainless steel pizza oven's efficiency is similar to the Wisco 561. The design is even simpler than the Wisco 561, with the smooth stainless steel finish making it easy to clean.
A single thermostat controls the entire device. The Goplus stainless steel pizza oven's draw cooking rack accommodates and works your pie. Underneath is a crumb tray for worry-free cleaning.
While we're comparing the Goplus with the Wisco 561, it's interesting that the cooking tray of the Goplus is 13.5×13.5 in dimension, so unlike the Wisco 561, it can not only be used to make 12-inch pizza. Its size doesn't allow you to cook extra-large pizzas as the Wisco 561 would.
One of the outstanding features of the oven is that it has an auto shut-off timer to allow you to cook without the fear of over-baking the pizza. The auto shut-off features also allow you to carry out other tasks side by side without the fear of forgetting to turn off the oven.
The design of the oven also incorporates an anti-skid functionality, which helps to place the oven firmly on the rack.
Temperature Range and Production Efficiency
This pizza oven's temperature range is comparable to that of an electric pizza oven. It has a temperature range of 160 to 525 degrees Fahrenheit. So, besides pizza, you may cook your custom meals.
Since it has a good temperature range, the pizza can get ready in 8-10 minutes.

Another primary reason to have this oven can be it uses less energy. It has a 1450W energy requirement with the help of 14 amps. Therefore, for RVs and apartments, it makes a perfect choice.
This pizza oven can smoothly bake a 12-inch pizza every 10 minutes to let you cook 6 pizzas an hour.
Compact design
Weighing 14 pounds and having the dimensions of 19 x 16 x 7.5 inches, it's easy to handle and convenient for a traveling family. So, have it on your trip or camping site. It'll be your companion.
Easy to clean
Since the oven comprises stainless steel, it's easy to wipe the steel after you're done cleaning. The removable crumb tray of the oven collects all the crumbs and pieces during the baking process. Hence, you enjoy worry-free baking.
Pros
Lightweight and portable
It's user-friendly.
It's cheaper.
Cleaning is easy.
The temperature range is perfect for letting you cook fresh dough pizzas.
Cons
The oven is less durable than other ovens.
It can get hot outside to cause you to worry.
The oven's timer can stick or stop working.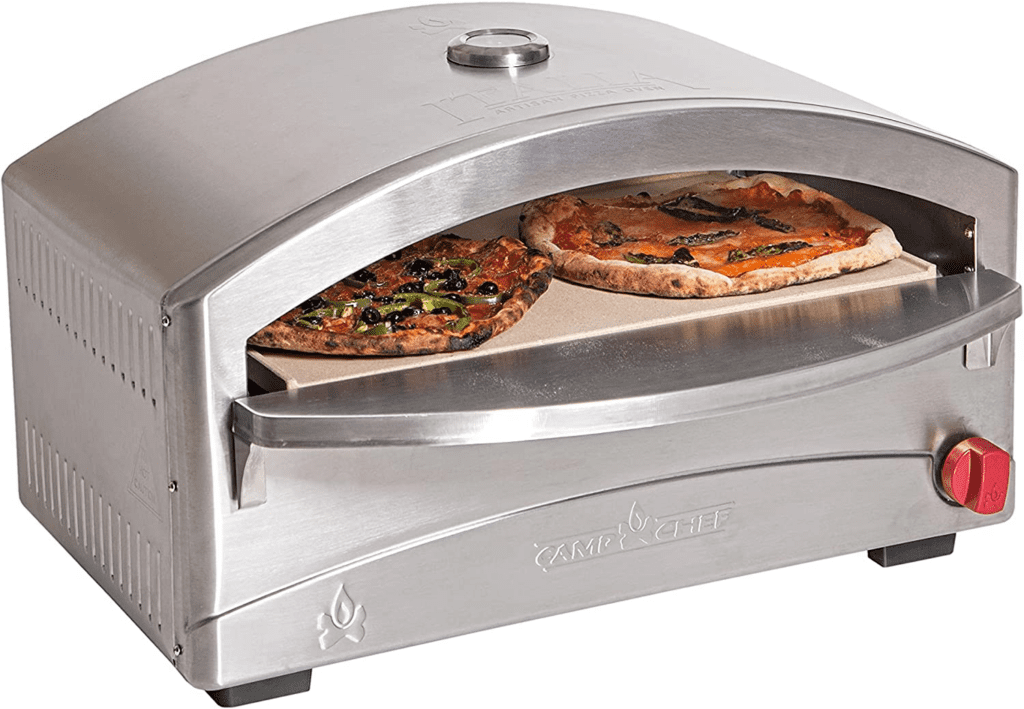 This oven is one of the better options for people who use propane as an energy source in cooking appliances, even though it's an outdoor pizza oven.
Best Time and Temperature Range
One of the outstanding features of this oven is the incredible temperature range it provides.
This oven can reach up to 700 degrees F to make a well-cooked pizza of unmatched quality. Thanks to the fuel type that burns to give optimum temperature. Thus, in no time, you can cook pizza one after another.
Economical Choice
This oven is one of the better options available if you're in the market for a low-cost oven. This oven uses propane as a fuel, which is an economical option for business owners running commercial ovens. It only requires one pound of disposable propane bottle and lasts long, making it one of the better options for among the best countertop pizza ovens.
Production Efficiency
One of the other advantages this oven has over the others is that it can simultaneously produce two 12-inch pizzas. So, for your large gatherings, it will be a pizzeria in every way.
However, the oven may not be suitable for use in high-temperature settings.
When the temperature rises above a certain point, the bottom might burn. And thus, keeping it on a table without a mat can damage the surface underneath.
Medium Sized and Portable
This oven lies in the middle of the spectrum regarding its dimensions and weight. While it's not as light as the previous ovens mentioned, it's one of the lighter options available for countertop ovens.
It weighs around 47 pounds with dimensions of 30 x 19.5 x 18 inches dimensions. However, have it if you don't mind carrying it with you on your camping sites or placing it permanently on your kitchen counter. You won't regret it.
Ease of Cleaning
As it's made of stainless steel, all the stains on the oven can be easily wiped off, making it easy to keep the oven clean.
Pros
Easy to use
Easy to clean and maintain
Economical fuel usage
Highly durable
Compact build saves space
Cons
This oven might not be suitable to use at a high temperature.
It's not for indoor usage, and the manufacturers have disapproved of such usage, despite some users claiming it is used indoors safely. However, for your outdoor kitchens, it can be your best countertop pizza oven.
At high temperatures, the bottom might burn.
It needs more fuel supply to burn constantly.

Here comes an unconventional piece of art and technology among our best countertop pizza ovens that stands out because of its unconventional design and utility. The Presto 03430 is specifically made to make frozen pizzas with delicious crispy crusts.
Unique Design
This pizza oven has a uniquely captivating design. The disc rotates to cook your pie evenly under the super-efficient heating elements.
Weighing only 7.6 pounds with dimensions of 15.8 x 14.5 x 10.3 inches, it's ideal for tiny houses, apartments, and RVs because of its compact size and portable design.
Ideal for Frozen Pizzas
This pizza maker is fantastic for cooking frozen pizzas at an average temperature of 375 degrees Fahrenheit.
It has a dual heating system that bakes food from top to bottom. It also has a rotating disc that ensures the pie is evenly cooked. You may manage the heating components on the top or bottom by utilizing both or switching between them. However, it has no option for temperature control. Therefore, you can also use it for other custom baking, but this 1,235-watt machine may not be suitable for hand-tossed fresh dough pizzas.
You can control the top heating elements' temperature and set the timer.
Overall, from frozen to fresh pizzas, the device claims to cook all, yet the truth is, it would only happen if the pie is thin.
If you love thick-crust pizza, your pizzas will turn out soggy and chewier than crispier. So, have it for Neapolitan-style pizzas instead.
Highly Practical
Apart from claiming to cook fresh pizza, the rest of the claims about this Presto pizza maker are true. You can easily prepare cookies, toast cheese bread, make grilled cheese, and reheat leftovers. As a result, any beginner who craves frozen pizza every day may get one.
Easy to clean
The design of this oven makes it convenient to clean and maintain the oven. You can easily clean the non-stick rotating pan by wiping it with a clean cloth or washing it with water.
Pros
The machine is portable.
It's easy to use.
The pizza maker is highly durable.
A one-year warranty saves you from any lousy experience.
Cons
It isn't ideal for fresh dough or thick crust, high-loaded pizzas.
The customer service is less responsive.
The pizza maker has no power button, so it must be plugged in on and off.
Since it has no power button, using the machine away from the plug can be problematic.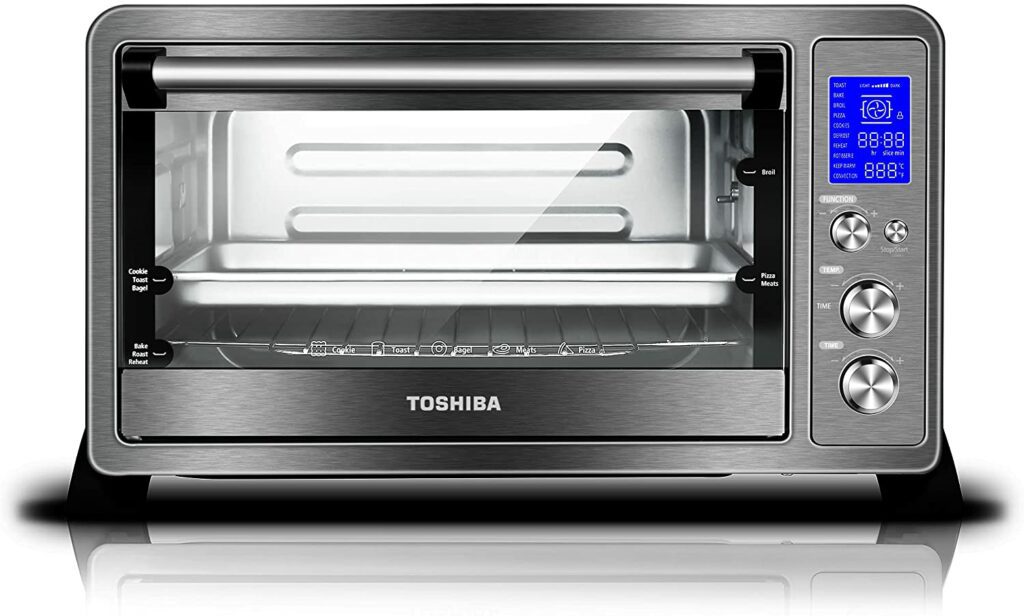 This incredible unconventional oven by Toshiba is unlike the rest of the ovens mentioned above. It's a toaster oven that runs on electricity. It can cook pizzas and allow you to cook or bake whatever you want.
The exceptional quality of this pizza oven is that it costs a little over 100 dollars and allows you to bake unlimited pizzas for a good couple of years.
Here's our review of this oven
Smooth Finishing and Sturdy body
This best countertop pizza oven is one of the premium quality pizza ovens. It has a black stainless steel body with a matte finish adding a minimalistic premium look.
The oven includes two racks: one at the bottom for baking, roasting, and reheating, and one at the top for warming, baking cookies, and toasting bread slices. The top rack allows you to bake frozen or fresh pizzas.
The upper side of the front glass window includes a handle that prevents the glass door from striking the counter when opened.
Complete Digital Control on Cooking
The oven has 4 control options that let you choose between the power, time, temperature, and cooking functions. The digital display allows the user to overview the cooking operation.
Hence, the unit is highly user-friendly and has an uncomplicated interface to make usage convenient for a beginner.
Regarding the temperature range and heat distribution, it has a temperature range of +/- 20 degrees, which is why the food should not be left unattended while operating this oven. Learning to operate this machine is easy; once it's mastered, using this oven becomes smooth sailing.
Pizza Making Efficiency
The pizza-making efficiency of this oven is exceptional. It can produce 12 inches of pizza every 10-12 minutes. Frozen pizzas can come out even faster.
Fresh pizzas, on the other hand, may take a little longer. If you warm the oven to 400 degrees for 18-20 minutes before putting the pizza in, your 12-inch pizza will be done in 20 minutes. It'll not disappoint you with a chewy, undercooked crust like any other countertop oven.
You may cook your pizza at a higher temperature to make it cook faster. Similarly, a thick pizza might take an extra 2 minutes to cook. In short, the pizza-making mode is quite pleasant, and that is what you're here for!
Remember that the Toshiba pizza oven can only reach 425 degrees Fahrenheit.
Additional Cooking Options
The incredible feature of this oven is the versatility it provides. Besides producing restaurant-like pizzas at home, it can roast your chicken, cook fish filet, reheat your pizzas and prepare lasagna.
The rotisserie option is quite excellent. Everything works fine except that you have to learn the temperature variations.
Easy to Clean
Cleaning this most exemplary countertop pizza oven is a breeze. And Toshiba has focused explicitly on it. First, the interior is non-stick, making it easy to wipe away the drippings from roasted poultry or pies. Second, the crumb tray is excellent for catching spills.
Price
This oven by Toshiba gives you a great bang for your buck. For comparison, a twin toaster convection oven from Breville would cost you twice as much as this masterpiece from Toshiba.
You gain ten times the value within the $200 or somewhat above. This item comes with a one-year warranty, ensuring you will have a pleasant experience.
What can be the area of concern for this oven?
When we talk about this oven as a pizza maker, it performs admirably. The primary area of concern that should be kept in mind while purchasing this oven is that its temperature control can be awful occasionally.
Pros
The quality and features at this price range are incredibly competitive
Many dishes may be cooked, baked, or roasted with remarkably consistent heat.
The pizza oven is easy to maintain.
It fits well within your budgetary restrictions.
A one-year warranty makes it valuable.
Cons
Temperature variations of up to 20 degrees exist in the oven.
The accessories are not included in the package, so you'll have to pay for them.
Customer service can be disappointing at times.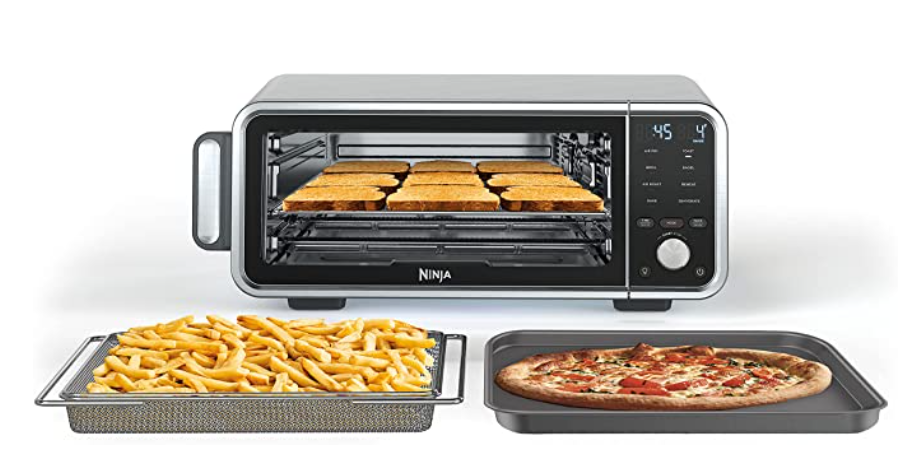 This multifunctional countertop oven is excellent for people who'd love to make fast food for themselves. With its competitive price range, incredible versatility, and optimum cooking performance, it's one of the best purchases a beginner experimenting with cooking can make.
Versatility
This oven by Ninja is not only great for cooking pizzas but can also fry and bake many other items. It has an 8-in-1 versatility since it can air fryer roast, bake, broil, toast, bagel, dehydrate, and keep warm. This all-in-one versatility makes it an ideal appliance for homes where pizza-making isn't the only use for the oven.
Lower Fat Option
Compared to traditional deep frying, the Air Fry option allows you to eat all your favorite air-fried foods guilt-free and with up to 75% less fat. Hence, besides making your pizzas, it also takes care of your health when you use it for other recipes.
Highly Efficient
The Ninja SP201 can cook up to 60% faster when compared to a full-sized electric oven. It's also incredibly efficient in that it can air fry and roast 4 lbs of ingredients, bake a 13" pizza, and toast up to 9 slices of bread.
Easy to clean and maintain
The stainless steel build makes it easy to wipe off any stain left during cooking. The removable crumb tray also makes removing excessive crumbs left during baking.
Compact and ergonomic design
The design of the Ninja SP201 is such that it can fit a whole 2lb roast while occupying the least space possible. Weighing in at around 21.1 pounds, the oven is also easily portable.
Pros
Multifunctional and versatile
Good bang for the buck on the functionality
Large size allows cooking of family-size pizzas.
Digital technology allows precise temperature, heat source, and airflow control.
Cons
It gets pretty heated while in use. So, you have to be careful not to touch the exterior.
Customer service might be unresponsive at times.
The instruction manual is hard to follow when you want to enjoy the versatility of this oven.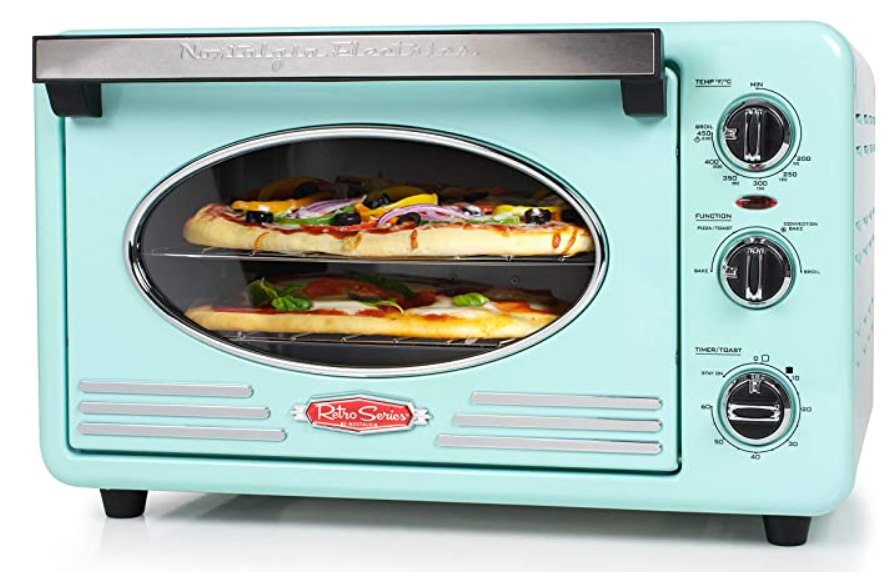 In our list of best countertop pizza ovens, we've reviewed this large retro-style oven by Nostalgia that allows you to cook up to two large pizzas and other large meals at a time. It's what makes it ideal for large families. While it's large compared to the different ovens mentioned here, its size provides excellent utility.
Large Capacity
Its large, 0.7 Cu. Ft. capacity can hold up to 12 pieces of bread or two 12-inch pizzas simultaneously. Likewise, you can prepare many casseroles, steaks, pastries, and other delicious dishes.
Multifunctional Oven with Adjustable Temperature Range
This oven allows you to choose between your desired settings – baking, Toasting, Convection Baking, and broiling. Similarly, it offers a temperature range of 200 to 450°F that may be adjusted and four heating stages: upper, lower, upper and lower and off. So, what recipes can't you try with it under the sun?
Built-in Timer
The 60-minutes ranging timer will sound when the food is done, and the Stay-On option allows you to bake for an extended period. Ah, it's so easy.
Move around, do household chores, or read a book. You'll never have to worry about the overcooking of your food.
Easy Monitoring and Cleaning
Its see-through, high-temperature-resistant glass pane and stainless-steel handle let you monitor your food while it cooks.
Not only does this oven make cooking a breeze, but it also has removable baking pans, wire racks, and crumb trays, which make cleaning it a breeze.
Pros
Large capacity to make up to two 12-inch pizzas
Multifunctional, so can cook many other items besides pizzas
Has a built-in timer that prevents from overcooking and burning the dish
Great design that allows you to look at the food being cooked as well as enables you to clean up the stains easily after cooking.
Cons
The build is not premium, with the oven door being lightweight, and the handle can lose its color to make your oven ugly.
The door might have a problem shutting completely up after use because of the material quality.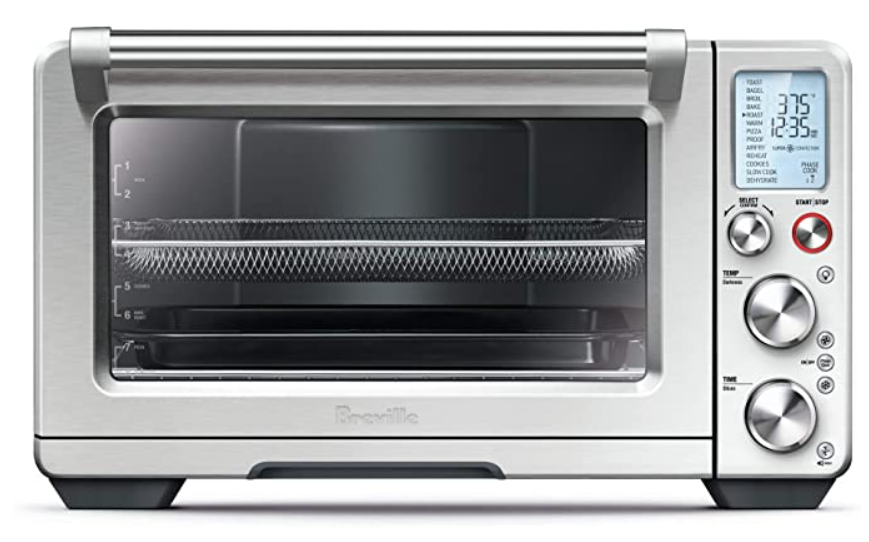 The Breville Smart Oven Air uses an element iQ System to create an ideal cooking condition. Its sensors and digital temperature control create the ideal cooking environment that makes sure the food is evenly heated.
Element IQ System
Smart algorithms steer power to where and when needed to produce the optimal cooking environment using 6 independent quartz components. Sensing technology and computerized PID temperature control avoid cold patches for precise and even cooking.
Super Convection Technology
The oven has a two-speed convection fan (super and regular) for better cooking control. Super convection circulates a larger volume of hot air, ensuring quick and equal heat distribution, ideal for air frying, dehydrating, and roasting. And yes, it cooks the pizza!
Multifunctional Features
This oven provides 13 different functions that can help you in cooking anything. The 13 cooking functions are; Toast, Bagel, Cookies, Broil, Air Fry, Bake, Roast, Warm, Pizza, Proof, Reheat, Slow Cook, and Dehydrate.
Interior Oven Light
The integrated oven light turns on automatically at the end of the cooking cycle to let you see inside; you can use it at any moment to track your progress. Like a conventional big oven, the components are replaceable.
Extra Large Capacity
With the dimensions of 17.5 x 21.5 x 12.7 inches, it has the capacity for 9 slices of bread, a 14-pound turkey, air frying French fries, and slow cooking with a 5 Qt Dutch oven. It's large enough to fit most 13-inch pizza stones or pan and 12-cup muffin trays.
Pros
The extra-large capacity allows you to cook more than most other units.
The Smart oven features allow to use13 of different cooking functions and help reduce the cooking time by 30%.
Cons
While it may be functional, all the functions might not be up to the mark. For example, the air frying feature might not meet the user's expectations.
It's not the cheapest option for this appliance, but the product justifies the price.
How should you Choose the Right Countertop Pizza Oven?
Here are a few factors that one should consider while they're looking into buying a pizza oven:
The Pizza Type
Pizza has different types, and each is made well in different ovens. Some pizzas need a wood-fired oven, while others require an electric oven. For example, deep-dish pizza might be challenging to get out of an electric oven perfectly cooked.
In contrast, a thin-crust pizza can come out fantastic. So, a gas-fired oven like Campchef can be better for heavy toppings. Yet, any top-performing pizza oven can make a good choice for your frozen dough pizzas and Neapolitan treats.
Your Pizza Needs
Not all ovens produce the same size or amount of pizza. One should look into the oven's capacity and compare it to their needs to make a better decision. For example, if you have a large family, a small countertop pizza oven like Presto can earn you nothing but regret. Likewise, the pizza oven of Wisco or Goplus can be extravagant if you cook pizza for your small family or not so often.
The Space
It's essential to look into the oven's space and make sure it fits your requirements. For example, sizeable propane or electric pizza oven can be for a big kitchen. Those who live in an RV, a tiny house, or an apartment, on the other hand, may need to make a more compact choice.
Price
Price is one of the top factors to affect your decisions. You might like to make a budget choice, yet you have to spend your valuable time calling customer care when a problem occurs. So, keep it second and pick a better pizza oven that cooks more efficiently and lasts much longer.
Warranty
Price or warranty, which should one prefer? Obviously, a warranty ensures that you can trust the brand. So, please be careful before hitting the buy button and pick your best countertop pizza oven with a warranty.
FAQs
Which oven is best for making pizza?
If you're willing to spend extra bucks, the Wisco countertop pizza oven is more reliable for performance durability.
What is the best countertop pizza oven for the money?
For budget buyers, the pizza maker from Presto can be highly satisfying. It's versatile to let you cook some other snacks as well.
What is the most versatile countertop pizza oven?
Breville BOV900BSS The Smart Oven Air Fryer, Countertop Convection Oven is a fantastic unit that will save a lot of money that you could spend on an air fryer, oven, or pizza maker. If you already don't have an air fryer and oven, have it; besides cooking pizza, it'll meet all your cooking or baking needs.
Yet, if you want to spend less, you can also check the Ninja SP201 Digital Air Fry Pro indoor pizza oven that will let you enjoy dozens of homemade pizzas besides other recipes.
Final Thoughts
Thinking about a pizza oven is a great idea, but hunting for the best countertop pizza oven can take your experience to the next level. In addition to pizza making, your right choice can offer you more versatility than expected. Take your needs into account and get your pizza oven.
So, which did you like the most? Let us know in the comment section.
mama-cucina.com is a participant in the Amazon Associate program and will earn from qualifying purchases.