Are you hunting for the best toaster ovens for pizza? Then you're at the right place. This guide will help you decide which toaster oven should be best for cooking pizza. 
Moreover, we have listed the 10 best toaster ovens to make things easy for you. And we've also reviewed them. 
How? We've consulted hundreds of real-time users' experiences in view, evaluated the toaster oven's performance, and decided on the premium quality ovens among them. So, this article will be helpful for you to make the ultimate decision.
Without any ado, let's get into the meat of the article. 
Best Toaster Ovens For Pizza with Complete Review
The best toaster oven can do more than what a pop-up toaster can do. It can bake cookies, delicious pizza, and other meals as well. 
We have selected the 11 best toaster ovens with great cooking features, proper temperature, and convenience of usage.
Here are the best toaster ovens that you can consider adding to your home kitchen.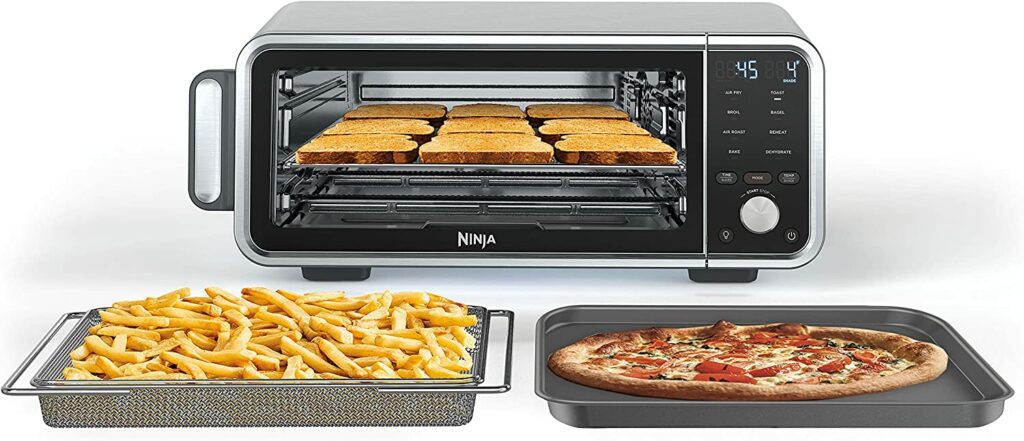 Among our top picks from best toaster oven or pizza, another toaster oven specializes as a toaster oven for air fryers the food but bakes pizza with excellence. 
Design 
This digital air fryer toaster oven from Ninja is the best pizza maker for small kitchen countertops. The dimensions are 20.21 x 15.33 x 8.15 inches. The unique design takes less than 45% space when you flip it up after cooking. 
You can even store it in the cabinet to claim the space on the shelf. The screen goes "hot to flip, "showing that the unit's cool down and you can flip it. 
It's important to note that this hot flip cool-down process takes a while. It also comes equipped with an intuitive and easy-to-navigate LCD touchscreen display.
The entire build is stainless steel, which makes it more robust. You don't have to worry about breaking or scratching any part while flipping up or storing in a cabinet. 
Performance 
This oven by Ninja has digital crisp control technology, which provides even temperature, heat, and airflow for optimum cooking. 
Hence, it's perfect for well-done pizza, frozen burger patties, frozen corn dogs, etc. However, you can't cook anything high like a roast or a chicken since it'll not fit.
This model can toast six slices of regular bread evenly. However, it takes a longer time than a regular oven for baking.  Therefore the pizza oven is only for frozen pizzas, but not a fresh-dough pizza. 
The amazing thing is the preheat period only took around 20 seconds with a mighty 1800 watts of power. 
The small ninja machine can do multiple jobs. It has eight cooking functions: air frying, air roast, Bake, Broil, Toast, Bagel, Dehydrate, and Keep Warm in an all-in-one.
Ease of Use 
It has a straightforward and intuitive control system. Everything cooks up quicker and better while using way less power.
Cleaning 
When it comes time to clean up, many find it difficult to clean it thoroughly from the inside of the oven because of its design and small size. 
Accessories 
This air fry toaster oven is a value for money appliance with helpful accessories that make your cooking experience more convenient. 
The toaster oven comes with the following accessories:
Air fry basket
Sheet pan
Wire rack 
Crumb tray
The exterior of the air fryer toaster oven gets hot while operating, and one could easily burn themselves if not careful.
This model has few design flaws, but it cooks everything perfectly. 
 Pros
Even Heating for an evenly cooked food 
It's suitable for frozen pizzas.
Remains quiet while operating 
It has a compact and sleek design.
1-year warranty
 Cons
Too Small 
Difficult to clean
Expensive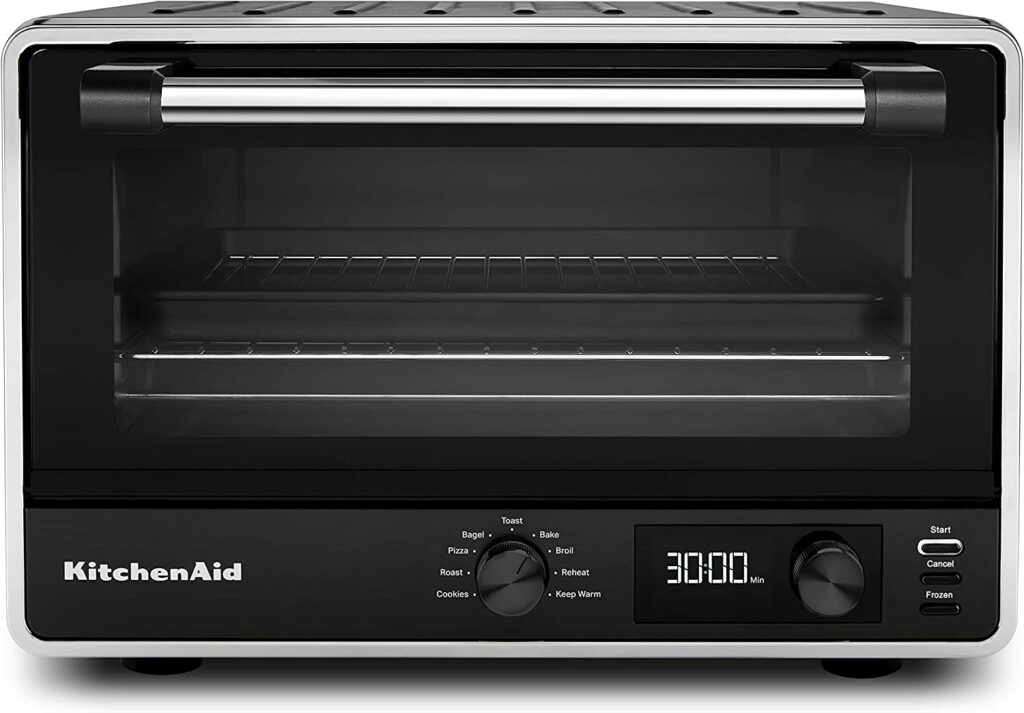 Here comes an excellent pizza toaster oven from KitchenAid among our list of the best toaster ovens for pizza. Several buyers rave about KitchenAid's small footprint. And that's precisely why we choose this as an excellent toaster oven for your kitchen. Let's break down its features:
Design
KitchenAid KCO211BM is a sleek, stylish design and quick toaster oven.
It's 11.25 inches tall and 16.75 inches wide, and 13.5 inches deep, not including the handlebar on the door. The internal toaster oven's dimensions are approximately 8.5H x 15W x 12 3/4 D.
Don't fall for its small size. The oven has double the capacity compared to many mid-range models at this price. 
That being said, the manual says to allow 4″ clearances on the sides and back. Always measure your space first, so you get a more precise idea if the toaster oven is set on your countertop easily or not.
Performance 
Take the guesswork out of cooking because the one knob of the KitchenAid digital toaster oven controls the temp, time, and toast shade. 
It has a pizza cooking function and nine other preset cooking functions: bake, roast, broil, toast, warm, reheat, bagel mode, any cookie mode. Plus frozen options as well. 
The KitchenAid digital countertop oven also has other standard functions, such as its working as a dehydrator and bread proofing. It also works as an air frying unit, and results are pretty good compared to standard air fryers from other brands. 
Simply choose the convection setting and set the temperature maximum; this oven will become a giant toaster oven air fryer to cook your pizzas. Bingo!
Easy to Use
The KitchenAid digital countertop oven runs quiet and heats quickly. The controls are simple to use. 
It comes with a digital display which makes it easy-to-read at-a-glance updates on cooking progress. A light comes on when food is inside so you can monitor what's happening.
Its 1800W means it can plug in any regular kitchen outlet. 
Cleaning
It's easy to clean up any spills with this KitchenAid toaster oven because of the non-stick interior. It also has a crumb tray, so if you're cooking crumbly items, you won't have difficulty cleaning the mess on the bottom of the oven.
Accessories 
It also included all these accessories in the package. So you don't have to spend extra bucks to get it. 
Baking Pan 
Grill rack
Metal drip 
Crumb tray
Metal racks 
The downside of this model is that it has poor insulation, making the exterior warm while the oven is running. At 450F temperature, the sides of the KitchenAid digital countertop oven go up to 180F and the top at 113 F.
Pros
It heats up quickly to cook pizzas.
Versatile
Easy to clean
Easy to operate
 It comes with a one year warranty.
Cons
It does not have a convection setting.
Exteriors get extremely hot.
Difficulty with changing the presets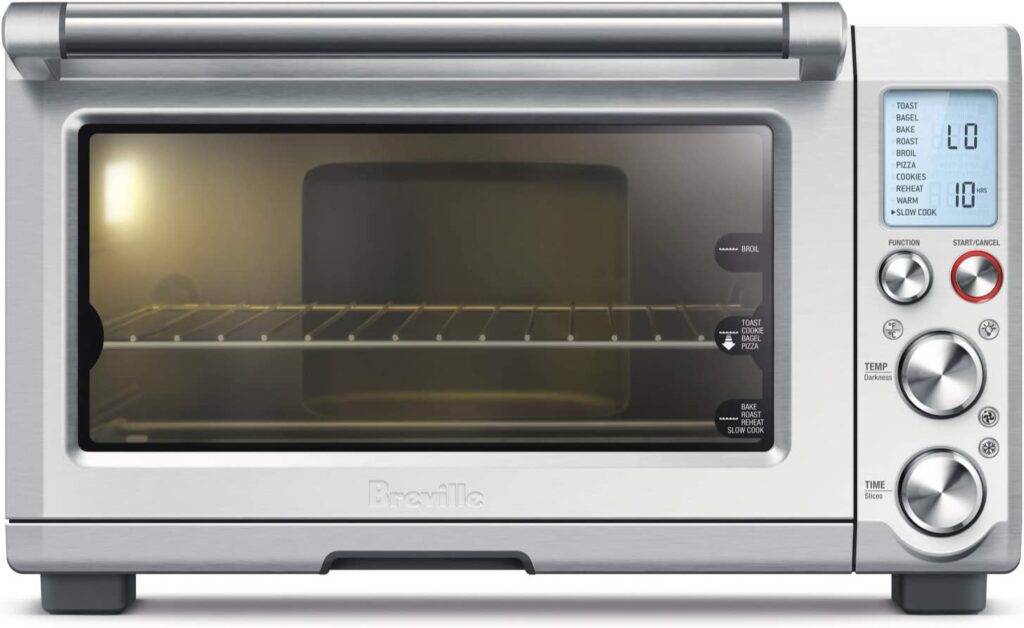 Breville toaster ovens are always up to the mark, whether it's about cooking pizzas, loaves of bread, or turkey legs. With its top-notch design, excellent performance, unique intelligence, excellent features, and more extensive interior, Breville BOV845BSS makes it the best toaster oven. 
Design 
This versatile, Breville smart oven is also Amazon's choice. The dimensions of this enormous oven are 18.5 x 14.5 x 11, and 22.8 pounds of weight. Yes, that's one heavy unit. 
But given the enormous size, it benefits you by accommodating several pieces of bread or a 12 inches pizza that fits inside. Also, the build of this model is enormous. So, this big man might not be the most practical option for a small kitchen. 
It has an easy-to-use interface. You get a large display on the oven with two big knobs for temperature and time setting. 
Breville is a robust appliance for your kitchen, made with brushed stainless steel. The material of this smart oven is robust and, if maintained properly, can last for years. 
Performance 
Thanks to its exceptional temperature accuracy, this versatile Breville toaster oven can replace a conventional oven. The 13 cooking functions cook meals with perfection: toast, bagel, broil, bake, warm, pizza, roast, reheat, air-fry, cookies, slow cook, and dehydrate. 
It keeps the pizza crust delightfully crispy while keeping the chicken moist, and toppings are well-baked. 
The temperature feature is top-notch. Even at 450 F degrees, it impressively rises within seven minutes of turning it on. Hence, when looking for the best toaster oven under $400, this versatile Robo can be yours.
Ease of Use
Breville provides seamless user experiences for all kitchen products, and this smart oven is no exception. The door of this model has a set of magnets inside, so when you open the door, it pulls the top rack out a few inches, which makes it easier to handle the hot side with a potholder. 
The best part is the control panel. It has a giant LCD screen that shows temperature, and you can read it from a distance while being busy.  
Cleaning 
Breville also has a deep and removable crumb tray, making it easier to dispose of all crumbs that flake off your food while cooking. Hence, the cleaning is breezy.
Accessories 
Breville toaster oven comes with the following accessories:
Oven Rack
Enamel Pan for baking
Enamel Broiling Rack 
Non-Stick Pizza Pan
On the downside, some customers have complained that their toaster ovens' door glass exploded. But again, the manual comes with explicit instructions to prevent it. 
It clearly says that the toaster ovens should be 4" away from anything from all sides and 6″ from above. So, apart from user's unawareness, the oven is great to amuse you with perfectly baked pie.
Pros
Excellent temperature accuracy
Great all-around cooking performance
The bevy of cooking modes and built-in timer
User-friendly
1-year warranty
Cons
Need a 2500 watt inverter 
Expensive 
Not ideal for small kitchen countertop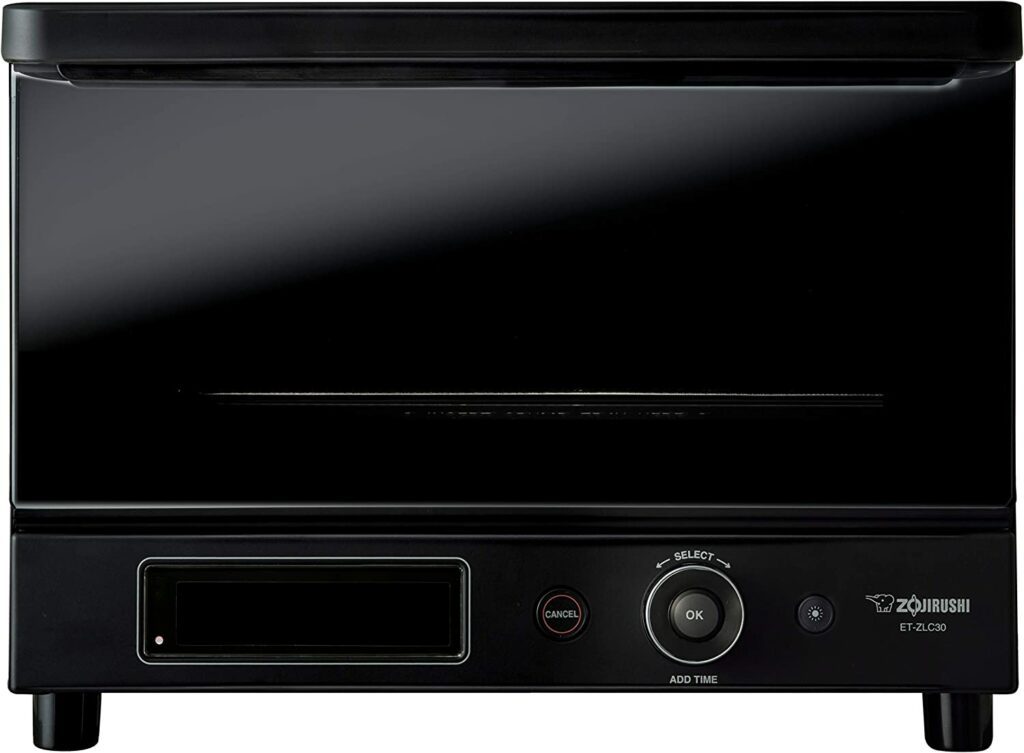 This best toaster oven by Zojirushi has the best design and layout, plus it cooks food with perfection. And how can it bake or cook for you, would you like to know? Let's read the review.
Design 
This Micom Toaster Oven (ET-ZLC30) by Zojirushi gets full points for the sleek, stylish, and streamlined design. The unit is made of glass with a compact footprint that takes less counter space. 
It has a wide monochrome LCD with VA (Vertical Alignment) technology on the display of the toaster oven. The VA LCD makes it convenient to read white on the black test.
The screen stays dark when the oven is turned off, complimenting the mirrored glass design that seamlessly fits in any kitchen setting. 
The exterior of this unit is 17″H x 19.375″W x 18″ D and interior 13.25'' H x 13'' W x 5'' D with 1535 watts' power. It's built of BPA-free material. 
It has a one-year warranty, but this robust oven can last longer if maintained properly.
Performance 
The Zojirushi pizza toaster oven features an automatic rise-then-bake feature for baking pizza perfectly. This feature first proves the dough for the second rise and then automatically switches to bake mode. 
The precise micro computerized temperature cooks food with perfection. It has eight heating elements for even heating control. Besides this, the oven includes double thermostats to ensure the oven does not overheat while functioning.
Further, this model includes 12 versatile cooking functions: toast, bagel, pizza, cookie, bake, roast, broil, homemade, rise, timed toast, reheat, and keep warm. You can also manually change the temperature instead of using a preset for each cooking function. 
Ease of Use 
The oven has a user-friendly display. Also, the unit has an interior light with a 30-second timer that illuminates the range so you can check the doneness of food. 
Cleaning 
The oven has a glass exterior which is easy to clean. The interior has a slide-out crumb tray that catches all the crumbs that pull off while cooking crunchy items. Hence, your baking process ends with pain-free cleaning.
Accessories
The accessories that you can get with the Zojirushi toaster oven are:
Mesh rack
Baking tray 
Broil tray
It's a big oven but a little slow to heat and toast compared to other products on the line. So, it might not be a brilliant choice for fresh dough pizzas.
Pros
Stylish Design 
Well Insulated 
Intelligent Heating for an even cooking
Quality construction along with sleekness to ensure easy cleaning and durability
Standard warranty of one year
Cons
Take time to heat up, and thus it cooks slowly.
Short Power cord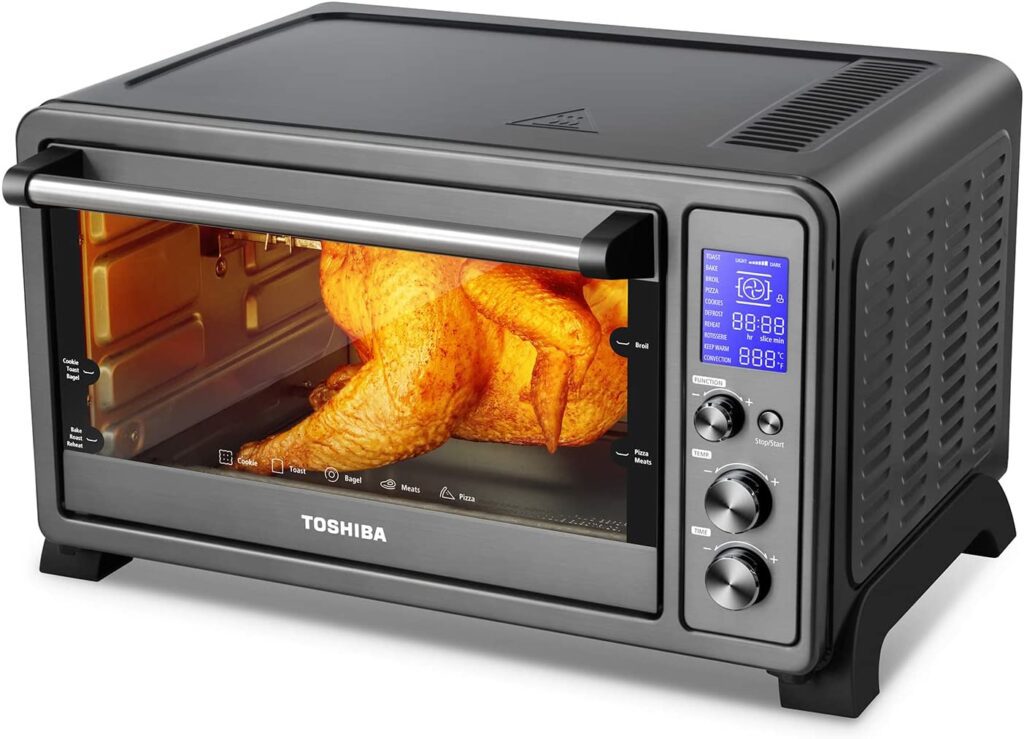 Cooking is always fun when you reduce the stress and hassle of the process. Toshiba provides that stress-free cooking experience, especially when it's about cooking pizzas. Why not get into the review details?
Design 
Toshiba also keeps up with stainless-steel competition and has a better sturdy stainless steel build than most expensive toaster ovens. 
It appears short and squat. Yet, it has a large interior to accommodate six bread slices and a 12-inch pizza easily. 
It has three knobs on display to adjust time, temperature, and cooking function settings. With the cooking function knob, you can adjust between 9 preset cooking modes.
The dimensions of the exterior are 18.98 x 15.6 x 10.79 inches. Amazon buyers have rated it 4.6 for superb durability. 
Performance 
The cooking function is so versatile you can toast, bake, broil, defrost, reheat, and keep foods warm—moreover, specific settings for pizza, cookies, rotisserie meats, and a convection option. 
It gets hot quickly and cooks evenly with two heating elements and a convection fan.  
Convection fans work well and are quiet. You can even roast chicken using the rotisserie function; it revolves around slowly and gives nice browning and crusting.
The temperature ranges  from 150 to 450 degrees. What a treat for pizza makers!
Other brands come with a clear warning not to use an oven beneath the cabinets to avoid the danger of string fire. Sadly, Toshiba doesn't come with such a warning. However, the manual warns to keep the toaster oven at least 5 inches away from flammable materials such as cabinets, drywall, etc. 
So, be careful and take proper care to enjoy your pizza maker lasting a long time.
Ease of Use
Toshiba's toaster oven is a user-friendly, mid-sized toaster oven. It has high-end but straightforward controls that are easy to use. Easy to read digital screen with a simple knob layout. 
The rack position is flexible; you can adjust it to cook multiple types of food. 
The door is also designed nicely to get open and shut easily, and does not lose much heat. 
Cleaning 
Cleaning can never be easy with gadgets in the kitchen. Yet, this oven has proven airy. The interior is entirely non-stick, easy to clean after every use. It also includes a crumb tray. Resultantly, all goes well in the end. 
Accessories 
The Toshiba toaster oven comes with the following accessories:
Baking pan 
Baking rack 
Crumb Tray 
Air fry Basket
Shortcomings? Customers have complained that the tossing function is not appreciable. It takes over 2 minutes and is still barely toasted or changes color. 
Pros
Digital preset for simple operations
It cooks food evenly through proper heat distribution.
The cleaning is easy.
Durable built 
Warranty
Cons
Knobs have to be set every single time.
Wire rack easily slips out.
The grill pan gets burnt out sometimes at high temperatures.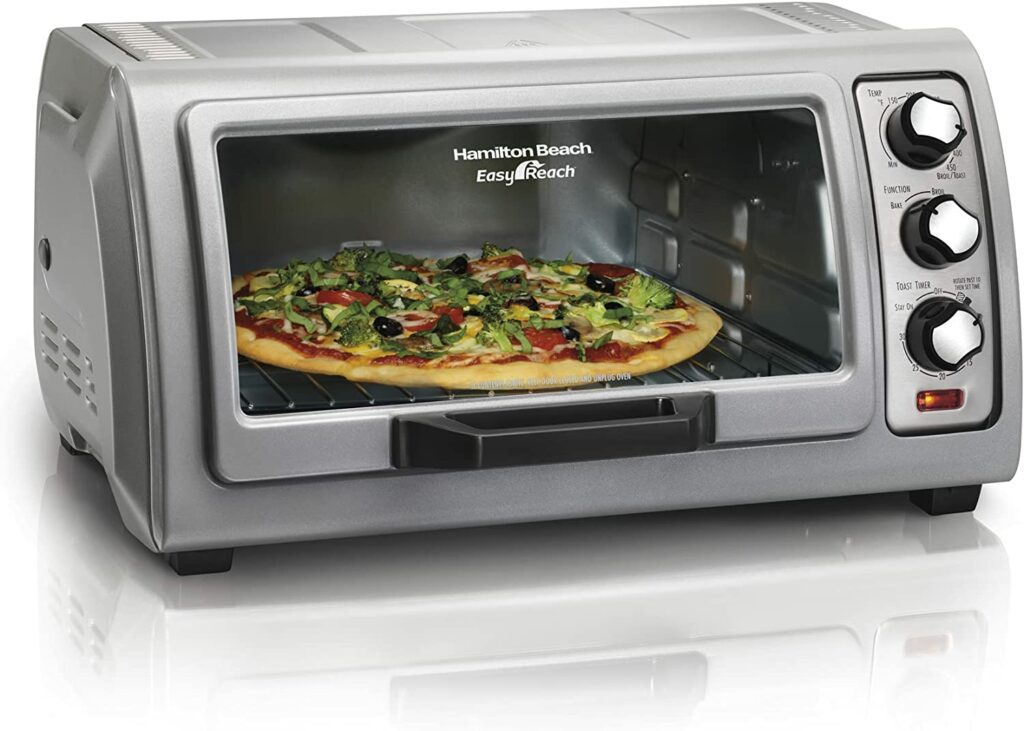 The affordable and small-size Hamilton Beach Countertop 31127 toaster oven is ideal for those who want something simple. 
Design
The dimension of this innovative design Hamilton Beach toaster oven is 15.24 x 18.74 x 9.41 inches. It weighs only 11.4 pounds.
It comes with a roll-top door that makes it easy to put in and takeout food. Hamilton Beach's small size makes it ideal for a kitchen with limited counter space like RVs, o apartments. 
While it looks basic, this oven cavity is spacious enough to fit four slices of bread, a large pizza of 12 inches, 6 bread slices, and a 9″ x 11″ baking pan. 
"Size is right," right? But guess what makes it less desirable?
The thin material and longevity susceptibility. What could you get under such a nominal range?
Performance 
The toaster oven by Hamilton Beach has three functions: toast, bake and broil with a temperature range of 150-450.
With the knob, you can change the cooking function, timing, and temperature. Besides this, the auto shut-off feature has a 30 minutes timer and ready bell feature that saves your food and electricity. 
The cooking functions automatically adjust the temperature to the right degree. Additionally, it has to stay on the setting feature to keep the oven in warm mode.
Hamilton beach toaster ovens don't have convection technology like most toaster ovens that we've reviewed. That's why it takes less time to cook a meal than any convection oven. 
It's what makes this oven the best toaster oven for pizza. However, on the downside, it can overcook delicate foods.
Ease of Use 
The door opens above, allowing more space on the countertop in front of the toaster. 
Hence, you can place a dish in front of the oven, roll back the door, and easily slide your food out on the dish. Yet, the temperature dial comes with a learning curve, and often users have been confused about temperature readings. We can hope that, soon, you'll master it with your best cheap pizza toaster oven.
Cleaning 
This tiny guy is easy to clean. With the roll-door, the mess of food spillings reduces.
It has a removable crumb tray, so you don't have to worry a bit even if you spill the food. Remove the tray and wash it separately and slide it back in again. So, what's left? Nothing, grab it and enjoy cooking dozens of pizzas at your home.
Accessories  
You'll get the following accessories free with the Hamilton Beach toaster oven.:
What we like most about the Hamilton Beach toaster oven is the design and convenience. 
Have a quick look at the pros and cons of the Hamilton Beach toaster oven. 
Pros
Easy to Clean and maintain
A wide temperature range and excellent heat leave nothing undercooked, including fresh pizzas.
Inexpensive 
Timer with auto shut off 
One year warranty
Cons
Small Size
No digital controls 
No preset cooking feature 
No convention technology 
Can prove less durable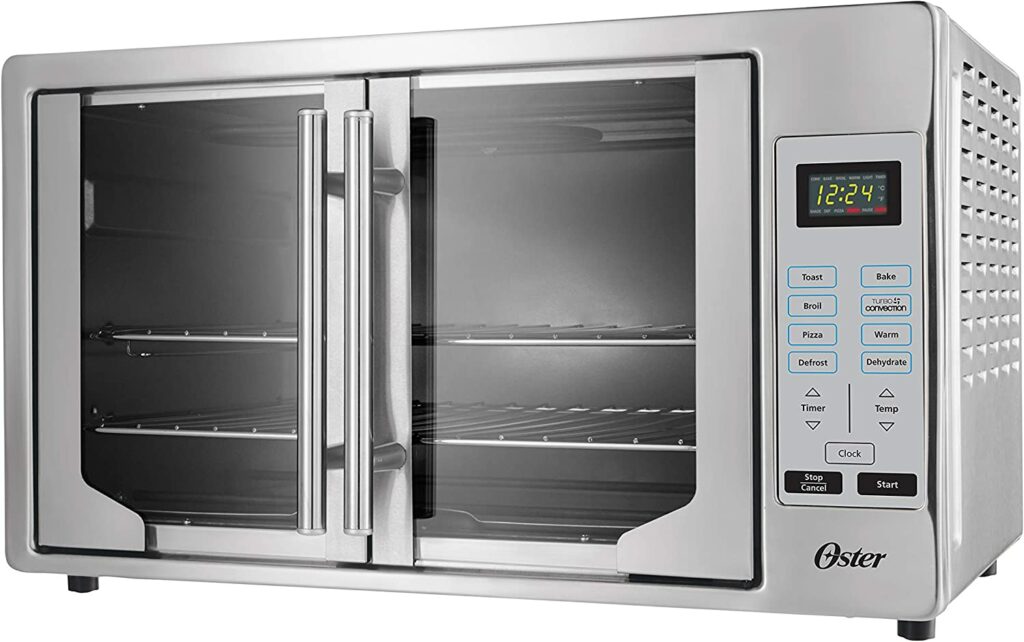 As far as looks go, this countertop oven from Oster has a unique and visually appealing design. Not only this, it can be the best choice if you're a pizza lover. How? Read this review, please.
Design 
The Oster toaster oven is the talk of the town because of its fresh door design you don't find in any different toaster oven. 
Dimensions of this big oven are 23.8 x 20.15 x 15.1 inches″. The toaster oven's exterior is made of brushed stainless steel, and the interior is Teflon. Thus, you get an ease of cleanliness and durability with this oven. 
The best part is, you don't have to worry about opening both doors when you have a dish in your hand because you can open a single door and others open simultaneously, so convenient. 
The best part is, you don't have to worry about opening both doors when you have a dish in your hand because you can open a single door and others open simultaneously, so conveniently. 
The inside of the oven is generously spacious, 15.75″ for width and 16.36″ for depth. It can fit a 14″ pizza easily. 
Performance 
The Oster toaster oven comes with convection turbo technology. The air inside the stove circulates through a convection fan helps to reduce the cooking time by 30%. 
Apart from standard features, this oven includes seven cooking functions: toast, bake, broil, defrost, pizza, and keep warm and dehydrated. 
To start or stop baking, you must press Start or Stop/Cancel twice. The lights turned off COMPLETELY indicate that the oven is off.
Additionally, the Oster toaster oven control has a preset temperature of 150°F (65.5°C) for up to 6 hours of slow cooking. The temperature setting can go up to 450 degrees F to help you cook meals quickly and perfectly with 1500 watts of power. 
It has a 90-minute timer with an auto shut-off feature. Pizza gets brown, or done well with the perfect temperature, and the crust is crispy. You can bake a 14″ pizza in just 15 minutes with preheating.
Sadly the unit has no visibly displayed countdown for toasting. However, it shows shading numbers in quarters that start at four and then automatically shut off. 
Plus, an interior oven light stays on, so you can check on your food as it cooks without opening the door. 
Ease of Use
The Oster toaster oven has a single digital one-touch control button that makes it easy to navigate the different functions to find the one you want, making it user-friendly.
It also includes two tracks that provide maximum cooking flexibility. 
Compared to toasting, baking is more manageable. It takes only 5-7 minutes to preheat before you bake anything. 
And at default, the timer setting is on 20 minutes that you can set to your liking. 
Cleaning 
Like other toaster ovens, the entire outside of the Oster toaster oven is made of stainless steel, and the interior has Teflon coating, which makes cleaning easy. 
Plus, you get a removable crumb tray that you can wash separately. 
Accessories 
You'll get these essential accessories with the Oster toaster oven:
Speaking of the shortcomings, some consumers have complained about the doors that don't stay open; you have to hold them.
Another drawback is that this model's buttons are also a little mushy you have to press them with more pressure, and the cord is pretty short. Overall, the Oster oven provides you with a fantastic value at an unbeatable price tag. 
Pros
Huge Build 
Turbo Convection Technology
Great design 
Dual Baking Rack
Cons
Convention fans cause noise 
Slow cooking
Short Power cord
Doors need full swing to stay opened.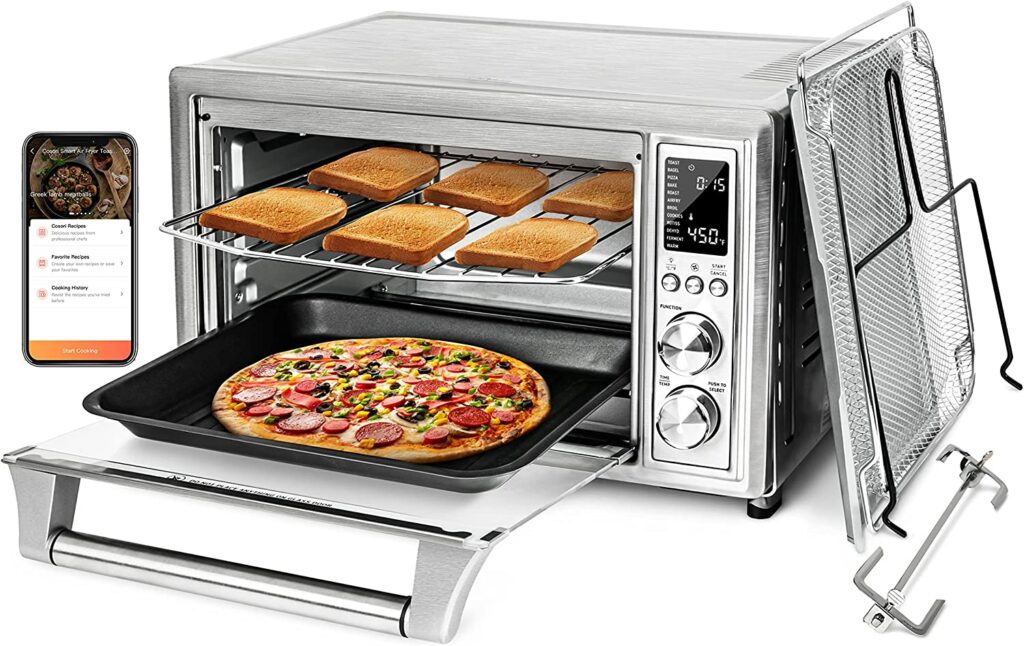 Toaster oven Air fryers are not new to cooking pizzas. Here we've come up with a fantastic air fryer toaster oven from Cosori.
The Cosori Toaster is a smart oven, marketed as an air fry unit and the best toaster oven. 
Design 
When the world is going digital, then why not your toaster oven? This air fry toaster oven by COSORI works with Alexa. Connect it with your mobile and give a command with no manual touch.
This smart oven also has a phone app that works on both Android and iPhone, notifying you when your food is cooked. 
The display includes a large LED, three small buttons, and two big knobs for adjusting the setting. The build is made of stainless steel, which means it's also a durable unit that can stand daily cooking. 
The dimension of this cool toaster oven is 20.1 x 16.5 x 12.5 inches. Think twice before buying it if you have a small kitchen because it's a significantly bigger toaster oven than its competitors.
The air fry basket is large enough to fit a good amount of fries and chicken. It can cook or air fry food for 6 to 7 people with the 32-quart/30-liter air fryer. 
The glass door opens downwards, so you have to be careful not to push it hard so that it might break. 
Performance
As the name says, you can air fry any food in this toaster oven. 
COSORI comes with a wide temperature range. It starts at 100 F degrees, and the maximum temperature is 450 F degrees. 
The COSORI also includes versatile cooking functions. You can choose from Pick from Toast, Bagel, Pizza, Bake, Roast, Air Fry, Broil, Cookies, Rotisserie, Dehydrate, Ferment, or select Warm to keep your food ready to serve. 
You can also air-fry your pizza in this oven—place pizza in an air fry basket and air Fry at 380°F/195°C. It gets hot like other ovens, but not excessively hot. 
Many users have complained that the air fry function works slowly. Yet, the air frying function has got nothing to do with your pizzas.
Yes, it cooks the pizzas well, but it takes too much time to get hot and cook food than other toaster ovens. 
Ease of Use
The Cosori oven features a user-friendly system. This unit has both a digital and manual system for user convenience. You can navigate easily to adjust the time, temperature, and cooking functions through the control knobs. So, don't be confused that Smart ovens can be hard to operate.
Accessories 
Accessories that come with the Cosori toaster oven are:
Multi-layer rack
Air fry basket
Food tray
Crumb tray
Rotisserie shaft
Pros
Multiple Functions 
Double layer rack
Energy efficient
Easy to use 
Cons
Not ideal for small kitchen countertop 
Needs daily cleaning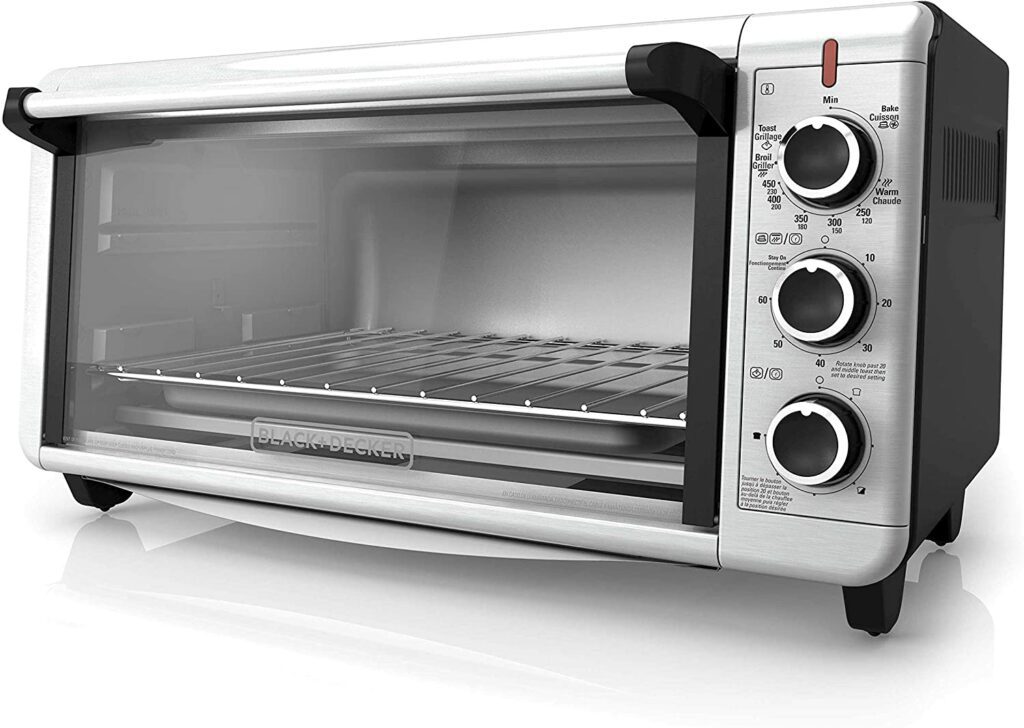 Do you want an excellent but under-budget convection toaster oven? This Black and Decker Toaster oven is for you.
Design 
The dimensions of the Black and Decker Toaster oven are 16.5 "X12.5" X9.5″. 
It can hold 9″ x13″ oven pans. You get the limitation of what you can cook with few cooking functions. However, it cooks most of the meal at this price range.
It contains two rack positions and a wide window to check on your food. 
The toaster oven has three knobs on the display; however, many customers review these knobs are confusing to use as the knobs are not labeled well. 
It works with 1150 watts of power, and the unit requires a voltage converter.
Performance
Unlike other high-end toaster ovens, it doesn't come with many cooking functions. Balck and Decker toaster oven has only four essential cooking functions: baking, broiling, toasting, and keeping food warm.
It bakes well and even without heating the entire kitchen. Usually, it takes 10 to 15 minutes to toast. So, this one is good when you're not running out of time. 
The toaster oven allows predictable shade selection for toasting bread with every use. 
It has a preset 60-minute timer; however, the customer complained the timer stopped working after a few uses. 
Moreover, the convection fan is small and makes some noise while running. The temperature accuracy needs to be improved.
Many buyers have complained that the unit doesn't heat a specified temperature but can jump to more. Such fluctuations can devastate you.
The user finds that the top and bottom heating elements are inadequate; however, the brand counteracted this problem by providing Even Toast technology, which ensures even hot air for toasting. 
Ease of use 
The oven is compact and can fit into a small kitchen easily. Likewise, it has a simple interface. You get a big and durable glass window that makes it easy to check food doneness without opening it. Even though the unit gets hot while functioning, the handle stays cool even after prolonged use. 
Cleaning 
The Black & Decker is an easy-to-clean toaster oven. The crumb tray is a wonderful touch because cleaning without it can be a nightmare. 
Accessories
Black and Decker also come with: 
a baking pan
a wire rack
Regarding drawbacks, Black and Decker's ovens need some upgrades in design and performance, but overall, you get what you pay for, seeing the low price.
Pros
Affordable 
Easy to Clean 
It can bake frozen pizzas.
Cons
The heat distribution is uneven.
Stiff knobs
Poor insulation 
Noisy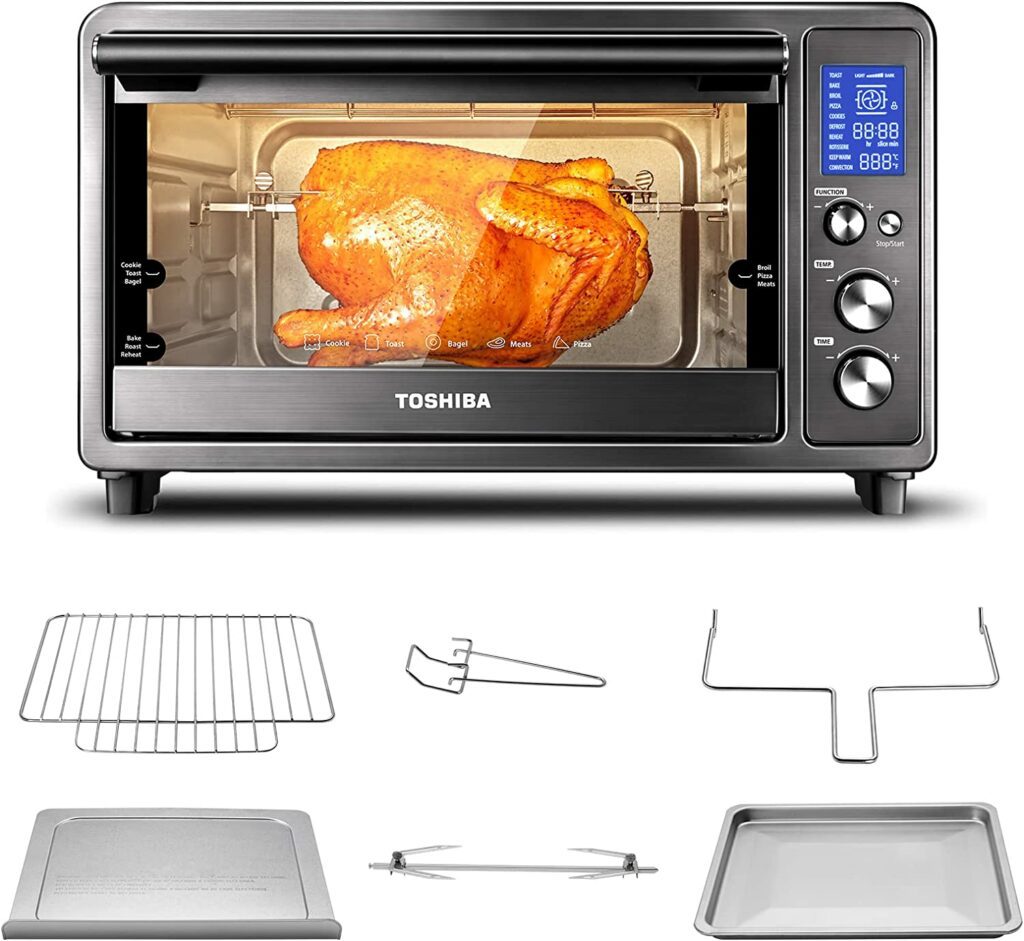 Another model from Toshiba cooks delicious meals for you and your family. 
Design 
It's hard to find so many preset settings in a budget-friendly oven, but this unit by Toshiba does the same task for you as it claims that too at a reasonable price. 
The dimensions are 18.98 x 15.59 x 10.79 inches, easily fitting a 12″ pizza. It can hold six slices of bread, large casseroles, cookies, and 4 pounds of chicken.
It has two infrared heating elements that cook pizza evenly. This unit is more sturdy than high-end toaster ovens, even with a low price tag.
Performance
Toshiba has ten cooking functions, including baking pizza. 
The coolest part is the toaster oven remembers the setting you last used. For example, if you had cooked frozen pizza before and changed the settings, then next time you just have to place the frozen pizza in the oven, and with one click of the "Function" knob, the oven will automatically turn on and show you the setting you last used. 
You can either push the start button or change the setting and temperature. 
It's also perfect for frozen pizza. Customers have complained that a large amount of steam from cooking escapes through the oven door and onto the control panel, which can cause long-term reliability issues. 
However, that's not the case with all; if you maintain enough distance from inflammable things and keep a reasonable distance from all sides, you're good to go. 
Ease of use
The user interface is simple and easy to use. The new unit heats up more quickly than the old one of Toshiba with 1700 watt power. 
The device is lightweight, so you can quickly move it around in the kitchen. 
Cleaning 
This unit gets beat up at the cleaning feature. The toaster oven has no back lip, so most crumbs fall into the toaster oven when the tray is removed.
So even though the crumb tray is provided, users still find it difficult to clean the interior. 
Accessories 
Toshiba toaster oven comes with these accessories: 
Crumb tray
Rotisserie kit & lifter
Baking rack
Pan for baking 
Rack clamp
Pros
Versatile cooking functions
Affordable Price 
Cons
Uneven heat distribution
Annoying beep sound
Food gets burned sometimes
How can you Choose the Best Toaster Ovens For Pizza? 
Countless options are available in the market, but you need to consider a few things before buying your toaster oven. 
Cooking Functions 
How many cooking functions do you need in your toaster oven? Today's toaster oven is manufactured with versatile cooking functions ranging from a minimum of 2 (toasting and baking) to 10 cooking functions in a unit. 
Even if you're only looking for a good toaster oven to bake pizza, check if it also accommodates fresh-dough pizza besides a frozen.
If you already have an air frying machine, standard toaster, or regular oven, you can go with the toaster oven that does the basics. Otherwise, it's best to get one toaster oven that can do multiple jobs (air frying, broiling, warming, roasting) by only taking a small space in your kitchen. 
This way, you save room in your kitchen and save a lot of time to clean and maintain every separate appliance. 
Capacity and size
The most important thing is to see how much space you have in your kitchen and how big a toaster oven you can adjust to your countertop. 
Always check the dimension of the appliance first. Some toaster ovens have a big footprint, but they only contain essential cooking functions. 
If you opt for the large toaster oven, make sure it does more work as it takes up more space in your kitchen. 
Another critical factor is how many people you have in your family. If you have a small family and only need to cook two to three people's food, then a small one that can fit four slices of bread, 12' pizza, and at least two baking pans will be a good fit for you.
Lastly, the best way to determine a toaster oven's capacity is to check the cubic foot measurement. Countertop ovens with a 0.6-cubic foot capacity are usually big enough to cook a whole chicken or large pizza. 
Feature 
The best toaster oven comes equipped with additional features to make using a toaster oven easier and more enjoyable. Such features include digital displays, auto-eject racks, timer, auto shut-off, cool-touch exterior, and easily accessible crumb trays.
Types of Toaster ovens
Modern countertop toaster oven models are designed for tasks that a typical toaster oven couldn't do. Besides toasting, most toaster ovens can do basic cooking such as baking, broil, and warming the food. Others come with buttons designated for cooking specific foods, like pizza or roast. 
Look for a toaster oven that bakes pizza and cooks a frozen pizza. 
The more you can spend on the oven, the more features it can offer, such as air-frying, rotisserie, and much more.
Temperature Accuracy 
The most important thing for the best toaster oven is circulating heat properly. Always read reviews and visit the physical store to check this thing personally before you get any. 
Most toaster ovens come with a maximum 450 degrees Fahrenheit (~230C) temperature setting, and that's what we need to cook pizza. Also, look for quartz heating elements as it circulates the heat more evenly than other heating elements. 
Moreover, check the cord length and convection fan performance (if you're buying a convection oven) so you don't have to face issues with small cord length and noisy convection fans.
Accessories
Toaster ovens come with many accommodating accessories that make your cooking process more smooth and convenient. 
With almost all toaster ovens, the essential items are a crumb tray and standard baking pans. 
But always monitor the unit that has more accessories, such as
Broiling Rack
Pizza Stone 
Pizza Pan
Cutting Board
And much more.  
Lastly, but most importantly, set a specific budget. Also, focus on durability, quality, and reputation over flashy features. 
A solid small toaster oven with basic cooking features will be a million times better than one with 12 different settings but unreliable heating elements and poor heat distribution. 
FAQs about Best Pizza Toaster Ovens
Can I cook pizza in a toaster oven?
Yes, you can cook pizza in the toaster oven. Almost all toaster ovens have three functions: bake, toast, and broil. Some even have a separate option for pizza with a preset temperature setting. 
Can a toaster oven cook frozen pizza?
A toaster oven can cook pizza; however, the result will not be the same as the pizza cooked in a hot oven.
Many toaster ovens are designed to provide enough space and the right temperature to cook pizza. But the problem lies with the heating element. The toaster oven's heating element is too close to food, making a few parts of the food more exposed to a higher temperature than others, resulting in uneven cooking. Some parts of the pizza will turn out good, while others will be undercooked. 
Moreover, some toaster ovens don't even go above 400 degrees Fahrenheit which is essential for cooking the perfect crust of the pizza.
So, in short, your toaster oven can cook pizza. It could be delicious, but it won't have the same satisfying crust as you get from the conventional oven. 
What size pizza fits in a toaster oven?
What size pizza fits in the toaster oven mainly depends on the size of the toaster oven. 
Some toaster ovens are small and only hold medium-sized pizzas; others are spacious enough to fit 14 'to 16' pizzas. 
Always check the interior dimensions before you purchase a toaster oven. If you have a large family or want to make a large pizza, choose a toaster oven around 16.5 inches across by 14.25 inches deep, with 10 inches height dimension. 
What is the best toaster oven for pizza?
To cook fresh pizza, you'll need a higher temperature range. In this regard, from our list of best pizza toaster ovens,  two ovens make the best choice. One is more versatile and the other is the best for the money; These are:
You can have to keep your needs, space, and budget in view.
Final Thoughts
So that's all for the best toaster oven for cooking pizza. Hopefully, this article will help you decide which one will suit your needs the best. 
BTW, which one has been your favorite? Let us know by commenting below.
mama-cucina.com is a participant in the Amazon Associate program and will earn from qualifying purchases.