Oni Fyra isn't a devil. You certainly have found dozens of pizza influencers praising it. 
But, how about the actual users' feedback, who have ditched it? 
What a contrast!
Should you consider using it?
My first advice is, don't fall victim to those who've been flattering it. They're pizza experts and know how to handle pizza on a fiery stone and feed and control fire on the Ooni Fyra.
Be realistic, please!
If you want to enjoy classic Italian pizzas with wood flavor anywhere, this 12-inch Onni Fyra must attract you. But after assembling it, the real game begins, and often you tend to lose it!
Also, the chances are higher that you'll soon be throwing it.
You can lessen these chances by reading this article.
In this guide, I've listed a few basic tips that an Ooni Fyra novice should follow to enjoy a regret-free experience with wood pellet pizza making.
After going fully planned, you'll indeed enjoy dozens of pizzas.
Here I list them.
1- Don't mistake Ooni Fyra for a party oven.
The Ooni Fyra makes the best pizza oven in sheltered gardens. It also does an incredible job of cooking 10-15 pizzas. But it's not an excellent choice for feeding dozens of guests. Why? Feeding the hopper and keeping the fire sucks.
So, if you have high hopes, please take pity on this little guy., and on yourself as well–after all, it'll be you to make pizzas.  
2- Don't compare the Ooni Fyra with a gas oven.
The Ooni Fyra has been introduced as a simplistic portable Pizza oven. Keep fueling this 22 pounds dragon with wood pellets and cook as many pizzas as you want.
It has a one-hopper to feed pellets and a chimney to maintain airflow to facilitate the fire inside. You can use the chimney lever to open it according to your needs–beware not to touch the hot lever.
How amazing it sounds!
The truth is that it lacks control.
The only way to control heat is by maintaining the wood pellet's supply and using the chimney lever.
The oven has no automated system at all to regulate fire. Unlike other Ooni pizza ovens, it also lacks a temperature gauge to show the heat status inside the unit. 
Resultantly, the trouble begins after lighting the fire–most of the high heat is difficult to manage/reduce when the pizza is cooking so quickly.
Thus, the oven disappoints you when you compare it with a gas-fired Ooni Koda with a temp regulator. You feel like a juggler while simultaneously feeding pellets, controlling fire, and cooking pizzas.
Yet, you can understand the job if you come up with clear expectations after watching dozens of videos on how competently pizza chefs manipulate their pizzas inside original wood-fired pizza ovens. 
Thus, you can cook your pizzas better.
3- Don't use Ooni Fyra alone.
The Ooni Fyra can be "hard to handle" for new users. But pizza professionals use it with a smiling face! They keep feeding the fire and cooking amazing pizzas. 
Yet, when it's your turn, the reality is vice versa. You don't know what to do first: feed pellets, control the fire, stretch pizzas or rotate the cooking pie.
Follow this tiny solution: get a hand for yourself!
Someone must be there to fill the hopper on time, control the fire, and note the pizza stone temperature. And, other fellows should do pizza making.
With no frustration, you'll have a more joyful pizza night in your backyard.
4- Learn to handle the Ooni Fyra fire.
You can control fire precisely when using the Ooni Fyra.
It shouldn't surprise you when somebody tells you that they have failed to handle the Ooni Fyra fire. The Ooni Fyra has been designed to produce a huge fire that imitates wood-fired pizza ovens. You can only cook traditional Italian pizza in such a lightweight pizza oven.
When the fire is lit consistently, the flames come out of the chimney. You should not be overly worried when seeing them.
Yet when your pizza oven has much fire inside it, and you open the door, gigantic flames are blowing out of the rear firebox. They look unavoidable, but the solution is here:
Keep the chimney open (don't shut it fully).
Be aware not to place inflammable things behind the Ooni Fyra pizza oven.
Also, remember that you should keep the pizza oven door closed to avoid unnecessary heat loss. Only open it when you're placing pizza or rotating it; otherwise, use the small see-through window at the front to check the fire and pizza progress.
Don't forget that seeing a pile of fresh pellets behind the flame is a sign of a good ongoing fire.
5- Fan the fire!
Yes, just like Ooni flames can be challenging to handle, the dying flames can also make your pizza adventure pathetic. You might try jostling the pellets or opening the chimney. Yet, nothing seems to work.
The reason can be different. Sometimes, it can be because of moist pellets, an uncleaned firebox, or low air pressure. 
Yet a $$ solution is here. Get a mini portable fan, set it behind the firebox, and there you go!
Don't forget to share the tip with your friends!
6- Install the stone upside down.
You can have a hard time cleaning the burnt pizza stone. Usually, the burnt residue sticks owing to logos on the pizza stone. 
You can get rid of this problem.
How?
Flip the pizza stone side, and use the one without the Ooni logo.
7- Preheat your Onni Fyra properly.
No matter what pizza oven unit you use, preheating is a must. 
For cooking an excellent pizza, as a rule of thumb, your gas, wood, or pellet fire pizza oven must reach an optimum temperature of 800 degrees Fahrenheit. Anything below will cause a dry, hard, and undercooked crust. 
For taking the first temperature of 800 degrees Fahrenheit, your pizza oven should take about 20 minutes to preheat.
How can you check the pizza oven temperature in the Ooni Fyra? It hasn't got you a gauge…
Time to correct yourself! 
It isn't about the pizza oven's internal air temperature but the pizza stone's temperature. Use the most accurate pizza oven thermometer and check the temperature right in the middle. If the pizza stone temperature is between 800-900 F, all is well to cook your pizza. 
Also, please note that the pizza stone has an about 200F higher temperature near the fire source and about 200 degrees lower near the pizza oven opening (consider them less).
8- Preheat and reheat the pizza stone.
Just like, preheating and reheating cast the spell of heat to cook every pizza perfectly. Just like preheating your pizza stone for the first pizza, you need the same pizza stone temperature for the next pizza. So, before cooking your next pizza, maintain The Ooni Fyra fire and record the pizza stone temperature above 800 degrees Fahrenheit.
9- Feed your Ooni Fyra the right way.
The Ooni Fyra is always hungry, though all gas ovens are also no exception. For instance, turn the propane supply off, and your gas oven will die. 
But, you don't realize the automated continuity of gas flow when using a gas oven. However, with the Ooni Fyra, for a consistent fire, you must keep feeding it manually.
It's recommended by Ooni to fill the hopper fully to run the gravity-fed hopper. However, pellet clogging/gluing is a common complaint. These stuck pellets confuse you with low fire but a filled hopper.
To avoid such a situation, follow one piece of advice among these:
Use extra dry (impossibly dry) wood pellets so that they don't jam the hopper. Once you find the most reliable dry wood pellets brand, please don't change it. Sometimes, such experimenting can ruin the whole dinner.
Use a mallet or rod to keep pushing the pellets occasionally. 
I think the latter option is more workable. Cheers!
10- Save your wood pellets.
Yeah, you can save fuel and still bake outstanding pizzas. You already know that preheating the pizza stone before cooking the next pizza is essential–take advantage of it.
Be persistent with the preheating until your infrared thermometer reads the temperature of +800 F. As soon as you put the pizza on the stone, reduce the flame by closing the chimney by half. Repeat the process for each pizza. 
11- Place the Ooni Fyra in a Safe place.
Any inflammable material should be kept away from the Ooni Fyra. The advice is pretty obvious for any appliance. 
Why am I talking about it here?
As soon as you open The Ooni Fyra "window," the rolling fire can be most dangerous. Several people fear the Ooni Fyra after witnessing such "long" flames coming out of The Ooni Fyra "tail" or its chimney.
12- Place the pizza oven the right way: against the wind.
It's challenging to use the Ooni Fyra 12 on windy days. You might struggle to light it or fight the shit!
On a windy day, you can get benefited. How? 
Place your Ooni Fyra in the opposite direction as the wind is blowing. For example, if the wind is blowing from the east-west, your Ooni's front should be towards the west, and the rear should be in the east. 
This way, the blowing wind will pass through the rear firebox and push the fire toward the chimney. Resultantly, you'll enjoy your pizza-making sessions.
13- Clean the Ooni Fyra ashes regularly.
In one go, by filling the hopper after preheating the pizza oven, you can make about 6 pizzas. After this, there is a call for cleaning.
To keep the fire fully on, remove the ashes and unclog the firebox properly by using a brush.
Besides this, to keep your pizza oven ashes-free, you can also use a blower.
14- Use the Ooni Fyra for Neapolitan-style pizza, primarily.
Ooni Fyras are designed to cook authentic Neapolitan-style pizzas. If you master them, you can also look forward to making some other pizzas or recipes. Yet, as a beginner, you must stick to authentic Neapolitan pizza recipes, for which the pizza dough is the most delicate part.
For trying a thin-crust pizza or other pizzas, you need to be super careful–these pizzas are more sensitive to heat and can be burnt. Such mastery can only be attained once you're well-versed in baking Neapolitan pizza. 
Neapolitan pizzas require you not to have any sort of sugar: white sugar, brown sugar, or honey.
If you add such ingredients, the pizza will be overly charred–even a burnt pizza crust will be the worst part of your experience.
WHY?
High-hydration pizza dough to create puffy crusts will brown much faster when using sugar. 
15- Learn the art of Neapolitan pizza making first.
It's almost a joke for me if I see some of my friends stretching a pizza crust using a rolling pin–pardon me, my friend! 
Before blaming an Ooni, it would be better to get some excellent authentic Neapolitan pizza recipes and practice the dough-making art dozens of times. 
Believe me, it can appear UNPOSSIBLE, but you can do it!
You'll be 70% done if you succeed in making authentic right, hydration pizza dough, proofing it properly, and stretching an even crust with no tool. For the rest of the 30%, get it done with your Ooni pizza oven.
16- Do not use sugar or sugary ingredients in your pizza dough.
Neapolitan pizza dough is special. As it's cooked at high heat, adding any heat-retaining ingredients, e.g., oil or sugar, puts it at risk of burning. It's the reason the store-bought dough also burns easily inside gas, wood, or pellet pizza ovens. So, please avoid using any kind of sugar: white, brown, or honey in it. 
17- Don't overload your pizza with so many toppings.
If you're a true pizza lover, you must learn the art of enjoying the real Italian pizza crust with a few pizza toppings, some extra virgin olive oil, and fresh pizza sauce.
And the Ooni ovens have been made for pizza devotees who can't pay homage to traditional pizzas by visiting Italian streets. It's why the pizza oven doesn't allow you to overload your pizza with so many ingredients.
If you do so, your pizza will be ruined. You'll keep waiting to cook your toppings, yet the pizza bottom will be burnt.
18- Don't take 12 inches size seriously, 
What comes to your mind when knowing about 12-inch Oon Fyra? Possibly you'll think that you can toss a 12-inch pizza to cook. 
Naaaa!
I'll never advise it.
A 12-inch pizza is a hard nut to crack in such a limited space, though you can soon learn it yourself.
It's a good idea not to exceed the pizza size from the 10 inches margin.
19- Get the necessary pizza-making accessories and the Ooni Fyra essentials.
Can you imagine baking a pizza only using a pizza oven? If yes, the time is to correct yourself. Getting a pizza oven can't make you a pizza expert at home.
Certain tools are necessary to get. And among these, the list goes so on… Yet, I care for your dear money. It's why I've listed only 2 game changer pizza-making essentials with the most desired specification.
Infrared Thermometer for pizza oven
Whether your pizza oven comes with an integrated thermometer or not, getting a reliable, most accurate pizza oven thermometer is a lifesaver–a pizza saver.
The integrated thermometer is not that accurate. Plus, they can't read diverse pizza stone temperatures.
For example, your pizza stone has 3 heating zones: 
Hottest near the fire
Hot in the middle
And cold near the door opening. 
Therefore, before placing your pizza, the pizza stone must reach the highest temperature above 800 Degrees Fahrenheit.
So, you must order an infrared thermometer if you don't have any already.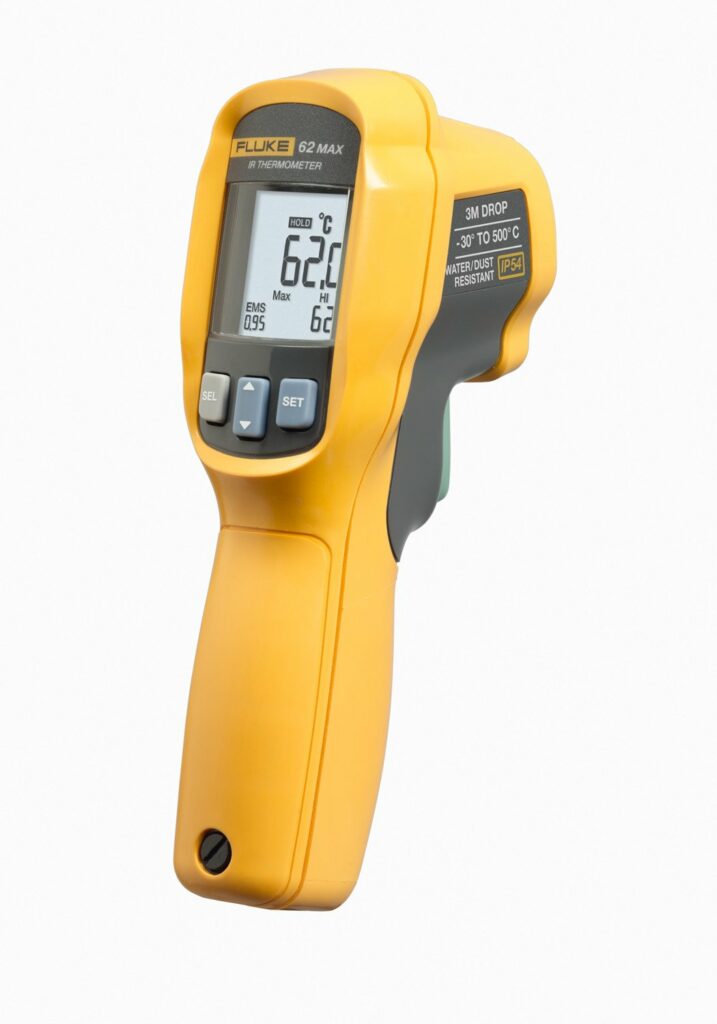 Among some best-infrared thermometers for pizza ovens, Etekcity Lasergrip 800 Temperature Gun-58℉ to 1382℉ is the best. It has a temperature range of -58 to +1382 degrees Fahrenheit. This accurate temperature range allows you to check pizza stone temperature inside a wood, gas, or wood pellet-fueled pizza oven.
What material comes to your mind when learning about pizza peels? Chances are you'll think about wooden pizza peels. I also love them because they're great for shifting your pizza on the pizza stone. 
Yet, they're less practical when used with a small pizza oven of 12 inches, especially for rotating a pizza.
They only help to shift pizza.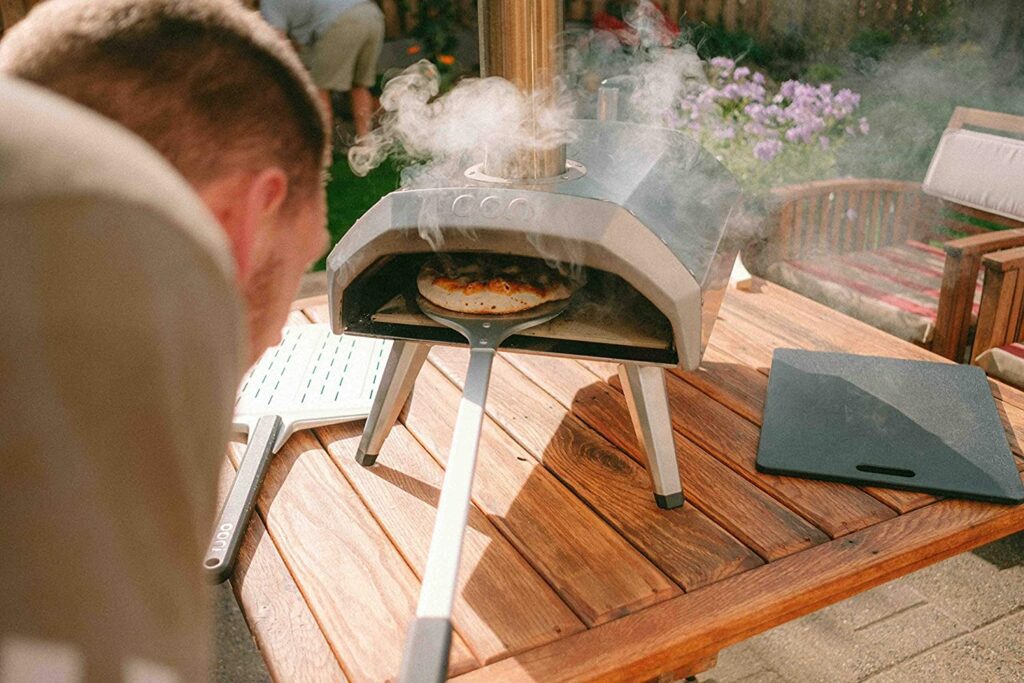 In this regard, a stainless steel pizza peel with a long handle, like an Ooni pizza peel, does the job more wonderfully. It's the first-rated pizza turning peel. 
Its thin but sturdy spatula quickly slides under the pizza to rotate it. Additionally, it has a long handle to let you rotate your pizza safely as fast as needed. 
If you struggle with shifting your pizza to the pizza oven from one peel because it sticks, your rotating pizza peel can further help you to move the pizza from the pizza peel. Thus, 2 peels can be better.
20- Be quick and quickest.
Fire is fine; you stretched pizza excellently; what's needed then? 
Cook your pizza like a Pizzaiolo. For this purpose, observe a pizza chef and how fast they work. You've also to monitor and rotate your pizza so quickly. Otherwise, the total pizza cooking time of 90 seconds is enough to burn your pie.
Before buying the Ooni Fyra, or even Ooni Koda, watch dozen of videos on how they make pizza in wood-fired pizza ovens and how vigilant they're at turning their pizzas. So, be prepared for this dexterity. 
Don't feel disappointed; you'll master it soon!
Bonus tip
All set? This bonus tip can amaze you!
Though the Ooni Fyra is for cooking pizza on wood pellets, you can also use a more efficient fuel option of charcoal pellets on your little pizza maker. They're equally straightforward to use. Light the charcoal pellets in the firebox and fill the hopper; enjoy charcoal-flavored pizzas.
Final Thoughts
Indeed, the Ooni Fyra 12 pizza oven is the easiest-to-assemble pizza oven that can get you the best Neapolitan pizzas anywhere. Yet, as soon as you get an Ooni Fyra wood pellet pizza oven, be patient with it. 
The super simple pizza oven comes with the most complicated learning curve. Love it; understand it; it'll be your ultimate satisfaction soon!
But before that, follow every tip we've shared in our article. And don't stop practicing pizza making using this cheap and portable pizza oven. Soon, you'll be happy!
mama-cucina.com is a participant in the Amazon Associate program and will earn from qualifying purchases.