Do you want to know, "what is pizza sauce?" The answer is, it's San Marzano tomatoes purée blended with seasoning, fresh basil leaves, and olive oil, if so in terms of authentic Italian pizza sauce.
"How simple it sounds?" I have found many pizza sauce recipes with a ton of ingredients; they weren't like original pizza sauce; were they wrong?" 
Do you think so, when it's about pizza sauce?
Well, it's common to get confused. We understand it! It's why in the articles we'll be sharing with you all about "pizza sauce" from the streets of Italy, its variations in the world, and its uses. 
We promise this guide will help you know "A to Z" about pizza sauce. Let's begin!
So, What is Authentic Pizza Sauce, and its Origin?
Pizza sauce took birth with pizza near 10 century AD. Since pizza is an Italian staple, the pizza sauce is no exception.
So, you can understand the origin of the pizza sauce is in Italy and it's as old as pizza, itself is. Likewise, the world was introduced to pizza sauce when the Neapolitan pizza was first tasted by queen Margherita under the name of "pizza Margherita, during her visit to Naples in 1889. It was the royal chef Esposito who decorated traditional Italian pizza with red sauce "pizza sauce" and basil leaves for royal guests.
What are the ingredients of a pizza sauce?
The list of authentic pizza sauce ingredients doesn't go long. A few magical but pure ingredients cast the spell of the freshest but tastiest pizza. These ingredients are:
Sweet San Marzano tomatoes (native to Italy, and you can find them caned in America or other corners of the world)
pinch of salt
A handful of fresh basil leaves
Few tips of extra virgin olive oil (to be added at the end to add grassy flavor with a glaze)
Hence, these simplest ingredients contribute to the most complex flavor of traditional Italian pizza.
Can you add any other ingredients to the pizza sauce?
There are no hard and fast rules about what you should add to your pizza sauce, but not that. YOU CAN!
Remember, it won't be Italian pizza sauce, but your preference. It's why you can find several recipes of pizza sauce with varying ingredients, like:
Oregano
Black pepper
Paprika
Ketchup
Onions
Garlic
Brown sugar
Yet it'll be your personalized pizza sauce.
Authentic Pizza Sauce Recipes
In Italy, San Marzano tomatoes are available in abundance. That's why they make their pizza sauce out of fresh tomatoes. Yet, it's best to use canned tomatoes when you can't find fresh tomatoes. To help you make the best pizza sauce, we've got you 2 recipes below. Both are authentic and approved by native Italian pizza experts. Here we begin.
Pizza sauce recipe with fresh tomatoes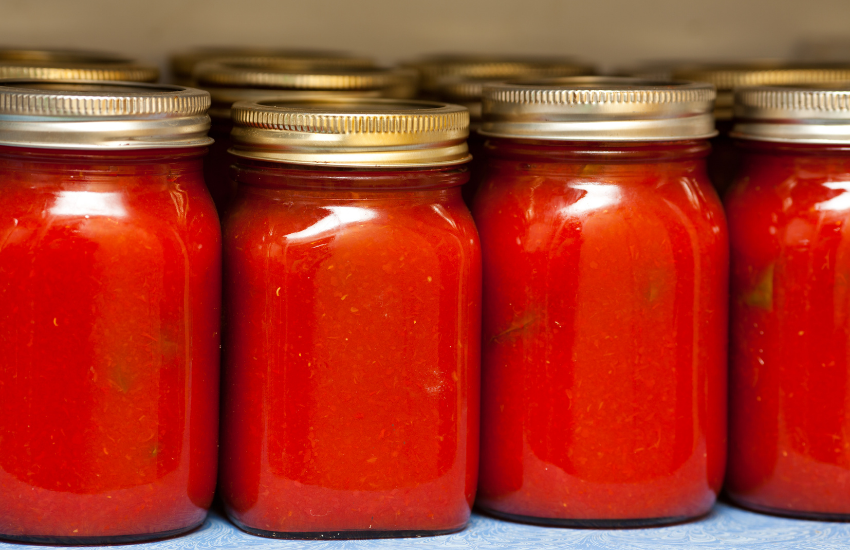 c garms fresh San Marzano tomato
Handful basil leaves
5 grams salt
10 ml extra virgin olive oil
Instructions
Peel off the tomatoes using a peeler
Cut tomatoes in the middle and remove the hard green part that is near the stem adjacent area.
Blend the tomatoes.
Add olive oil and seasoning and mix well.
Note: you can also use a manual food grinder or a food mill to attain pulpy tomato puree. Here, I'll advise you to use a food mill, for it'll let no seeds go into the puree.
Canned tomatoes pizza sauce recipe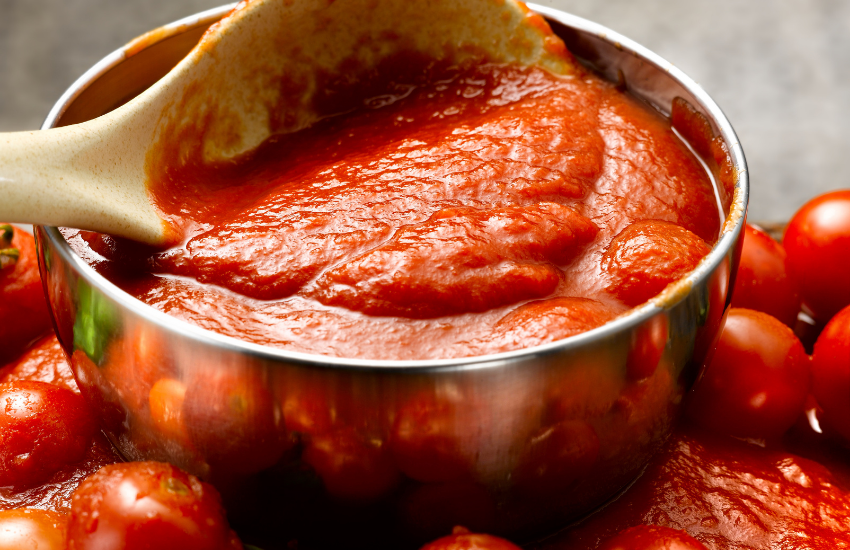 Ingredients
1 cane of San Marzano tomatoes (400 grams)
4 grams of salt, 1 gram of salt per 100 grams of canned tomatoes.
Few fresh basil leaves
10 ml extra virgin olive oil
Instructions
Open the cane and throw the tomatoes into a large bowl.
Add salt and basil leaves.
Blend it either with a hand or a hand blender. Using your hands, you'll get chunks of tomatoes in your pulpy pizza sauce that will go best on your traditional pizza.
Add the olive oil at the end and mix. If you want to store the pizza sauce for later use. Then put the pizza sauce on the sterilized glass jar and add the olive oil at the top, in the end.
Note: Don't forget to check the label of the tomato cane to see if the manufacturers have already added salt to it. If it's so, don't add salt or add a little.
How Can you use Pizza Sauce?
Pizza sauce not only goes on a pizza, but you can also use it in many ways, like:
Pizza sauce can be used as a topping on your bread.
You can use leftover pizza sauce in your pasta.
You can add more flavoring to your pizza sauce and use it with several recipes like spaghetti.
How can you Store Pizza Sauce?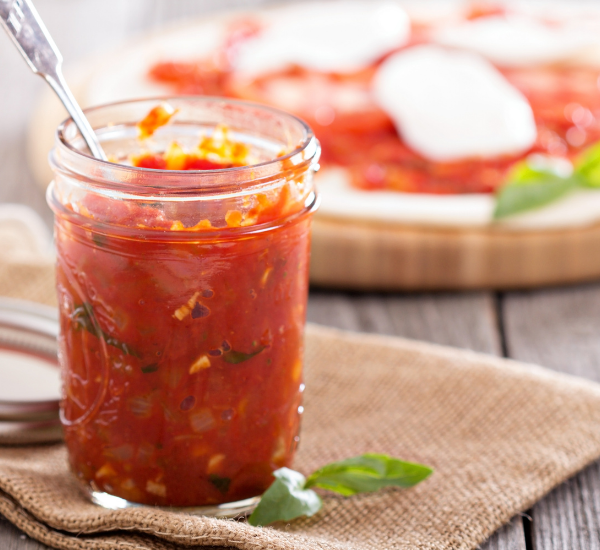 You can store pizza sauce in the refrigerator or freezer. To store the homemade pizza sauce, put the pizza sauce in a dry glass jar, add 1 tbsp olive oil on the top and keep the jar in the refrigerator for 1-2 weeks or in the freezer for up to 3 months.
What are the Variations of Pizza Sauce?
When speaking about pizza sauce's authentic version, it's the only one that we have already discussed. Yet, the freedom to experiment with your pizza sauce allows you to add any ingredients that can go well with your pizza toppings.
It's why pizza lovers have invented several flavors of pizza sauce by adding many ingredients. So, you can enjoy the following pizza sauces.
Peppery pizza sauce
As the name suggests, the peppery pizza sauce will be spicy and red —thanks to paprika, the red color adding chilies. You can follow the traditional pizza sauce recipe and add 1 tsp of paprika to make it hot and sizzling red. You can also add Italian herbs, onion, and garlic to it.
Hot pizza sauce
You can make the pizza sauce hot if you love to challenge your tastebuds. Making hot pizza sauce isn't difficult. Add a ½-1 teaspoon of crushed red chili and a1 tablespoon of white vinegar to your pizza sauce made by following the recipes mentioned above; the hot pizza sauce is ready.
You can use this pizza sauce with nonveg pizza toppings like sausages, pepperoni, and kebab.
Sweet pizza sauce
If hot or salty flavors don't captivate you, and sweetness is your preference, you can add 1-2 tablespoons of brown sugar or honey to your pizza sauce.
Beware, only try sweet pizza sauce if you can anticipate how your pizza will taste. Still, if you want to try it for the first time, you can add some brown sugar to some pizza sauce, spread it on ¼ of your pizza base, and see how it tastes. It'll let you compare the sweet flavor with the rest of your pizza, prepared with regular pizza sauce.
What are the Non-Tomato Alternatives of Pizza Sauce?
If you're allergic to tomatoes or want to eat pizza with acid reflux problem, you can consider other sauces. Some of these sauces are discussed below.
Pesto Sauce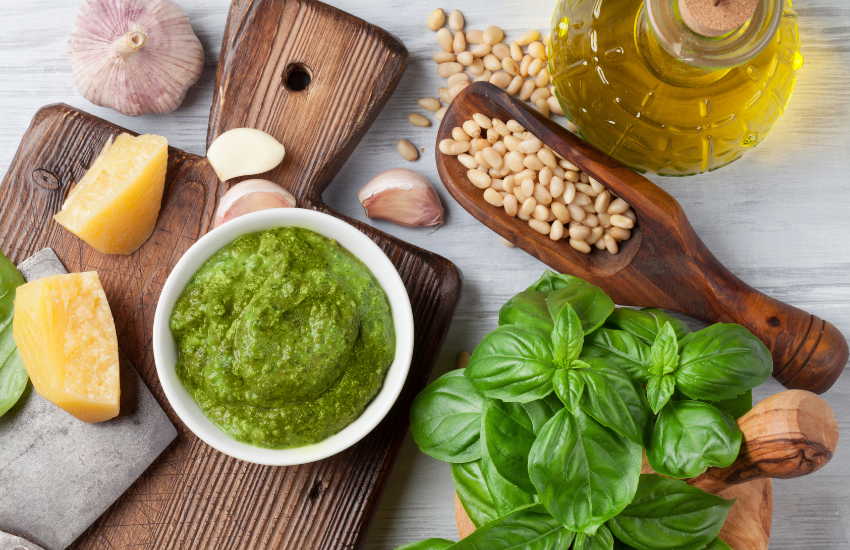 Pesto is a fantastic alternative sauce for a cheese pizza. It still has a lot of flavors. It's made with extra virgin olive oil, crushed garlic, parmesan cheese, pine nuts, fresh basil leaves, and a touch of lemon. Pesto is ideal for folks who want the taste but do not enjoy tomato sauces.
You can further experiment with pesto sauce like adding walnuts for pine nuts, spinach for more nutritional value, garlic cloves, and more… If you like tomato sauce and pesto, top your favorite pizza with a little pesto once it's completed baking. 
Creamy alfredo sauce
Alfredo sauce is a thick, creamy white sauce prepared with butter, milk,  heavy cream, cheeses, and seasonings like salt and pepper. It pairs nicely with items that can stand up to its robust flavors, such as olives, artichoke hearts, roasted peppers, bacon, steak, chicken, mushrooms, and sun-dried tomatoes.
If you've never tried Alfredo sauce over pizza, we highly recommend you do so!
Ranch sauce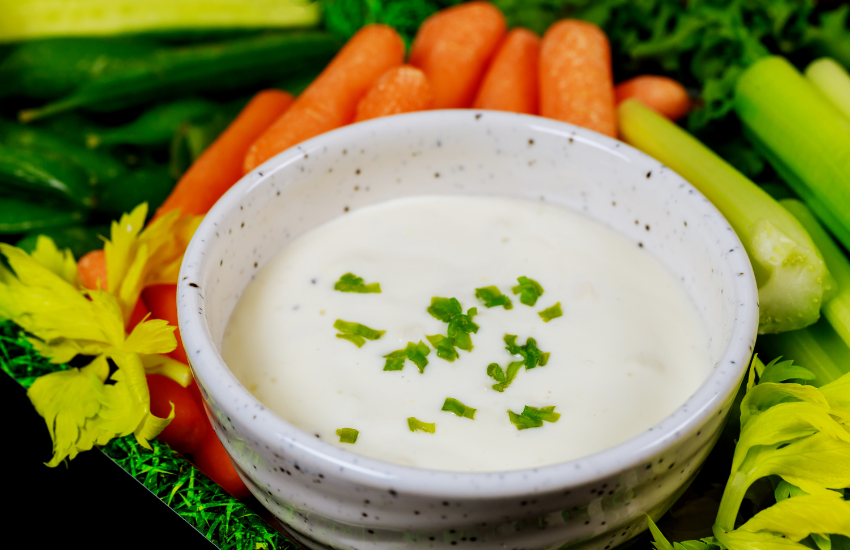 Americans smother their pizzas in ranch dressing. Ranch sauce is a traditional American condiment composed of buttermilk, mayonnaise, salt, garlic, onions, mustard, and herbs. 
If you like, you may use sour cream or yogurt for the buttermilk or mayonnaise. It goes nicely with steak, chicken, bacon, and almost any vegetable as a topping. And cheese enhances everything. Common veggies include peppers, onions, and tomatoes.
FAQs
Is pizza sauce cooked?
No, the original pizza sauce recipe includes no cooking process, e.g., simmering. You simply get the canned tomatoes or fresh tomatoes puree blend them with seasoning and basil leaves and add olive oil. The blended process can be best carried out through hands.
The store-bought pureed tomatoes. However, you can go cooking before you get them.
What type of tomatoes goes in pizza sauce?
Low acid tomatoes with Ph between 4.2-4.5 go into the pizza sauce. These specific tomatoes help you make sweet and low acid pizza sauce; thus, your pizza is also low acidic.
Is pizza sauce tomato puree?
Yes, pizza sauce is San Marzano tomato puree combined with some seasoning. It's raw and uncooked.
Is pizza sauce acidic?
Yes, pizza sauce is acidic. It's because of the tomatoes used in the pizza sauce. Different types of tomatoes have different levels of acidity. No matter what type of tomatoes you use, they're acidic. For example, San Marzano tomatoes have a pH (acidity) level of 4.2-4.5, while other varieties of tomatoes can be so acidic that they can have up to 4.8 pHs.
SAD???
The solution is there. You can make low acid pizza sauce by adding a few ingredients like baking soda, etc.
Why do they cook pizza sauce?
Traditionally, the pizza sauce involves no cooking at all. Some fusion recipes advise you to cook the pizza sauce to simmer it or cook the other ingredients like garlic or onions. 
Another reason is some people might think that pizza sauce means covering the pizza crust heavily; therefore, they try to make it thick to avoid a runny texture.
In contrast, the pizza sauce has to be thick, which only means forming a thin film over the pizza crust. For the rest of the flavors, you can add all in your toppings, but keep the pizza sauce simple.
To be honest, it's the only fusion that deprives your pizza of the essential moisture; consequently, your pizza is hard. So, try to be authentic.
What type of tomatoes goes in pizza sauce?
The sweet, Italian San marzipan tomatoes go in pizza sauce. Their less acidic content makes them tastier and most suitable for pizza sauce. You can also use some other tomatoes like cherry tomatoes or Roma tomatoes.
Does pizza sauce have onions?
Traditional Italian pizza sauce has no onions, especially one that goes on a Neapolitan pizza. Yet, if you want to add onions to your pizza sauce, you must saute them.
Does pizza sauce have garlic?
No, as prepared in Italy, authentic pizza sauce does not need garlic. However, if you're experimenting with your pizza sauce, you can add cooked, sauteed, or powdered garlic.
Is Italian sauce the same as pizza sauce?
No, Italian sauce isn't the same. Italian sauce is a traditional tomato sauce that goes with several Italian dishes like pasta or spaghetti; it's known as a pasta sauce or sauce marinara. The conventional Italian sauce requires a prolonged process of cutting tomatoes, cooking them, removing peels, preparing their paste, adding seasonings, and storing them.
You can also add a few more ingredients to the Italian sauce, e.g., beef, for a particular recipe like spaghetti.
In contrast, as discussed earlier in this article, the pizza sauce is simple, prepared in under 5 minutes, and has few ingredients. Thus, it's hassle-free.
Yes, you can use both sauces alternatively for your customized recipes, not authentic ones.
How thick is pizza sauce?
Pizza sauce doesn't mean to be thick. It's runny like naturally blended tomatoes are. It should never cover the pizza crust like a thick blanket. Instead, you spread it with a spoon, making a thin film. Thus, this bit of watery sauce keeps the pizza crust soft. 
What is the best tomato strainer?
A tomato strainer is a must-have if you opt for homemade pizza sauce. It can get you tomato puree without peels and seeds. Tomato strainers come in several types and under different budget options. 
For instance, you can get a low-priced manual tomato strainer or an electric strainer that can be pricey. So, depending on your needs, you can choose any. Below we've listed a few best tomato strainers and food mills.
What are the best canned tomatoes for pizza sauce?
Making pizza sauce using canned tomatoes is a minute's job. You can get the best San Marano tomatoes on Amazon. Below are a few brands that you can consider.
What is the best store-bought pizza sauce?
If you want to quickly top your store-bought pizza crust with pizza sauce, you can also go for store-bought pizza sauce. It'll not cost much. Below are a few options that you can avail of:
Final Thoughts
Pizza sauce is a simple sauce made with San Marzano tomatoes, some seasoning, and fresh basil leaves. In no time, you can make the best authentic pizza sauce at home with few ingredients. You can customize the pizza sauce recipe as well. Yet, store-bought pizza sauce can also be an excellent option to save you time.
mama-cucina.com is a participant in the Amazon Associate program and will earn from qualifying purchases.